Your guide to all news at school.
Ms Alison Colwell, Principal
---
Dear families,
Supporting the character development and mental wellbeing of our students is as important to us as ensuring they fulfil their academic potential. We have done a lot of work this term on explaining and exploring our school values, and discussing ways we can demonstrate compassion, respect, responsibility and integrity, and strive for excellence in all we do. In our end of term rewards assemblies, alongside awards for academic success, we will be acknowledging the best examples of values in action, and it will be a very tough decision to make as so many of our lovely young people display our school values so frequently.
This term we have seen some very important and successful events. Year 9 are starting to think about the subjects they will choose for GCSE and most of them and their families joined us in our successful webinar on how to make the right choices. We have also had a Sixth Form taster afternoon when students at BIC and from elsewhere had the chance to experience what being in our Sixth Form and studying for A'levels means. This week we held another successful Awareness Afternoon based around inclusion, where all the students looked at issues of diversity, discrimination and difference. A huge well done to Jane, Louisa and Demi who represented our school beautifully at Mallorca Radio One this week by talking about what Christmas means to them. And yesterday our webinar on languages at BIC explained the excellent provision we have here for supporting students in learning a language, whether it is English, Spanish, Catalan German or French. If you weren't able to join us please do try and find time to watch the recording, as we gave a host of useful ideas, tips and strategies of how you can support your children in their language development.
We may only have 12 more days of school left but we intend to continue to fill every one with a wealth of outstanding teaching and learning, as well as a good sprinkling of Christmas fun!
Here's to a relaxing weekend, and - please, please, please! - one without rain!
Alison Colwell
Principal
Baleares International College, Sa Porrassa

Ms Laura Hodgson , Acting Head of Primary
---
Dear families,
While the rain has poured down this week, it hasn't managed to dampen our spirits or our enthusiasm for learning. In the Primary department, there has been a real buzz about the variety of activities, exciting competitions and special days. Congratulations go to our three Year 6 pupils (Jane, Louisa and Demi) who were fabulous ambassadors for the school and spoke passionately on Radio One Mallorca about families at Christmas time. In addition, many primary pupils have been extremely busy producing some excellent artwork for the compassion themed Christmas card, the Mallorca Fashion Outlet and the science bauble competitions.
During their recent school trip, the Year 5 pupils were so shocked by the amount of plastic that they found on the local beach, they decided to hold a cake sale to raise money for Save the Med. Today's cake sale was a huge success and afterwards the pupils felt extremely proud that they had been able to make a difference to their local environment.
Raising awareness of themes has seen many pupils wearing purple items in support of 'Day Against Violence to Women', as well as celebrating diversity during our Awareness Afternoon, when the children explored different family structures, who all share the same love. The older primary pupils learned about Alan Turing, who was a British mathematician. He made major contributions to the fields of mathematics, computer science, and artificial intelligence. He worked for the British government during World War II, when he succeeded in breaking the secret Enigma code. The pupils were surprised to learn that in 1953 Alan Turing did not receive any recognition for the incredible work that he accomplished, due to his sexual orientation. The pupils discussed how the world has changed since that time and that now in many places around the world, people can celebrate their differences.

This week in assembly, we have been sharing and acting out some of Aesop's famous fables. Aesop was a storyteller who lived in Ancient Greece during the 5th century BCE. He produced hundreds of fables (often using animals as the main characters) - many of which are still being told today, more than two thousand years on. I believe that fables are a wonderful way to teach children about morals and life lessons. They are stories that have been passed down over generations, trickling down to the present to deliver important lessons about life, nature, love, friendship, and being a good person.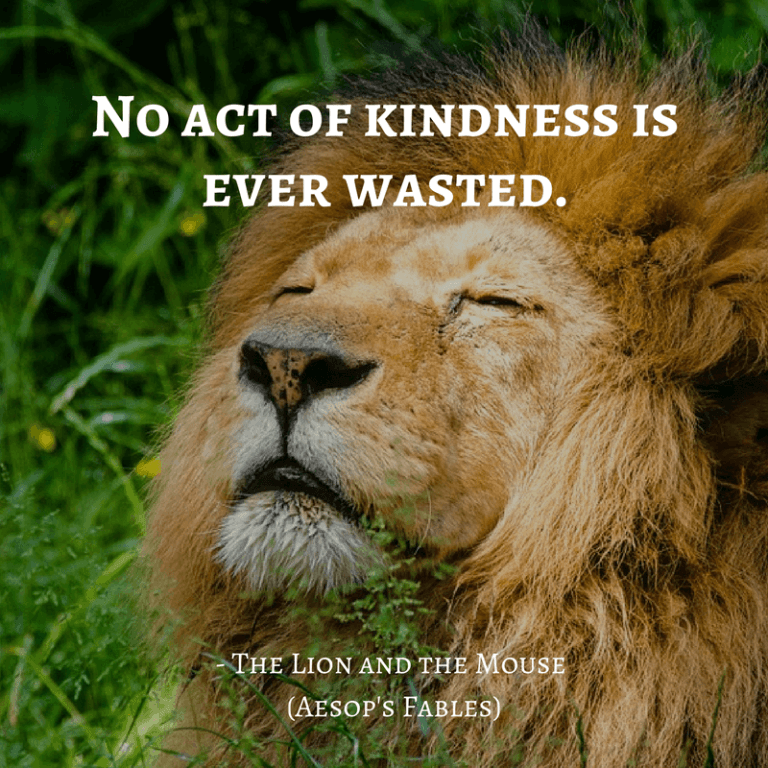 Our youngest pupils loved taking part in the The Lion and The Mouse fable, which tells that whoever it be, whatever size, we should help each other, and these kind deeds always get rewarded. Another favourite was The Boy Who Cried Wolf, which depicts the story of a young boy who repeatedly played practical jokes. It shows that if you disrespect somebody, you can lose their trust, which means they won't be willing or able to help you when you really need it.
The older pupils enjoyed working out the morals of various fables, some were more challenging than others. Take the quiz to test your knowledge https://www.gotoquiz.com/aesop_s_fables_moral_quiz
Find out more about Aesop's fables https://www.imagineforest.com/blog/life-lessons-aesops-fables/
I hope that the weather stays dry and that we can all enjoy Mallorca's wonderful outdoors.
Miss Hodgson
Acting Head of Primary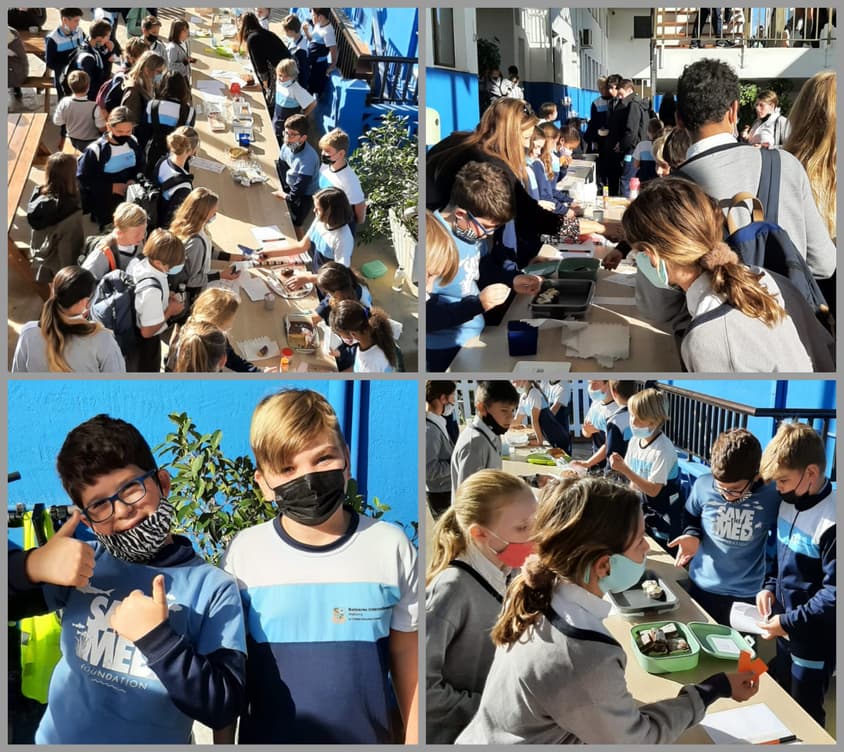 | DATE | EVENT |
| --- | --- |
| Thursday 2nd December | Talent Show ( Roosevelt ) |
| Friday 10th December | Christmas Jumper day for all pupils | 9:10 - Year 4 Christmas songs on the steps at the front of the school | 15:00 - 17:00 - The Christmas Fair - all welcome |
| Saturday 11th December | 11am - Son Amar Christmas Performance - Years 5 upwards |
| Monday 13th December | 3:20- Year 5 Christmas songs on the steps at the front of the school |
| 13th - 17th December | Christmas themed Inter House sports competition |
| Tuesday 14th December | Primary Christmas lunch |
| Tuesday 14th December | 15.20 - Year 3 Christmas songs on the steps at the front of the school |
| Wednesday 15th December | 9:20 - Early Years Christmas songs in school | 14:45 - Year 1 and year 2 - Traditional Nativity in school | 14:00 Year 6 Christmas party |
| Thursday 16th December | 9:20 Year 1 and year 2 - Traditional Nativity in school | 15:30 - 16:30 - Carol service Year 6 upwards | 18:30 - Year 5 upwards Puerto Portals Christmas performance | 14:00 - EYFS - Year 5 Class Christmas parties. |
| Friday 17th December | Primary reports ready on parent portal | 12:30 - School finishes |
Whole School House System news
---
House Points Totals Update - Term 1
| | | | |
| --- | --- | --- | --- |
| Winton | Galileo | Roosevelt | Parks |
| 852 | 1111 | 906 | 966 |
A message from your Heads of House
We would like to congratulate all of our finalists for the House talent competition. The final will be held next Thursday 2nd December at 4.30, and the question will be answered - ´which House has the most talent?´ As well as an overall winning House, our judges will also be selecting Primary and Secondary champions. Letters have been sent out to all of our competing finalists, and we look forward to welcoming you to watch them perform. We would also like to thank in advance our House Captains and Vice Captains who will be helping us with this event.

The Christmas Card competition is also still on-going. The theme for the design is ´Compassion at Christmas´. You can send your entries via email or in person to your Head of House, and the deadline is Tuesday 30th November. The winning entry will be used as the design for our school Christmas e-card this year.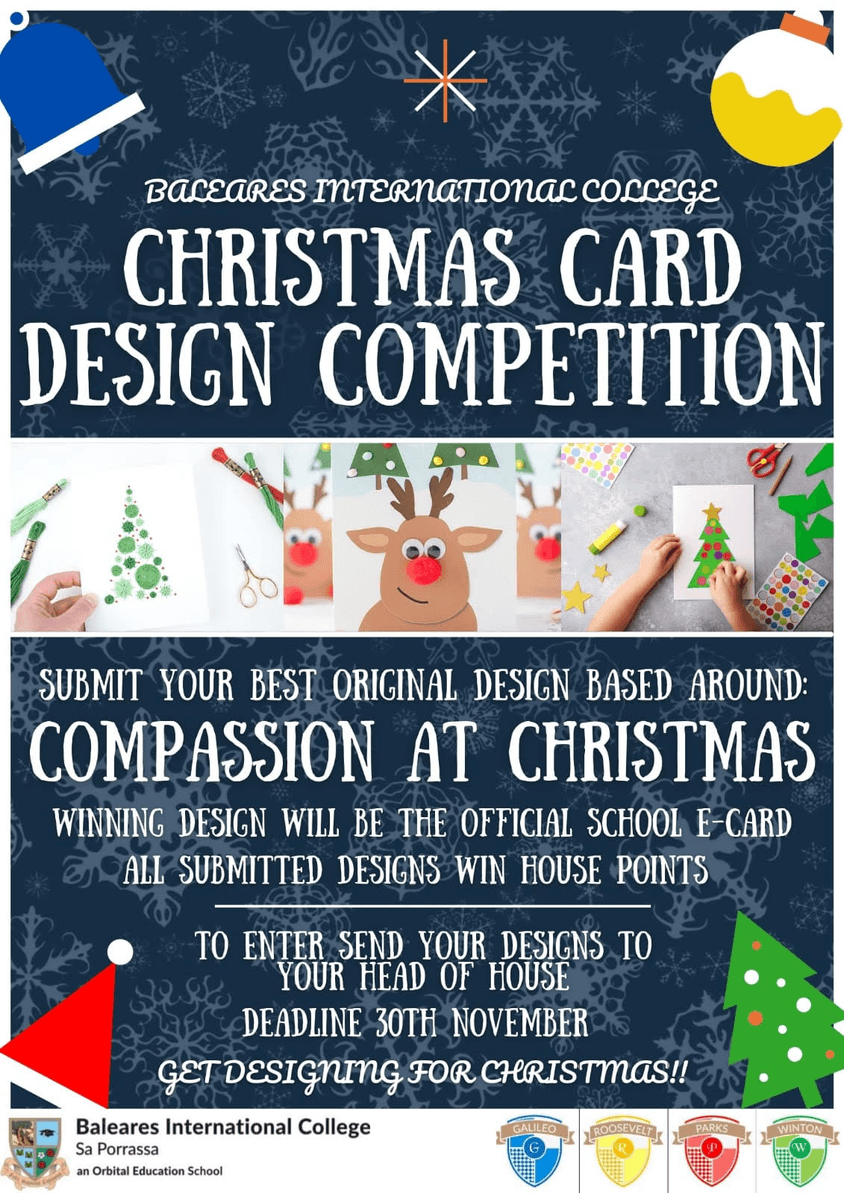 Another great week Parks - although we are now in second place in the leaderboard, let's keep earning House Points and climb back into first place. As we are approaching December there are new Christmas themed competitions taking place so if you have time please enter the Christmas card competition and the Science Christmas tree decoration competition. Remember every entry earns a House point for our team. Plus, now the weather is getting cooler we need to try and keep our bodies active consequently, every Friday starting at 8:25 Ms Izabela is running a morning club called ´Morning Mile´´ and everyone who participates earns a House point too; so bring your trainers and we will see you there. Lastly, I cannot wait to see the Talent Show on the 2nd December. It is evident that we have many talented students and I know it is going to be a wonderful event for everyone.

Miss Xidakis, Head of Parks House
Congratulations Roosevelt House on another impressive week. It was excellent on Monday seeing you all actively participate in our Awareness Afternoon. Mr Kingston-Bray´s form were having some incredibly interesting conversations and debates, Ms Hatton´s form created some very thoughtful poster designs, and all of you were engaged and respectful throughout. We also had some amazing entries for the talent competition, and I was thrilled to announce our finalists this week - congratulations to Elisa Ploch De Silva, Elena Tuke, Matthew Mansour and Sophia Brown! I can't wait to see you compete in the final next week. Please keep the entries coming in for the Christmas Card design competition. Remember every entry earns an all important House Point. The deadline for this is 30th November. Next week in assembly we will be announcing our first Roosevelt winner of the month. Don´t forget you can post your nominations for this in our nomination box which is now beautifully decorated. This can be found in Ms Hatton´s room. Keep up the great work as we head to the end of this term.
Miss Mayes, Head of Roosevelt House
Well done to everyone in Galileo House. We are currently in the lead! Keep up the great work so we are the winners of term 1. I know we can do it. Make sure to enter the competitions that are running. The deadline for the Christmas Card Competition is 30th November and the deadline for the Science Christmas Decoration is 10th December. We won that competition last year so I am hoping for a repeat performance.

Also, a massive well done for all the great work you did on the Awareness Afternoon. As I was going around classes I was so impressed with the thoughtfulness and effort you were putting into the tasks.

Miss Turley, Head of Galileo House
In our House assembly last week I announced our first 'Winton Winner of the Month'. Marley, one of our fantastic House Captains came up with the idea and made a beautiful nomination box in our House colours. Students could nominate fellow Wintons for anything they thought should be celebrated. This could be something impressive they have achieved, a kind gesture or showing compassion or acting with respect, integrity or responsibility. I was so impressed with all of the nominees- we truly have some amazing students in Winton House. All of the nominations were considered by House Captains and the winner was chosen. So, I want to say a huge well done and thank you to our winner for November 2021 - Amber Worrall for being such a fantastic role model and showing kindness and compassion to all. We are all proud of you!
Mrs Florey, Head of Winton House
Early Years news with Mrs Wardle
---
Following on from our library trip , we continued to show and share our love of books and reading. The children brought their favourite books and teddy bears to school and we sat comfortably in the reading corner and enjoyed lots of quiet times throughout the week, sharing our favorite books and stories with one another.
The Literacy Early learning goals for the Early years Foundation stage
It is crucial for children to develop a life-long love of reading. Reading consists of two dimensions: language comprehension and word reading. Language comprehension (necessary for both reading and writing) starts from birth. It only develops when adults talk with children about the world around them and the books (stories and non-fiction) they read with them, as well as enjoying rhymes, poems and songs together. Skilled word reading, taught later, involves both the speedy working out of the pronunciation of unfamiliar printed words (decoding) and the speedy recognition of familiar printed words. Writing involves transcription (spelling and handwriting) and composition (articulating ideas and structuring them in speech, before writing).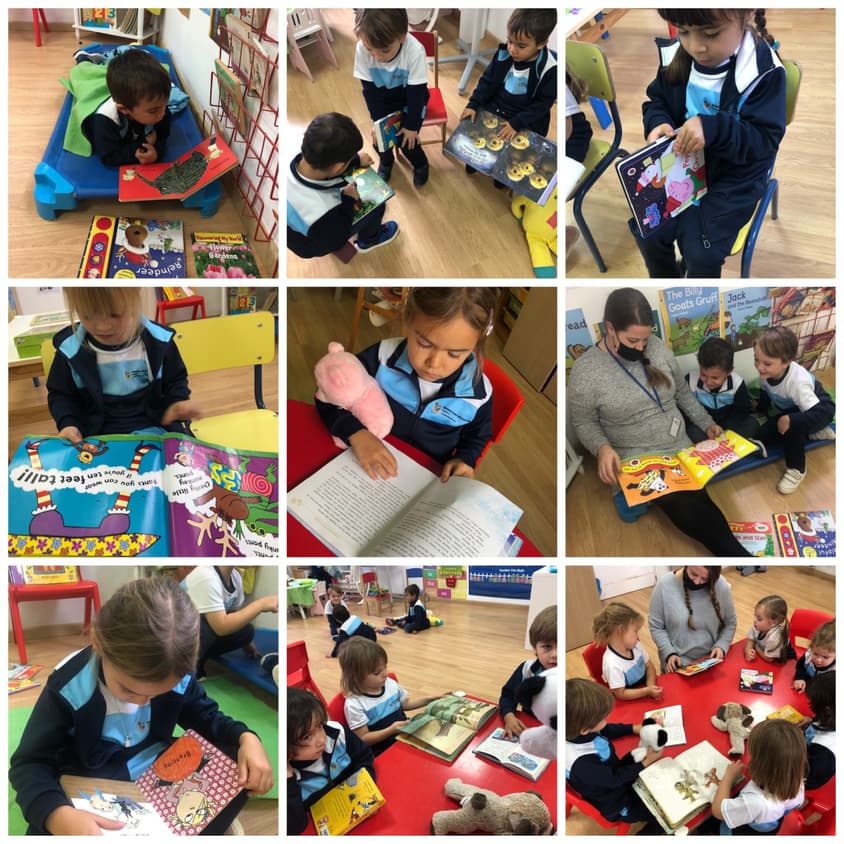 Year 1 news with Mr Fairless
---
During our Awareness Afternoon Year 1 had a great afternoon talking and learning about how we are all different.

We also worked very hard using colourful semantics to help us write sentences describing characters from the story 'Chicken Licken'. The children worked very hard and showed how far their phonic ability has improved.

Year 2 News with Ms Bakes
---
Year 2 started Friendship Week last week with a wonderful array of colourful odd socks! This day helped the children to understand that being different is often a good thing and that we should celebrate our differences.

During the week, our theme was kindness, and we talked about different scenarios in which we could be kind to our peers. The children acted out these scenarios in a fun role-play activity.

Our focus on Monday's awareness afternoon was Family Diversity. The children listened to a story about a koala bear with two dads. They learned that families can be made up of very different family dynamics, but the most important thing that every family can have is love! The children designed their recipe for a special family.

Year 3 News with Mrs West and Miss Xidakis
---
This week Year 3 focused on our school value 'respect'. Through discussions and activities, we examined and celebrated how families are all different. We then created some pieces of art for our classroom displays.

In art, Year 3 developed their sketching skills by drawing an African Tribal owl. They all worked very hard to follow the step by step instructions and were resilient. They are very proud of their final product.

Year 4 News with Mrs Alonso McGregor and Mrs Walsh
---
Two more fun packed weeks have flown by and what a lot we have packed in! The fortnight started with Odd Socks Day, which we all enjoyed immensely and which led to some thought provoking discussions around the value of difference. We made some lovely 3D pictures of our families incorporating a rainbow to represent the diversity of family types even in our classroom.

Although it has been very wet outside, luckily the papyrus that we made had dried and we were able to paint Egyptian people and gods onto it. We learned that traditionally, Egyptian people were painted with heads and feet facing left or right but bodies were painted facing forwards. We tried getting into this position but it wasn't very comfortable! We were chuffed with our results though!

Another Activities Afternoon saw 4A taking their puppet topic to the next level. We created our own puppet theatre. It was a whole class effort to paint it and we can't wait to get inside and start to create our own puppet shows!

Mr Wolfenden came to 4A and taught us some very exciting science around the topic of Divali. He even had real flames! He enthused us with his knowledge and demonstrations and we are now very excited about Secondary science if that's what they get up to!

4W were very excited about our computing lesson this week. Our unit of work on the internet has been quite classroom based learning about routers, switches and safety. This week we finally got to explore different websites to look at the layout of different sites, pages and had a go at "playing" with the chrome music lab site.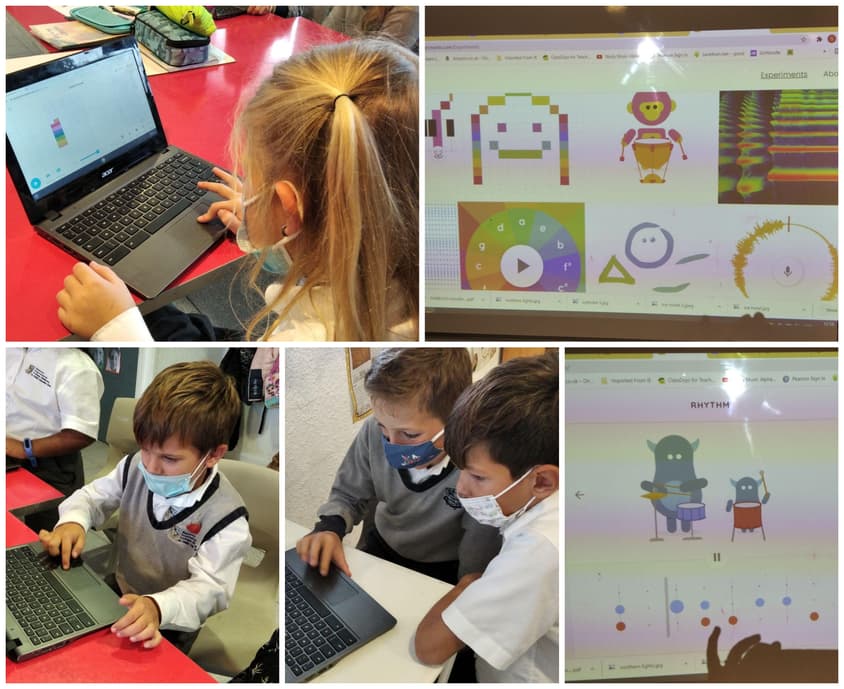 Year 5 News with Ms Hodgson, Ms Cortes and Ms Demangeat
---
Year 5 have continued working hard whilst also having fun! They had a very informative and productive trip to El Toro beach led by Sergio and Ana from Save the Med. They learned all about the different types of plastic pollution, found all sorts of rubbish on the beach and also dug deeper to find nurdles (small plastic pellets which cause devastating damage to marine life). As a result of this the children were very keen to do something in return for the Save the Med Foundation so have organised a cake sale for school to help raise funds. They have also been working during the week on "Zero-waste snack and lunch boxes!"
Year 5 have continued to look into Space; this time at the different phases of the Moon.
What better way to learn about this using torches, balls and, of course, cream biscuits which can be formed into various phases.

Year 6 News with Mr Darlow and Mrs Von Waberer
---
As well as continuing to enjoy our ongoing Greek myth writing, filming Horrible History videos, getting stuck into algebra and learning about evolution, Year 6 have also managed to find time for exciting extra curricular activities in the run up to Christmas!
A huge well done to Jane, Louisa and Demi who represented our school beautifully at Mallorca Radio One this week by talking about what Christmas means to them. If you missed it, you can hear their reflections on Christmashere.
Back in school, there is a real buzz about the many competitions running, whether it's collecting coins on Times Table Rock Stars, making a science-themed Christmas ornament, designing a compassion-themed Christmas card, or producing artwork for the Mallorca Fashion Outlet. Meanwhile, our dedicated thespians are giving up every lunchtime to rehearse our forthcoming school musical, 'Matilda'. Oh, and did we mention that our auditions for the talent show were fabulous?
In science, over the last three weeks, Year 6 have been invited into High School to enjoy seminars from The Natural History Museum in London. The students have enjoyed three seminars so far learning about wildlife photography, the near extinction of many bird species due to past fashions and most recently, the role that DNA analysis has played in re-writing the classification rule book! Our students also enjoyed learning about the science of fireworks as we celebrated Diwali here at BIC.
It's all happening and the next few weeks are going to fly by!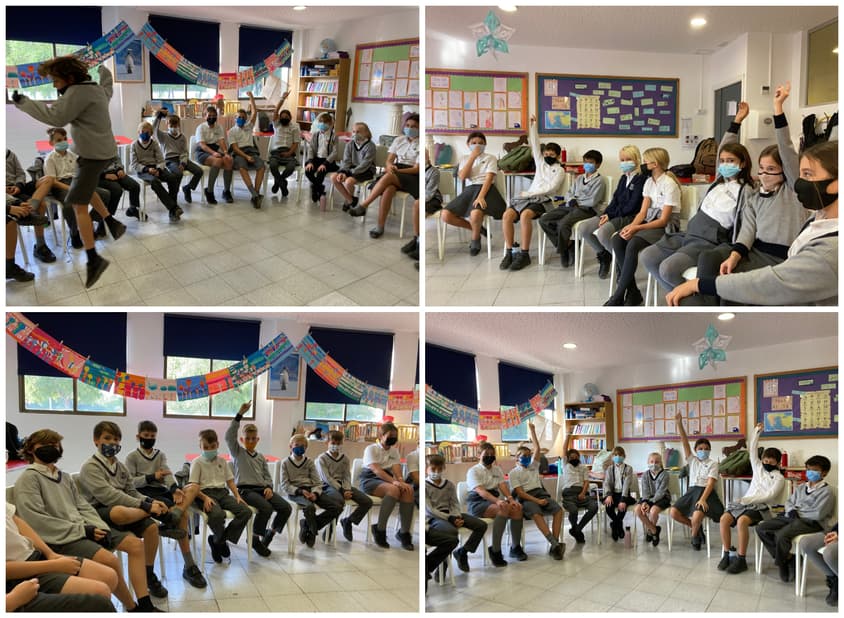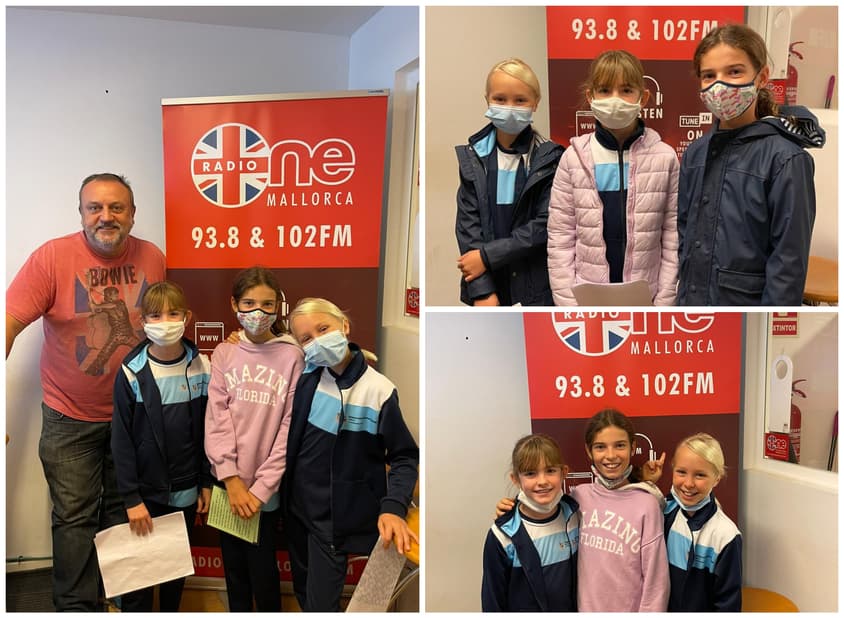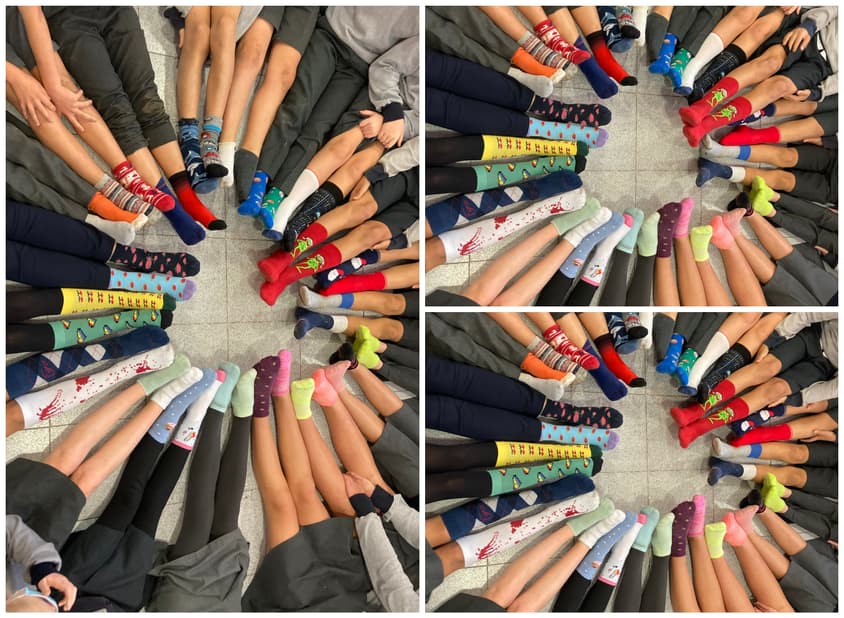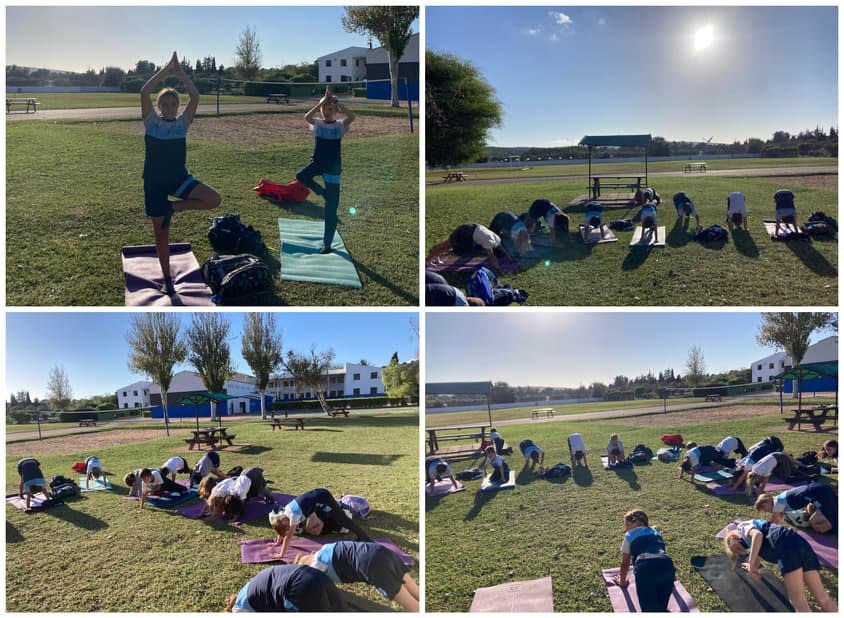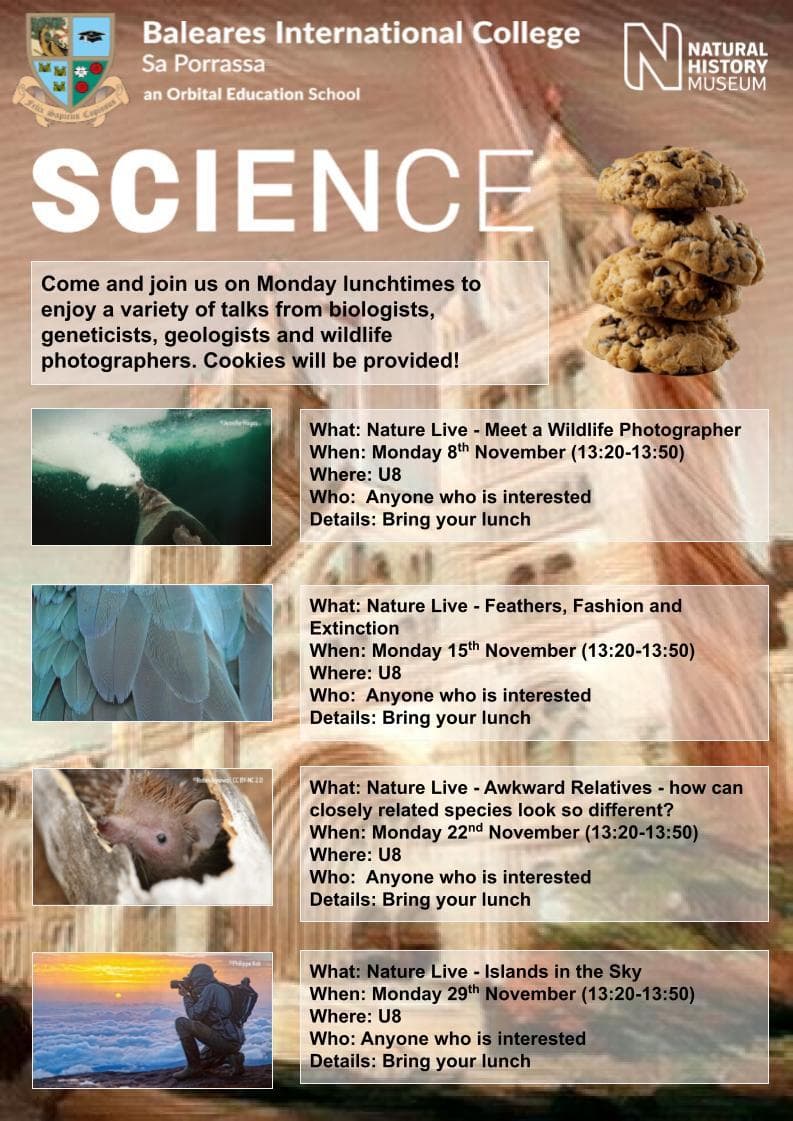 Sports department news
---
We are delighted to announce that school fixtures are once again permitted under Covid rules. As a result, the combined Year 3 and 4 team and combined Year 5 and 6 football teams are back up and running.

Year 3 and 4 students were invited to train after school and 18 students attended. As you can see in the pictures below, they were full of energy and enthusiasm, not to mention quality on the ball! They were preparing for a fixture against 'MySchool' from Sa Pobla at the Son Ferrer football pitches on Monday 22nd November.
Below you can see the 10 players who were selected were incredibly happy at the final whistle following their 4-3 victory over MySchool thanks to three goals from Tate and the winner from Benji.
Year 5 and 6 have also had an after school practice in preparation for a game against the RMA Academy, also at the Son Ferrer football pitch.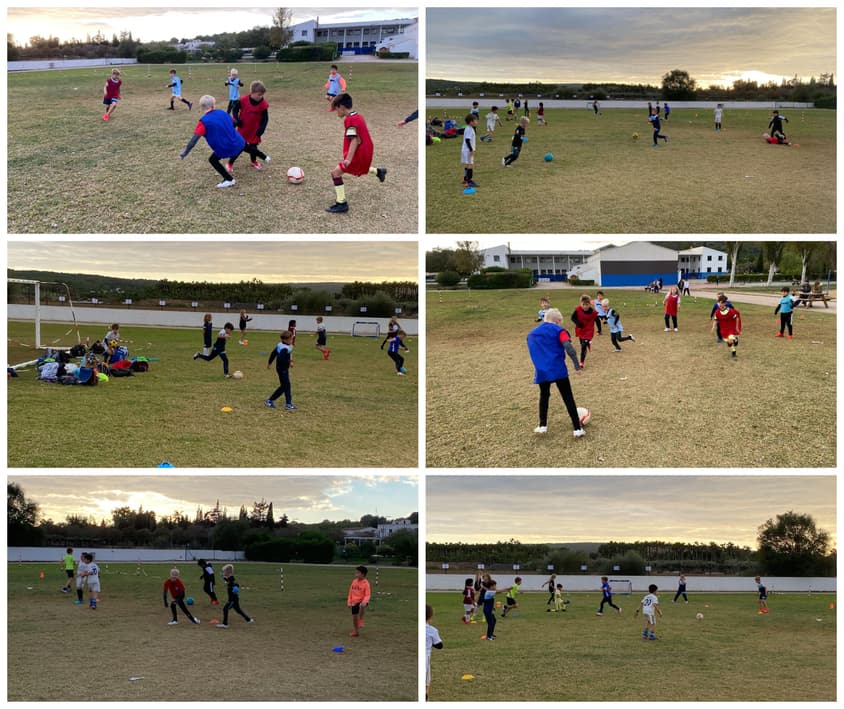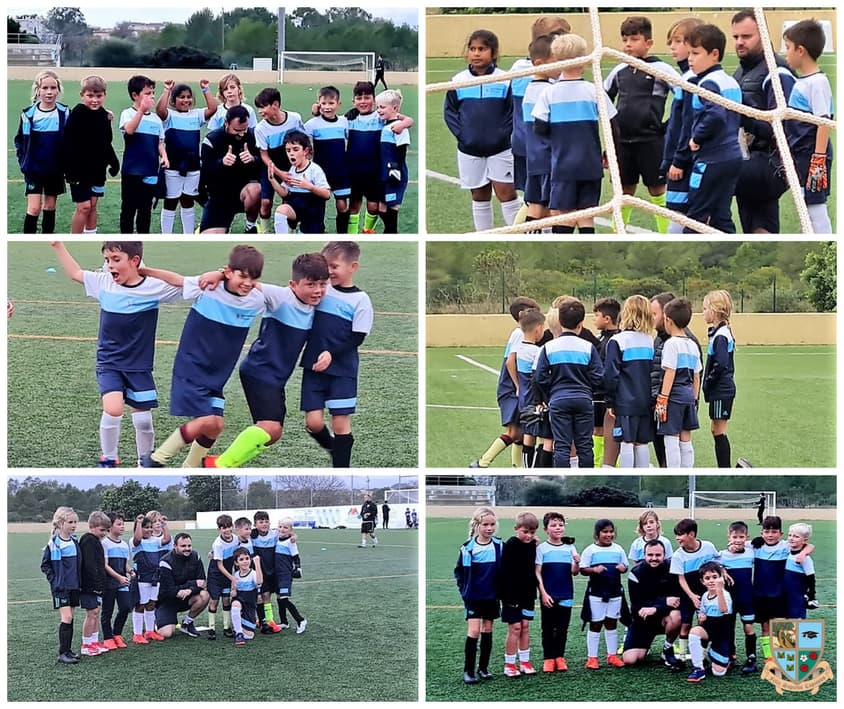 On Saturday 20th November our young volleyball BIC players attended The Superleague Volleyball match at Son Moix, Fenie Energia Voley Palma - Ushuaia Volley Ibiza
Our pupils and their parents together with BIC volleyball coach Miss Izabela Zborzynska went to see volleyball at the highest level on the island, with the Mallorcan team playing in the highest league in Spain.
The purpose of the trip was to give the dedicated volleyball club members the opportunity to see how the game is played at the highest level, encouraging the young people to spend their free time actively and, above all, group integration.
The match ended with the score 3:1 for the team from Mallorca. After the match, our students had the opportunity to enter the centre court and take a picture with the players. For all the participants the event was a great experience and everyone is looking forward to having another opportunity to cheer on our great players. There was an extraordinary sports atmosphere at the match, and we had a great time.
Massive thanks to the parents of our young athletes for their support and great cheering during the match!
We would like to say thank you to the team Fenie Energia Voley Palma for the invitation to the match.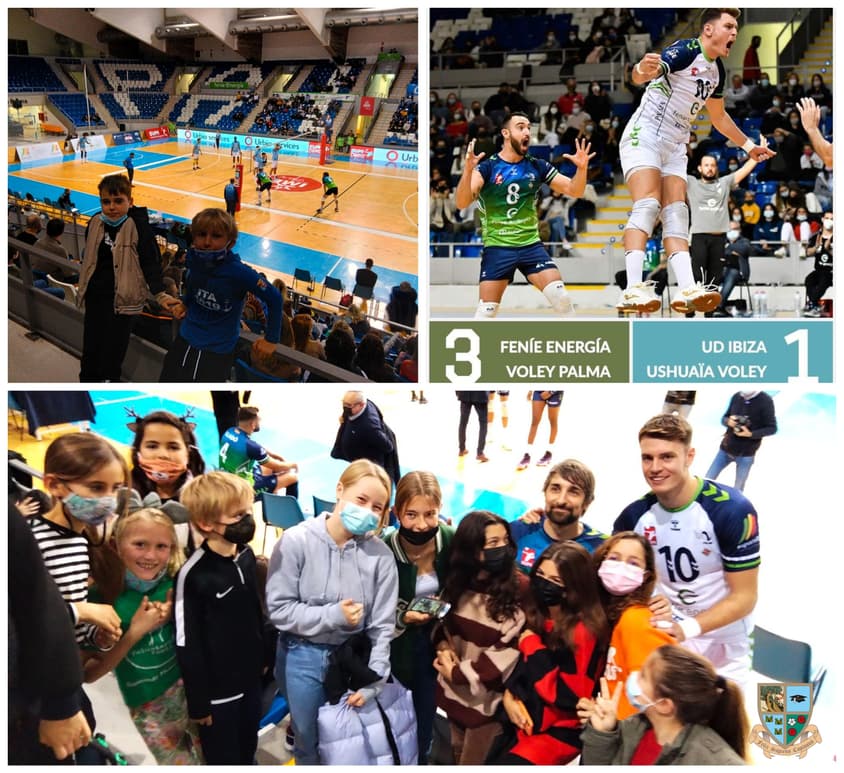 Languages and EAL department news
---
The Year 6 students have been creating these impressive board games in Spanish, using the vocabulary related to the topic of holidays and the preterite tense. They have based their work on a famous Hispanic location: the jungle in Costa Rica, the pyramids in Mexico and the Amazon rainforest.