A message from Alison Colwell, Principal
Dear Parents,
One of the most important elements of a great education is, in my view, a young person's level of oracy. Being able to speak fluently, eloquently, confidently and with a wide vocabulary is essential when going out into the world to be successful – in the fullest sense of the word. One of the (many) reasons why I hate seeing young people glued to their phones is because I think it has, in many cases, negatively impacted on skills of communication. Technology, when used wisely and well, can obviously greatly enhance our lives, but to become addicted to a screen at the expense of engaging in exciting, fun debate is a tragedy.
At BIC we think promoting language and oracy in all lessons, and at all ages, is vital. Of course, the written word is important, but being able to communicate effectively in speech is a skill that is of far greater use, in whatever career our young people are aiming for. The current debating competition is an example of how we want to promote and encourage a great command of the spoken word in our students, and in all our lessons. Whenever I am in classrooms, I often ask the students a question, and always say to them that I want someone to answer, "without using the word like or basically!" "Like" has become constant, lazy punctuation, that has crept into too many people's speech, and we should all be helping our young people to improve their oracy by abandoning such pointless words. It is something we should tackle together, picking them up whenever they use it and encouraging them (as Ms Tomlinson wrote so beautifully last week) to read more, widen their vocabulary, speak carefully and become the brilliant orators they are all so capable of becoming.
Kind regards
Alison Colwell
Principal, BIC Sa Porrassa
Mrs Elizabeth Compton - Head of Primary
An essential part of your child's primary education is to develop their literacy skills and become confident readers and fluent writers. However, developing a mastery of English isn't just about reading and writing: it's also about becoming a good speaker. It's vital that children learn the importance of oracy from a young age. Good oracy skills support children's ability to learn, think about and understand the world, and interact with others. It also leads to improved performance in other curriculum areas, including maths and science. Children who communicate well are more likely to form good relationships with other children and adults, as they can express themselves clearly and avoid conflict or find resolution more independently.
At BIC we believe that focusing on oracy from Early Years and throughout primary has a big impact on children, well into the future.
Some examples of how oracy is developed in primary are:
Setting ground rules for speaking and listening in class, such as putting your hand up before speaking, waiting to be chosen, and not interrupting each other.
Presentations on a specified subject, or a subject of their own choosing. These could be individual presentations or in pairs or small groups, in front of their class or the whole school in assembly. At the lower end of the school, this is often 'show and tell,' while older pupils might make a topic-based presentation.
Discussions as a pair, small group or whole class about story plots, or predicting the outcomes of experiments.
Hot seating - a drama technique where one child sits in the 'hot seat,' and the other children ask them questions to answer in character.
Exploring a text through performance – not just re-enacting what actually happens in the book, but also acting out what characters might do or say in a particular situation.
Giving oral book reviews to the rest of the class, and then taking questions.
Structured debates, with one group of pupils for and another against a certain topic or question.
Putting on class assemblies attended by the rest of the school and parents.
Group work, where communication and listening to each other are essential.
Circle time, a class discussion, often weekly, where everyone sits in a circle and talks over issues affecting the class.
Have a communicative weekend,
Elizabeth Compton
7 ways to promote Oracy at home
Try these techniques to help your child become a more confident communicator, in school and at home.
1. Read aloud to your child
Reading aloud to your child, well beyond the age they can read for themselves, combines the benefits of talking, listening and storytelling within one activity that helps children build their vocabulary, learn to express their thoughts, and understand the structure of language.
2. Record a video diary
Many kids aspire to being bloggers or YouTube stars, so encourage them to start a video diary, either to chart their everyday life or to record special occasions like birthdays and holidays. For safety's sake, keep these within the family rather than broadcasting them online.
3. Play word games
Games like 20 Questions, Guess Who? and I Spy are great for helping children use descriptive language and think critically about what they're saying.
4. Talk about their day
Ask your child, 'What did you do today?' and they'll often claim they can't remember, so find different ways to talk about what they've been learning or enjoying. Eating your evening meal as a family is a good way to encourage conversation, while older children are often more talkative in the car on the way home.
5. Phone a friend (or relative)
Persuade your child to take a break from screen time, messengers etc and develop their speaking skills by making an actual phone call.
6. Go on a nature walk
This is a great pre-phonics activity for young children, who can be encouraged to listen carefully to the sounds they hear – from traffic to birdsong – and describe them. They can also describe the natural sights they see, such as trees, animals, birds and the sky.
7. Sign them up for a club
Joining extracurricular clubs is a good opportunity for your child to converse with different people outside the home or school environment. Many of them also involve taking instructions (such as being coached in sporting techniques or to complete science or art projects), and introduce them to different vocabulary relating to their new hobby.
Visit the Words for Life website for https://wordsforlife.org.uk/ for further ideas and activities to encourage speaking, reading and writing skills at home.
We would like to welcome you to a brand new selection of children's books and resources from Scholastic. The September Digital Book Club is here, featuring all the brilliant fiction, non-fiction and activity books you need to keep children reading and learning.
In order to minimise the amount of paper being sent home during the continuing pandemic, your child will not be bringing home a book catalogue. Instead, there are hundreds of books online, so be sure to take a look at what's available online. The books will be delivered to the school.
Please place your order online at
http://eu-schools.scholastic.co.uk/baleares-international
by Wednesday 7th October 2020.
Early Years Class with Ms Wardle
We have continued to get to know one another in our Early Years community this week. Each child created their own ´All about me ´ box, filled with family photos, drawings, paintings and collections to help them talk about themselves and their families. Talking about familiar themes helps the children to gain more confidence when talking in front of the class. We talked about families and how everyone's families are different but all very special. The children were all very proud to show off their special boxes,and we will keep them in the classroom until October half term.
Key Stage 1 news - Year 1 and Year 2
This week in Year 2 the children were introduced to mind mapping. Mind maps are tools in which you put your thinking into visual pictures, symbols, numbers and words. Our science topic this term is 'Animals Including Humans' and the children worked in pairs to create wonderful mind maps, showing what a child needs in order to survive and develop.
Most of the children in Year 2 now have logged on and explored their new Canvas page.
Our aim is to continue to use Canvas as a homework tool, which will complement what the children have been learning at school in the classroom. Please take a look at our Year 2 course page over the weekend, where you will find a fun homework activity for your child to complete and add to their knowledge and understanding of our topics, animals and the continents.
Key Stage 2 news - Year 3 and Year 4
Science has undoubtedly been the stand out subject for the children in Year 4 this week. We have been learning about the digestive system in humans and learning all the relevant parts of the body that are involved in this process: from the mouth, down the oesophagus right through to the inevitable end of the route that our food makes through our bodies. To bring this physical process alive, Mrs Walsh and Mrs Alonso-McGregor demonstrated the journey a piece of chocolate cake might make - using household items such as cola to represent stomach acids, washing up liquid to represent fat busting enzymes from the gall bladder and liver and an old length of stocking to show how the "food" travels through the small and large intestines, seeping nutrients into the bloodstream before exiting as a rather realistic looking "waste product". The children found this strangely fascinating and hilarious at the same time. It was certainly a memorable way to learn about one of our most important bodily systems.
Key Stage 2 news - Year 5 and Year 6
Here's a challenge. Take a piece of paper. Fold it up as many times and in as many directions as you wish. Get a pair of scissors. Make one single cut.
Now open up your piece of paper. What shape have you cut out in the middle?
With just a single cut, can you make a hole in the shape of a scalene triangle? Or a hexagon? Or a five-pointed star?
In Year 6, this is just one of the exciting, frustrating and fun maths challenges that we have been exploring over the past week. Now, more than ever, we all need patience, resilience and good humour and our wonderful students have shown they have these in endless supply! We've found patterns in Pascal's Triangle, explored factorisation diagrams and designed our own visualisations of number sequences. Not every problem in maths has a black and white answer and it has been fantastic to hear the children's different ideas and approaches.
Maria says: "We had a real challenge cutting out stars but it was a lot of fun. I managed to cut out a hole in the shape of a tea cup!"
Sasha says: "These maths challenges have helped me a lot in maths because they trained us to be logical and made us smile."
Experimental activities and 'maths talks' like these help students to develop a deeper understanding of number and shape and it's been great for us, as teachers, to watch, listen and learn about the children's approaches.
Above all, it's fun!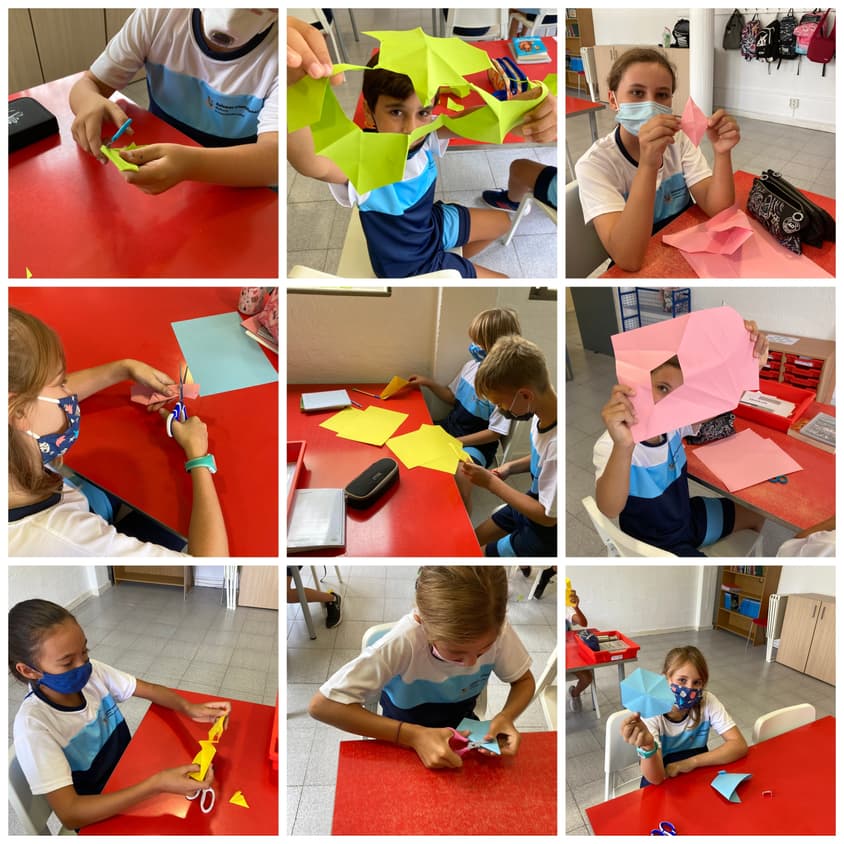 Languages department news
'Día Europeo de las Lenguas' - 'European Day of Languages' - 26th September 2020

As a specialist languages teacher at Baleares International College, part of the Orbital Education Group, I believe that enabling children to grasp the foundation knowledge and skills they will be using for the rest of their lives is an extraordinary gift.
An outstanding and passionate education is, in my belief, the most important element we can impart to our younger generation. As a reflective and enthusiastic practitioner, I am dedicated to enabling young minds to develop and achieve their full potential, and ensuring we provide them with the necessary tools to do so.
The opportunity of learning several languages becomes crucial in today's global society within the European context. Languages define personal identities but they also help us to understand the shared cultural inheritance. Languages help us to build bridges with people from all cultures and promote mutual understanding and shared sense of European identity.
Broader multilingualism can strengthen the opportunities within our society. Language skills contribute to social and professional development as well as to solidarity through enhanced intercultural dialogue and social cohesion.
As an international school, at Baleares International College we take pride in offering our students a range of opportunities in language learning. In addition to the core British curriculum, we provide an extensive language programme to offer native language lessons throughout the school for Spanish, Catalan, German and French, all of which are delivered by our specialist native-speaking teachers.
Language teaching is a privilege, we are at the forefront of these evolutionary times in Europe's multicultural and growing society. For that reason, we need to continue rowing together and reinforcing the importance of languages (teaching and learning) in order to inspire together our new generations.
Lorena Herrero
Specialist Languages Teacher
Baleares International College
In key stage 1 students were having a great time by demonstrating many different animal movements - activities that promote better balance and coordination.
In key stage 2 students were focused on mastering their locomotor skills - such as running, jumping, hopping, and galloping. Students were practising different travelling patterns on the course and then were able to design their own one.
Children were talking about how their body feels before, during and after exercise, explaining why it is important to warm up before exercise, focus on following rules and staying safe during physical activities.
Well done everyone!
PTA Coffee Morning - 29th September
Dear families,
I hope you are all well.
Last school year we re-booted the PTA, and we remain determined to grow and develop it further.
We established four subcommittees to drive the work of the PTA - events; environmental awareness; induction and welcome; and an expertise committee, to draw on the wealth of experience and expertise in our parent body, for the betterment of the school and the students.
We are keen to welcome all our new parents to become involved. On Tuesday 29 September at 9.15 we will be holding a coffee morning, to welcome new families, explain a bit more about the PTA and how we want things to develop, and to provide an opportunity for new families to meet each other.
Please make time in your diaries to come along. To enable us to manage numbers and comply with restrictions, can you please email your attendance to office@balearesint.net.
Coffee and refreshments will be provided, but please do feel free to bring along any offerings of your own! We look forward to welcoming you. We also, of course, are keen to hear from all families who would like to become involved in the PTA.
Alison Colwell
Principal
Paula Cannady
PTA Chairwoman