It is with great pleasure that I introduce myself as Principal of BIC.
As principal, my aim is to build on the school's foundations and make it the number one school of choice on the island. For the children in our care, my aim is that they enjoy school and love coming here, just as I loved my own school days. I am firmly of the opinion that "children loving school" is about more than just enjoyment. It is also about them having inspiring teachers, who they look up to and admire, and who they will remember long after they leave. It is about them feeling safe, secure and confident, and acquiring values of independence, integrity and resilience. In particular, for the very many of our pupils who are bright and able, it is about them being stretched and challenged, excited about their learning, hungry to know and discover more, and always being pushed to the max. It is about no child ever being able to say in school, "I'm bored".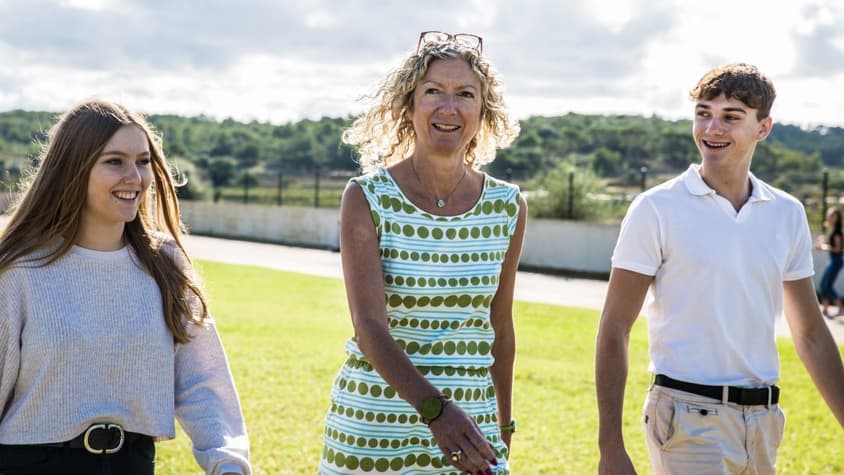 Our school has tremendous strengths, not least a delightful student body, supportive parents, and a team of excellent, hardworking, and committed staff. Our school educates children between the ages of 4 and 18; this all-through element is one of its many strengths. Having the curriculum joined up from the earliest years right through to the end of Year 11 is both essential and easily attained. We have a broad and balanced 11-year curriculum in all subjects, ensuring that the children learn in a sequential manner and building on their prior knowledge.

I am firmly of the opinion that children loving school is about more than just enjoyment. It is also about them having inspiring teachers.
As a school leader, my staff and our children are of the utmost importance to me, and I love coming to work every day. Teaching is a joyous, wonderful profession and a privileged one, giving us the opportunity to mould young lives and to transform life chances - I know that you always remember your great teachers. I look for only three things in my teachers - that they love children; that they are conscientious, committed and with a clear moral purpose; and that they are passionate and highly knowledgeable about their subject. We are the only British-owned schools on the island and have been proudly delivering high quality education since we were founded over 60 years ago. Regardless of the changing times, our school has remained steadfast in our values of respect, compassion and independence. Our students consistently make better progress in core subjects than the global average. Our exam results are strong (with more than a third of our GCSE and IGCSE results, and over half of our A Level, at the top A and A* grades), and when they leave us at the end of our sixth form, many of our students continue their studies in some of the most prestigious universities around the world.

We also encourage all our students to fulfil their potential, not only academically but also to take advantage of the plentiful opportunities presented to them in areas such as music, sport, drama and art. We pride ourselves on being a truly international school community, welcoming over 40 nationalities. Through contact with a variety of languages, cultures and beliefs our students leave Baleares International College equipped for the global challenges of the 21st century.
I hope you find this website informative and helpful. However, it cannot completely convey the all-important feel and warmth of the school; you will have to come and visit us and see that for yourself, and I will take great pleasure in welcoming you to the school.


Principal – BIC Sa Porrassa School