Your guide to all news at school.
Ms Alison Colwell, Principal
---
Dear families,
Up there with education and reading, food is a huge passion of mine. Cooking. Eating. Learning about cooking and eating. The importance of meal time, sitting down, togetherness, discussion. Talking to some prospective parents today, telling them about the wonderful teaching that goes on at our school and the wonderful teachers we have, the prospective student cut to the chase when she enquired, "What about lunch?" Lunch time is a really important part of any day, and quite rightly she wanted to know what she would experience at BIC!
I have worked really closely with our chef, Jerry, since he took on being our provider of tasty, nutritious school lunches. He and I talk often about how we can ensure the best service and meal offer for our students. Earlier this week we met with a parent representative to get feedback on the menu and we are always keen to do this - to hear from yourselves about what your children like, what you as parents want and how we can ensure we make the important midday meal as delicious as possible. Where we eat also matters: this weekend the fabulous PTA are starting work on the overhaul of the canteen. We are highly appreciative of the grand design that has been provided by Robert Persson of Team BIC, and also to the parents who will be working with our site team to bring this project to life.
With the relentless rain this weekend, enjoy sitting around the family meal table.
Alison Colwell
Principal
Baleares International College, Sa Porrassa
Ms Alexandra Tomlinson, Head of Secondary
---
Yesterday morning our Remembrance observance was marked by The Last Post, followed by a one minute silence, a verse from For the Fallen by Laurence Binyon (read beautifully by our Head Boy) and rain. Lots of rain.
In her extremely moving Remembrance assembly this week Ms. Austin explained why we observe this day; that on the 11th hour of the 11th day of the 11th month the signing of the armistice which signalled the end of the First World War took place at the Palace of Versailles in 1918. We remember because it was a horrific war, ´´the war to end all wars´´ and we remember the futility of all those lives lost in such terrible conditions. We remember to try to ensure that it never happens again. It is a day which pleads for peace.
Asking students to reflect in silence on how they can try to bring that peace into their hearts, Ms. Austin reminded us that it is only when peace enters into all of our interactions - into what we say and what we do on a daily basis - that we can truly end all war.
Mrs Tomlinson
Head of Secondary

Mr John Barter - Head of Sixth Form
---
Future Focus
The focus for many of our Sixth Formers this week has been the subject of university. Year 13s continue to work on their university applications; staff are busy with writing supporting references. On Monday, we took over half the Sixth Form to the Unitour (face-to-face) university convention in Palma; thank you to Ms Rodriguez for organising the trip. The convention gave our students the opportunity to talk with representatives from a range of universities. Whilst the specific university that a student wanted to talk to might not have been there (remember our students are looking all over the world so it would be unreasonable to think that this would be possible), it started lots of useful conversations and made students aware of new possibilities that they hadn't previously thought about. Following the convention three different university representatives have come into school to talk with students and staff:
We are grateful for their support and interest in our students.
If you, as parents, have specific questions or concerns about university, please feel free to contact me. Our Higher Education Webinar will take place on the evening of 10th February; specific details will follow in the New Year, but we will have a focus on universities in the UK, Spain, Holland and Germany. You may want to put this date in your diaries.
This week in Global Citizenship, the Year 12 students were thinking about how they best prepare themselves for university applications. Obviously working consistently hard and getting the best grades possible is essential. But many universities are now looking at the whole person and not just grades, and are asking students to explain themselves as people; how they work with others and their best personal qualities. I have listed, below, the questions from one university that we looked at in our lesson. I wonder if you know what your son or daughter would have said? I wonder if you would agree? These could be the topic of a dinner time conversation in the coming week. The key thing is that if students currently think they are lacking in some of these areas, they still have time to seek out opportunities to work on them; for example, currently we are looking for Sixth Form students to be in the Carol Concert Choir and for Sixth Form students to help support the running of the library. However, there will be other opportunities forthcoming.
Describe an example of your leadership experience in which you have positively influenced others, helped resolve disputes, or contributed to group efforts over time.
Every person has a creative side, and it can be expressed in many ways: problem solving, original and innovative thinking, and artistically, to name a few. Describe how you express your creative side.
What would you say is your greatest talent or skill? How have you developed and demonstrated that talent over time?
Describe how you have taken advantage of a significant educational opportunity or worked to overcome an educational barrier you have faced.
Describe the most significant challenge you have faced and the steps you have taken to overcome this challenge. How has this challenge affected your academic achievement?
Think about an academic subject that inspires you. Describe how you have furthered this interest inside and/or outside of the classroom.
What have you done to make your school or your community a better place?
Beyond what has already been shared in your application, what do you believe makes you stand out as a strong candidate for admissions to our university?
Before I sign off, please could I remind you that Sixth Formers will have mock exams during the two first weeks back after Christmas (from 10th January); some Year 13 students have official exams that count towards their final A Level grade. Revision will need to be built into their Christmas schedules. However, the more they do this side of Christmas the less stress there will be in the holiday.
John Barter
Head of Sixth Form
john.barter@balearesint.net

The Duke of Edinburgh International Award
---
Last weekend our brave DofE recruits tackled the Na Burguesa range close to our school. The views from here of our locality are fantastic and really help us picture our place on the island. We managed to reach the pinnacle of Puig Gros as we dodged the threatening winds and storms from the weekend to take advantage of what became a beautiful clear morning. Many said that we should cancel due to the forecast, but we remained positive and gave the weather gods the chance to be kind.
Our next hike will be on Friday 19th November when we will leave school directly at 4.05pm and tackle our local coastpaths to El Toro in the dwindling daylight. All who intend to attend should send prior notice to Mr Sparks.


University Fair (Unitour)
---
Since 2006, UNITOUR is the leading university fair in Southern Europe. The trip was an exciting opportunity for students to meet 50+ European universities and learn more about the institutions, curriculums or entry examinations. The career advisors talked to Mr Barter, Ms Luengo and Ms Rodríguez and to our students and were able to provide them with valuable information for their future choices.

Whole School House System news
---
House Points Totals Update - Term 1
| | | | |
| --- | --- | --- | --- |
| Winton | Galileo | Roosevelt | Parks |
| 649 | 703 | 678 | 753 |
A message from your Heads of House
---
I wanted to thank all the Parks students who have brought in a harvest festival donation. It was lovely to see the amount we have collected on the stage during our House assembly on Tuesday, representing what a compassionate team we are. Also, well done to the students who entered the Pumpkin carving competition over half term. You never cease to amaze me how creative you are. I look forward to finding out who the overall winners are.
Miss Xidakis, Head of Parks House
Congratulations Roosevelt for a strong start to this term. I have enjoyed seeing you all back in the school spirit and already planning entries for the upcoming Talent competition. I want to thank our House captains for all their hard work on helping us organise the entries for this. I also want to thank all of you who brought in donations for our Harvest Festival collection, what an incredible display of compassion.
Miss Mayes, Head of Roosevelt House
Well done to everyone in Galileo for an excellent start back after a well deserved half term, and a massive thank you to all who brought in items for the Harvest Festival. We are currently second in the overall House Point totals but I know we can get up to First. There are competitions coming up which can earn us House Points, such as the Talent Show and a Christmas Card competition to design the school card with the theme being Compassion at Christmas. I look forward to seeing your entries.
Miss Turley, Head of Galileo House
Well done Winton House for a fantastic start back after half term. You have all continued to show upstanding character and compassion. Thank you to everyone who brought in supplies for the Harvest Festival. Your donations will make a huge difference. Looking ahead this term, there are some exciting competitions coming up - the Talent Show and the Christmas card competition. I can't wait to see all your entries.
Mrs Florey, Head of Winton House
House Competitions!
---
We are starting off this second half of term one with announcing our next two upcoming House competitions.
We have the Talent Competition, for which we are already taking entries. In primary, your class teachers are organising entries and auditions. In secondary, your form House and vice captains are organising your entries. All entries will receive House points. Finalists will be confirmed by Wednesday 24th November, and all finalists will be taking part in our after school talent competition on Thursday 2nd December. Who will the judges pick as the winners? And which House will have the most talent? It's all to play for in this next whole school competition.
We also have our ´compassion at Christmas´ Christmas ecard design competition. For this we are asking all students to create a design for the front of our ecard which displays compassion at Christmas. Perhaps it could be the gathering of a family, a choir singing carols for a local community, Santa Claus giving out presents to all children. Your entries should be sent by email to your Head of House by Tuesday 30th November. All entries will receive House points, and the winning design will be used on the front of our Christmas ecard which will be shared with our families this year.
Maths department news
---
Online International Maths Challenge
As part of our aim to stretch, challenge and inspire students in mathematics, we will be entering students into different competitions throughout the year. On the 12th and 13th of November four Year 8s and four Year 9s will enter the Online International Maths Challenge. 

It is a fantastic opportunity for students to test their understanding and compete globally with other top mathematicians.
Ismene, Neithan, Lilly and Joel were selected in Year 9.
Maximilian, Manu, Matthew and Quinn were selected in Year 8.
Key Stage 3 Problem of the Week
This initiative continues to thrive with another 27 excellent solutions last week. The competition for top spot continues to be fierce and over 15 students are on track to be involved in the random participation draw for completing 80% of problems!
Here are two fantastic solutions handed in last week. The first one is from Manu in Year 8 and the second is a wonderful solution from Emma in Year 9.

Languages department news
---
GERMAN
SPANISH
The Year 9 students have been working on the comic and the verbal and non-verbal elements used in it to tell a story. Here we are some examples of their work. Well done!

The Year 10 students have been working on medieval Spanish literature. They have studied don Juan Manuel and his book El conde Lucanor. It was written to aid the education of the nobles of the time and conveys a series of advice in the form of short stories. Our students have analysed the structure and plot of several of its chapters.

Humanities department news
---
Year 7 have excelled over the past few weeks and many have managed to combine their skills in design and history to produce some incredible Motte and Bailey castles.

Year 8 have also been very creative in their work on the Gunpowder plot. I was very impressed by Rafael Le Bras' mind map, and Cameron Cull made a video that was worthy of being shown on the BBC which discussed the extent that Guy Fawkes was actually set up.

Year 8 geographers have been studying the climate crisis, perfect timing with the COP26 conference taking place in Glasgow. So far they have looked at the causes and effects of global warming, at a range of scales. Next we will examine what can be done about it, particularly at a local level, thinking about our own homes and our school.
We used paint charts to create chains of reasoning, emphasising how one impact can lead to another.

Year 12 students have also been studying climate change. In this work they have learnt about the loss of Arctic summer ice between 1980 and 2007, physical feedback mechanisms and climate tipping points.

Sports department news
---
Despite the poor weather that the island has been experiencing, it hasn't stopped the students working hard and enjoying themselves playing sport. In preparation for this half term's inter-house PE events, secondary students have been playing ducking, dodging and diving whilst playing dodgeball. The game is a fantastic alternative to traditional sports and is a great way to improve reaction time, throwing technique, agility and so much more.

English department news
---
This half-term, Year 8 are studying the Gothic genre, and have started by learning about the features of Gothic in literature, art and film. They began by describing Gothic images to their partner who couldn't see the picture, and proved themselves to be masters of Gothic description.

The students then showed their understanding of Gothic features in their homework, using them in their posters for the films 'Dracula' and 'Corpse Bride'. We will continue to look at these features in Gothic literature, and use them in our own writing at the end of the unit.

As we wave goodbye to Halloween, enjoy a few pictures of Year 9 writing by torchlight and reading their spooky Halloween stories on the last day before half-term.

Creative department news
---
DRAMA
In A-Level Drama, our Year 13 students have been working on their interpretation of ´Adult Child, Dead Child´ by Claire Dowie. Working on an extract from the beginning of the play and inspired by theatre practitioner Artaud, students have been exploring how they can use physicality to bring the performance to life.

In Year 12, Lea has been working on a monologue driven piece that displays different sides to the personality of one character. Using the methods of theatre practitioner Stanislavski, she analyses how her character would stand, move and use gestures.

In Year 9, students have moved on to studying music and are working with ukuleles. Below we can see students from 9:1 getting to grips with chords, and transitioning from one chord to another for performance.

ART
Year 8 Marc Chagall compositions (Dani, Devonbow, Tara, Beau, Elizabeth, Seren and Marley)

Year 11 studio work (Sophia, Canel, Eero and Jamie)

Sixth Form studio work (Harriet, Lucia, Maisie, Maya, Enzo, Paula and Jessie).

Science department news
---
This week marked the start of our Natural History Museum seminars during Monday lunchtimes. Students from Year 6 and above were welcomed to learn about the word of esteemed wildlife photographer Jennifer Hayes who has been working in the Arctic. The students were surprised to learn that there is more to this than simply taking photos as they discussed the ethical conundrums that present themselves as photographers have to decide whether to simply observe or intervene.

Year 7 students have been studying particle theory in science class. During this activity, students have to apply their knowledge of particle theory and change of state in order to explain the collapsing can phenomenon.

There was the opportunity for students to learn about the science of fireworks this week as different classes looked at the events leading up to the Gunpowder Plot of 1605. Additionally, many of our classes enjoyed learning about the festival of Diwali, celebrating the festival of light through designing and testing fireworks.

Year 8 and 9 students have been studying light recently. The students had the opportunity to build a prototype camera. In Year 9 after studying about seed growth, the conversation turned to enzymes and the role that they play in different organisms. At times, the learning follows a tangent and the students planned an investigation looking at how some fruits can tenderise meat. Here the students investigated how temperature has an impact on an enzyme's ability to effectively digested the fatty connective tissue in meat. The students found out that the enzymes were temperature sensitive and that kiwi, papaya and pineapple all are excellent at softening meat!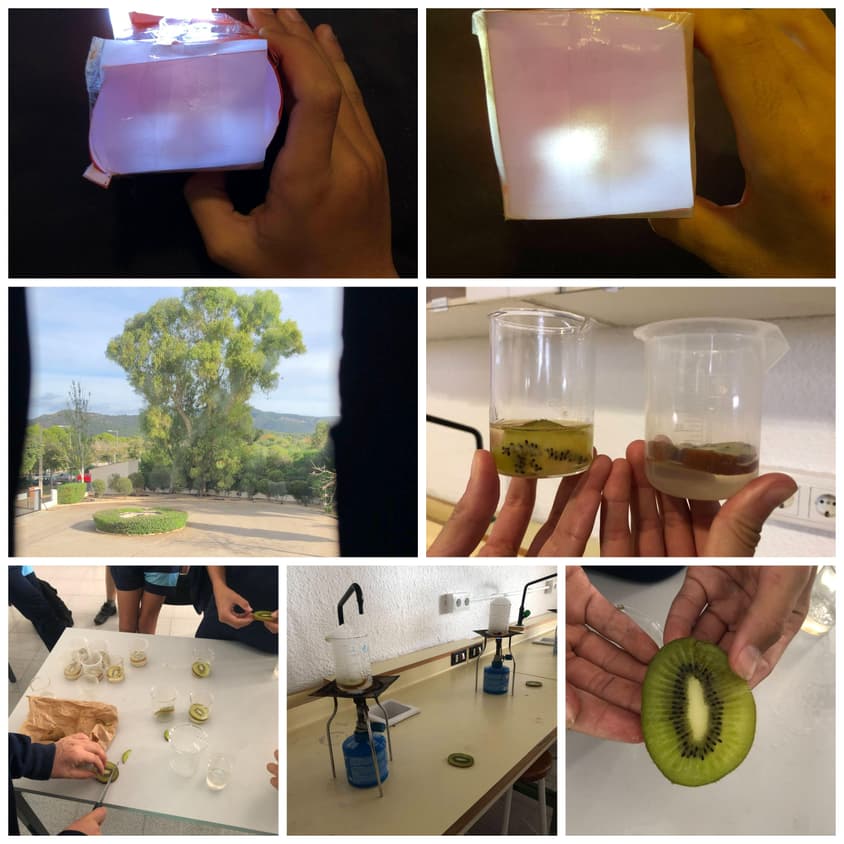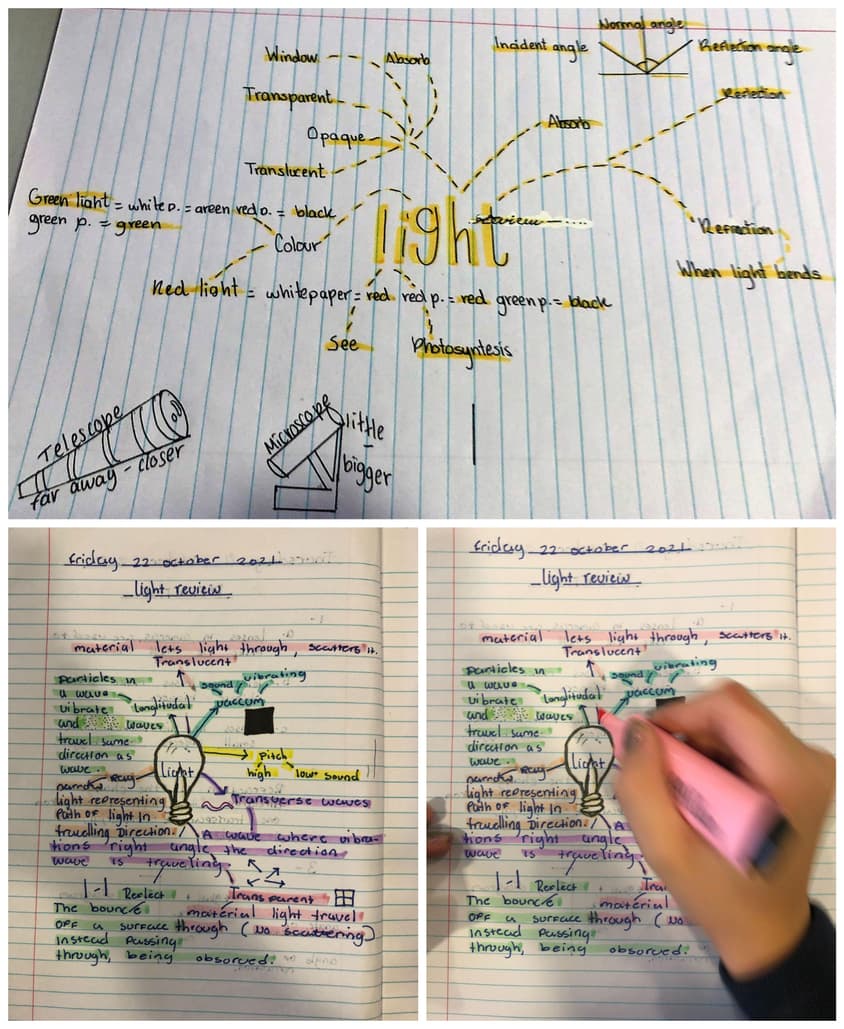 Year 10 students have been learning about atomic structure in IGCSE Double Award Science. With a solid understanding of atomic theory, they will be able to accurately predict and explain the chemical reactions that help us live such comfortable lives today. Working in teams, the students had to find an element on the floor and draw it as quickly as possible in order to gain the most points. Here is a video showing the activity.

Year 11 IGCSE Biology students have been learning about how scientists have developed genetic engineering in order to save the lives of many millions of diabetics from across the planet. Here you will see how the students modelled the formation of transgenic organisms that save the lives of people who might otherwise depend on insulin from cows and pigs.

Year 12 Biology students have been investigating how factors such as temperature affect membrane function and permeability.

Year 13 biology students have been studying forensics. They carried out a version of gel electrophoresis which is used by scientists to create DNA profiles in crime investigations.

As a Science Team, we are currently embarking on our yearly drive to develop our practice further in order to better meet the needs of our students. Continuing Professional Development is just that, continuous. The team is looking forward to learning and sharing in the coming months. Here is a selection of what the team are reading:

Eco Club
---
BIC Eco Club are excited to announce the start of 2 amazing new projects: a vegetable patch and a wellness garden. For this we need your help! Volunteers wanted to help clear, dig and transform the area. Please feel free to join us on Saturday 27th or Sunday 28th November (precise times to be confirmed).For more information please contact us at ecoclub@balearesint.net
Amelia and Holly