Your guide to all news at school.
Ms Alison Colwell, Principal
---
Dear families,
What a wonderful last week we have enjoyed at the end of another really successful school year, with the excellent school performances, and the heart warming prize giving on Wednesday, when we celebrated the students' achievements. The end of a school year is always extremely busy but the energy, enthusiasm and hard work of both students and staff has meant it has been a joyous time.
It is never joyous to say farewell to staff who have served the school well, although you will have read in recent newsletters about the outstanding new teachers we have joining us for next school year. I would like to wish Mr Warn, Mr Sparks, Ms Hawksworth, Ms Pooler and Mr Hudson well, and thank them for their contribution to the school's tremendous growth and continued development over recent years. In addition, I would like to make special mention to Ms Tomlinson, who returns to the UK after two years leading the secondary school. I want to acknowledge the strong, principled leadership she has shown, the service she has given the school and our students, the moral purpose that guides here every action and decision, the care and compassion she exudes, and the unrivalled support, encouragement and commitment she has given me personally. She leaves her fingerprints on our school, and hands to Mr Brown a strong and hugely successful baton. I thank her for everything she has done, and wish her happiness and success in her next chapter.
Alison Colwell
Principal
Baleares International College, Sa Porrassa

Ms. Elizabeth Compton, Head of Primary
---
Dear families,
As I write to you today we have arrived at the end of what has been a fantastic term and year. This term in particular has given the students the opportunity to return to normality. The school that they know and love, one with school trips, working without bubbles and masks.
Throughout our newsletters this year you will have seen your children's learning in and out of the classroom, their academic, social and emotional learning journey all preparing them for the next stage. Moving up to a new class as I have said is an exciting time and one that brings new opportunities, experiences and challenges.
This week I must give special mentions to our Primary performances. Many a tear was shed in the Year 6 celebration assembly. I am so proud of our Year 6 cohort and the young people they have become. We wish them all the best as they ´move up´ and onto this new chapter in their lives. The Year 5 performance of ´Pirates of the Curry Bean´ was outstanding and I thank all parents, staff and the students for their commitment and confidence in making this exceptional show a reality. The finale was our Year 2,3 and 4 summer concert and such a wonderful way to send us off as ´we are all going on our summer holidays!´ Congratulations to our Year 2 students who now ´´graduate´´ into Key Stage 2, and their Year 3 classes.
This summer I encourage your children to try new things. Recently I was reading around primary student learning in an article about the best things children should try before they are 11 ¾. Perhaps this summer your children can try something off the list below.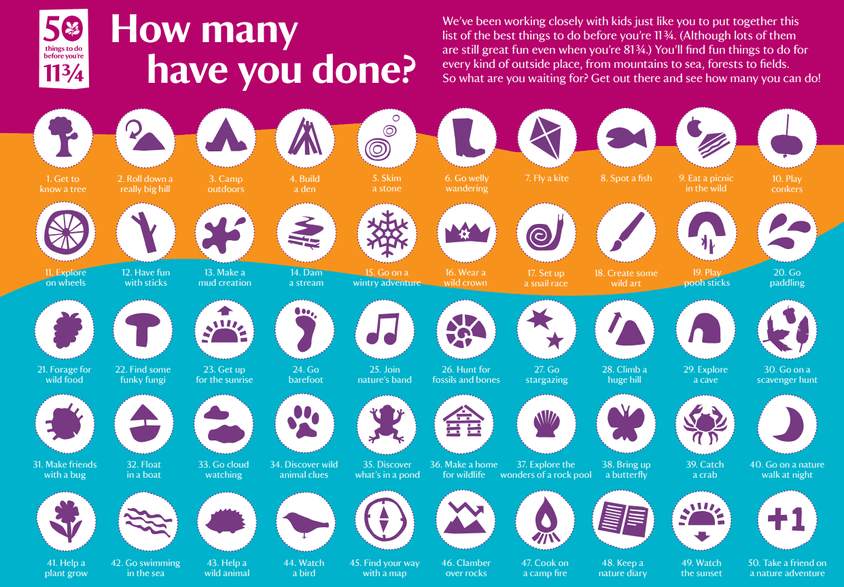 Finally, I would like to thank you, our parents for your support to our school, your children and thank our wonderful team of staff that make this a fantastic learning community for all.
Have a wonderful summer,
Ms Elizabeth Compton

Whole School House System news
---
House Points Totals Update - Term 3
| | | | |
| --- | --- | --- | --- |
| Winton | Galileo | Roosevelt | Parks |
| 820 | 1005 | 987 | 842 |
House Points Totals Update - 2021/22
| | | | |
| --- | --- | --- | --- |
| Winton | Galileo | Roosevelt | Parks |
| 3211 | 4224 | 3661 | 3510 |
A message from your Heads of House
Well done Parks for a successful year. I also want to thank everyone who attended the coasteering trip, you all challenged yourselves with cliff jumping and cave swimming. It was a fantastic day for all. Sports Day was also an excellent morning and the great Park´s sportsmanship was clear to see.

I wish you all a wonderful and restful summer and look forward to seeing you all again in September and for those who are leaving BIC I wish you all the best for your future endeavours.

Miss Xidakis, Head of Parks House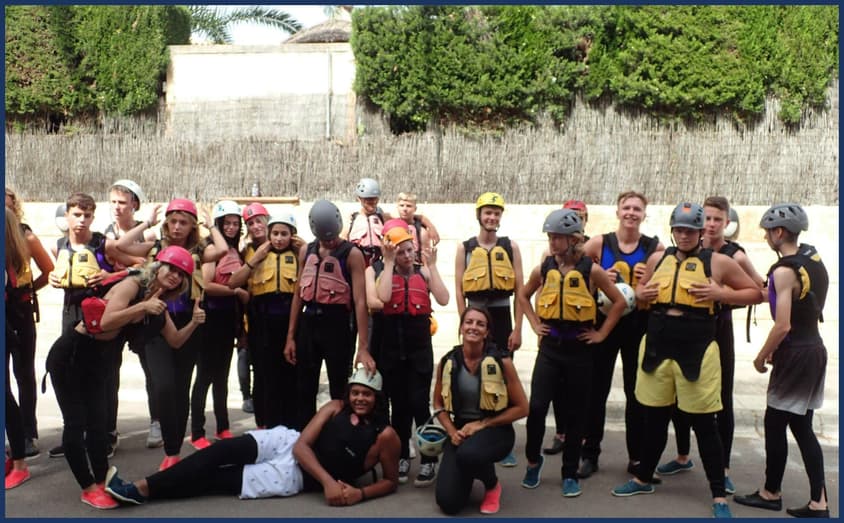 Congratulations Roosevelt for winning Sports Day and the swim gala - champions for the second year running! I am so incredibly proud of all of you who took part and cheered from the stands, there were some excellent displays of sportsmanship. What a fantastic day it was. We have also come to the end of the year, and we have had a very successful year. We have kept Galileo on their toes with the House Point leaderboard, especially this term! Well done for everything you have achieved throughout the year - every point earned, every competition entry and participation in all our school events. I hope you all have a fantastic summer holiday, and I look forward to seeing you all again in September. To those of you leaving us I wish you all the best of luck for the future.
Miss Mayes, Head of Roosevelt House
Champions! Well done to everyone. I am so proud of everyone in Galileo for all your hard work this year. It has clearly paid off and we are the overall House Point winners for 2021/2022. A massive shout out to everyone who took part in the secondary Sports Day last week. It was such a fantastic event. I hope you all have a fabulous summer and I look forward to seeing you in September for another amazing year.
Miss Turley, Head of Galileo House
Well done Winton for all your hard work this year. We may not have won overall, but I have witnessed so many of you work incredibly hard and put in so much effort, so in my eyes, you are winners too. Sports Day was such a fantastic day and it was a joy to see so many of you take part and win your events. You have done yourselves proud this year and I am really looking forward to another year ahead as your Head of House. I hope you all have a wonderful summer and I look forward to welcoming you back in September for another fantastic year. For those Wintons who are leaving us, good luck and I wish you all the best in the future.
Mrs Florey, Head of Winton House
Early Years news with Mrs Wardle
---
Early Years were very happy to invite their parents into the classroom this week. After a long time with restrictions, we finally enjoyed some time together playing games and making a nice photo frame to remember this year's class. Reception class were very proud to take their writing books with them to their transition morning with Mrs Bakes and Mrs Ratcliffe in preparation for Year 1 in September. We have had a great year together and I know the Reception class will continue to do their very best in Year 1. Have a wonderful summer to everyone in Early Years.
Year 1 news with Mr Fairless
---
Year 1 has had a fantastic year and I am very proud of all their achievements. We celebrated this last week when Year 1 parents were invited into school to share our learning. As you can see from the pictures, everyone had a fantastic time and it was great that our parents were such 'good sports' joining in the fun. Thank you.
Although we are just a few days away from the end of the school year the children are working very hard and have enjoyed learning all about measuring volume and capacity. They have similarly been putting their creativity to the test in a colourful mixed media art piece. The children really loved completing this.
We would like to thank all the parents for your support this year and wish you and your family a very happy holiday.

Year 2 News with Ms Bakes
---
Year 2 have had a busy couple of weeks as all of our topics come to a close. They have thoroughly enjoyed learning about our geography focus of the term 'Wild Weather'. They did a perfect job, in groups, at matching a type of extreme weather to its definition. Ask the children if they can explain to you what a tsunami, hurricane, drought or a tornado is, just to name a few.

The children have looked after their sunflowers very well over the past month and they have been excited watching them grow. This week they will take them home, so that they can continue to take care of their plant at home and watch it, hopefully, bloom into a beautiful sunflower very soon!

Our final English topic has been 'traditional tales' and the class enjoyed the author Mini Grey (who has been Year 2's favourite author this year) and her funny version of the classic fairytale 'The Princess and the Pea'. The children enjoyed writing their own version from the point of view of the pea. They should be so proud of how their writing has flourished over the year. Well done, everyone!

What a wonderful year we have had! I would like to take this opportunity to thank all the children (and parents) for a truly incredible year. It has been one that I'm sure we will remember for many years to come. Have a great summer!

Year 3 News with Mrs West and Miss Xidakis
---
Year 3 enjoyed making spears as a final art project linked to our topic The Stone Age.
This week in humanities, to summarise the Stone Age unit, we all had fun making fossils.

Congratulations Year 3 on a fantastic year, we wish you a wonderful summer break.

We have also been learning how to draw self portraits ready for our piece of writing about the summer holidays.

Year 4 News with Mrs Alonso McGregor and Mrs Walsh
---
As our humanities topic reaches its close, we have been busy finalising our last few pages of learning into a wonderful "Rainforest Book". The children have enjoyed adding a page of information or artwork in every humanities lesson this term. We are very proud of the work that they have produced!

The children also enjoyed playing the musical instruments that they made. We had a good jammin' session. The children designed, made and played their instruments independently. We think that they did a great job!

Year 4 have also been practising very hard for our upcoming summer show. The children have learnt their song lyrics, choreographed some moves and many have even had some acting parts to play. We hope that on reading this, you have enjoyed the fruits of their labour and are now celebrating their fabulous success in their show.

On a final note, we would like to wish all the Year 4 families a fabulous summer break with your wonderful children. It has been a pleasure to teach them this year.

Year 5 News with Ms Hodgson and Ms Demangeat
---
The first of the end-of-year shows was performed by the Year 5 pupils, who gave an outstanding performance of the ´Pirates of the Curry Bean.´ The acting, singing and dancing were phenomenal and it received a well deserved standing ovation.
Other physical skills, including kayaking, swimming, archery and rock climbing were used on our fantastic, sunny day out to La Victoria last week. The weather was kind to us after the rain showers and clouds on previous days. Our fabulously researched and detailed Twentieth Century projects, including a video, have been presented to and appreciated by their peers.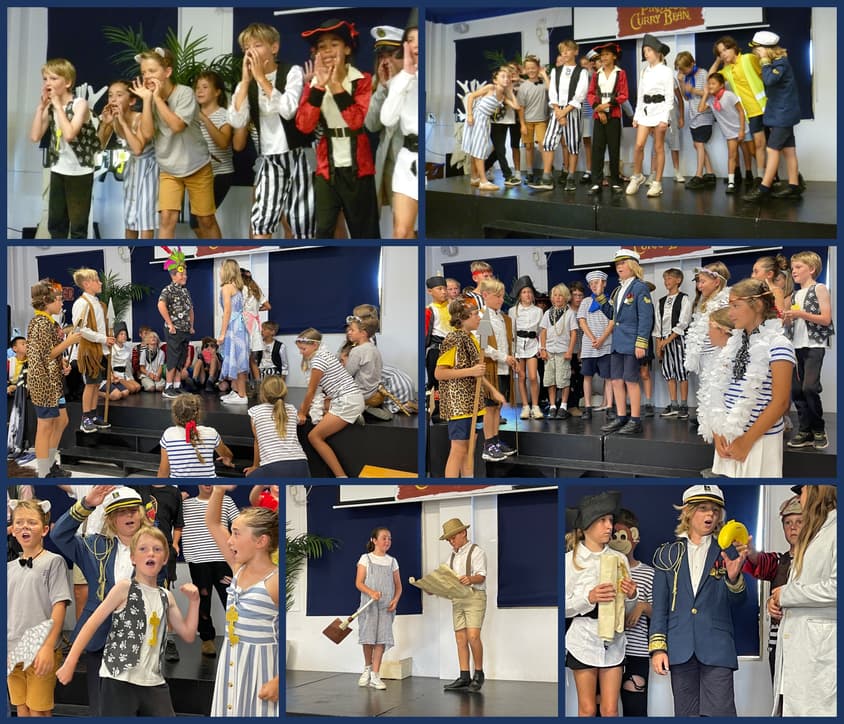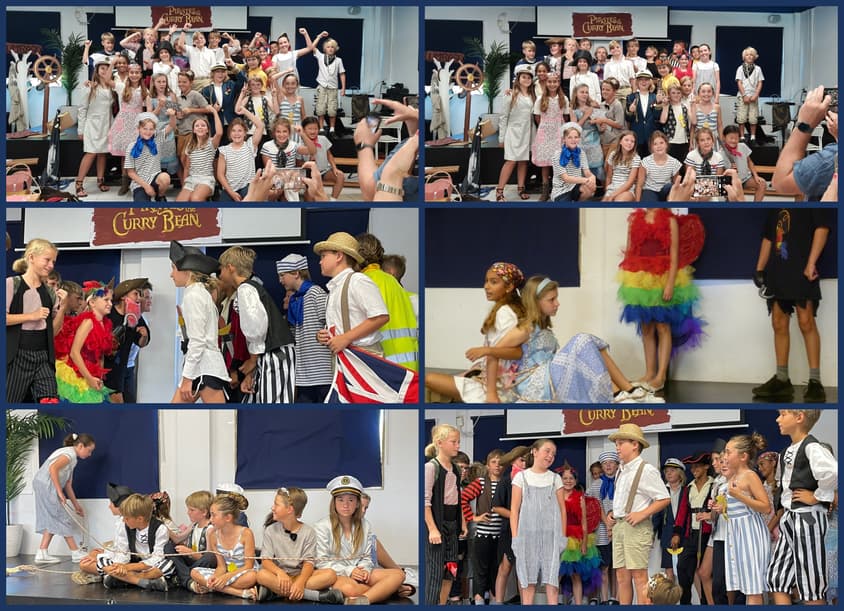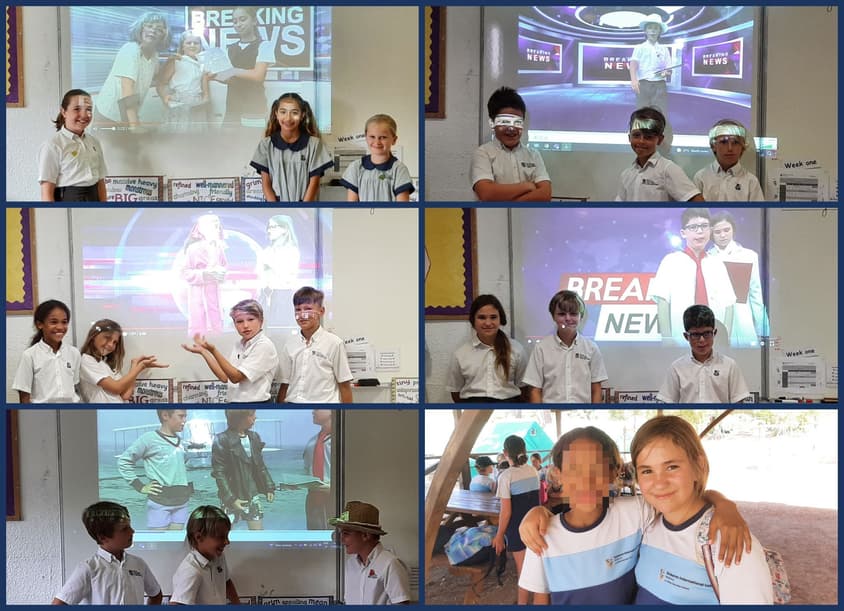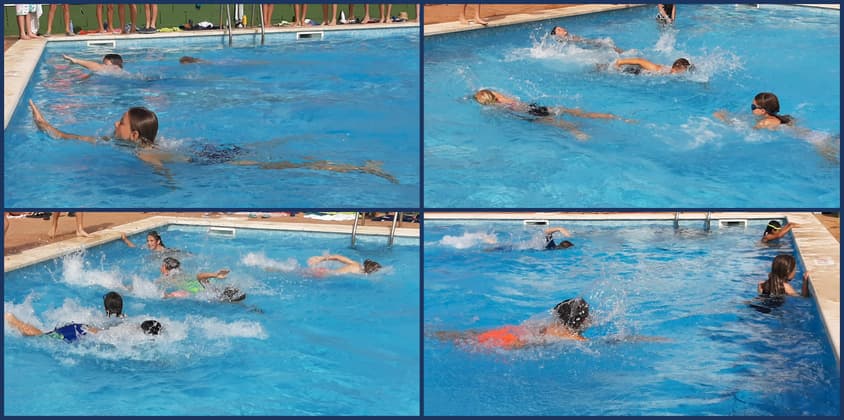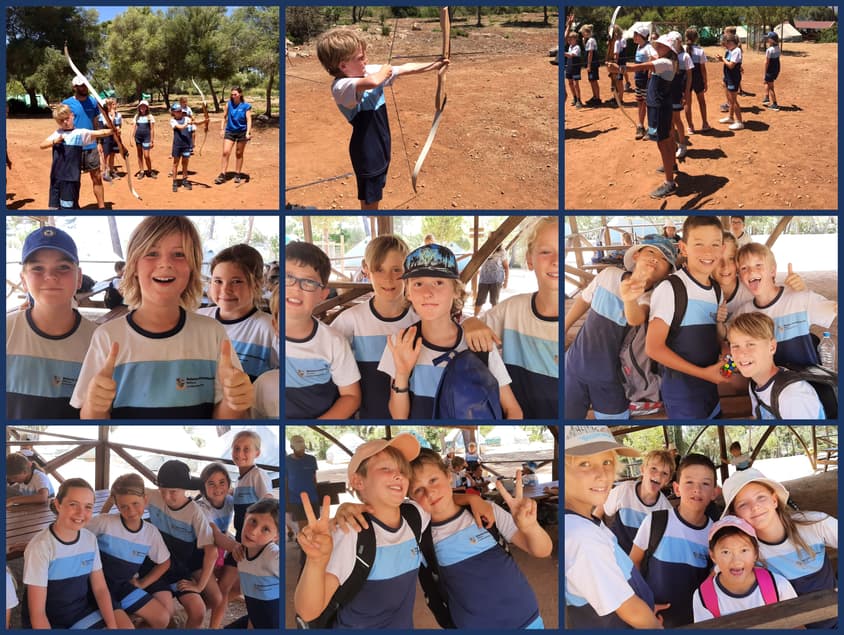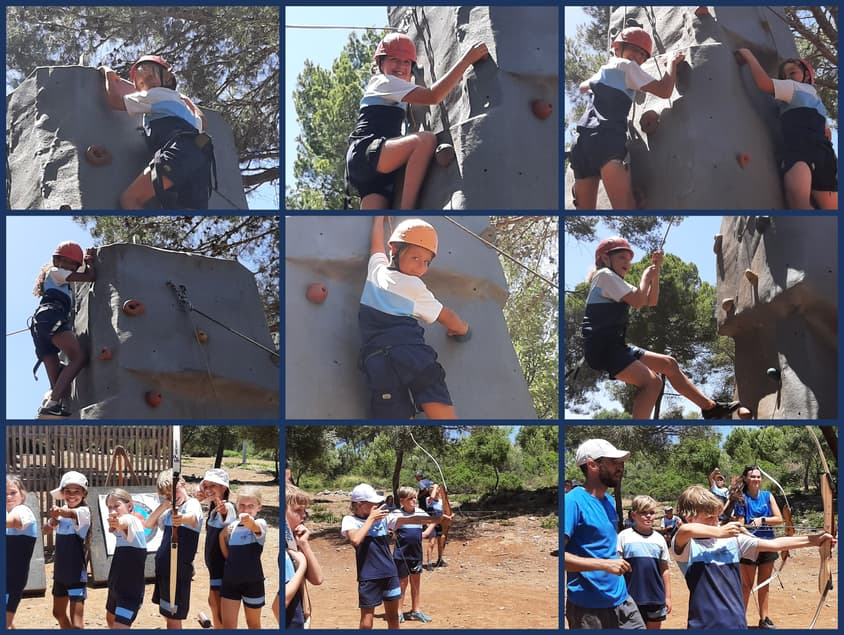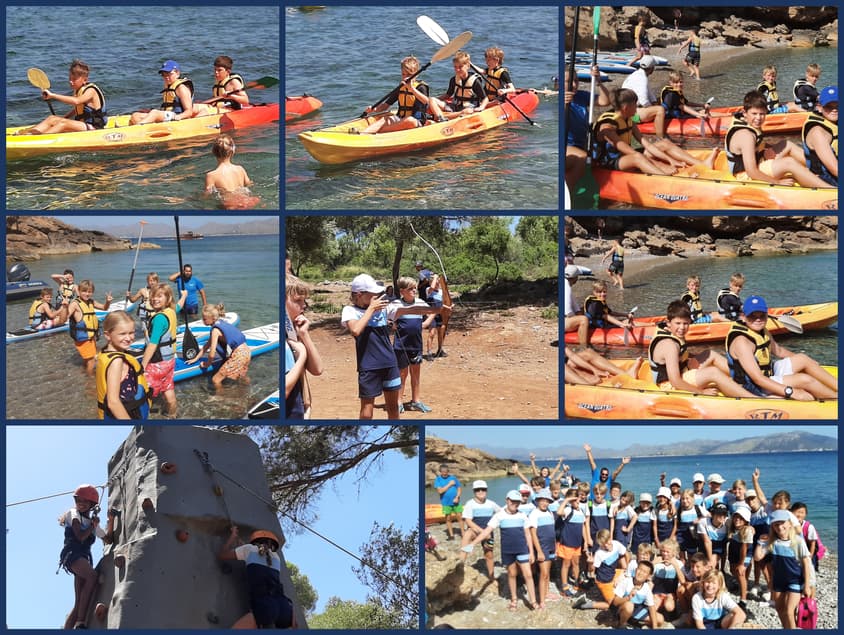 Year 6 News with Mr Darlow and Mrs Von Waberer
---
Year 6 have worked extremely hard and creatively this term on their 'Trash 2 cash' project with an end goal of pitching a product, alongside an advertisement, poster and business card to a panel of judges. On Tuesday and Wednesday of last week all this hard work came to fruition. We were delighted to welcome entrepreneurs Mr Cull, Mr Burge and Mr Fairburns as well as our very own Ms Colwell and Ms Compton to judge the finalists in our Trash 2 Cash competition. We were all absolutely overwhelmed with the care, attention and courage of our young entrepreneurs. It was a wonderful afternoon with fantastic feedback from our panel. We all felt incredibly proud of our talented children. We'd like to thank all the children and judges for their involvement in creating a very memorable afternoon.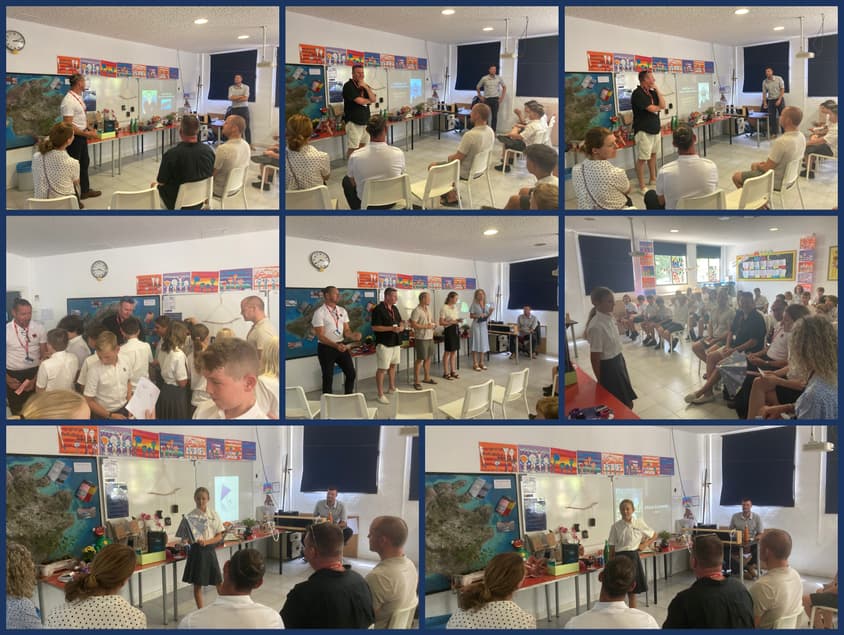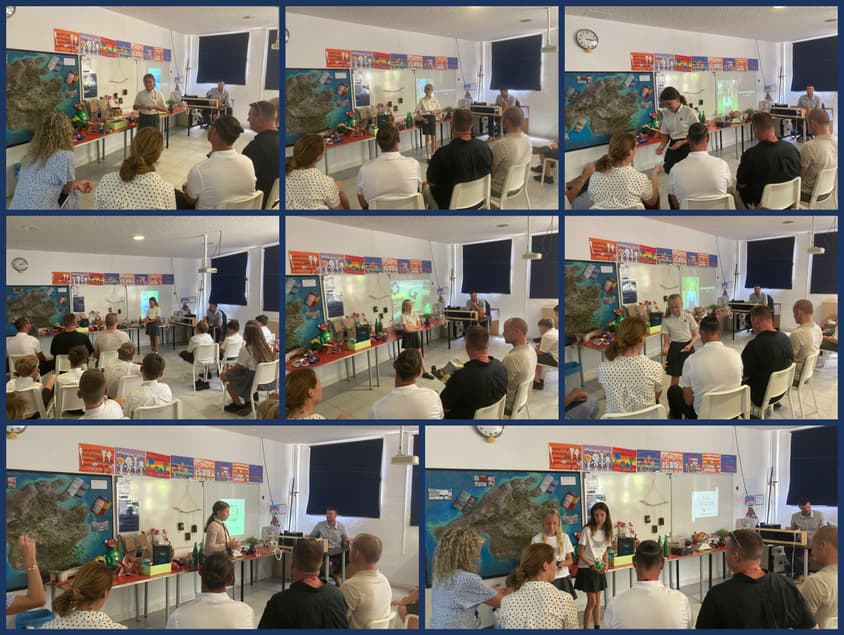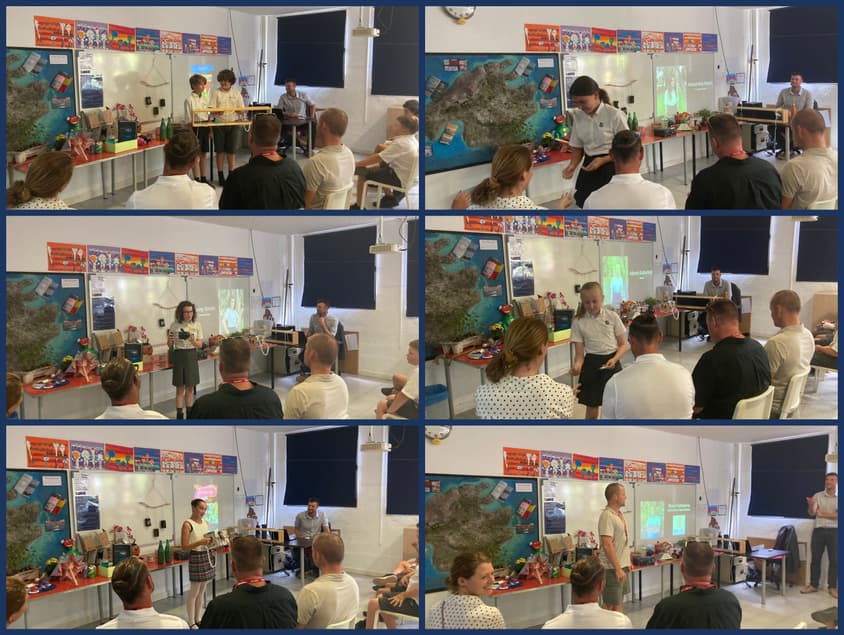 Thank you to our amazing children for their end of term performance on Tuesday. There were a lot of tears and emotions flying. We were all blown away with the talent and compassion of our wonderful Year 6. We wish them all the best as they move up to secondary. Have a relaxing and well deserved summer.

Sports department news
---
Last week Year 3, 4, 5 and 6 took part in a swim gala as a House competition to finish the school year. The students took part in a number of races, ranging from silly and fun races using pool equipment, to the more serious swim races. Well done to all involved!

Languages department news
---
SPANISH MASTERCHEF. Our wonderful Year 6 students have been learning about food in Spanish. They have prepared some delicious Spanish dishes such as churros and ensaladilla! Bravo!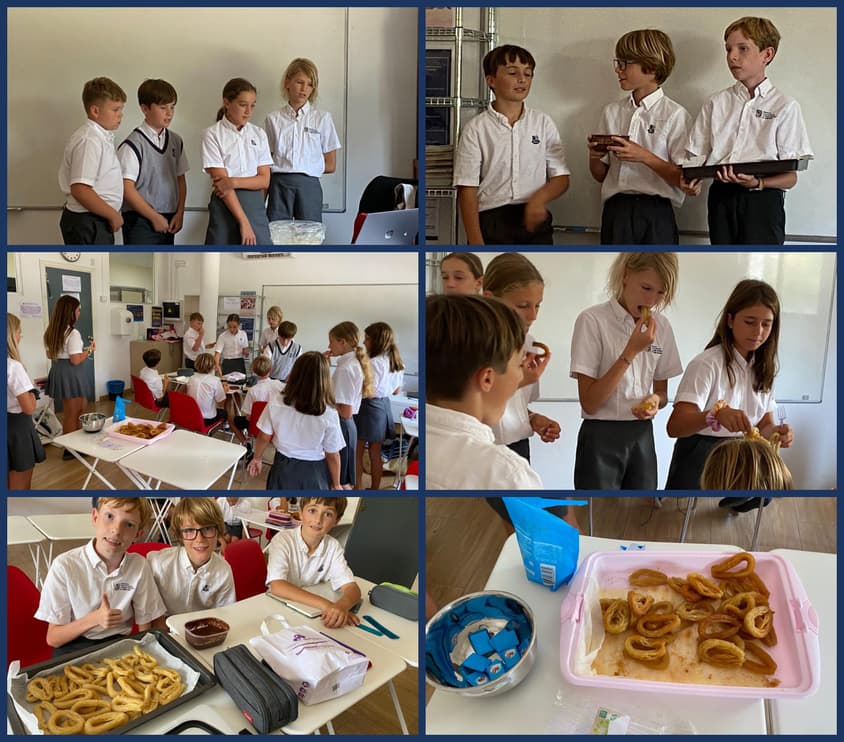 Eco Club news
---
The school year may be finishing but the sunflowers are still growing! A fantastic effort by the students to keep these gorgeous plants happy and watered; over the summer these will grow even taller and a few have up to 5 individual heads on them. Although the award for largest combined height goes to Roosevelt it is about more than that - not only are the students taking on the responsibility of growing, watering and monitoring, they are also providing an environment for some wonderful creatures, including the amazing Mammoth Wasp, which can grow up to 6cm!
Next term, Eco Club will be continuing with the vegetable garden and starting serious work on the wellbeing garden - a reminder that tyres, wooden pallets and any unwanted plants, seeds, etc will be gratefully received.