Are you thinking about joining Baleares International College?  Come and visit us to find out more about what our schools have to offer

Open Day Sa Porrassa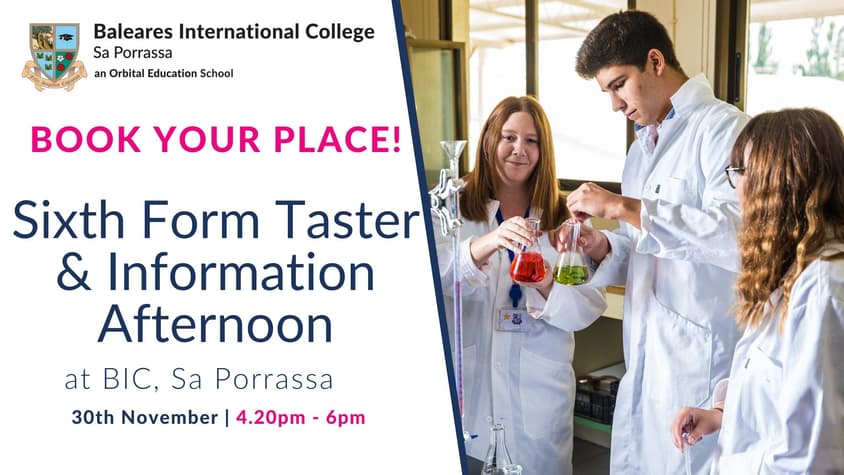 We're extremely proud to show you what Sixth Form life is like at Baleares International College.

'Sixth Form' is the last two years of secondary school. At BIC we follow the British curriculum, so at the end of Sixth Form, our students take A-Levels. A-Levels offer our students a broad range of options in Spain and Internationally once they graduate.
At our taster afternoon, attendees will meet our Head of Sixth Form and get the opportunity to speak with individual specialist-subject teachers.
We will start the session with a brief presentation to students and parents about BIC's expectations of Sixth Form students and the criteria for entry to Year 12. This will be followed, at around 16.45, with visits to speak to individual subject teachers about the content and assessment of their courses on a one-to-one basis.
It's a great opportunity for you and your child(ren) to learn more about the content of this internationally acclaimed curriculum, and to meet our experienced teachers.
Date: Thursday 30th November
Time: 16:20 - 18:00
Venue: Baleares International College, Sa Porrassa Campus
---

Open Day Sant Agustí


We don't currently have any open days planned for Sant Agustí, but we will list our next one here as soon as it's planned. In the meantime, please contact admissions if you'd like to book a tour. We'd love to show you around our outstanding school.