A message from Janice Short, Principal
Dear parents
This week we have been focusing on families and what family means to us, whether at home or school. The children have all been working hard to give you a small memento of our International Families Day so I hope you enjoy the small gift as well as hearing what your children have to say about their family. As well as looking at the family at home we have also been looking at the family at school and have made a super school family tree! The BIC Sant Agusti family is going strong!
Families are so important to all as they can provide safety, security and support to each member of that family. Everyone needs support at some point in their lives and families can give that to each other. Family members teach life lessons such as managing emotions, interactions with others and communication. Values and knowing the difference between right and wrong are often one of the first things to be taught within a family. Good manners, self discipline, honesty and worth all lay the foundations for a child's success.
Looking at these points, it emphasises the importance of parents, families and the school working closely together, all for the benefit of the child. The family and school values should go hand in hand and I am sure that our school values of Respect, Compassion and Independence are also fostered by yourselves at home.
We have celebrated our International Families Day with the book fair too, so please be encouraged to purchase some books for your children to foster their love of reading.
Have a lovely weekend with your family!
Warm regards
Mrs Short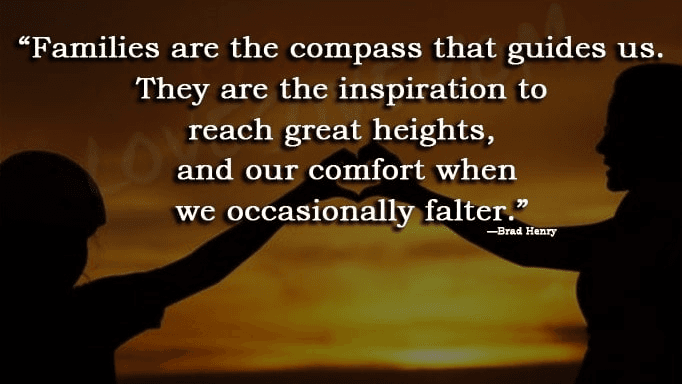 | Date | Event |
| --- | --- |
| Monday 17th May | Outdoors Classroom Day - whole school event. Weather permitting, every class will have at least one lesson outdoors. |
| Wednesday 19th May | Year 2 local walk in connection with science topic. Please wear PE kit. |
| Thursday 20th May | Early Years and Primary Virtual Open Day (BIC Sant Agustí and BIC Sa Porrassa) |
| Monday 24th May | School Photos |
| Tuesday 25th May | TT Rockstars Day - Years 1 to 6. |
| Friday 28th May | Charity Day - Radiothon with Radio One Mallorca and Kids' Kilometre. Whole school event. Whole school event. |
| Monday 7th June | World Environment Day. Whole school event. |
| Friday 11th June | Celebrating Queen Elizabeth II's Official Birthday. Whole school event. |
| Tuesday 22nd June | World Music Day. Whole school event. |
| Tuesday 22nd June | Virtual Open Day |
| Wednesday 23rd June | Sports Day |
| Thursday 24th June | Public Holiday - School closed |
| Monday 28th June | School Reports go out to parents |
| Tuesday 29th June | Transition Morning |
| Thursday 1st July | Last Day Summer Term |


BUUUZZZZZZZ, don´t mind us buzzing into this newsletter!
We were so lucky to invite our very own bee-keeper Miss Karen into class this week, and we are so thankful for all the hard work she and her husband have put into making this amazing presentation to introduce Starfish class to the world of buzzy bees!
As a hive owner myself, I feel that it is very important to teach our little people about the incredible irreplaceable value of the biggest pollinators of the world.
We started the morning a little hesitant; ¨Miss Karen, bees can sting you¨ and ¨Miss Jaimy, bees can be very scary!¨ were amongst some of the first comments made but as soon as we delved into the world of these yellow and black insects, all Starfish children became extremely engaged. The children loved seeing the bees at work in some video clips made by Miss Karen and we listened to the buzzing noises bees make with a lot of amazement!
It is really noticeable that our Nursery class is really starting to be aware of the insects and little animals all around us and they love sharing their information about what they see and find which is great! Next week: The Very Hungry Caterpillar!
Enjoy your weekend!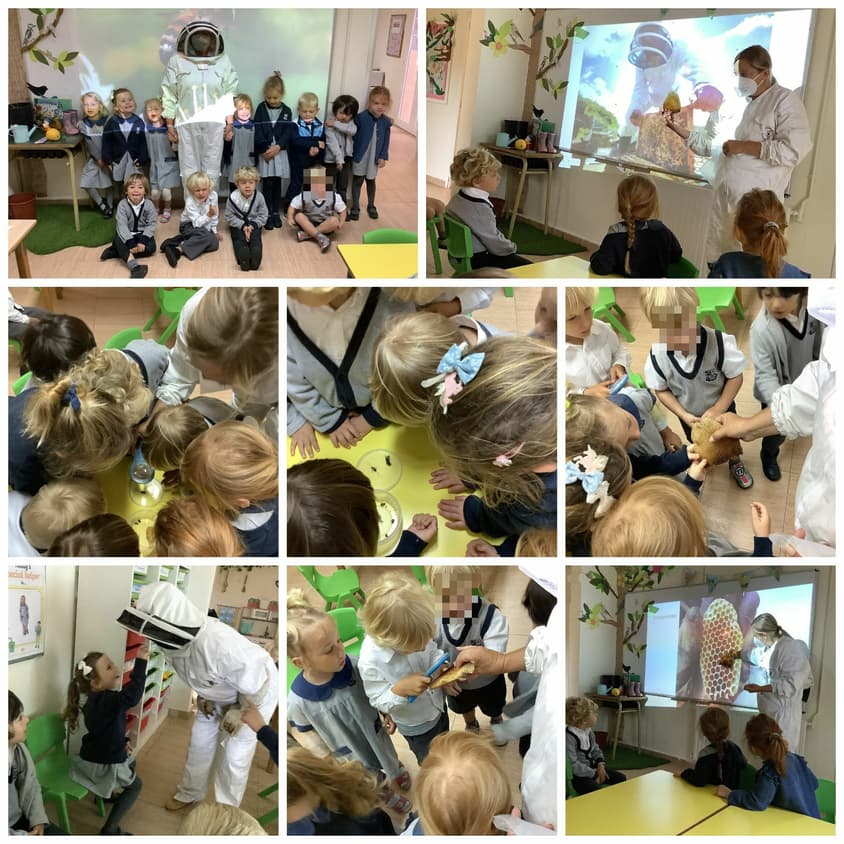 Reception Seahorses Class
What a fantastic and creative week we've had in Seahorses, full of colour and shapes. The children started the week by getting into a photographer's shoes. They ran their own photo shoot session, choosing what they wanted to take pictures of, what angle to use and even the different locations. Then they had to share it with the group and explain lots of things about them. Bit by bit, we are making our own classroom photo gallery. To continue developing our creativity, while making connections with other learning areas such as Maths, the children have been inspired by a famous artist that has also combined 2D shapes and primary colours. Can you guess who he is? - you are right, the answer is Mondrian. Although, I have to say that I prefer the children's work much more. It looks fantastic and they did the whole process by themselves, including sticking the black lines, one by one!
In our "Looking after planet Earth" project, this week's focus has been on recycling. Although this is something that we've been doing in school since September, we are trying to continue with this important job also at home.
To close this week with a great finale, today we are celebrating our International Family Day.
All this week we've been thinking deeply about our families and how important they are for us and although most of us have part of our families living far away, we are really lucky to have them and we love them and we miss them. Within our Seahorses family we have seven nationalities, so one of the things we wanted to know was how they say 'family' in these countries. We were really surprised when we discovered that in most of them they use the same word but with a different accent; and we all agreed, families are families everywhere! The children also came up with different words and ideas to describe what family means for them; they all added their own part and together we could write our very first poem. We are so proud of them! I hope you've all enjoyed such a special event.
Wishing you all a very family, lovely and safe weekend!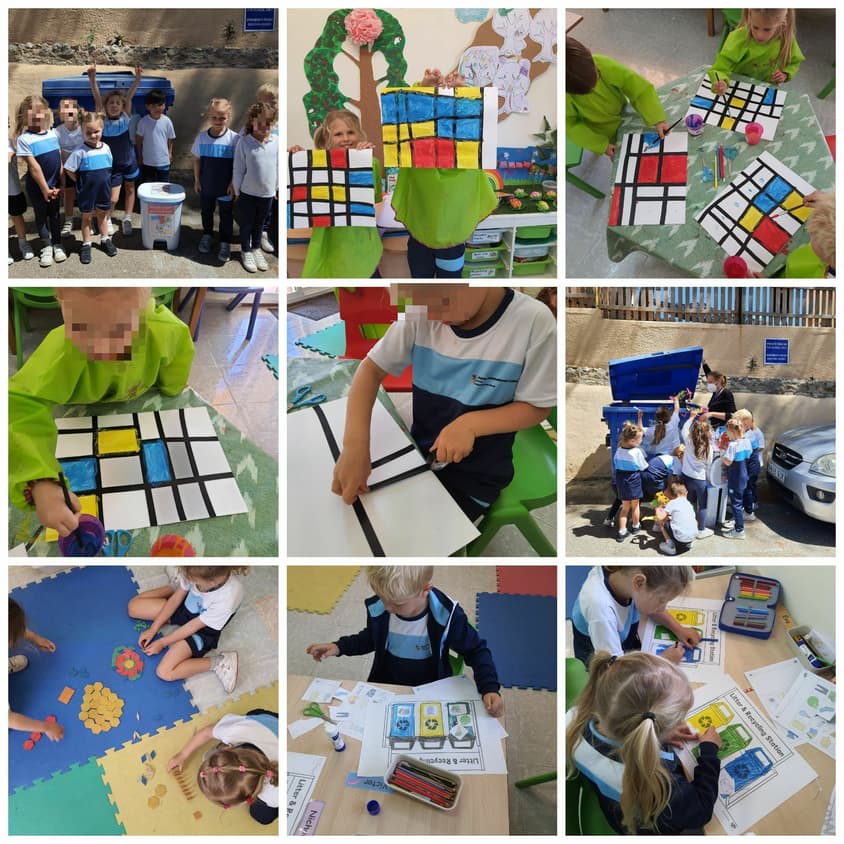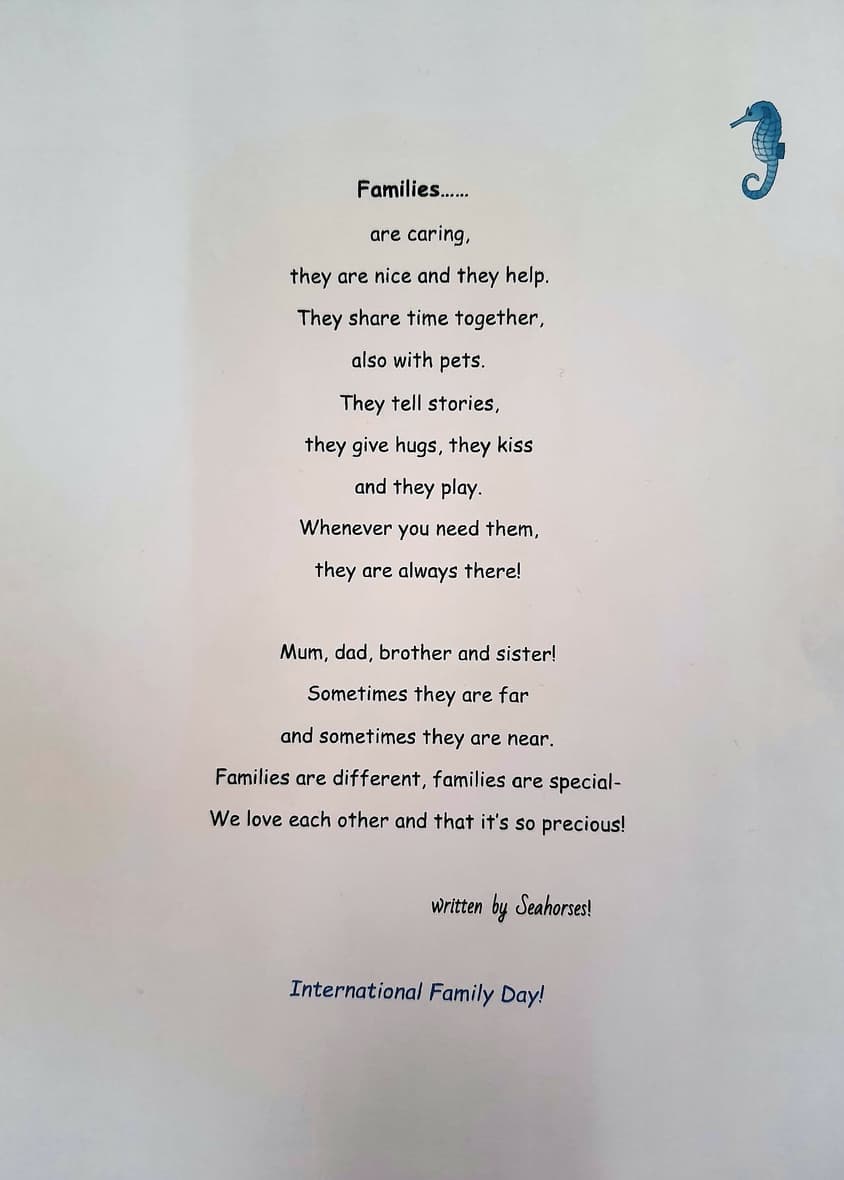 "Ar scath na cheile a mhaireann na daoine"
This is an old Irish expression which literally translates as " We live in each other's shadows" and this theme ran through our lives this week. In science we were looking at shadows in science and in PSHE we are talking about our feelings and we are learning to name them using our kites - which will form part of a dance next week. We spent some time outside further extending our knowledge on weather, weather patterns and shadows! We played shadow tag, we traced shadows in the morning and then checked them again later in the day to see if there were any differences! We love to predict and then check our predictions after- we use this strategy a lot in maths and science and even during guided reading! We'd like to thank Mrs. Eccleshall for standing in as a shadow for us! We then made our own shadow puppets to use in class. It was lovely to see the simple pleasure derived from playing with a shadow puppet.
We are coming to the end of our knights and castles theme. This week we focused on jobs and occupations in medieval times. We interviewed each other and played charades for many interesting jobs we had never heard of before, such as atilliator- whose job it was to make crossbows, bailiff and astrologer. We sent home our castles recently - we hope you enjoyed the home activity attached and that your child was able to tell you about the many different parts of a castle. Next week we will finish off with attack and defence strategies used in bygone days to defend the homestead!
The Big Write was a real success this week. As part of our creative writing block of learning we chose a new country each week to visit and to write about. We´ve been to Italy, Antarctica and Australia. Our last stop was in Ireland learning about the Irish people´s love of story, song and the written word. The children were absolutely enthralled by the tale of Tir na Nog and retold the story in their own words on Thursday.
Maths - We have been further cementing our place value skills this week and we also took a fresh new look at fractions, halving and quartering pizzas and brownies! Our morning maths challenge saw us adding three numbers and learning how to make 10 first and then counting on ! We tried to represent two digit numbers in as many ways as we could, using digits, words, Dienes blocks and beads.
Today is International Family Day and we have been really looking forward to it. The children have been practising their songs, creating beautiful artwork to symbolise their home and school families to mark this day.
Finally I will think of my own family living in Ireland tomorrow. Distance can be hard but I do feel that my co teachers and staff here are now part of my work family and I am happy to be walking in their kind and inviting shadows, side by side.
Have a super weekend and enjoy being together.
The Seals

Week 4, already!
In Literacy this week we have been focusing on reading and writing compound sentences. We have already looked at compound words so we used that knowledge to think about compound sentences. We revisited the conjunctions we know and use (and, but, so) and started learning about a few more that we can use to make our writing really exciting and interesting. There are quite a few coordinating conjunction words to remember so Mrs K-B told us about FANBOYS! Mrs K-B has helped us to remember how they join the sentences too. The F (for) is changed to a B because the word for means because when it is a joining word! So if you hear us talking about the BANBOYS, it is not the new boy band but our coordinating conjunctions.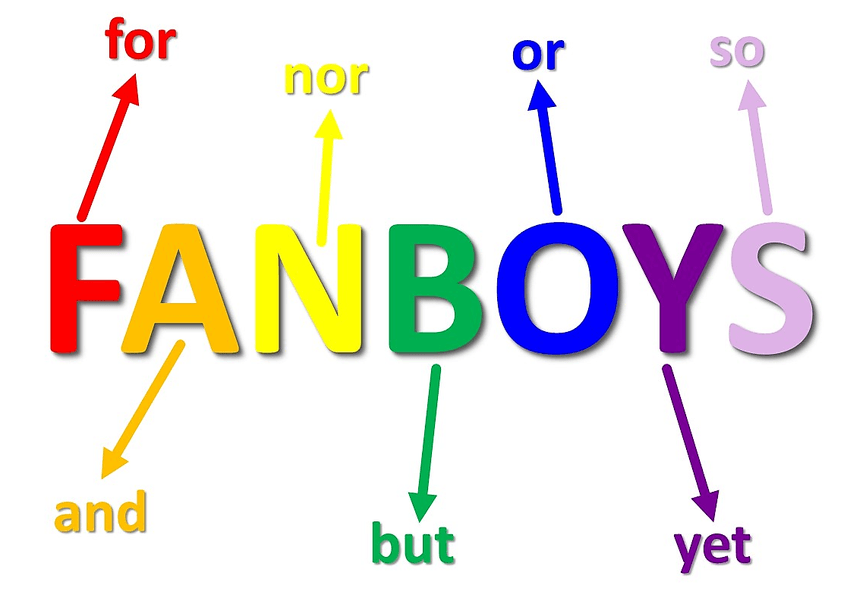 In Maths we are going marvellously multiplying mad. We have reminded ourselves about all the different ways we can represent multiplication and we are determined to learn our 2, 3, 5 and 10 times tables. We have even picked up a few hints and tricks to help us learn different times tables, like the handy maths trick for the 9 times table… Mrs K-B told us a secret which we promised not to tell anyone, but… she is not confident with her 6 and 8 times table and she is trying to learn them at the moment.

We are such a busy class Mrs K-B likes to stop us and get us moving… We have been learning a new brain break activity which is fantastic fun and really gets us ready to learn when we go back to our tables. It is a Penguin Brain Break and as we are Turtles class some of us change the word penguin to turtle. You should ask us to show you as it is great to see us in action...
Have a wonderful weekend, Mrs K-B will be getting ready for a Geography field trip next Wednesday 19th.

This week in Dolphins class, we have loved getting ready for 'International Families Day'. In Art, we have all made a wonderful gift to give to our family. In Music, we continued to fine tune our voices for the big day! We have also made some beautiful acrostic poems during a cross curricular English/ICT lesson. We worked so hard creating, editing and designing our poems on the chromebooks. I would like to share a few of my favourites below:
HAPPY INTERNATIONAL FAMILIES DAY!

Is it the weekend already? Another week has flown by as Year 4 continue their learning journey. The main focus for this week's learning has been various activities working towards International Family Day. In art we have been busy making a special gift for our families and in English we have used our previous experience and expertise to compose personal poems which describe our own family units. We know the children are very much looking forward to reading their poems to you, they certainly have an emotional personal touch to them. We have also been practicing and rehearsing a very special song which we look forward to performing to you on Friday.

Thursday saw us go slightly 'off plan' as we enjoyed getting creative making a start on our Rainforest display. It's so good to hear the children's plans and ideas of how they would like their display to look. Watch this space for our finished product…
Enjoy the sunshine this weekend and don't forget the sunscreen!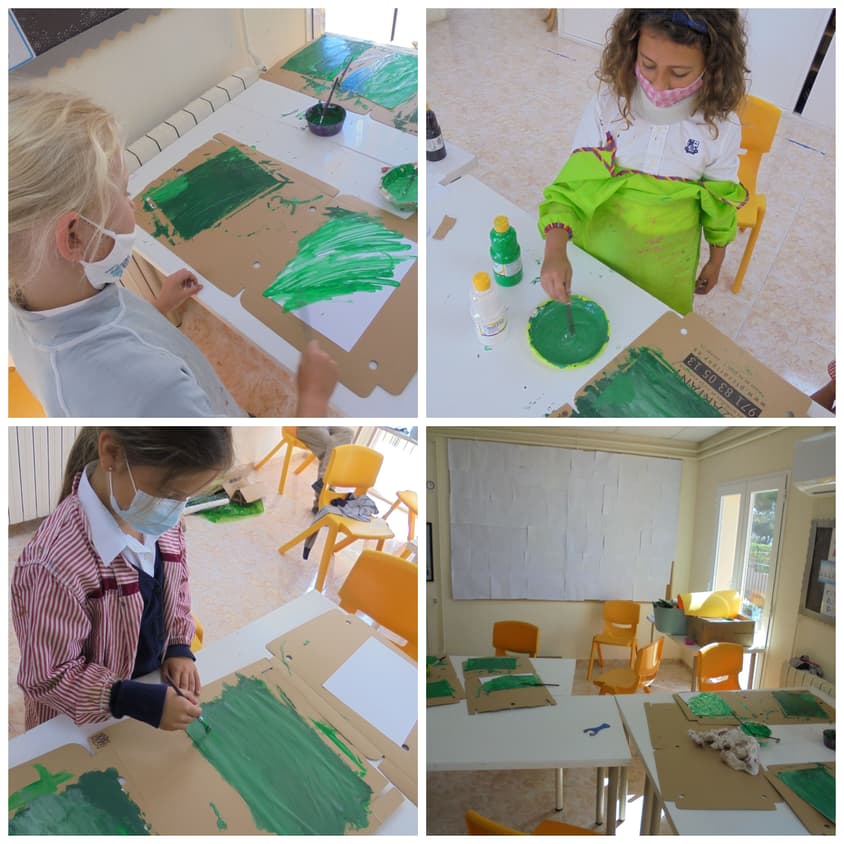 Year 5 have had very busy maths lessons learning all about polygons this week from triangles to decagons. We tried to draw a polygon with less than 3 sides but it was impossible!! Our Timetable Rockstar champion this week is…….Valentina!! She is closely followed by Celeste, Eugenia and Hugo, maybe we will have a new champion next week??! Everyone's answer response times are getting faster so they should all be proud of how far they have come since the start of the year.
After our exciting science lesson last week of parachute making, this week we looked at water resistance and made our own water craft. We had to design and create a floating object and then, with the use of a fan, represent moving air. Tomorrow we will trial our inventions and see who has created the most streamlined water resistant boat!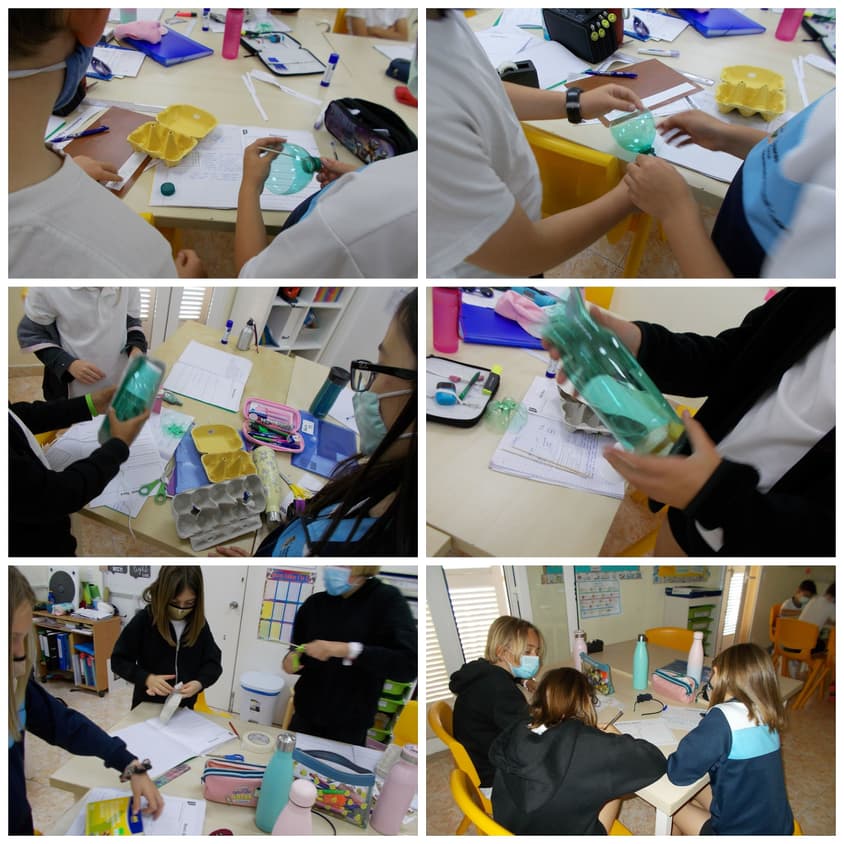 We have been thinking about our families this week in preparation for International Families day and have written poems about what our families mean to us. The class came up with some wonderful words and phrases, some of my favourite were -
"It's not about how many people it's about staying together"
"With love you can fly in your dreams"
"Family give magical hugs"
"Being with family changes everything for the better"
"With family love you can do almost anything"
Words that make us think of family - special, caring, funny, lovely, grateful, helpful, cozy nights, awesome, magical and happiness.
In art we are continuing with our beach canvases and they are coming on very well…..they are making me think of sea, sand and flip flops….roll on summer!!
We are continuing to read Stig of the Dump as our class novel and enjoy reading about the marvellous inventions Stig creates out of other people's rubbish! He takes recycling to the next level!

This week we had a drama focus to our art lesson as we created a tableau based on the painting 'Gassed' by John Singer Sargent. After evaluating and discussing the image, the Sharks worked together to try and recreate the painting. We then thought about the human aspect of the image and considered how the soldiers would have been feeling. Great work Sharks!

In Science we are learning all about Forces. This week was focussed on air resistance. Our challenge was with a partner to create a parachute out of the materials given and make our little playmobil man fly……..we had very mixed results and some men did not make it to ground safely! We discussed how air resistance needed to work against gravity to ensure a safe landing and how we could adapt our parachute to allow for this.

Spanish and Catalan with Ms Ainhoa and Ms Campos
En KS1 los niños y niñas han ido hasta Italia, donde la semana pasada visitaron los monumentos más emblemáticos a lo largo de todo el país. Esta semana nos hemos centrado en eso que tanto les gusta a vuestros hijos e hijas…¡la pizza!
Empezamos estudiando los ingredientes y con ellos un juego de memoria y un dabble, porque se sabe que jugando, se aprende mejor. A lo largo de esta semana escribiremos la receta de la pizza y así la podrán hacer en casa. Estamos deseando ver el resultado de esas pizzas caseras.

Year 2 students in their PE lesson below are practising fundamental hockey skills. In these images they are practising the accuracy of their passing and receiving. Well done to all of the students for working hard with big smiles on their faces.