A message from Janice Short, Principal
Dear parents
I hope you all enjoyed our International Families Day event at the end of last week. It was actually quite an emotional moment for many as we all suddenly realised that this was the first time this academic year that the children had actually performed to a live audience. For some of the younger children it was the first time they had ever performed in front of their own and other parents. Magical memories being made! I am sure you will agree that it was a special occasion and the children did so well. Of course we are now all singing the songs and cannot get them out of our heads!
Speaking of firsts, looking at the songs from our International Families Day, "We are Family" reached number 1 in the dance club charts and "We all stand together" was the first time Paul McCartney had recorded a song with Frogs and Rupert Bear! (and probably the last!)
Delving into history, another first on this day was in 1927 Charles Lindbergh flew across the Atlantic, to be followed on the same date in 1932 by Amelia Earhart who became the first woman to fly solo across the Atlantic. Nowadays we take this crossing for granted but someone has to do these things for the first time, paving the way for others to follow.
I would like to think that in the future, children from BIC Sant Agusti will have the opportunity , bravery and determination to become the first in whatever they want to do, boys and girls alike.
Laying the foundation in their early school life should enable the children to achieve whatever they want to do. Fly high!
Have a lovely weekend
Warm regards
Mrs Short

| Date | Event |
| --- | --- |
| Monday 24th May | School Photos -please wear school uniform. |
| Tuesday 25th May | TT Rockstars Day - Years 1 to 6. Let your imagination run riot as your child comes to school as a rock star to take part in our Times Table Rockstar school competition! |
| Friday 28th May | Charity Day! Radiothon with Radio One Mallorca - listen in to hear Year 5 children explain what they have been doing in school. |
| Friday 28th May | Visit from COBIS (Council of British International Schools) |
| Friday 4th June | Visit from the Nabss Inspection Service. (National Association of British Schools in Spain) |
| Monday 7th June | World Environment Day. Whole school event. |
| Friday 11th June | Coffee morning with the Principal TBC. Celebrating Queen Elizabeth II's Official Birthday. Whole school event. |
| Tuesday 22nd June | World Music Day. Whole school event. |
| Tuesday 22nd June | Virtual Open Day |
| Wednesday 23rd June | Sports Day |
| Thursday 24th June | Public Holiday - School closed |
| Monday 28th June | School Reports go out to parents |
| Tuesday 29th June | Transition Morning |
| Tuesday 29th June | Last Day Summer Term |

We have been looking at The Very Hungry Caterpillar, one of the most famous children's books of all time and a wonderful topic to explore in our nursery classroom. We are so lucky to have our own little caterpillars, munching away and growing bigger on a daily basis. The children absolutely love looking at their development and are amazed with the speed of their growth. Needless to say that we can not wait for them to pupate in about a week and observe what happens then.
We are working our way through our topic ¨you can find me in the garden¨. The children have now learned about plants, flowers, mini beasts, the importance of worms and bees and of course; the very hungry caterpillar. Alongside this topic we have made some changes in our nursery playground, the children love playing in the sand pit, we have got our sunflowers steadily growing and Starfish class loves playing with the marine animals in the water tray. We have also opened a flower shop this week and let me tell you, they sell the most beautiful flowers! Excellent shop assistants too!
Have a great weekend!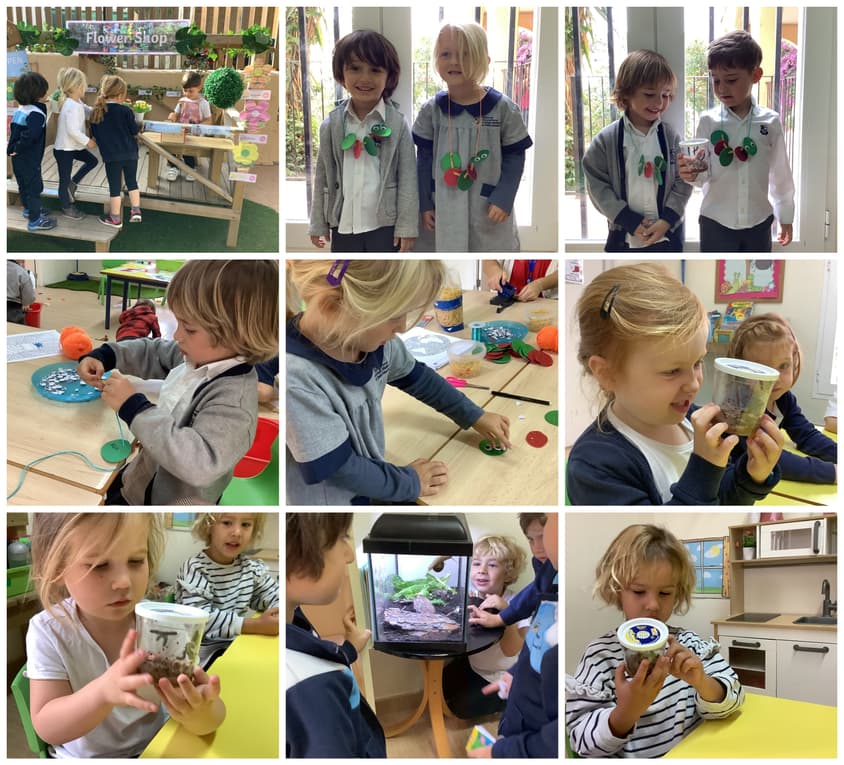 Reception Seahorses Class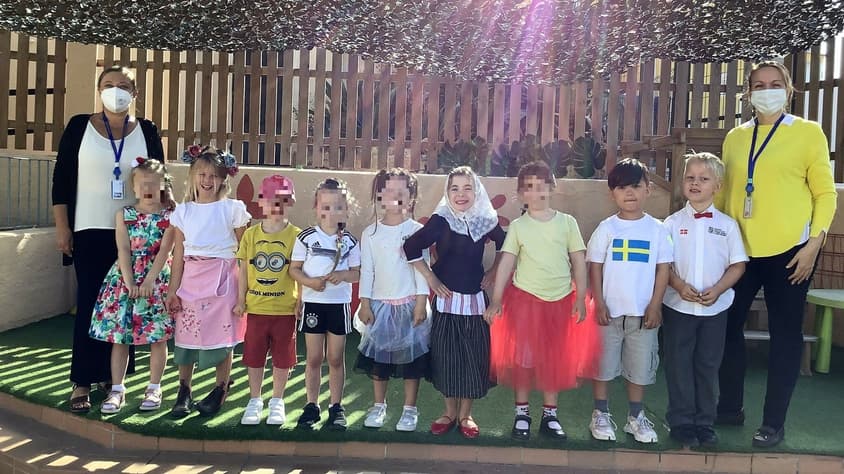 Let me start this week's review by saying a HUGE thank you to all the families that came last Friday to watch our mini show. The children worked really hard and it was a pleasure sharing their performance with all of you onsite. It seems that, slightly, things are starting to go back to 'normal'.
This week we are coming to an end with our special project 'Our planet Earth' and I believe that the children have learned lots of things. The children are getting good at recycling items in the correct bin and they are becoming aware of the importance of looking after the planet. For the past few days we have also used our imagination to turn those recyclable things into something else. Although it was a bit of an uncertain start, the children started to grow in confidence and they came out with great ideas. From pencil pots, to a turtles' aquarium, a volcano, flowers and even a chick. What a great time we've had! Later, in Literacy we had to talk and write a little bit about it.
This week we've also had the opportunity to try new things. During our sports lesson we tried our 'hockey skills' and although it seemed a bit tricky at the beginning the children managed to have a good practice while having lots of fun. In Maths we are focusing on 3D-shapes, on how to make tricky patterns and also where we can find them. Yes, shapes and patterns are everywhere!
Wishing you all a lovely and safe weekend and looking forward to next week, when we will be starting a new topic!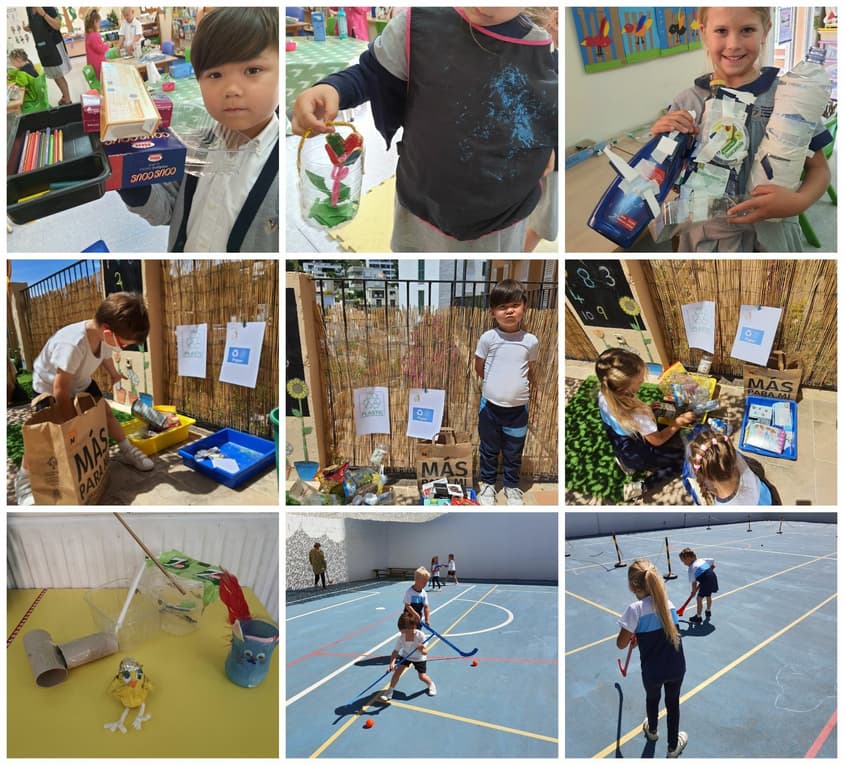 Family Day was a great success last week. The children sang beautifully and did themselves proud, needing little to no direction with their actions! Well done Year 1 and 2! You definitely all stood together!
We are coming to the end of our castle and knights theme and this week saw us learning about methods of defence and attack and how castles came to be no more. We learned that many castles became palaces. We took some palace colouring pages outside to the Lemon Tree terrace to enjoy an outdoor class. We are recording temperatures in science and have been predicting and recording temperature using a homemade temperature monitor! We will be studying wind direction next week and that will bring us to the end of the Wonderful Weather theme. Next up- Famous Inventors and Scientists! We can hardly wait to hear more...

Our Writing from around the world has now been proudly displayed in the class. Our handwriting continues to go from strength to strength and our handwriting star circles are filling up fast. In Maths we were adding three numbers by first making a pair to 10! We began learning about weight. We used cubes to predict and record how heavy certain items were. We learned the names of different scales, bucket scales, kitchen scales etc. Our morning maths challenges are getting more and more head scratching but we do love a good challenge each morning to wake up the brain cells!
Ms. Golden´s phonics group are doing wonderful work, reading full sentences and matching them to pictures. Keep up all the hard work with the sounds books and tricky word pots at home! It's certainly paying dividends!
And finally a MEGA well done to Amelie who with the help of her Dad made a MEGA castle at the beach last week. She even included some of the features she learned about in class. Now that's what I call OUTDOOR LEARNING!
Have a lovely weekend everyone and see you next week for more learning and doing- indoors and out!
Love the SUPER SEALS!

Are we going to the beach today? Are we going to the beach today? Are we going to the beach today? We don´t know who was more excited about our trip, the children or the adults!! While we all waited for Wednesday to arrive, the traditional tales continued. Mrs K-B huffed and puffed her way around school while stopping to complain about hearing trip trapping with the enormous ears she has! We keep finding trails of breadcrumbs and half eaten gingerbread around the school too… In the words of three of the children this week, most discombobulating!
We are all working hard to improve our speaking and listening skills so we have played a performance game called Mix and Match. In groups of three we each took a card from three story beginning/middle/end card piles. You then have a mixed beginning, middle and end traditional tale. We had a quick read through our cards and then performed. Some very silly tales were told!
We also focused on our high frequency words too this week and had great fun deciding on sorting criteria; one group sorted the word cards by counting the number of letters in their name and sorting the words with the same number of letters while another group sorted the word cards by their initial letter, vowel or no vowel! Mrs K-B challenged everyone to see if they could put their cards in alphabetical order, a few were tricky because we had to look at the third letter but mostly we crushed the challenge!
In Maths our terrific times tables have continued to chanted, drawn, written and sung about... We linked doubling with the 2 times table and used all our number knowledge to solve word problems. We made Multiplication Flowers for our classroom door too.
Monday was Outdoor Learning day so we took advantage of the wonderful weather and headed down to the Lemon Tree Terrace to have our science and geography lesson out there. We imagined we were in a hot air balloon and going on a trip. What would we see? What would it look like from all the way up there?
On Wednesday we went on our trip… It was so much fun being outside and Mrs K-B, Mrs C and Miss J gave us different challenges and activities to do. By far the most interesting one and the most challenging one was the traffic survey. We sat for 10 minutes and some of us counted the different coloured cars, while some of us counted the different types of vehicles. We saw buses, vans, cars, lorries, bicycles, motor bikes and some vehicles that were exceptional and we all stopped and stared!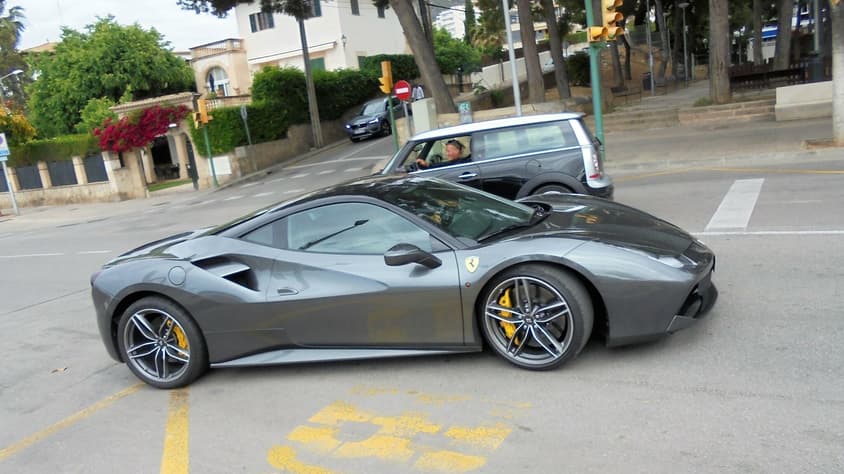 On the beach we did lots of different activities, observation tasks, starfish breathing exercises, meditation and some sand drawing. We also had a great snack break with our toes in the sand!
Have a wonderful and restful weekend.

Here are some photos from International Families Day last Friday! It was great to see the children's faces filled with excitement for their first face to face performance of the year!

What a lovely week it has been in Dolphins class. In maths, we have been looking at different methods for finding change. We love pretending we're at the toy shop buying things! In English, we have been editing and improving our work, it's always good to reflect on our work and try to improve it! We have also started looking at a new book called 'The Stone Age Boy'. We are looking forward to finding out more about it and creating our own versions of this over the next few weeks.
We would like to give a big shout out to Gerard who has been top of the leaderboard on Times Tables Rockstars for the last few weeks, there has been some close competition but no one has managed to knock him off the top spot yet! Who will it be next week?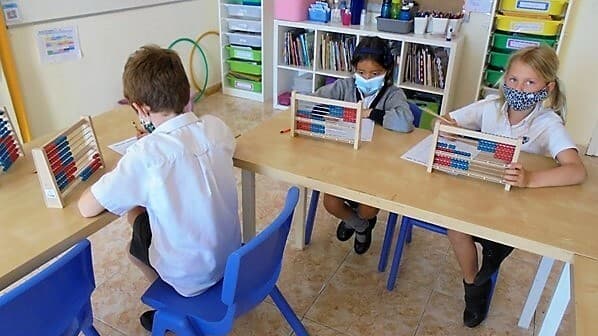 We had a wonderful start to our week as Monday was 'Outdoor Learning' day. The class enjoyed their Maths lesson out on our dining room terrace. It was the perfect place to breathe fresh air into our lungs, which in turn expanded our minds. We'll certainly use this space more often as studies have shown that outdoor learning develops a sense of self, independence, confidence, empathy and problem-solving skills, which I think we can all agree is so important in the both academic and emotional development of our children's growth.
In English and Humanities, Year 4 have been cross curricular studying by creating paragraphs. They have used their knowledge of rainforests to write descriptions and ensure they are paragraphed correctly.
In Science, our apprentice electricians are continuing their learning about complete and incomplete circuits. We've not had a competition for a while, so here's your child versus parent quiz...can you name the components of a circuit to make a bulb light up?!?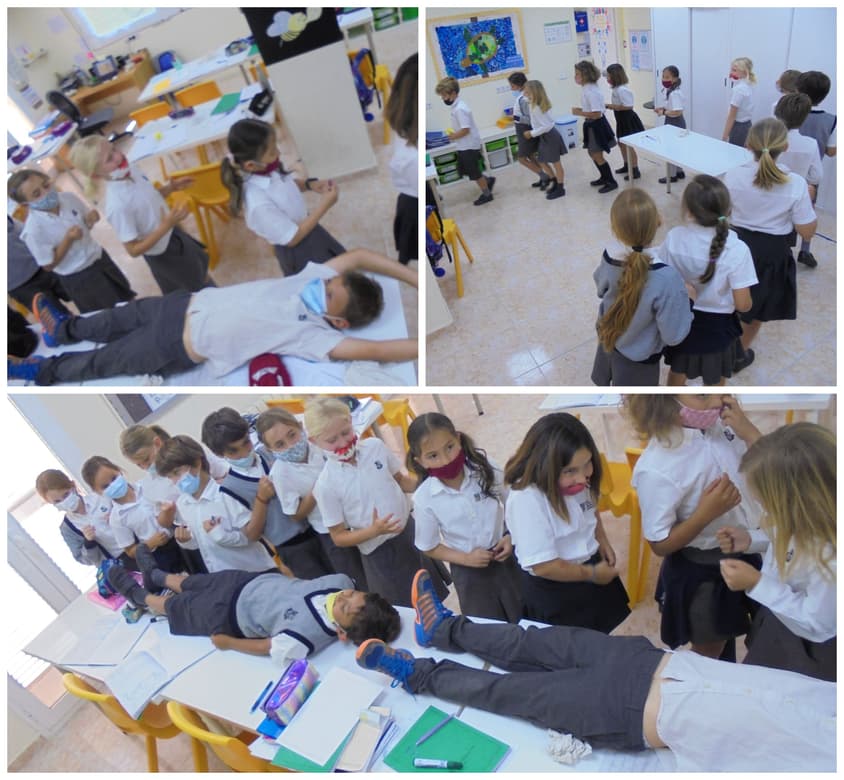 Busy, busy as ever in Year 5! In Science we have been learning about forces and this week we learned about water resistance. Using our previous learning about air resistance as well, we had the task to create a boat that would not only float but would move through the water when blown by a hand held fan. We got creative with some junk modelling materials in our groups and made our water craft. Then we had the big test - to test them out on the water. We had varying results of floating and movement but it gave us a lot to discuss about improvements or changes we would make in the future. There was only one "Titanic " moment, so they all were successful with buoyancy!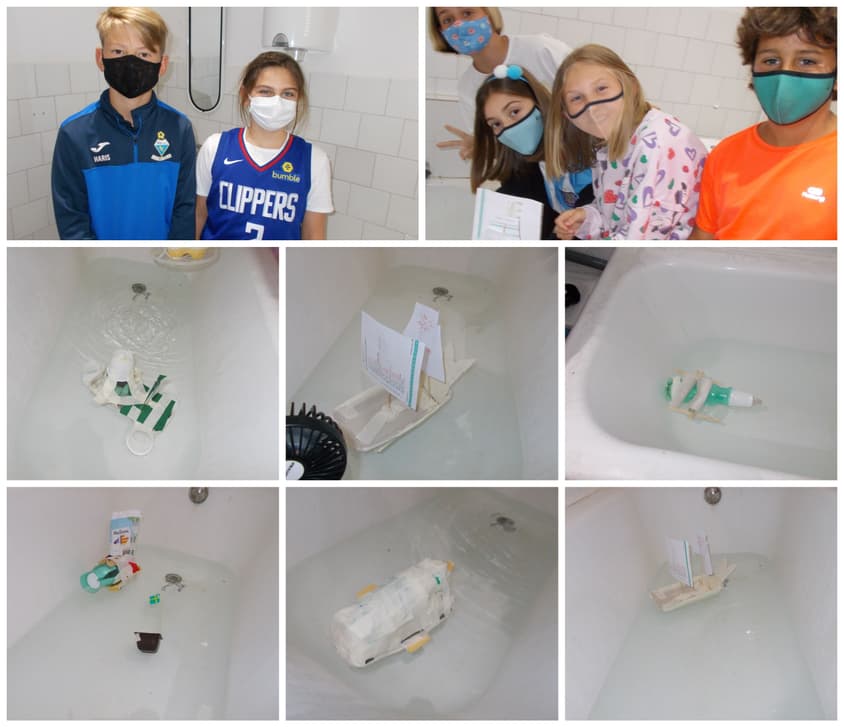 Monday was Outdoor Learning Day, so we took our maths outside.We have been learning about units of measurement for length, weight and volume. We selected items and objects to measure in metric centimetres and meters(including each other!)and we had some lemons from the terrace garden as well to weigh. Then we went back to class, to convert these measurements to imperial quantities.

Outdoor learning Day - where better to read a good book than outside in the shade?!

Congratulations to Hugo for his achievements in the Rafa Nadal Tennis Tournament.

We also have a new Timestable Rockstar in our class - well done to Celeste!! Be careful though as there are a few others close behind you! Have a great weekend!

In Science this week, we have been learning about water resistance and buoyancy. Our challenge was to create a watercraft that will float and also move through the water with the aid of a hand fan. Along with Year 5 we tested out our creations in the bath. We were mostly successful but every failure gives us a new chance to learn and we had lots of discussion about the improvements we would make!

We have now started a 'At the seaside' topic in our art lessons which links well with our Humanities topic of tourism. This week the children learnt how to draw fish using detail to show the eyes, tail and scales. After looking at each photo several times, they could visualise the fish which helped them draw their own using lots of detail.
The children have been working hard in our Humanities lessons, and so far learnt about the history of transport focusing on the impact of the railways on tourism in Victorian Britain as well as learning about the supersonic aircraft 'Concorde' and how it impacted transatlantic tourism. The Sharks designed posters in a vintage style encouraging people to visit the seaside by train! We then did some fact finding about Concorde and learnt about the last ever flight in 2003. The children wrote newspaper articles using facts and quotations from some of the celebrities on board!
Spanish and Catalan with Ms Ainhoa
Esta semana hemos empezado un proyecto sobre la meteorología y el espacio en catalán con Y2. Hemos aprendido vocabulario sobre algunos fenómenos naturales y, además, hemos sido meteorólogos por un día aprendiendo a interpretar un mapa del tiempo. Durante las próximas semanas vamos a descubrir aspectos interesantes sobre el espacio, la luna y las estrellas. Nos esperan muchas sorpresas…
Por otro lado, también tuvimos un día "Outdoor" y en Y3&4 se nos ocurrió combinar la actividad física con la realización de un dictado. De esta manera practicamos algunos aspectos de la ortografía disfrutando de la clase y llevando a cabo un trabajo cooperativo.

Spanish and Catalan with Miss Campos
¿Qué pasaría si mezclas correr con uno de los ejercicios más temidos del temario, los dictados? ¿Qué pasaría si haces grupos aleatorios para que entre ellos corran y se dicten las oraciones de este dictado?
Pues el resultado es, simplemente, espectacular. Ejercicio físico, memoria, habilidad escribiendo, trabajo en equipo y en el papel plasmado uno de los textos con menos falta hasta ahora en el curso. Los niños y niñas han disfrutado de la actividad, se han complementado de manera extraordinaria para obtener el mejor resultado. Definitivamente, una de las actividades a repetir antes de que se acabe el curso.

Last Wednesday Year 3 and 4 students have discovered a really fun way to get active and combine sports and music to help keep a steady beat and practice dribbling skills in basketball. Great work everyone!