A message from Janice Short, Principal
Dear parents
We continue to fly towards the end of the school year with trips and events taking place on a regular basis. It is lovely to see the children enjoying their school trips; they are so excited before they leave and then full of information about the trip when they return. The trips and events are such an important part of the extra curricular activities here at Sant Agusti as they really extend and embed the children's learning. We have visited Stone Age sites, studied tourism in the past, visited a rainforest, art museum, Bellver Castle and had a teddy bears' picnic!
Last week we celebrated Queen Elizabeth II's official birthday which the children really enjoyed. We spent the day looking at the pomp and ceremony of the Trooping of the Colour, the official birthday parade and did lots of activities related to the Royal family and birthday celebrations. The day was completed by an afternoon garden party with a visit from the Queen herself as the children sang the national anthem. A special mention needs to go to the band, who under the guidance of Mrs Baggaley, played the anthem extremely well. Well done all!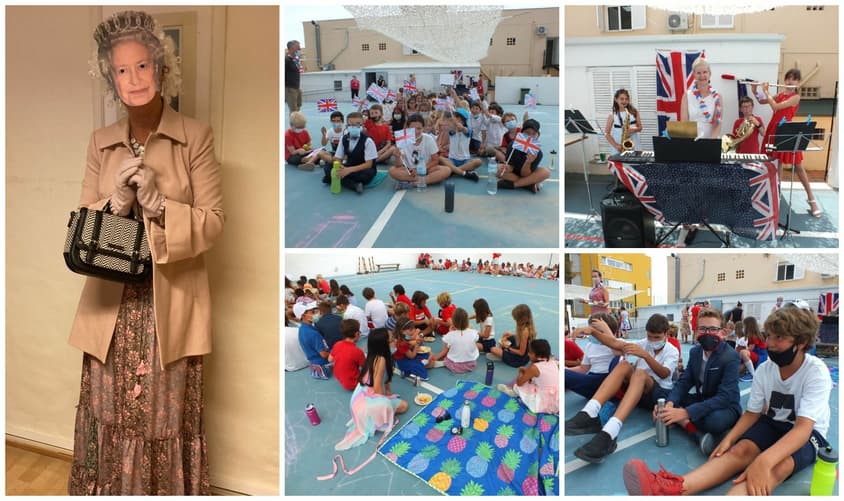 The children have also completed their final assessments for the year and I am pleased to see how much progress they have made, despite the restrictions and the different year we have had. I would like to thank the children and the teachers for all their hard work during the year to ensure the children's learning has continued.
As it comes towards the end of the school year we start to think ahead and it is exciting to plan for the future. This week we have welcomed Miss Charlotte back from her maternity leave and she is working in Year 1.
Unfortunately we will be saying goodbye to two members of staff at the end of this academic year. Mr Edwards will be moving on to Greece, to be closer to family and friends and Miss Campos is moving closer to home in another area of Mallorca. They will both be very much missed and we will wish them both well in their chosen futures. Miss Ainhoa will be staying with us and will be working alongside Miss Maria, who will return for the next academic year after her maternity leave.
Have a lovely weekend
Warm regards
Mrs Short
Principal

Sports Day for Year 1 to Year 6 - Wednesday June 23rd
For Sports Day for Year 1 to Year 6 on Wednesday June 23rd, we would like the children to wear their PE kit but with a T shirt of their house colour as follows:
Lions - yellow
Leopards - blue
Eagles - green
Wolves - red
| Date | Event |
| --- | --- |
| Monday 21st June | Early Years Sports Day. Please make sure all children wear PE kit, have sunscreen on, wear a hat and have a large full water bottle. Unfortunately this is an event with no parents. |
| Tuesday 22nd June | World Music Day. Whole school event. This event is open to parents and will start promptly at 2.45pm. More information regarding costumes will follow via class letters. |
| Tuesday 22nd June | Virtual Open Day |
| Wednesday 23rd June | Sports Day Year 1 to Year 6. Please make sure all children wear PE kit with a T shirt of their house colour, have sunscreen on, wear a hat and have a large full water bottle. Unfortunately this is an event with no parents. |
| Thursday 24th June | Public Holiday - School closed |
| Friday 25th June | Y6 transition visit to Sa Porrassa -meet at Sa Porrassa at 8.30am. Refer to separate letter sent to Y6 parents. |
| Friday 25th June | Year 4 morning trip to Bonaona Surf School. Children to meet at the Surf school in Ca'n Pastilla at 9 - 9.15am. Please refer to the separate letter for more details. |
| Monday 28th June | School Reports go out to parents |
| Monday 28th June | Year 5 and Year 6 outdoor adventure trip to Portals. |
| Tuesday 29th June | Transition Morning for all children from Nursery to Y5. Y6 will be needed in school for the whole day. |
| Tuesday 29th June | Year 6 Final Assembly, open to parents of Year 6 children. The assembly will start at 2.45pm. |
| Thursday 1st July | Last Day Summer Term |

A sunny hello from our Nursery community! We are excitingly starting our last weeks of this term with some beautiful sunshine and lots of smiley faces. I cannot believe we have almost finished this school year already and when I take a moment to observe the children playing on the playground, I look at them in amazement. Starfish class, you're all so grown up, independent, speaking in English and such good friends!
Starfish and Seahorse class had a fantastic morning outside together on Tuesday painting on big rolls of paper. I love giving children some tools, blank paper and free choice! It is really great to witness how the absence of instructions given by an adult gives these wonderful creative children the freedom to let their imagination run wild and allows us to see how responsibly they handle such liberty! Well done Early Years children!
On Wednesday we went to the park together with Seahorse class. We had a teddy bears' picnic and all the children brought in their special cuddly toy to accompany them.
We had a great time playing on the swings, slide, rocking horses, playing chase and hide and seek. It was a wonderful morning!

Reception Seahorses Class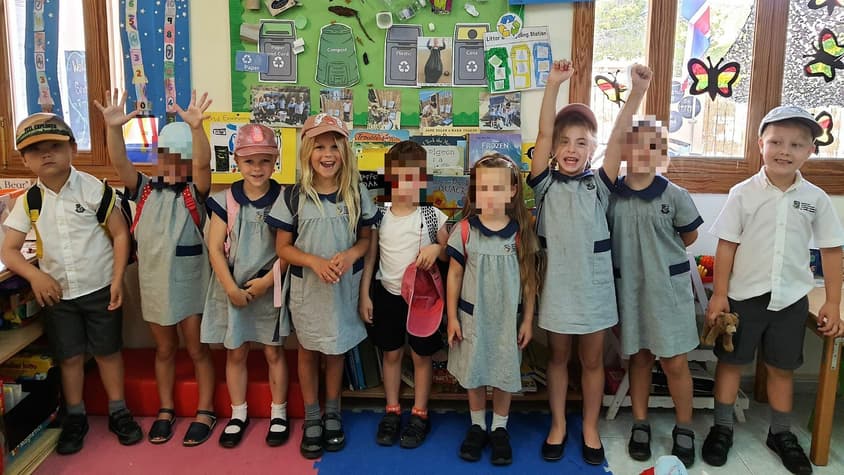 We are reaching the end of the school year but that doesn't mean we cannot continue having great moments, full of fun, as well as keep our learning going and this is what we are doing these days. We are holding lots of events so we can create these lovely memories that will go with us forever; some with the whole school but all of them with our friends in Starfish class. In Early Years we like to share time and fun together but especially now that the school year is ending. This way we help Starfish with their transition to Seahorse class while the Seahorses have the opportunity to help their friends and show them how much they care for them.
On Wednesday we had a super special Teddy Bears' Picnic at the local park. We were so lucky to have a sunny and bright day accompanied with a lovely breeze. We spent the morning at the park, playing games with our friends and our cuddly toys, running around and having a super picnic. We had an amazing time all together! The children were also very excited because for the first time this year they were allowed to bring their own cuddly toy and spend a day in school with them. Cuddly toys are essential at this age and due to Covid restrictions they weren't allowed to have them so you can imagine how happy they were about this. They had a great time playing with them, telling others why they are so special to them and they even lined them up from the tiniest to the biggest. Well done!
Continuing with our events agenda, next week we will be having our own Sports' Day and, along with the whole school, we will also celebrate World Music Day. We have been having lots of practice to make sure everybody has a great time performing. I can't wait to see the whole school performing together and creating more lovely BIC-memories. Wishing you all a lovely and safe weekend!
*Latest News!! We've just received a postcard from Madrid!! Who is it from? What does it say? We were all really surprised when Ms.Gillian brough it to our classroom. We'll tell you more about it next week!
Last week we bid a very fond farewell to the wonderful Ms. Jo. We thank her from the bottom of our hearts and our pencil cases for all the fun, learning and help she has brought to the Seals class this past year. We wish her a very happy and restful summer !
We were so happy to then welcome Ms. Charlotte who helped the Seals with their art skills this week. We have been looking at lines and learning how to draw our portraits. I think you'll agree the Seals can add artists to their long list of talents!
In English we are continuing with our theme of old nursery rhymes and poems and this week we read a poem called "Hands" by the unmistakable author Julia Donaldson . The Seals then created their own sentences using action words/ verbs to show all the list of things they can do with their own hands!
In maths we are looking at multiplication and groups of numbers. We also revisited an earlier topic of halving but this time we looked at halving odd numbers! It's certainly a bit tricker but we keep trying !
In science we focused on a new scientist named Mae Jemison and what a lady she was. The Seals had a chance to view some videos of life in space and also they filled out an interview sheet with some marvellous questions- so good in fact we thought we might email the lady herself to see if she might answer - who knows!?

The weather is heating up but these Seals remain calm, cool and collected as we try to enjoy these last few days together before summer comes and endeavour to keep our learning going as best we can. Our daily meditation in our air conditioned classroom after lunch is proving just the ticket! This week we enjoyed a superhero chill out time.
Have a lovely weekend,
See you next week for Music Day and lots more!
Love the Super Seals.

So many different, interesting and fun Julia Donaldson books to share and enjoy… We have sequenced events and used a timeline to help us. We have had a focus on sight words, those tricky words that we read, write and say all the time but that we have to just learn how to spell. We played a fun sight words game on www.teachmymonstertoread.com. Mrs K-B challenged us to beat our own best score and she could not believe the high scores we all got! We have also looked at homophones this week, there are a lot of them. Words that sound the same but have different spellings and different meanings! Wow, some sentences got really confusing!
We have done some fancy bead threading to really exercise our fingers and get us thinking about being really precise with our fingertips. We have been striking poses and jumping about even in the very warm weather as we practise our dance moves for next week.
In preparation for our trip to the Joan Miro Museum on Friday we took an in depth look at the man, his life and his art. Did you know he was an accountant for 2 years before becoming an artist and you´ll never guess who one of his friends was?!
We watched the Mironins, an animated tale about minion-like creatures that come to life from Miro's artwork. We also started our own Garden collage after being inspired by Miro's Garden.
Time stands still for no Turtle! Maths this week has been about time. We have recapped the days of the week, months, time related words like decade (that's 10 years!) and century (that's 100 years!!). We have also made a clock, made different times, found out about different times and played time table tennis. We didn't know that our 5 times table would be so helpful when telling the time!
Have a fabulous weekend, we can't wait to see you on World Music Day...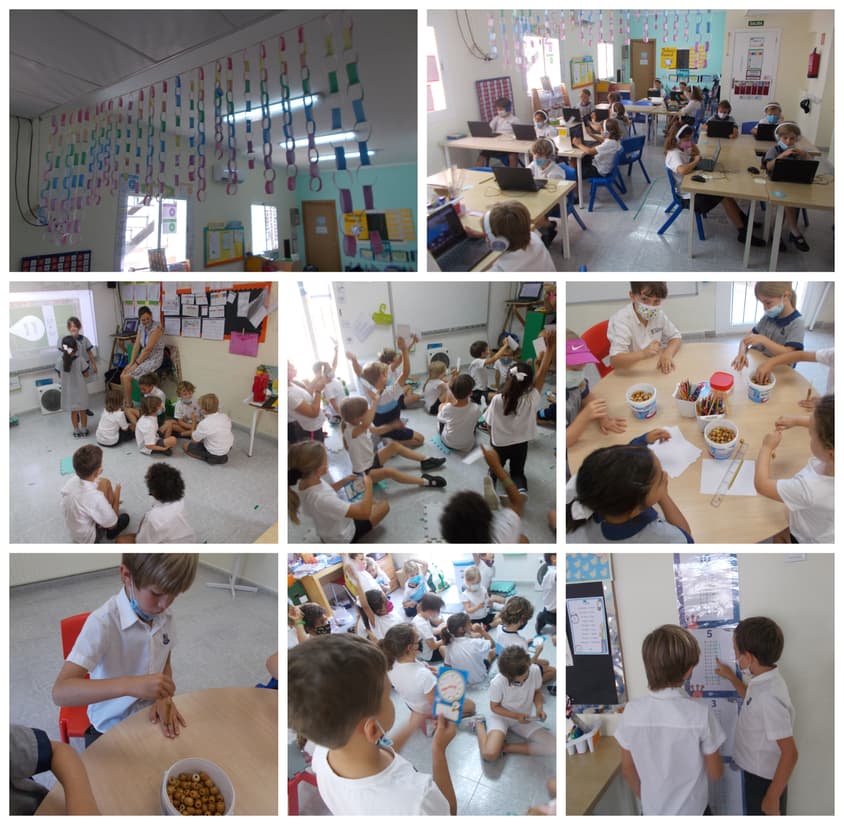 We started off this week in the best possible way… a school trip! On Monday, Year 3 took a coach to Manacor to explore the prehistoric site of s'Hospitalet Vell, some of the ruins were around 4000 years old! It was very interesting to visualise who might have lived there and what their everyday life might have been like! We saw the ancient meeting places, houses, bedrooms, fireplaces and doors. We found out about how houses were built using the ´dry stone´ technique. When looking at the rocks on the floor, we noticed broken bits of pottery and our tour guide, Juan, told us it was from the Roman era! Afterwards, we took a short drive to the Historical Museum of Manacor where we looked at a variety of ancient artefacts found in Mallorca. There were some strange objects but after listening attentively and asking lots of questions we found out their uses! We were intrigued by the Balearic slinger and how it was used in battles. Afterwards, we hopped back on the bus and managed to have time for a picnic before returning to school. A Monday well spent!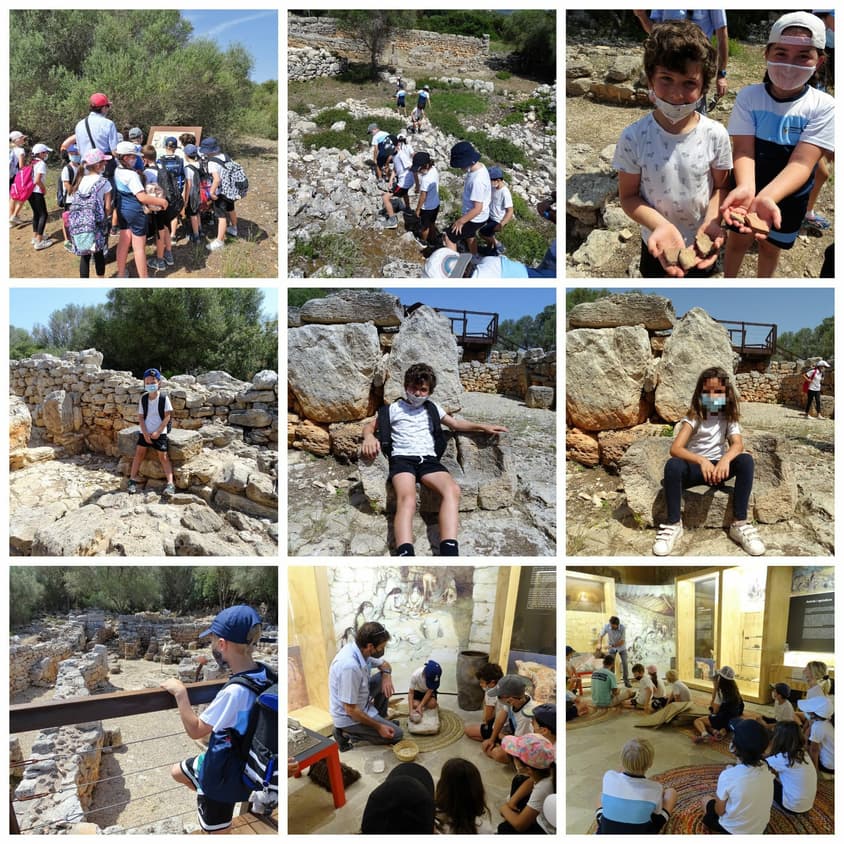 What a wonderful week. We had great fun this week when the Jellyfish went in search of Jellyfish! We were also on the lookout for Nemo and Dory! Did we find what we were looking for? Or course we did!

The Aquarium never disappoints for a great school trip. The first part of the day took us around the oceans of the world where we saw hundreds of different species of fish and coral. The coral is completely natural and the colours are so vibrant. We saw dancing seahorses, majestic stingrays, stunning starfish and basking sharks. The children were in awe of the 'Big Blue', which is the largest tank which holds numerous different sharks. We were waiting for feeding time but we couldn't get any of the children to jump in!!!

Onto the Jungle we went and fully experienced what it would be like to be in a Rainforest. The humidity, sights and sounds were so realistic. It made the past weeks of learning real, which is always great to experience.

We were lucky enough to experience all areas of the Aquarium, also taking in the interactive learning zone, the Giants of the Sea, the Whales and lastly, ending with some fun in the sun having a picnic and playing with the Shark!!

What a great interactive and educational day we all had.
Now time for a restful weekend! Have a great one.

These weeks are flying by now and are very busy! The year 5 and 6 students had a very informative walk around Cala Major - it was really interesting listening to the history behind tourism on Mallorca in the past. We stopped off in the Marivent Gardens - a great shady spot for our lunch!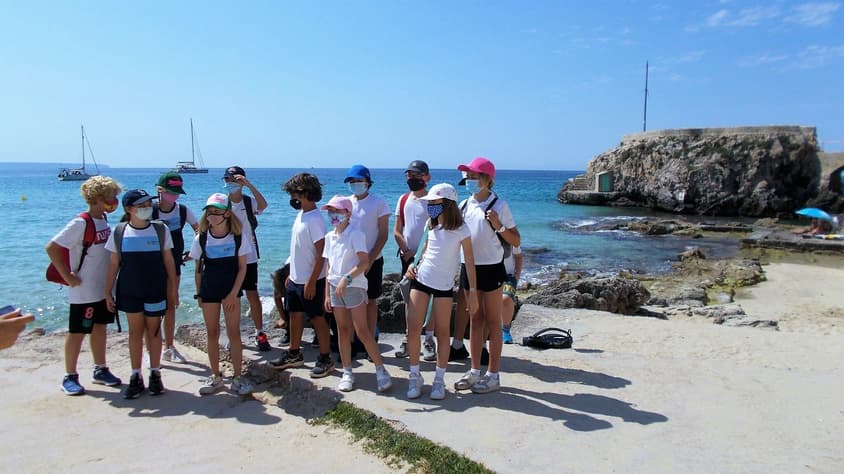 On Friday we celebrated the Queen's birthday and had a lovely tea party outside. A huge ¨Well Done¨ to Kaitlyn, Celia and Leo for playing their instruments and accompanying Ms Baggaley on the piano - they all played so well and it was lovely for them to get the opportunity to share their out of school interests with us…….watch out for them on World Music Day!
We have been busy in maths with our final tests and assessments - we will be completing some consolidation work and problem solving for the last few sessions. Well done to Celeste, she is our new Times Table Rockstar this week - Congratulations!!!!
In science this week everyone presented the information they researched on their chosen inventor or scientist. It was wonderful to hear them all so enthusiastic about the people who have played such an influential part in our history.
In PHSE we looked at the benefit of quality sleep;, something we all probably need at this time of year with our busy lives and the heat. The class looked at their bedtime routines to see if they were affecting their sleep pattern and then tried some relaxation and meditation to see how it would work for them
We have been learning our songs and dances for World Music Day and cannot wait to perform for you all! Have a great weekend everyone!

It has been another busy week and the Sharks have been busy bees! Last week we had a great trip to Cala Major as part of our Humanities topic. We had a tour around the main town of Cala Major, looking at the main tourist attractions, bars and hotels and we were lucky enough to visit the 5* Hotel Nixe Palace where we enjoyed lounging on the comfy chairs and taking in the beautiful views from the impressive balcony!

In our Art lesson this week, we painted a scene of Cala Major in the style of a famous artist. Some of the Sharks chose to use watercolours and paint in the style of Monet, whilst the others used poster paints and block colours to create a Picasso-esque piece. They are works in progress and are looking great so far!

Filming day arrived on Wednesday and we headed to the beach at Cala Nova to make our short promotional advert, persuading people to come to Cala Major. The boys brought props with them so they could get into character as tourists and after several takes, it was a wrap! Now for the editing, special effects and voice overs. Stay tuned!

This week in French, we finished our 'monsters' by adding labels. We then learnt the phrase 'il a…' and used it to describe our monster to a partner.

Next we read a set of descriptive sentences and had to draw a new monster based on what we read. It was a fun activity especially when we compared our final monsters!

Spanish and Catalan with Miss Ainhoa and Miss Campos
Durante esta semana, con Miss Ainhoa, hemos estado trabajando la expresión escrita de una manera más dinámica que nos ayude a sacar a volar nuestra imaginación. Además, la temática es terrorífica y los alumnos han creado historias misteriosas con algún que otro susto.

Por otro lado, los alumnos de Year 1 y Year 2 han estado aprendiendo aspectos acerca de Andalucía y el baile más típico: el flamenco. Los alumnos han disfrutado de un vídeo sobre la actuación de una bailaora y sus grandes músicos. Además de aprender sobre la vestimenta flamenca y realizar una manualidad que les está quedando…. Para un olé!

Los más grandes del colegio, los de año 5 y 6 han estado creando sus propios caligramas con Miss Campos. Que, ¿qué es un caligrama? Pues es un poema pero escrito en una silueta que nos da una pista sobre lo que trata. ¿Sabrías adivinar estos de que se trata?

We are excited to remind you that next Wednesday will be the Sports Day where all students will take part in a House Points Party and the traditional athletics activities.
All of our students across school from the very smallest to our very oldest will have the opportunity to take part.
Each event will gain House points to decide which House is the overall champion.
The schedule for each year group is below.
Period 1-2: Year 1 and Year 2
Period 3-4: Year 3 and Year 4
Period 5-6: Year 5 and Year 6
Students are encouraged to come to school on the day of their event wearing their normal PE kit but with a T-shirt in the colour of their house.
Good luck to everyone!