A message from Janice Short, Principal
Dear families
I simply cannot believe another half term has gone, time seems to have flown by since January when we returned to school. Time seems to be passing so quickly, and this week we celebrated another New Year, Chinese New Year. The children had lots of fun learning about other traditions and another culture while celebrating the New Year. Many classes thought about New Year's resolutions in January, so maybe it is time to reflect on those again to see how many we have kept!
This week I have been meeting all the parents of our Year 6 children, to discuss the transition of our oldest children to our sister school, at Sa Porrassa, ready to begin their secondary education. Although they will not start there until September for the new academic year, this is a special step in their education and we ensure that their transition to Sa Porrassa is as smooth and as personal as possible. So many parents said they could not believe their child only has 5 months of their Primary education left, as it has gone so quickly. We will make sure it is a very special time for all our Year 6 children!
This week we also looked at Safer Internet Day, which is celebrated globally in February each year to promote the safe and positive use of digital technology for children and young people. Each year on Safer Internet Day, millions of people unite to inspire positive changes online, to raise awareness of online safety issues, and participate in events and activities across the world. The use of the internet and cyber safety is one of the most important life skills we are teaching the children. While the use of the internet brings many positive benefits and advantages it is also vitally important that we not only teach the children to stay safe on the internet themselves but also for us, as adults, to ensure we are doing all we can to provide a safe virtual environment for our children.
This week has also seen another of our house competitions, which the children thoroughly enjoyed. The teams all played a version of Kahoot, which was very exciting, fun, educational and noisy - a great time was had by all! The winners were…..the Lions team, well done Lions!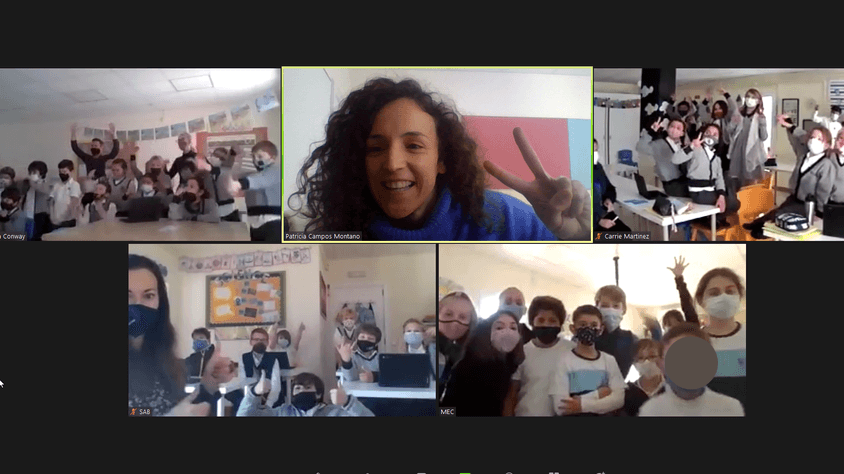 We spent our maths lessons and homework this week competing on Mangahigh Maths, solving problems and competing against schools all over the world. It got a little competitive at times to say the least!
For Baleares International College, Sant Agustí our winners were:

1st place Eva Year 4 Jellyfish

2nd place Minu Year 6 Sharks

3rd place Finn Year 4 Jellyfish
Well done everyone for competing and to our winners!

We say a temporary goodbye today to Ms Martinez who will be leaving for her pre-maternity leave. We wish her all the very best and we are looking forward to helping her welcome a special addition to her family in the next few weeks. We are very pleased to say that Mr Hodson will be returning as the Year 4 Jellyfish class teacher after the half term holiday.
Have a lovely half term holiday, stay safe and take care,
Warm regards
Mrs Short
Principal, BIC Sant Agustí

Well we have spent the last week before half term having the most fun in the way only Starfish know how.
In keeping with our topic 'From below the sea, up into outer space', we learnt about all different modes of transport and made our own Hot Air Balloons to fly up up and away. How pretty are they?
We love building with our construction blocks and when we use them to help us count and learn colours we have three times as much fun.
When all is said and done, as much as we enjoy learning new numbers and letters, we love nothing more than to get messy with playdoh and running in the wind being carefree.
The good times keep on coming and the fun never ends here in Starfish class, we will be sure to recharge our batteries over half term, but we cannot wait to get back to being together.

Reception Seahorses Class
We can't believe this half term is already over! We've been so busy in the Seahorse classroom that we haven't noticed that time has flown by! Children and teachers - we've been working together on different skills across the learning areas, bit by bit, taking small steps. Week after week, we are building up together the foundations for all the learning that will come next. So, when the children spontaneously begin to incorporate all those skills in their play it's really gratifying, such an incredible feeling. These are the moments that make us love our job so much. These skills include writing and blending letters to using shapes with a purpose or drawing and sequencing the children's own stories.
All the children have worked really hard and they are ready for the holidays but not without having first one big finale. We are really excited to celebrate the Chinese New Year with the whole school and to have lots of fun. We can't wait to share with you soon the best moments of the day. Wishing you a lovely and safe week, Ms. Karen and I can't wait to see you back after half term.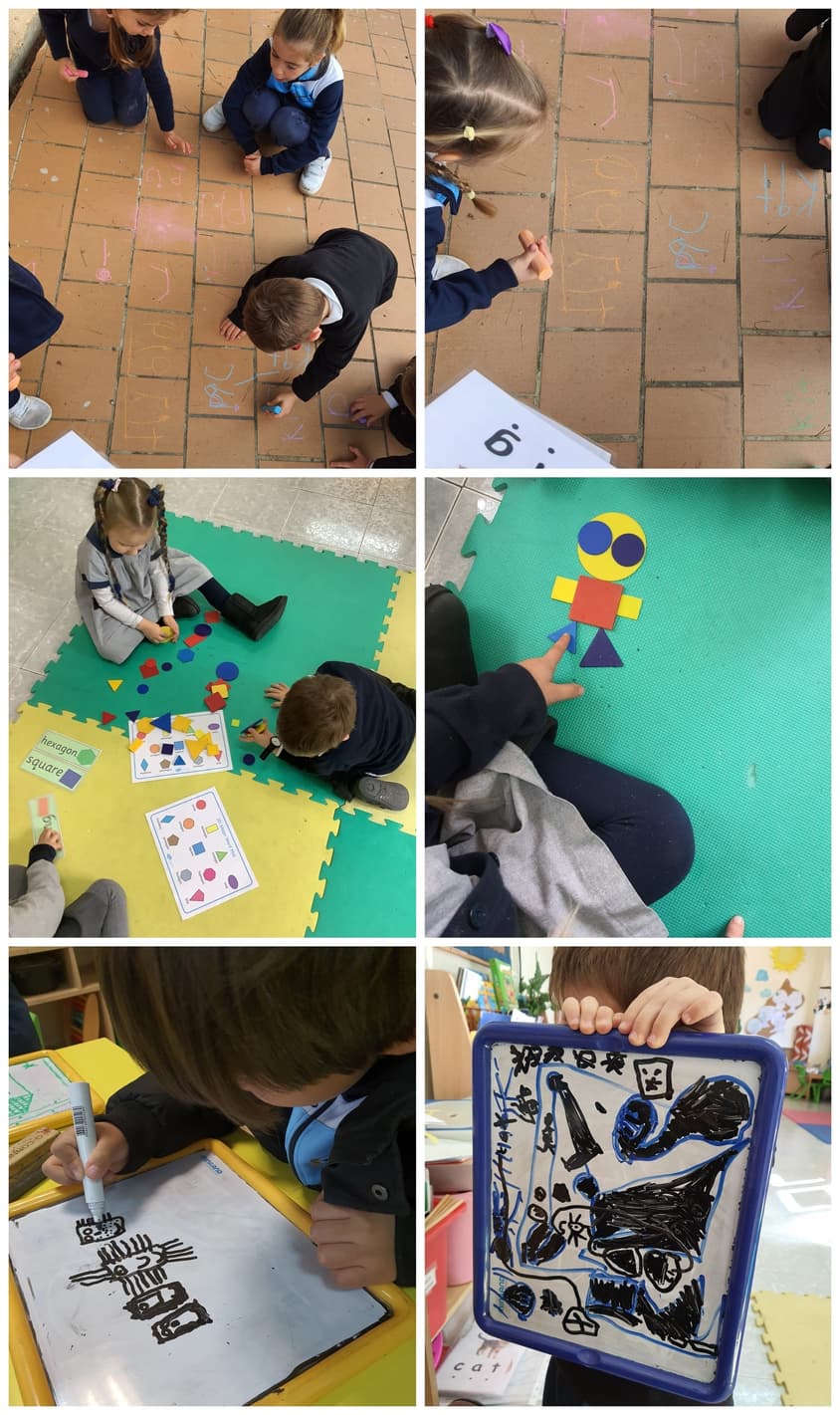 Maths eyes everywhere! This week we have been working on making bonds to 8, 9 and 10. We also have been using some fun activities to measure time! We tried to find out how long a MINUTE actually is- how many star jumps can you do in one minute? How many clicks of your finger is possible? How many times can you write your name in one minute? We are looking forward to learning how to tell the time soon!
Our beans are sprouting! We are recording their growth, measuring and drawing them in our bean diaries.
We learned all about Chinese New Year and how ALL the animals had a race to find out who would be assigned a year in the Chinese Calendar. We wrote all about it afterwards during group writing.
We also painted some tulips using forks!
It has been a great few weeks and we look forward to more learning and doing after half term.
Keep an eye out for our Valentine´s LOVE BOARDS going home today!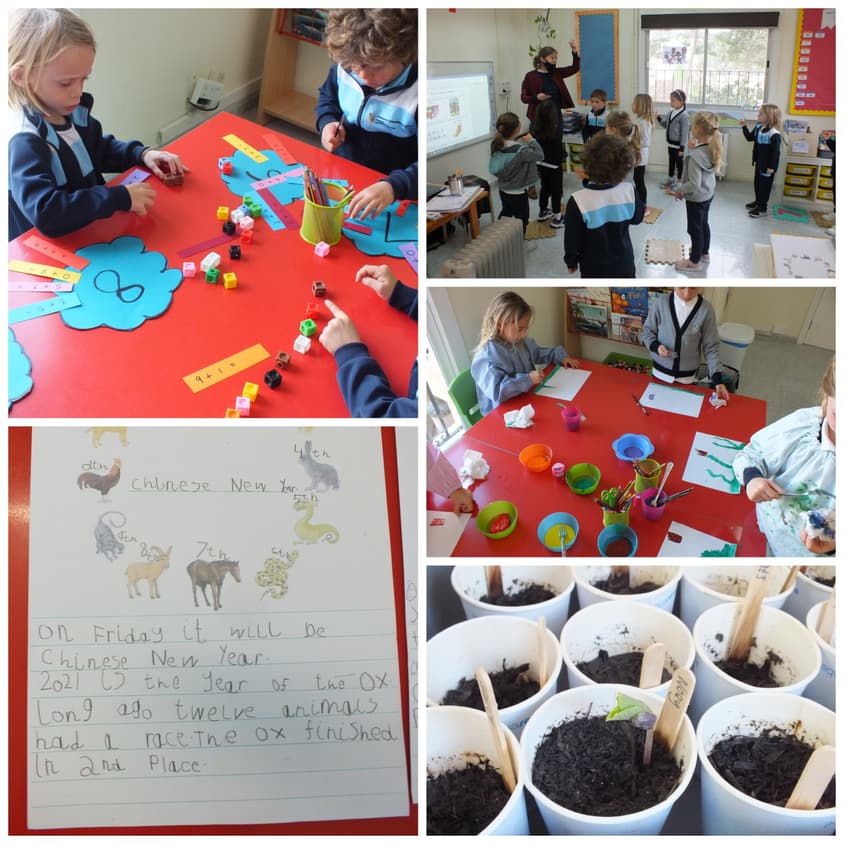 The last week of this half term has been super exciting and as usual we have been very busy...
In English we have been playing games and writing instructions based on our experiences. Build a Superhero was great fun! We have also had our first BEST WRITE… and yes, you´ve guessed it… we wrote instructions for an activity we were familiar with. We have been revisiting word classes, apostrophes, plurals and punctuation.
We have also used newspapers to spot our ´red words´ and to find words with our focus phonemes in. Some of us have splatted words, some of us have parked our cars in a phoneme car park and some of us have been story sound spotters!
In maths we have focused on shapes. We have revisited 2D shapes and we all agreed we were super shape makers and spotters. We have learnt about 3D shapes, their names and properties. Some of us used magformers to make 3D shapes using 2D shapes. Some of us had a go at making 3D shapes from nets. It was pretty tricky using nets to make 3D shapes, but we all persevered and made some amazing 3D shapes. We also had a go at using our bodies to make shapes from the polygon family - it was more tricky than it looks!
Our hydroponic beans have germinated and are growing like crazy things while hanging from the ceiling! We can't wait to see what happens with them over half term. Mrs K-B´s bean (the one in the dark surprised us all by germinating…) We wonder if it will sprout while we are away from the classroom?
The chrome books have been used this week to support our learning. Plural Pirates game has been great in helping us with learning and using spelling patterns for making a noun a plural and the spellingplay snakes have been great to consolidate our short and long vowel identification skills. We have also been using TT Rockstars as we start to learn about times tables and joining the Mangahigh challenge! Safer Internet Day on Tuesday saw us learning about how to stay safe online. We had a great story about Buddy the dog who was really good at checking we know the rules about keeping safe online - ask us to sing the song!!
Have a wonderfully relaxing half term. We are looking forward to a great second half term.

Well it's been a busy last week in Dolphins class, we've had Safer Internet Day, Kahoot quizzes and Chinese New Year to fit in, as well as all our usual lessons!
In English this week, we learnt how to use a thesaurus to find synonyms for words. This helped us when we had to recreate a poem about Pompeii. We worked in pairs and performed our new poems in front of the class. It was great to see so many fantastic actions and loud clear voices!
We then found out more about Pompeii and we were shocked to find out what happened there in 79AD!
On Thursday, we took part in a Kahoot Quiz against the whole of KS2. It was such a fun event and everyone enjoyed it. We were so proud of Leo and Preslav for their contribution for Leopards team as they made it onto the leaderboard, answering lots of questions correctly!
Dolphins class would like to wish everyone a wonderful half term! See you all after the holidays!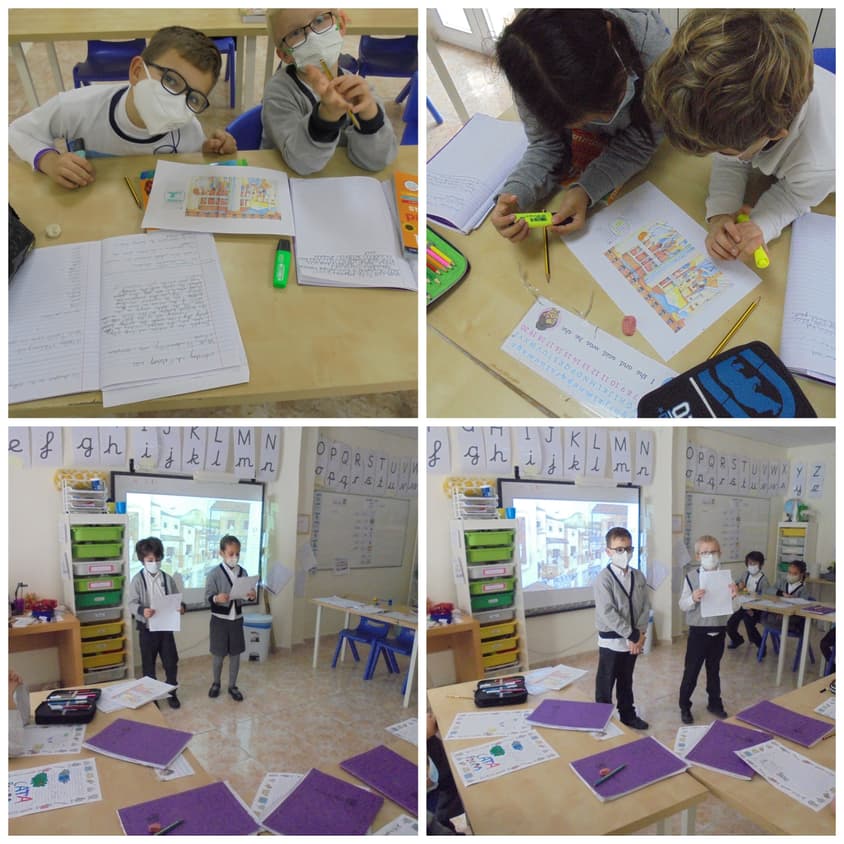 After last weeks' success with the NABSS art competition, the Year 4 Jellyfish have continued to show their competitive side with the Mangahigh Maths Challenge. A big well done to all the students who worked incredibly hard as a team for BIC San Agusti, but a HUGE WOOP WOOP and congratulations to Eva who won the competition for the whole school!!! Following on from the release of the insects we found in the forest, and the enthusiasm shown, Mr Andy has invited the Jellyfish to help him re-build the `bug hotel´. We're all very excited for this and the children are generously contributing to this by bringing in various items to help with their re-build, including leaves, pine cones and sticks. We'll let you know how we get on and will post photos of the `big bug unveil` in the next newsletter.
We're also looking forward to learning about the Chinese New Year on Friday. 2021 is the year of the Ox. We will be participating in various activities throughout the day to learn how the Chinese celebrate their New Year. It's also a great excuse to dress up again, using our costumes from the Christmas Show!
Before we go off for our Half Term Holidays, the Year 4 Jellyfish Class would like to wish Ms Martinez a BIG FAREWELL as she starts her pre-maternity leave. We will miss her greatly, but wish her all the best as she takes this time to look after herself and her growing baby. We can't wait to welcome her new addition to the BIC family!
We will be welcoming Mr Hodson back to the Year 4 Jellyfish class after the half term - we are looking forward to showing him what we have learnt in the last half term.
Have a fantastic week off, relax, have fun and Mr Hodson and Ms Jacqui look forward to seeing you on Monday 22nd February!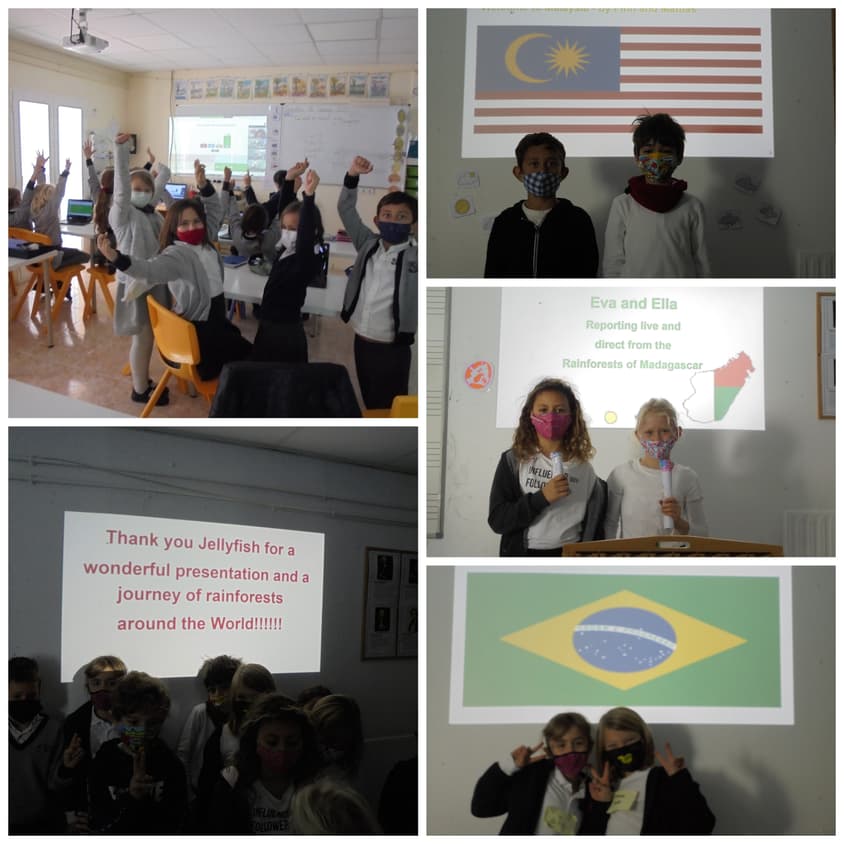 Another very busy week in Year 5 with lots of learning taking place. At the end of last week we celebrated 3 of our class' s Poetry competition entries being selected to go forward to represent the school. A huge well done to Kaitlyn, Sofia and Leo!
In our maths lessons now we are working on six digit numbers - how to read them, write them, add and subtract with them. They all were very enthusiastic and felt so confident they wanted me to add in 7 and 8 digit numbers to challenge them!
We are continuing to read The Butterfly Lion in class and most of the children are enjoying it so much they have asked to read other Michael Morpurgo books from our class library. It is great to see them so enthusiastic about reading.
In Art we have been learning about JS Lowry and his paintings of ´matchstick men and matchsticks cats and dogs´. Lowry is most famous for his paintings of industrial and urban scenes featuring many small figures, sometimes dressed in colourful clothes. He often painted a background of factories with tall chimneys billowing smoke, and in the foreground a pattern of small, thin figures, all busy going somewhere or doing something, Our masterpieces are coming along, we have water-coloured the backdrop, drawn our buildings in and our next session will be to add our people. It has been great to see everyone's scenes developing over the last couple of weeks.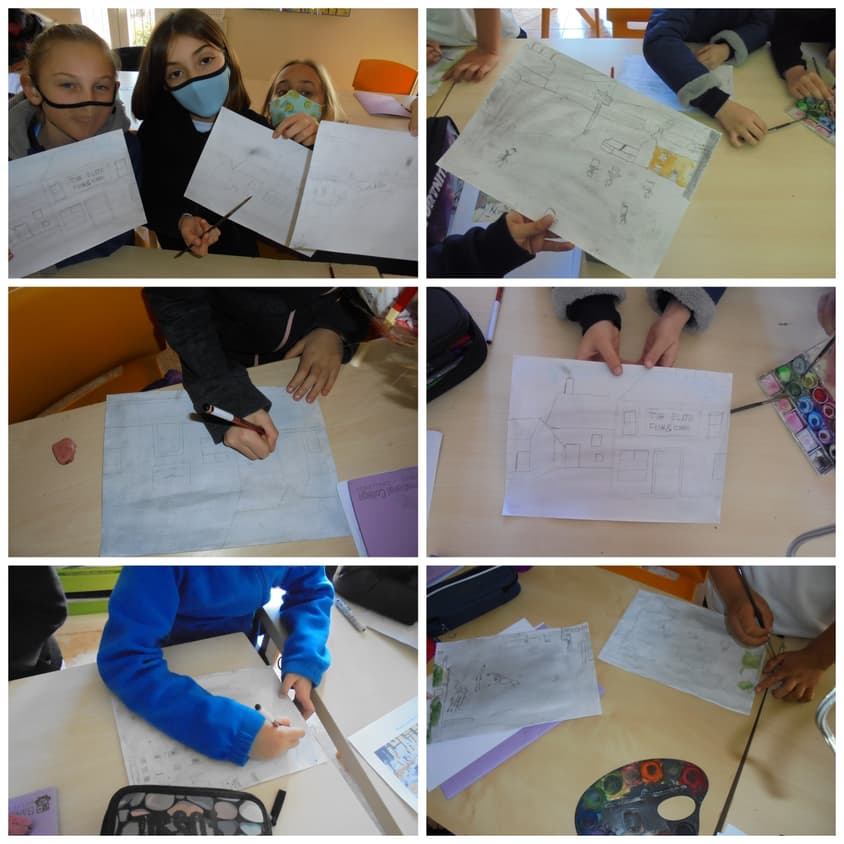 On Tuesday we celebrated Internet Safety Day and learnt all about staying safe online and age restrictions of online activities….we were very surprised by some of them! We held a class quiz and also answered ´What if…?´questions. I am glad to say they all had very sensible answers and knew the main action is if in doubt at all, always ask an adult.

Another busy and productive week in Year 6 Sharks class. The week started with a great art lesson and the children's landscape painting skills are coming along a treat. In this session we were learning how to mix different coloured paints to create a range of shades to use in a skyline painting.

In English lessons we are learning about Newspaper Reports and the children have enjoyed exploring local newspapers as well as creating their own headlines and captions. Keep an eye out over half term for local newspapers and see if you can explain the features of a newspaper report to someone at home!

In humanities we looked at the uses of rivers including how hydroelectric power and dams work. We considered the advantages and disadvantages of hydroelectricity and sorted out statements for each category.

We then looked at different cases studies of famous dams around the world including the Hoover Dam in the USA and Aswan Dam in Egypt and then we used drama to imagine we were project managers. We looked at the facts involving how the local population, habitats and economies were affected from the building of each dam and then made a decision whether or not the project should have gone ahead.
The children have also been working super hard on the Manga High Maths competitions and we are so proud of Minu for achieving second place. Have a wonderful half term break!

Spanish and Catalan with Ms Ainhoa
Esta semana en Year 5&6 hemos estado aprendiendo las horas en español y hemos creado nuestras propias infografías. A partir de éstas, hemos estado practicando por parejas cómo preguntar y decir las horas. Finalmente tendremos que aplicar nuestros conocimientos sobre verbos reflexivos y las horas para crear nuestras propias rutinas diarias.
En Year 1 y Year 2 hemos estado conociendo Escandinavia y esta semana hemos viajado a Suecia y hemos conocido el fenómeno de la Aurora Boreal, dónde se crea y por qué. Pues al final ellos mismos han pintado sus Auroras Boreales de Laponia.

Spanish and Catalan with Ms Campos
¿Habéis visto el resultado de nuestro proyecto sobre el libro del baobab? Los niños y niñas de Year 1 y Year 2 han viajado por Madagascar, exactamente en la avenida de los baobabs, han visto al baobab enamorado y han conocido a los lemures (y además de verdad, tenemos un peluche lemur que viene directamente desde Madagascar.
Después nos fuimos de safari por la sabana donde conocimos algunos animales salvajes, pero lo mejor fue conocer a la tribu Masai. De ellos conocemos las casas que tienen, a los Masais guerreros y también cómo les gusta decorarse; y eso es lo que hemos hecho nosotros. Hemos diseñado nuestros collares Masais y Miss Campos trajo un pareo Masai.
Ahora estamos viajando a China, aprovechando que es el año nuevo chino, ya veréis que cosas más divertidas hacemos.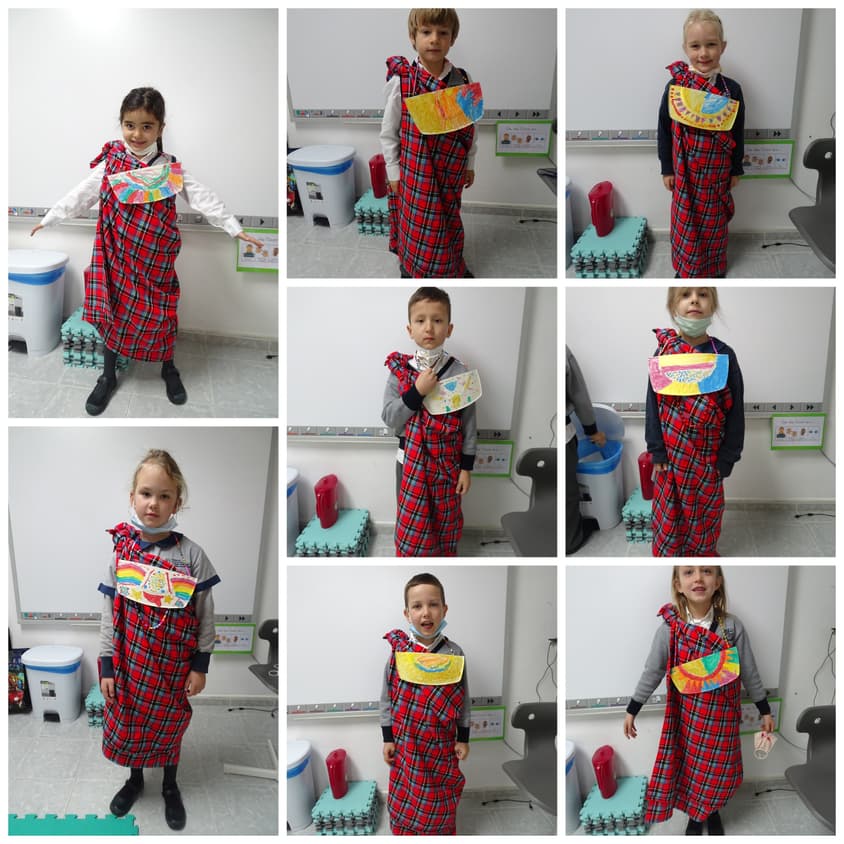 Year 1 students are learning to develop their self-control skills as well as their ability to shift their focus to different things – but they just think they're having fun!
That's where outdoor obstacle courses come in.
Teacher Feature - Jacquelyn Robinson
"All children have within them the potential to be great kids. Its our job to create a great world where this potential can flourish" - Stanley Greenspan
Having worked at BIC San Agustin for nearly 8 years, Ms Jacqui has loved watching so many children grow and mature from small children, through to successfully finishing their last year in the school, and she has enjoyed being part of their learning journey. Being a Teaching Assistant means Ms Jacqui's primary focus is to support the childrens' learning and wellbeing, as well as supporting the class teacher. Ms Jacqui admits that being a parent herself has very much helped in her role, ensuring the children receive the happiest start to their education. She is an advocate of positive mental health, as she believes a happy child is a healthy child.
Family is very important to Ms Jacqui, which is why she feels so at home at BIC, she feels like it is one big family. Ms Jacqui loves the children's enthusiasm for learning, as well as learning from them herself. You will quite often hear Ms Jacqui say…`Every day's a school day'...and she feels this is important for adults as well!
Prior to working at BIC, Ms Jacqui worked at Thomas Cook for 16 years. This was a very exciting chapter in her life as she got the opportunity to travel worldwide, combining her love for skiing with her work. She feels working for a tour operator certainly gives you the best skillset for life!
This is what originally brought Ms Jacqui to Mallorca, and she fell in love with the beautiful island. Twenty-five years later and she's still discovering unbeaten tracks and the hidden gems the island has to offer. One of Ms Jacqui's favourite places on the island is Deia, which is where she got married. Ms Jacqui is passing on her love for adventure to her two sons and during the weekends and school holidays she loves nothing more than to pack up the family campervan and drive off into the sunset!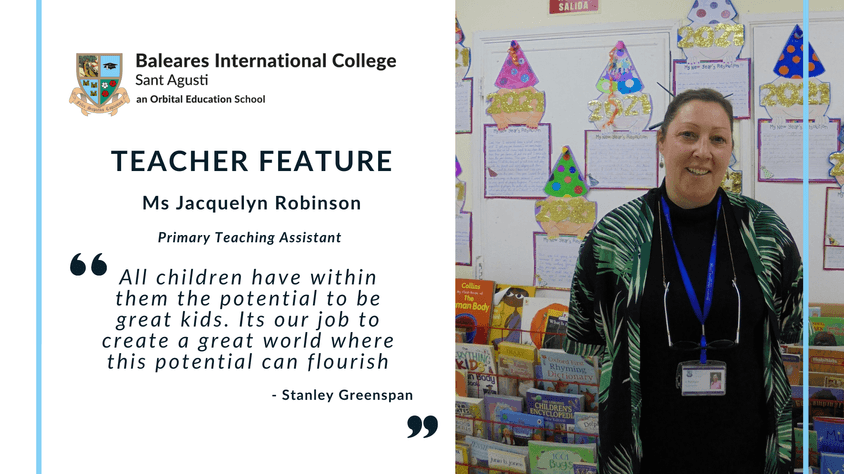 | Date | Event |
| --- | --- |
| Starting Wednesday January 13th | Closing date: February 25th | Start of COBIS Coding competition - the children are working in their ICT lessons as part of this competition. |
| Wednesday January 27th | Closing date: February 24th | Start of COBIS Art competition. The children will be participating in this competition entitled "Connections" in their Art lessons. |
| Monday February 15th - Friday February 19th | School closed; half term holiday |
| Friday February 26th | Dia de Baleares - celebrations in school. The Spanish teachers, Miss Campos and Miss Ainhoa have been working very hard to make this day a special day for the children. Please can the children come to school in the colours of the Balearic flag, or wear black trousers / skirt /leggings with a red, yellow or purple T-shirt, or a T-shirt with the Balearic flag on it. |
| Monday March 1st | School closed - public holiday |
| Tuesday March 2nd | Parent -teacher parent meetings -booking system details to follow |
| Wednesday March 3rd | Parent -teacher parent meetings- booking system details to follow |
| Thursday March 4th | World Book Day -details to follow |
| Monday March 15th | International Maths Day |
| Friday March 19th | Father's Day (Spain) |
| Monday March 22nd | World Poetry Day |
| Monday March 29th | Holi |
| Thursday April 1st to Wednesday April 14th | School closed | Re-open Thursday April 15th |