A message from Janice Short, Principal
Dear families,
This week we have been busy working on different curriculum areas with International Maths Day on Monday, St Patrick's Day on Wednesday with little BIC leprechauns learning about Irish culture and then Father's Day today. The children have all been working hard to make special cards for special people in their life, so I hope you enjoy receiving their hand-made cards. The care and effort put into those cards recognises the special relationships the children have with their families. Next week we have World Poetry Day and then the Nursery Starfish are zooming off to the moon so I am sure there will be lots of excitement!
A special shout out to Year 3 Dolphins for achieving first place in the TTRockstars maths week competition and to Elia whose art entry for the Nabbs Art Competition was placed in the top 10!
Last Friday we held our first (almost) whole school assembly -outside and socially distanced, but we managed it. It was a very special moment for me personally, as this is the first time we have been able to do this since the start of this school year, and it was quite memorable. It brought the school together again and we were able to celebrate the children receiving the Principal's Award and congratulate the week's winning House - Leopards. Of course it was not without incident due to the wind blowing down the House banners, a large seagull on a very close fly- past swooping over heads and then the loud noise of a jack hammer attempting to drown me out! However, resilience and flexibility are key and we persevered with success!
Have a great weekend and Happy Father's Day!

Warm regards,
Mrs Short
Principal


| Date | Event |
| --- | --- |
| Monday March 22nd | World Poetry Day |
| Wednesday March 24th | Virtual Open Day |
| Monday March 29th | Festival of Holi |
| Tuesday March 30th | Year 6 Sharks visit to BIC Sa Porrassa. Please meet at BIC Sa Porrassa at 9am. Year 6 will return to Sant Agusti at 11am in transport provided by school. |
| Tuesday March 30th | Whole School -Decorate an Egg House competition. Please can each child bring either a HARD BOILED egg or a Polystyrene egg to school to decorate. Please help your child to think of some great ideas to decorate their egg for the House competition! |
| Wednesday March 31st | Y1 to Y6 Easter Fun |
| Wednesday March 31st | Last day of term |
Our Book Club is now open, with some great titles available for the children's Spring reading! We encourage children to explore a wide range of books and authors over the April break, when children read consistently over the holidays, we see evidence in their increased vocabulary and storytelling skills when they come back to school. Happy Reading!
Orders must be placed by Thursday 25th March and as soon as the books arrive you will be informed, they can be collected from the school office
The link below will direct you to straight to the online shop, where we can purchase and pay direct to the Book Club:
https://eu-schools.scholastic.co.uk/baleares-int-school/digital-book-club
For every €1 you spend on this month's Book Club, our school will earn 20¢ in Scholastic Rewards, we thank you for your support!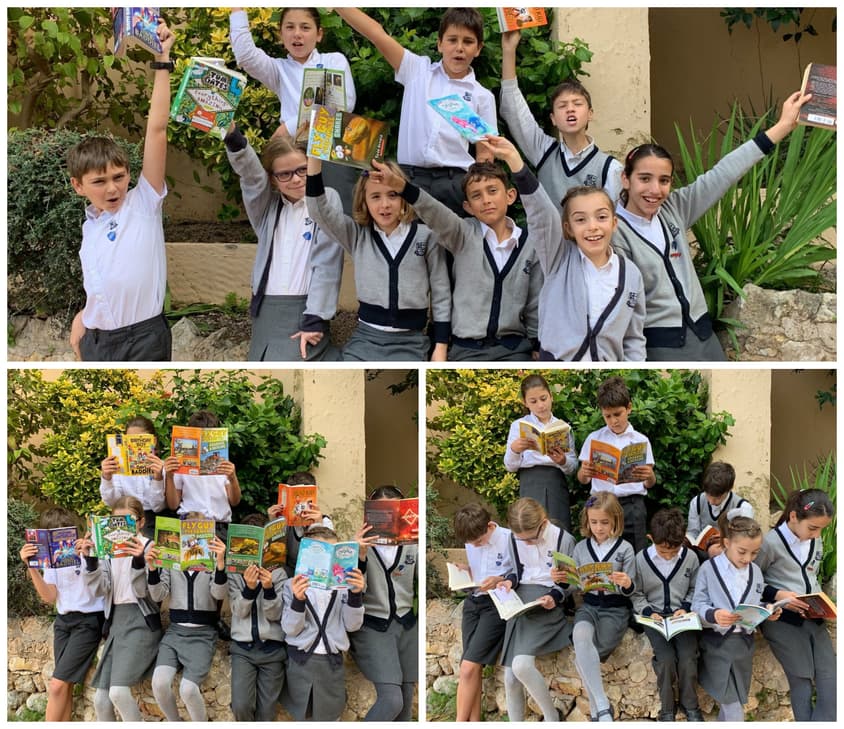 Another great week in Starfish class, and a particularly productive one! We continued with our topic, Under the Sea and on Tuesday we celebrated Maths Day , an international celebration of maths! To link the two together, we tried to figure out how big the biggest animals in the world are: the blue whale. We learned that this can be a whopping 30 metres! We measured 30 metres on the swimming pool terrace and we tried to see how many Starfish children fit into these 30 metres, let me tell you there was space left. We ran from one side of the whale to the other and were simply mesmerized with a whales' size.
This week we also took a first look at discovering patterns all around us. We made patterns out of colours, shapes, children - pretty much everything we could find.
The Starfish class children also crafted a mermaid in her shell, we spoke about mermaids and whether they are real or not - we will leave that up for debate...most importantly, they are very beautiful!
Next week we will finish our journey around the world with a trip into outer space, we are looking forward to it!
Have a great weekend!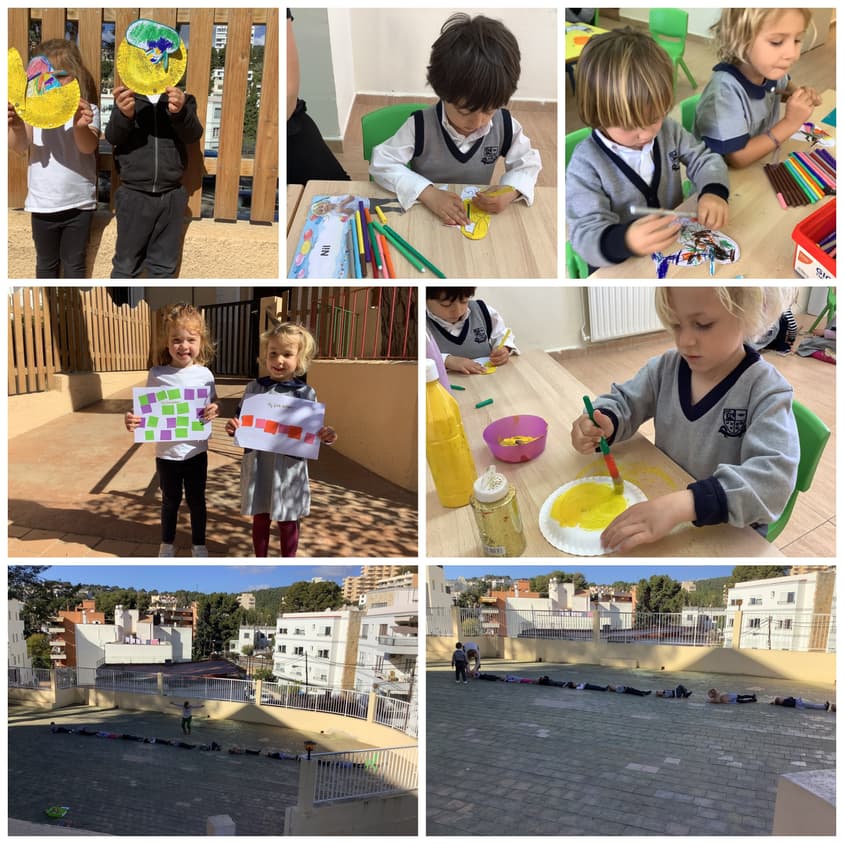 Reception Seahorses Class
What a great week we've had in Seahorses, again! I've noticed that we love celebrations in this classroom so we use every opportunity we have to celebrate and have fun. This week in particular we had two very good reasons. We opened the week with Maths Day, looking at how many things in our daily lives are connected to Maths. Through the week the children have been taking part in different games and activities linked with this, such as spotting patterns all around us, adding numbers or, more simple life skills, like taking turns and waiting patiently. Bit by bit, the children are getting really good at this.
On Wednesday, it was St. Patrick's Day and to honour our lovely Ms.Karen we had a 'green' festivity celebration. We learnt a few things about Ireland, we listened to Irish music, we read stories about the leprechaun and made dream-catchers and shamrocks' hats. We definitely had a lot of fun and I am sure that this year we will be also having very good luck!
☘☘☘ Have a lovely and safe weekend!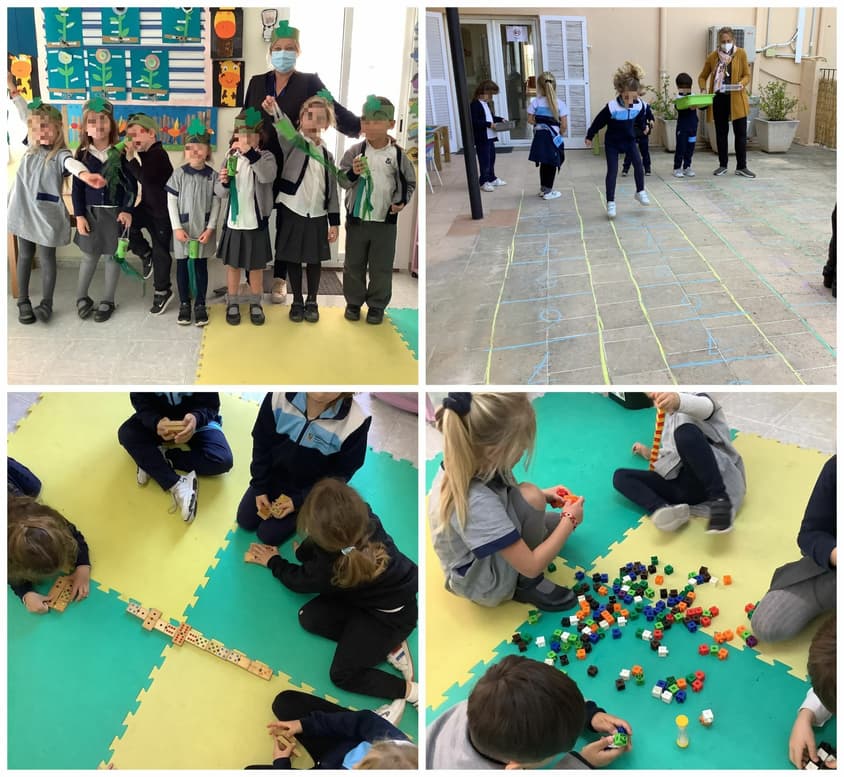 The weeks are just flying by! We started off this week with International Maths Day- is this not every day? Well, it is in Year 1. We just love all things mathematical. We spent most of Monday making maths connections. We are currently studying time- we now know how to read o'clock and half past! We also spent some time looking at pictures of real life scenes and we can now see that Maths is indeed everywhere- if only we remember to use our Maths Eyes!
We are really focusing on handwriting these days. We love to keep our letters neat and on the line. We also get a silver star for when we have our ascenders ( tall letters such b,d ,l, f and t) and our descenders ( letters that go below the line such as g, y, q and p) formed correctly.

What a great week... We are nearly at the end of the term already!! All the children have worked so hard this week in all their lessons. We had the Principal's Award, a special Headteacher´s Superstar sticker and on Monday all of the children worked their way up to blast off, blast off on our gold star rocket! On Monday it was International Maths Day - we had a whole morning thinking about maths, speaking about maths, playing with and acting out numbers. We all had a great time and we found 3 new favourite maths based games, Bingo (Mrs K-B makes a great Bingo caller), Dominoes and Higher or Lower (Yes, the Brucie game!). In maths lessons this week we have been looking at fact families and using our related facts to solve addition and subtraction number problems.
In English we are writing a short adventure story which we will be writing as a comic. We had a great time revisiting amazing adjectives and had fun describing a hairy, orange eyed, black tongued creature with turned-out toes, knobbly knees and a poisonous green wart at the end of his nose! We had a super speaking and listening lesson where we drew our main character and then had to describe the character to our talk partner who had to draw the character based on the description! One or two were so similar that if we had not been in the classroom we would have thought the same person drew the character twice. The amazing adjectives used were truly awesome. Our word of the week (WoW) was palindrome, the children were intrigued by words and numbers that were the same forwards and backwards - like WoW and the sentence, ¿was it a cat I saw?
In science we continued to think about food and this week we found out about the food pyramid and the different food groups. The children had a wide range of different favourite foods, but pizza was definitely at the top of the list. Next week we will be finishing off the topic with some superfood tasting!
In PSHE we have been putting safety first… This week we were focused on being safe in our homes and keeping ourselves safe by knowing that our body belongs to us. We worked in groups to sort household objects into groups using our own criteria and identified dangers in pictures of different rooms in a house. We also labelled body parts and had some help from the Pantosaurus to learn about areas of our body that are private and speaking to an adult we trust if we feel unsafe.
Have a relaxing weekend.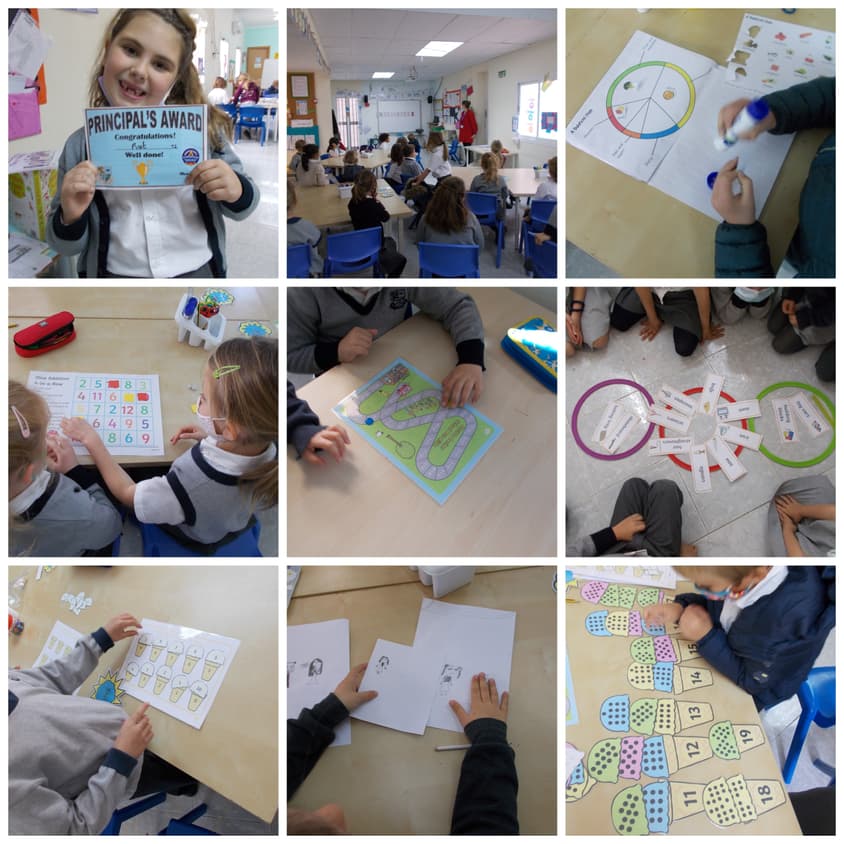 On Monday, we celebrated 'International Maths Day' by finding out we were the winning class in our school on the TT rockstars around the world competition. Everyone in the class did an amazing job at contributing but the top three most valuable team members were Preslav, Cadian and Gerard. Gerard also took first place as Rockstar of the week! I wonder who it will be next week?
We also enjoyed Maths day by playing some fun board games and using the interactive whiteboard to take part in various activities. Throughout the week we have been learning how to use column addition and round to the nearest 100.
On Thursday, we continued to learn about the Roman gods and goddesses through a mix and match game. We finished the lesson with a quiz!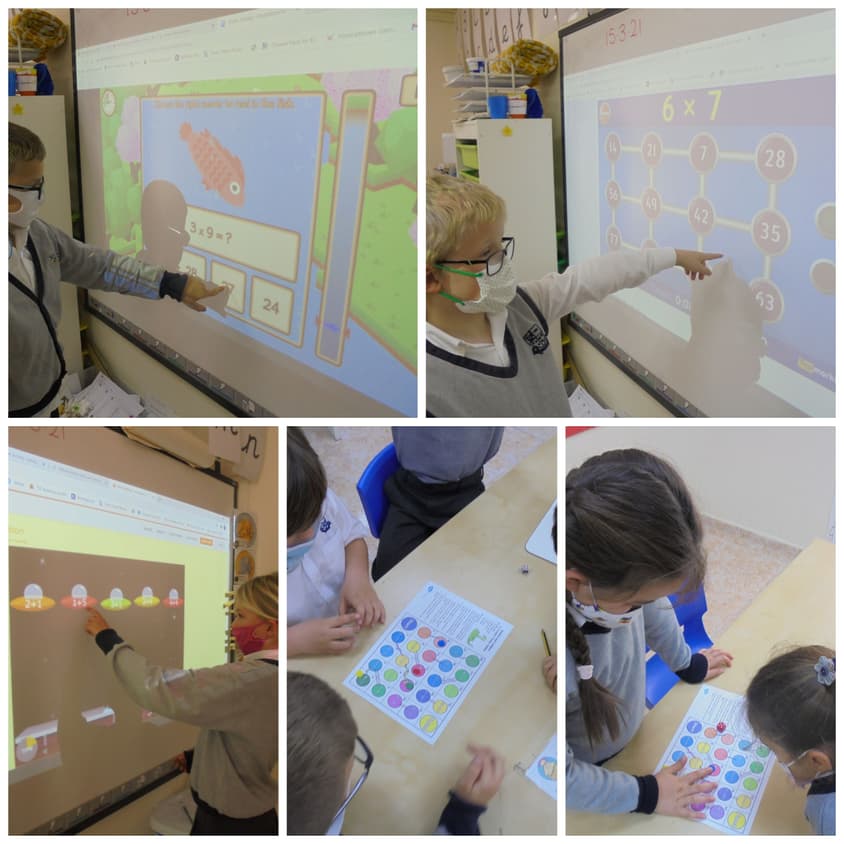 It never ceases to amaze us how many different nationalities we have here at BIC. We feel very fortunate in the Jellyfish class that we are exposed to so many different languages. It is scientifically proven that it improves our thinking skills and memory abilities. Whilst some of the children are in their Catalan lesson, the other children are learning French. This week they have been practising the months of the year. In German, they have been studying various different body and facial parts by making pictures and labelling them.
Continuing with the 'Sound' theme in Science, our scientists have had great fun pretending they were sound particles. They were experimenting how sound travels faster through solids and liquids, than gases.
English saw us finish their unit of poems this week. The children have worked so hard, preparing first and second drafts of their poems, before they were happy with the final version. They then enjoyed listening to each other reading and performing their poems. We've certainly got some potential poets in the class!!!!
Well done Year 4 Jellyfish for what has been another incredible week of learning. Have a restful, fun filled weekend!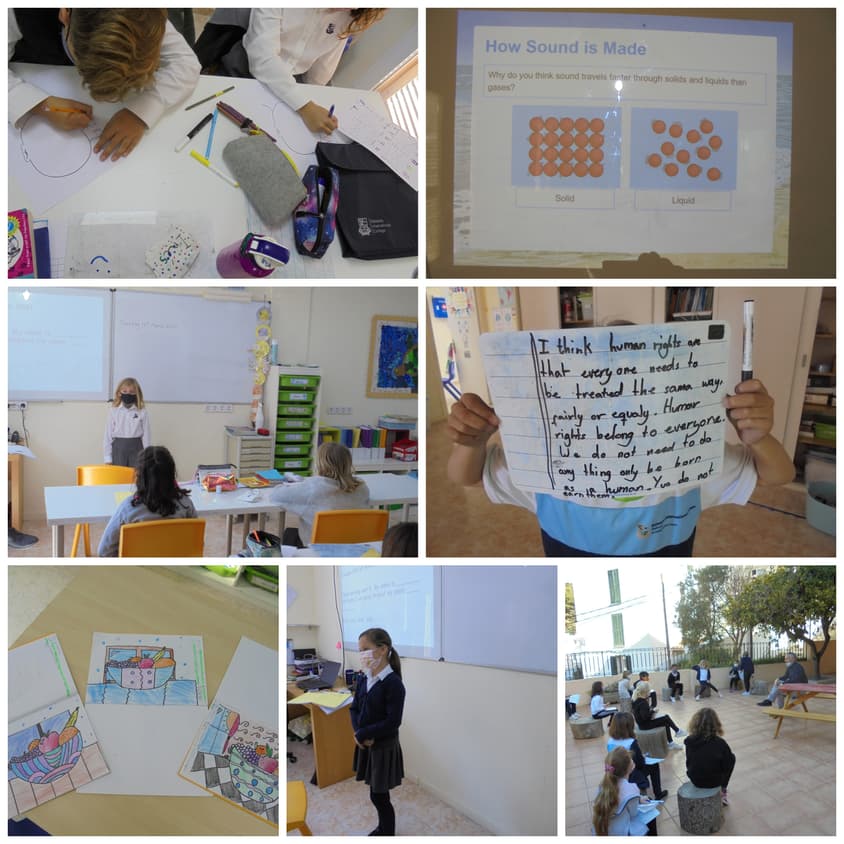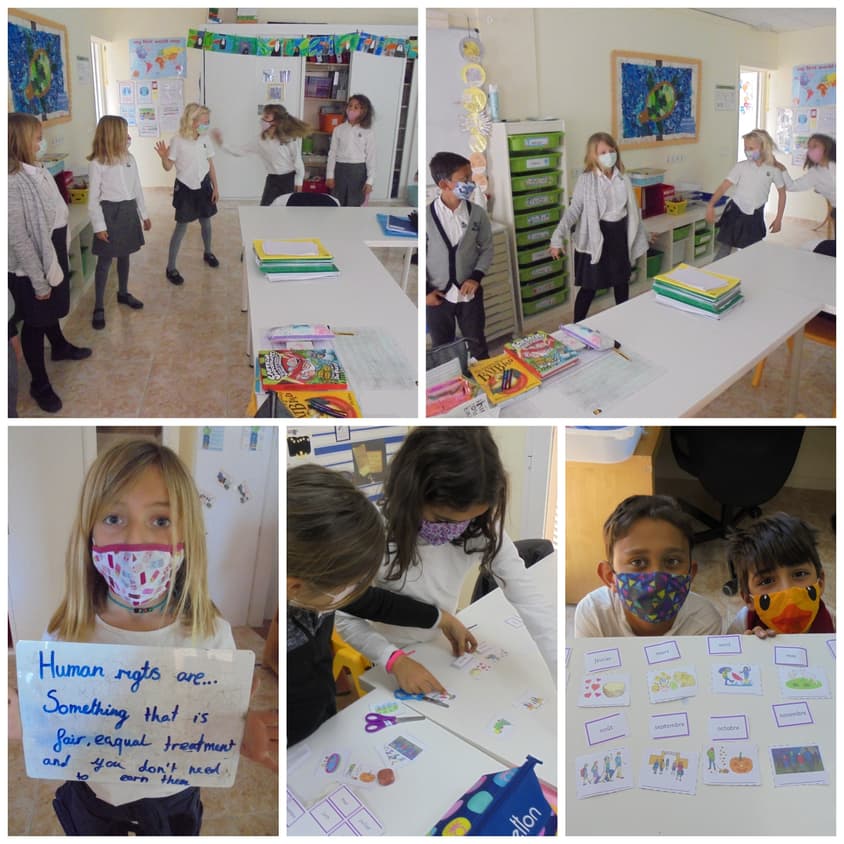 Year 5 hit the ground running on Monday with International Maths Day. The morning started with maths challenges hidden around the Lemon Tree Terrace. The class worked in pairs trying to solve as many as they could during our maths session. It was great to go round and hear them talking and discussing their ideas on the best strategies to apply to some of the problems. It tested not only their mathematical skills but their logical thinking too.
Our second Maths Day Challenge was an Escape Room with the Year 6 class. We were locked in the planetarium and had to find the combination of the lock to let ourselves out. We had to run calculations, research answers on the internet and work together as a team to be able to get out in time for lunch! It was a close call but we all just about made it!
In PSHE we have been learning all about financial matters, we have learnt about retailers and consumers and the tricks retailers use to make us want to buy their products! The lesson this week was all about budgeting and how to plan spending. If they ask for a monthly allowance now to budget with, that was not from me! It was good to see partners working together and discussing their ideas and opinions. Next week we will be able to see if they managed to budget well enough to eat all week and pay the bills!
I am looking forward to seeing their science projects before the holidays and the new planets they all seem to be creating, I have been hearing some amazing ideas - well done Year 5!

The Sharks are now well into their course on learning to play the ukulele and are having fun playing well known songs using only 3 chords. The ukulele is a very versatile instrument, suitable for use with Primary pupils, and the class are enjoying learning to strum chords and perform songs. We can now perform Happy Birthday whenever it is someone's birthday and are going on to learn new songs in the coming weeks. Keep it up budding musicians!
Maths day started with a maths trail on Lemon Tree Terrace, all based on measurement challenges. Some problems were a little more difficult than others but everyone did really well to solve the challenges. We then joined Year 5 in an Escape Room challenge to escape from a planetarium. Luckily we did escape just before lunch!
Later in the week, we were looking at the volume of cuboids using multi-link cubes to practically find the volume of cuboids, make cuboids from a set number of multilink and then investigate cube numbers too. This was a little more challenging than some of the maths day challenges, although we did manage to use the multilink to make flags and flowers too!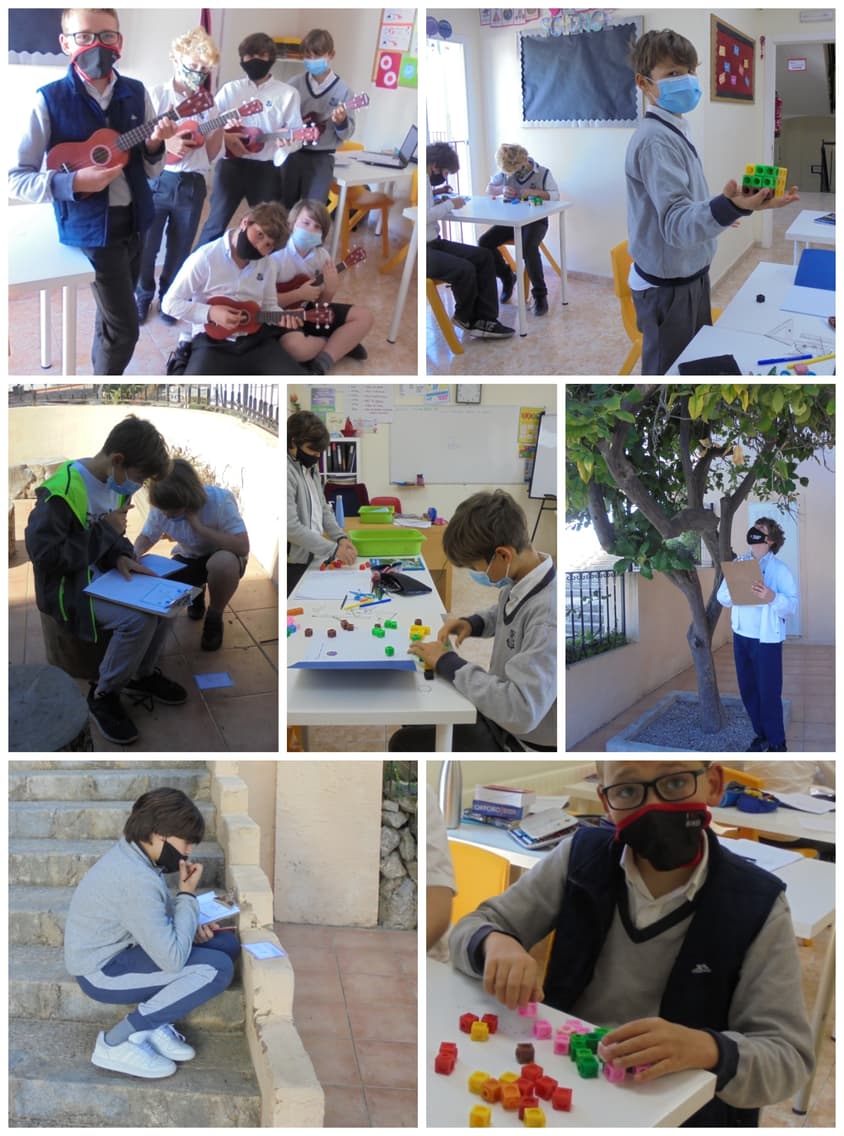 Spanish and Catalan at BIC Sant Agustí
Esta semana celebramos que el viernes es el día del padre y por ello hemos estado elaborando unas cartas bonitas y originales para nuestros papás y familia.
En Year 1 y Year 2 hicieron un pequeño dibujo de su familia aprendiendo algunas palabras más de vocabulario, para añadir a sus originales cartas.
En Years 3,4,5 y 6 añadimos algunas fotos familiares ¡para que quede una carta en forma de cámara muy chula!
En esas cartas escribimos algunos mensajes con el corazón para nuestros padre y familia, pilar fundamental para nuestra vida.
¡También Nursery y Reception se ha apuntado a este plan especial!

Last week Year 2 students during their PE lesson with Miss Izabela were exploring Gymnastics Body Shapes while playing tag games- great ways to challenge their minds and bodies.
Children learn how to move their body as well as explore how to manage and control their body.
Great work everyone!
Movie Mornings at Cineciutat
We are delighted to share with you further information about our collaboration with Cineciutat Nins, located in the heart of Palma.
https://www.cineciutat.org/en.
- We are a cinema and sometimes theatre. We are a school and we are memories. We are ideas and innovation. We are culture. We are non-profit and self-managed by its members. #morethanacinema - Cineciutat -
Following last term's success, Cineciutat will be holding another Movie Morning for all of our parents and children next Sunday 28th March at 11:00. The screening will be "Snail and the Whale + We're going on a Bear Hunt".
We kindly invite you to join us for this fantastic concept and to share with your family and friends.
Tickets are available online under the following link: Tickets available HERE
We look forward to seeing you all there.