A message from Janice Short, Principal
Dear families,
So as Term 2 draws to an end, for teachers it is always time for reflection as well as looking ahead to the next term and preparing for the activities which will take place. Term 2 has been a busy one in Sant Agusti and we have been involved in lots of learning experiences as well as welcoming new friends into our school. I am sure one of the highlights of this term was celebrating Baleares Day, learning all about the islands and dancing!
As part of our pastoral care, all the children are in one of four house teams - Lions, Wolves, Leopards and Eagles. The children gain house points for their team by working hard, following school rules, being kind, helpful and thoughtful and working hard. Each week the points are counted up by Year 6 and the House Cup is presented to the winning team. Throughout the year we also have various House competitions, including art, sports and egg decorating! Last week some of the children drew the animal symbols for the new House banners and did a fantastic job!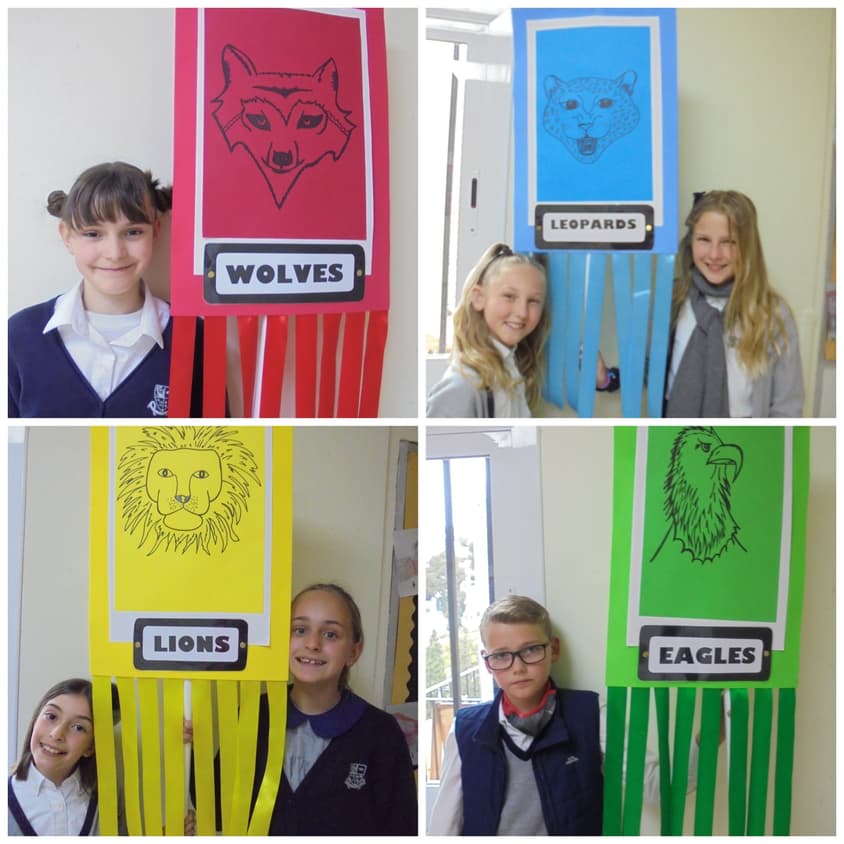 The safety of our children is something we take very seriously and over the last few weeks all the staff have had a Safeguarding revision training and the Designated Safeguarding Leaders team have participated in an advanced specific course for Safeguarding teams, which was very thorough.

Over the holidays, we are challenging the children to take part in a reading challenge…

With the Spring Holiday fast approaching we would like to invite you ALL (children, families and staff) to take part in the BIC Sant Agusti `Extreme Reading´ challenge over the Spring Break.
Think about different, fun, exciting and SAFE places you can enjoy a book and simply take a photo.
A child from each year group, who has captured the most extreme photograph, will win a book-related prize.
We look forward to seeing your reading photos!
Thank you for all your support over the last term and I hope you all have a wonderful holiday with your family. Take care and stay safe, we will see you on April 15th!
Warm regards,
Mrs Short
Principal

| Date | Event |
| --- | --- |
| Friday March 26th | Nursery Space Day. Please can the children wear white or grey clothes instead of their uniform if possible please. |
| Monday March 29th | Festival of Holi |
| Monday March 29th | Whole School -Decorate an Egg House competition. Please can each child bring either a HARD BOILED egg or a Polystyrene egg to school to decorate. Please help your child to think of some great ideas to decorate their egg for the House competition! |
| Tuesday March 30th | Early Years Easter Egg Hunt |
| Tuesday March 30th | Year 6 Sharks visit to BIC Sa Porrassa. Please meet at BIC Sa Porrassa at 8.45am. Year 6 will return to Sant Agusti at 11am in transport provided by school. |
| Wednesday March 31st | Easter Fun! |
| Wednesday March 31st | Last day of term |
| Thursday April 15th | First day of Term 3, see you then after a wonderful holiday! |
SPACE AND THE UNIVERSE! We love this topic in Nursery. When we first started talking about space on Monday, I was amazed with the knowledge our Starfish children already had on the topic. The children started talking about the red planet, rockets, the sun, the moon and astronauts. Immediately I knew that this week would be a great one.
We looked at our solar system more closely and made solar system mobiles.
We also made name rockets, organising the letters of our name in the right order all by ourselves.
We have watched a rocket launch every single day and our little Starfish astronauts really enjoyed counting down from 10 to 0 in preparation of the space shuttle taking off.
It's been a really nice week! We are also looking forward to spending next week on lots of Easter activities. Have a great weekend everyone!
Reception Seahorses Class
What a buzy-buzy week we've had in the Seahorse classroom!! This week our Spring journey has taken us to the bee world. At the beginning of the week, we had a very special visit from a bee-expert. She told us a lot of information about bees, how they communicate, what they eat and how important they are for our planet! She also explained to us what a bee-keeper is and how difficult their jobs are. The children had the opportunity to see in real life all the tools they use to look after the bees and also those that keep them safe. We could observe different bees and we even took some bee-wax home. It was such an exciting and interesting session!
Through the week we have had the opportunity to extend this learning with videos, group discussions and other activities, as this special visitor is always with us in the classroom.
Can you guess who is hiding under the bee-keeper suit? Yes! It is Ms. Karen and she did an amazing job as she always does. I hope you enjoy the pictures as much as we enjoyed our bee session. Next week, loads of fun for our Easter theme! We can't wait!
Have a lovely and safe weekend and also Easter break. We'll see you again in April!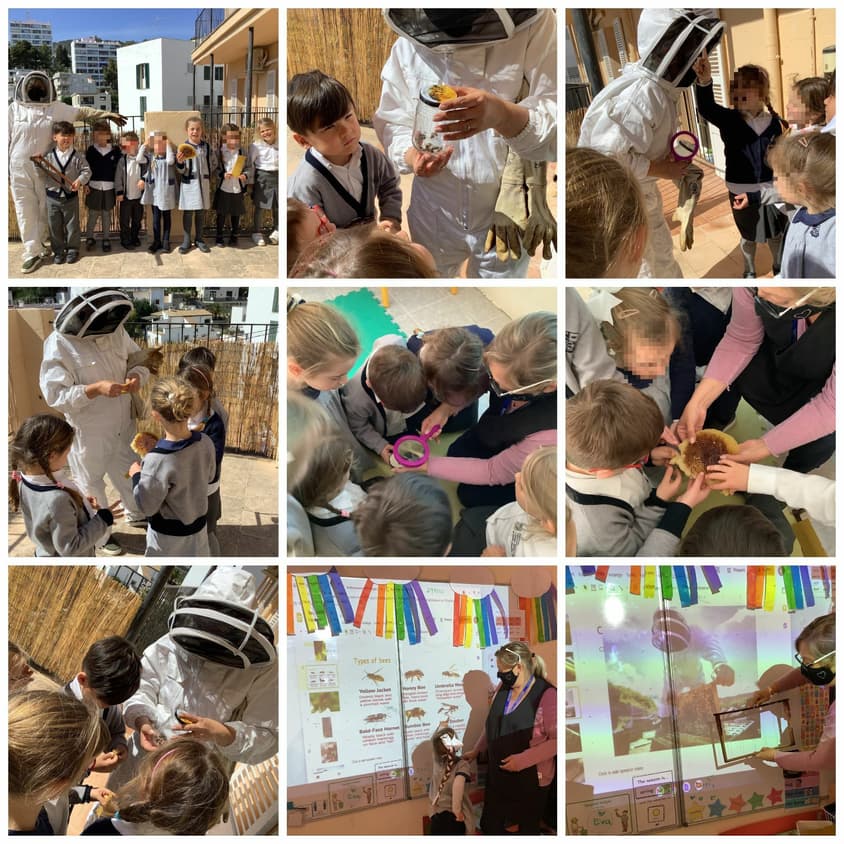 SPRING HAS SPRUNG!
Why did the bird go to the hospital?
Because he needed some tweetment!
The seals started this week by hearing some funny spring poems! We have been looking for signs of spring all week and we certainly found them! We have spent time looking at beautiful spring photos, learning spring rhymes and making very colourful spring pictures- we´ll bring these home soon.
We also delved into the world of 3D shapes, listening to shape poems, building rockets and sorting and classifying. We also looked at doubles and know we need to learn these by heart. We sent home our first pot of tricky words- and we know we have to learn these ones by heart too! We sorted our animals and classified them into their groups- some were tricky! Did you know the sea turtle is an amphibian and not a reptile! Who would have thought that!
We are very much looking forward to next week´s hijinks and egg stinks! ( hopefully not) during our last few days of term.
We hope to return in April feeling refreshed, revived and ready to learn.
Have an EGGcellent Easter and enjoy the springtime!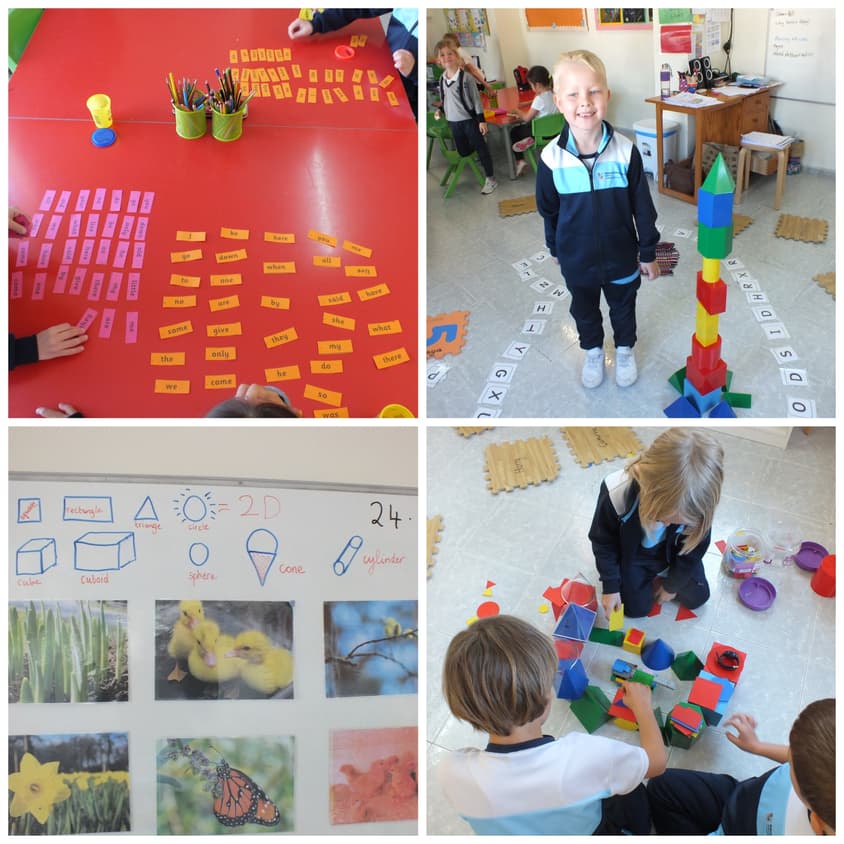 Well what a week! We have been so super busy that the week has flown by and we can't quite believe that next week we only have 2 and a half days of `eggcellent´ Easter fun!!
This week started with `World Poetry Day´, so in typical Turtles style we made the whole week poetry based. We have `eggtended´ our knowledge of word classes and explored the world of adverbs. We have also `cracked´ comparative and superlative suffixes -er and -est. Mrs K-B is definitely shorter than Mrs Carter but Miss Izabella is the tallest of all. Some smashing similes have made our poems more `eggciting´ and Mrs K-B was super impressed by the way we could all paint a picture with our words. Mrs K-B shared photos of her family as we looked at important people in our lives and we read poems and compared poems about different family members. We also wrote our own comic strips. And my oh my, they are AMAZING... Onomatopoeias, speech bubbles, thought bubbles and heroes and villains were all `eggstremely´ popular!
We have played High Frequency Word KaBOOM! High Frequency Word Tic Tac Toe! Mrs K-B was `eggspecially´ terrible at getting 3 in a row… We will be focussing on learning the first 300 High Frequency Words over the Easter holiday!
Science was super this week, we had a superfood tasting test. We had a taste of strawberries, mango, Marmite (Mrs K-B pulled a very interesting face when tasting that particular delight!), carrots, whole grains, cheese, cucumber and red pepper. We then had to choose a favourite superfood so we could record our findings using a bar chart.
In art, mixed with a little design and technology, we have `eggsplored´ animation. We have made flick books of a waving stick (super)man and we all had a go at making our own zoetrope (a spinning drum that creates an optical illusion that makes pictures look like they are moving).
We have continued our theme of `safety first´ in PSHE. This week we had help from Pantosaurus who told us all about knowing how to keep our bodies safe with his pants rules.
Have a restful, peaceful and super spring break. We can't wait to see you all at the start of next term with your science challenge and see if an egg really can fly!!

It has been full steam ahead this week in Dolphins class.
In maths, we have been learning how to find remainders of division. Apart from our maths lesson, it seems that everything else has been all about the Romans! In English, we went back in time to write a diary entry about the disaster of Pompeii. In our topic lesson, we learnt about the Roman army, which lead on perfectly for our Art lesson this week… making Roman helmets! The first step to making a Roman helmet is to papier mache a balloon, which we started on Wednesday. It was a very messy job, some students said it was the messiest art lesson they had ever done! The next steps are to add details and paint it, so this will be a project that takes us a few lessons to complete but we are really looking forward to the results! In other news, our Times Table Rockstar champion this week is Preslav! Well done!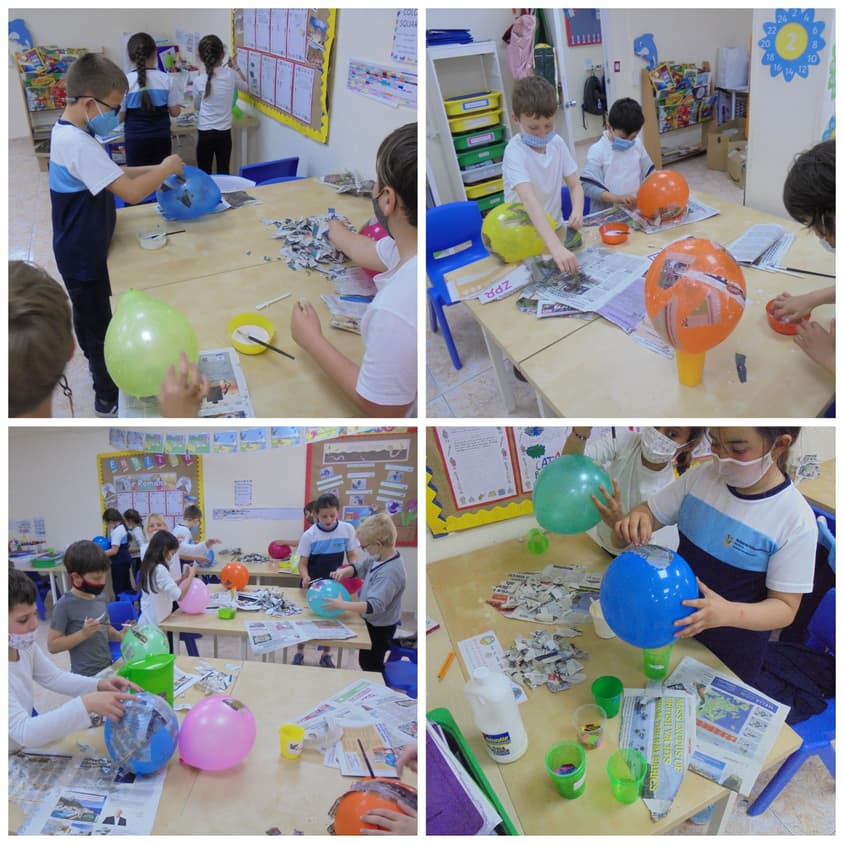 Spring has sprung and what a glorious week we've had. It's the last full week of term and we're still going strong! Our focus in maths this week has been on time, differentiating between a.m. and p.m. on a 24 hour clock. Competition time again...do you know what a.m. and p.m. stands for and which language does it originate from? We've also been focussing on our times tables. The full 12 times tables is a skill we learn and perfect the whole way through primary school as it is a basic skill needed for many mathematical problems. By recalling the times tables, we improve memory skills and increase our brain capacity. We have used many different techniques for remembering them, including inventing chants, dances and playing lots of times tables games. Practice, practice, practice, makes perfect!

English has seen us start a new unit based around the award winning book by Neil Gaiman, called Wolves in the Walls. We started the week spending some time on the Lemon Tree Terrace, listening and appreciating the everyday sounds of nature that surround us, which then led us to ask the question...have you ever imagined something wild is living in your house? You can imagine the children's wonderful imaginations running wild!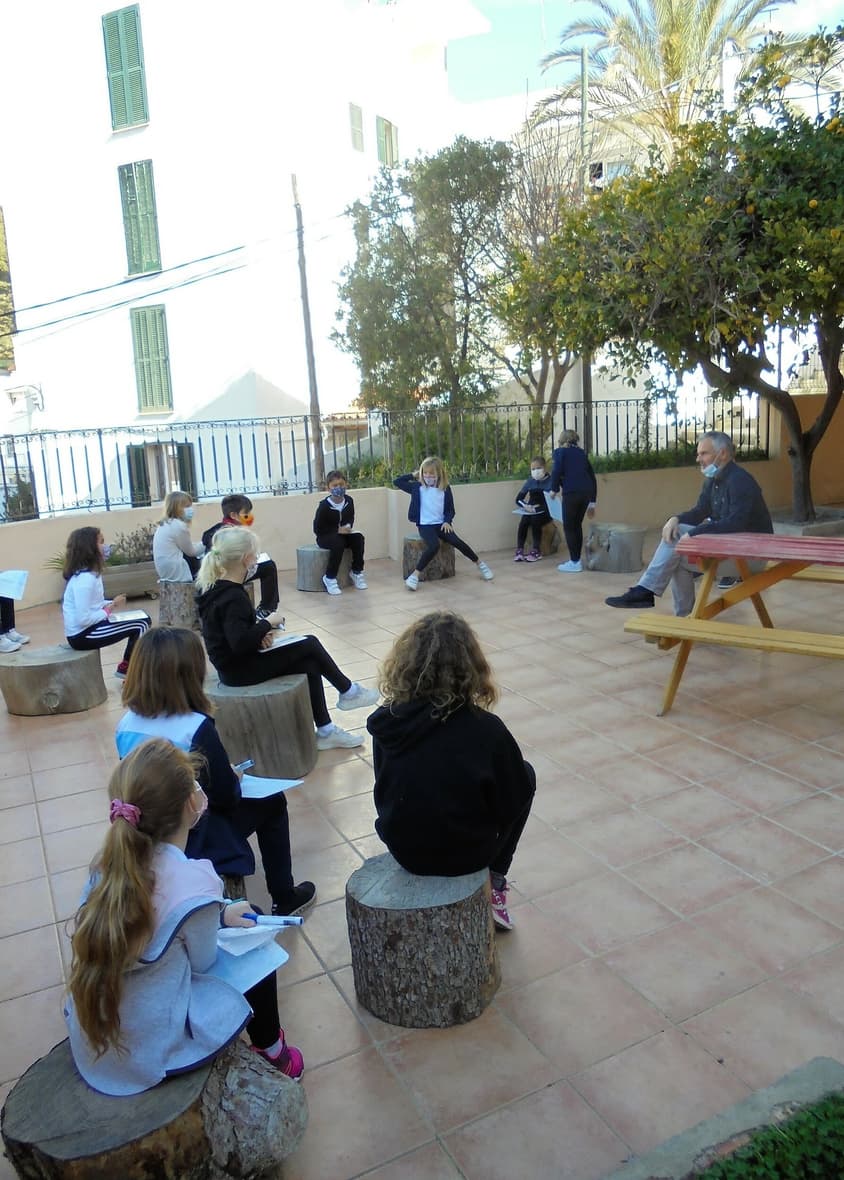 In Science we have been continuing to investigate sound, by experimenting with various instruments and how they produce a different pitch. We then put our findings on our results sheet.

Geography has seen us getting hot, hot, hot and brrrrrrrrrrrr, freezing cold as we move closer, and further away, from the Equator. We have used a World Map to plot the North and South Poles and Equator, and learnt what effects the changes in weather are as we move around the world. We even pretended we were going on holiday to 3 different cities around the world and had to decide on what type of clothes we would pack for holidays in these destinations!

Next week will see us celebrating all things Spring and Easter with lots of fun activities to end the term. Don't forget your hard boiled eggs!
Well that's our last newsletter before the Spring break, so we'd like to take the chance to say thank you to all the Year 4 Jellyfish for all their hard work this term, enjoy your holidays, rest, relax, eat lots of chocolate and we'll see you back here for more mind blowing learning after the holidays!

More busy days in Year 5 - I can't believe this is our last newsletter of the term already! Over the last few weeks we have been looking at Earth and Space. In our last science lesson we went Planet Speed Dating……. Each of us had a fact card on a different planet and we had to share some facts with a date and see if they could guess which planet we were and see if we had anything in common with their planet. This was a great way for everyone to learn about each planet without having to read everything for themselves!

In maths we have been revising angles and the properties of different triangles - we have to keep practising drawing straight lines and measuring accurately!
Our Art lessons this term have been very productive. We hope you all enjoyed your foil figurines on the pedestals - they were great fun to make and the class really enjoyed personalising their own for their Dads.

Our Miro and Lowry artwork is all looking pretty fantastic outside our classroom! We definitely have some great artists in the class.
I wish everyone a very Happy Easter and hope you all have a wonderful break -see you in Term 3!

Over the last few weeks the children have been learning about the features and structure of adventure stories. Last week we studied different techniques to make each element in the story engaging and exciting for the reader and the children wrote some fantastic stories including dramatic dilemmas and cliff hanging endings!
Here is an example of a 'WAGOLL' showing the dilemma element of the story.

In Art this week we have looked at still life art and learnt how to create sketches from different heights and angles. The Sharks had one minute to do a quick sketch before moving onto a different position. This was quite a challenge but the children did really well and focused on sketching only the basic shapes and sizes of what they could see. We then had three volunteers to pose as a mountain, hill and lake and we placed the flamingo in different positions to consider what his view would be from different angles!
Spanish and Catalan with Ms Ainhoa
Esta semana, en Year 5 y Year 6 hemos estado repasando todos los conceptos de gramática trabajados durante el año haciendo uso de nuestro recurso: " los llaveros de la gramática".
Hemos trabajado mediante diferentes juegos tradicionales de mesa el presente simple, el pasado simple, los verbos reflexivos y los verbos bota. Juegos como "hundir la flota", "parchís" o "cuatro en raya" nos han servido para repasar conceptos anteriores.
Los alumnos han podido pasar un rato divertido trabajando en equipos o el parejas.

Spanish and Catalan with Ms Campos
En clase de español, de vez en cuando, está bien hacer algo diferente. Esta semana hemos hecho uno de esos dictados de siempre pero dictado como nunca. Ha sido un dictado explosivo donde cada alumno salía a explotar un globo y después le dictaba la frase que había dentro al resto de sus compañeros. Hemos practicado diferentes conceptos ortográficos pasándolo en grande. Ahora solo falta contar el número de faltas que ha tenido cada uno. ¿Cómo creéis que ha ido?

This week we have had so much fun during Year 3 PE lessons. Pupils have enjoyed taking part in many different running activities whilst also have been working hard to practise for the Bleep test- House competition.
Teacher Feature - Ms Jules Kingston-Bray - Primary Teacher
"It is my privilege to teach. My hope is that all the children know that I want them to be the best version of themselves that they can be and that they all love coming into my classroom to learn and grow."

Being born in Germany into an army family, Mrs Kingston-Bray has enjoyed living in different countries for much of her life. Mrs K-B started her professional life as a production manager for an independent TV production company, moving into marketing and then waking up one day and realising that she wanted to teach. She completed her teacher training in the UK and after 2 years she moved to an international school in Dubai where she taught across the primary years and started specialising in supporting children with additional needs and children with English as an additional language.
Following the arrival of her first child she moved to Sydney, Australia where she started teaching at a clinic school working with a multidisciplinary team to support children with a wide range of difficulties from remote areas of New South Wales. Ater moving back to the UK, Mrs K-B trained as a Speech and Language Therapist so she could focus her passion on supporting children to communicate. Mrs K-B worked within the community to support children with eating, drinking and swallowing difficulties and then moved to the early years and school team to work with children, families and educators to support the child's communication skills.
Mrs K-B loves travelling to new countries with her family. During the summer holidays the KBs can usually be found backpacking and exploring beaches, mountains, cities and forests. Having moved to Mallorca she can't wait to learn more about the Balearic Islands, the culture and language.
"It is my privilege to teach. My hope is that all the children know that I want them to be the best version of themselves that they can be and that they all love coming into my classroom to learn and grow."
"Every child deserves a champion - an adult who will never give up on them, who understands the power of connection, and insists that they become the best that they can possibly be." Rita Pierson, teacher.
Mrs K-B is passionate about creating a challenging yet accessible and nurturing learning environment for all of her pupils. She is determined to build a sense of community and belonging in the classroom so that children know that everyone's ideas and opinions are valued and that all pupils feel safe and happy. She sets high expectations for all the children but works with them every step of the way so that each child gains a sense of achievement and is proud of their learning.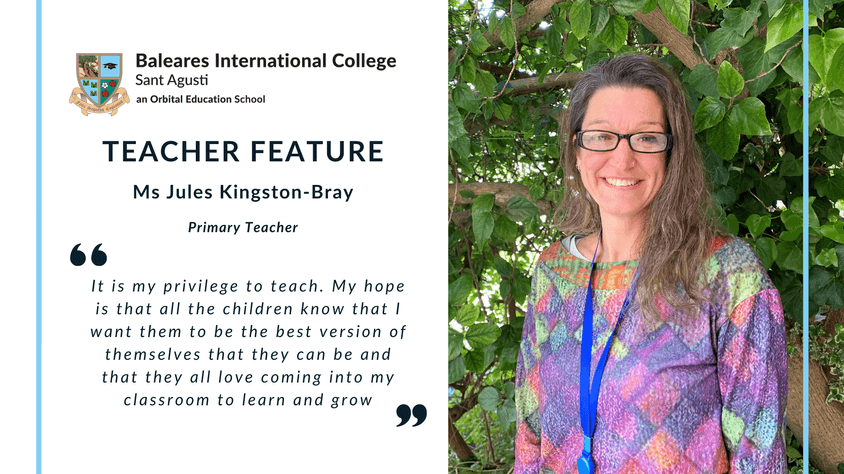 Movie Mornings at Cineciutat
We are delighted to share with you further information about our collaboration with Cineciutat Nins, located in the heart of Palma.
https://www.cineciutat.org/en.
- We are a cinema and sometimes theatre. We are a school and we are memories. We are ideas and innovation. We are culture. We are non-profit and self-managed by its members. #morethanacinema - Cineciutat -
Following last term's success, Cineciutat will be holding another Movie Morning for all of our parents and children next Sunday 28th March at 11:00. The screening will be "Snail and the Whale + We're going on a Bear Hunt".
We kindly invite you to join us for this fantastic concept and to share with your family and friends.
Tickets are available online under the following link: Tickets available HERE
We look forward to seeing you all there.