Your guide to all news at school
A message from Janice Short, Principal
---
Dear parents,
After the first couple of weeks back at school in which we have welcomed some new students, celebrated World Book Day, started swimming lessons and Year 3 have gone on an educational field trip, we have settled back into our routines and are moving along swiftly with Term 3. It is lovely to actually see all the children´s faces now, instead of having to wear masks, so that is a positive step forward for everyone.
World Book Day is always a special day for everyone as it really helps us to focus on books and reading, which is a skill and a passion which I hope is shared by everyone. Personally, I have always been an avid reader and still spend time reading a variety of books. I can remember the visit to my local bookshop as a child was always a highlight, as I chose my next book to read, as well as visiting the library weekly to borrow books. It is lovely to see some of the authors I was reading as a child, such as Enid Blyton, still being read by children here in school, while other popular authors such as David Walliams have been introduced to children in the last few years.
Next week we are holding a parent workshop on Outdoor Learning, which I would encourage you to attend. We try to use all our outdoor spaces at school as often as we can, but outdoor learning can also be encouraged and supported at home in many different ways too. Come along to the workshop on Monday at 3pm and see how you can support your child in their learning as well as having fun!
Warm regards
Mrs Short
Principal
Baleares International College, Sant Agustí

Nursery Starfish Class
---
And just like that, we have started our Summer term. This year is truly flying by!
It was great to see all Starfish class children returning to school with such excitement, and we got straight back into the swing of things.
From a teacher's point of view it has been really great to come back to school without a mask, especially because of all children in class noticing; ¨Ooh, I really like your teeth¨ and ¨You have a funny smile¨ were amongst the comments made by the Nursery children.

We were lucky enough to have the Circus coming to perform for us just before the holidays. This was an amazing experience and the performance was watched with awe! The children really enjoyed seeing the acrobats perform (and so did we!)

As always, we are going to try and spend as much time outside as we can, which will directly link in with our topic ¨Go outside¨. Learning about our direct environment is one of the topics we will focus on this term.
Inside of the classroom we have set up a new topic table: the investigation station. On this table we have set up a temporary Minibeast hotel and can children explore all different kinds of creepy crawlies, of course - they will all be returned to their natural habitat in a few weeks time

We have also started planting seeds, both in our gardening beds on the playground and in little cups inside the classroom! Alongside planting these numerous seeds, varying from watercress to rosemary, runner beans and tomatoes, we are learning about the lifecycle of a plant and all components it needs to grow successfully. Lets hope our seeds will grow very soon!

Speaking of the life cycle of plants, we have also focussed on a different lifecycle we now know very well, that of a butterfly. Accompanied by the book, ¨The very hungry caterpillar¨, the Starfish class children learned that not every living thing is born in the same way and there are even some creatures that are born as entirely different beings! How interesting!
All that said, we look forward to telling you about all we do again in two weeks time!
Have a great weekend.

Reception Seahorses Class
---
Welcome all to Summer term!
We are back in school and in Seahorse class we are eager to jump into a new term full of adventures, learning and fun! We've started this new chapter by celebrating, along with the whole school, World Book Day. The children had the opportunity to come to school dressed as their favourite book character; they also participated in the school's parade and joined in other activities such as creating their own bookmarks, designing their own costumes and enjoying all sorts of stories. They all had a great time!

We've also started to learn about life cycles; the first one we are looking at in detail in the life cycle of a plant. We are looking at what plants need to grow, the different parts of a plant and we are even growing our seeds. We can't wait to see them grow and get our terrace with lots of plants and flowers! For Art, we are creating paper flowers and our cherry trees, which will be part of our Spring display.

In Maths, we are learning all about shapes: 2D and 3D shapes! Did you know that shapes are everywhere? In Seahorse class we are learning all about their properties, their names and how to combine them to create new things and even new ones. The children can get very creative!
Last but not least, we would like to give a very warm welcome to our new seahorse friend; we are very happy that you've joined us! Wishing you all a lovely weekend and looking forward to all the events and special moments that we have ahead in this term.

Year 1 Seals Class
---
Welcome back everyone and a big welcome to Luca, a new member of Seals Class. We have already had such a lovely and busy start to the Summer Term. We have completed a science experiment, started new topics, and introduced Silk Worms to the class, and boy, aren't they the hungriest little munchers in town!

Let's start with a little bit of exciting news from the end of the last term. To finish off the topic for English about ´postcards and letters´ we all wrote a postcard and went to the local postbox to send it! Hope you've all received them and enjoyed them!
The children really enjoyed the walk down, and lots of talks related to the landmarks around us. We'll be expanding our knowledge this term as we are looking at maps and the local environment so I'm sure we will be doing the same or a similar journey again!
Trip to the local post box


English - This term the children will be looking more closely at VERBS and introduced to PLURALS, with the exciting topic of SUPERHEROES!
In Seals class we prefer to work in pairs and groups when not having to complete work independently, so to start our topic off we all discussed and shared our ideas about Superheroes and what makes them super! We used some of those words (verbs) and began to add the plurals (s or es) to the word, thus changing it completely. Excellent job guys!
Working well in small class groups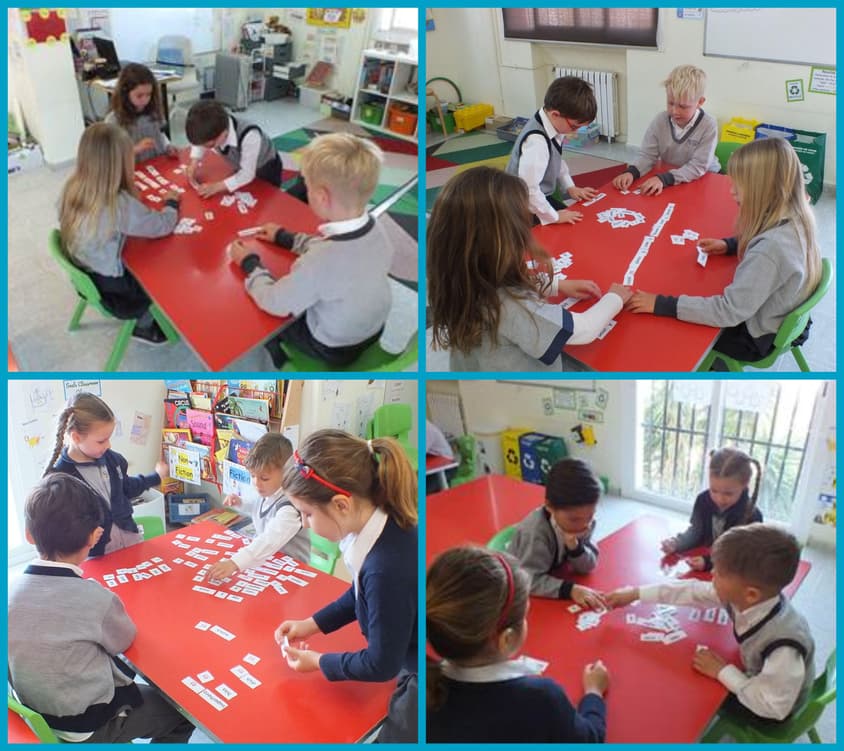 We then placed those ideas individually on a template to create our own superhero. The children came up with some fantastic ideas linked to superpowers. Ask your child at home who their superhero is and what powers they have!
Maths - WOW! We are already on book 3. This term we are going to further our knowledge of 2 digit numbers while introducing 3 digit numbers. The BIGGER the better! We like keeping our maths learning ´hands-on´ so starting off all together on the carpet is a great way to wake up our maths brains. Today the whole classblew me away with their knowledge of column addition and subtraction…..Keep this up guys and you´ll be ready for year 2!
Carpet Fun - Wake up our maths brains!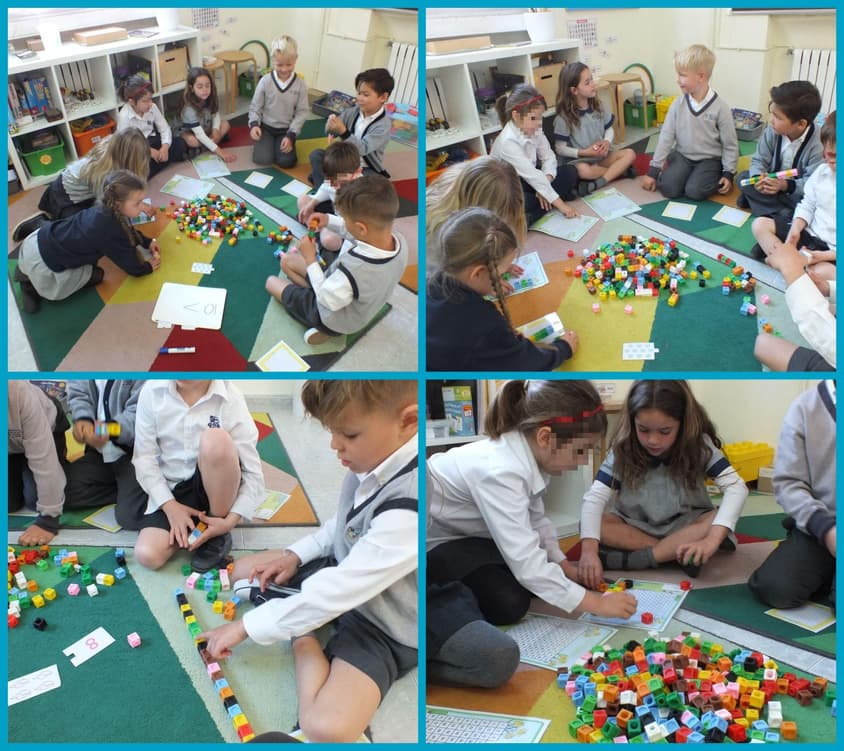 Science Time - Our new topic this term is all about the different seasons and weather! Let's hope that the talk of HOT sunny weather may encourage the real thing to show its face!
Last term we were covering materials in our topic and finally we completed an experiment linked to this, The Broken Umbrella Experiment. Each child had to think of and choose a material that would be suitable for covering a hole in the umbrella. The challenge was to see if the chosen material was waterproof and would keep them dry in the rain! The day of the test was dry, so I had the pleasure of playing the part of the rain (pouring water) while each child stood under the umbrella. Who managed to stay dry and who got wet?
The whole class thoroughly enjoyed this activity and I'm glad to say most of them managed to stay dry!
Umbrella Experiment - Wet or Dry?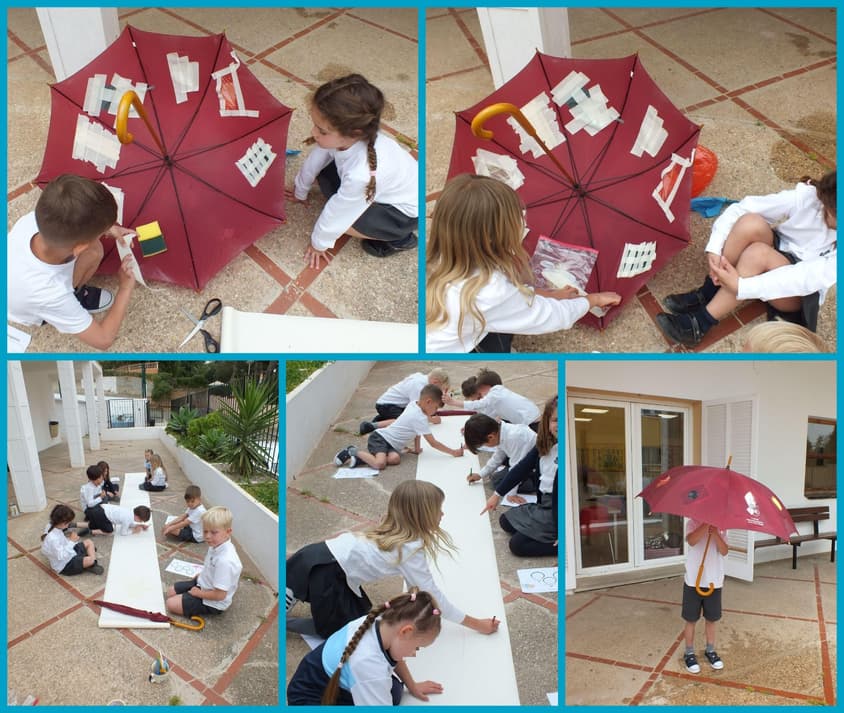 Last but not least……WORLD BOOK DAY!
We all had great fun parading our wonderful costumes off to the whole school in assembly, where a winner was chosen, Well done to Max in Seals class. The day was also full of fun activities, storytelling and writing and much much more! I know for a fact I went home a very tired Supertato but am excited for the next whole school event!

Year 2 Turtles Class
---
What a busy end to the Spring term and start of Summer term! We ended the last term with Easter Egg hunts, Easter crafts, and the Stromboli Circus.

Hopefully, all of the children had a relaxing break as summer term always flies by. Well done to Miliam, Luis and Noey for winning the decorated egg competition.

We also took part in a Beach Clean with the whole school at Cala Major beach with ´Save the Med´. This was a great start for this term's topic on Oceans and Seas - to hear about the pollution, damage to the sea life and what we can do to help.
We started the term with World Book Day and saw some fantastic costumes being paraded. Well done Darcie for winning best costume, she really got into character as Gangster Granny and spent all day walking stooped over and very slowly!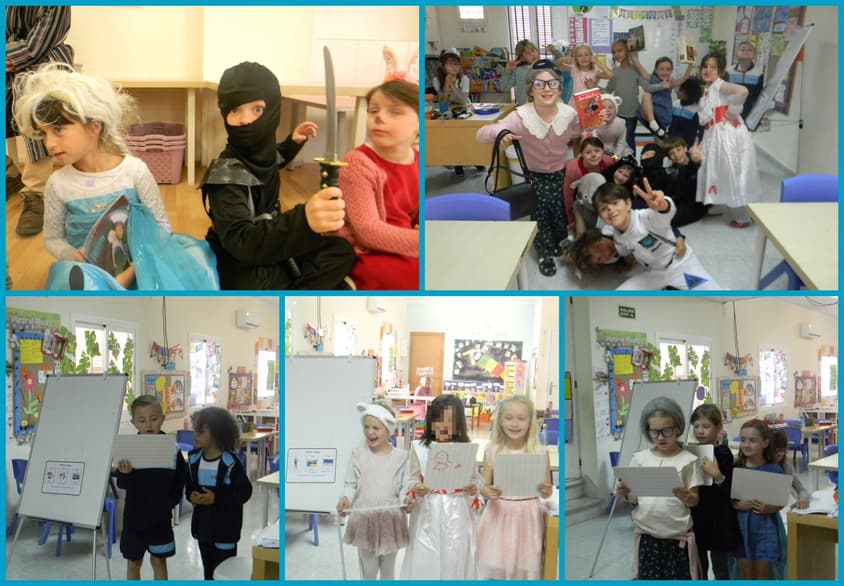 We made up a fantastic class story which hopefully the class shared with their parents and made up lots of silly stories with a partner. We have been looking at the characters in James and The Giant Peach as that is our class novel and will continue to study this book for the next few weeks.
We have started working with money again in maths and have been working out how to give change, the class are seeing how beneficial this is for the future when they are out shopping!
We have started looking at properties of Materials in Science - why certain materials are chosen for certain jobs and how we can test them. We will be carrying out experiments to test our theories later in the term.
Our Topic for Humanities is Oceans and Seas so we will start looking at the oceans and seas. Did you know about 71 percent of the Earth's surface is water-covered, and the oceans hold about 96.5 percent of all Earth's water.as around the world? We will be learning more about this in the weeks to come and how we can help.
Year 3 Dolphins Class
---
What a super start to the new, and final term of the year, we have had. With the start of the summer term we welcome three new students into our year group. Hello to Eva, Honey and Reef. We are so happy to have you with us. Y3 Dolphins have been so kind and friendly.
Last week we celebrated Book Day; take a look at the photos to see some of the brilliant costumes and ways that we celebrated.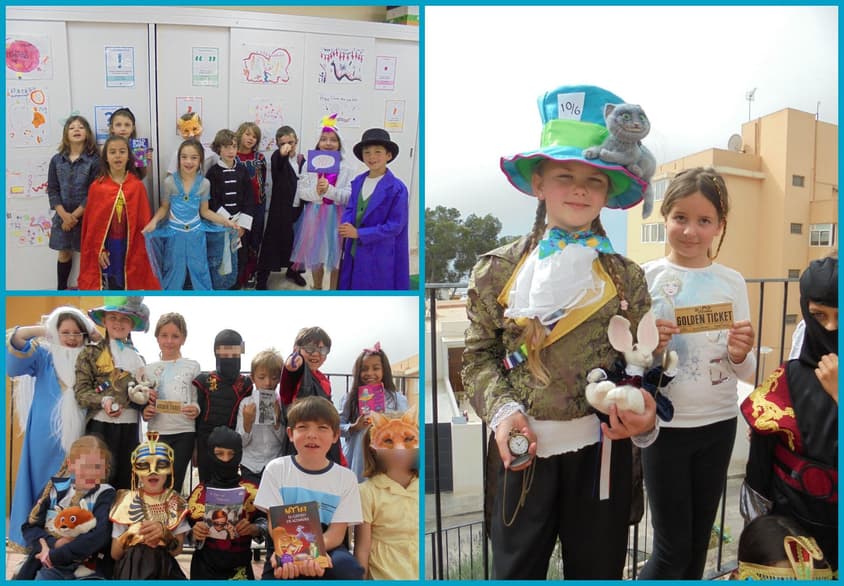 We also visited the Museu Arqueologic de Son Fornes. This trip complimented last term´s topic of The Stone Age. We would like to say a big BIC thank you to our guide Paula who took us around the site, explaining about the fascinating Talayotic period in Mallorcan history. Paula also took us on a beautiful nature walk through the countryside where she taught us about some of the common plants to be found in Mallorca. On arrival at the museum, we learnt more about the Talayot people. The museum is open on the last Sunday of every month and is definitely worth a visit if you have not been!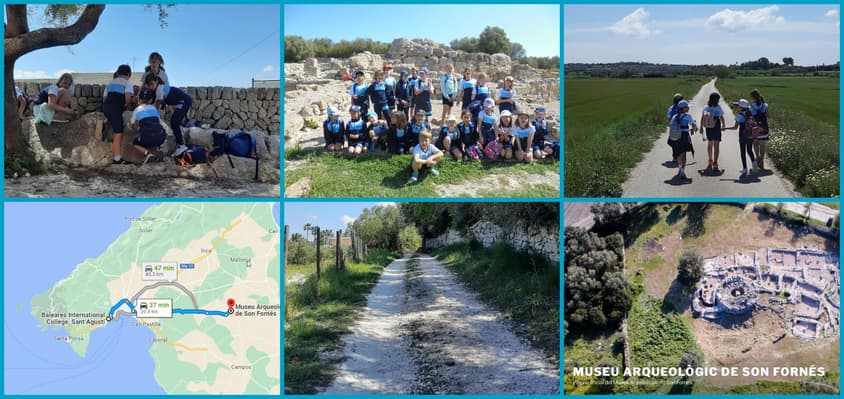 Year 4 Jellyfish Class
---
What a wonderful start back to the Summer Term…mask free and big smiles!!!
The start of the new term always means new topics, new themes and activities. We started the summer term with a welcome back to swimming lessons. Living on an island, being surrounded by the sea, it's imperative that children learn to swim at a young age. The children were very excited to get back in the water and they had lots of fun showing off their dolphin skills!
It was great to see all the wonderful costumes on World Book Day. We love celebrating all things books and the children certainly enjoyed sharing their stories and ideas for their characters. We started the day with a whole school costume parade, then with a head full of ideas and our imaginations running wild, we created a class story based on our new topic, Rainforests. The children had great fun making up the title of the story, the character names, and the moral of the story. Read on to get the important message…!
The Magical Message
One wet and windy morning, Dave Toucan was reading his morning paper "Saving The World News". As he was reading about animals dying and deforestation in the Amazon Rainforest, Dave decided he needed to do something. TAKE ACTION !!!
What better people to help him take action than his Year 4 class. They were such kind and caring children that he knew they would spread the magical message.
What is the magical message? Let's find out.
Mr Toucan and his class came together to pack a bag full of survival tools and he headed off on his adventure to make a difference. His journey took him to the Amazon Rainforest where it was very humid and full of life. He explored to find out what was happening and came across a woodcutter cutting down trees. He asked why this was happening and decided to take a stand and sit in the tree that the woodcutter was about to cut down. While sitting in the tree listening and observing a parrot flew by. The parrot introduced himself as Pete the parrot. After a long time chatting Pete the parrot and Mr Toucan decided that Pete SHOULD spread the magical message all over the globe.
And what is the magical message you may ask, think and I'm sure you can guess.
Don't put our nature under pressure, make it our treasure!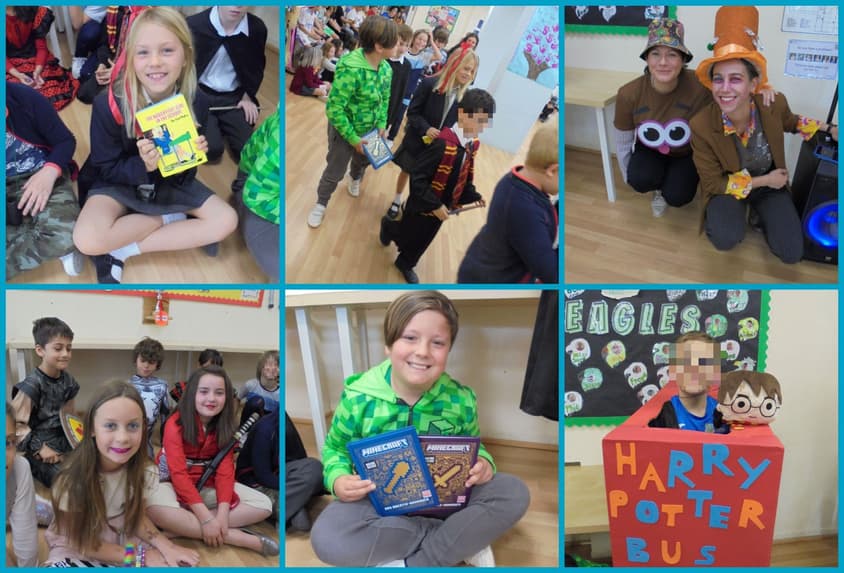 Literacy has seen us jumping about like a red eyed frog, squawking like a parrot and being a slithering boa constrictor! Yes, we've started reading a new book called The Great Kapok Tree, which is based in the Amazon Rainforest. This book runs alongside our new topic in Geography relating to Rainforests and also Science, Living Things and their Habitats. The book tells us how the animals talk to the woodcutter as they try to save the rainforest and their habitat.
So after our busy week, it's time for a well-earned weekend. Hopefully, the weather's now changing, spring is certainly in the air, with summer just around the corner!

Year 5 Whales Class
---
Welcome to summer! I cannot quite believe the Y5 Whales and I only have 9 weeks left together! This year has truly zoomed past and we are already well into our summer term topics. Coming back to school mask-free was such a blissful experience that we had to capture some photographs of our happy smiling faces!

To take full advantage of no more masks we then decided to draw each other's mouths as part of our art lesson! The children watched a video to learn some techniques about how to draw a mouth, including sketching the outline and then using shading to add the details. We then compared our drawings to the real thing!

In Humanities, the children are enjoying learning about tourism in our unit 'Wish you were here!' We have started learning about what tourism is and the different types of tourism. The children had to read different quotations about tourism and see which ones they agreed with before coming up with their own definitions. Then we looked at different tourist attractions in Mallorca and tried to work out which fell under the umbrella of nature, entertainment or culture tourism.
Our science topic for the start of this term is 'forces' and in the last lesson, we learnt about gravity, air resistance, friction, and buoyancy. We had to label the different forces taking place in each activity. We talked about skydiving and learnt that gravity is the force pulling the person down towards the earth but the air resistance in the parachute slows them down.

Last week we also celebrated World Book Day! We had fun dressing up as our favourite book characters from Sherlock Holmes to Zorro and Cruella de Ville. The children worked as a whole group to write a funny story about a duck who travelled back in time!

Year 6 Sharks Class
---
This week, Year Six began their reading of Louis Sacha´s Holes. Set in a dystopian youth offenders camp, the novel weaves many different subplots together until all the holes are filled in. Year Six used the opening page as a template and produced some excellent examples of imaginary novel openings.

We have started to look at the role science plays in sport and how it can help to improve performance. Year Six have been taking their own pulses to see which warm-up exercise is best suited to their particular sporting life.
Having been inspired by William Bake´sTyger, Year Six wrote their own animal-inspired poetry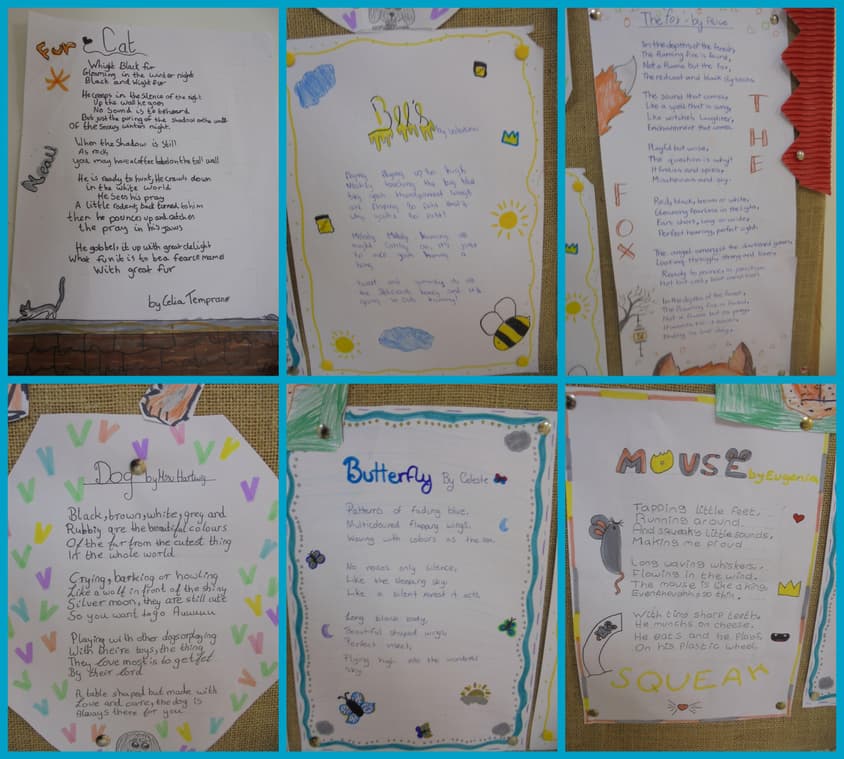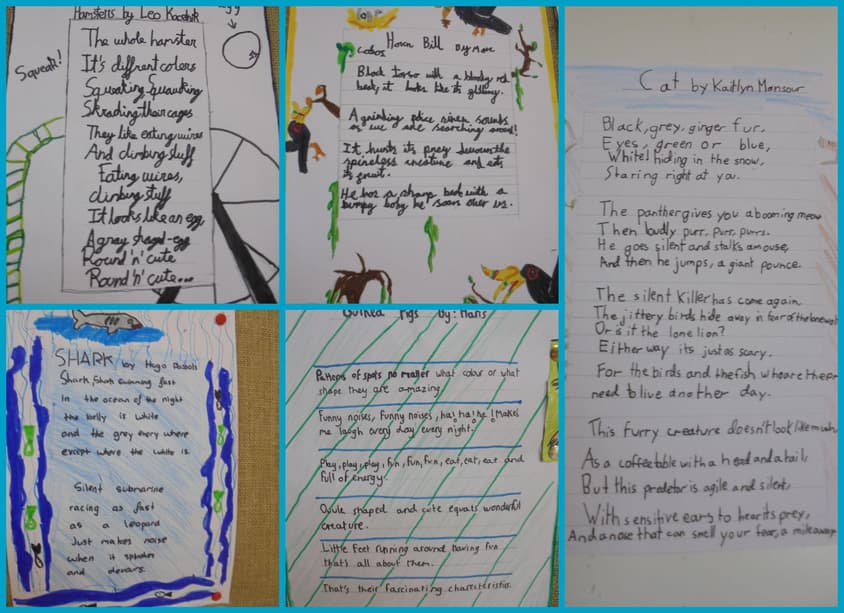 Year Six came dressed in some excellent costumes to celebrate World Book Day. They also collaborated in the writing of a short story to produce a winning entry in the BIC World Book Day writing competition that had to include a plastic duck, a rabbit and a lollipop all set in a park:
Magic Lollipop by Year Six
On an ordinary Sunday morning, in an ordinary and unremarkable park, for no reason whatsoever, a rabbit suddenly appeared out of thin air.
He was a creamy white rabbit with a very ordinary pink nose. He also had a very ordinary set of whiskers, that did nothing extraordinary. In fact he was so ordinary he looked exactly like an ordinary rabbit should look.
But on close inspection you could tell that something was not quite right. Around his neck was tied a bright red bow tie. He was adorned in a black tuxedo that looked recently ironed and perched on his nose were a fancy pair of exclusive Ray Bans.
However, the most unusual of all these unusual features lay upon his face. Below the ordinary pink nose and the ordinary white whiskers a smile was plastered from ear to ear. It was a most unusual and suspicious sinister grin that haunted the mind of any onlooker.
With a sharp ´pop´, a rain cloud appeared out of nowhere. After it had departed, where it had watered the ground, a blood red-wheeled bicycle with a basket strapped to its front had magically appeared. In giant capital letters a sign announced: LOLLIPOPS OF ALL FLAVOURS FOR SALE. A myriad of jars packed full of lollipops of all shapes, sizes and colours were jammed into the basket and hanging from the handle bars and stacked on endless shelves.
From the corner of his eye, the rabbit spied a plastic yellow duck waddling towards his stall. The plastic duck had been waddling home from school when he noticed a queue of kids forming a line by the rabbit´s stall. He decided to join it to see what all the fuss was about. Waiting his turn to be served - he was a very respectful plastic duck - he was now eager to purchase one of the yummy treats.
Finally, when the duck reached the front of the queue, he asked for his favourite lollipop, the rainbow-coloured Flori-Star (trademark pending). The rabbit informed him that unfortunately he had run out of that particular brand. The duck asked for advice: which one should he purchase?
The rabbit made the most of his opportunity: he now tried to persuade him to buy the Magic-Craze, a rather odd looking black lollipop with red stripes in the shape of a dried bone that was sitting on its own on a high shelf. The duck refused, but as he started waddling away, the rabbit cried out to him to return and made him an offer he could not refuse - he tempted him by saying he could have it for free. This was an offer a young duck could not resist.
Sitting on a nearby bench, the duck unwrapped the lollipop and gave it a lick. He instantly felt light headed and everything began spinning around him like as if he were on a merry-go-round and things gradually grew darker. He closed his eyes, but when he opened them and looked at his feet he saw that he was surrounded by skulls. In front of him, the evil rabbit who had sold him that dreadful lollipop was sitting on an enormous throne. The rabbit was laughing and chuckling while pointing to a giant sign that read: WELCOME TO HADES! YOU HAVE 24 HOURS TO ESCAPE OR REMAIN FOREVER.
The rabbit, King of Hades, spoke to the terrified duck and told him of the many arduous ways he could escape. The plastic duck could: climb the mountain of blood to claim the lollipop of victory or negotiate a complicated maze full of devious traps and ingenious devices made to destroy him, or find the key of the thousand golden lollipops that is guarded by Ceberous, the fierce three-headed dog or swim through the ocean of lava that is teaming with alligators or traverse the path of fire from which, should he fall, the flames would devour his soul, or … he could walk through that door marked exit.
"Cut! That's a wrap. Duck, some excellent acting, I really thought you were in Hades," said the film director. The Rabbit peeled off his head and placed it under his arm with the rest of his costume. The plastic duck, who had stopped waddling, was now a small bald man with a long brown beard. Both he and the ex-rabbit walked off to buy themselves a well deserved coffee - no lollipops!

Congratulations to Minu who received the Principal's Award for her continuing hard work in class and her positive attitude. Congratulations also go to Marc who received the best costume in class award for World Book Day.

Spanish and Catalan with Miss Maria
---
Les alumnes de català Year 2 treballen molt dur i aquest any estan aprenent moltes coses.
Estic molt orgullosa d'aquest petit grup que cada dia demostra comprendre els nous conceptes. Aquesta setmana hem estat realitzant les diferents activitats del tema que inclouen vocabulari del temps i un dictat. A més, també treballam molt les Ciències Socials, on hem estat classificant diferents residus als contenidors correctes i així aprendre a reciclar.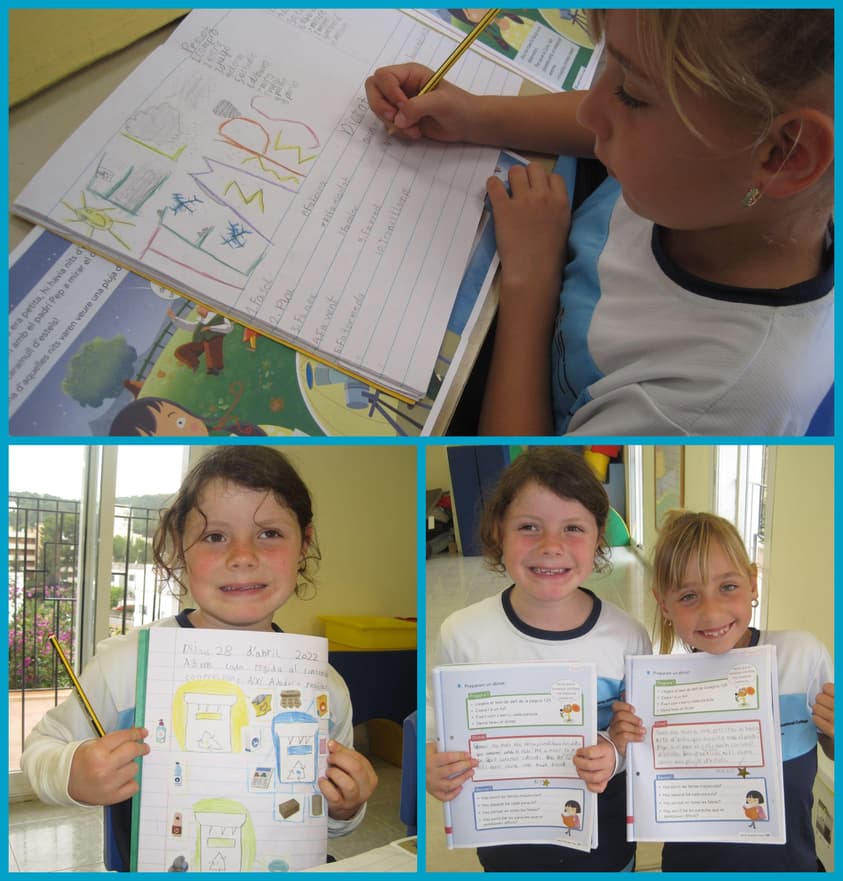 Spanish and Catalan with Miss Ainhoa
---
En las clases de español hemos comenzado nuevo trimestre y con ello ¡nuevos proyectos! Uno de estos proyectos ya lo hemos comenzado con Year 1&2: "Safari ortográfico". Estamos aprendiendo muchos aspectos de los animales que viven en África; sus características y su hábitat. ¡Hay algunos realmente extraños!
Los alumnos están creando un pequeño libro informativo con estos aspectos y con ello también ponemos en práctica la ortografía y la gramática que hemos estado trabajando a lo largo del curso, así como la caligrafía. Están quedando realmente bien y estamos deseando ver el resultado.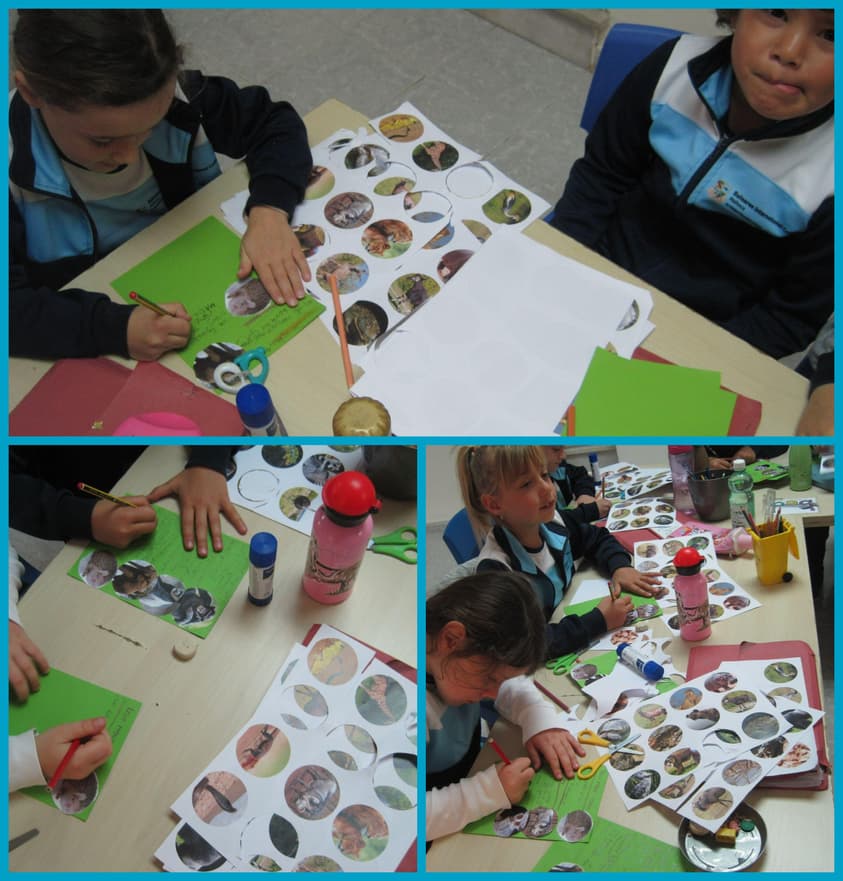 Sports with Miss Izabela
---
Sport is a vital part of life at BIC! Participation in school sports provides a sense of belonging and being part of a team or group. Every year our school organises BIC Olympics to build morale and team spirit and to also encourage active participation in sport and physical activity.
Our children take these competitions seriously and try their best!!
It will take place next Wednesday 11th May and all of our students across school from the very smallest to our very oldest will have the opportunity to take part.
Each event will gain House points to decide which House is the overall BIC Olympic champion.
Students are encouraged to come to school on the day of their event wearing their normal PE kit but with a T-shirt in the colour of their House.