Your guide to all news at school
A message from Janice Short, Principal
---
Dear parents
June has arrived - the last month of the school year! The excitement seems to be building as the end of the year approaches. We have been busy doing assessments with the older children, which are an important part of their learning journey as the assessments consolidate the work the children have been doing throughout the school year.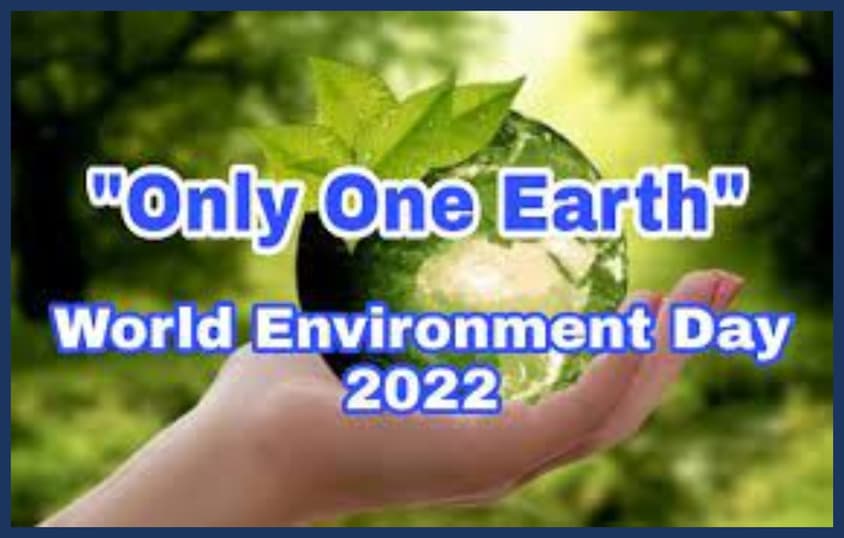 There is a real buzz about the school, as we are developing the dining room terrace into our environmental area, ready for Environment Day when we will be welcoming visitors to talk to the children about permaculture and the children will be planting their own seeds and plants, ready to grow.
Just before that we will be celebrating Queen Elizabeth II´s Platinum Jubilee with activities planned for the day, reflecting some of the celebrations which will be happening in the UK. The children have been amazed to learn that the Queen has been on the throne for 70 years - what an achievement. We will be holding our own Derby "horse" race and having our own fly-past, although possibly not quite so grand and elaborate as the real one! We have been having many discussions in school about different traditions, expectations, governments and cultures, with everyone having their own opinion. This is surely one of the best situations and environments in which to grow up - an international environment, where such things are discussed openly to develop understanding and acceptance of all. I am very proud that our children learn acceptance of others through living alongside other children and cultures; one of the many life lessons learnt in school.
Have a lovely weekend
Warm regards
Mrs Short
Principal
Baleares International College, Sant Agustí
Nursery Starfish Class
---
The last term of this school year is now well underway and the Starfish class children are showing us how much they have grown, matured and learnt. It's always an absolute pleasure to see how independent they have become throughout their Starfish journey and this is the school term in which they really reap the rewards.
We are now often moving in and outside of the classroom and all children can select and use the classroom resources with little to no help.
We´ve been growing lots of different things from seeds, we have opened our water play area and we are using the sandpit as if we are on the beach…yes, Starfish class is on fire!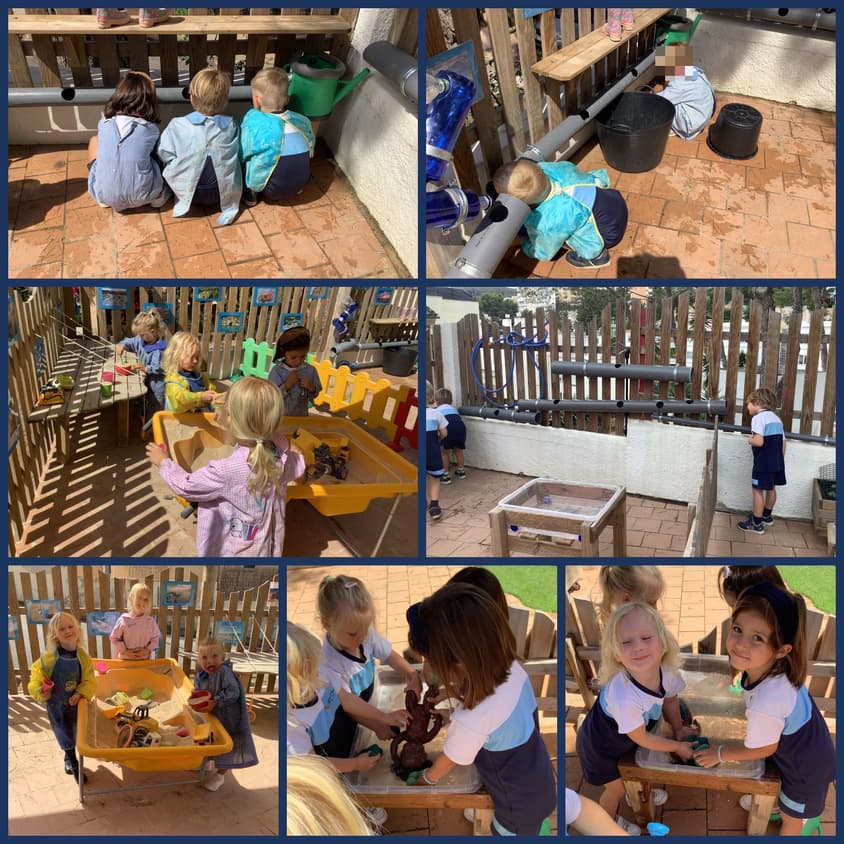 In the last few weeks we have been focussing on using natural resources as well as learning about our local environment. We have been learning about locally abundant plants such as Lavender and Rosemary as well as animals we can find here in Mallorca in the wild, such as hedgehogs, snakes and little field mice. We are now learning about the importance of water for all life on planet Earth

We have been engineering our own construction together as a team using connecting straws and we are very excited to have introduced chromebooks into our weekly timetable in addition to the bee-bots. As you can imagine, all Starfish children love these activities.
So, next up is our trip to the Ostrich farm, the Queens Jubilee and Environment Day as well as continued practice for our upcoming Summer Music Day.
Wow, time is flying and so are we!

Reception Seahorses Class
---
In Seahorse class, we have been learning about the life cycle of a chick and birds in general; the children have learned new vocabulary and are quite familiar with the process. Then we compared it with the vocabulary we already knew about frogs and caterpillars. They also had the opportunity to play with toys to explore and extend their knowledge further. Linked with this topic we went on a school trip to an Ostrich farm in Campos!! What an amazing place this is! I really recommend everyone to visit it at least once. Not only the children were super well behaved, they had a great day; actually we all did!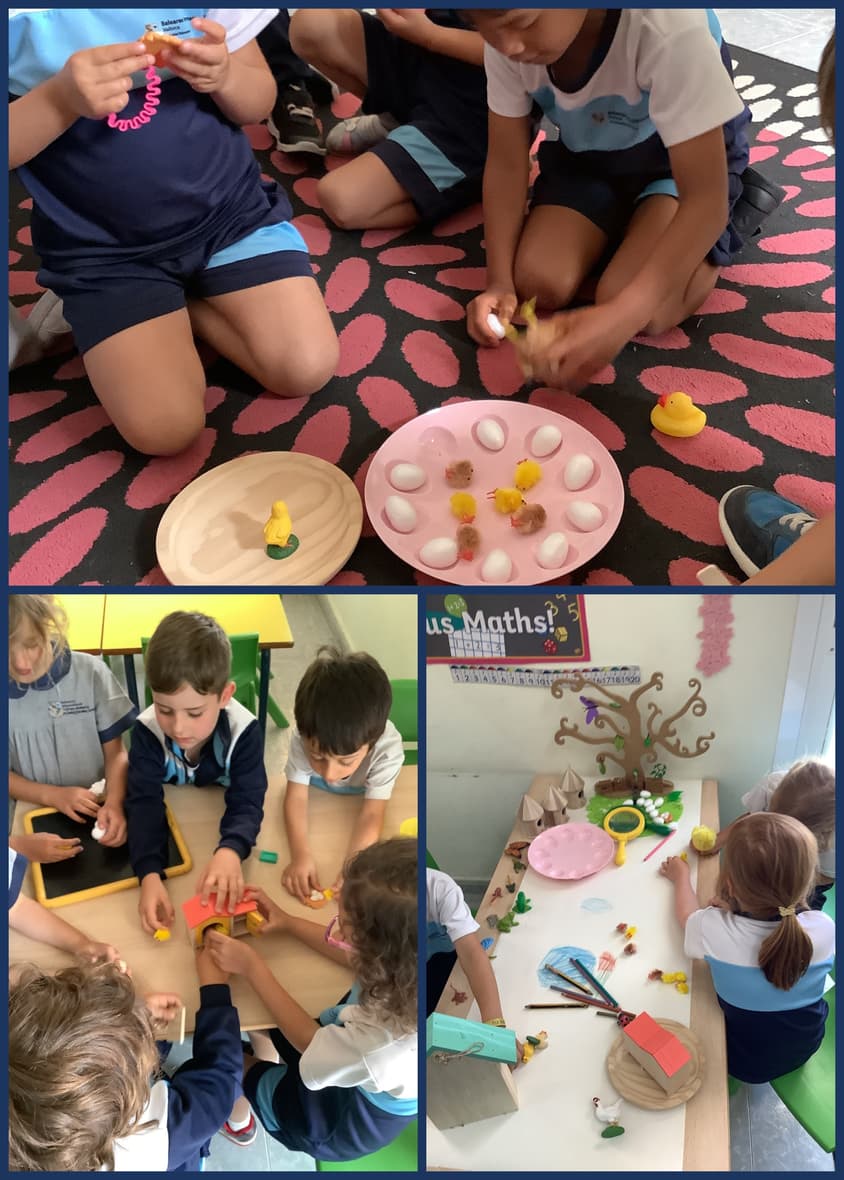 At the farm we were welcomed by a very friendly ostrich. Then, they explained to us lots of facts about ostriches and we learned so many things about them. After that we were allowed to feed them; it was very funny to see how hungry they were. For snack they fried an ostrich egg and we all shared it together; it was so yummy and as big as a pizza! At that point, the friendly ostrich wanted to sit with us for lunch and he sat there for the whole time. It was such a sweet moment.
It was a great trip and we cannot forget that one of the best parts for the children was also going on a bus, as some of them can't remember going in one before.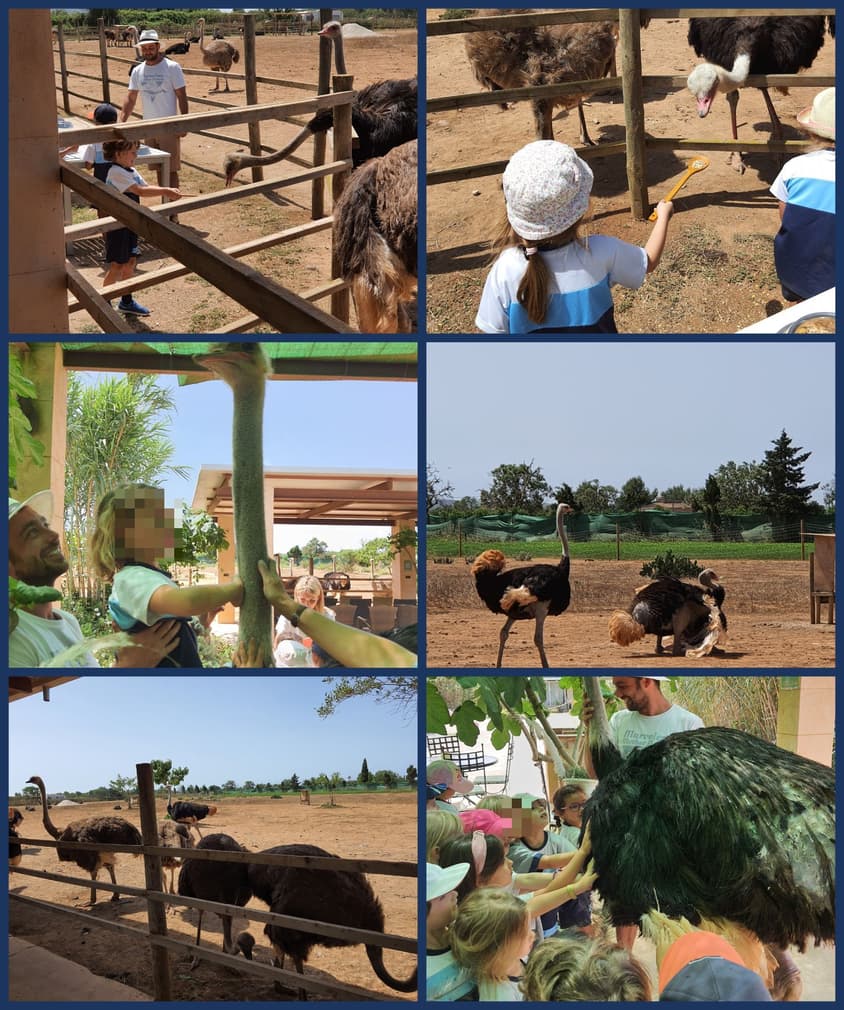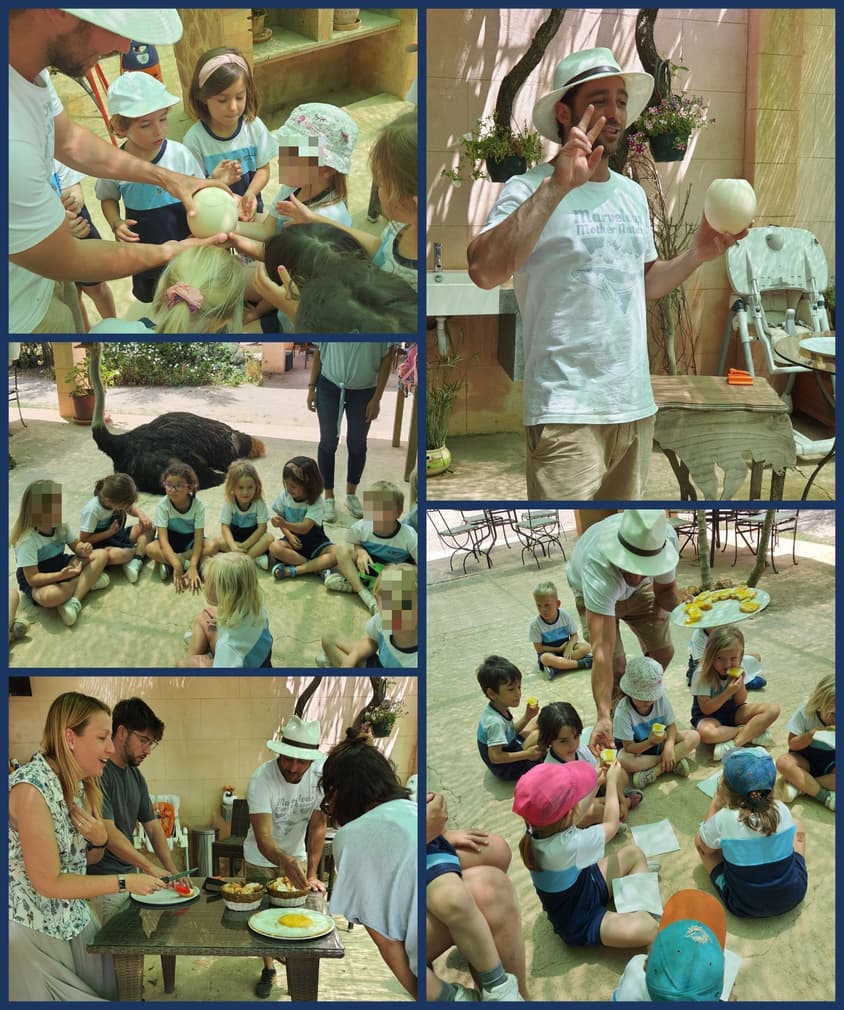 Meanwhile, in the classroom, we've continued working hard in all the different areas without forgetting to have fun. In phonics we are now learning about digraphs and we continue with our reading scheme, sending books home. In Maths we've got familiar with our new number line; it's so much fun to learn the numbers when you have frogs that jump forward and backwards to help you out.
At the end of this week, just before the newsletter is out, we will be celebrating the Queen's Jubilee. We can't wait to see all the children from across the school, participating in the different activities we've planned!
Wishing you all a lovely and summery weekend!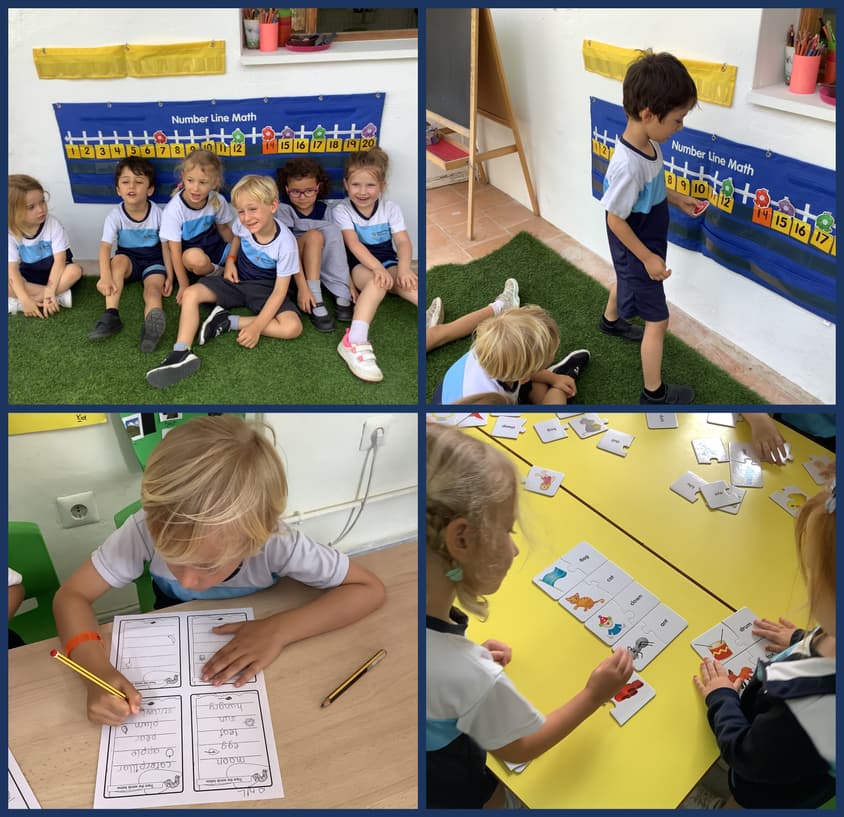 Year 1 Seals Class
---
Another fabulous two weeks in Seals class….finally lift off with the Silkworm caterpillars and this morning we welcomed Bob the Silkworm moth to class. The children named him straight away after the cartoon character SpongeBob Squarepants. We have been learning lots about the life of a Bombyx mori, aka Silk moth, in class and the children have been super excited for this day. We have 5 more cocoons that need to hatch so watch this space…

Everybody gathered around the tank this morning to happily sing 'Happy Birthday' to Bob the Bombyx Mori. Maybe another will hatch on the Queen's Jubilee on Friday and we'll get to name it; Queenie

In English we have been finishing off with the topic about Superheroes. The children shared with each other experiences they've had with family members and friends. WOW there's a lot of superheroes out there!! We have also been practising our words - during phonics the children have been working in teams to form, create and make common exception words using the magnetic letters. Working together is helping us all in many ways, some children were able to write the word to show their team members in order to find the correct letters. Super Seals, great teamwork!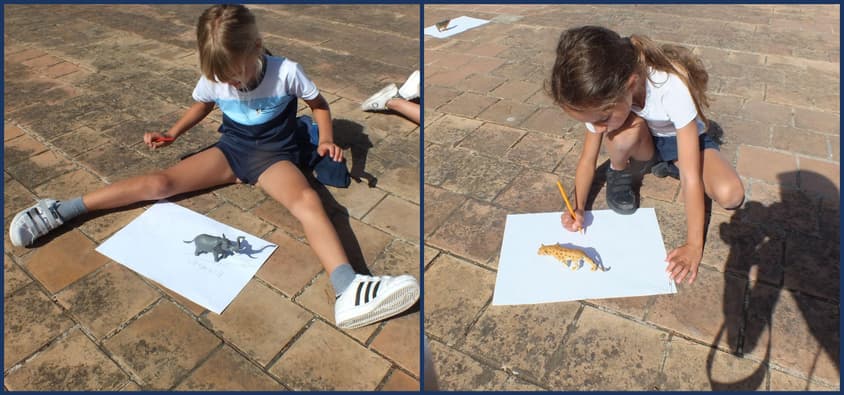 During science we have been looking at the different seasons and the weather that comes with them. We have completed many different activities linked to weather, even held our very own San Agusti weather report. Over the past two days the children have been shadow drawing. We started with ourselves and then moved on to smaller objects. Everyday, for the past 3 days, we have gone outside at different times to draw the shadow created by the toy animal. The children have discovered that the shadows are different depending on the time of the day.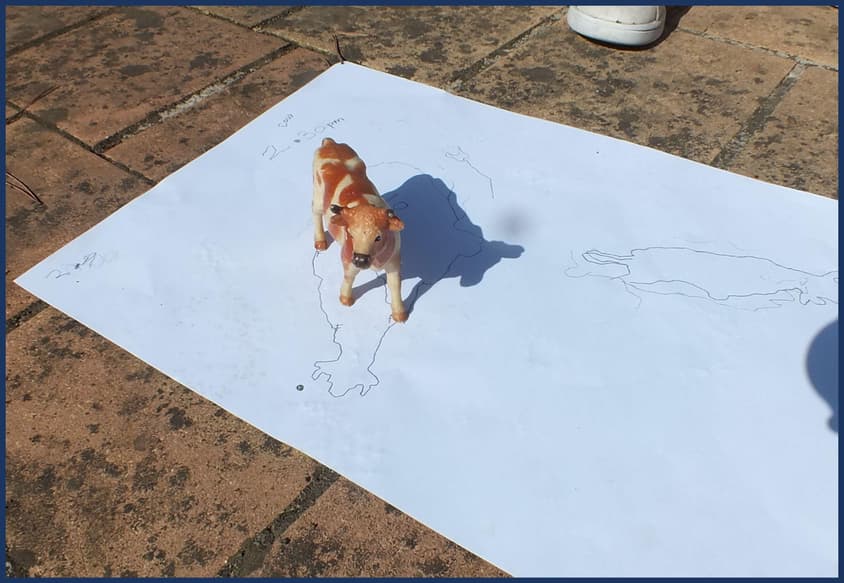 During the subjects of Humanities and ICT we have been looking closely at our local park and after a much enjoyed trip to the park to look at the equipment and the closed area of the park, we created a map for the Beebot to travel around, as well as different park equipment out of Plasticine, tubes, string and anything else we could get our hands on. The photos below show the amazing work of the children. Some truly creative designers in the making!
Everyday when you're at school is a celebration in learning and what a fabulous way to end our day today by learning from our friend Francesco, that in Poland, it's National Children's Day! To help his fellow friends learn and enjoy this day, he brought in some AMAZING, TASTY, LOVELY, SOFT, COLOURFUL, YUMMY and SWEET cupcakes. All the words (of course) used by the children to describe the cakes after eating them.
Year 2 Turtles Class
---
The weeks are certainly flying by this term and Year 2 have been busy in all areas of the curriculum. For art we are learning about recycling something old into something new. We have had great fun turning a pile of old magazines into woven drinks coasters. See our before and after pictures below.

In Science we are investigating different types of materials and their properties that make them useful for specific tasks. We went on a material hunt outside in the playground and the Lemon Tree terrace to identify different materials and how they were being used around the school. We identified metals, plastics, glass, concrete and a range of other materials.
Our next task is to design our own school bags and test materials to see which would be most suitable to make it out of.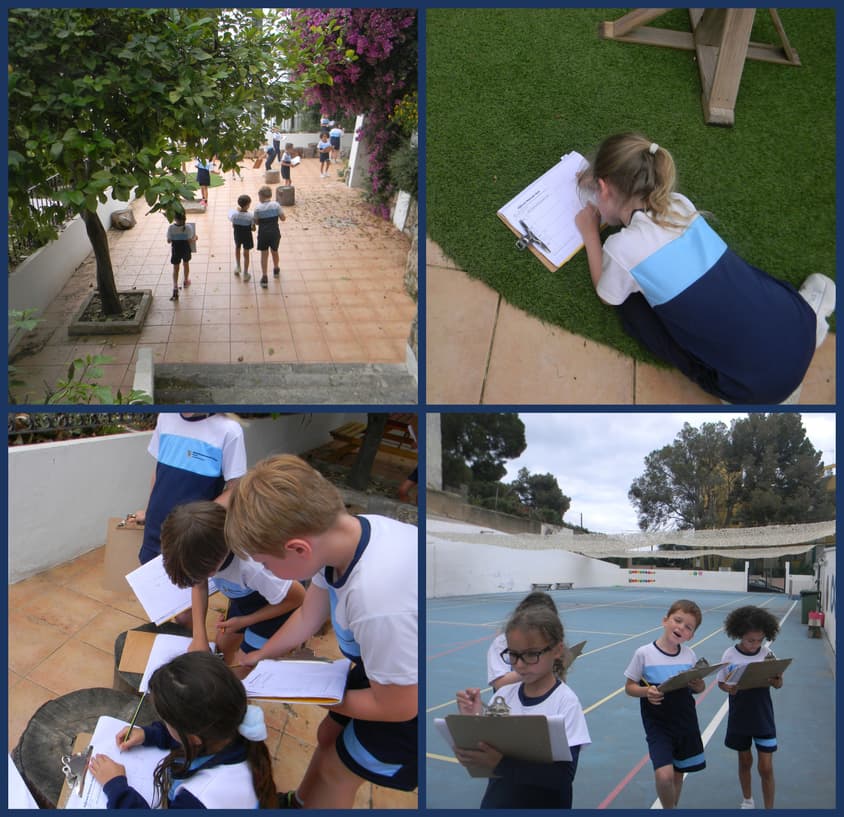 We worked together with a partner to not only identify the materials but check what they felt like, were they smooth or rough, shiny, transparent or opaque. We are learning lots of new vocabulary as well!
In our Humanities lessons we are learning all about the oceans and seas around the world. This week we all became 'experts' on one ocean. In our groups we used books and information from the web to find out important facts about one ocean - what makes it special or different from the other oceans. We then presented this information to the rest of the class and shared our learning. With all the information gathered we all created a fact file on all of the oceans.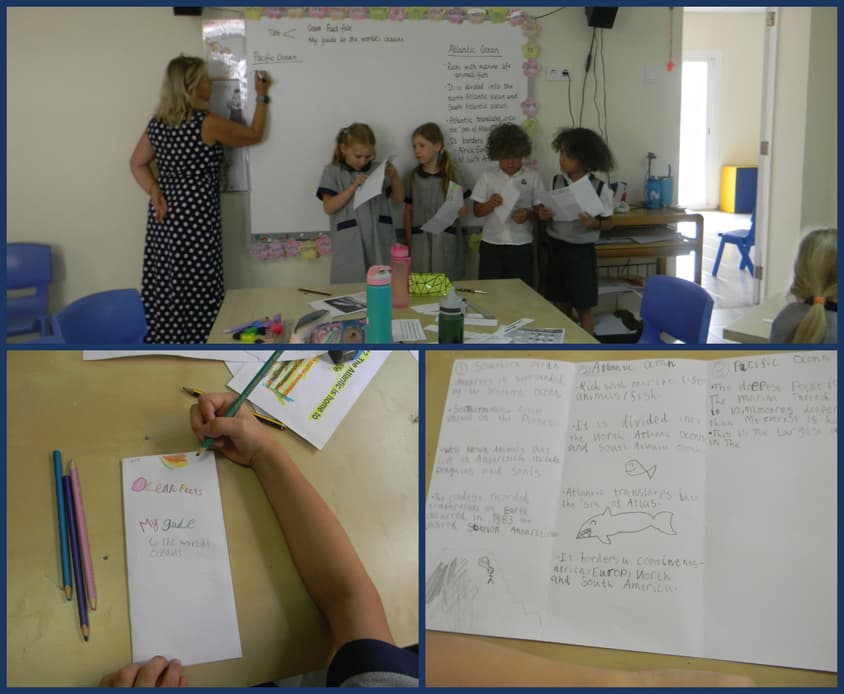 In maths last week we were working with money and calculating change when you add 2 two-digit numbers together. We all pretended we were shopping in the school tuck shop and had a chance to go shopping and add up our chosen items and be the shopkeeper calculating our change.
In our Literacy we have been looking at Poetry - particularly Happy Poems, look out in the children's bags for a copy of the marvelous poems they created. Great work Year 2, you are nearly ready for Year 3!

Year 3 Dolphins Class
---
We have had such a busy and productive two weeks in Year 3. We can´t believe that we are in our final month! How time flies when you are having fun!
In English , we have been using the book ESCAPE FROM POMPEII as a stimulus for our learning. The end goal is for us to write our own diary extract imaging we are one of the main characters from the book. We wrote descriptions of different scenes using our five senses and sequenced the order of events chronologically.

We loved our acting and role play lesson, in which we travelled back in time and became Roman citizens who witnessed the eruption of Mount Vesuvius and the destruction of Pompeii. We dressed up in togas whilst the other children wrote questions to ask us about our experiences, feelings and thoughts.
The citizens of Pompeii

We also thoroughly enjoyed learning about religion during Ancient Roman times. We studied the main gods and goddesses. We matched each god/goddess with their description and personal attributes. We discussed which god or goddess we would like to be and why.

Our PSHE and Science lessons have been linked quite significantly. We have been examining food labels and why they are important, how companies can make things that are not healthy appear so and what we need to stay healthy both physically and emotionally.

We are looking forward to our final science topic this year (Light) in which we will be studying reflective materials and how shadows are formed.
In Maths, we have been reviewing subtracting and adding a single digit number from a 3 digit number, ordering fractions and adding and subtracting fractions with the same denominator.
With many things to look forward to such as Music Day, these final weeks will surely be fun packed!

Year 4 Jellyfish Class
---
Hi my name is Sodium Lauryl Lactylate - pardon? Well that sentence formed part of a fun science lesson where we had some students learning how to pronounce some of the many names for Palm Oil that one might find in some food and certain products lining our supermarket shelves. It has been a very interesting topic which has crossed over with some of our work in Geography about the rainforests. We watched a very informative video about the rainforests in Suriname. The children each had a post it note and made bullet points as they were watching the video which then were gathered to make a fact file. It was wonderful to see how a structured activity during a video can focus the learner and help to remember more facts of interest. After some weeks spent working in groups some children from Year 4 had the chance to present their projects on weather in the rainforests. We have really filled up our vocabulary banks with some interesting words like biome, emergent layer and slow loris! Next week we will be reviewing a case study on sustainable palm oil production and we hope to incorporate some drama into this lesson too.
In English the children have spent much time learning how to write a persuasive text. I have to commend them on their efforts here. They learned how to draft, edit and publish a piece of writing. This meant writing their piece out four times! It was a worthwhile activity as the improvement in writing becomes very visible with each redraft. We have displayed some of this wonderful work in the classroom. We had started learning about persuasive writing with regard to the rainforest and the children made some posters. We then decided to write about why dogs make the best pets. Some children were so pleased with their ability to convince the reader they remarked they were beginning to feel guilty about their own pet cats!
Pesky maths word problems - be gone! Year 4 have started using some problem- solving bookmarks to help break down some of the longer word problems in maths. They follow 8 simple steps to assist them strategically attack multi- step problems. Simple tips like reading the question 3 times, drawing the problem, underlining key words, predicting the unit of measurement that their answer will be in etc, - all this helps to make things more simple and manageable!

In Art we looked at self-taught artist Henri Rousseau- a man who created beautiful images of the rainforest, even though, remarkably, he had never set foot in one. The French critics laughed at his efforts but he showed great inner strength and self belief and didn't give up. This determination paid off and he finally received the acclaim he deserved. His paintings now hang in many art galleries around the world. Year 4 have displayed their toucans in class as a nod to this wonderful and underestimated man.
- Practising our problem solving skills in maths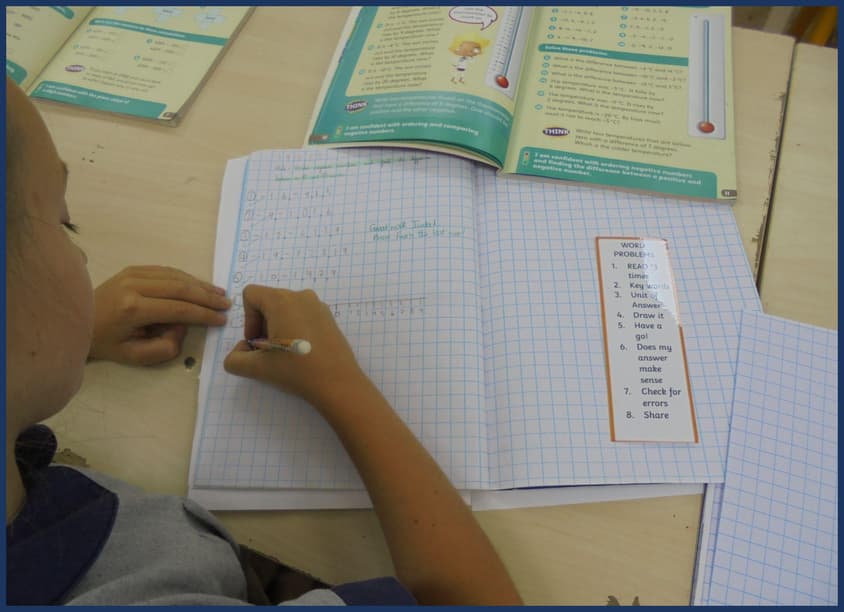 - Saving the Rainforest Posters - persuasive writing

- Researching for rainforest weather report

- Brightening the classroom with Toucans, as demonstrated by artist Henry Rousseau

Enjoying our outdoor classroom during a cross-curricular activity in Geography and English. The children enjoyed reading information about the rainforest and deciding, in our teams, if the information was fact or opinion.

Working in teams researching information for their rainforest presentations.
The children in Year 4 dived right out of the month of May and head first into June, with their last swimming lesson on Tuesday last. A special shout out to two children who were crowned most improved- Isabella and Ada! Well done guys!
Finally in music we have been busy with our final practices for the Queen's Platinum Jubilee. Year 4 will be singing and playing the glockenspiel so watch out for them as they mark this momentous and colourful day!
Have a wonderful weekend everyone and stay golden!

- Demonstrating layers of the rainforest

Year 5 Whales Class
---
The Whales have worked very hard over the last two weeks as we have been doing several different assessments as we are starting our rehearsals for the summer show! We have still managed to squeeze in lots of fun lessons though! In Art, our theme is the seaside to complement our tourism topic in Humanities and this week we used different pencil strokes to draw fish.

In Humanities we learnt about the history of the railways, focussing on the developments in Great Britain. We found out about 'railway mania' in the UK and then designed our own 'retro' themed posters to promote holidays by train in the 1920s.

Staying with the holiday theme, our English focus over the last few weeks has been travel writing. The children have explored travel guides and learnt about what makes them informative and engaging. After learning a vast amount of unfathomably powerful vocabulary, the children have been using countless wow words in their writing to inform people about and entice them to a range of destinations from Japan to Paris and Hawaii to Sweden! Check out some of their amazing work here…

In Science, this week we were learning about Friction. First we pushed books along different surfaces to see how far they would move. Then, we used different types of shoes to test the soles to find out which had the most friction when pulled along a table using a Newton Metre. Finally, we investigated the different surfaces outside to see which would create the most friction when our volunteer skateboarder skid across them!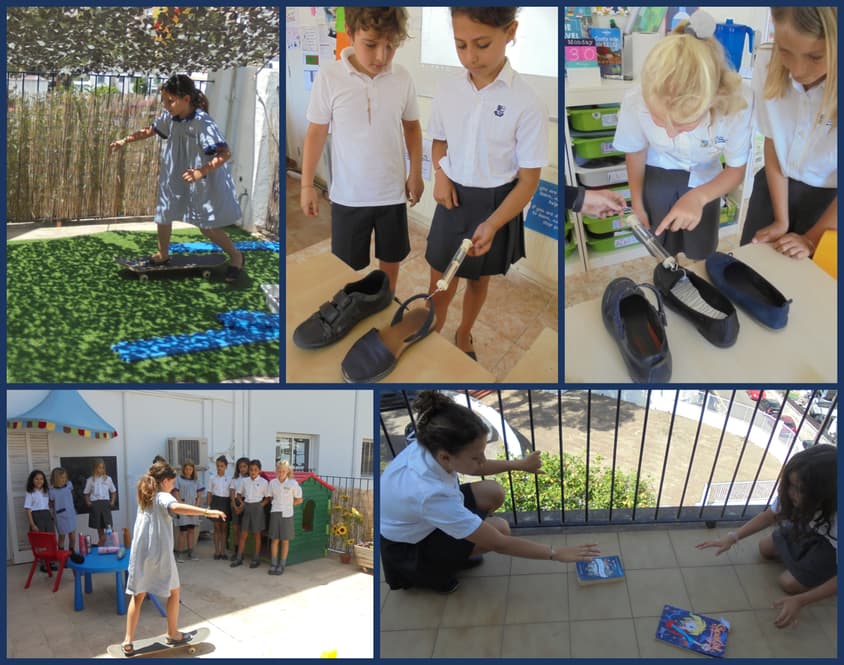 Year 6 Sharks Class
---
Year 6 have been working hard over the last two weeks in all areas of the curriculum.
We are continuing to have fun reading our enjoyable class novel, 'Holes' and we have written some wonderful letters, as if the children were the main character in the book, using exaggeration and descriptive vocabulary.
In History we have really enjoyed learning to write Arabic calligraphy, using two pencils put together! We wrote our names and some important words such as Love, Life and Peace.
It was a bit tricky to begin with but we are very proud of our final creations.

In our weekly ICT lessons, we have been writing a murder mystery script for our radio play which we are really looking forward to recording for you in the near future.
Also in Science we have learnt the difference between anaerobic and aerobic exercises, as well as revising the food pyramid, which shows us what we should and shouldn't eat in our daily lives.

As well as all our wonderful lessons, we have now finished our Maths and English assessments and are working hard on our songs and dances for World Music Day.
Spanish and Catalan with Miss Maria and Miss Ainhoa
---
El pasado miércoles los alumnos de year 5 & 6 realizaron una salida escolar muy divertida y significativa para ellos. Fuimos al colegio Sant Antoni Abat, donde profesores y alumnos de bachiller prepararon un maravilloso debate, cuyo tema era si los niños deberían tener móvil a los 12 años. Además, nos deleitaron con cuatro diferentes actividades, donde nuestros niños y niñas pudieron participar y demostrar su potencial a la hora de debatir y exponer diferentes argumentos. Lo pasamos genial y sobre todo aprendimos muchas nuevas estrategias que, sin duda, pondremos en práctica el día de nuestro gran evento.

Sports with Miss Izabela
---
Sunny days are for playing TENNIS!
Our children have made the most of the beautiful weather and outside space.
Pupils from Year 1 group are currently practising and developing their tennis skills during their PE sessions with Miss Izabella.
Well done to everyone!