Your guide to all news at school
A message from Janice Short, Principal
---
Dear families,
So assessments are completed, school photos are taken, Jubilee celebrations are over, trips are almost finished and we are heading towards the end of the year, while continuing to make memories. As a school we need to plan everything very carefully to ensure we are providing the education we can for the children, while continuing to give as many experiences and opportunities as possible. Primary years are so special as the children grow and develop so quickly, and I love being a part of the children´s journey. During our rehearsal today for our World Music Day next week, I was watching the Nursery children looking at the Year 6 children with awe and admiration; I would have loved to have been able to read their minds! In no time at all, our Nursery children will be Year 6 themselves…it goes so quickly. Sometimes we are so busy planning our lives that we forget to actually live them. We need to take the time to enjoy our children, be a part of what they are doing and make memories with them, no matter how large or small those memories are.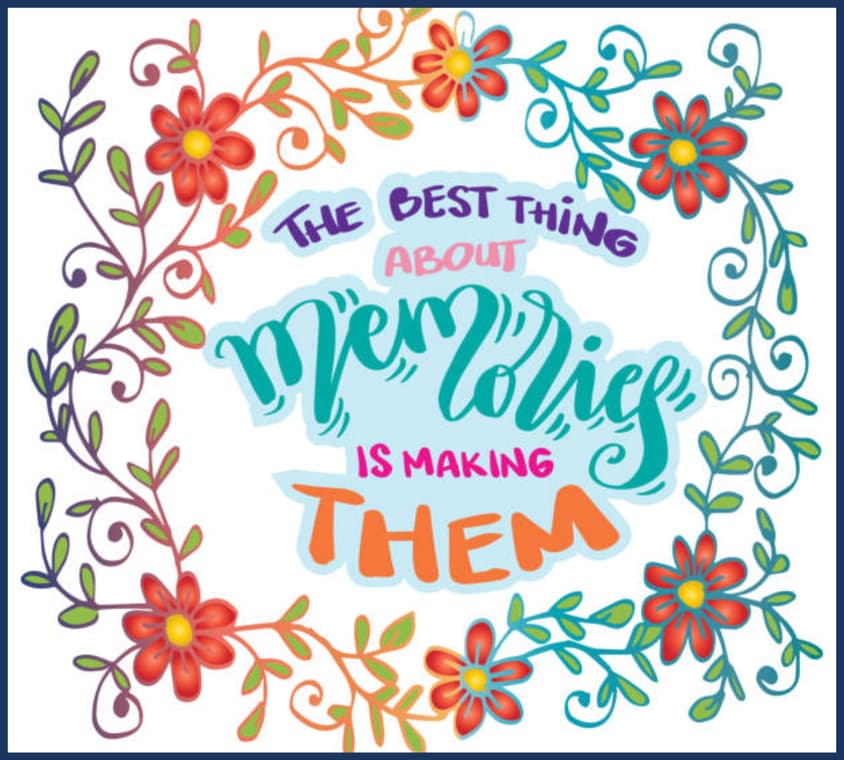 After our World Music Day we will be having a fundraising event for an ex-pupil of ours who is very ill. Please come along with lots of Euros to spend on the smaller tables and then see if you can win one of our bigger prizes on the raffle! We have some great prizes on offer!

Have a lovely weekend, make some memories!
Warm regards
Mrs Short
Principal
Baleares International College, Sant Agustí

Nursery Starfish Class
---
Only two and a half weeks left until the Summer holidays…how is this possible? Taking a trip down memory lane, we often look at all the independent children we have in Starfish class, thinking back to the beginning of September. All 10 children were still so young, many of them did not speak a word of English and all of them were so nervous about coming to school and leaving their mummies, daddies or special helpers for a few hours… and now, each and everyone of them comes into school with so much confidence, beaming with glee and talking to us in English as much as they can. WOW! It remains a special journey to be a part of and to witness children going through this.
We are now focussing on having the maximum amount of fun possible! We are getting very good at our World Music Day song and we are thoroughly enjoying each other's company, having lots of fun together whilst on the home stretch!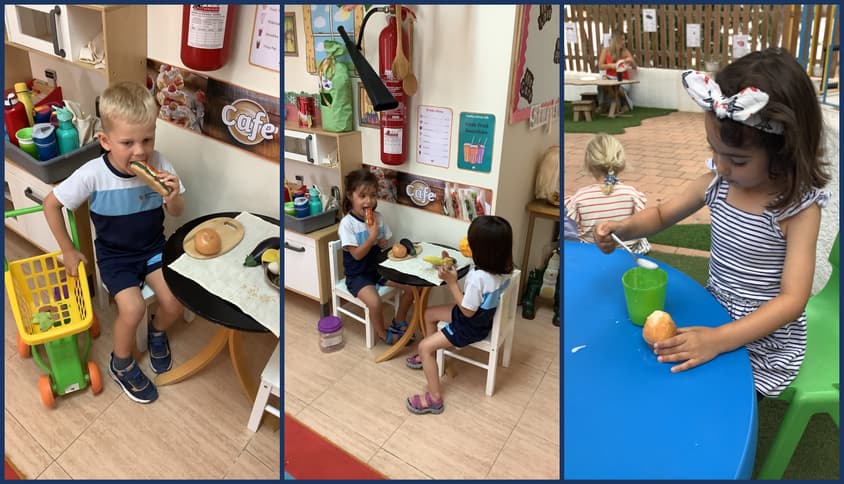 Last week we had our first external school trip to the Ostrich farm, this was an amazing experience. We learnt so much about these magnificent creatures, we even befriended them - having our snack and lunch, casually sitting next to them! We were lucky enough to eat an actual ostrich egg. Did you know that one ostrich egg is the equivalent of +- 24 chicken eggs, it was the size of a pizza!

Environment Day was celebrated by the whole school and to mark this day we opened our own BIC Enchanted garden, complete with a growing area for each class which we are all learning to maintain.
We were so lucky to have Permamed, the official Permaculture association of the Mediterranean, come and visit us in school. These young people specifically focus on empowering young people to make connections with the natural world around them in a positive way. I invite you to have a look on their website https://permamed.org/ to learn more about this beautiful way of life.
We are really looking forward to finishing off this school year together and taking away lovely memories that we have made throughout the last school year.

Reception Seahorses Class
---
Reception Class has been very busy as always this week! We have been looking at different aspects of 'Our Planet.' Seahorses had a go at writing independently and they were all fantastic! From mark making to writing a full sentence, the Seahorses have all done some truly amazing work. Alongside this topic, we had fun taking part in the Toy Share, where the children were able to bring a toy from home to share with the class. This activity was to reinforce the idea of 'Reduce, Reuse, Recycle,' and we spoke about how we could help the environment by sharing our toys with other children once we have finished with them rather than throwing them away.
We also read the book 'Shark in the park!' as we are learning the digraph: 'sh' and we linked it with our week's topic and reused toilet roll tubes to design our own telescopes.
'Share a toy' activity for Environment Day

Sports session: yoga practice

During Golden Time this week, it was so lovely to see all of the children working together to build a giant marble run. At the beginning of the session, there were 3 or 4 groups, but as time went on, they slowly merged together, working beautifully to put their creations together.

Year 1 Seals Class
---
We have had a fun packed couple of weeks in Seals class, the opening of our vegetable patch, the releasing of our Silkmoths, making a large road map for the Beebots, learning how to do coding and designing our own dreamcatchers. These are but a few things, oh and of course we've been learning lots in between….
The children got to say a personal goodbye to the Silkmoths. We had a look at the eggs under the microscope, we cut open an old cocoon to take a closer look inside and we each got to hold the moths before letting them go on the Lemon Tree terrace. A very touching moment!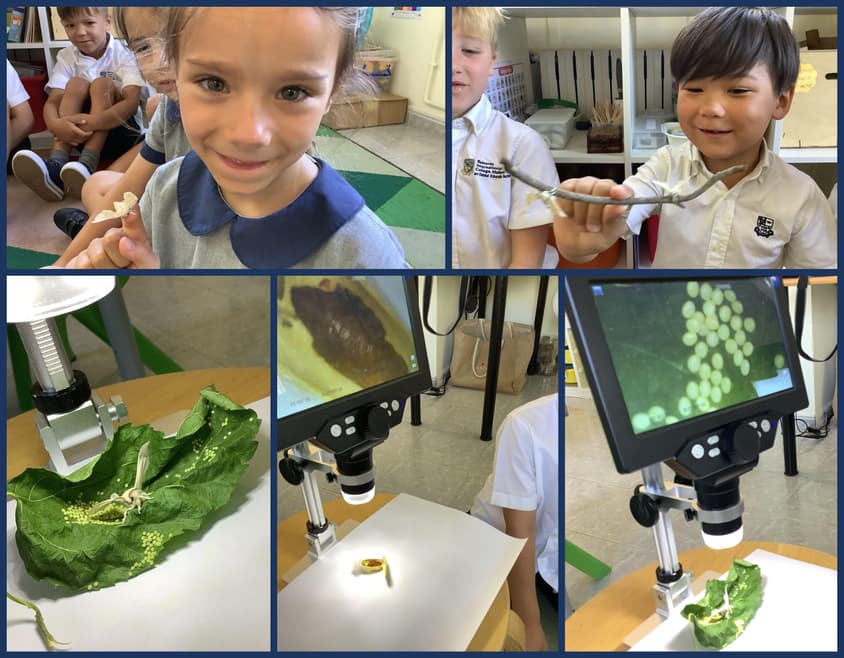 It was actually amazing to follow and watch the life cycle of a Bombyx Silkmoth, we've all learnt (including myself) so much about them. Ms. Charlotte has put together an A3 poster of the wonderful photos of everyone, so make sure you check inside their science books.
So the garden is open, looks wonderful and Year One's are growing Pepper plants. Everyday we take it in turns to water them, talk to them and watch them grow. We're all looking forward to the first peppers grown, so we can make a yummy pizza and use it as a topping! Delicious!
English & Maths - Both subjects have been scattered with assessments but do not fear parents, the children have all done amazingly well and have come through the other end, still smiling!
Art - We have been collecting cardboard tubes and now have enough in class to build a dinosaur, HAHA. So we put our creative thinking caps on and used our imaginations to transform a boring old tube into something AMAZING! The children had to plan what they'd need from the Art room's resources and they managed to make things from Racing cars to Ladybirds. You most probably still have the creations at home in a safe place, here are just a few, oh and a whole class photo too!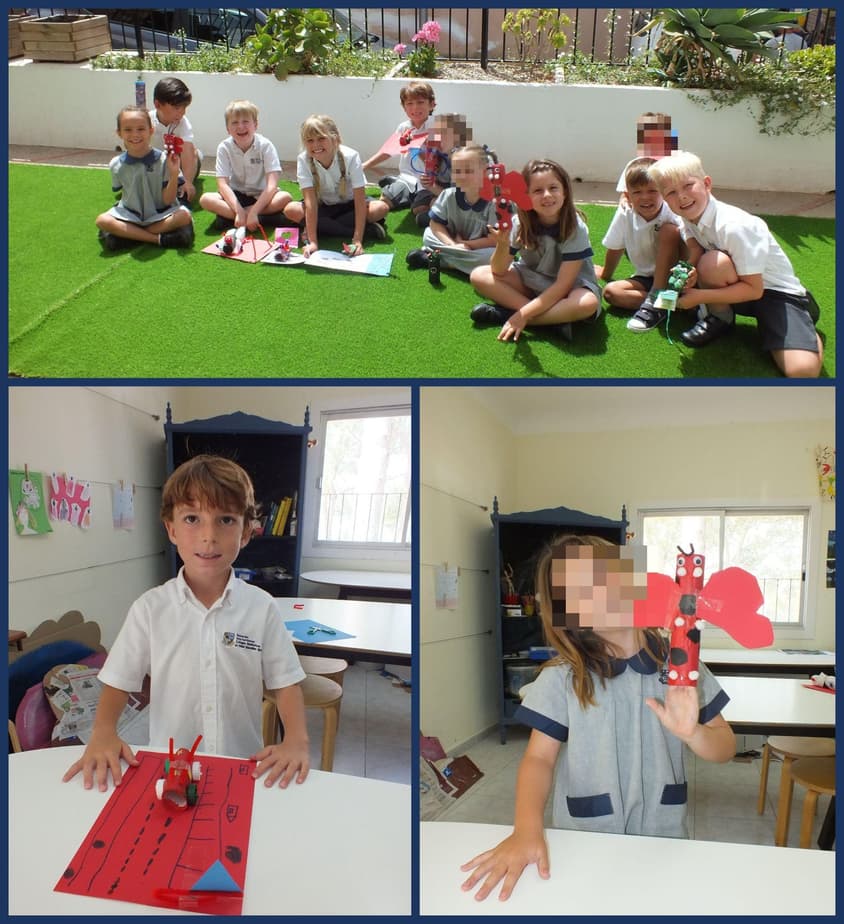 Science - We have been finishing off the topic about Wonderful Weather and thinking of different ways to keep ourselves cool in the hot Mallorcan weather. We used the Marble Run to design a waterslide and WOW, some amazing slides were made. The marble used was to represent a person. The marble had to travel all the way to the bottom of the slide without dropping through any holes or off the sides, while keeping the marble/person cool. Some amazing ideas and some nail biting moments too!
Maybe some future inventors will appear from Seals class one day, just watch this space!

Ok, the next 2 weeks will be making the most of being together as a year 1 class, starting with our FUN DAY tomorrow. The children will be completing an Escape Room challenge, Making instruments using only 3 resources and showing their favourite toy from home. Check the next newsletter for the photos. Also next week is Music Day. and Water Day……More fun!!!

Year 2 Turtles Class
---
Well it's been another couple of busy weeks in Year 2. As part of our humanities topic - Oceans and Seas -we went to Palma Aquarium to investigate the underwater world and the changes that are taking place due to plastic pollution and global warming. The class enjoyed walking round the aquarium and seeing all the different kinds of fish, coral and other creatures. We particularly enjoyed watching the sharks at feeding time. So many of the children said they would love that job going into the tank…..I was not so sure!! There were lots of hands-on activities the children got to try; picking up micro-organisms, identifying different animals by their tails, examining different corals and so much more. In our humanities lesson following this we have started looking at the impact of plastic pollution and what we can all do to help -the class all had some great ideas for in school and at home. They are all making a pledge to cut down their use of plastic and will be coming home with some ideas on how they can achieve this. They were very concerned with the impact the different bits of plastic in the ocean can endanger the life of the sea animals and all felt they wanted to do their bit to help.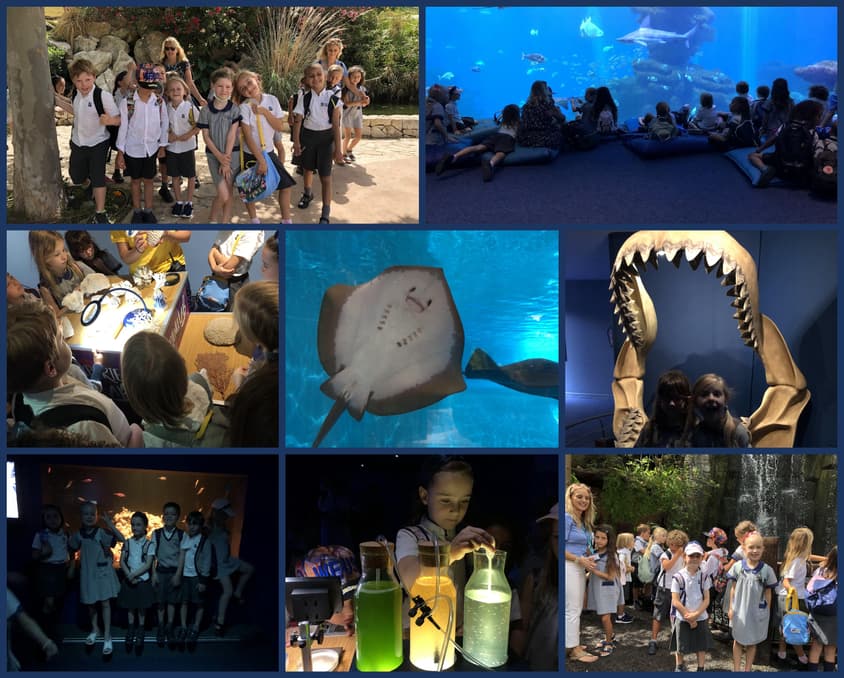 We had a great day celebrating the Queen's Platinum Jubilee. We made our crowns to wear, decorated patriotic cupcakes, Union Jacks and watched some of the celebrations taking place in the UK. We really enjoyed watching the Paddington Bear sketch with the Queen…..of all the things to keep in her handbag we did not think it would be a marmalade sandwich..!!

Last week we also celebrated Environmental Day in school. We had an interesting talk from the people at permaculture and then we planted up our own bean seeds to grow at home. Maybe some of us will have beans to look forward to eating later in the year!

In Art we have been designing our own money boxes to make out of recycled milk cans. We had to draw a design and then make a list of the materials we needed to make it. The children all worked hard and all of their designs were so individual. Let's hope they all save lots of pocket money in them now!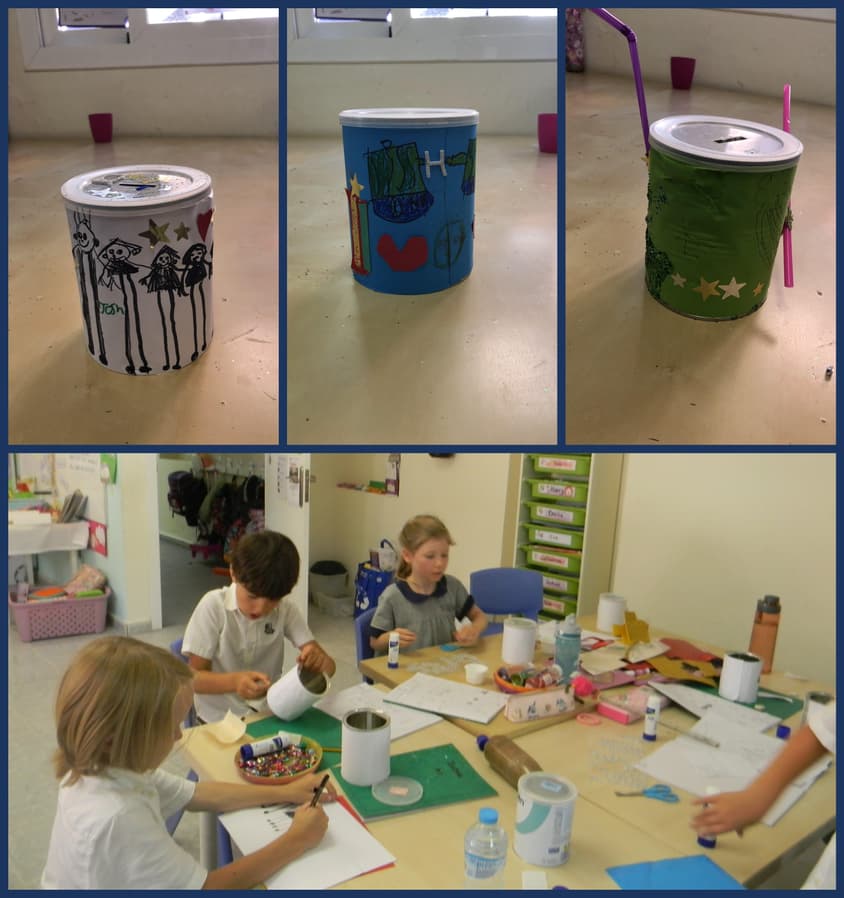 In our literacy lessons this term we have been looking at the stories by Lauren Child. Her stories are written very much for the entertainment of children on issues they deal with day to day such as not wanting to go to school, families, babysitters and friendships. We enjoyed reading a range of her books in class and looking at her use of language and grammar.
In our maths lessons we have been finishing our assessments and showing all the learning that has taken place. We have been looking at weight and measurement including volume. We have had lots of fun measuring out water and weighing different items around the classroom, making sure we have a go at estimating the weights first. Great work Year 2!

Year 3 Dolphins Class
---
What a fun-filled two weeks it has been since our last newsletter. There is never a dull moment in Year 3!
Environment Day

We started our day doing whole school games and activities. Then two children were chosen from each class to plant our plants/vegetables in our new, fantastic BIC garden. Each morning the children take turns to care for and water the plants. We made bird feeders that we created from recyclable materials and placed them on the balcony outside of our classroom.

The Queen's Platinum Jubilee
What a day of celebrations!!! What a day to remember!! We really enjoyed designing and making our own crowns alongside many other fabulous activities.

Persuasive Writing
We have been building up to write our own version of Queen Boudica´s rallying speech. We began by researching the positive things and then the negative things that the Romans did for us. We examined the features of persuasive speech in further detail, such as modal verbs, imperative verbs, repetition, rhetorical questions and expanded noun phrases. The children will plan and write and perform their own speech which will be included in our final newsletter.
We thought of lots and lots of positives!

Roman Art
We finished off our Roman shields ready for our Roman Day next Thursday. We looked at mosaic art and the children designed some of their own using a squared template.

We also made these amazing masks as part of our upcoming song on Music Day! We can't wait to perform for you!

Light and Dark
We had so much fun in Science discussing what the terms light and dark mean and how light travels. The Year 3 children loved using these feely bags to try and draw and describe what was inside.

Year 4 Jellyfish Class
---
Year 4 Jellyfish enjoyed a wonderful trip to Palma Aquarium recently where they learned more about the wonderful sea creatures that inhabit the seas around this beautiful island. They particularly enjoyed seeing the… jellyfish… ! A great day was had by all!
Environmental Day tied in well with all the work we have been doing about Saving the Rainforests of the World and in particular the children were busy researching the island of Madagascar. Last week they finished presenting their climate reports. It was a valuable lesson to watch each other present to the class. Each child offered their opinions and constructive feedback to each group. We have been looking at natural and man made impacts on the environment, in particular the over planting of palm oil trees.

Presenting in the style of David Attenborough

In English we began a new topic of Image Poetry! We began by looking at a great poem called "The Reader of this Poem" which contained many funny and interesting similes. We learned how a powerful simile helps to paint an image in the reader's mind. This inspired us to create some of our own to stick on Simile Sam, our class poster. The children then enjoyed sorting some well known similes for our Alien activity. A special mention has to go to Leila for her wonderful simile
" as sneaky as fog coming down from the mountains "- that gave us all goosebumps when she read it aloud to the class. Well done Leila!
Another special mention to Cadian for his massive efforts in English wiring recently. He was very happy to show Mrs. Short the time and effort it takes to publish a good text. He began by writing a 1st draft, then a 2nd, then a 3rd and finally after much editing and correcting he published his final draft. Well done Cadian.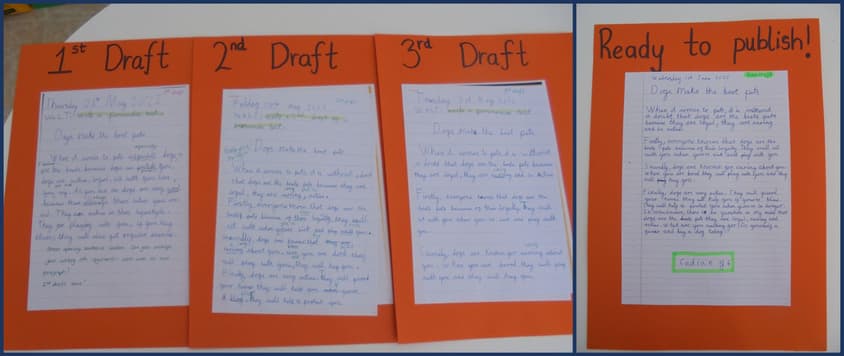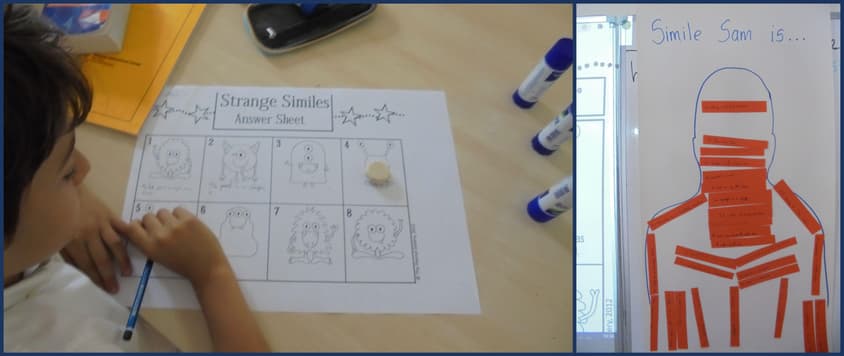 Polygons gone mad was our maths topic last week. We had quite some fun studying, drawing and identifying shapes. The children then went on a shape hunt at home to consolidate their lessons in class. We had some fun taking quizzes on the wonderful Canadian website Khan Academy. Their material is very accessible and really allows the children to test their knowledge through short videos and quizzes.

Conscience Alley as a drama technique can be a very powerful tool especially after reading a book where a character has a dilemma. We re read our book The Vanishing Rainforest and decided that the character Moawa faced a big decision. The children really enjoyed this new drama technique.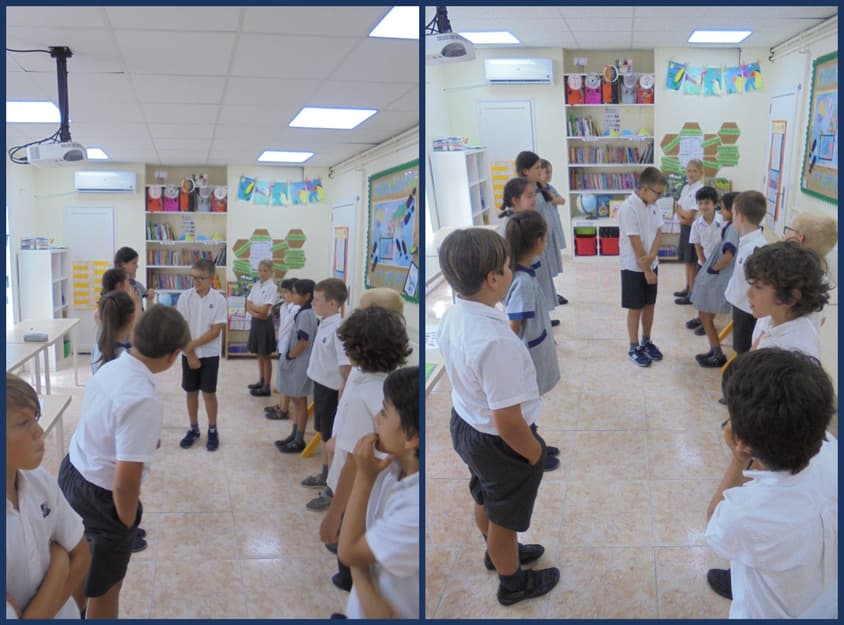 In Art we continued with Henry Rosseau and decided to pick one animal in its natural habitat and to work on a piece showcasing the camouflage that particular animal uses. The children hope to finish this art soon.
All this work has taken place in the midst of end of year assessments and rehearsals for upcoming events such as music day.
Queen Elizabeth took time last week to reflect on 70 years as Queen, a milestone the school so colourfully marked so maybe Year 4 can take a moment to look back on the last year and to see just how far they have come, all they have achieved and indeed all they want to accomplish as they move forward to Year 5 where they become senior students of this wonderful school.
Queen Elizabeth's favourite sport - horse racing

Practising the glockenspiel for God Save The Queen

Decorating red, white and blue cupcakes

Decorating our Royal crowns

Paper aeroplanes for the Queen's 'fly by'

Year 5 Whales Class
---
With only a few weeks to go, the Whales have been working their fins off and making the most of every lesson! Our new English topic is the fantastic book, Kensuke's Kingdom by Michael Morpugo which the children are loving. In one lesson, we used drama to explore the main character's feelings and emotions at different stages in the chapter and then wrote them down as thought bubbles.

In another lesson, we read descriptions of the island where Michael was shipwrecked and then worked in groups to draw the island using evidence from the text. As you can see from the photos, the children were very proud of their work!

We had a lot of fun on Environment Day when we learnt all about the importance of plants in an interactive talk about permaculture. Later, in class, we did a simulation of an oil spill where we found out the devastating effects of oil spills on the oceans and then carried out an experiment to visualise the difficulties of oil spill clean ups. It was very eye opening!

On the Queen's Jubilee, the class had great fun designing and making cardboard aeroplanes for the school's fly past competition in the afternoon. They impressed me with their knowledge of how to make the planes as streamlined as possible but also by decorating their planes with mini Union Jack flags!

We also had fun decorating cupcakes which we later devoured after waving to the queen!

In our Humanities lessons we have been developing our map reading skills to locate places in the UK using atlases. We also learnt about Ordnance Survey maps and their symbols.

Year 6 Sharks Class
---
Year 6 have been busy preparing for their final assembly this week, writing their first drafts and redrafting them so that they are almost word perfect.
They have also been rehearsing for World Music Day. We would let you know what they´ve been rehearsing, but you´ll have to wait until the day of the show. During assembly, some of Year Six were kind enough to inspire their fellow pupils by performing a dance routine they had choreographed themselves.

In science, we have been learning about the respiratory system, which led to a little confusion as some year six were under the impression that they did not possess ribs! They did, however, finally locate them!

In sport, the pupils challenged Mr. Hodson to a singles tennis match. While he was pleased with the results, Hugo managed to thrash him and become Year Six champion for the day.

Spanish and Catalan with Miss Maria
---
Estas últimas semanas con los alumnos/as de year 1&2 hemos leído y trabajado la maravillosa historia del PEZ ARCOIRIS. Gracias a ella hemos comprendido la relevancia de compartir con los demás aquello que nos hace especiales. Lo más importante es estar rodeado siempre de seres que nos quieran y nos admiren por nuestra bondad y generosidad. Los niños y niñas han aprendido mucho de esta historia y además han realizado fantásticas actividades que les han ayudado a aprender vocabulario y oraciones en español. Por último, pero no menos importante, hemos terminado este proyecto jugando a un juego divertidísimo sobre los animales del mar.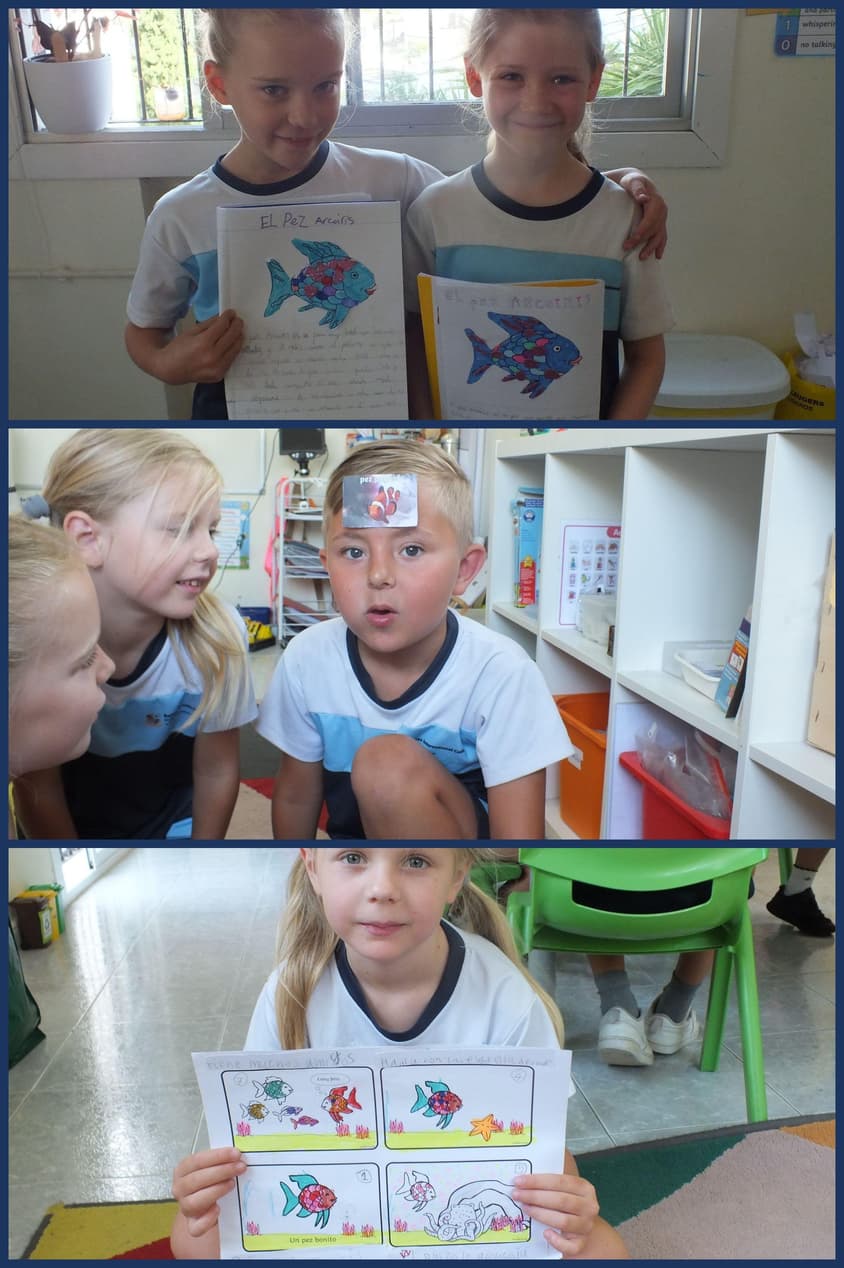 Spanish and Catalan with Miss Ainhoa
---
Durante estas dos semanas, hemos llevado a cabo un proyecto relacionado con el mundo del cine. Pues en primer lugar, aprendimos vocabulario sobre el teatro y charlamos sobre la importancia de éste. A continuación los alumnos clasificaron algunas películas según su género a partir de la escucha del tráiler y, posteriormente, lo comprobamos mirándolo.
A partir de estas actividades, los alumnos de Year 3&4 crearon sus propias películas. Diseñaron las carteleras y escribieron las sinopsis y así pudimos recrear la cartelera de un cine en clase. Los alumnos pudieron elegir aquella película que más les gustaría ir a ver al cine.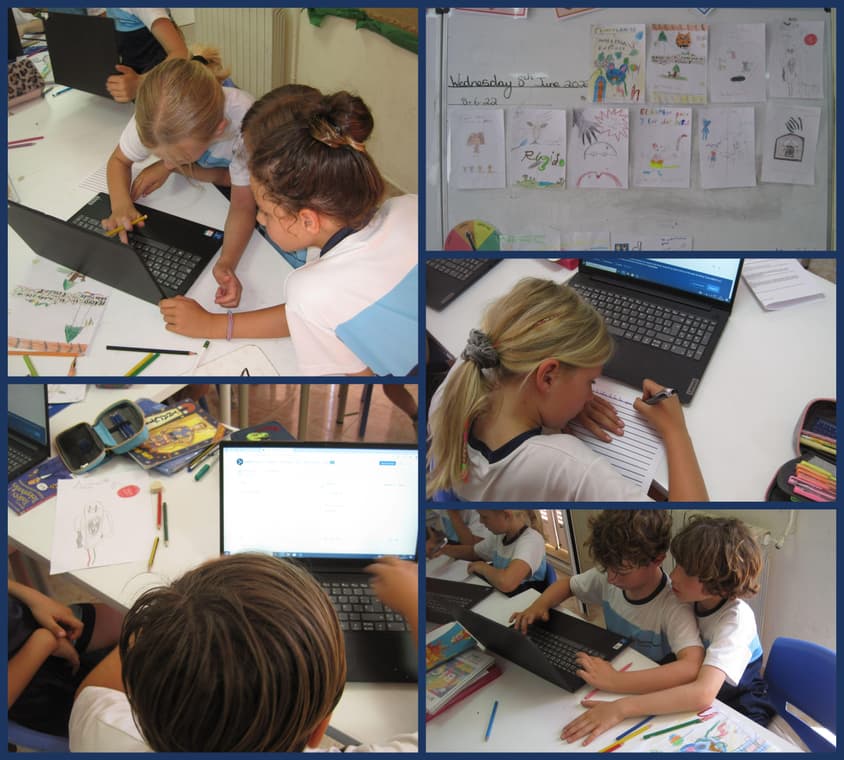 Sports with Miss Izabela
---
Last week our primary students were exploring a variety of net and wall games. The activities which are taking place in our PE lessons, cover some of the different skills required during a game of tennis: hand-eye coordination, hitting the ball, special awareness and reaction times.
The students were all engaged and active and they were working out while having fun!