A message from Alison Colwell, Principal
Dear all,
I hope that this finds you safe and well.
On 13 September last year, I wrote in my newsletter about how a parent had asked me an excellent question at the first information session I had held. She told me that the message I had given about where I wanted to take the school was clear, but how would I know, next summer, if I had been successful?
I wrote, in that early newsletter, that there would be many indicators. Children enjoying their learning was a crucial one, wanting to go to school everyday because their lessons were challenging and interesting. Parents being really clear about the curriculum, knowing what their children were studying was another. I also promised easy to understand school reports, good communication with the school, an accessible principal and one who the children see a lot of in their classrooms.
Fast forward to the end of what has been an extraordinary year. Despite the considerable challenges we have all been facing, I feel proud of what my team has achieved so far. There has been much excellent work done in all the areas mentioned above. Staff are currently finalising clear curriculum overviews that will tell you exactly what your child is studying, in every Year, each term, and how you can best support this at home. Even during lockdown we have continued to put teaching and learning at the centre of the school, and the outstanding teachers who are joining us in September are going to add further to what is already a very strong teaching team. I hope that you have found me accessible. Even though we haven't met in person lately, I have had constant, frequent communication with many, many of you, through email or Zoom, and I look forward to continuing discussions in person very soon. I would also like to thank the very, very many of you who have supported me with wonderful, warm words of thanks, appreciation and recognition of all we are doing and all we are aiming to achieve. On many occasions, a kind and timely email has helped to keep me afloat through some, at times, very choppy waters. Thank you to all of you who have done that.
There is still much to do. I wrote last week about our focus on even higher standards and expectations, on the new House and rewards system, on the impeccable behaviour we will insist upon, as well as the welfare and well-being of all our children. I am really excited and looking forward to the new school year, notwithstanding a much needed and well-earned-by-all holiday in between! Before then, I look forward to welcoming you to our special assemblies next week, when we celebrate the excellent work and effort of so many of our children and young people. And when it finally comes, in what will be a strange holiday for many, I wish you a safe, peaceful and restful summer break. One day, when these times have passed, we'll be able to reflect on what we have all accomplished. Before then – with thanks to the colleague who sent it to me last night – here's a final thought from Tolkien's The Lord of the Rings:
"The world is indeed full of peril, and in it there are many dark places; but still there is much that is fair, and though in all lands love is now mingled with grief, it grows perhaps the greater."
Alison Colwell
Principal
Ms Elizabeth Compton - Head of Primary
Dear Parents,
In writing this week's final newsletter I must give my appreciation and heartfelt thanks to students, parents and our incredible staff for their tireless work and dedication in supporting the BIC community. It has been a long journey of learning for all, however I must celebrate all our students who have developed so many transferable skills that we will continue to build on in return in September.
To celebrate this term and bring the year to a close, on Monday next week will be holding live webinar e-celebration assemblies at the following times, please encourage your child to attend and links will be posted on their Canvas daily overviews.
E-Celebration assemblies on Monday 22nd June
| Year Group | Time |
| --- | --- |
| Early Years, Year 1 and Year 2 | 2:00pm |
| Year 3, Year 4 and Year 5 | 2:30pm |
| Year 6 | 3:10pm |
With the end of one academic year a new journey begins and for some further away than others. We say goodbye to leaving students and staff but welcome many more to the BIC community.
I can announce that Ms Solomun will be leaving us at the end of this term. Ms Solomun returns to Canada to spend time with her family after many years in Mallorca but is hoping to return to us and the island in the near future. She has been an integral part of the BIC team, having made an incredible impact on the lives of so many students, staff, and parents with her kind, caring and professional approach to education. I would like to personally thank her for the commitment she has given to us this year.
I can also announce that we are delighted to be welcoming another new member of staff to the primary team, Luke Darlow. Luke is a highly experienced British primary teacher, with international experience and computing expertise; he will be relocating from Germany to join us in September.
We as a school are now looking forward to the new school year and preparing rigorously for this fresh start and any restrictions that we must follow.
At this time of year, families and students are eagerly awaiting the news of class lists and assigned teachers for September. Due to the current climate, this information cannot be shared at this stage. However, I can assure you that these groups, as all of my decisions, will be decided with your child's academic, social and emotional needs at the centre, to ensure well balanced groups that provide the best learning environment for your children. The year ahead is going to be another exciting stage in the development of our primary school.
Myself and the senior team continue with our goal to be the best school on the island and my dedication to your children and this goal continues as it did when I joined to lead the primary school a year ago.
Finally, to all our leavers I wish you all the best and success on your future journeys, you are always part of the BIC community and our door is always open for you so please come back and visit us.
Wishing you all a well deserved summer holiday,
Ms Compton
Join us to wish Luke Darlow a warm welcome to the BIC family.
Currently working at King's College, The British School in Frankfurt, Luke Darlow graduated from the University of Teesside, England with a first-class BA (Hons) in TV and Film Production and went on to complete the Postgraduate Certificate in Education at Liverpool Hope University, where he specialised in computing and media. Having taught in the UK for four years, Luke has since worked as a primary class teacher - as well as secondary computer science teacher - in international schools across Malaysia, Colombia and Germany. But he has always been drawn by Mallorca's vibrant culture, natural beauty and, of course, the food. He and his husband are now looking forward to restoring a house they recently bought in the village of Caimari.
I am very excited to be joining the team at Baleares International College and meeting the students in September. I can't wait to be a part of your school's new vision and to enjoy some fantastic learning projects together! Have a great summer and see you next year.
Luke Darlow - New appointed Primary teacher
Early Years Class with Ms Wardle
This week we talked about going to the beach, we made pictures and lists of the things we take with us and wrote sentences about what we see when we get there. We shared our last Julia Donaldson story of ´What the ladybird heard at the seaside´. We had some important discussions about how we can stay safe at the beach, including staying close to an adult, looking out for the lifeguard and flags and always wearing sun cream and a cap. Everyone worked well on this week's tricky words in phonics and showed that they can use the words in written sentences. In maths we made clocks and talked about telling the time, we started to recognise the hours with a game of what time is it Mr Wolf ? Well done to all of the Early Years children for all their excellent involvement in online learning this term. Happy summer everyone!
Year 1 Class with Ms Xidakis
This week has been another fun pirate themed week. In English we have enjoyed focusing on the story 'Pirates love underpants' and designing our very own pirate underpants, using adjectives to describe what we had designed.
I enjoyed looking at your science photos from the 'dancing liquid' experiment.
In maths we have recapped number bonds to 20 and I was really impressed at how quickly you all solved the mushroom addition sums. Well done!
What a wonderful e-learning term where you have all been resilient and amazing at adapting to the new way of learning. I would also like to say a special thank you to all the parents for their support and making this possible.
I am looking forward to our last days together next week. Have a great weekend Year 1!
Year 2 Class with Ms von Waberer
Our last full week together Year 2. We are going to miss you so very much. What a wonderful week it was. Thank you for all your hard work. We loved hearing the beautiful words and fantastic similes your reflection would say to you. Always remember you are perfectly perfect! You have been amazing with your effort in maths dividing and multiplying. Keep practising these whenever you can.
We hope you enjoyed learning the names of the baby animals each day and had a chance to complete the quiz on Wednesday!
We were so delighted and emotional listening to all the lovely memories you listed from your year in 2V. I now have the Hey Ewe songs in my head again!
Well done Year 2 and keep up the great work. Have a magical weekend!
Year 3 Class with Ms Bakes and Ms Taylor
As we approach the end of Year 3, we want you to congratulate each and every one of you for your hard work, your enthusiasm for learning, all of the laughs that you have given us over the course of the year, and for simply making our job as being your teachers an enjoyable one.
Some of you have blown us away this past term with your high level of engagement and participation during e-learning. It has not been easy, but you have worked incredibly hard under these difficult circumstances. We are so very proud of our Year 3's.
This week you have really enjoyed learning about the prehistoric animals that roamed our lands in the Stone Age, and we were amazed at the size of them compared to modern day animals! We also got to the end of our class book, How to Skin a Bear, and agreed that the character, Bee, proved that with bravery and determination, survival in the wilderness can be achieved!
We would like to say our dearest farewells to Jack who is leaving us this term, as his family moves to the UK and begins a new journey there. We will all miss Jack and his time with us has left us with many memorable moments that will remain with us forever.
We look forward to our assembly next week, in which we will reflect on the wonderful year that we have had, and on Tuesday we will see each other's smiling faces on Zoom for the last time this term.
Wishing you all a lovely weekend.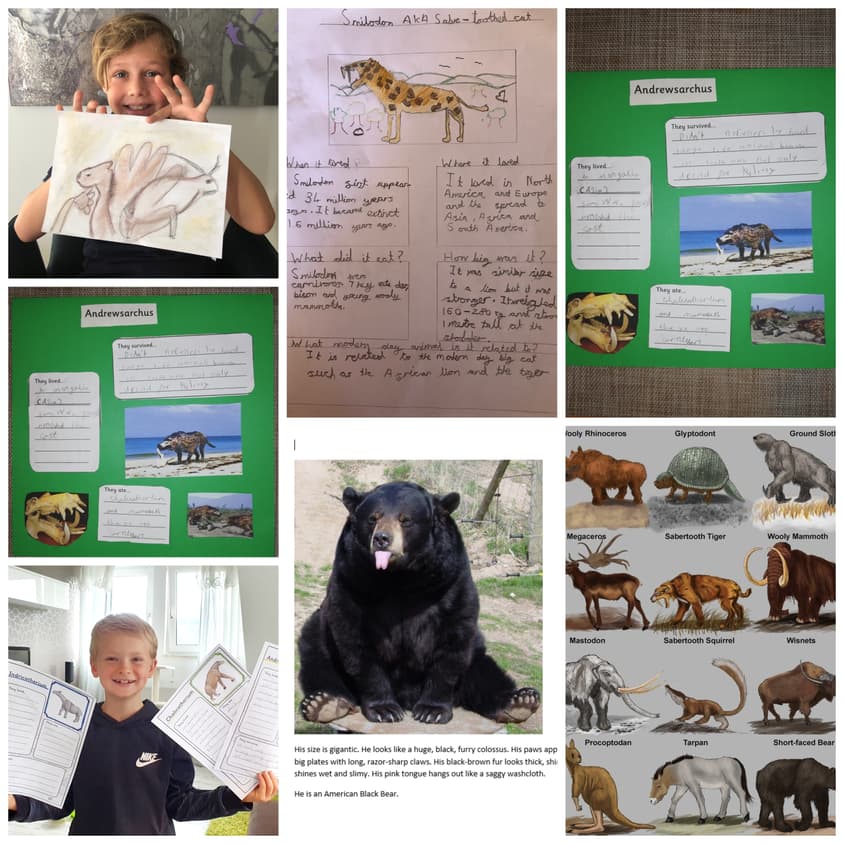 Year 4 Class with Mrs Walsh and Mrs Alonso McGregor
During water week, the children were set the challenge of making a boat or floating device that would hold a piece of fruit or vegetable, like an apple or potato. They had a list of materials which they could use and some that they could not. Last Friday, we were all excited to see whose boats would work. With the help of parents (thank you!) we watched as many of the boats were tested live on Zoom. It was incredible to see so many shapes, sizes and designs of floating devices, all made with incredible thought and ingenuity and with amazing success. The children learned a lot about the science of buoyancy and why heavy objects can float. Quite a complex concept to grasp, but the project enabled them to figure this out practically. Science in action! The children are working towards another challenge this Friday and we can´t wait to see what ´kitchen experiments´ they demonstrate. We´ve heard talk of bouncing eggs, exploding volcanoes and sweet treats mentioned. It looks like it´s going to be another fun filled lesson to end the science learning for this year!
In other subjects, work has continued in earnest. We have loved reading and finishing ´ The Witches´ and enjoyed drama, quizzes and designing mouse modification machines!
We spent time reviewing our Rainforest Google slides that we have been working on all term, and shared the successes of these. The children learned to share what they liked about each other´s work and how to offer constructive suggestions for improvements. It is always beneficial to share work as much can be learned from each other. Time was then given to make changes and improvements.
So we have come to the end of the last full week of Year 4. Not the year any of us anticipated but an immensely enjoyable one nonetheless. We have loved teaching you all.
Next week we will enjoy the last few lessons together, look back at how far we have come and share in our successes. Well done Year 4. We are so proud of you.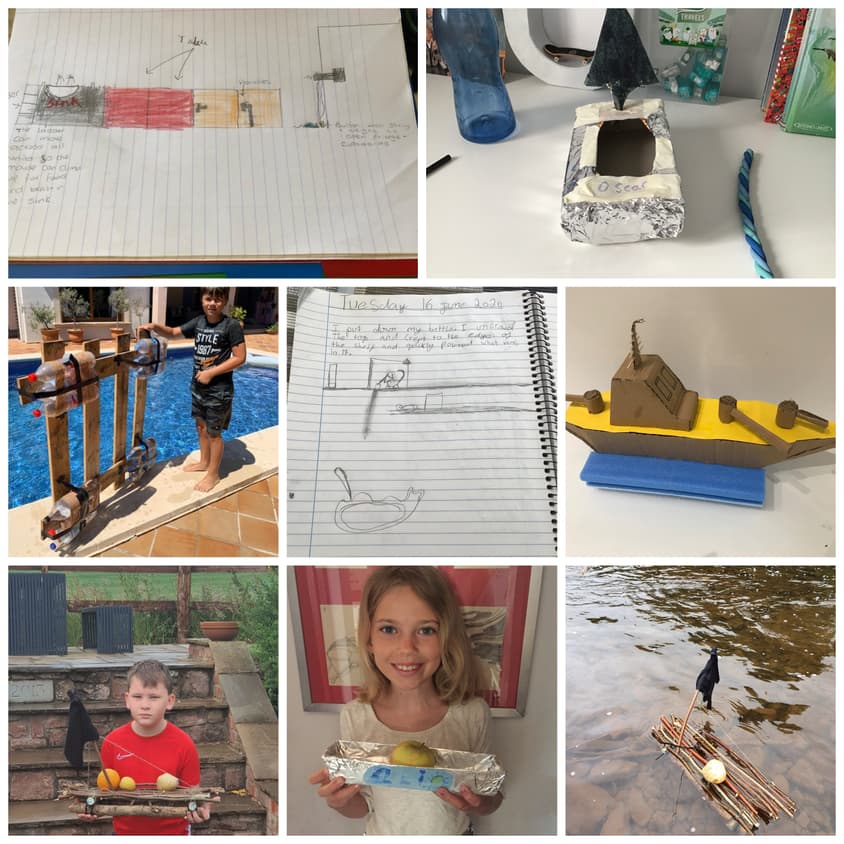 Year 5 Class with Mrs Demangeat and Ms Solomun
Year 5 have had an amazing last e-learning week working hard on their projects or puzzle solving in English and their long multiplication in maths. Students really put their imaginations to work when asked to design a video game, comic or their dream house.
They were slipping and sliding all over the place as they worked out what friction is in science and how this force makes it easier, or more difficult, to move around; especially when it comes to sliding across a tiled floor in socks or shoes!
Fibonacci maths students designed their own maths t-shirts to show everyone just how much they love maths. According to their expertise, excelling is not just down to numbers, it also has to do with a growth mindset and working hard. Way to go mathletes!
It has been an incredible journey getting to know, and watch the progress of our Year 5 students since September and we have been impressed over and over again by their resilience, positivity and cheerfulness despite the time we were confined to our homes.
A well deserved holiday, albeit probably slightly different to usual, is ahead and we would like to say heartfelt thanks to everyone for such a fantastic year.
We look forward to seeing you all at the end of year assembly on Monday.
Have a safe summer and we look forward to being reunited in September.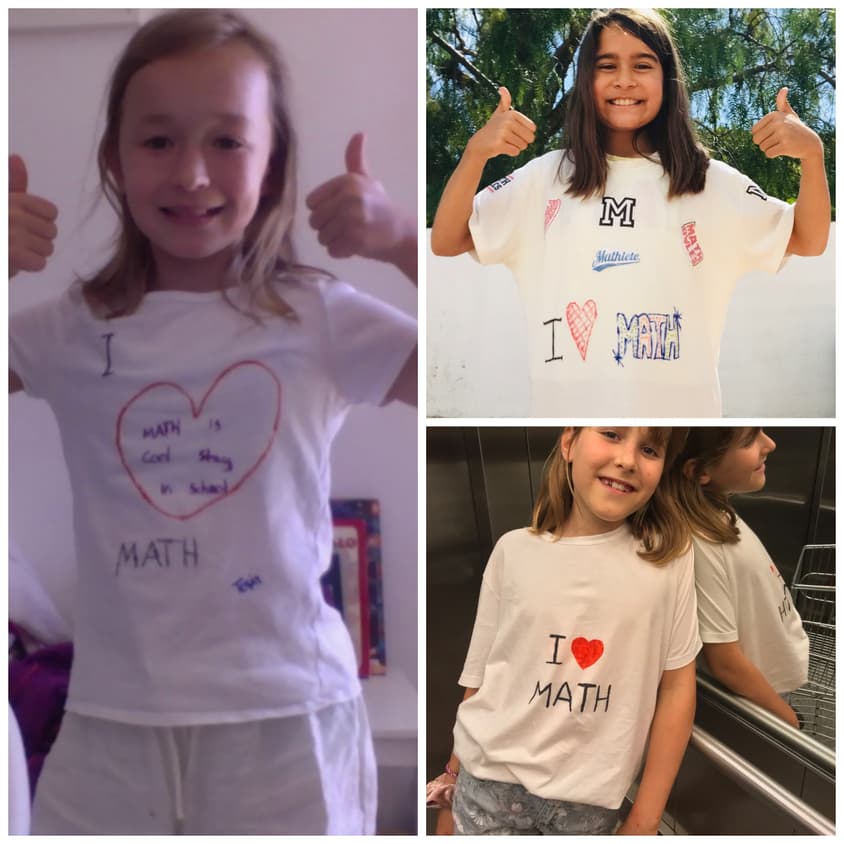 Game maker by Rio and Daniel
Video game by Fernando, Raul and Daniel
Year 6 Class with Ms Roberts and Ms Hodgson
We cannot believe that was our final full week together in Year 6, it seems to have flown by.
We have been finishing Harry Potter and the Philosopher's Stone which has had us all sat on the edge of our seats. It has been an absolute pleasure to see you all so engrossed and excited about this book. We hope that this love of reading will continue in your summer holidays as "The more that you read, the more things you will know. …"
We have prepared a spelling list for you so that you may continue your learning throughout the holidays, if you wish to do so. Just five or 10 minutes a day will keep your brains active and help to prepare you for September.
We would like to say a huge thank you to Mr Fitzpatrick for our final transition session, in which he explained virtual tutoring and put many of your minds at rest with his explanation of what it will be like. We loved your fantastic ideas for House competitions and are confident that we will be using some of your suggestions in the future. Watching your confidence made us very aware and proud of how far you have come this year and that you are all ready to move on to Secondary.
Again, we would like to thank you all for your commitment to e-learning and for a fantastic year as your teachers. Have an amazing summer and a very well deserved rest.
Best wishes to you all,
Miss Roberts and Miss Hodgson
This week, in Year 3, we learned the names of the fruits with the help of songs and an episode of Peppa Pig in French : "Délices de fruits". In Year 5, we addressed the themes of music and sport. Students talked about their sports and music activities and expressed their tastes.
What a fantastic, fit and fun PE Summer Term it's been! Over the last few weeks we have been focusing on improving our fitness and having so much fun! It has been full of challenges, live PE sessions and memorable moments during the first ever BIC Virtual Sports Day.
During this summer let's get outside, move your body and enjoy the beautiful weather.
Wishing you all an active and full of adventure summer time!
If you would like to take part in beach volleyball activities over the summer, please contact Ms Izabela- Volleyball Coach
A variety of Summer Camps and Activities around the Island
Dear BIC Community,
We are delighted to share with you a variety of Summer Campuses and activities that are being held during the months of June, July and August
End of Year Solidarity Challenge Against Coronavirus - Race Against Hunger
Today the Race Against Hunger From Home took place. Everyone "enjoyed" a great workout which was also fun to do with Ms Izabella and Frau Houdek (thank you both). Students went to their next class feeling energised and happy to have worked hard for those in need. They are now busy collecting sponsor money to send to the Acción Contra el Hambre. If you were unable to take part you can still send a donation!
PLEASE put your child's name and BIC so that the organisation know where the money has come from. THANK YOU on behalf of those who will benefit from your generosity.
How to donate? Click here to access the full information in regards of the End of Year Solidarity Challenge - Acción contra el Hambre