A message from Alison Colwell, Principal
Dear Parents,
You often hear me speak or write about the mission of our school, about our high standards and expectations, the importance of high quality teaching and learning and the necessity to stretch and challenge our students. Of course, we are a school and our main purpose is to provide a first class education to your children. But a very important part of that education is our children and young people's moral development, their characters, instilling in them values and principles, and helping to develop them into confident, kind and responsible young people.
BIC is an inclusive school, where we put great importance on the quality of our pastoral care. We welcome children of all abilities and we aim to provide a nurturing, nourishing environment in which they can thrive. We believe that only happy children will learn to the best of their ability and reach their potential. There are many ways in which we endeavour to do this. We place great importance on values and on discussing and reflecting on what is important and why. We have specific teaching - PSHE in primary school and Global Citizenship in secondary - whose purpose is to help children learn about the world, about relationships, about different cultures and societies, about health and well-being. We promote kindness, charity and looking after others, and we dedicate time and plan activities to do this. We have staff with a specific role around the children's pastoral care, Ms Von Waberer, Ms Cull and Mme Etienne. However, we all know from our own school days the teacher (or teachers) who we had a special relationship with, and who we could talk to when things went wrong, and that is the culture we promote here: that every member of staff is a pastoral one. I also make it very clear in my expectations to current staff and in all recruitment that loving and caring for children is a prerequisite to work here.
In these challenging times, this duty of care has never been more central to our work.
Kind regards,
Alison Colwell
Principal, BIC Sa Porrassa
Mr John Barter - Head of Sixth Form
This week, we had the Year 12 and Year 13 Parents Evening, using the new Schoolcloud system. As it was the first time we were using it I started the evening with some trepidation as it is always possible that new computer packages can go wrong. However, the preparation the IT Team had put into testing the system meant that the system worked perfectly. From the teacher angle, the system helped us see everyone at the right time and ensure that no-one was kept waiting, which can be a problem on face-to-face parents evenings. I very much enjoyed meeting lots of parents and seeing smiling faces as they got such positive news about their sons and daughters. However, I wonder how parents found it. Can you see any ways in which we might improve the experience? I would appreciate any comments you might have as users.
Some parents found there were problems before the parents evening when logging on to the parent portal but the IT team were fantastic in solving these problems too, including offering parents some face-to-face support in knowing how to access the system. This year's reports will also go out on the portal, so if you think you are unsure how to use the portal or that you have login/password problems, please do let me know and we will solve these problems for you to ensure that you get the best possible information on your child's continuing education.
As you know, if you have read my previous newsletter pieces, we are now into university application season. I was really pleased to work with Maria and to send off her application to study medicine in the UK. She has all the necessary credentials so I wish her lots of luck! I have also worked with a number of other Year 13s, talking through possible courses, best places to study this course and how to improve personal statements. I am confident that I will be able to tell you about, at least, two more applications in next week's newsletter.
This week has shown me the value of students, parents, teachers and support staff at BIC working together, when we all work in sync, we can achieve great things. Thank you for all you do to support us in the education of your children and know that all the staff at BIC value it. Have a super weekend.
Mr John Barter
Head of Sixth Form
john.barter@balearesint.net
Students are now busily preparing their university choices and applications. Whilst it is essential for Year 13 (Equivalent to 2ºBachillerato) to be doing university research and preparations, it is something that younger students can be doing at any time too, especially Year 11 and Year 12 students (Equivalent to 4ºESO and 1ºBachillerato).
We are delighted to share a wide range of sources for all students looking to go to university, all around the world. We have partnered up with The Student World and SRT Fairs, who organise many university fairs which will enable students to broaden their choices and selections.
Please click below to access all upcoming online fairs, now available for students and parents.
BIC Sixth Form Scholarship 2021
Baleares International College and Orbital Education are delighted to introduce their A Level Scholarship Programme for the 2021 academic year. This exciting opportunity aims to support exceptionally able and motivated students who are academically gifted, dedicated to their studies and will seek to take full advantage of opportunities to extend their learning beyond the core syllabus.
Scholarship funding
We are pleased to announce that 50% of the tuition costs for the 2-year programme will be funded by Orbital Education, the group of which Baleares International College is a member.
Who can apply?
These scholarships are available to both current and new students who wish to start their GCE A Level studies in September 2021. Students applying who are not current students of Baleares International College require additional stages in the application process; please contact us for more details.
Award criteria
Scholarships will be awarded on the grounds of both achievement and potential, and scholarship applicants must be able to demonstrate a high level of academic ability. For example, potential results should be: GCSE/IGCSE grades of B (or 6) and above, or equivalent for English, Mathematics and at least 4 additional subjects; GCSE/IGCSE grades of A/A* (7, 8 or 9) or equivalent for the subjects chosen for A Level study.
How to apply
Please download ourScholarship Application Formand Scholarship Information Pack.
For more information and details of how to apply, please contact Holley McMonagle, Admissions Officer at:registrar@balearesint.netor 971 133 167.
Applications for BIC students and students currently studying in other schools must be received by Friday 16th April, 2021.

Geography department news - An insight into our Geography subject
When I tell people that I am a geography teacher they often want to tell me what they remember from geography when they were at school. One of the most common things that people remember is oxbow lakes. I'm not really sure why but they seem to have made a lasting impact! Yes, in geography, we may still look at oxbow lakes but today the subject is so much more, and so much more relevant.
It is in geography that students can look at important contemporary issues like the climate crisis, migration, extreme weather, plastic pollution, resource conflict and global superpowers. These are vital issues for our time and geography helps our students to understand their causes and impacts.
But it's not all doom and gloom! Geography also shows us the rich diversity that can be found on our planet: the astonishing natural beauty and the achievements of mankind. It also, crucially, offers the solutions to some of the challenges facing us in today's world.
Michael Palin of Monty Python fame and presenter of many a travelogue, once said "geography is the subject which holds the key to our future". The geography department aims to equip all our students with that key and send them out into the world with the knowledge and understanding to make it a better place.
Miss Pooler
Geography teacher
Year 7
The students in Year 7 took a journey back in time to the start of the universe, 13.8 billion years ago! Taking in events such as the Big Bang, the formation of the oceans from extra-terrestrial sources, a mass oxidation event and several mass extinctions, they have been able to paint a vivid picture in their extended writing challenges. Using information not only from their class teacher, but from research on their own time, the students have produced some fantastic articles.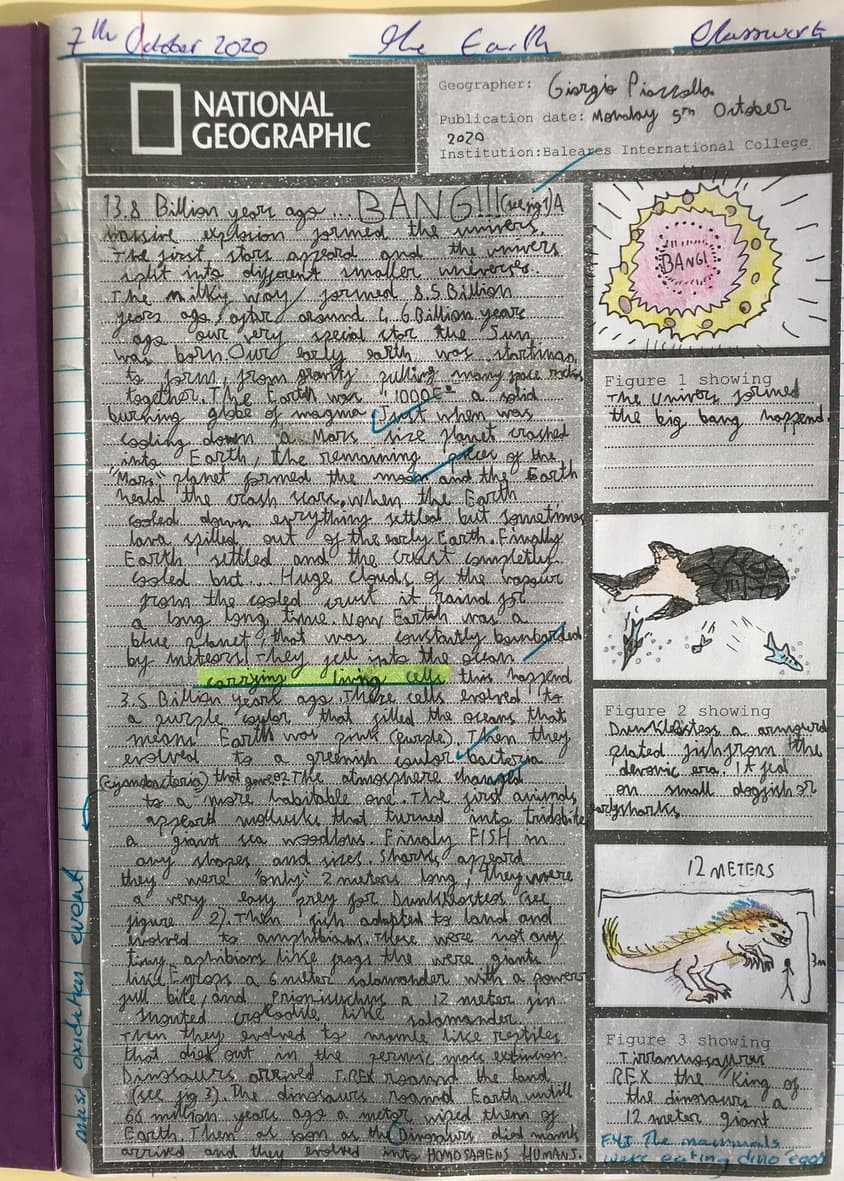 Given the amazing history of our planet, it is hard sometimes to choose which events to teach. In geography at BIC, units of work have been planned to allow students to delve deeper, following their passions and areas of interest. Students in Year 7 especially wanted to learn about the impact that dinosaurs had had on our planet, given the length of time they inhabited the Earth compared to modern man. You can imagine how much our students enjoyed learning about research from Liverpool John Moores University indicating that sauropod flatulence may have warmed the Earth! We will always listen and take the opportunity to allow students to follow their own learning journey.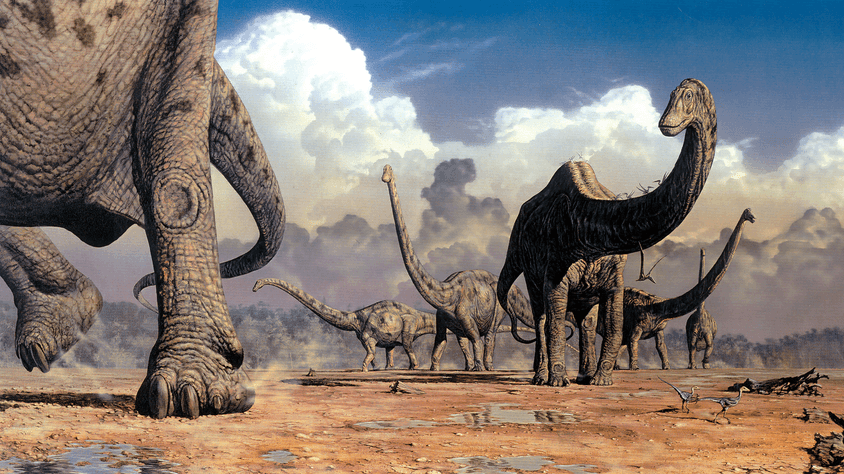 At the start of the year, the students were asked to think about what geography meant to them. Working together as a class, they were very quick to identify examples of physical, human and environmental geography. Recently, we have delved deeper into physical geography as the students learned about continental drift, tectonic plates as well as the mighty supercontinent: Pangea. The students have been asked to identify the evidence for continental drift, paying particular attention to rock types and fossil records that match on the coasts of the South American and African continents as shown in the following image. We have attached some images of some excellent work from our hard working Year 7s!
Recommended further reading for Year 7: 'A Long Walk to Water: Based on a True Story' by Linda Sue Park
Year 8
We have been experiencing some fantastic thunderstorms on the island recently and, coincidentally, Year 8 geographers have been looking at thunder and lightning as part of their wild weather topic.
They have looked at the formation of thunderstorms as well as the impacts and, ultimately, have had to consider whether thunderstorms are a friend or a foe!
Recommended further reading for Year 8: 'Drowned City' by Don Brown
Year 9
Year 9 has been studying an important contemporary issue - that of refugees. So far, we have looked at where the world's refugees are from and where they are going, improving our map and atlas skills. We have also looked at the European refugee crisis and its impacts. We will then expand our horizons to look at the Rohingya refugees of Myanmar as well as examining the new and future issue of climate refugees.
Recommended further reading for Year 9: 'Refugee' by Alan Gratz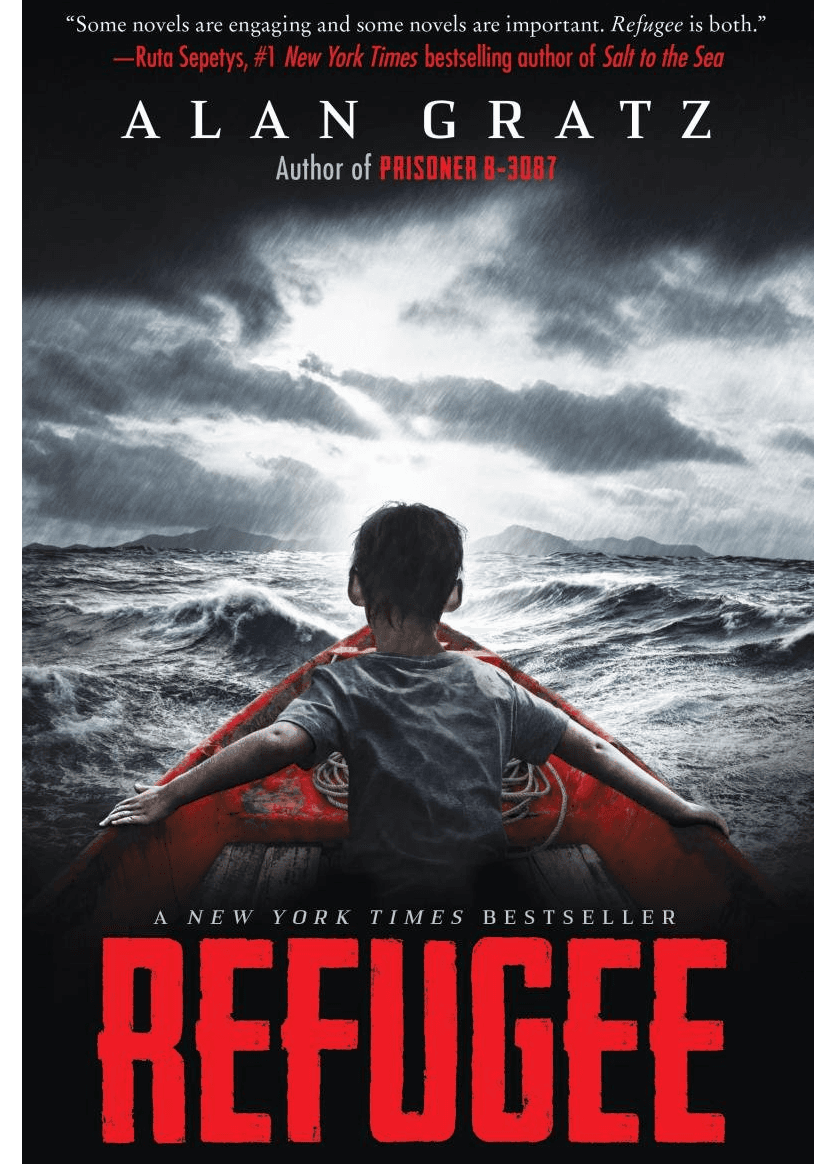 Year 10
Year 10 have been working on their physical geography. They have just finished a topic on coasts and are now moving on to look at hazardous environments. This new topic is one of the most popular at iGCSE and they will explore the awesome natural power of our planet
Year 11
In the Humanities department we are very keen on strategies of retrieval practice. We typically focus on getting information into students' heads whereas retrieval practice is a strategy in which bringing information to mind enhances and boosts learning. Deliberately recalling information forces us to pull our knowledge "out" and examine what we know.
Year 11 have been utilising a variety of retrieval practice strategies in an effort to build up their long-term memory of the topics they studied at the beginning of the course. This is something that they can practise at home and I would highly recommend they do so - long-term recall is so much more efficient for exams than last minute cramming. Some examples of the strategies we have been trying are below: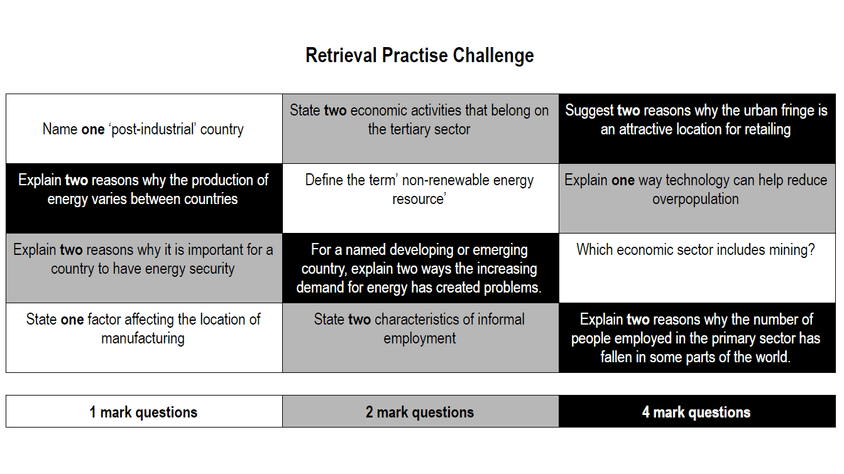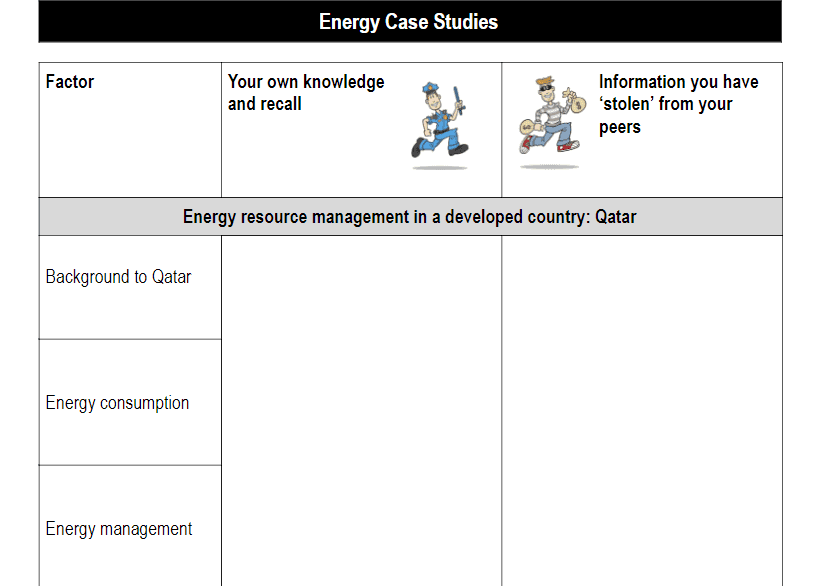 Year 13
Year 13 are currently studying the complicated topic of atmosphere and weather systems. We have been spending time to ensure that they all understand fully the system of global atmospheric circulation. We have used several strategies to help embed this knowledge as it forms the basis of our future studies of the weather and climate.
Geography at home
Our students are always encouraged to explore geography outside of the classroom, especially by reading articles and books, and viewing geographical films and documentaries. Below are a few recommendations by which whole families can expand their geographical experience:
A Life On Our Planet - a new documentary with David Attenborough which can be viewed on Netflix. A timely and poignant exploration of the challenges we face today.

Also on Netflix:
Chasing Coral
A Plastic Ocean
Mountain
Into The Inferno
Whole School House System news
Inter-House Debating Competition
The Heads of House are delighted to announce that the inter-House debating competition will be taking place next week, and your son/daughter has been selected to take part. Every student from Year 7 to 11 has been writing and giving speeches in their English lessons in order to prepare, and those with the best speeches have been selected to represent their House in this competition.

The competition will take place across two days:
Monday 19th October (Year 7 and Year 8)
Wednesday 21st October (Year 9, Year 10 and Year 11).
The event will run from 4.15pm until around 5.30pm and there will be refreshments available.

The Heads of House Team
Voting for captains:
What an exciting week it has been. The House leaders would like to congratulate all of the students that presented a speech to their House team, explaining why they should be voted for as the captain. It was definitely a difficult decision due to the fantastic speeches. Each team voted for their captain and vice captain placing their vote into the voting box which was later counted and checked. The captains will be announced in the year group assemblies and captain badges will be awarded.
Canvas:
The House page on Canvas is now up and running. Please accept your invitation if you have not already and visit your House page. This is where new House competitions will be announced and entries will be accepted. Watch this space!
Harvest collection:
Over the past few years we have requested donations from parents to give to the "soup kitchen" for the homeless of Palma, Zaqueo, as a Harvest Festival. The number of homeless has sadly grown during the pandemic.
Therefore we are asking if your child can please bring an item into their form room where it can be placed into a box. Each box will represent a house team. Let's see which team can collect the most items to donate. The closing date for donations will be Thursday 5th November. We thank you in advance for your support. Some suggested items are: pasta, cooked lentils/chickpeas, toothpaste, milk, small shampoo, bath gel etc..
Competition: This week students have been working hard in their sport lessons to practise for the burpees challenge. This is linked to this term´s fitness activities. The challenge is to do as many burpees as you can in one minute and the teacher will record the score. Good luck to everyone.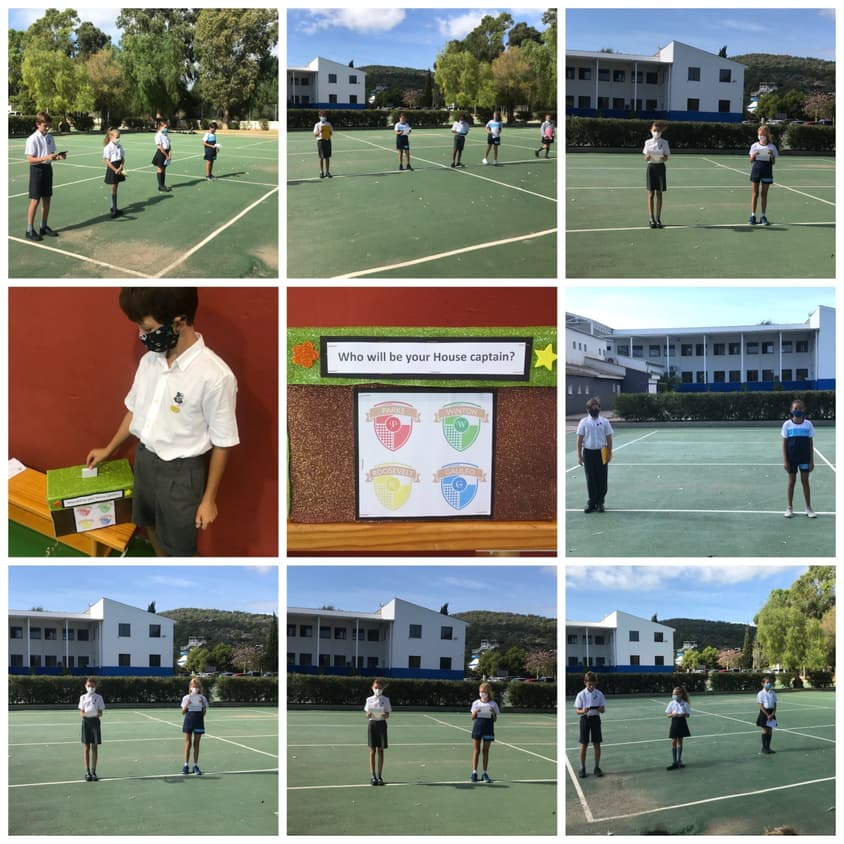 House Points Totals Update
Our students have had an excellent start to the year and have been receiving House points from staff for the following reasons:
Showing kindness
Excellent class participation
Excellent class work
Excellent homework
Representing the school
100% attendance and punctuality for the week
Inter-House Competition
Showing independence
Showing confidence
Showing integrity
The current totals show that it is very close between the Houses. Keep up the good work everyone!
| Winton | Galileo | Roosevelt | Parks |
| --- | --- | --- | --- |
| 1881 | 2044 | 2002 | 1867 |
Dear Parents,
In the upcoming weeks I would like to talk about the four committees and what our goal is as a PTA.
As part of our PTA we have a representative for each Year. The main role of a PTA representative is to build strong working relationships among parents and teachers within their Year group, in support of our students. We are currently looking for representatives for the following Year groups: Reception, YR1, YR 5, YR 7 and YR9. If anyone would be interested in becoming one of our Year Group Representatives or would like to get involved in any one of our four committees (Events, Environmental, Welcome and Expertise) please send an email to me (Paula Cannady), my email address is: paulasuecannady@gmail.com
We will be in touch soon to organise our next get together.
Kind regards,
Paula Cannady
PTA Chairwoman
Open Days at Baleares International College
Our next Open Days will be held in October across both BIC schools, Sant Agustí and Sa Porrassa.
Dates:
Sant Agustí Campus: Thursday 22nd October 2020
Sa Porrassa Campus: Tuesday 20th October 2020
This is an ideal opportunity for you and your child to gain an insight into student life here at BIC.
These are whole school Open Days, suitable for all families with children between the age of 2 - 18 looking to find the right school. Due to Covid restrictions, it is important that you let us know if you would like to attend any of our Open Days as we will be organising the tours at different time slots, tailored to the specific Year group(s) you are interested in.
Following these opportunities to tour our facilities, BIC Sa Porrassa and BIC Sant Agustí will be holding a Virtual Open Dayto offer families the opportunity to get a better idea of our schools. A Virtual Open Day is a great opportunity for you to learn about our School and enter in a live Q and A session with our Principal and Leadership Team.
To register for our Virtual Open Day please click on the following link
- BIC Sa Porrassa Virtual Open Day a whole through from school ages 3 to 15 accommodated in a large, custom-built school situated in the beautiful, rural environment of Calvià.
- BIC Sant Agustí Virtual Open Day - an Early Years and Primary specialised School located in the wonderful neighbourhood of Sant Agustí, Palma
In order to organise a tour at either or both of our Open Days, please contact us directly:
San Agustí - office.san@balearesint.net | (+34) 971 403 161
Sa Porrassa - office@balearesint.net | (+34) 971 133 167
We look forward welcoming you to Baleares International College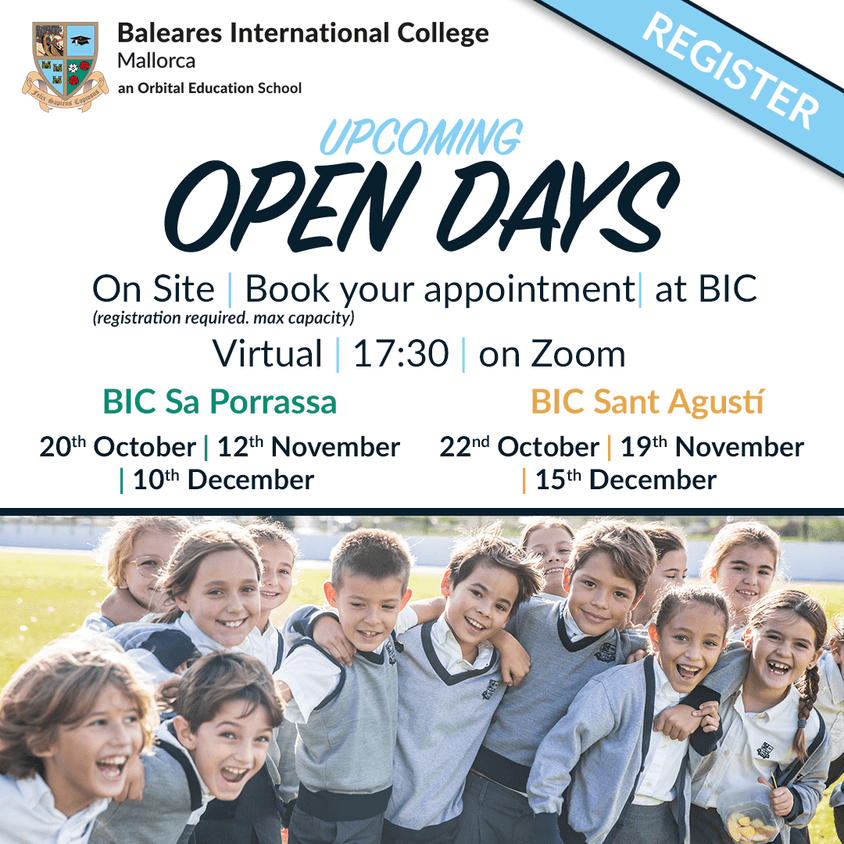 Wear it Pink! - Breast Cancer Awareness Day!
This Thursday, 22nd of October, we will be holding our own "Pink Thursday" event, in support of "Breast Cancer Awareness Day". We will be selling official merchandising and all the money raised will go to the AECC (Asociación Española Contra el Cáncer).
So please on Thursday...
Mums and dads wear something pink on that day so we can show the children that we are all supporting this cause
Students are able to wear something pink
Come along to the stalls at the start and end of the day to buy a bag or other item
Raising Awareness:
Our aim is not just to raise money but raise awareness. This illness affects both women and men. 90% of people affected win the battle due to early detection. During November (date to be confirmed) we will hold a talk/conference for parents and staff with the president of AECC. Please take a look at these websites to get more information:
We look forward to celebrating with you all the battles that have been won. We would like to thank you in advance for your unconditional support and please bring along your PINK ENERGY on Thursday and spread the pink spirit!