A message from Alison Colwell, Principal
Dear families,
It is a great pleasure to write to you in the first newsletter of the year, with our children and young people with us in the building. It has been a very successful week despite many challenges, and your children have risen to the occasion, displaying maturity, kindness and respect for the rules and each other. It's wonderful to be back!
In the spirit of wanting to maintain excellent communication with yourselves, a short video will accompany this newsletter. Despite the challenges and restrictions placed upon us, I am determined to start the year as I mean to go on - not with an obsession over COVID measures but with a focus on teaching and learning, our children's welfare and getting all our young people back into the routines and excitement of school. I have clear school priorities for the year ahead which include having sky high standards and expectations of staff and students; ensuring excellent teaching and learning across the school; further developing the sixth form and promoting aspirational careers and universities for our young people; developing our students' character, with a focus on manners, stoicism, resilience, kindness and integrity; encouraging an appreciation of their good fortune and a willingness to want to give back to others; challenging unacceptable views and attitudes towards other people, and developing tolerance and understanding.
I look forward to working with you over the year ahead.
Alison Colwell
Principal
Primary News - Ms Elizabeth Compton - Head of Primary
Dear parents,
Welcome back to all our new and returning primary students. Words cannot express how wonderful it is to have our school brimming with enthusiastic, excited and engaged students and teachers. Thank you to parents for your positivity, patience and even ´paraguas´. Come rain or shine we continue to strive to achieve our goals and continual improvement here at BIC. New staff and students join us on our journey and are settling in well. We look forward to the additional expertise that Mr Fairless, Mr Darlow and Mr Somers bring to our community.
Community, cooperation and calm were the focus words for my start of year outdoor bubble assemblies this week.
Community
The development of the school community has been central to our classes this week as forms set up clear structures and routines. These rituals ensure that students have clear guidelines and understand our sky high expectations in all areas of school life. Staff will be ensuring that all students have a clear and consistent message of what we expect here as a BIC student.
Cooperation
The launch of the new house system is central to shaping our school culture. Children are very excited to be receiving their very first house points of the school year. Working collaboratively in classes, houses or whole school is a key to our mission to support your children be the best they can be.
Calm
Whilst visiting classrooms this week I have been incredibly impressed with the calm and safe environment created by staff and students. I am very proud of all our young learners who have demonstrated such maturity and adaptability to our new protocols. Well done!
To maintain calm we shared a mindfulness strategy, with students. Take 5 Breathing is a wonderful way to switch off the stress response, it brings the body back into balance, by slowing down heart rate and deepening the breath. Information is attached if you would like to support your child with this technique at home.
Mindfulness - Take 5 breathing

Wishing you all a calm and restful weekend,

Ms Compton
Early Years Foundation Stage News - Miss Wardle and Miss Beckett
One of our main aims in Early years is for children to feel safe and secure in the school environment and to help develop their personal and social skills, encouraging positive relationships, independence and responsibility. This year, more than ever, this will be our main focus.
Learning in Preschool and Reception Class is based on the 7 areas of learning of the Early Years Foundation Stage Curriculum:
Personal Social and Emotional Development
Communication and language
Physical Development
Literacy
Maths
Understanding of the World
Expressive Arts and Design
A range of interesting and stimulating specific topic areas are taught throughout each term, incorporating the areas of learning. Early Years learning will involve a strong emphasis on practical and play activities, using the classroom, outdoor area and Foundation stage playground.
As parents, your support and cooperation play a vital part in your child's education. I am happy to make appointments to see parents on an individual basis to discuss your child's development. We spend a great deal of time encouraging your child to be independent in all they do. Your child will find this easier in school if you have spent time preparing them before they begin. Try to encourage them to:
Recognise their name by sight
Dress and undress
Use a knife and fork correctly and independently
Use the toilet independently
Wash their hands independently
Put on a coat or sports jacket
Complete some simple tasks independently
A member of the Early Years team will always be available at the beginning of each day should you need to inform us of anything with regard to your child. Please do not hesitate to make an appointment for longer more private or formal discussions.
We look forward to getting to know you and your children and to a successful year of learning together.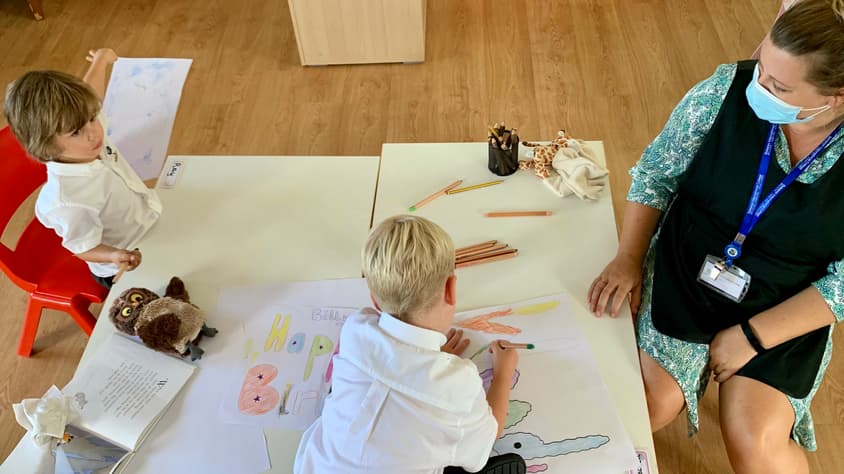 We continue to strive excellence - Canvas: BIC's online learning platform - Ms Hodgson, Deputy Head of Primary
Canvas; our whole school online learning platform.
After successfully using Canvas during lock down to provide a high quality online learning experience, we have decided to continue using this excellent resource in a more supporting role. We would like to inform you that from now on Canvas will be used throughout the school year as a platform to support home learning tasks, research assignments and to provide useful information.
The new Canvas courses will have less content than the previous 'lockdown' courses because the teachers are now focused on delivering high standard lessons in the classroom. Therefore all lessons will not be uploaded onto Canvas as before, however there will be many useful resources to enhance your child's learning.
Over the next few days, students will be given their own log in details for Canvas which allows them to access their course. They have been given a temporary password which must be changed when they first log in, please keep their new password safe. Please note that pupils in years 4-13 will be able to use their passwords from last year.
If you would like to view or support your child's online learning please go to :
learning.orbital.education If you experience any technical issues please contact it.support@balearesint.net
Secondary News - Mrs Alexandra Tomlinson- Head of Secondary
Exceptional Learning for Exceptional Students
I have spoken to students, staff and parents over the last two weeks about my core belief in the ability of every student to achieve high grades.
Everyone is familiar with the story of Einstein´s education. He was slow to learn to talk. He struggled with the style of teaching at school, was eventually expelled and he failed an entrance exam to a Polytechnic school. What Einstein´s story teaches teachers and parents is so obvious yet often forgotten. That each student has limitless brilliance within them. That with the right questions, a variety of targeted and successful teaching and learning strategies and self belief comes exceptional academic achievement. Of course, hard work and commitment go hand in hand with this. Einstein´s genius manifested predominantly at school in his problem solving. He was creative and persistent. He taught himself advanced Geometry by the age of 12. His teachers failed to notice because they did not look beyond and see the individual in front of them. They applied assessment criteria which was restrictive and unenlightened. Thanks to rote style learning, an inflexible exam system and teachers who thought him arrogant and boastful, Einstein´s genius was ignored at school.
Noam Chomsky, the educationalist and philosopher, wrote that "Education must provide the opportunities for self fulfillment. It should at best provide a rich and challenging environment for the individual to explore, in his or her own way." When this environment is created, academic success follows implicitly in its wake. My goal is to work tirelessly with the staff of B.I.C in order to ensure that those educational conditions within which students most thrive are created and maintained, relentlessly and passionately.
The vehicles through which we achieve this are many within a school context. Primary/Secondary transition, Assessment, EAL and Literacy Co-ordination, Extra Curricular, an excellent and cherished House System, a strong set of Sport and Arts programmes, a broad and deep Extra Curricular offer, Educational Research development, wider community events and engagement, are a very few of the ´hows´. Parental support is crucial and I was clear in my webinar when I stated to parents that the best thing that they can do to support their children´s independent learning is to encourage a sense of Stoicism and tenacity, a love of reading and avoidance of Social Media and Gaming at all costs! In further communication I will share and pinpoint strategies for learning, teaching and supporting at home, as well as examples of successful teaching tools being used excitedly in the classroom.
The development of the whole student is something which is core to my educational philosophy. Something so often not at the forefront of schools´ priorities as it so often gets overlooked in the frantic preparation of students for exams and high grades. Once again, high academic achievement and the holistic development of a student´s character is one and the same. It is this which furnishes them with the skills set which allows them to deal with pressure, allows them to feel at peace, joyful and self aware. To be the rounded, driven empathetic and strong young people our world and humanity so desperately need.
BIC's new House System - Mr Alex Fitzpatrick- Deputy Head of Secondary
We would like to welcome all secondary students back to the school. Each student has been welcomed into the new academic House as part of the newly launched House System. As part of this launch, each student has been given a badge with their house name on which is a key part of the school uniform. They should wear it with pride and always strive to follow the values of their house. The four houses are names after prominent people from history who demonstrate the values that we would like to see in our young people. The houses are named after Rosa Parks, Eleanor Roosevelt, Sir Nicholas Winton and Galileo. Throughout this week, students will be learning about the history of the people who the houses are named after in order to try to inspire them to emulate their successes.
Sixth Form News - Mr John Barter - Head of Sixth Form
Congratulations Year 12 and 13. A great start to 2020-21!
Clearly, this is a really important final year or two years of your schooling. As I told you in the week, I have been hugely impressed by your AS and IGCSE results; they leave you with plenty of opportunities to get grades to take you to some fine universities at the end of your time at BIC. After a big 'well done!' from me we now start all over again, pushing ourselves on to bigger heights.
We have explained the range of new procedures for safe working and told you that we are happy for you to work on paper, but also happy for you to work with your fully-charged lap-top (no cables in lessons) so you can work on and deliver work to teachers on Google docs (or something similar). The rules on Sixth Form dress have been tightened up and you have responded positively to the challenge. In the main, the rules made little difference to Year 13 but I feel sure that Year 12 students have enjoyed buying new items of clothing for their new non-uniform experience. Get in touch with me if you have any questions about these changes.
I am proud to now be your new Head of Sixth Form. I will be doing all I can to make this a positively memorable year for you all; the best ever year of your school life. But I am a strong believer in teamwork and your contributions will also be important too. If we all work together we will have a fantastic year. Let's go for it!
Enjoy your weekend and come back ready for a first full (and committed) week of this new academic year.
Mr Barter
john.barter@balearesint.net