This year's GCSE results have been outstanding, with Year 11 students achieving a 100% pass rate in their exams, and an amazing 38% at the top grade of A*/A.
Whilst the students did well across the board, in all subjects, a special mention must go to the English team where 100% of the students achieved a level 5 or above, 81% achieving a B, A or A*. Many of these students do not have English as their mother tongue, making this success all the more impressive. In addition, Spanish saw a similar 100% success rate at C or above with 86% achieving an A or A*, none of whom have Spanish as their mother tongue!
Celebrating the students' fantastic achievements, Principal Alison Colwell said,

We could not be prouder of our wonderful students and their excellent teachers. Notwithstanding that they have been studying for the last 18 months in the midst of a pandemic, their superb results are proof that only three things are required to attain success – outstanding, dedicated teachers, supportive parents, and hardworking, resilient, determined young people. Our students have excelled, and we are looking forward to welcoming many of them back next term into our successful sixth form."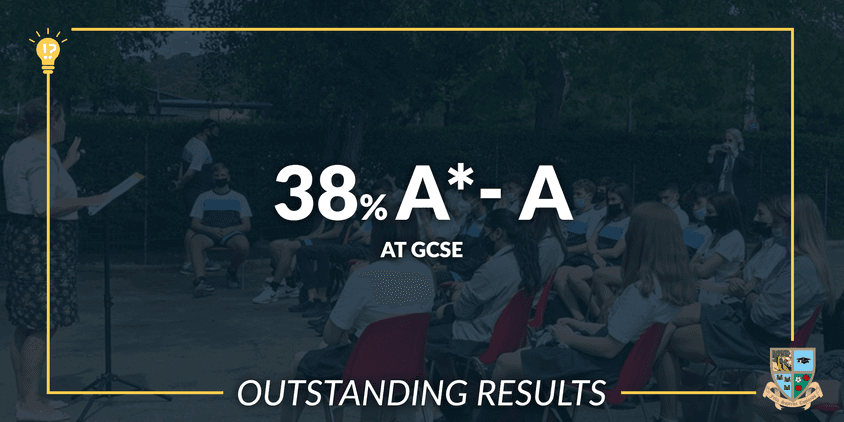 Amongst the best performing students were Alejandra Del Rio Fuente who achieved four grade 7s, two grade 8s, one grade 9 and 2 As; Elle McCue who achieved five grade 8s, one grade 9 and two A stars; Lavinia Ruth who achieved three grade 8s, five grade 9s and one A star; Selina Schaal who achieved three grade 7s, two grade 8s, three grade 9s and two A stars; Logan Smith who achieved one grade 7, one grade 8 and Six grade 9s; Alessandra de Bustis Figarola who achieved 4 grade 7s and 2 A stars; Clementine Elain who achieved 3 grade 7s, one grade 8 and one A star; Lea Salversbergh who achieved 3 grade 7s, 2 grade 8s and 2 A stars; and Palak Mirchandani who achieved two grade 7s, two grade 8s, two grade 9s and one A star. However, we congratulate all of our students on their excellent set of results.
Ms Tomlinson, Head of Secondary, said,
This represents such hard work from both students and staff and is such an enormous achievement and testament to the strength, spirit and determination of BIC students."
With academic excellence being one of the reasons parents choose our school, the successes of this summer have yet again demonstrated how BIC Sa Porrassa is leading the way on the island for academic excellence. We look forward to continuing to inspire, stretch, challenge and support all our students throughout their time with us.