Ms Alison Colwell, Principal
---
Dear families,
Last Tuesday the staff were treated to a sumptuous feast, lovingly prepared by members of the PTA. To say we were overwhelmed is an understatement! To celebrate World Teacher Day, to show appreciation for the fantastic work that goes on in our school, many families baked, cooked and prepared an amazing spread that our staff enjoyed all day, and indeed took plenty of delicious leftovers home as well. As a keen cook and foodie, I was truly amazed by the wealth of talented chefs we have in our parent body - it was an incredible array of different dishes of exceptional quality. Parents also decorated tables in the staff room and the whole atmosphere at lunchtime was one of joy and gratitude. Our deepest thanks to everyone who contributed. I will let the teachers speak for themselves:
"I loved the veggie curry and the lentils. Thank you so much to all the thoughtful parents who contributed time, food and effort."
"The sausage rolls in particular were amazing! Fabulous, please pass on our appreciation."
"I was having a challenging morning but thanks to the generosity in terms of food, time spent, and appreciation, I am smiling now. Everything was delicious in an international spirit as we have been able to try different types of food. Thank you so much PTA".
"Gluten free - they've really thought about everyone!"
"I would like to thank the mystery baker of the incredible tiramisu! My goodness, it was divine. As a huge tiramisu fan myself, I literally could have eaten the whole dish - it was so good!"
"Thank you, parents, from the bottom of my heart, for providing us with such a wonderful array of culinary delights. I was overwhelmed."
"The food was truly scrumptious - baked with love, generosity, and warmth; received in the same spirit - with love and huge appreciation."
"The vegan curry was absolutely amazing! I really appreciate the parents catering for different diets."
"We can not believe the generosity of the PTA - amazing variety and it was really hard to choose what to have."
"I think we have been very spoiled - a lovely addition to the day."
" Entering the staff room and seeing the tables with colourful tablecloths and flowers, helped to start the day with a smile on your face!"
"Amazing generosity from parents, I've never experienced anything like it."
Indeed. And from my point of view, the meatballs, chicken curry and tortilla were outstanding!
Have a lovely weekend
Alison Colwell
Principal
Baleares International College, Sa Porrassa

Ms Laura Hodgson , Acting Head of Primary
---
Dear families,
Throughout the academic year, the whole school has the opportunity to take part in themed weeks to promote a subject area, or raise an awareness of an issue or a cause. For young children, themed weeks bring enthusiasm and intrigue into the classroom and this curiosity leads them to gain a deeper understanding about an issue.
As you are aware, Black History Week and World Space Week have both fallen on this particular week and the children have had an action packed week with a double dose of excitement.
Celebrating Black History Week encouraged the children to look carefully at past events and think about prejudice and equality. Through discussion and drama, the children learnt about some unsettling historical events but also about those inspirational people like Rosa Parks, who stood up for what she believed in - that all people should be treated equally. As you know, the name Parks was chosen for one of the Houses, for this reason. Ms Coutts held some inspirational mini assemblies, where she challenged the children to think carefully and reflect on racial issues past and present.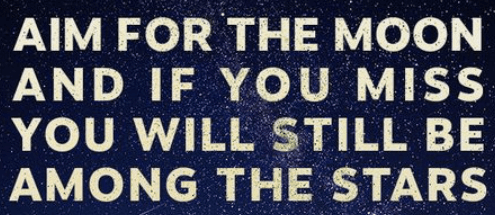 In addition, the primary department celebrated World Space Week under the guidance and expertise of Mr Wolfenden, the Head of science. We would like to express a special thank you to Mr Wolfenden and his team for planning some exciting space activities that made this week such a phenomenal success. Throughout the week, these fun activities provided a chance to appreciate the awe-inspiring phenomena of the universe. There seemed to be busy children everywhere, creating their own interpretation of space, with a variety of different mediums. There were lessons on the relative distances in the solar system, the amazing Katherine Johnson and helicopters that could land on Mars. Our youngest children joined in the fun, by creating their own space pictures and by building amazing rockets from recycled materials.
The highlight of my week was seeing all the children sitting on the edge of their seats, with bated breath, staring in amazement at the live launch of Soyuz MS-19 to the International Space Station. What an incredible experience to have! From the wonder in their eyes, I can see that we have some future astronauts in the making!
This weekend, take a moment with your child to look up and appreciate our spectacular universe.
Miss Hodgson
Acting Head of Primary
Knowing the past, opens the door to the future.
Carter G. Woodson
| Date | Event |
| --- | --- |
| Monday 4th October | Black History week / World Space Week |
| Monday 11th October | Mental Health Awareness Week |
| Tuesday 12th October | Public Holiday - School closed |
| Tuesday 19th October | Breast Cancer Awareness Day - Wear it Pink! |
| Tuesday 19th October | Virtual Open Day |
| Wednesday 20th and Thursday 21st October | Primary parent meetings |
| Friday 22nd October | Coffee morning with the Principal |
| Friday 22nd October | Halloween Celebrations |
| Monday 25th - Friday 29th October | Half term break - School closed |
| Wednesday 10th November | 9.15am | Early Years and KS1 workshop: Phonics and Reading |
Whole School House System news
---
House Points Totals Update - Term 1
| | | | |
| --- | --- | --- | --- |
| Winton | Galileo | Roosevelt | Parks |
| 258 | 286 | 276 | 328 |
BIC University Challenge
Last week saw the first of our inter-House competitions. Students throughout primary and secondary competed in their Houses to test their general knowledge. In primary, students took part in a general knowledge quiz. It was fantastic to see them so excited and working so well together as a team. Secondary students also had a general knowledge quiz and some students also took part in the University Challenge style quiz. Lots of students came at lunch time to support their House and it created such a wonderful atmosphere. It was amazing to see students of all ages cheering each other on and the competition really helped to promote our Vertical Tutoring system in secondary. Thank you to everyone who was involved and congratulations to Roosevelt House who were our overall winners.
A message from your Heads of House
I'd like to thank Parks for all of their hard work. We are currently in first place on the leaderboard due to your amazing efforts. It has been great to see the House representatives in our first House council meeting where lots of brilliant ideas were shared. Well done to everyone who participated in the University Challenge; we didn't win but your enthusiasm was wonderful to see. Keep up the fantastic work Parks.
Miss Xidakis, Head of Parks House
I would like to say a huge well done to the Roosevelt University challenge team. We certainly have an excellent amount of general knowledge in our House, and I was exceptionally proud to see you win the first inter-House competition of the year - what an incredible start. Your enthusiasm for challenges is inspiring and I know that will be maintained throughout the year. Thank you to our House representatives for your participation in the recent House council meeting. Keep up the good work!
Miss Mayes, Head of Roosevelt House
Well done to everyone in Galileo House for continuing to work so hard. It has been lovely to get round to see you all in both primary and secondary. I very much enjoyed meeting with the House and Vice captains last week. I know you all have some great ideas. Well done to everyone who competed in the University Challenge quiz. Even though we didn't win, you were fantastic and we had the best supporters. We are currently in second place for House Points- well done, but let's get up to where we belong, 1st!
Miss Turley, Head of Galileo House
I want to say a huge well done to Winton's University Challenge team for getting through to the final. You all wowed us with your general knowledge and impressive speed on the buzzers. We also had an excellent House council session last week where our fabulous captains and vice captains brought their ideas together in preparation for School Council this week. I am excited to see the impact you are all going to have on the school.
Mrs Florey, Head of Winton House
Early Years news with Mrs Wardle
---
We continue to focus on personal, social and emotional development in Early Years, playing and learning with different groups of children everyday to widen our social circle and get to know everyone in the class. During circle times we have used mirrors to talk about how we are all different and all special in our own way and how we can become good friends by playing together, sharing and listening. We all painted our hands to make a friendship wreath display to remind us to always work and play together nicely.
Year 1 news with Mr Fairless
---
Year 1 had a great time making rockets to celebrate Space Week this week! We also worked hard learning to compare and order numbers.
Year 2 News with Ms Bakes
---
We have had a very busy and enjoyable couple of weeks in Year 2. The children are enjoying the science topic all about animals, and they are recapping on which of the animal groups certain creatures belong to.
In maths, they have proved to now be experts at halving and doubling. They can now halve many sets of even numbers, even high numbers such as 26, 38, and 62!
In music, the children are learning to play simple tunes on the glockenspiels. We hope to have a video showing the song we have learnt in the next newsletter!
During our 'Good to be Me' afternoon, the children loved listening to a story about a little mouse who didn't think he had any special talents or anything that was good about himself. This story sparked a lovely discussion about each other's talents and what makes us special and 'good to be us'.
The children created speech bubbles to go with their self-portraits, showcasing what makes them proud of themselves.
And finally, we held a fantastic class debate about a book character, a wolf named Lou Pine, who tries to eat some little lambs. Half of the class were 'for' Lou Pine eating the lambs (as a means of survival, because he is a carnivore), and half the class were 'against' it.
What a super debate; a special well done to Galatea, Evan, Edward, Louis and Raphael, who could possibly be future BIC debate team members!
Year 3 News with Mrs West and Miss Xidakis
---
To celebrate Space Week Year 3 enjoyed learning about the planets. We learnt acronyms to remember the order of the planets and used fruit to help compare the sizes of the planets. We then used this information to make fantastic planet headbands. We also had a lot of fun watching the rocket launch and dock with the ISS.
Inspired by the chapter of the wormy spaghetti from The Twits, the children investigated how to play tricks using the food. Thinking creatively, the students described the items of food using adventurous adjectives, similes and metaphors.
Year 4 News with Mrs Alonso McGregor and Mrs Walsh
---
The Year 4 children have been flexing their general knowledge muscles in the Inter House University Challenge competition.
In science, we have been getting creative, making a collage of the digestive system. This really helped us to remember the body parts and their functions in this important process in our body. Don't they look great!
Humanities saw us produce some fantastic maps of Egypt, helping us locate the country and its neighbours in its region.
We also used a fun "Mystery Question" technique of teaching to figure out why the River Nile, despite being dangerously flooded each year, was a desirable place to live. The children were able to hypothesize an answer to the question by discussing a series of clues given to them. We were impressed with their critical thinking skills and the obvious fun they had learning in this way.
Space Week has seen us cheering on as we watched the live launch of the rocket Soyuz MS-19 in space to dock with the International Space Station. We have used this themed week to enjoy reading, performing and writing our own poems based on space too. The space theme naturally continued in science . We all got involved in measuring the relative distances of the planets in our solar system. Year 4 were amazed at how far away down the field the big gas giant planets were. We even managed to squeeze in a quick space related art activity. It's been a great week of discovery.
Year 5 News with Ms Hodgson, Ms Cortes and Ms Demangeat
---
There was great excitement as the Year 5 students came together in their Houses for the Galileo University Challenge. Super team collaboration saw some very good scores as the children showed off their general knowledge in all sorts of subjects; music, geography, films and famous people to name just a few. Winners in Year 5 were Roosevelt House, with the others close behind. A special mention must be made to the students in Winton House as they are fewer in number, but nonetheless kept up.
Year 5 have been thoroughly enjoying all the activities we have looked at during World Space week, especially as our current science topic is all about "Earth and Beyond!" They got very excited as we watched the launch of the Soyuz rocket taking a cosmonaut and film crew up to the International Space Station and then were also able to watch as the ISS made a speedy pass over Mallorca this last week - just for us! One student asked if we would be able to see the Soyuz Rocket docked with the ISS - it's just a little too far away unfortunately.
We took a long tape measure outside and worked out the relative distances the planets are from the Sun. Uranus and Neptune seemed to be an awfully long way away as the children found out when they measured the distance and found themselves half way down the playing field!
We had a great time with paint, cotton wool and glitter and the results were some amazing coloured nebulas in jars!
The amazing dragons are mostly finished and finishing touches have been applied, the display is a fantastic work in progress and we promise to show some photos of the finished pieces.
Year 6 News with Mr Darlow and Mrs Von Waberer
---
We've had another fantastic fortnight in Year 6, especially with this week being World Space Week! We watched a NASA live stream, as a Russian film crew blasted off to the ISS to make the first ever feature film shot in space; we investigated and designed helicopters to land a Mars rover; we even made spectacular space-inspired art.
Elsewhere, we've been honing our netball skills in readiness for the inter-House competition in two weeks' time, writing 'hooky' openings to our Greek myths, learning how search engines work and, of course, competing in the University Challenge House quiz. We've also been enjoying listening to (and learning from) more PSHE presentations based on our talents and interests.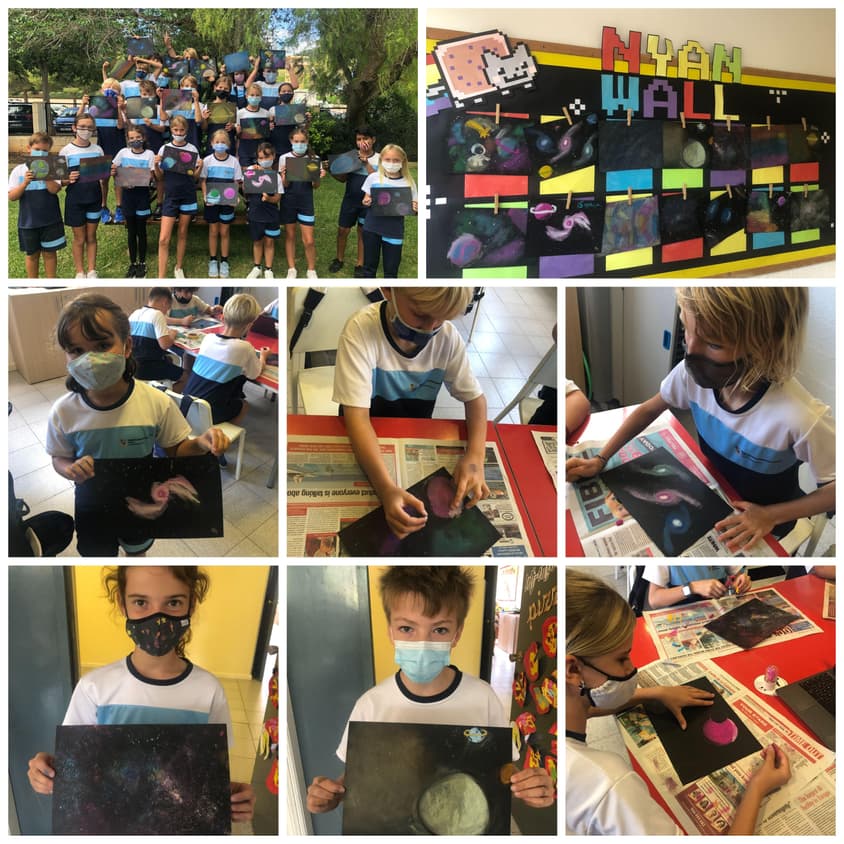 Sports department news
---
This week during our PE class, Year 5 students were having fun while playing a netball game.
Our young players have explored the variety of ways to pass the ball to a partner in a game situation combining it with other skills such as landing and driving to the ball .
Well done to everyone!
Languages department news
---
Year 3 students of Lengua Castellana group have been practising the syllables playing different games. Now we are experts at separating syllables. ¡Buen trabajo, chicos!