Ms Alison Colwell, Principal
Dear families,
This week in my secondary assemblies I asked the young people about the point and purpose of school. A seemingly obvious question, I elicited some very good responses about learning new knowledge, forging friendships, thinking about and planning for life after school. The purpose of my assemblies, however, was to focus on that other vitally important aspect of any great school: character development. I explained to the students our school values: excellence, responsibility, respect, integrity and compassion, and we also reflected on the importance of self-esteem, on what we can do to build our own self-esteem and that of others, the theme of the Awareness Afternoon yesterday.
We have spent a lot of time in school and across the Orbital group thinking about the values we consider important to nurture and develop in our young people. The challenge for us in our school is to ensure they are not just words on a website. Just like all schools have a mission statement, all schools talk about the values they hold dear, but what matters is how a school goes about supporting their young people in developing these values. As a staff we have talked about what we are going to do to ensure that our values are not mere words, but that they are modelled constantly, repeatedly reinforced, explained and understood, acknowledged and rewarded when displayed and constantly cultivated. We are creating purposeful opportunities to live and breathe our values, including competitions, charitable work, assemblies, themed weeks, visual displays, social projects and student leadership roles. We have such wonderful students in our school, and our role is to help them to become the absolute best version of themselves. As I said to the students in assembly, every one of you can and should graduate from our school with a first class honours degree in kindness and compassion.
We also are in search of a school motto that encapsulates the spirit and direction of our great school! So far staff have suggested, "Together we strive, together we thrive", and from our many Latin scholars on the staff we have, "Sic itur ad astra" - here we go to the stars. We are opening this out to students as a competition - but parents are also welcome to submit ideas!
Enjoy your weekend,
Alison Colwell
Principal
Baleares International College, Sa Porrassa
Ms Laura Hodgson , Acting Head of Primary
At Baleares International College, it is our aim to raise standards by promoting a school ethos which is underpinned by core values. As Ms Colwell mentioned in her article, our school values are excellence, respect, responsibility, integrity and compassion. These values were chosen to support the development of the whole child as a reflective learner, within a calm, caring, happy and purposeful atmosphere. This week, the primary department has focused on respect; respecting each other and respecting themselves. The focus on respect has been delivered through our fantastic Awareness Afternoon on self esteem ´Good to be Me¨, as well as in the discussions on World Gratitude Day.
During this week, the children have been thinking about what respect is, and how they could show respect for others in school, as well as showing respect for themselves. They discussed five simple ways of how they could show respect to others:
Listen to others more and value their opinions.

Always be polite and use manners.

Be kind - it's nice to give feedback.

Praise somebody or acknowledge someone's hard work.

Be thankful.
At Baleares International College we believe that showing respect and having positive self-esteem is important for child development. It means when children make mistakes, they won't become too upset and they will learn to try again. This is especially important in school as children will undoubtedly come across challenges in their work. If they feel good about themselves, they're more likely to try harder and not give up. Self-esteem also affects how children develop socially and emotionally.
During our special Awareness Afternoon, the children were encouraged to reflect on the things that they are good at, as well as sharing positive statements about their classmates. Stories such as 'The Lion and the Mouse' and 'Starboy' (inspired by David Bowie) were shared to stimulate class discussions. I was particularly impressed by the creativity and variety of activities that were happening in the primary classrooms: making special colourful mirrors, beautiful paper plates of themselves and positive pizzas. These activities inspired the children to feel good about themselves and to respect each other. As is becoming a ritual in the primary department, the children finished their day by practising some yoga poses and taking time to reflect and be grateful for all the wonderful things that they have in their lives.
Last Tuesday was World Gratitude Day, which was also the focus of this week´s class assemblies. It was a perfect opportunity for our young pupils to consider the importance of showing thanks and to think of the many things that they have to be grateful for, as well as being a good way to improve a sense of wellbeing and develop positive mental health. Gratitude is noticing and appreciating the things that we often take for granted, like having a place to live, food, clean water, friends and family. Some people who have very little are still able to feel gratitude for what they do have.
Learning to feel and express gratitude is something that can be a really positive thing to encourage our young learners to begin doing early.
A parent's guide to helping their child practise gratitude for mental health.
As a parent, you may want to ask your child to think of three things they have been grateful for during the day before they go to sleep and to reflect on how this makes them feel.
There are many different ways to practise gratitude in everyday life, you could try:
focusing on the beauty of nature when looking outside

making a Gratitude Jar or keeping a journal.

thinking about the positive things about your friends and friendships

remembering to stop and enjoy the little things
Wellbeing Gratitude Jars
Make the concept of gratitude tangible with this lovely Wellbeing Gratitude Jar . Encourage your child to focus on the positive things around them by creating a Gratitude Jar that they can deposit little notes or drawings into every day. Get them to jot down anything that they've felt grateful for throughout the day. Gratitude Jars help focus attention on the positives in their life which in turn boosts wellbeing. It is ideal for ensuring your children are making positive thinking and thankfulness a daily habit.
On the theme of gratitude, I would like to take this opportunity to thank all of our fantastic families for their continuous support, incredible positivity and kind words. Thank you.
"As we express our gratitude, we must never forget that the highest appreciation is not to utter words but to live by them." —John F. Kennedy.
Have a thankful weekend,
Laura Hodgson
Acting Head of Primary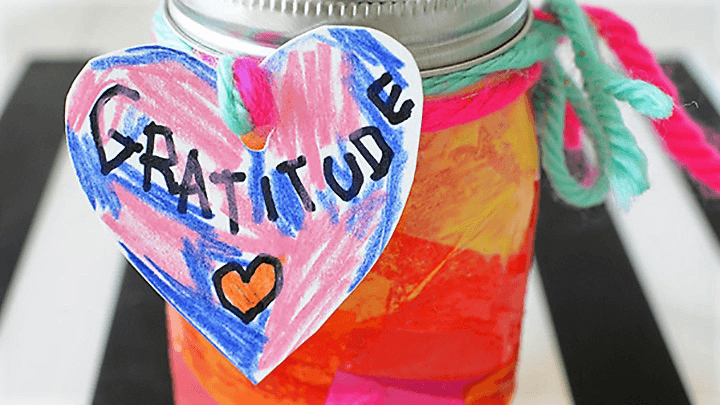 On the afternoon of Thursday 23 September we held our first Awareness Afternoon of this year. These afternoon sessions are an exciting addition to our curriculum and are designed to help our students to think about themselves, their relationships with others and their place in the community and the world. This week we thought about how to improve our self-esteem, in particular by focusing on what you can achieve rather than worrying about what you can't. A wide range of activities, from drawing your thoughts to working in a group to thinking about how we could help a character in a case study, helped pupils to develop vital skills in positive thinking.
| Date | Time |
| --- | --- |
| Monday 4th October | Black History week / World Space Week |
| Monday 11th October | Friendship Week |
| Tuesday 12th October | Public Holiday - School closed |
| Wednesday 13th October | Breast Cancer Awareness Day |
| Thursday 21st October | Primary parent meetings |
| Friday 22nd October | Halloween Celebrations |
| Monday 25th - Friday 29th October | Half term break - School closed. |
Whole School House System news
House Points Totals Update - Term 1
| Winton | Galileo | Roosevelt | Parks |
| --- | --- | --- | --- |
| 145 | 178 | 161 | 196 |
This week in the House assemblies we have discussed what makes a good House captain and vice captain. In the House assemblies next week students will stand up and share two reasons why they would like to be a captain, then we will vote for the captains and vice for each team. The Head of Houses cannot wait to hear from our teams about why they would like to be a captain and vice captain.
Early Years news with Mrs Wardle
This week the children in Early Years have put together a very special´ all about me box´. They are filled with family photos, collections and their favourite toys and books. The boxes provided the perfect opportunity for the children to talk about themselves and what they like and don't like to do and to tell us more about themselves and their families. They also get to physically see that some people like the same things as them and have other things in common too.. The boxes are a great comfort to the children in their first few weeks as they always have a few familiar objects at hand.

Year 1 news with Mr Fairless
Year 1 worked hard on their speaking and listening skills whilst we talked about our favourite toys as part of our Humanities topic, ´The Magic Toymaker´.
The children also really enjoyed having a go at our hands on maths counting activities this week.

Year 2 News with Ms Bakes
The non-Catalán students in Year 2 learnt to sing and play instruments to an African folklore song. They enjoyed learning to play the bongos and the boom whackers along to the beat of the song as they sang. We then surprised the Catalan students with the performance of our music when they returned from their lesson!

Year 2 are learning about different features of the five animal groups in science, and in our computing lessons the children chose an animal to research, describe and illustrate.

We have had fun learning our number bond song, which will help us remember not only number bonds to 10, but also those which make 20 and 100.

Year 3 News with Mrs West and Miss Xidakis
In art this week Year 3 have learnt about shadows and silhouettes. They used watercolours to create a sunset background by blending red, orange and yellow. Next they added an African animal silhouette. The finished artwork looks very effective on our wall displays in the classrooms.

During the Awareness Afternoon, Year 3 discussed what self-esteem is and shared ways to look after our mental health. The children made positive affirmations and recorded ways to make themselves feel better when they are feeling down. We all finished the day with some relaxing yoga!

Year 4 News with Mrs Alonso McGregor and Mrs Walsh
Year 4 have been learning more about Ancient Egypt this week. We completed our Nefertiti pictures and made super progress with our canopic jars. The children worked hard to make the different lids depicting the 4 gods that protect the internal organs inside. Others got as far as painting them outside.

Our Awareness Afternoon theme of Good To Be Me focused on self esteem. Year 4 enjoyed learning about the superstar David Bowie and how he made a conscious effort to embrace and love what made him different from his peers, both physical and psychological. His self love and self acceptance became his strength as an artist. We learned we all have imperfections and quirks but it is these that make us wonderful and unique.
After doing some super artwork based on the David Bowie inspired book, Starboy, we ended the afternoon with a relaxing yoga session.

Year 5 News with Ms Hodgson, Ms Cortes and Ms Demangeat
Year 5 have been delving further into the theme of Space and thinking of different ways to remember the order in which the planets spread out from the Sun at the centre and some facts about each planet. We came up with different mnemonics to chant or an orrery (a model ) to help.
The children's creativity has been running riot as they have been imagining their own dragons. Amazing descriptive words and colourful paints have been used to illustrate their particular beasts and we look forward to seeing the finished articles.
A wonderful session of writing compliments to each other gave the children some positive thoughts and connections to take home, a sense of their individuality and how "good it is to be ME ", in whatever way they are special and unique. They were disappointed not to complete the whole yoga session but enjoyed the relaxing finale to an amazing afternoon.

Year 6 News with Mr Darlow and Mrs Von Waberer
Year 6 is in full swing, with exciting lessons across the board. In science, we have measured our pulse rate before and after exercise. We're looking forward to investigating the effect of soft drinks on pulse rates next week. In English, we are really enjoying exploring Greek mythology and have started to read Percy Jackson and the Lightning Thief, a twist on these classic tales. We're now designing our own heroes and planning the structure of our own modern day myth. We've also been enjoying maths races, researching Greece and, best of all, swimming in PE. So the perfect way to end the week has been with mindful yoga and 'self-esteem pizzas'. Great job Year 6!

Last week our primary students had lots of fun during their PE lesson in the pool!
Swimming lessons teach them independence, allowing them to get active while enjoying themselves.
We keep our classes fun, lively, varied and exciting to help your child stay engaged and challenged in the water.

Languages department news
Exciting news from Sra Claudia Rodríguez, Head of Modern Foreign Languages
Students in Ms. Luengo's class enjoyed making 3-D hand puppets out of folded paper in Spanish class. They added details and came together to create their own mini production in Spanish! Bravo to all the linguists and artists starting their Spanish language odyssey.

Building on the sessions we delivered last academic year focusing on the evolution of life on Earth together with pupil progress webinars, we would like to welcome you to our first home-school outreach event of the year. On Thursday 7th of October at 17:30, as part of World Space Week, we would like to invite you to join us on Zoom to learn about Nebulae! This is open to all ages and will involve a guided practical session as students make a model of the Laguna Nebula in the home. Please express your interest by completing the form here. The equipment that will need to be purchased for the session is listed here. Any paint can be used, I would recommend pinks, blues, purples and black.