Ms Alison Colwell, Principal
Dear families,
It is proving an incredibly busy term, as the summer term always seems to be, with the arrival of the exam season for our older students and our ongoing "business as usual" approach to school life. We are planning for an Olympics week in June, culminating in our Sports Day on 18th, and our fantastic pool should very soon be ready to welcome swimmers! We have launched a new secondary school choir, and are planning for our exciting Activities Afternoon next school year, whereby our students will be able to pick from a wide variety of enriching activities to further broaden our exciting curriculum. We will also be holding an end of year awards event, the details of which we are not yet decided on, as we will still, no doubt, have restrictions from the authorities, but we are absolutely determined to hold this important event when we will celebrate and reward the achievement of so many of our fantastic students. We will also be holding more webinars this term on science, on revision and on understanding the school reports. Please keep an eye out for the communication about all these events.
Wishing you a good weekend,
Alison Colwell
Principal


Ms Laura Hodgson , Acting Head of Primary
Dear families,
At the start of the year, we wrote as a whole school about the importance of oracy for our students. This area continues to be a focus as children grow and develop throughout the school year. One way in which our teachers support pupils is by defining and revisiting common 'ground rules' for talking and listening – for instance:
Not interrupting classmates while they are speaking

Making eye contact when speaking or listening to someone
By focussing regularly on pupils' speaking and listening skills, pupils become more aware of how they speak to one another. As they move through the school, they, therefore, become increasingly able to support one another and collaborate in discussing ideas or solving problems.
This week we linked communication with ´Deaf Awareness Week´, which is all about promoting the positive aspects of living with deafness. This event aims to raise awareness of the isolation that deaf people can occasionally experience, and promote the importance of social inclusion around the deaf community. In assemblies and class time students have been thinking about the different ways we communicate. In addition how we can make these methods of communication more deaf-aware, what we mean by deafness, sign language and fingerspelling. The children have loved the challenge and fun of learning to sign , it's been a pleasure to see so many big smiles and wiggling fingers.
It is also important that our students learn to communicate confidently and plenty of opportunities are given to ensure children can ´speak out´. This is often through presentations, circle time, class discussions, or, as you may have seen in previous newsletters, examples of our Year 6 monologues. This also allows the development of their skills as active listeners.
Through our pastoral support system, we ensure all children know who they can turn to if they need to talk. In addition to our form tutors, leadership team, and Pastoral lead we also have further integrated the House system and House leaders as another support network for our students.
Wishing you a wonderful weekend,

Scholastic Book Club
Don't forget that our latest Scholastic Book Club is now online! There are hundreds of fantastic children's books to choose from. There are only 3 days left to order from our latest Scholastic Book Club. Please place your order online by Monday 10th May 2021.
Go to http://eu-schools.scholastic.co.uk/baleares-international to browse the latest books and place your order.


Early Years and Year 1 News with Mrs Wardle and Mr Fairless
Our nursery children have made the most of the beautiful weather and outside space. The children focused on their physical development this week!
To help develop large motor skills we worked on throwing, catching and balancing and for fine motor skills we practised our scissor skills by doing a ladybird craft and searching for small objects in the sand, We also enjoyed connecting small pieces of mobilo to make long vehicles.
Our Nursery group form part of our Early Years Foundation Stage class and have 3 to 4 focused activities everyday related to the 7 areas of learning.
Year 2 News with Ms I'Anson and Ms Bakes
During the last two weeks, Year 2 have been focusing on Monet's 'Sunflowers'. We used paint, pastels, chalk and collage materials to create our pictures. We hope you like our finished display.

As this week has been Deaf Awareness Week, the children have been learning how to say some common words in sign language. They learnt how to sign some simple phrases, such as, "Hello mummy / daddy", "Goodbye mummy / daddy", "let's play", "have fun together".
See if they can show you what they have learnt!

Year 3 News with Mrs West and Miss Xidakis
On Monday it was Deaf Awareness Day so 3X learnt some sign language. We thoroughly enjoyed the friendship song where we learnt the sign language to it.
Here is the link to the song: https://www.youtube.com/watch?v=Fis5jvYANBQ
In Computing, 3W have been learning to code. The children enjoyed learning how to change the 'stage' and 'sprite'. They learnt how to program their 'sprite' to enable it to move in a variety of ways.

In maths Miss Xidakis´ group we have been developing our division skills using the inverse operation to solve a range of division questions by using the relating multiplication facts. We have fun using cubes to develop our understanding of division.

In science this week, Year 3 experimented with food colouring and celery to explore how water is transported in a plant. We enjoyed predicting what would happen based on our understanding of how plants use water.

In 3W, we also enjoyed reviewing our seed experiment and created a bar graph to show our results. We were pleased to find out that seedling 2 grew the best!

We have also been developing our understanding of Stone Age tools and weapons. We researched how the Stone Age people would have made and used these tools. Then we made spears and used stones to try and grind different foods.

The children also enjoyed using paint and spaghetti in art this week with Mrs Hatton. It was rather messy but the children enjoyed creating these amazing patterns and artwork!

Year 4 News with Mrs Alonso McGregor and Mrs Walsh
Now that the rain has gone and the warmer weather has hopefully arrived, Year 4 are enjoying taking their learning outside. In art, we have been using our observational skills to sketch and draw. What a pleasure it is to sit outside and draw our beautiful surroundings. Watch this space for our masterpieces next week!
It is amazing to see how much learning can be achieved outside of the classroom, where the children are free and uninhibited. Even maths can be taught in the fresh air and the children recently loved investigating maths in nature. Shape, patterns, counting, right angles, tally charts and comparing lengths and heights are all possible outside.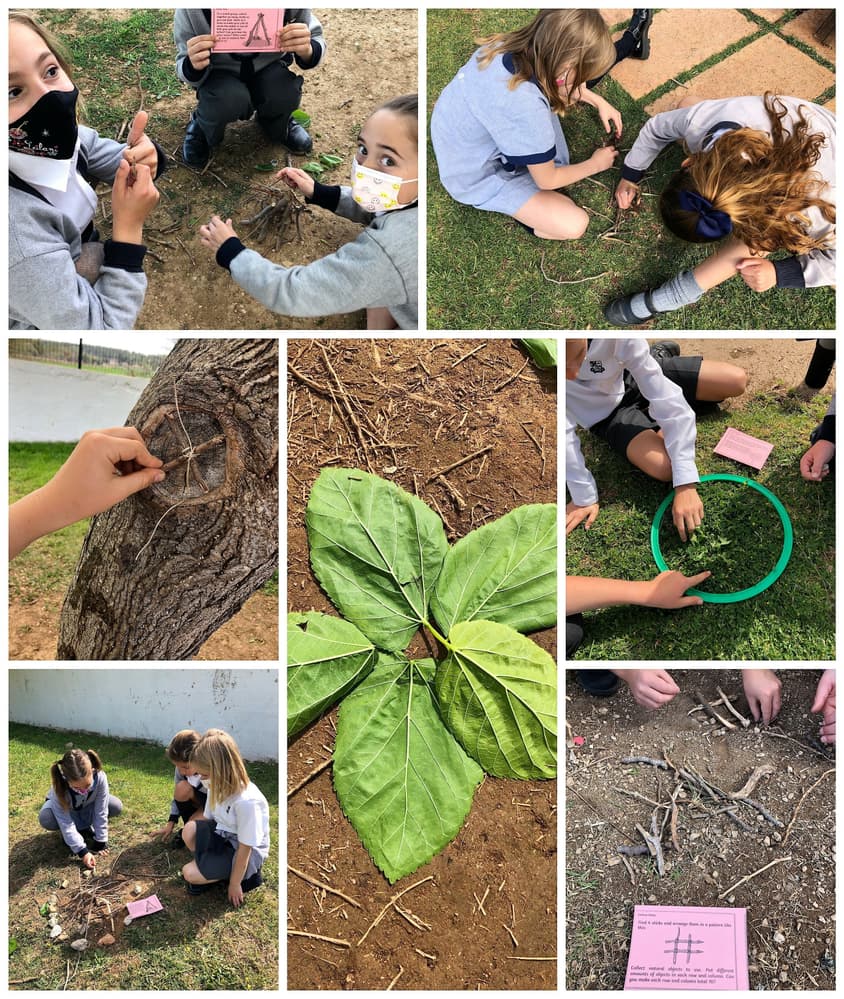 In English, the children have really impressed us with their creative writing this week. Using a short animation as a stimulus, they have been learning how to create tension and suspense in their writing. They are really starting to create these feelings with their choice of words and teasing of the reader! What do you think?
´The dark gloominess crept over her.´ Luca, 4A
´It was dark. There was a taste of danger!´ Maria, 4A
´White eyes watched her every single tiny step!´ Luis, 4A
´Leaves crunched under her feet. She tiptoed as her eyes adjusted to the light. It was very old and very stony. Her heart pumped. She shivered. She knew she would get hurt. A pair of eyes stared at the back of her head and watched her every move!´ Jonathan, 4A
´She crept up the stairs. Her body was shaking whilst her heart was beating faster and faster. She was in dingy, horrible darkness! Her legs wobbled. Two gloomy eyes followed her! She breathed deeply. Her palms began to sweat.´ Kitty, 4A
Year 5 News with Ms Hodgson and Ms Demangeat
The science focus for the spring term was learning all about different forces. To consolidate their knowledge the students were given STEM (science/technology/engineering/maths) challenges. They were excited to design and make a vessel which could float and take some weights, or a chair that could support some of their soft toys. Some of the ideas were amazing and worked extremely well when put to the test.
Year 6 News with Mr Darlow, Mrs Von Waberer and Ms Roberts
We are thoroughly enjoying our STEM activity during some of our science lessons with Miss Roberts. We have been working collaboratively on designing and making a device . We have used the fairytale ¨The Three Billy Goats Gruff¨ as our stimulus.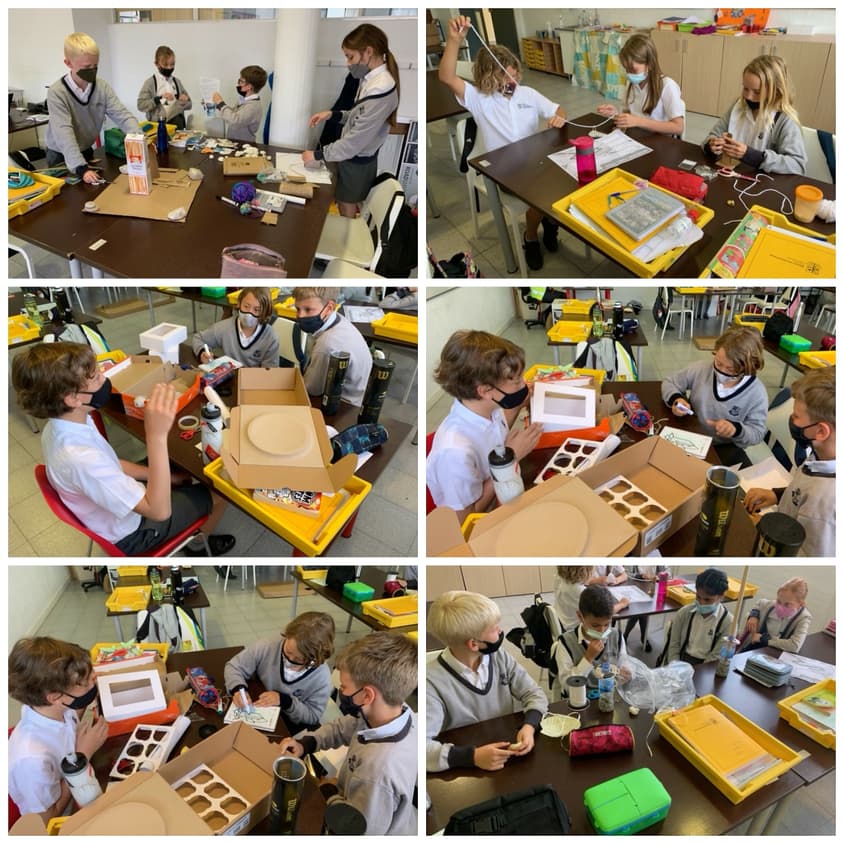 Year 6 have been developing their confidence all year by standing up in front of the class and presenting their work, discussing their favourite books and working on feeling comfortable to talk clearly and openly in front of their peers. We've discussed the importance of body language, eye contact and involving the audience.
This week and last week the children were asked to talk about a topic of their choice and prepare slides. The class enjoyed learning about jets, Formula One, minerals, rabbits and water polo amongst many other interesting topics. The children were fascinated by the passions of their peers and asked lots of excellent questions which, in turn , helped to create confidence in the presenter. It was so lovely to see how proud the children were of themselves after they had presented. Well done to everyone.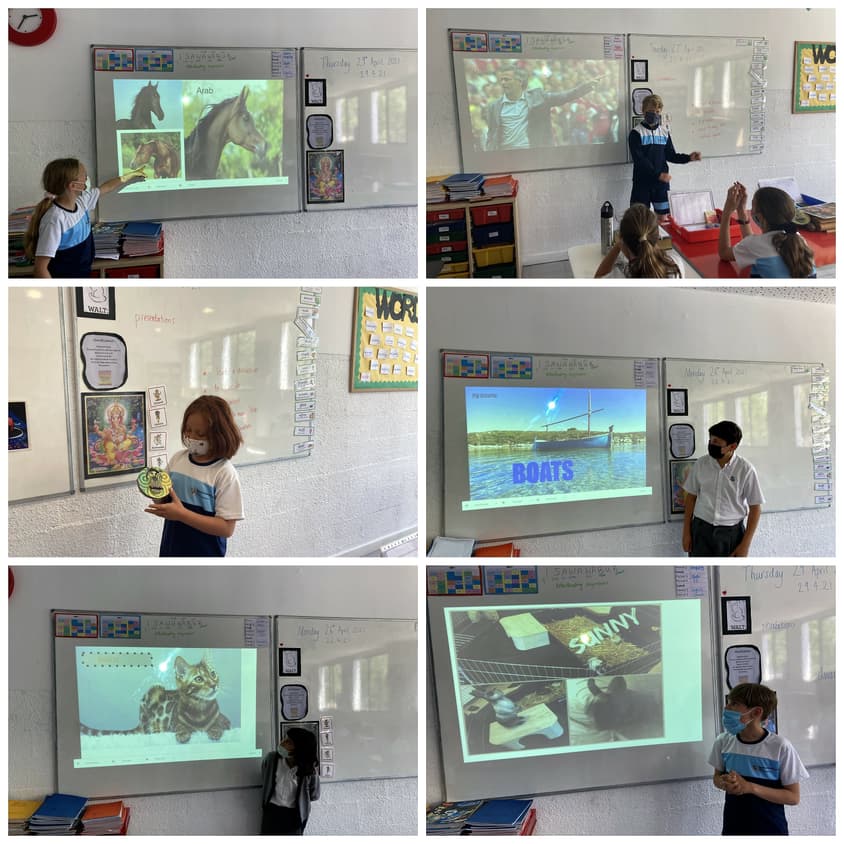 6D have loved making the base of their 3D model of Mallorca this week, carefully studying the contours of its landscape from the Tramuntana to the Badia de Palma. We're extremely excited to start texturing and painting next week!

Sunny days are for playing beach volleyball!
Pupils from Year 4 group are currently practising and perfecting their volleyball skills during their PE sessions. Miss Izabela is so proud of all of our pupils that continually work hard and try their very best during every single PE class!

Languages department news
In year 6, Señorita Montes's group of Spanish has been working on how to create flyers to promote the celebration of thematic parties. Here you can see some samples. ¡Excelente trabajo, chicas y chicos!

Whole School House System news
House Points Totals Update - Term 3
| Winton | Galileo | Roosevelt | Parks |
| --- | --- | --- | --- |
| 196 | 230 | 199 | 184 |
Overall total House Points
| Winton | Galileo | Roosevelt | Parks |
| --- | --- | --- | --- |
| 2189 | 2096 | 2282 | 2267 |
School Choir (for Year 6 upwards)
Come along and sing for pleasure! Regardless of whether you think you have a good voice or not! If you think that you would like to sing, then sing! We sing purely for pleasure this term - it's all about building up your confidence. We will be singing a range of music - from popular to classical. Singing is wonderful for stress, self esteem, self expression, making new friends, the heart and lungs!
Come along to L3 every Friday lunchtime (bring your lunch) from 1.15pm.
Senior Choir is led by Ms. Mayes, Ms. Tomlinson and Dr. Cruttenden