Ms Alison Colwell, Principal
Dear families,
This week we held our socially distanced School Council meeting. It was wonderful for myself, Ms Tomlinson, Ms Von Waberer and Ms Hodgson to sit in the sunshine at lunchtime and listen to the students feeding back from their House meetings. Student voice means a great deal to us here - this is the children and young people's school, and listening to them is very important - and, as ever, the students had great ideas and suggestions. Many of the things the students wanted to see are, in fact, already in the pipeline, and our House and School Council will continue to feed in their ideas for future plans. The students were excellent representatives of their House and Year, and they spoke with enthusiasm and passion. A special mention to Sofia who delivered an eloquent and articulate speech on an issue her House feels strongly about.
Last week we said au revoir in special assemblies to our Year 13 and 11 students. Mr Barter and Ms Tomlinson spoke movingly and warmly about our young people as they embark on the next stage of their education, either here in our sixth form or onto some of the best universities around the globe. We congratulated them on not only their commitment to their academic studies, and the high aspirations they hold, but also to how they are as young people - kind, respectful, polite and responsible. We celebrated the internationalism of our school, the mingling of so many different nationalities and a celebration of languages and diversity. As so often, we the staff were reminded of how gifted and talented our student body is, and we take great pride in them and their accomplishments. Sometimes they need a nudge to celebrate the accomplishments they have outside of school, so please do let us know of your children's success in the sporting arena, in the arts, in any activity they take part in outside of school, so we can showcase and celebrate their achievements with them.
Wishing you a happy weekend,
Alison Colwell
Principal


Ms Laura Hodgson , Acting Head of Primary
Dear families,
This week got off to a strong start and we began with a meeting of our whole school House council. It is such a pleasure to meet with student representatives and hear their thoughts and see the school experience through their eyes.
This year the rejuvenation of the House system has played an integral part in further developing our school culture, engaging students of all ages in a variety of different activities and competitions. It is important to establish a culture of student voice in varying ways in school. Actively engaging students in the day to day life of the school and classroom has a very powerful, positive impact on student achievement.
Classrooms at BIC are not only places where children gain knowledge but discover who they want to be. This happens through the creation of opportunities to discuss ideas, and to be heard in a safe environment where they feel they belong. Speaking and listening activities are a core element of primary classroom and activities such as debate, circle time, brainstorming, project work, voting and surveys are woven into the curriculum to empower students to speak up and gain confidence.

By elevating our students´ voices we can gain true feedback on what it really feels like to be in our classrooms.
'It was wonderful how we were able to share the changes we'd like to see in the school. I thought it was cool to talk with secondary students about the school.'
Orion - Year 6 - Parks house captain
'I liked the idea that the House Captains from different Year groups brought their fellow students' ideas to the attention of the principal. We could see that our ideas could change our school in a positive way.'
Daniel - Year 6 - Winton house captain
'I like playing with my friends and learning new things.'´
Nora - Year 1
A special congratulations to Aaron - Year 6
Today we would like to give a special mention to Aaron, a BIC student currently in Year 6. Aaron dedicated his free time and motivation to raise money for the infamous Radiothon at Radio One Mallorca by entering into the golf charity competition last Sunday. He raised a total and impressive amount of 565 euros and played amazingly one the course. We should mention that he was the only child competing and the only one raising funds independently!
This charity campaign helps support local charities on the island like Yachting Gives Back, Santa Ponsa Food Bank, SOS Calvia, son Espases and Great Ormond Street Hospital.
A big congratulations to Aaron for his commitment and dedication!

Whole School House System news
All of the Heads of Houses have been enjoying meeting with different Year groups preparing for the upcoming Olympic week at BIC. This will include a swimming gala, a land based team activity (such as basketball, volleyball or hockey) and an athletics event. Some excellent organisation has gone into this from Miss Izabela and Mr Fitzpatrick, and now we are starting to get the teams together we are all really excited!
Don´t forget - if you are taking part in one of the Olympic week activities you can wear your school PE shorts with a t-shirt the colour of your House.
Who will win? It's all to play for at this point! Get practising your events, and we can't wait to see you all getting involved.
House Points Totals Update - Term 3
| Winton | Galileo | Roosevelt | Parks |
| --- | --- | --- | --- |
| 513 | 523 | 556 | 522 |
Overall total House Points
| Winton | Galileo | Roosevelt | Parks |
| --- | --- | --- | --- |
| 2646 | 2347 | 2593 | 2558 |
Early Years and Year 1 News with Mrs Wardle and Mr Fairless
Physical development in the Early Years involves providing opportunities for young children to be active and interactive; and to develop their coordination, control, and movement. Children are also helped to understand the importance of physical activity,and to make healthy choices in relation to food . We provide daily opportunities to help develop all of these skills and talk about how we keep our bodies and minds strong and healthy.

Year 2 News with Ms I'Anson and Ms Bakes
Year 2B worked collaboratively with a partner to write some wonderful fictional stories. We then transferred them into their very own little book, complete with a front cover design, illustrated inside text, and a blurb on the back cover. They are all very proud of their books!

What is the best way for young children to learn their times tables? By chanting and singing them!
Mrs Bakes' maths group have learnt the 3 times table perfectly this week by learning a fun song to go with it.
We hope you like it!
Year 3 News with Mrs West and Miss Xidakis
Year 3 has learnt that white light is actually made up of all the colours of the rainbow. This week we used a number of different experiments to explore this, including making a colour whizzer wheel. We had great fun trying to blur the colours to make white.
To help us learn how fossils are made, 3W made salt dough and then used our understanding of how fossils are made to make our own examples.

In ICT, 3W have been learning to programme using Scratch. This week we learnt how to programme a sprite and to change background by pressing single buttons on the keyboard. Here is a short video to present our work.
In 3X we developed our knowledge of the Woolly Mammoth and then we had a challenge to make a 3D model by following instructions. We did it by being resilient although it was not easy.

Year 4 News with Mrs Alonso McGregor and Mrs Walsh
As the Roald Dahl´s story ´ The Witches´ unfolds, we have enjoyed discussing and interpreting what we have read. Using our imagination, we wrote our own short stories about how one of the main characters, Grandmamma, came to lose her thumb. The children followed a process called ´Slow Writing´, where each sentence includes a specific criteria such as starting with an adverb, using a fronted adverbial or including specific punctuation like semi-colons or dashes. The children had some great ideas and after some editing and improving, we were very pleased with their efforts. Have a listen to some of our stories.
Our science lessons continued to be electrifying as we developed our understanding of circuits. We learned the difference between series and parallel circuits and developed a clear understanding of what makes a complete circuit. We love the practical element to this topic and on a hot afternoon, we were excited to complete circuits that made the propeller spin, giving a temporary fan!

The classrooms are a riot of colour as rainforest artwork adorns the walls. In the style of British artist Oenone Hammersley, the children used watercolours and pastels to create their own chameleons. Just like this colour changing creature, your mood can't help but change for the better when you see them!

Year 5 News with Ms Hodgson and Ms Demangeat
Continuing with the natural theme from the last few weeks, Year 5 students scavenged all sorts of natural materials to create a work of art. Their imagination knew no bounds as they arranged their materials into all sorts of designs. They were excited to be given the chance to earn House points by participating in the joint BIC Big Green Champions Challenge with a piece of art which reflects the natural world.

Year 6 News with Mr Darlow, Mrs Von Waberer and Ms Roberts
Year 6 are continuing to enjoy creating their Mallorca masterpiece. They have been modelling boats, building hotels and houses and are beginning to research cities and towns in more depth. It's wonderful to witness the enthusiasm and motivation of the children studying their island. We believe it's so important to learn about the geography as well as historical aspects of their special home.

They have also been reading music and developing their musical skills further by playing the glockenspiel.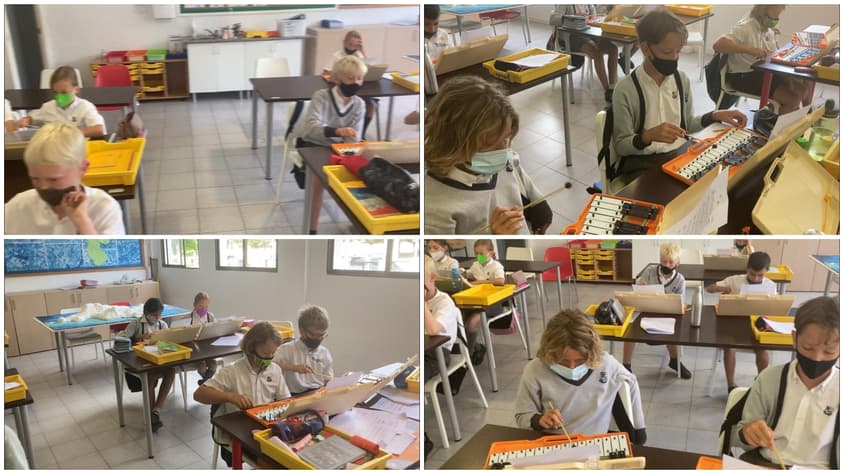 This year is the 2021 Olympics in Tokyo and we will be marking the event by having our very own BIC Olympics. It will take place during the week commencing 14th June and all of our students across school from the very smallest to our very oldest will have the opportunity to take part.
Throughout the week there will be an opportunity for students to compete in their Houses across a range of sports. Each event will gain House points to decide which House is the overall BIC Olympic champion. The marquee event of the week will be the athletics which will take place on the school track on Thursday for key stage 1, and throughout the day on Friday for key stages 2, 3 and 4.
Students are encouraged to come to school on the day of their event wearing their normal PE kit but with a t-shirt in the colour of their House.
We are looking forward to showing you all of the brilliant work done by our students during the week in the newsletter on Friday 18th June.

Languages department news
The Year 3 students in Ms Rodríguez's class have created some posters in Spanish with information on how to maintain a healthy diet.

The Year 4 students in Ms Rodríguez's class carried out some extensive research about education in Guatemala. They created these impressive presentations on the importance of education and how to improve a school on a budget. Great teamwork and critical thinking skills!

We are excited to announce that the BIC School Library will officially have a soft launch the week of June 14-18! We will also be doing a book donation drive and book sale that week. More on this to follow in upcoming newsletters.
We need volunteers this week and next to help scan, label, and organize the books. Anytime you can assist during school hours would be appreciated. Please contact Nadine Smith at svjourney@hotmail.com.
We look forward to hearing from you
BIC PTA

BIC GREEN CHAMPIONS COMPETITION - We are celebrating Environmental Week
To enter this fantastic creative project we are asking you to use your creativity and produce a unique piece of art that reflects the natural world. This could be drawing, painting, sculpture, craft. If what you produce is not possible to bring to school. No Problem! Simply bring in some photos of your finished piece! The closing date for entries is the 9th June, when all entries must be brought to school. Winners will be chosen from EY and KS1, KS2, KS3, KS4 and KS5.
Good Luck!
Teacher Feature - A very warm welcome!
Barry Drumm - Teacher of Business
Currently working at Marian College Secondary School in Dublin, Ireland, I graduated from University College Dublin with a Commerce degree and then went on to complete a Masters degree in Marketing from the University of Ulster in Northern Ireland. I completed my Postgraduate Diploma in Education from Dublin City University and then immediately began working in Marian College where I have spent the last 7 years. I'm an avid basketball fan and golfer, and love doing both, so I'm hoping to keep both careers alive when I'm in Mallorca. To be honest, I love all sports so I will be involved in as many as possible when I'm there! I was looking for a new challenge and life experience which brought me to the shores of Mallorca. I can't even begin to describe how excited I am about moving over there! I'm so grateful to have this opportunity, and I really look forward to working with the staff and students in this wonderful school, in one of the most beautiful locations in the world.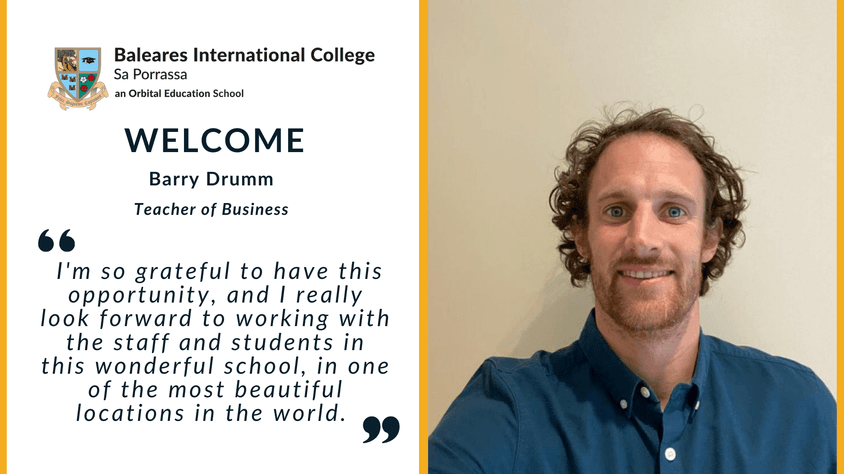 Farewell to Mr Bernard Gilman
"Parting is such sweet sorrow!"
If I may interpret this well-known Shakespearean saying my way, as opposed to that of more literary scholars, I feel mixed emotions as I bid farewell to staff, students and their parents after only a little over six months at the school.
In many ways, my decision can best be described as being founded on a dilemma between body and soul. On the one hand, my spirit demands that I continue to pursue my passion and lifelong vocation (of some 45 years to date) as an educator, and teacher of Economics, which is such an important academic discipline. On the other hand, the passage of time has made my body physically less inclined to follow the rigours, and keep the hours that being a professional teacher demand of me.
As a result, my wife and I have decided to return to our lovely house and home in the North East of Thailand where we can be reunited with her family, and I can pursue my own projects, such as writing a 'different' textbook of Economics, with accompanying mini-TV series, as well as read books long since bought, but too long left to gather dust on the bookshelf unread. My dear wife can also be reunited with her flower and vegetable garden where her own passions partly lie.
So, parting provides us both with the joyous opportunity to pursue our respective passions and interests, but for me, I shall also greatly miss my colleagues and the students who I have learned with during my time at BIC. I will watch as the school community, ably led by Alison Colwell, continues to flourish and grow apace and become the best school in Mallorca - if it is not that already - and also become the biggest.
I also wish the 'new' economics teacher every success and joy in the school and on the island. He is a lucky man, and I wish him, as well as everyone associated with BIC, every success, happiness and health in the coming year(s).
As Mr. Spock, of Star-Trek fame would say (and I would wholeheartedly echo): "Live long and prosper!"