A message from Alison Colwell, Principal
Dear families,
At BIC the wellbeing of our children and young people is a top priority, and never more so than this year, as you know. Whenever there is any instance of unkindness between children we act swiftly. We have staff whose role it is to look out for any problems, and to help our students. Ms Compton and Ms Tomlinson monitor closely and constantly what is going on in their respective parts of the school. We take a zero tolerant approach to bullying and work restoratively with children and their families.
There are many ways we work in school to ensure a happy and friendly environment. We constantly discuss with students the importance of being nice to each other and looking out for others. We reward good conduct and acts of kindness. We promote charitable acts, inclusivity and diversity, we celebrate difference, and we teach them about people who are less well off than ourselves. We create a culture whereby students know they can go to any member of staff - the ones they feel most comfortable with. Staff on duty, at lunch or break, know that part of that role is to keep a general eye on how children are interacting with each other at playtime.
However, there is another really important element of building a positive, safe and warm school culture, and that is parents working with us. Equally vital, parents must limit their children's use of screens and phones, and monitor rigorously their use of social media, where sadly so much unkindness these days takes place. You will know that I urge parents to limit the amount of time children are in front of any screen, and encourage them rather to play games, to play sport, to read, to cook, to exercise, to be creative, or just to chat with you.
As the US author Henry James said, "Three things in human life are important: the first is to be kind; the second is to be kind; and the third is to be kind."
Have a great weekend
Alison Colwell,
Principal, BIC Sa Porrassa
Mrs Elizabeth Compton - Head of Primary
Dear families,
The month of February has kicked off with a fantastic week full of fun and exciting activities. I have been pleased to visit so many classes and the photos below continue to give you a wonderful window into our classrooms.
The primary golden rules are six clear simple messages and expectations for our youngest learners.

We are kind and gentle

We work hard

We are respectful

We listen

We are honest

We care for our environment
Our teachers model and encompass these throughout the day to day teaching in our primary classes. The first and most important rule is ´to be kind and gentle´. As Ms Colwell has mentioned, any behaviour that does not meet our expectations is swiftly addressed. We do not tolerate bullying and work with our students to understand this and always to be kind. We work to educate students on making good choices and reflecting on any errors, and how to avoid repeating them in the future. We are very proud of the behaviour of your children and the positive, respectful environment students are creating. However, unkindness and bullying is the responsibility of us all and must be continuously addressed with students to ensure our school community remains a happy and safe place for all.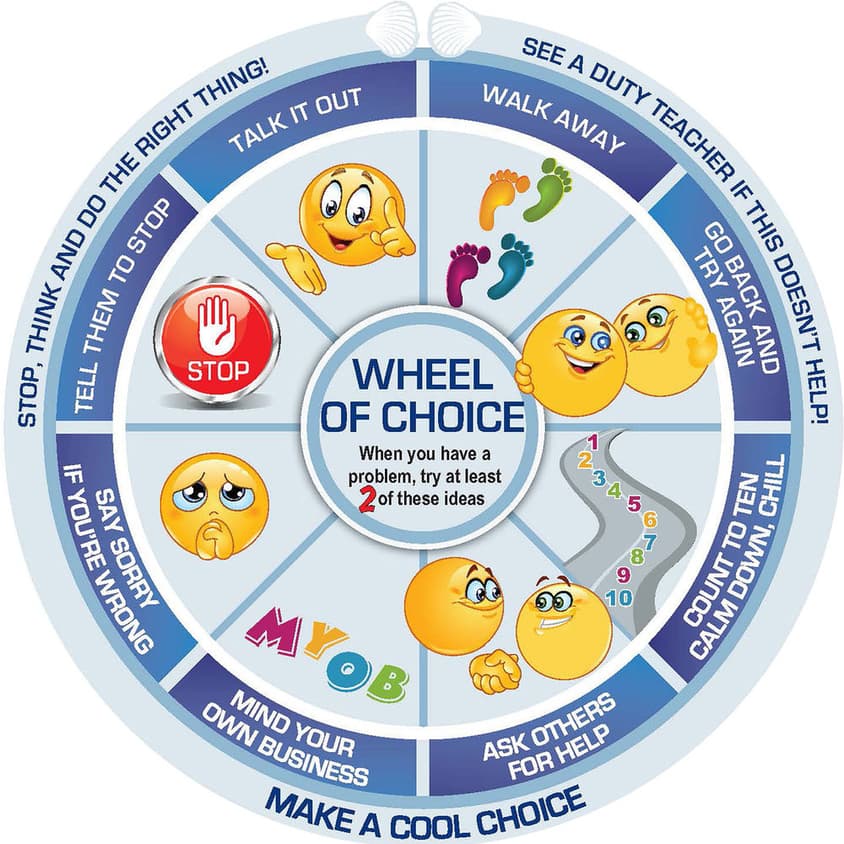 A reminder that next Friday 12th February we will be coming together to celebrate Carnival with our dress up day and mask making competition.
Finally, I am also very pleased to announce that I am expecting my first baby, a boy, to be born in June, at the end of the school year.
Have a wonderful weekend,
Elizabeth Compton
Head of Primary

This week, in Primary, we are sharing a story a day with our students to celebrate National Storytelling Week. Telling and reading stories is essential to the development of strong literacy skills and a core part of the British education system. Following this, in March we continue the focus on literacy with our infamous ´Reading Week´ ´and ´World Book Day´.
Here are the stories for you to enjoy, read by our wonderful team of teachers!

Children's mental health week
Early Years and Year 1 News with Mrs Wardle and Mr Fairless
Early Years is going on a dinosaur hunt! We need to get our binoculars ready to see them clearly.

Which dinosaurs are the tallest? We have been learning to measure and find out the facts.
Creative learning - Here we are looking for dinosaur bones in the sand tray and making our own with pasta.
Reception class children are now starting to write independently. Great progress, well done!
Year 2 News with Ms I'Anson and Ms Bakes
The children in Year 2 have really enjoyed playing the traditional game of 'Cat's Cradle', something that our grandparents may have played when they were our age. They made a cup and ball as part of our history topic and learned how to play the cat's cradle game. - Well done Year 2!
Year 2 enjoyed using the chrome books to play maths games for our online maths challenge, Mangahigh.
Year 3 News with Mrs West and Miss Xidakis
Ms Xidakis' class used their colourful brains to complete the 'draw a Roman' challenge in humanities this week by not giving up, although it was difficult. We were so proud of ourselves for being able to do it in the end.
Year 3X students became professional detectives and explored the school, spotting potential hazards. We discussed how to stay safe around school and what to do in case of a fire. Well done little BIC detectives!
It is Science time for our Year 3X students - we explored magnetism in water. We predicted that the paper clips would be magnetic in water and, after testing it out, we were correct!
Year 3W made compasses using magnets. We used this to identify ordinal directions in the classroom, a fantastic experience!
Year 4 News with Mrs Alonso McGregor and Mrs Walsh
Chinese New Year preparations have begun in Year 4. The children made Chinese lanterns and decorated them with their name written in Chinese.
Kookaburra In music - In Year 4 we are learning traditional childhood songs and have been enjoying singing them in rounds.
The finished Willow Pattern Plate stories proudly on display for all to see.
Year 4 engrossed in a science investigation about changing states of matter, in this case melting chocolate!
Year 5 News with Ms Hodgson and Ms Demangeat
Year 5 have been reading their dragon fight scenes, with a focus on developing expression - Well done Year 5!
In maths, students have enjoyed investigating angles in a variety of triangles.
Year 6 News with Mr Darlow, Mrs Von Waberer and Ms Roberts
It has been a real highlight this week to think about being an independent learner and how we can show grit and determination in the face of challenges. Students have especially loved cracking codes (including a very tricky frequency analysis) without any help.

Year 6 students have been reviewing their learning in science by constructing their own knowledge organisers.
Below you will see our Year 6 students reading out an extract from our favourite books.
Students from Year 5 group are currently practising and perfecting their handball skills during their PE sessions with Miss Izabela. Excellent work everyone!

Languages department news
We held a mini contest to review some of the content with Year 6 students in Spanish. Try to find the correct answers yourself!
Whole School House System news
HOUSE LANDSCAPE COMPETITION WINNERS 2021
The landscape competition was a real success with over 80 entries across all Year groups in the school. Every entry has earnt a House Point for their team. It was a very difficult decision to choose the top three, therefore 4 additional highly recommended entries were chosen for an extra House point. Well done to everyone who entered the competition.
Special Congratulations to:
New House Competition - Extreme Read
The Heads of House are very excited to announce the next House competition. Many of you will be familiar with this as it is a competition the school has run in the past - Extreme Read. The aim is to take a photo of yourself reading in the most extreme place possible. We have had some super entries in the past. Although we are a little more restricted this year, I am sure that our creative students will rise to the challenge and take some fabulous photos. We are passionate about reading and literacy and we hope to highlight how fun reading is.
House Points Totals Update - Term 2
| Winton | Galileo | Roosevelt | Parks |
| --- | --- | --- | --- |
| 252 | 223 | 299 | 275 |
| Winton | Galileo | Roosevelt | Parks |
| --- | --- | --- | --- |
| 1470 | 1435 | 1593 | 1584 |
Teacher Feature - Mr Sam Warn - Physics Teacher
"Equipped with his five senses, man explores the universe around him and calls the adventure Science" - Edwin Powell Hubble
Mr. Warn is our fantastic and inspiring physics teacher! He makes physics fun and exciting, by keeping his students engaged by having open discussions and making interesting experiments. Mr Warn enthusiastically explained to us, "Teaching physics is the best! At the moment, Year 3 are looking at magnetism and I always found the cranes that pick up cars really cool, so we made a mini electromagnet and turned it into a crane to pick up paper clips. Building stuff using physics is awesome!"
Mr.Warn studied Physics and Philosophy at King's College in London and became interested in teaching after getting involved in an Institute of Physics Programme, that aimed to get more girls into physics. They ran practical lessons teaching students in Years 8, 9 and 10. He pursued his career to become a teacher by going on to do a PGCE in teaching physics at the Institute of Education and gained his teaching experience in London.
Mr.Warn's favourite part about teaching is helping students to view and explore the world in different ways, and looking at weird and wonderful questions. One he got this week that he enjoyed discussing was "To what degree do animals use numbers?"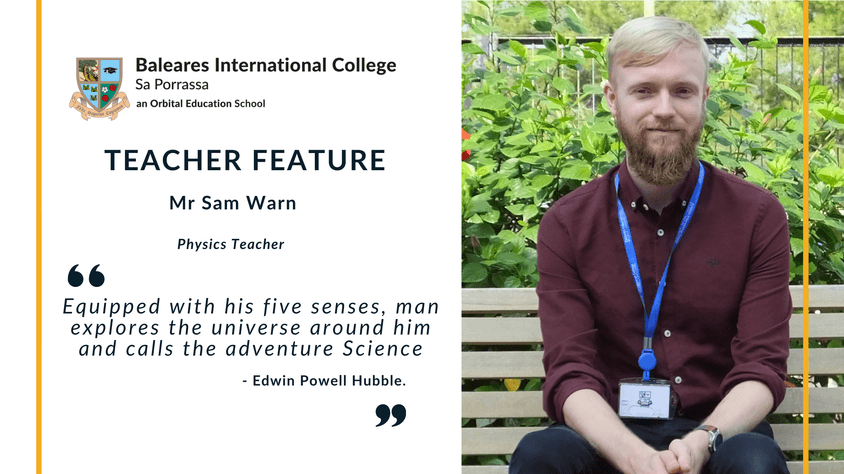 Virtual Open Days at Baleares International College
Dear families,
Following the opportunities to tour the facilities at our schools, BIC Sa Porrassa and BIC Sant Agustí will be virtually opening their doors to all families who are interested in learning more about our student-centered curriculum, facilities, achievements and values that we promote daily in our schools as well as to gain a great insight into student life at BIC. This will be a unique opportunity for all families to connect with our Principals and senior leaders during a live Q&A session.
Dates and registrations:

BIC Sa Porrassa
Accommodated in a large, custom-built school situated in the beautiful, rural environment of Calvià. The school is in a very accessible location on the southwest coast of Mallorca and has a capacity for over 450 students from 3 to 18 years of age.
BIC Sant Agustí
An Early Years and Primary specialised School located in the high-quality residential environment of Sant Agustí in Palma. The school has a capacity for 160 students from 2 to 11 years of age.
If you wish to organise a tour at either or both schools, please contact us directly:
San Agustí - office.san@balearesint.net | (+34) 971 403 161
Sa Porrassa - registrar@balearesint.net | (+34) 971 133 167
We look forward welcoming you to Baleares International College
If you wish to organise a tour at either or both schools, please contact us directly:
San Agustí - office.san@balearesint.net | (+34) 971 403 161
Sa Porrassa - registrar@balearesint.net | (+34) 971 133 167
We look forward welcoming you to Baleares International College