Ms Alison Colwell, Principal
Dear families,
One of the phrases I have heard the most over the last 18 months is, "This is a small island". I have come to understand what this means! Many people have told me that news travels fast, and everyone knows everyone, but the downside of this is, of course, when rumours and misinformation circulate. This is not unique to Mallorca or BIC. In my last school I was asked, every year, several times, "We've heard you are leaving?" to which I had frequently to say, "Well, that is news to me!"
What I have been able to see over the last 18 month is the great commitment of our families, the hard work of our students and the great collaboration within our community. It is today proven that the strength of word of mouth does indeed exist on the island. We have been receiving an overwhelming increase in interest in our school from both families in Mallorca and those who are looking to relocate. Our good reputation is growing every day and I can assure you that I am committed to making BIC an outstanding school, with exceptional teaching, high standards and expectations, a broad, balanced and challenging curriculum; a school where the children and young people love their lessons and their learning, have their curiosity and creativity sparked, where they are inspired and excited; and a school where any type of unkindness or prejudice is not tolerated, and kindness, respect, and a celebration of diversity and difference shine through.

As the principal of this school it is my duty to give you facts. The children and young people in this school are overwhelmingly lovely. Every time I meet a student one-to-one - which I do often - I am unfailingly impressed by their politeness, their manners, their friendliness and their commitment to school. Children make mistakes - we all do - and when they do, if appropriate, they receive punishments but always accompanied with a conversation, advice, an attitude of learning from mistakes and moving forwards. If there is unkindness - which is rare - it is acted upon swiftly, severely, robustly, but again always within a framework of restorative justice and, as well as making amends for hurt caused, learning lessons. A school has a duty to teach young people more than just the formal curriculum, and to develop character, nurture responsibility and kindness, focus on well being and safety, and prepare them for life beyond the school gates. This is how we operate here, and how we always will under my leadership, so that our school remains the safe, happy and inspiring place that any great school should be.
Warm regards,
Alison Colwell
Principal
Ms Elizabeth Compton, Head of Primary
A wonderful week in primary beginning on Monday with World Poetry Day and we decided to continue with the theme of poetry all week long! Students and staff shared their favourite poems and each Year group has learnt a poem to perform. Poetry is an important part of the British National Curriculum in literacy from key stage 1 onwards, and students are encouraged to enjoy reading poetry, recite some by heart and write their own poems. Poetry, which is often overlooked, can have some surprising benefits, in and beyond the classroom.
It helps with spellings

Speech development improves

Reading becomes more fluent

It allows children to develop their own opinions

It inspires creativity

It helps develop interpretation skills

It encourages a wide vocabulary and varied grammar

It helps children understand their emotions

It introduces different writers, subjects and styles

It transports them to new worlds
We look forward to sharing our primary poetry performance with you next week.
On Thursday we celebrated our first ever whole school Awareness Afternoon. Linked to our PSHE (Personal Social and Health Education) curriculum, activities ranged from cycle safety, stranger danger to managing stress, mental well being and the science behind the screen.
Internet safety has been a central focus with all students this week and we encourage you to ask your children about their online activity and ensure screen time is both limited and monitored.
We concluded the afternoon with a special Hygge moment, putting on our ´cosy socks´ accompanied with some sweet treats and hot chocolate. Hygge is a Danish word used when acknowledging a feeling or moment, whether alone or with friends, at home or out, ordinary or extraordinary as cosy, charming or special.
With busy lives and schedules our mindful moment allowed staff and students to pause and take valuable time to acknowledge the moment, to relax, reflect and enjoy time with our classes. Students shared their reflections on what they had learnt, gratitudes and any thoughts and feelings in a safe environment.
Have a calm and relaxing weekend,
Ms Compton
Head of Primary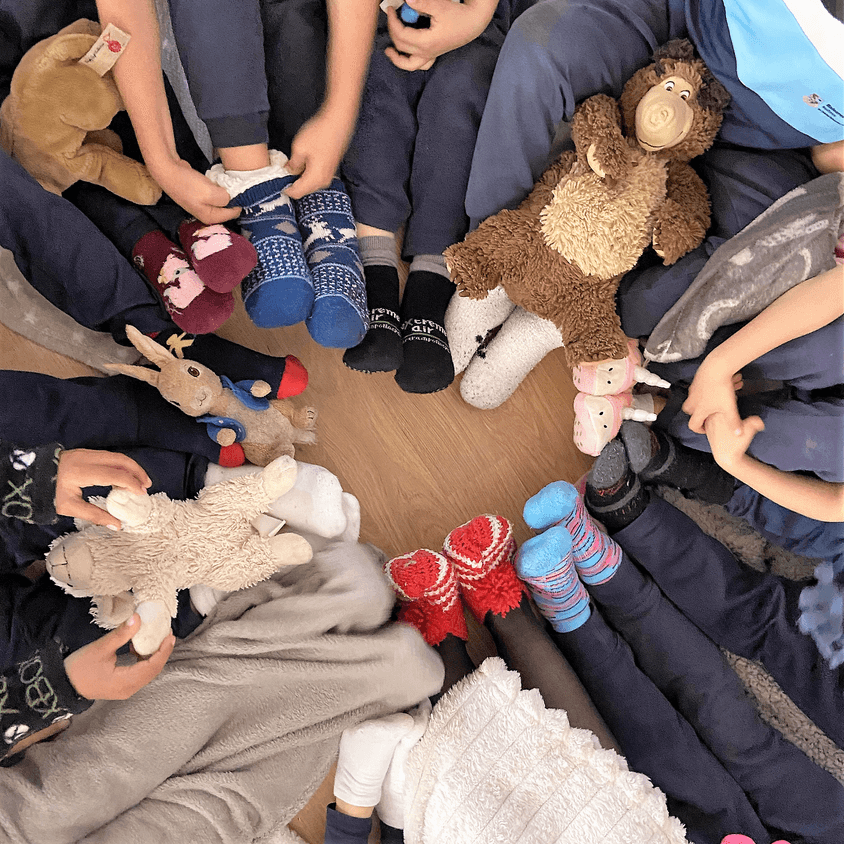 Useful information on the benefits of poetry for young learners

Early Years and Year 1 News with Mrs Wardle and Mr Fairless
We loved using the magnifying glasses to search for minibeasts around the school grounds. We also sorted pictures of the bugs into groups, with wings, without wings, with legs, without legs and then used out art skills to draw and paint some of the minibeasts.
Reception class used their phonic skills to write about the minibeasts hunt. Preschool children enjoyed making their own spiders webs after reading 'The Very Busy Spider' By Eric Carle.
Awareness Safety - keeping safe! Thursday´s awareness day was the perfect time to talk about all of the things we do to keep fit, healthy and safe. The children and teachers in Early Years brought their bikes and scooters to school and practised riding safely. They also talked about using the zebra crossing safely when crossing the road. We used the magnifying glasses to inspect lunch boxes and sorted out foods which we could eat lots of and some that we should only eat occasionally.
Year 2 News with Ms I'Anson and Ms Bakes
Year 2 have thoroughly enjoyed poetry week; we have enjoyed reading and listening to poems that the children have brought in from home.
We went outside and looked for sounds and sights of early spring to inspire a spring poem: the warm shining sun, pretty purple flowers, baby birds chirping.
The children then typed their poem onto the computer, practising their ICT skills.

This week in science, Year 2 have continued our work on the absorption of materials by creating our own rainbows. We then used the finished results to inspire us to create fabulous poetry.

Awareness Afternoon yesterday was described as the 'best day ever!' by our excited Year 2, who enjoyed an afternoon learning about stranger danger, and thinking about the people who the children can trust. We acted out scenarios and completed fun activities to help them to understand the safest things to do.

This week in maths Mrs I'Anson's group enjoyed learning about shape. Our favourite lesson was definitely 'We're going on a shape hunt'. We couldn't find a cone, but luckily there was an ice cream cone for everyone, as they always work so hard.

Mrs I'Anson's phonics group has been researching animals associated with Easter to help us to create spring poems. First we watched clips of them, and thought about how they look, move and sound, before creating our own poetry.
Year 3 News with Mrs West and Miss Xidakis
In science we made a paper-copter and tested it outside. We learnt that the best paper-copter was the one that lasted the longest in the air, because as a seed it would be able to move further from the main plant to grow in a new area.
In 3W, we sorted different types of fruits into categories based on their texture and appearance. We also discussed which seeds are designed best for wind dispersal. The class went on to create an experiment to test if the weight of the paper-copter affected the speed at which it fell to the ground. We did this by adding more paper clips to each copter and timing how long it took to fall.

It was fun making the paper-copter and it was exciting dropping it from the stairs.
Joe - Year 3
It was really fun to make.
Filippa - Year 3
I was really surprised that the paper copter worked.
Mahek - Year 3
It was fun to drop the paper copter.
Sarah - Year 3
In humanities this week, Year 3 have learnt about Roman architecture and then designed their own Roman inspired building. The children looked at the main features of Roman buildings, including the pediment, columns and capital decoration.
Here are some photos of 3W constructing their models.

Step one:
Constructing the pediment

Year 4 News with Mrs Alonso McGregor and Mrs Walsh
Year 4 has had another busy week. We have enjoyed using the chrome books to do independent research on the Great Wall of China. After making copious notes, the children have now started making their own double page spreads packed with information and fun facts about this, the largest man-made structure on Earth. Watch this space for the finished work soon.

Science continues to be as interactive as we can make it. The children learned about how sound travels and the structure of the ear this week. They were surprised to learn that sound travels much better through solids than liquids or gases. The noisy fork experiment demonstrates this perfectly.
Year 5 News with Ms Hodgson and Ms Demangeat
For World Poetry Day/Week Year 5 learned the performance poem ¨I Heard It In The Playground.¨ They enthusiastically performed this, complete with actions, outside in the sunshine.

Putting across a reasonable argument to debate can be a difficult thing to do, but Year 5 students took the task in their stride and very ably and succinctly debated their opinions on global warming themes, listening respectfully and asking thoughtful questions .

Year 6 News with Mr Darlow, Mrs Von Waberer and Ms Roberts
Year 6 students have been forming their own testable hypotheses before writing their own conclusions and evaluations in microbiology.
In PSHE We have been reflecting a lot on the subject of conflict over the last few weeks. We have spent valuable circle time discussing different types of conflict and how we can reach a positive solution for everyone. We realise these are difficult times for many and are constantly reassuring the children that we are here to listen and that kindness to themselves and others plays a vital role in avoiding conflict.

During maths Year 6 have had a lot of fun creating their own 2D and 3D shapes with spaghetti and marshmallows. We were particularly impressed with the octagonal prism, octahedron and the perfectly sized cube!

Languages department news
To celebrate World Poetry Day, Ms Rodríguez's Year 4 students have been creating their own poems on the topic of "My school". They have considered aspects like the rhyme and verse, and they have presented their fantastic texts to the rest of the class.

Year 6 students with Señorita Montes have been analysing the characteristics of poems. They have also learnt what a calligram is. See how well they understood it based on their own compositions!

Year 3 students have been developing their hockey skills. Well done to everyone!

Whole School House System news
MOVIE HOUSE COMPETITON - Think you are a world class actor or camera whizz?
We have been really enjoying the entries that have already come in for the movie competition over the last 2 weeks - they have been incredibly creative! All of us House leaders have had conversations with students in our House who were keen to get in entries, and with that in mind we are going to extend the deadline for this competition! The new deadline will be Friday 16th April.
For any of you who complete entries over the holidays, please email your videos to Miss Mayes atnicola.mayes@balearesint.net.
What a fantastic term for Parks. I am so proud of the team for working so hard and maintaining first position this term. Congratulations and let's continue the amazing work.
Miss Xidakis - Head of Parks House
Well done to everyone in Roosevelt House for another fantastic term. I have really enjoyed spending time with all of you this term in our House meetings. I have loved hearing all of your ideas, but also listening to your thoughtful comments on some of the issues we have discussed this term. Congratulations on your continued effort to be your best, and for another amazing term of collecting house points. Let's keep it up next term!
Miss Mayes - Head of Roosevelt House
Well done to everyone in Galileo House. It has been a fantastic term. I have really enjoyed our House meetings and I am very impressed with all your wonderful ideas. A massive well done to Nacho in Year 13 for winning the bleep test competition earlier this term and to Lily in Year 9 for winning the art competition and Lotte in Year 5 for coming 3rd in the Extreme Read competition.
Miss Turley - Head of Galileo House
A huge congratulations to everyone in Winton House. There have been so many successes to celebrate and fantastic efforts to be proud of. A special mention for Rebecca (Yr3), Kenza (Yr5) and Ava (Yr10) for achieving the most House points in the last week of this term. I can't wait to see all your movie reenactments for the next competition!
Ms Florey - Head of Winton House
House Points Totals Update - Term 2
| Winton | Galileo | Roosevelt | Parks |
| --- | --- | --- | --- |
| 659 | 577 | 663 | 695 |
Overall total House Points
| Winton | Galileo | Roosevelt | Parks |
| --- | --- | --- | --- |
| 1888 | 1801 | 2034 | 2037 |
Movie Mornings at Cineciutat
We are delighted to share with you further information about our collaboration with Cineciutat Nins, located in the heart of Palma.
https://www.cineciutat.org/en.
- We are a cinema and sometimes theatre. We are a school and we are memories. We are ideas and innovation. We are culture. We are non-profit and self-managed by its members. #morethanacinema - Cineciutat -
Following last term's success, Cineciutat will be holding another Movie Morning for all of our parents and children next Sunday 28th March at 11:00. The screening will be "Snail and the Whale + We're going on a Bear Hunt".
We kindly invite you to join us for this fantastic concept and to share with your family and friends.
Tickets are available online under the following link: Tickets available HERE
We look forward to seeing you all there.