Your guide to all news at school.
Ms Alison Colwell, Principal
---
Dear families,
Christmas is a time for thinking of others. Our students and their families have again this term showed how much they think of others through the many acts of kindness and generosity that have been so evident, be it the harvest collections, the shoe box appeal, the amazing spread of treats on Teacher Appreciation Day, the donations and contributions in the fair last week, the painting of the gym, the work in the canteen and the library, and the fabulous work of the PTA in decking the school with festive flair. Thank you.
As Christmas draws nearer across the school we have seen wonderful celebratory events of singing and performance, showcasing and celebrating our students' talents. It has been a joyous end to a term with many challenges but to which our students have, again, responded magnificently.
In Primary we are delighted to welcome back Ms Compton. I would like to acknowledge and thank the excellent leadership of Ms Hodgson and Mr Fairless who have led the Primary school over the last 6 months, and done so superbly. Together with Mrs von Waberer they have ensured the continued progress, support, well being and happiness of our primary students. I would also like to thank Mrs Cortès who has done an equally excellent job teaching 5H during this term. When Ms Hodgson returns next term to being their main teacher, I am delighted that Mrs Cortes will be staying on as a full time Learning Support Assistant.
Wherever you are and whatever you are doing, I send you my warmest wishes for a safe and happy Christmas and New Year.
Alison Colwell
Principal
Baleares International College, Sa Porrassa
Ms Alexandra Tomlinson, Head of Secondary
---
This term has been so full of vibrancy and joy. It has been so thrilling to once again be able to meet as a community at coffee mornings, Halloween discos and Christmas Fairs, and to meet as a secondary school community in assemblies and even to eat together in the canteen. It has been so good to see girls and boys on the front foot, up for the challenge, proudly representing their Houses in Inter House sports competitions, quizzes, talent shows and charity events, wanting to win (not that winning is everything, except perhaps when Real Mallorca are playing!). Rehearsals for the musical, Matilda, are buzzing with energy and great performances and will be as good as a booster shot for us all in February. The Choir has been excellent, and at yesterday's Carol Service were in such good voice whilst our readers read so beautifully. And I have seen so many classes with Secondary pupils working hard, working things out, working with the teacher, engaging with the extraordinary things that make up education. All of this, and much besides, should leave you with a child more than ready for a holiday. I wish you all a very happy and peaceful Christmas (a diligent one also in the case of our exam students preparing for mocks in January), and I very much look forward to another great term when we return.
Mrs Alexandra Tomlinson
Head of Secondary
Mr John Barter - Head of Sixth Form
---
Mock exam ready?
This week we have held the annual BIC Revision Conference for Years 11, 12 and 13, to get them ready for the revision required for the January mock exams. We opened with wise advice from Ms Colwell, Mrs Tomlinson and our guest star speaker, professional boxer Liam Jones. Liam was able to use personal experience to explain to students the need for dedication to achieve their goals and that there has to be a little bit of 'pain' to ensure the 'gain' they want. Having reasons to underpin this dedication to task would really help, perhaps that would be getting the grades to enter the university they want to go to, making parents proud, or making themselves proud; the reasons will be unique to each individual. With the help of my Year 12 psychology students, I explained how the students could best use their brains to ensure that negative emotions towards revision were reduced and replaced with positive ones. Hopefully the range of workshop sessions added to the sense of personal control and focus on the main academic task over the holiday. If your son or daughter is in Year 11, 12 or 13, please do ask them about the conference; telling you about it will help to reinforce some of the learning points.
We start next term with mock exams. The timing of these is always the subject of much debate. Should they be placed before Christmas so that students can 'relax' over the holiday? Should they be later, so that the students have learnt more and the experience is 'more meaningful'? There is never a perfect time, but January, in the circumstances, is probably as good as it could be. Students should not worry about the mocks; they should just concentrate on showing us (and themselves) what they can do. The mocks are part of the learning experience so they will not produce the highest grades but they will show us how far the students are on track for those high grades in the summer and indicate any remedial actions necessary in the months before the summer exams. Students already seem to be taking the mocks seriously so I am expecting that the summer will end with great grade outcomes.
As this is the last newsletter before Christmas, I would like to thank our Sixth Formers and their families for their support over the year. I hope you all have a wonderful time celebrating with each other. Stay safe. See you all soon!
John Barter
Head of Sixth Form
john.barter@balearesint.net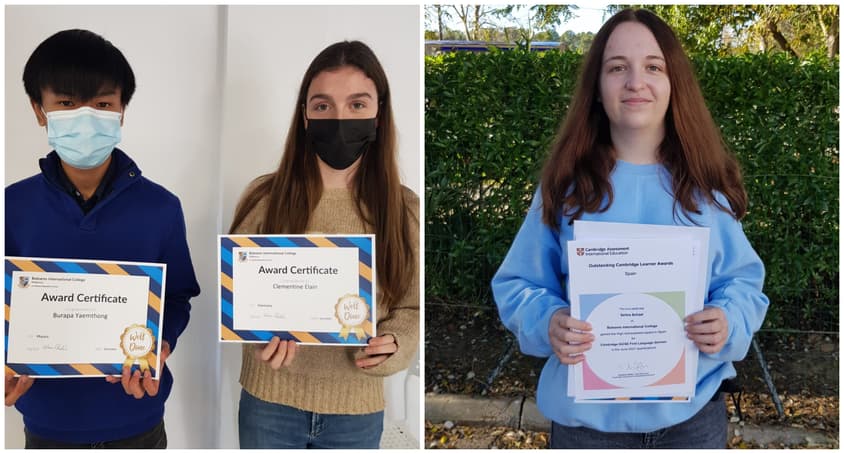 The Duke of Edinburgh International Award
---
Ferocious winds and December's dark chilly nights could not put off our hardiest DofE recruits last week, as we once more camped at Lluc. Accepting and relishing these challenges is what makes the DofE such a rich and rewarding experience, one that builds character, confidence and compassion. Campfire cooking and cold water cleansing was followed by hard hilly hiking as our team prepared for longer, more arduous expeditions in the near future. Last week, all of this was only made possible thanks to the last minute stoic assistance of Mr Clark, who stepped in to support our young people with his usual humour, warmth and positivity. A massive thank you to him.
All DofE students are urged to continue to check notice boards and Canvas for details of upcoming adventures early in the new year. We intend to hike locally on the weekend of the 15th/16th of Jan and camp again on the first weekend of February.
We can't wait to get these holidays out of the way so that we can once more take to our remarkable landscape - with all our shiny new camping kit!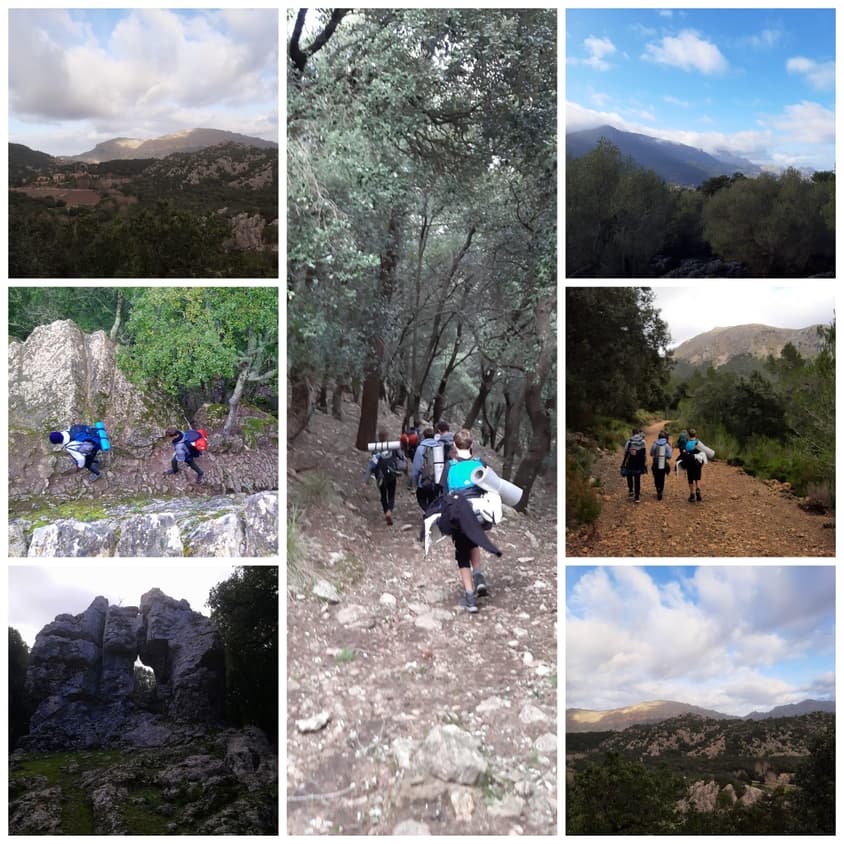 Whole School House System news
---
Final House Points - Term 1 - Congratulations Galileo House!
| | | | |
| --- | --- | --- | --- |
| Winton | Galileo | Roosevelt | Parks |
| 852 | 1111 | 906 | 966 |
A fantastic term Parks. Congratulations to everyone who participated in the Talent show, you were amazing even though we didn't win. I am so proud of every Parks member who participated. Thank you for entering the Christmas card competition. The entries were brilliant. We have been consistently high in the leaderboard and I know we will continue to earn House Points next term too and regain first position. Thank you to the House Captains who ran stalls at the school Christmas Fair and thank you to everyone who took part.

I wish everyone a wonderful Christmas and I look forward to seeing you in school in the New Year.
Miss Xidakis, Head of Parks House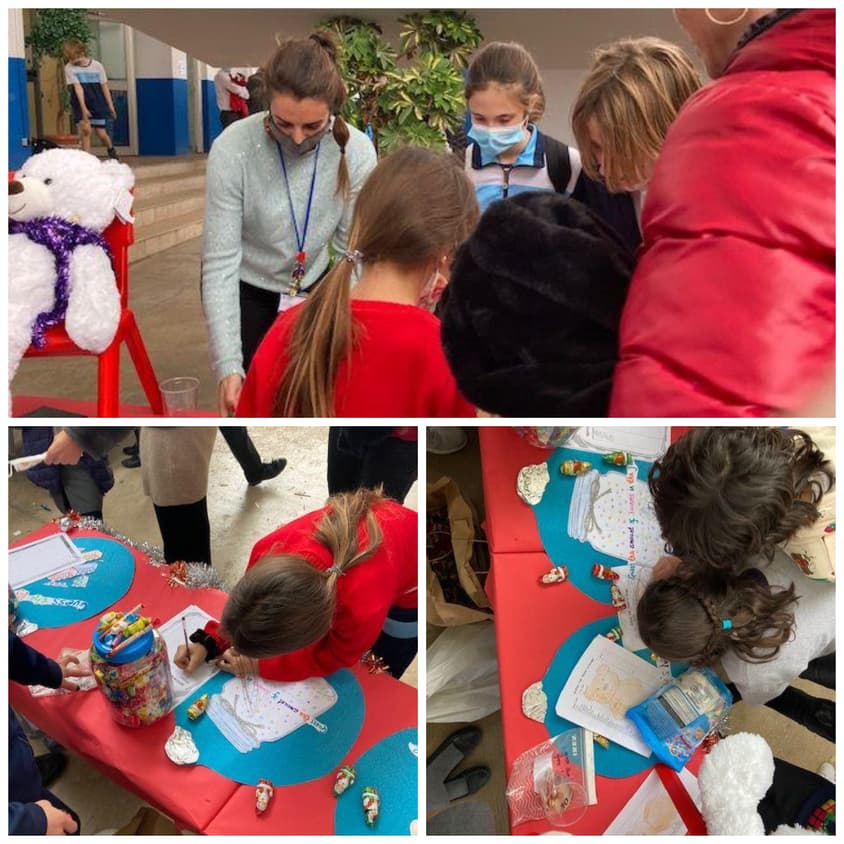 Well done to Roosevelt for a great term. We have achieved a fantastic amount of House points and we are so close to Parks on the leaderboard! We have also had some excellent entries into all of our competitions. Congratulations especially to all of our finalists who competed in the talent show, it was such a joy to see you all shine. Thank you to all of our House Captains who helped at the Christmas Fair on Friday with our ´guess the food´ stall - it was very messy and extremely popular! Special thanks to Harriet who made the boxes for us to hide the secret food in and helped get the stall all set up. I look forward to seeing what we can achieve as a House next term, in the meantime I wish you all a joyful and restful holiday.
Miss Mayes, Head of Roosevelt House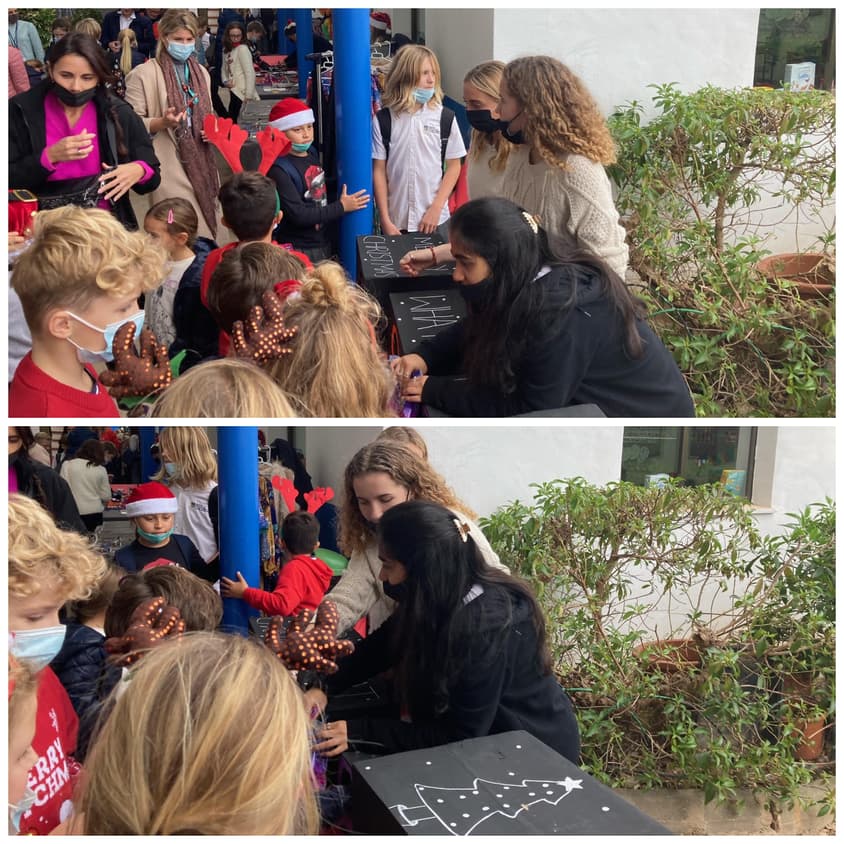 Well done to team Galileo for winning Term 1. I hope you all enjoyed your non-uniform day and Year 12 and 13 I hope you enjoyed your coffee and cake. Thank you to everyone, you have all worked so hard this term. You have earned your House Points through wonderful work and effort. We have done very well in recent competitions winning the Talent Show, the Christmas Card Competition and the Science Christmas Decoration Competition. I hope you all have a lovely holiday and I can't wait to see you in January to continue the great work.
Miss Turley, Head of Galileo House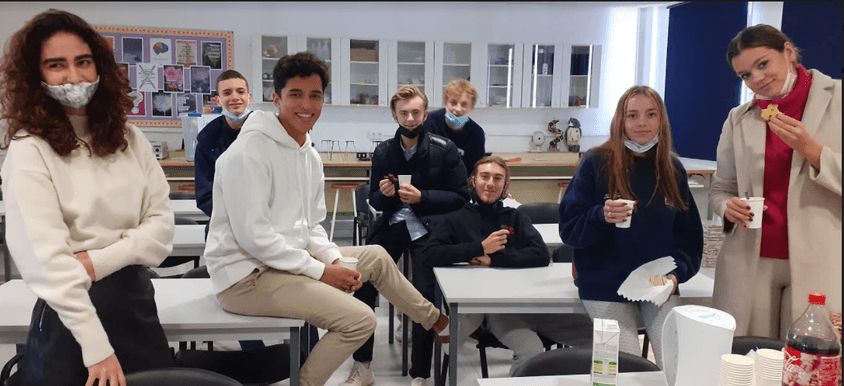 Well done Winton House for your hard work and dedication this term. We may not be top of the points leaderboard, but I know you have all worked incredibly hard this term and you should all be proud of yourselves. Congratulations to everyone who competed in the Talent Show - we came 2nd overall with some fantastic performances. I also want to say a big thank you to our wonderful House Captains and Vice Captains who have put so much effort in this term helping out and organising events. The Christmas Tree Dash at the fair was a hit and it was all down to your hard work. Finally, I want to mention our Winton Winners of the Month for December. In secondary James Middleton was nominated for showing kindness and respect and in primary Minnie Rutterford was nominated for showing courage and determination in the Talent Show. A huge well done to both of you.

I hope you all have a wonderful and relaxing holiday. See you in January!
Mrs Florey, Head of Winton House
Son Amar Christmas Performance
---
On Saturday 11th December, over 50 of our talented students from Years 5, 6 and 7 took part in a choir performance at Son Amar Christmas market. It was such a beautiful venue for our students to perform at, with the stage right in front of the festive ice rink. We also had solo performances from Jess and Jamie, and our whole performance was seamlessly hosted by Lea. We were so proud of how well they all performed, and festive spirit and cheer they showed throughout.
Shoebox Appeal
---
We would like to say a big thank you to all the parents and students who have donated shoe boxes with gifts for the less fortunate. Montsion Solidaria came to pick up the boxes on Tuesday and were overwhelmed with the generosity of those who have supported this extremely worthwhile cause.
It is so important to remind our children of how very privileged they are, especially at Christmas time.
BIC Sa Porrassa Christmas Fair
---
What a wonderful Christmas Fair we had at BIC last week. A big THANK YOU to our PTA, students, parents, collaborators and staff for organising, helping, participating and especially celebrating together this special occasion. We are already looking forward to the next celebrations!
Maths department news
---
The first BIC Key Stage 3 Problem of the Week competition ended last Friday. It has been a wonderful term of problem solving. 235 solutions were handed in by 61 students over the course of the term. This will have such a positive impact on the students´ ability to solve problems independently in the long term.
There was a tie for first place between Samuel and Eadrick, both in Year 7. Both boys answered an impressive 8 out of 10 questions correctly. Well done! On Wednesday we had a playoff between the two boys to win the Amazon vouchers and came out victorious.
The following students were also entered in the participation draw for handing in 80% of the problems.
Max, Martin, Lilly, Emma, Pavan, Alex, Joel, Eadrick and Samuel. This will be drawn on Thursday.
Well done to all students who got involved and completed these problems independently.
The last problem of the term was one of the most complex. I received some fantastic solutions. Here is Carlitos solution.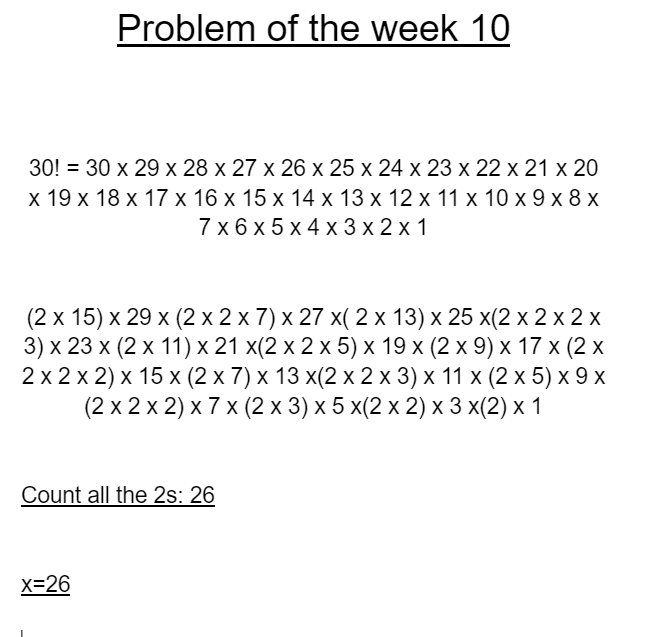 Here is another fantastic solution from Emma Gresleri in Year 9

This initiative will continue after Christmas!
TT ROCKSTARS CHRISTMAS COMPETITION
89 students got involved in the TTRockstars Christmas Competition so that they could improve their knowledge of their timestables.
There were some terrific efforts with a few students earning hundreds of thousands of coins. All this practice will have made a significant impact on their timestables.
Congratulations to Derin Krumbholz in Year 6, who won the overall competition with an incredible 364, 105 coins. What fantastic commitment and determination. The other winners are listed below:
Year Group Winners

All students received prizes this week!
Please note that students can continue to use the TTRockstar app over the holiday to practise their timestables.
There will be an Easter Competition next term with more prizes to be won.

Languages department news
---
German
Year 10 students have been reading the novel "Die Welle" this term - on Wednesday we went to the movies to watch the German version from 2008 in Cineciutat. We all enjoyed the movie in the morning. Afterwards we compared the novel with the movie and discussed the differences and the way the German version presented the topic.

Spanish and Catalan
Our students have written their wishes for 2022 in Spanish and Catalan lessons and have decorated their own Christmas tree ball. Among all the participants, we have chosen one winner for each year. Come and take a look at our tree in reception to see their amazing creations! ¡Feliz Navidad! Bon Nadal!
Our Year 7 students have been busy preparing and recording a wonderful Christmas surprise for the residents at the Nursing home in Calvià. We hope they enjoy this lovely surprise as much as we have and start their Christmas festivities with a big smile!
English department news
---
BIC Win Third Place at Rotary Debating Competition
Thursday saw the finals of the Rotary inter-school debating competition at the prestigious Palma Pictures film studio in Marratxí. Palak, James and Ava debated against strong competition from Lyceé Français on the motion 'Government should have the legal right to track their population through mobile devices.' Having won their debate, BIC bring home the trophy for third place in the overall competition, with James winning the prize for best debater of the day.
Congratulations to Palak, James and Ava who have shown conscientiousness and commitment throughout the competition, and have developed into brilliant debaters. Well done!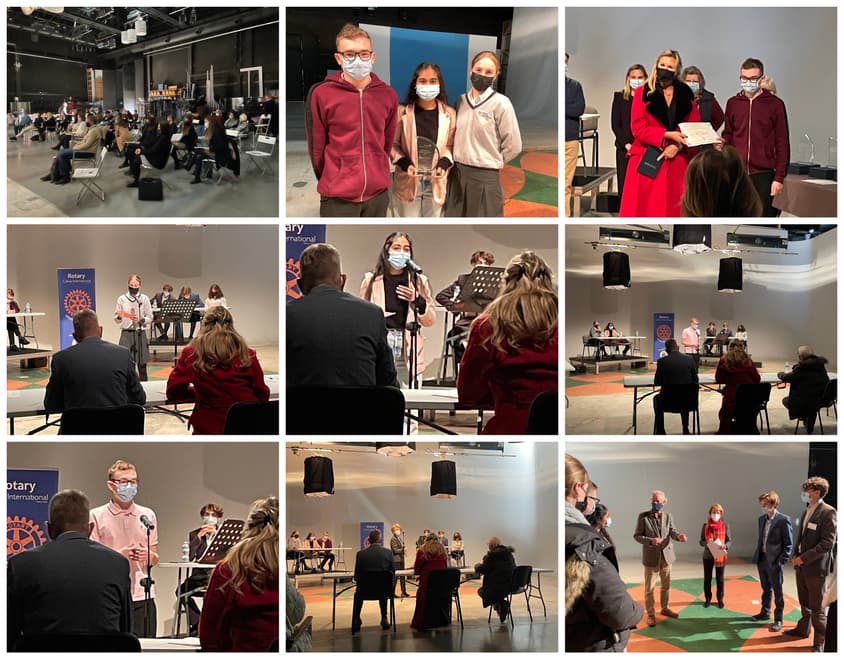 Over the past few weeks, students from Years 7 to 13 have been diligently practising their reading for the school carol service. From poetry by W B Yeats, Christina Rossetti and e e cummings to readings from the Bible and a sermon from the 17th century, there has been plenty to challenge our students. A big well done to all those involved.

Humanities department news
---
The humanities department would like to thank all of the students for a fantastic term. It is important to have a proper break over the Christmas holidays but it is also a time where you might be able to spend some time watching films with a humanities theme. There is a wealth of excellent material easily available.
Year 7have been learning about the Middle Ages and will move on to find out about the Crusades. Any films or documentaries set in the Middle Ages are excellent viewing. You can never go wrong with a few episodes of Horrible Histories.
Year 8 students have been learning about the Tudors and Stuarts and there is a wealth of wonderful material about Elizabeth I and the Tudor period.

Year 10 and A Level history students would benefit from watching any films linked to the Civil Rights movement. The Banker, The Help and Selma are all excellent films.

Sports department news
---
Students have been taking part in the great inter-House snowball fight this week in lessons - otherwise known as the inter-House dodgeball competition.
They had the opportunity during the Christmas fair to take part in the Santa relay race as you can see below.

Creative Arts department news
---
Drama and Music
We have had a great final week of practical lessons in music and drama. Below you can see our key stage 4 and 5 drama students rehearsing their scripted and devised pieces, which will be performed next term. They have made great progress since the start of the year. Key stage 3 students have been working hard on their music studies. Below you can see Year 7 performing ´Last Christmas´ on the glockenspeil, which they have learned from the sheet music. You can also see Year 8 and 9 students concentrating hard on their ukulele performances.
Science department news
---
Here is a selection of photographs from another fun-filled week. The students have enjoyed learning about energy transfers, indicators, rate of reaction and density to name just a few. This term's natural history seminars have rounded off with a presentation sent to us from Ms Belinda Vause who has experience of working for the British Antarctic Survey over the Christmas period.
Ludovica, Maja and Clementine in Parks 2 made a solar system Christmas tree for the BIC science Christmas decoration competition!

On Christmas jumper day Louis and Ham in Year 12 combined Stoke's Law and Archimedes' Principle to calculate the viscosity of washing up liquid.