Ms Alison Colwell, Principal
Dear families,
Today we say au revoir to Ms Compton as she leaves us to go on her maternity leave. Ms Compton and I were appointed at the same time back in March 2019, and joined our school in September. From the very beginning we have been completely aligned on moral purpose, on values, on standards and expectations and on our mission to make our school the number one school of choice on the island. I could not have had a better leader to work with, and her leadership of the primary school has been outstanding. Ms Compton is tireless in her pursuit of excellence for your children, is exceptionally hard working, committed, reliable and thoughtful. She cares deeply about the children. We have seen many challenges since we started our time here at BIC, and we have ridden the waves of the pandemic together! I would like to thank her publicly for all the service she has given so far to our school and our students, and we will miss her, whilst we share the excitement of herself and her husband as they look forward to welcoming their new arrival.
However, we have a truly fantastic team of staff here at BIC. I always tell prospective parents that they will not find better teaching and learning anywhere else on the island, nor more passionate leaders across the school. Ms Hodgson has been a huge strength of the school prior to Ms Compton's and my arrival, and is a wise, hard working, highly experienced and exceptionally professional leader. She now steps up to be the Head of Primary in Ms Compton's temporary absence. They have led the primary school together as a very close knit partnership, and have spent an enormous amount of time, as they always do, planning and organising. I know it will be, as Ms Compton says in her newsletter piece today, a seamless transition. In addition, to support Ms Hodgson in leading the primary school, Mr Fairless has been appointed to Deputy Head of Primary. Mr Fairless joined us in September with an outstanding record in teaching and leadership in the UK, and I am excited about him joining our senior team.
Over recent months I have repeatedly asked parents to contact the school over any issues, concerns, questions or even just comments and opinions. That request has no shelf life. Please, for any matter around your child and their education - speak to us. Our staff are extremely committed to the welfare and wellbeing of your children, as well as their education. We are building a really strong and positive culture across the school, robustly tackling unkindness if it occurs and promoting kindness, respect and compassion, and this is always done best through a partnership between school and home.
Wishing you a good weekend,
Alison Colwell
Principal

Ms Alexandra Tomlinson, Head of Secondary
You are always responsible for how you act regardless of how you feel.
Last Saturday saw the funeral of His Royal Highness, Prince Philip, Duke of Edinburgh. Much has been written in the days following his death of his interesting life, of the man himself and of course his well known gaffs! However, I focussed this week in our beginning of term secondary assemblies on Monday, on a word that seems to have repeated itself in all of the descriptions of him: the notion of ´Duty´.
Philip has been referred to as a ´selfless servant´. Queen Elizabeth II herself talked of him in a speech in 2017 on the wedding anniversary as her ´strength and stay´ and it seems a good idea to reflect on the nature of duty to our fellow human beings in the grip of a global pandemic.
We must not forget that many have become sick, and many have died in the execution of their duty as frontline medical staff during this crisis. Many have made the ultimate sacrifice, putting kindness, love, responsibility and selflessness before their own interests and lives.
I shared the story of the villagers of Eyam (a town in the North of England) with students on Monday. During the Black Death in 1665, the villagers stayed in their village when the Plague visited them, quarantining rather than escaping so that the disease did not spread. Thousands of lives were saved as a result.
So, whilst we wear masks and are restricted, and our students sacrifice some of their freedoms and joys of youth for the good of humankind, we must remember that in doing so they demonstrate those same qualities that Prince Philip exemplified. That they demonstrate in doing so - empathy and selflessness, embracing working together, focussing on the ´us´ rather than the ´me´.

Mr John Barter - Head of Sixth Form
This is the term where everything takes shape for our Year 11 students and our Sixth Formers. The main and immediate focus will be on preparing for and taking their important IGCSE, AS and A Level exams. I sent out an exam timetable before the Easter break; an updated one, with a few revisions, will be with you today. It is essential that the students continue to go to their lessons as normal (unless these clash with booster classes or exams); teachers will be guiding the students on final learning and including revision elements too. Procedures for the summer exams will be the same as for the January exams; the only exception will be the inclusion of booster classes. The aim of these is to give the students final pointers to success in the exam; key things to do, common errors to avoid, and a 'come on, you can do this!'.
So I feel that everything is settling into place. Our students are well placed for their IGCSE, AS and A level exams. We have been impressed by their focus on revision and gaining the best grades possible. However, the exam season can be stressful. If you feel that your son or daughter is struggling to cope with the pressures of revising and sitting the exams, this is not a sign of weakness, but rather the importance they place on these exams. Do let us know so that we can support you and your child.
Last week, I attended a global university conference and had a number of conversations with representatives of universities across the world (particularly the USA, Canada and The Netherlands) to learn more about their application systems, expectations of applicants' grades and the other skills that our students should have. All have been massively impressed that we have had face-to-face teaching since May; most are only just getting back to this and that is down to having intensive vaccination programmes for their staff and students in recent times (and some are not anticipating this until September). Several have been interested by the international nature of BIC's students, feeling that this will be a major plus in their abilities to settle into university life; they are already used to working with students from a range of backgrounds. I spoke to one university about their Business course focussed on sustainability and change management. We talked about BIC's Global Citizenship course, which shares some similar topic elements; the representative was excited that BIC was so 'forward thinking' in offering a course covering this range of issues.
If you anticipate that your child might apply to universities in a country that might be less regular for BIC students, please do let me know. I can start to prepare by using my university contacts to find out more, so we are completely ready when the time comes.
John Barter
Head of Sixth Form
john.barter@balearesint.net

Extra Curricular Activities
We are excited to be able to tell you that extra curricular activities are back! After an enforced period without extra curricular due to Covid restrictions, we are pleased to tell you that we will once again be offering on and off site extra curricular activities.
Extra curricular clubs are a brilliant way for your child to extend their learning whilst having fun. There are a range of opportunities on offer, from sport to film and culture as well as technology in the robotics club. We are constantly working on expanding the offer and will share updates of the clubs available with parents when there are new additions.
These will begin on Monday May 3rd. The individual details of the external providers can be found in the document here . Please contact the external providers to book using the details on the sheet. Pre booking of these clubs is essential so that the providers know how many children to expect. All payment is handled directly through them.

Duke of Edinburgh International Award
This weekend students from Year 10 and above are taking their first steps in preparation for the Duke of Edinburgh International Award. As part of the award, students need to complete activities that promote self development and character.
Some students have begun physical challenges including cycling, swimming and gym workouts, others have started on their individual skills such as piano, learning sign language, horse riding and drumming. To complete the voluntary service section some have been working with charities, sports coaching and litter picking. Every student is taking on unique personal challenges that require persistence, are achievable and - hopefully - fun.
The final section of the Award calls on participants to work in a team and complete a two day expedition. This weekend we are completing our first walk, building our groups and learning to use maps, compasses, practical equipment and develop our understanding of teamwork and what the challenges ahead will hold. We look forward to sharing our experiences with you next week.
DofE Coordinator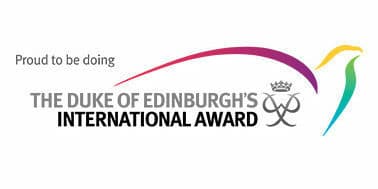 Weekly highlights - Creative Arts at Baleares International College
Abstract paintings based on shapes seen in a training shoe

IGSCE final pieces in the making

IGSCE planning sheets for final piece

Frank in Year 7I: comic strip to show the history of media, from cave paintings to the invention of the printing press to the invention of electricity and moving on to how media is used and shared in today's world.

In Year 7B students have been developing their drama devising skills. As part of this they have been investigating how they could plan a set design for an original musical that they are creating.
Here we can see an example of a mood board created by Seren in 7B. This reflects the vision she has for what the ´New Planet´ looks like that is inspiring her musical, and she can use this to help her create her set design.

Here we can see how Laura has taken her research and understanding of what she has learned about the stage to create a technical set design for her musical.

Zepheniah has been working on developing the storyline for his musical by creating scenes using a storyboard.

Year 8 students have been investigating how music is used in different forms of media, including films, television series and podcasts.
We can see that Kate and Matias have used the musical knowledge they have learned to analyse and evaluate the music from ´Star Wars´.
In Year 10 drama students have been investigating the importance of facial expression and body language in performance. We can see them below exploring how to display different emotions.
Using their understanding of portrayal of character´s emotions, students wrote their own original monologues for the character Eric in ´An Inspector Calls´, exploring how he feels about being questioned by the Inspector. Below we can see Ava Bland, Jasmine Guthrie Mora and Julian Stadler delivering these to their class.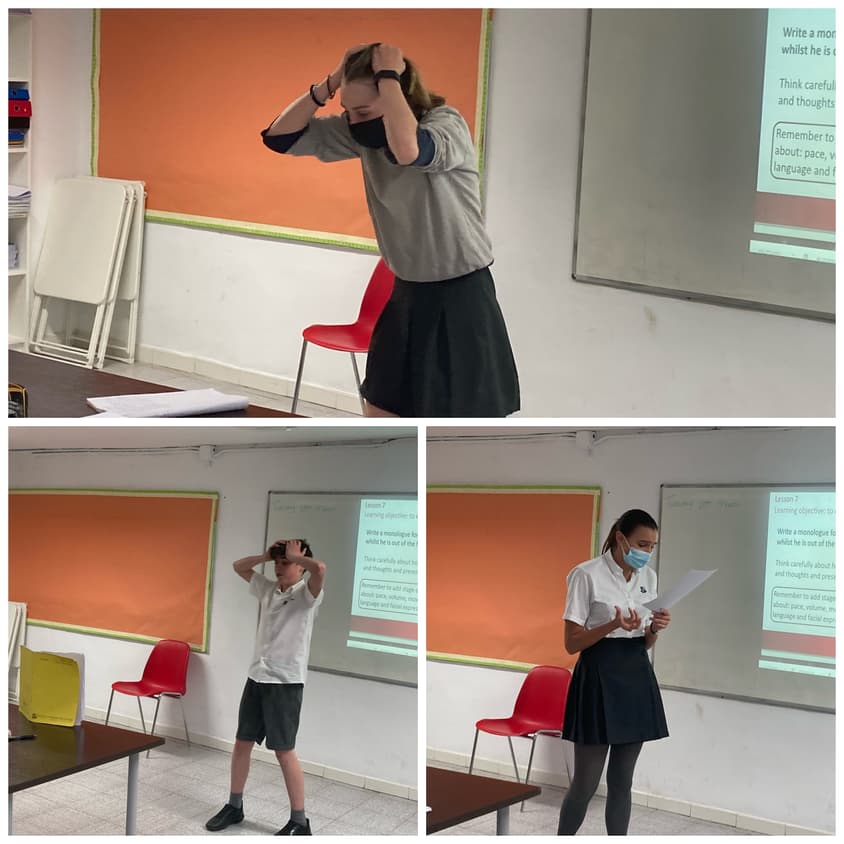 In Year 11 drama students have been working hard to complete their portfolios based on the process of devising their practical work. When they were told at the start of the year they would be writing a 2000 word portfolio they all said that seemed like a lot. Once they had finished their practical coursework they realised they had so much to say that actually the difficulty is sticking to no more than 2000 words! Students have also been completing tasks on the set text ´An Inspector Calls´ in preparation for the completion of unit 3. They have several revision materials on their Canvas page which will aid them in this, I am extremely impressed at how well they continue to apply themselves to this work.
See below Nina and Lisa working on their portfolio while Lavinia and Palak explores lighting design and look in depth at'An Inspector Call'.

In Year 12 drama students have been demonstrating the theories of Jacques Lecoq and the 7 levels of tension. They have been exploring how you can portray different sides of the same character by using different tension levels. We can see Jessica Gilson and Olivia Taylor practising this below.

They have also been continuing to push the boundaries of performance in their exploration of political theatre practitioner ´Brecht´. By applying his theories to the modern day political topic of ´Black Lives Matter´, they have been exploring how the theatre can be used to educate an audience and inspire change. We can see them rehearsing the piece they have devised on this topic below.

Languages department news
Year 7 Catalan students enjoyed following and writing an ancestral and traditional Easter recipe just before the holiday break. They loved learning how to cook these delicious "robiols". "Són boníssims!!"

It has been wonderful to welcome our young scientists back into class this week! Next week our Science Department will feature in the newsletter. We look forward to sharing with you some of the exciting developments that are ongoing!
Ms Turley's class continue to nurture their carrot crop on their journey to self-sufficiency.

Tune in next week to find out more about our personalised curriculum journey in KS3. There will be an information session for parents in Years 5-6 about Science in KS3 publicised in next week's newsletter. The idea is to provide parents and students with the tools that they need to support rapid progress in science, whilst having fun!

Our students were recently learning about satellites and space! Here is a fantastic photo that was taken recently from the International Space Station of a cloudless Mallorca and Cabrera!

Year 9 are currently reviewing their knowledge of the KS3 curriculum so that they are prepared for success in KS4. Thank you to our students who are working hard to identify what they know, before continuing their journey as they consolidate, embed and extend their learning. Here you can see the students completing a "Brain Dump" retrieval activity where they review their understanding of key topic areas in chemistry.

Thank you to Year 11, 12 and 13 who continue to apply themselves admirably in their studies. Here is a link to the recent update to the Year 11 revision schedule as we seek to support the students on their journey.
Thank you to Mr Kingston-Bray and his Year 12 students this week who have been busy with external examinations.

Whole School House System news
House Points Totals Update - Term 3
| Winton | Galileo | Roosevelt | Parks |
| --- | --- | --- | --- |
| 53 | 61 | 55 | 51 |
Overall total House Points
| Winton | Galileo | Roosevelt | Parks |
| --- | --- | --- | --- |
| 2046 | 1927 | 2138 | 2134 |