Ms Alison Colwell, Principal
Dear families,
It is proving an incredibly busy term, as the summer term always seems to be, with the arrival of the exam season for our older students and our ongoing "business as usual" approach to school life. We are planning for an Olympics week in June, culminating in our Sports Day on 18th, and our fantastic pool should very soon be ready to welcome swimmers! We have launched a new secondary school choir, and are planning for our exciting Activities Afternoon next school year, whereby our students will be able to pick from a wide variety of enriching activities to further broaden our exciting curriculum. We will also be holding an end of year awards event, the details of which we are not yet decided on, as we will still, no doubt, have restrictions from the authorities, but we are absolutely determined to hold this important event when we will celebrate and reward the achievement of so many of our fantastic students. We will also be holding more webinars this term on science, on revision and on understanding the school reports. Please keep an eye out for the communication about all these events.
Wishing you a good weekend,
Alison Colwell
Principal

Ms Alexandra Tomlinson, Head of Secondary
Small Communities, Great Love

The House System, possibly brought to the world and known best through JK Rowling´s Harry Potter books, is a feature fundamental to the life of a British school. Traditionally, ´Houses´ were where students at British boarding schools lived, ate, worked and rested whilst at school. Each student belonged to a different House and the community within that House was the student´s family for the time that they were away from home.
That sense of belonging and community pervades today in schools with Houses, including our own at BIC. They are little brother and sisterhoods of their own within our wider community, providing another layer of support and camaraderie, where those within the House look out for each other - older members of the House supporting and acting as role models for younger students and where the young look up to their elders.
Belonging to a House also fosters team spirit and a healthy sense of competition. The desire to be the best, to compete and win in numerous competitions and cups combined with that atmosphere of love and care plays a very strong part in furnishing young people with open mindedness, energy, eagerness and helpfulness.
Our BIC Houses are led by a Head of House - a staff member responsible for developing and encouraging all of the above as well as building House morale and spirit. As our House system goes from strength to strength, parents can expect to hear directly and regularly from their son or daughter´s Head of House and are encouraged to get in touch with them to share information, concerns and achievements. They play an enormous role in ensuring that the young people in our care are the best possible version of themselves.
Our Heads of House details are below:
Galileo - Ms Turley
Parks - Ms Xidakis
Roosevelt - Ms Mayes
Winton - Ms Florey
Mr John Barter - Head of Sixth Form
Last week Ms Colwell and I interviewed the applicants for the BIC scholarship. They all reminded us how lucky we were to be working at BIC. All showed enthusiasm for their learning, for developing other skills and for working with others. Some were from outside of BIC, intending to join us in September; they will definitely add to the depth of academic and personal quality at school. Ms Colwell and I have discussed a number of issues arising from the interviews. Amongst the things we were looking for in the successful candidates was the ability to act as a role model for their younger peers and the ability equally to relate well to current and prospective parents.
In the 21st century, whilst grades are very important, they are not the only way a student can make themselves marketable to potential universities and employers. As so many courses and careers now involve working and collaborating with others (even leading others), those who have slightly lower grades, but self-awareness and self-confidence, can be extremely marketable. Teachers at BIC aim to help our students to develop these skills through the range of activities that involve group work, problem-solving and self-reflection. Our House activities are also orientated towards the development of such facets. Next year we will have a wider range of activities that our students can join in with; more news to follow. By getting involved and having fun at school, students can unwittingly equip themselves for the future pathways. However, as they get older, students should focus more consciously on this. Those who have signed up for our excellent Duke of Edinburgh Award Scheme have made a wise choice with regard to this. But others can look to take other opportunities through their leisure activities such as taking PADI or junior diver courses or by taking boating or yachting certificates. Being a member of a sports club is an excellent way of developing personal and team skills. I have previously identified online MOOC courses such as https://www.futurelearn.com/courses as a mechanism for developing personal interests outside of our taught exam curriculum. With a long summer coming up, there are a range of alternatives that can be planned, starting from now.

Whilst students are capable of making their own choices and developing their own paths, a subtle steer from parents can make a big difference, especially if it is accompanied by the offer of lifts to and from relevant locations. If we can help offer suitable advice, please do contact us.
John Barter
Head of Sixth Form
john.barter@balearesint.net

Duke of Edinburgh International Award
TENTS WANTED!
This term we are preparing for our first camp in readiness for our adventurous journey expeditions. This requires us to plan equipment and provisions amongst the group. In order to do this we need to have a clear picture of exactly what materials we already have and what we need to purchase. And so today I am asking you to rummage through the garage or the loft and see if you have any camping equipment that you no longer use or need. We would gratefully receive any donations of camping kit that we could utilise.
All we ask is that it is in good condition, fit for students to use straight away.
Our Award participants have their second hike this weekend and we look forward to sharing our experiences with you next week.

Weekly highlights - English at Baleares International College
This term, we are pleased to be one of hundreds of schools shadowing the CILIP Carnegie Medal, recognising outstanding writing for children and young people. Students from Years 6 to 10 and staff are reading some of the eight shortlisted books, and we will be voting for the Shadowers' Choice Award towards the end of May. The winning books will be announced on 16th June.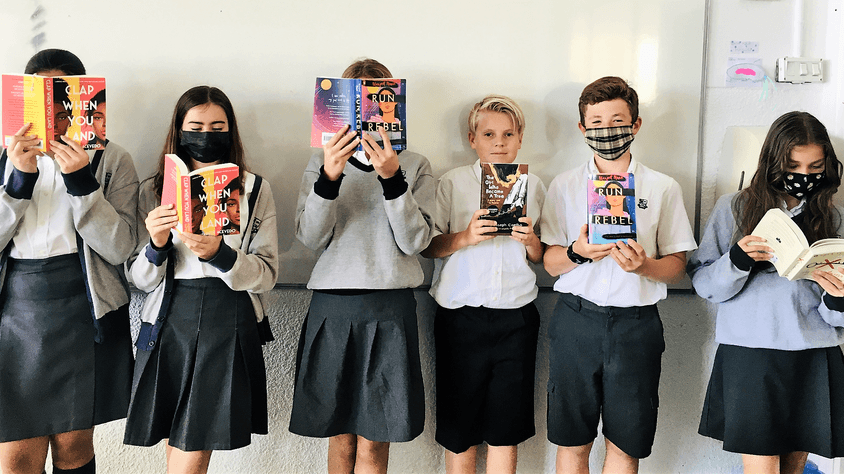 Find out more information about the awards here: https://carnegiegreenaway.org.uk/about-the-awards/.
This term has so far been a busy term with Year 11 to 13 diligently preparing for their exams, and Year 11 sitting their English Language exams this week. Meanwhile, Year 7 are reading, writing and reciting poetry; Year 8 have started their study of Twelfth Night; Year 9 are learning about poetry from different cultures; and Year 10 are learning about narrative writing and continue to be introduced to their poetry anthology. Enjoy some of our highlights below!
Year 7 reading and reciting 'The Caterpillar' by Robert Graves, a British poet who lived in Mallorca from 1929 until his death in 1985:

Year 7 students have been studying poetry, in particular- Pied Beauty by Gerard Manley Hopkins. They were asked to create their own poem in appreciation of nature.

Year 8 creating 'freeze frames' of key moments in Act 2, Scene 5 of Twelfth Night by William Shakespeare:

Year 9 is currently studying poetry from around the world. The students have focused on African protest poetry last week and this week they are exploring Irish poetry.

Friday cake sale by Year 13
On Friday the 7th of May we would like to offer again cupcakes and cake - this time for year 7-10.
The sixth formers will go around from bubble to bubble with a tray so that the children can buy a piece of their choice for 1 Euro at the start of break time.
The money we will raise will help us organise our end of school graduation in summer.
Many thanks for your support!
Year 13

Humanities department news
Year 7 historians have been working very hard on creating guides to Cordoba. This fascinating city shows how Islam and Christianity met in Spain. The students have been learning all about the very rich history and have produced some amazing work.
This week we have had so much fun during Year 7 PE lessons. Pupils have enjoyed taking part in many different football activities.

On Tuesday the 18th of May, Year 11 students will have the opportunity to complete some of the suggested practicals in biology, chemistry and physics. The rationale behind this day is so that the students will
all have had the chance to cover the topics that could be examined in their terminal assessments. It promises to be a fun day for all!

The students have been enjoying making models of unicellular organisms this week.

In science the students were learning how to present data in pie charts. Here they were looking at the numbers of dolphins in captivity.

Whole School House System news
House Points Totals Update - Term 3
| Winton | Galileo | Roosevelt | Parks |
| --- | --- | --- | --- |
| 196 | 230 | 199 | 184 |
Overall total House Points
| Winton | Galileo | Roosevelt | Parks |
| --- | --- | --- | --- |
| 2189 | 2096 | 2282 | 2267 |