Ms Alison Colwell, Principal
Dear all,
As we look towards the end of term, there remains in school so much wonderful teaching and learning accompanied by a variety of exciting and enriching trips and activities, as well as in-school events celebrating success, such as our Olympics Week this week and our Awards Events next. The end of term is always so busy; whenever people (who don't work in schools!) suggest things wind down towards the end of term I am always at great pains to point out how it is quite the reverse, things wind up, and our staff and children continue to show fantastic commitment, resilience and character. Huge thanks as well to the PTA for the book and clothes sales that have been a great success, and we are so looking forward to next year's PTA growth (kicking off with a family and teacher event on Friday 10 September, save the date!)
Ms Tomlinson talks today of a holiday bucket list, and without wanting to steal her thunder - it is a fantastic newsletter piece, as always - I would add my own which is probably to be expected! I challenge our children and young people, through yourselves, to abandon the screens. We are all aware of the beauties and bounties of this lovely island, and my urge to our young people would be to spend their summer break playing outside, swimming in the sea, walking, talking, listening and learning, cooking, writing, painting, designing, creating, playing card and board games, if they are fortunate enough visiting and experiencing other countries and cultures, and - of course, another predictable one from me - reading, reading, reading. I urge them to abandon their social media on phones and tablets and communicate in person, to relax and to play, to learn a new skill, a new activity, to enjoy being children and young people.
And it can of course be done, because it was! I am sure to many I sound like a dinosaur, and I assure you I am no Luddite, technology certainly has its place, but for a child, the great outdoors and the joy of fun and friendship, well, these things are more important, every time.
Oh, and for a less predictable one, my own entry to Ms Tomlinson's list would be for every child between the ages of 5 to 15 (or maybe 5 to 95, actually) to read one from every series of Enid Blyton, the (in my view) great English children's author who has received, over the years, some bad press but whose books of adventure, escapism, fantasy and mystery were the backdrop to my childhood, ignited my imagination and curiosity, and which made me into the avid, passionate reader I remain.
Enjoy the weekend,
Alison Colwell
Principal

Ms Alexandra Tomlinson, Head of Secondary
The BIC Bucket list: Part One
As the summer holidays loom ever closer, this year we have put together a bucket list for our Secondary students to check off during long, lazy days! Below are the first 25 to get started now! Do feel free to send in suggestions for next week's installment to Ms. Tomlinson!

Write every day, consider using prompts to inspire writing such as those listed here: https://blog.reedsy.com/creative-writing-prompts/

Learn the Greek alphabet off by heart

Try stargazing! Maybe not in the middle of Palma, but anywhere without light pollution...https://skyandtelescope.org/as...

Read one (or more!) Spanish Classics (Lazarillo de Tormes, 100 years of Solitude, Don Quijote...)

Prepare some Gazpacho (and drink it very cold!)

Dance some modern flamenco and sing with Rosalía

Enjoy the sunset in Cala Deià

Be able to do at least 15 push ups and 3 supinated grip pull ups by the end of the year, especially if you are signing up for Callisthenics

Attend the British Film Institute´s 2021 online Media Conference on 1st and 2nd July

Enter the Royal Society of Biology´s Young Photographer competition, closing date for entries July 23rd: https://my.rsb.org.uk/item.php?competitionid=41

Plant some vegetable seeds

Complete a free first aid course: https://www.studentfirstaid.co.uk/

Visit the tumulo in Son Ferrer. Research what a tumulus is before you go!

Listen to Mozart´s The Magic Flute - either all in one go or 5 minute chunks.

De-clutter your bedroom and take outgrown clothes and saleable items to a charity shop

Fundraise for charity: https://www.twinkl.es/blog/25-bbc-children-in-need-fundraising-ideas

Sleep under the stars

Watch a thought-provoking movie: https://www.commonsensemedia.org/blog/black-history-movies-that-tackle-racism

Go to a museum: https://www.esbaluard.org/en/

Hear some open air music live: https://mallorcalivemusic.com/tickets/

Go 24 hours with no internet, radio, tv or mobile phone. Then try 48!

Meditate for 5 minutes every day: http://mindfulnessforteens.com/guided-meditations/

Swim or kayak out to a small island and have a picnic

Play some classic card games: https://www.pagat.com/national...
Mr John Barter - Head of Sixth Form
This week we held our Transition programme for the new Year 12 students. Over the course of the week, over 20 students have attended, including three students from other local schools. They have shown enthusiasm for working together, and with the new Year 13. As the photographs show, they have participated well in lessons making molymods in biology lessons, developing an understanding of graphical representations in economics and learning about art portfolios; in Travel and Tourism the students were 'visited' by the Vatel School of Tourism which is located in Bordeaux. In general, the new Year 12s have picked up a basic understanding of the subject content of our various A Levels, so they can be sure what they want to do when they return in September.
I have been really proud of the support offered by our new Year 13s, both in lesson times and in social times. The warm welcome they have offered means that our new Year 12 can be guaranteed of a warm welcome in September. An exciting year is in prospect. Most of Year 13 also helped out with the secondary sports day; their contribution meant that the younger students were able to have the best of times. The leadership and role modelling they have offered this week shows me that BIC will continue to go from strength to strength.
Also this week, we launched the International Project Qualification with the new Year 13; eleven students attended (far more than we expected), coming up with excellent ideas for the projects including:
How do the brain and music combine to deliver emotion?
How far do interior designers take account of cultural differences?
Is there likely to be an economic bubble in the antique watch business?
How do you set up an online business?
How do psychological factors impact on sporting performance?
Others have themes such as the social and medical situation in Ghana, the media presentation of the current political situation in Belarus, the use of video games in new sporting businesses, and the local real estate market, but are still to turn those into measurable questions. But the new year 13 have taken on the different challenge of IPQ with real enthusiasm and I can't wait to see the results.
So, another positive week in the Sixth Form. It shows that we have many more to come in the next academic year!
John Barter
Head of Sixth Form
john.barter@balearesint.net

Key Dates to Remember - Secondary Summer Term Events
| Date | Event |
| --- | --- |
| Wednesday 23rd June | Year 8 German and Catalan trip to Pollentia all day |
| Wednesday 23rd June | Year 10-13 Duke of Edinburgh Hike (pm) |
| Wednesday 23rd June | Year 7 Science Beach Trip (9am-1.15pm) |
| Thursday 24th June | Public holiday (school closed) |
| Friday 25th June | Transition morning Year 6 into Year 7 |
| Friday 25th June | Awards Ceremony Years 9 and 10 (9am to 10am) Years 9 and 10 - parents are invited |
| Friday 25th June | Awards Ceremony Years 7 and 8 (3pm to 4pm) Years 7 and 8 - parents are invited |
| Monday28th June | Years 7 and 9 - Porto Cristo Caves - All day Trip |
| Monday28th June | Years 8 and 10 - Hidropark Alcudia - All day Trip |
| Monday28th June | Year 12 - ´Focus on University´ Day |
| Wednesday 30th | 12:20pm - Early collection from school |
| Wednesday 30th | Year 7 German ´Level 4´ novel, school sleepover |
| Wednesday 30th | Last Day of School |
Whole School House System news
It has been a wonderful week watching our amazing students compete in the BIC Olympics. We have been so impressed with what we have seen on the track, in the pool and in the team sports.
We will announce the winners in next week's newsletter so make sure you take a look.

House Points Totals Update - Term 3
| Winton | Galileo | Roosevelt | Parks |
| --- | --- | --- | --- |
| 751 | 758 | 709 | 798 |
Overall total House Points
| Winton | Galileo | Roosevelt | Parks |
| --- | --- | --- | --- |
| 2744 | 2624 | 2792 | 2881 |
The Duke of Edinburgh Award
Our hardy DofE recruits battled their way up to the summit of Puig de Galatzo last Sunday. Realising a few dreams, we overcame the 988m tall pinnacle despite the fierce 30°C-plus heat. Working as a team better than ever before we managed our resources and communicated really well. Evan was particularly excellent in terms of looking out for others in his group and helping them pick the right path. A special mention must also go to Théo who has attended every excursion held so far. Outstanding young man!
Our final outing before the summer break will be a navigational exercise undertaken on Wednesday 23rd June during school hours at Finca de Galatzo near Es Capdella. We are expecting a good attendance for that one.

Weekly highlights - Sports department at Baleares International College
Secondary Police Talks
Miguel, a police officer from Policía Local in Calvià, has been visiting us to deliver vital information to our pupils from Year 7 to Year 10 .
Topic discussed from Year 7 to 9: Social networks, their dangers and consequences

Topic discussed with Year 10: Drugs and alcohol, legislation and dangers
Thank you so much Miguel for coming and sharing this valuable information with us.

BIC Olympics Week at Baleares International College
This week we have been celebrating BIC Olympic week. In order to celebrate the 2021 Tokyo Olympics, BIC has had their very own Olympic event.
Students are competing in their House teams to become BIC Olympic champions. Every student in the school, from our very youngest in the early years, to our very oldest in the 6th form, have had the opportunity to take part in an event that will count towards the scores for the BIC Olympics. There are of course individual rewards to be won but the emphasis is very much on contributing toward their House and gaining points towards the overall championship. Points are available for participation as well as performance and it has been brilliant to see such a high turnout of students wanting to take part across all Year groups and activities, from the pool, to the basketball court, to the track and field events.
In secondary, students have taken part in a swim gala, a team sport and the athletics finale on Friday. Each event has scored points towards the BIC Olympic trophy which will be awarded on the afternoon of Friday 18th June (The winners will be announced in the newsletter next week).
The athletics event will take the form of a traditional sports day with running, jumping and throwing events, culminating in the marquee event, the relay.

This are the current results as it stands (Final tally of points to be shared next week)
| Place | House | Total Points |
| --- | --- | --- |
| 1 | Roosevelt | 48.5 points |
| 2 | Winton | 40 points |
| 3 | Parks | 38 points |
| 4 | Galileo | 27 points |
On the court…
Year 8 demonstrated some outstanding skills on the basketball court, well above the expectations for their age. Nico and Daniel represented their Houses brilliantly throughout.
In the pool….
In Year 7 Jakob showed outstanding technique in his swimming and won both of the events he took part in. Carlitos and Esme represented their Houses brilliantly, taking part in a number of events to score points for their House.
In Year 9 Nora and Nate dominated the swim competition, winning a series of events. Special mention should also go to Teo for his teamwork with the rest of his House in the relay.
The points, are incredibly close between all four Houses and there is all to play for going into Friday's athletics events.
The swim galas have marked the opening of our brand new refurbished pool. All Year 7-9 secondary lessons between now and the end of the year will be swimming. We also look forward to using it extensively through the Summer School programme in July and in September when we return to school, so get those goggles ready!
Below you can see that the competitive spirit has been strong. Year 7 and Year 9 students taking part in their basketball competition.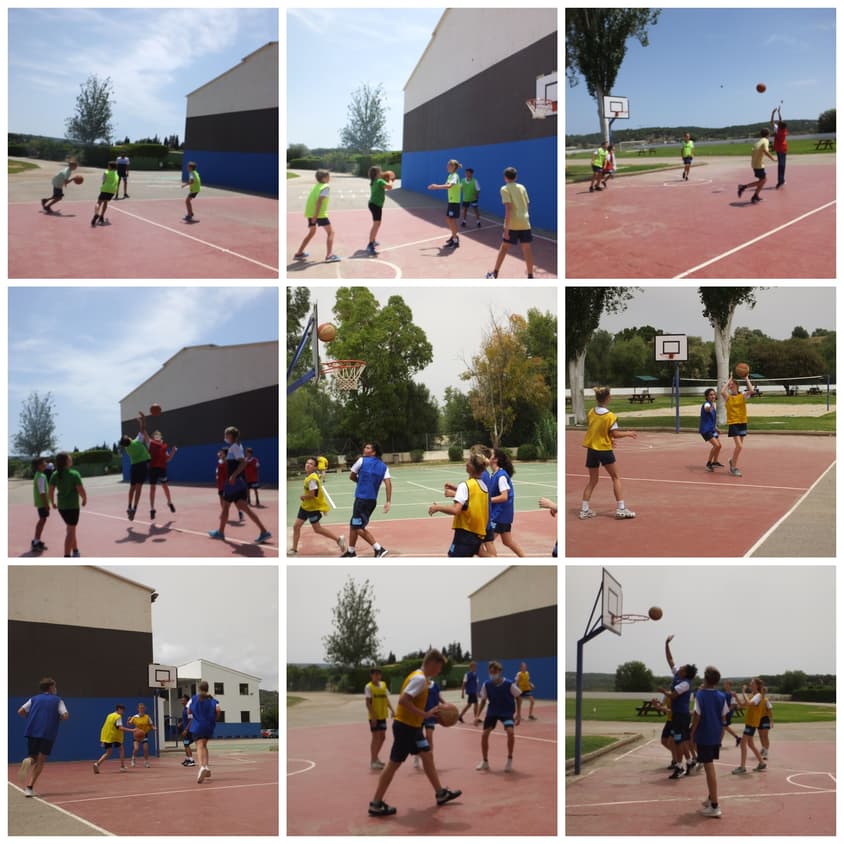 Languages department news
Year 7 Catalan
Catalan students in Year 7 took part in a Balearic Islands' Parliament poster competition months ago and this week have received their certificate and t-shirt as a reward for their effort, participation and fantastic poster entries. Enhorabona!
Year 9 have recently completed their KS3 physics revision unit. As part of this, the students investigated stopping distance in the context of an oil spill. The students evaluated a range of methods in order to find the best method of making a road surface safe after any spillage.

Meanwhile, following on from our biodiversity study, our students were able to use quadrats to identify the most biodiverse location on our school site. Site three (the end of the school field) was revealed to be our most biodiverse area on site. It is easy to see why! The immediate area is preserved as a wildflower meadow, providing a wide range of ecological niches for organisms to inhabit. Students used their learning to explain why palm oil plantations are so damaging in terms of biodiversity when they replace rainforests.

In other news, our students have been learning about plant adaptations. Some students took a virtual journey up Mount Kinabalu using the photographs from one of our science teachers. Students learnt about the adaptations that plants have to the nutrient poor soils as well as gas pressure in relation to altitude. They also met the Giant Kinabalu Earthworm.