A message from Alison Colwell, Principal
Dear families,
At BIC the wellbeing of our children and young people is a top priority, and never more so than this year, as you know. Whenever there is any instance of unkindness between children we act swiftly. We have staff whose role it is to look out for any problems, and to help our students. Ms Compton and Ms Tomlinson monitor closely and constantly what is going on in their respective parts of the school. We take a zero tolerant approach to bullying and work restoratively with children and their families.
There are many ways we work in school to ensure a happy and friendly environment. We constantly discuss with students the importance of being nice to each other and looking out for others. We reward good conduct and acts of kindness. We promote charitable acts, inclusivity and diversity, we celebrate difference, and we teach them about people who are less well off than ourselves. We create a culture whereby students know they can go to any member of staff - the ones they feel most comfortable with. Staff on duty, at lunch or break, know that part of that role is to keep a general eye on how children are interacting with each other at playtime.
However, there is another really important element of building a positive, safe and warm school culture, and that is parents working with us. Equally vital, parents must limit their children's use of screens and phones, and monitor rigorously their use of social media, where sadly so much unkindness these days takes place. You will know that I urge parents to limit the amount of time children are in front of any screen, and encourage them rather to play games, to play sport, to read, to cook, to exercise, to be creative, or just to chat with you.
As the US author Henry James said, "Three things in human life are important: the first is to be kind; the second is to be kind; and the third is to be kind."
Have a great weekend
Alison Colwell,
Principal, BIC Sa Porrassa

Mrs Alexandra Tomlinson - Head of Secondary
I am sure that many of us will have heard the sad news of Captain Sir Tom Moore´s death this week. For those who may not know of him, Captain Tom became a national hero in Great Britain nearly a year ago when he walked 100 laps of his garden ahead of his 100th birthday in April in order to raise 1000 pounds for NHS workers. Instead, he actually raised over 33 million pounds. We owe him a great debt, not only for the money he raised, but for inspiring hope at a time of crisis through his courage and kindness. He was truly a light in the darkness.
I am a firm believer in the philosophy that we get what we put out there in the world. That when we pursue kindness, do what is right and brave, help one another, support rather than harm, we receive it back a hundred times over. Simply put, it feels better to be kind to others than to be mean. Kind acts will always be remembered and passed down and as Captain Tom´s story illustrates, we have no notion often of their infinite good.
So, we are committed to kindness at BIC. Our students are committing to small, daily acts of kindness and compassion towards their peers which are the foundations for a school of love, confidence and happiness. We will do this together - students, staff and parents - remembering the words of the Swiss-French philosopher, Jean Jacques Rousseau, "the most important lesson for any time of life is this: "Never hurt anybody" .
Mrs Tomlinson
Head of Secondary

Mr John Barter - Head of Sixth Form
From IGCSE to A Level to Degree

On 23rd March, Year 9 will be formally introduced to the choices for iGCSE. IGCSEs are the exams taken at the end of Year 11 as a marker of what has been achieved so far at school and as a predictor of later educational success; they support transition into the Sixth Form and to university. We expect that students will gain at least 5 iGCSE passes at grade C or 5 and above (including mathematics and first language English) to enter into the Sixth Form; for specific subjects, grades will need to be higher grades. See the link below for more information about BIC's Sixth Form.
Although universities base their offers of places on their courses on A Level grades achieved by the applicants, they will also always look at the student's previous iGCSE results. They are looking to see how hard students have worked over the period of their schooling. In some countries, universities will also ask for 2 or 3 years of school reports before they decide to offer a place to a student. When students are younger, they can often feel that exams are a long way off and they will work hard when they are nearer; we are working hard to show them that it is consistent effort that will pay dividends.
'GCSEs are seen as evidence of work ethic – and you need a really strong one of those to cope with studying at the likes of Oxford or Cambridge. Because of the assumed connection between your GCSE and A-level results, it'll be down to you to prove you're able to achieve top grades. The more competitive the university and course, the higher the number of high-achieving students with top GCSE marks applying.'
https://www.theuniguide.co.uk/advice
Oxford University says: 'Higher grades at GCSE can help to make your application more competitive, and successful applicants typically have a high proportion of A and A* grades or 7,8 and 9 grades.'
https://www.ox.ac.uk/admissions/undergraduate/courses/admission-requirements/uk-qualifications
You might still have a chance of a place at entering elite universities if you have done less well than they would have expected and can justify why with a good reason (and with good A Level results) but working consistently for good grades throughout Key Stages 3, 4 and 5 will save you stress and increase your transition options in later life. Clearly there are hundreds of universities across the world who will consider lower grades at iGCSE than Oxford and which will provide you with an excellent undergraduate degree, but if you want to aim for the top, you need to start early. Students can use UCAS Course Search to help develop their dreams of life after BIC: https://digital.ucas.com/search
As always, if you feel you need support in thinking about universities, please do contact me.

Key Stage 3 students in Year 9 have been actively learning about the difference between mass and weight, whilst Year 8 students have been learning about thermal conductivity in metals. The students have also been learning how to become more skilled at exam preparation from an earlier age. Students in Year 7, 8 and 9 all have access to knowledge organisers and bespoke assessments that will help our students learn and remember.
Year 11 biology students have been working hard this week to commit the reflex arc to memory:

Humanities department news
Students in Year 8 and Year 9 geography have been expanding their knowledge and vocabulary with some guided reading:

Key Stage 3 students have also been reviewing their topics using the Shrink and Grow Model.

Year 10 geographers have been exploring how the words because, but and so can change a sentence and make us look at a statement in a different way.

Languages department news
This week, Ms Rodríguez's Year 9 Spanish students have been putting special effort into further developing their public speaking skills, which constitute the key to communication in our global world. Thus, practising speaking skills leads to the development of writing, listening, and reading skills.
Here is some fantastic work from the group. All the students created presentations on the topic of Holidays and Tourism, including a wide range of vocabulary and verbal tenses. The work was then presented to the class.
¡Bravo!

Pupils from Year 8 group are currently practising and perfecting their table tennis skills during their PE sessions with Miss Izabella. Well done to everyone!

Rotary Debating Competition - Prize-giving morning
We were proud to be involved in the prize-giving morning with the Rotary on Thursday, recognising the involvement of Connor Johnston, James McIlwee, Lavinia Ruth and Lea Savelsbergh in the debating competition against Queens, the Academy, French Lycee, Bellver and Agora.
At the celebration - which took place on Zoom - Ms Colwell thanked the Rotary and our Head of English, Ms Austin, for their organisation of the competition, and each student was awarded a small token of involvement by John, our guest from the Rotary.
We look forward to being involved in the competition again next year.

Year 11 'Romeo and Juliet' Afternoon
Students have been brainstorming, revising and essay writing, in preparation for the IGCSE English Literature exam.

Year 8-Gothic Fiction (Edgar Allan Poe Study)
Freeze frames of Edgar Allan Poe's dark and mysterious poem, 'The Raven'.

Y7- Shakespeare Research Project.

Art is too important not to be shared so here are some fantastic pieces from our students who have been working hard on their creativity.

In drama students from Year 8, 11 and 12 have been working on their devising projects.
Year 8 below can be seen working on their 'acting for adverts' devised pieces:

Year 11 are finalizing their rehearsals for their devised piece performance for their component 1 performance in March -

Year 12 have been working on devising in the style of a theatre practitioner, and have been working on a piece inspired by the style of Bertold Brecht.

Whole School House System news
HOUSE LANDSCAPE COMPETITION WINNERS 2021

The landscape competition was a real success with over 80 entries across all Year groups in the school. Every entry has earnt a House Point for their team. It was a very difficult decision to choose the top three, therefore 4 additional highly recommended entries were chosen for an extra House point. Well done to everyone who entered the competition.

Special Congratulations to:
New House Competition - Extreme Read

The Heads of House are very excited to announce the next House Competition. Many of you will be familiar with this as it is a competition the school has run in the past - Extreme Read. The aim is to take a photo of yourself reading in the most extreme place possible. We have had some super entries in the past. Although we are a little more restricted this year, I am sure that our creative students will rise to the challenge and take some fabulous photos. We are passionate about reading and literacy and we hope to highlight how fun reading is.

House Points Totals Update - Term 2
| Winton | Galileo | Roosevelt | Parks |
| --- | --- | --- | --- |
| 252 | 223 | 299 | 275 |
| Winton | Galileo | Roosevelt | Parks |
| --- | --- | --- | --- |
| 1470 | 1435 | 1593 | 1584 |
During lunch time our secondary students are taking part in a range of outdoor and indoor sport activities for their Year groups, a fantastic way to get children to exercise as well as build stamina and strength while still having lots of fun.

| Monday | Tuesday | Wednesday | Thursday | Friday |
| --- | --- | --- | --- | --- |
| Year 9 | Year 10/11 | Year 8 | Year 4 | Year 7 |
Lunchtime Sports activities

| Year Group | Monday | Tuesday | Thursday | Friday |
| --- | --- | --- | --- | --- |
| Year 7 | Indoor Volleyball | Basketball court | Football court | Year 7 Beach Volleyball |
| Year 8 | Year 8 zone Football court | Indoor Table tennis | - | Football court |
| Year 9 | - | Football | Indoor Badminton | Basketball court |
| Year 10/11 | Football | - | Basketball court | Indoor Hockey |
Teacher Feature - Mr Sam Warn - Physics Teacher
"Equipped with his five senses, man explores the universe around him and calls the adventure Science" - Edwin Powell Hubble

Mr.Warn is our fantastic and inspiring physics teacher! He makes physics fun and exciting, by keeping his students engaged by having open discussions and making interesting experiments. Mr Warn enthusiastically explained to us, "Teaching physics is the best! At the moment, Year 3 are looking at magnetism and I always found the cranes that pick up cars really cool, so we made a mini electromagnet and turned it into a crane to pick up paper clips. Building stuff using physics is awesome!"
Mr.Warn studied Physics and Philosophy at King's College in London and became interested in teaching after getting involved in an Institute of Physics Programme, that aimed to get more girls into physics. They ran practical lessons teaching students in Years 8, 9 and 10. He pursued his career to become a teacher by going on to do a PGCE in teaching physics at the Institute of Education and gained his teaching experience in London.
Mr.Warn's favourite part about teaching is helping students to view and explore the world in different ways, and looking at weird and wonderful questions. One he got this week that he enjoyed discussing was "To what degree do animals use numbers?"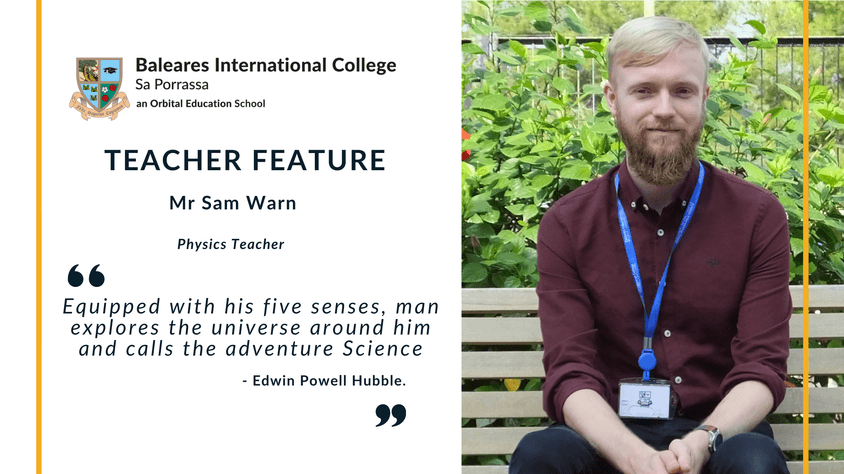 Virtual Open Days at Baleares International College
Dear families,
Following the opportunities to tour the facilities at our schools, BIC Sa Porrassa and BIC Sant Agustí will be virtually opening their doors to all families who are interested in learning more about our student-centered curriculum, facilities, achievements and values that we promote daily in our schools as well as to gain a great insight into student life at BIC. This will be a unique opportunity for all families to connect with our Principals and senior leaders during a live Q&A session.
Dates and registrations:

BIC Sa Porrassa
Accommodated in a large, custom-built school situated in the beautiful, rural environment of Calvià. The school is in a very accessible location on the southwest coast of Mallorca and has a capacity for over 450 students from 3 to 18 years of age.
BIC Sant Agustí
An Early Years and Primary specialised School located in the high-quality residential environment of Sant Agustí in Palma. The school has a capacity for 160 students from 2 to 11 years of age.
If you wish to organise a tour at either or both schools, please contact us directly:
San Agustí - office.san@balearesint.net | (+34) 971 403 161
Sa Porrassa - registrar@balearesint.net | (+34) 971 133 167
We look forward welcoming you to Baleares International College