A video message from Alison Colwell, Principal | Mrs Alexandra Tomlinson, Head of Secondary | Mrs Elizabeth Compton, Head of Primary | Mr John Barter, Head of Sixth Form
A Parent Webinar - Internet Safety
Dear families,
We are delighted to invite you to our next upcoming BIC Connect webinar for parents about Internet Safety on Thursday 25th March at 5.30pm. It is known that internet safety around young people has become a concern in recent years. At BIC we are committed to protecting our students and providing them with knowledge and understanding of the online environment, to keep them safe and to make them aware of the positive as well as negative effects of its usage.
As part of this programme, the school has organised an afternoon for all our students in school, which includes important activities that will give them different perspectives and will teach them how to use technology correctly.
Our parents' collaboration in this is vital, and we trust that you will work together with us to keep our children safe. The aim of this webinar is to talk about how best you can support your sons and daughters in understanding the impact of technology and to give you useful advise on different tools and systems which will enable your children to be protected whilst surfing.
At the end of the webinar, we will be holding an interactive Q&A session where you will be able to ask any questions you may have as well as share ideas that you think may help.

In order to register for the webinar please click here: A Parent Webinar - Internet Safety
We look forward to welcoming you all.
Kind regards

Mrs Alexandra Tomlinson - Head of Secondary
IGCSE OPTIONS EVENING FOR ALL YEAR 9 PARENTS AND STUDENTS
Dear families,

Exciting news! The time has arrived when all our Year 9 students are preparing for their exciting new educational chapter. During this event, we will give families an overview of all the different subjects available at iGCSE at Baleares International College as well as explain in detail how the subject structures work and exciting upcoming news planned for the next academic year.
As many of you are aware, in Year 10 and Year 11 our students are studying for their iGCSE exams. Towards the end of Year 9 our students make the important decision of which iGCSE subjects they would like to study for the following two years.
At BIC we are proud to offer a wide range of iGCSE subjects which will excite and motivate our students. The aim of this iGCSE Options event is to give our parents, students and prospective families a detailed insight into all our options for the academic calendar 2021-22.
This informative webinar will take place on Tuesday 23rd March at 5.30pm and we urge all parents and students to take part.
At the end of the webinar, we will be holding an interactive Q&A session where you will be able to ask any questions you may have.
In order to register for the webinar please click here: GCSE Options Evening
We look forward to welcoming you all

The Duke of Edinburgh International Award
Students in Year 10 and 12 have been planning their route to success on the DofE Bronze Award. With the promise of soon being able to venture out into our incredible locale, building those key personal and teamwork skills - students are piecing together their activities.
This week they have been encouraged to consider which activities they will undertake to complete the award. Students in Year 9 and 11 will be preparing to start their award journey in September this year. For the Bronze award, students need to decide on a skill, a physical activity and an act of volunteering that can be completed in the next six months. Each of these activities should be practised on a regular basis over a minimum of three months during this time. It is intended that the chosen activity should be challenging yet achievable.
When students are nearing their decision they need to speak to Mr Sparks or Mr Kingston-Bray to help set the necessary targets to help chronicle and evidence each achievement. This will largely be done via the online record book which can be reached via the DofE canvas page which has all the information required to help students understand the award and what is expected of them.
Examples of what these activities might be can be found below.
Skills list
Music – singing, learning to play an instrument, music event management

Sports related – sports officiating, umpiring/refereeing, sports ground maintenance

Arts and crafts – ceramics, embroidery, jewellery making, drawing, painting, sculpture, photography

Nature and the environment – agriculture, astronomy, bee keeping, conservation, fishing, forestry, gardening

Communication – film and video, languages, reading, writing, public speaking, journalism, website development

Games – billiards, snooker or pool, chess, darts, backgammon
Physical Activities
Ball sports – football, rugby, volleyball, basketball, cricket, golf, tennis

Athletics – running, jumping, throwing, biathlon, triathlon, decathlon

Water sports – canoeing, kayaking, swimming, water polo, diving, kiteboarding

Winter sports – skiing, snowboarding, curling, bobsleigh, ice hockey

Martial arts – karate, judo, kickboxing, boxing, taekwondo, kendo
Volunteering
First aid

Visiting and supporting people in need, such as the elderly, or those with disabilities

Volunteering at a hospital or local care home

Sports coaching

Charity work
It is required that the three sections are varied and offer self development opportunities. By making their own decisions, students are encouraged to make their own award unique and inspirational to them - as responsibility is a key feature of the award.
Polar explorer Ernest Shackleton once said, "When things are easy, I hate it!"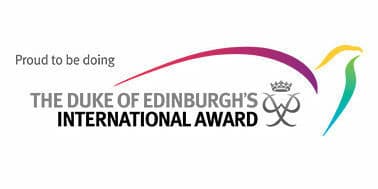 Mr John Barter - Head of Sixth Form
Maths helps you open doors.

This week we focus on mathematics in the newsletter, so I want to discuss the merits of A Levels and degrees in this curriculum area. Mathematicians help to solve many of today's biggest and most difficult problems in the world. The celebrated astronomer, physicist, and engineer (and the person who gives his name to one of our four houses at BIC) Galileo Galilei said, "If I were again beginning my studies, I would follow the advice of Plato and start with mathematics."
The study of mathematics makes you better at solving problems. It gives you skills that you can use across other subjects and apply in many different job roles. Mathematics has its place in many industries and subjects. It impacts real world problems, as well as the solutions to those problems. From everyday tasks such as counting and shopping, to more detailed mathematical problems such as interpreting data, we use maths everywhere.
You could expect to use maths regularly in the following A Levels offered at BIC's Sixth Form: physics, chemistry, biology, geography, economics, business studies, psychology, PE, Travel and Tourism and ICT. Such is the degree of mathematics in A Level physics and economics that we ask students to have achieved a minimum of a grade 6 in order to take on these A Levels. We also strongly recommend that students study A Level mathematics alongside A Level physics as the two subjects support each other so well.
Mathematics teaches pattern spotting; working backwards; working systematically; using logical reasoning; data analysis; organisation; critical thinking; time management; communication; and decision making. As a result, universities see students' grades in IGCSE Mathematics as an important indicator of likely degree success, even if the degree doesn't include mathematics. In fact, German universities even require an A Level in mathematics or Mathematics in Context. So I strongly encourage all the young people at BIC to commit wholeheartedly to their studies in mathematics; the better grades they get, the more doors will open for them in the future.
If you would like to know more about the importance of IGCSEs for universities, you might read the following link:
https://www.theuniguide.co.uk/advice/gcse-choices-university/how-important-are-my-gcse-grades
John Barter
Head of Sixth Form
john.barter@balearesint.net

Weekly highlights - Mathematics at Baleares International College
At BIC the mathematics department never misses an opportunity to celebrate the beauty and fun of our subject.
Pi Day is celebrated every year on March 14th (3/14) around the world, and we therefore did not miss this special day, which is also, coincidentally, the birthday of Einstein.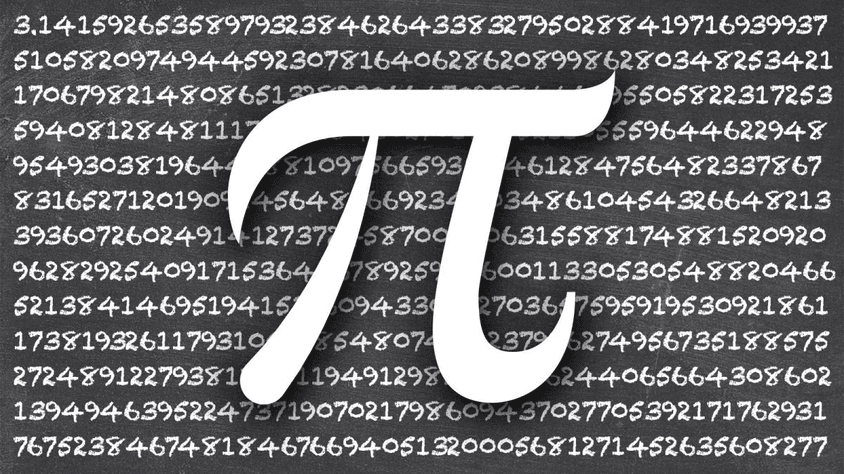 Pi (Greek letter "π") is the symbol used in mathematics to represent a constant — the ratio of the circumference of a circle to its diameter — which is approximately 3.14159.
Pi has been calculated to over 50 trillion digits beyond its decimal point. As an irrational and transcendental number, it will continue infinitely without repetition or pattern.
https://www.youtube.com/watch?v=XXc4jQWz5cs
Whilst some classes watched and joined in with "Pi day" songs, Year 8 learned about Buffon's Needle.
Buffon's Needle is one of the oldest problems in the field of geometrical probability. It was first stated in 1777. It involves dropping something resembling a needle on a lined sheet of paper and determining the probability of the "needle" crossing one of the lines on the page. The remarkable result is that the probability is directly related to the value of pi!

This is what Year 8 did.
Steps
Draw lines on a whole page of a book 50 mm apart.

Break the pointed end off a toothpick so that it is less than 50mm.

Make sure your sheet of paper is on a flat surface such as a table top or the floor.

Drop the stick onto the paper and record whether it lands:
A: Not touching a line
B: Touching or crossing a line
They did this 100 times, recording the results in a frequency table.
They then used the results from the experiment to estimate the value of π . Buffon worked out this formula:
Where:
L is the length of the stick

x is the line spacing (50 mm for us)

p is the proportion of needles crossing a line (case B)
Example: Sam had a match of length 31 mm, and a 40 mm line spacing and 49 of 100 drops crossed the line
So Sam had:
L = 31

x = 40

p = 49/100 = 0.49
Substituting these values into the formula, Sam got:

The results were quite varied but Elisa achieved a result of 3.1416, just 0.0001 from the approximation for pi! Well done, Elisa! A video from Mr Warn's class exploring Buffon's problem can be found here.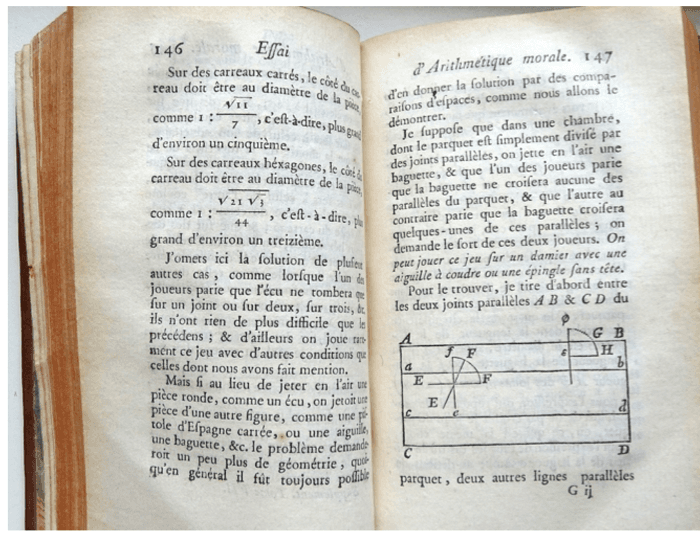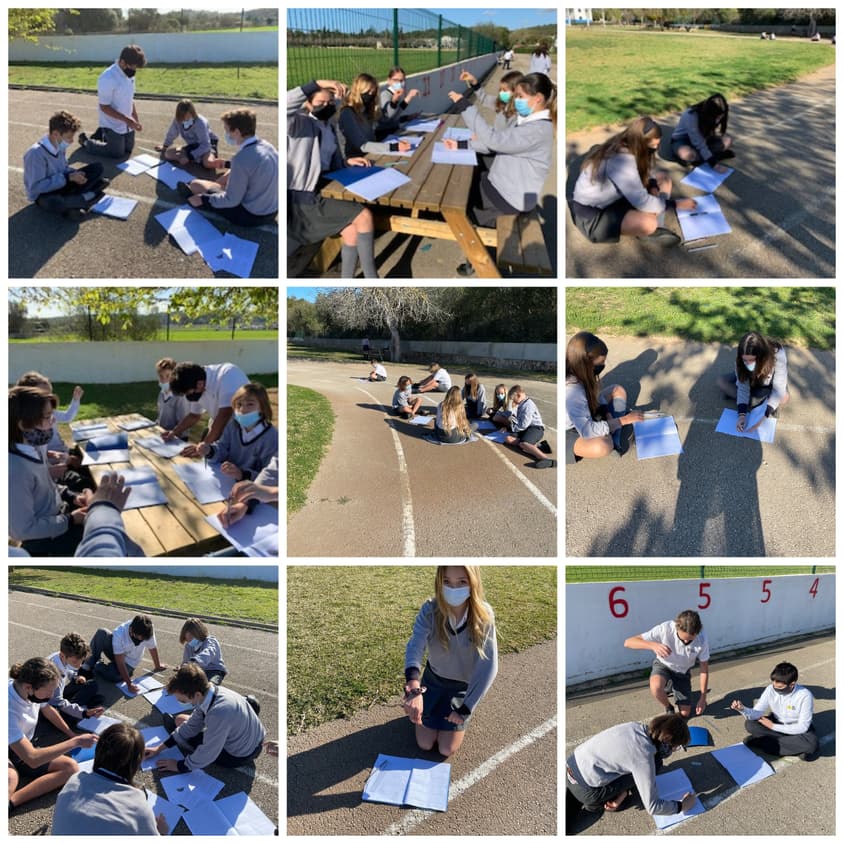 What we love about this problem is the way anybody can access the idea, everybody can have a go at finding 𝛑. This is what we call a low floor - high ceiling task. Primary students can perform the task and engage with the algebra. Sixth form students can even start to think about why it works and link the theory via the algebra to the physical situation. And every student in between can engage at different points in the discovery. Although we love integrating technology into our teaching and the wealth of new and progressive resources available to us, using basic physical materials to discover the purity and beauty of our subject is what will always make the most engaging, magical and fascinating learning experiences.
Stepping away from the textbook and feeling the sense of freedom in our learning engenders creativity, problem solving and teamwork - the most important skills that we want our students to leave the subject with. We love the fearlessness that students need to exhibit in order to engage with what might at first appear to be impossible problems by trying, reflecting, communicating and trying again. It is incredible what we can achieve.
"Whether you think you can or think you can't, you are right."
– Henry Ford
Our Year 7 students have been learning about atoms, elements, compounds and molecules.

Year 11 have been hard at work revising whenever possible!

Year 11 have been learning about the practical aspects of osmosis in living organisms.

In Year 8 our students have been investigating microbiology.

Miss Turley's classes have been learning a lot about plants recently.
KS3 classes have been learning about photosynthesis. They carried out chromatography of a leaf to separate out the different pigments that absorb light. They have also been testing different leaves for starch and looking at structures in the leaves, stems and roots under the microscope.

The Year 12 biologists have been learning about drug testing and the antimicrobial properties of plants. They have been trying to inhibit bacteria grown on agar plates using different plant extracts.

Year 9 Badminton inter House competition:
Badminton Year 9 Champion is Teo!
1st place - WINTON Teo
2nd place - ROOSEVELT Jude
3rd place - GALILEO Florian
4th place - PARKS
Year 9 Floor Hockey inter House competition:
1st place Winton
2nd place Parks
Year 7 students have written and performed their very own interviews on a variety of aspects from their studies about Shakespeare. Some of these include his life, works and legacy.

Year 8 students have put Frankenstein on trial for murder. They found him partly to blame for the crimes of his creation - the Monster.
Now, the Monster is 'wanted' to stand trial and face justice!
Here are a few spectacular wanted posters the students have designed, with the intention of catching the Monster:

Year 10 students are exploring poetry as part of their iGCSE English Literature studies.
Here are some examples of how they annotate the poems:

Year 11 students have been revising the techniques required for approaching unseen poetry.
Here is an excellent example of detailed steps the student makes and a final annotation of the poem, before a written response:

Creative Arts department news
In Year 7 this week in Performing Arts 7C have been experimenting with body percussion. They have been learning about different beat patterns and note values and how a rhythmic pattern can be constructed. They have learned about musical ensemble skills and how these can be used to create a performance piece using their rhythms. You can see them in action below!
Meanwhile, 8C have been learning about different theatre practitioners. They have been developing an understanding of different styles of acting, and where we can see them used. They have also been linking these to the periods of history when the theories were being developed, to understand the influence social context has on drama. This week they were learning about the French practitioner Antonin Artaud and his immersive, surrealist style of theatre. You can see them acting out the piece they developed below.

Whole School House System news
MOVIE HOUSE COMPETITON - Think you are a world class actor or camera whizz?
This week we are excited to see entries coming in for our current competition ´The Movie Competition´. We can't wait to see what your favourite films are and how you choose to recreate a scene! Remember - the challenge is to recreate one scene in one minute with no editing or special effects - we want to see you using your creativity. For each student there are 2 House points to gain for entering, as well as 5 points for 3rd place, 7 for second and 10 for winning. That is per student - so if you choose to work with other students in your House you could make a huge difference to the leader board by winning!

I would like to congratulate all Parks team members for their wonderful work earning House points. We have now moved up the leaderboard into first position. I was extremely proud of the team during the Bleep test; winning second and third place in that competition. Well done and let's keep up the fantastic teamwork.
Miss Xidakis - Head of Parks House
I would like to congratulate Roosevelt students on all of their hard work this week and their continued success on earning House points. I have also been very proud to see members of Roosevelt House displaying kindness around the school - holding doors open and helping other students. Keep up the teamwork Roosevelt!
Miss Mayes - Head of Roosevelt House
Well done to students in Galileo House. You are working extremely hard and this has not gone unnoticed. A massive well done to Demi in Year 8 and Nacho in Year 13 who have been awarded the most number of House points so far this term. Let's see who can overtake them! I am looking forward to watching your amazing film scenes. Keep up the good work.
Miss Turley - Head of Galileo House
I would like to say a massive well done to everyone in Winton House. You continue to impress me with your hard work and dedication at school and it has been wonderful to speak to you all in our morning meetings to hear about your successes. I want to say a special well done to Gisele in Year 8 for winning the Extreme Read competition with her fantastic underwater shot. Jess Gilson in Year 12 has also shone brightly this week when her fabulous song was broadcast on the BBC radio, a fantastic example of our Winton House captains leading and inspiring us. Special well done to Daniel Maynell, Alex Matilla-Doyle, and Esme Sparks for collecting so many House points this term. Keep it up!
Ms Florey - Head of Winton House
House Points Totals Update - Term 2
| Winton | Galileo | Roosevelt | Parks |
| --- | --- | --- | --- |
| 597 | 539 | 605 | 624 |
Overall total House Points
| Winton | Galileo | Roosevelt | Parks |
| --- | --- | --- | --- |
| 1815 | 1751 | 1962 | 1966 |
Teacher Feature of the Week - Ms Elizbeth Compton - Head of Primary
I am so pleased that this week I was selected to be part of our popular ´teacher feature´. Even since moving into school leadership, I am and always will be a teacher. Working with students or teachers to develop and improve is my passion and, since a young age, it was one of the only two careers I wanted to do. My second choice was joining the army, something that my school supported me with through attending a cadets training program and even taking me to jump out of my first ever aeroplane just after my 16th birthday!

To be sure of my decision I decided to leave the very small farm I grew up on in England and see the world, actually the other side of it! I was offered a job to spend a year in New Zealand as a learning support assistant and after one week I knew this was for me. I returned to England, attended university and completed my PGCE teacher training. For several years I trained and worked in home schooling programmes for children with autism and inclusive British education has always been extremely important to me.
Many of you know I joined BIC from Shanghai, China where I was working in the leadership team of a prestigious international school with over 1000 students. This was a wonderful experience. However, on the day I flew over from China to Mallorca and remember the moment when I visited the school, I knew it was the place I wanted to continue my career. My international experience in Thailand, China and Spain (Valencia) has given me many opportunities and ideas to share here at BIC. Even though we have had a short pause due to the global pandemic I am so proud to be working with such an experienced group of teachers and leaders with our goal to make this the best school on the island.
I loved and continue to love school, and the challenges it brings, and I am sure that like me you also remember and have never forgotten those teachers who shaped and inspired you. This is my commitment to you and your children that we continuously work to ensure they also have a love of learning and a school experience to prepare them for a bright future, to be the best version of themselves and to achieve greatness.
Looking to the near future, my husband Vicente and I are very excited and really looking forward to the birth of our son this June, and would like to thank all the families and students for their kind messages and support.