Your guide to all news at school.

A message from Janice Short, Principal
---
Dear families
As we come to the end of the first term of this academic year, it is always lovely to look back and think about everything which we have achieved over the last few weeks. There have been so many events which the children have been involved in and together with the wonderful teaching and learning which is happening at the same time, this makes for a very busy but productive term!
In the last few days we have been focussing on an essential part of Christmas -Christmas presents! However we have actually been thinking about giving instead of receiving. Our Christmas charity events started with our Advent Calendar collection for the Allen Graham Charity for Kidz, for which we collected 140 calendars. Thank you so much!

During a crazy day of wearing Christmas jumpers, show rehearsals and eating Christmas lunch we also managed to collect an amazing 150 Euros for Save the Children, organised by our School Council. Thank you so much for your contributions, we were so pleased to be able to send that amount of money to charity.
Our Christmas shoebox collection was collected by one of our chosen charities, the Fundacio Monti-Sion Solidaria. A few days earlier, some BIC Sant Agusti staff went to the charity's new headquarters where we saw the benefits of the great work they are doing. It is really humbling to see the headquarters and the collection of goods which local people are in desperate need of. As they said, every little helps, so we hope that we have made a little difference to someone's Christmas this year.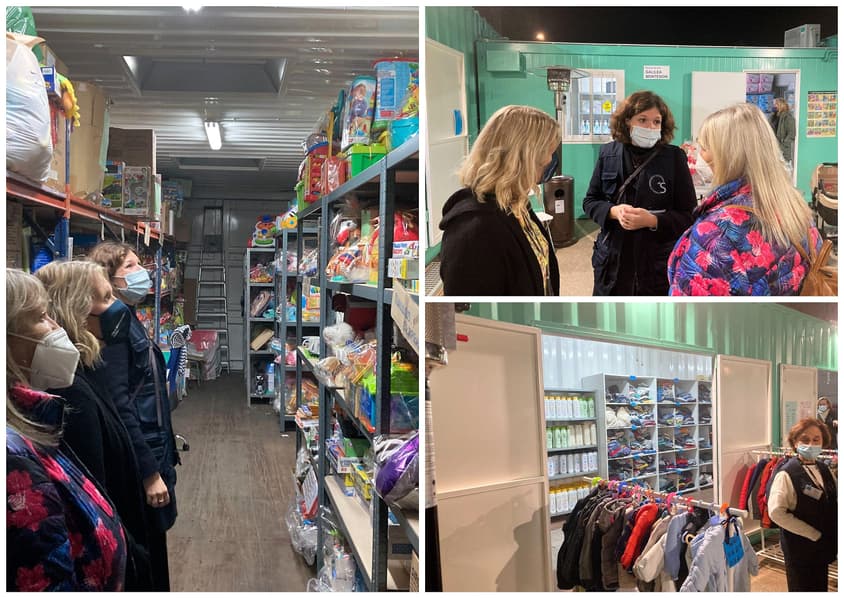 Our BIC Sant Agusti choir really got our Christmas underway with their super performance with their Christmas songs at Son Amar Winter Wonderland, well done to everyone who took part, from Year 2 to Year 6.

At the beginning of this year, I hoped to manage to arrange assemblies and shows which is such a huge part of primary school, enabling the children to work together as well as giving them a stage to showcase their skills in many areas of the curriculum including obviously speaking, singing and dancing. It was a hope which we managed to achieve and I was delighted to welcome our audiences to watch our shows.
Our Early Years department performed "A Snowman at Sunset", which they did so well and there wasn't a dry eye in the house! By using the children´s older siblings as narrators, we were able to tell the story of how working together solves a problem, even with melting snowmen!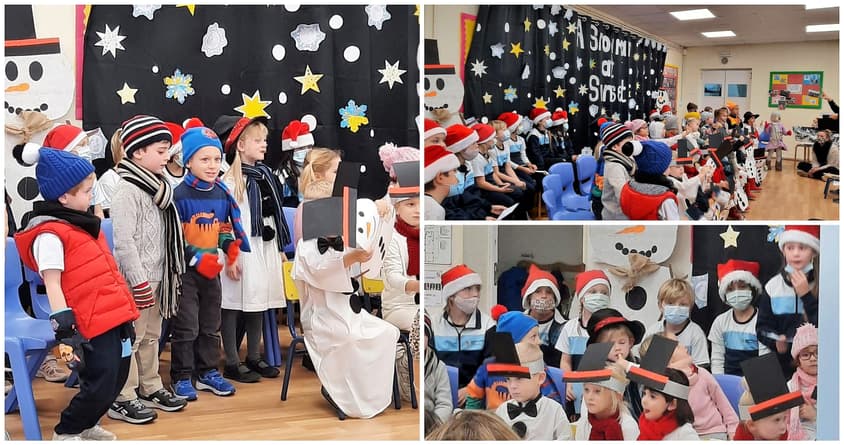 The Primary department show, unfortunately, had to be postponed until January. The children will perform "Pirates versus Mermaids", with swashbuckling songs and swishy mermaid tails with even a crocodile thrown in for good luck! The performance shows that everyone can learn to live together in harmony even though we may have our differences.
The children have really enjoyed rehearsing and performing, even though it has meant a change to the way the shows normally happen, with bubble rehearsals and outdoor performances. A problem always has a solution and we will always find it! The photos show just a little taster of what is to come in January!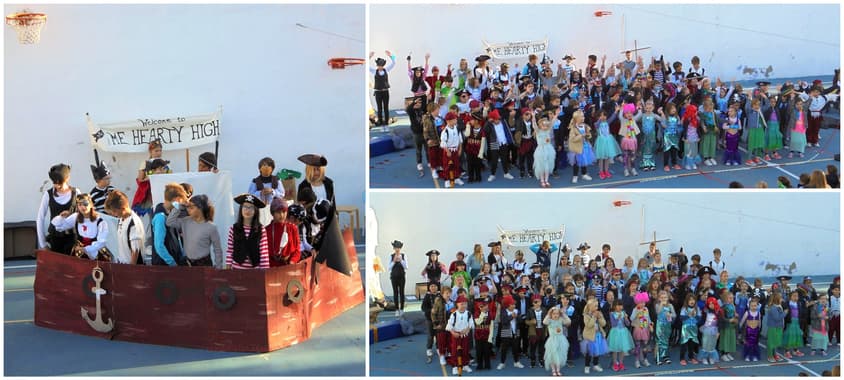 Everyone has really enjoyed the last few days of school as we build up to our holidays and I hope you have enjoyed being a part of this too. This time of year is always special but especially when children are involved, and I always feel very privileged to enjoy this occasion with children every year.
Have a lovely Christmas and a super holiday, hopefully spent with those closest to you.
Our school Christmas tree, made from all the children's handprints.
Warm festive wishes

Mrs Short
Principal
Baleares International College, Sant Agustí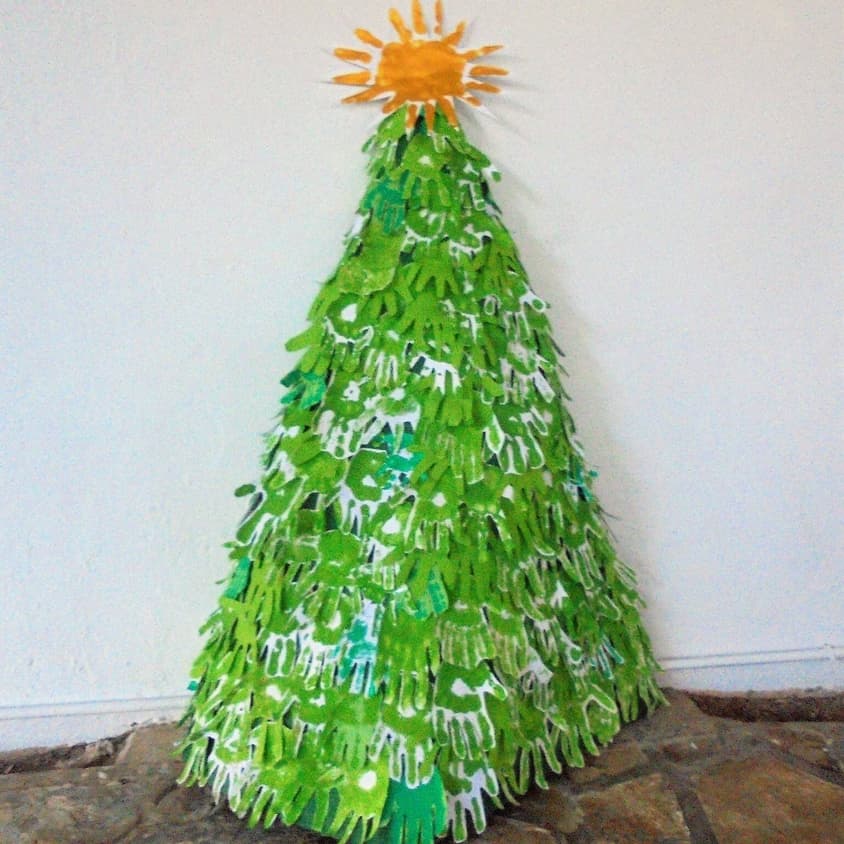 Nursery Starfish Class
---
And so the first term of this school year draws to a close. We are all excited about the holidays. Some of the Starfish children are travelling to see loved ones and others are eagerly anticipating a sunny and warm holiday here in Mallorca. As I am looking around me I realise how much all children have grown over the past months, there is now hardly any evidence left of the small and nervous children who said goodbye to their mummies, daddies or special helpers on the first day of school. The Starfish class children have all grown up so much; they are confident, full of joy, stories and laughter and they are eager to learn and play with their peers on a daily basis!
It's been a term full of excitement, and the learning progress of all children in Starfish class is fantastic.
I thoroughly enjoy all the chatter in class too, with many varied stories being shared with each other in a range of different languages.
To end this term we would like to share some of our highlights of the past few months with you all.
I am looking forward to seeing you all again in January and want to wish everyone a very Merry Christmas and Happy New Year!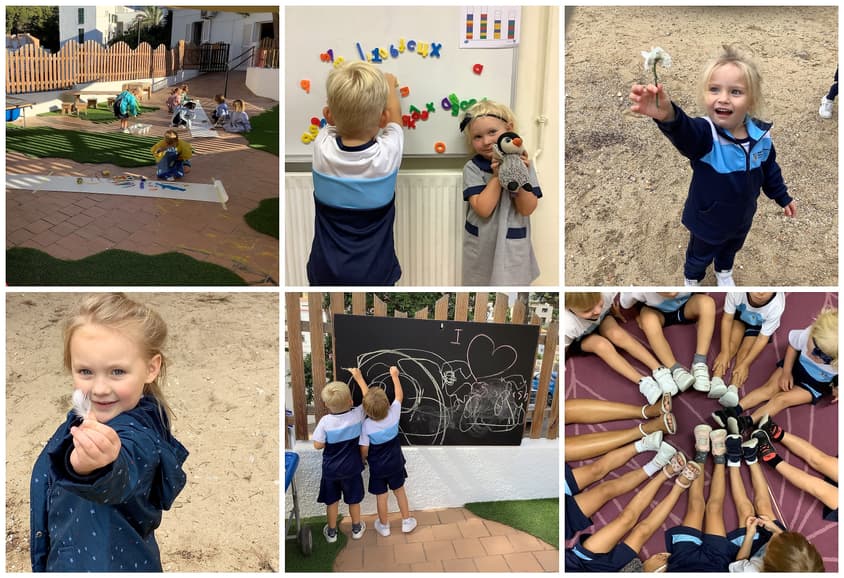 Reception Seahorses Class
---
So, this is it! We made it! I cannot believe we have reached the end of the autumn term and it only seems that we started school a few weeks ago. But we have been busy. In all these weeks, in Seahorse class, we have got to know each other, there have been a few tears but many laughs, we have learned to work together and to help each other. All of the children are making great progress and they are working really hard.
During these months we have had a great time together and I know that we will be having more of those moments to come in our next term. I can't wait to see how well they all develop as we continue with our learning adventure next term.
It has been a fantastic term and we hope you all have a fantastic holiday! Thank you for all your support and commitment to the school. I am looking forward to seeing all of you in January!
Merry Christmas and a Happy New Year! Our best wishes from Ms.Karen and Miss Virginia.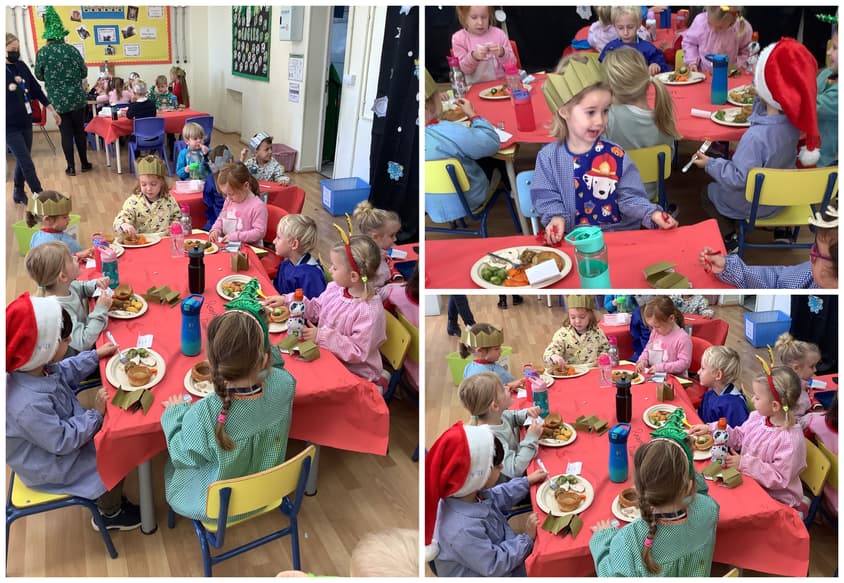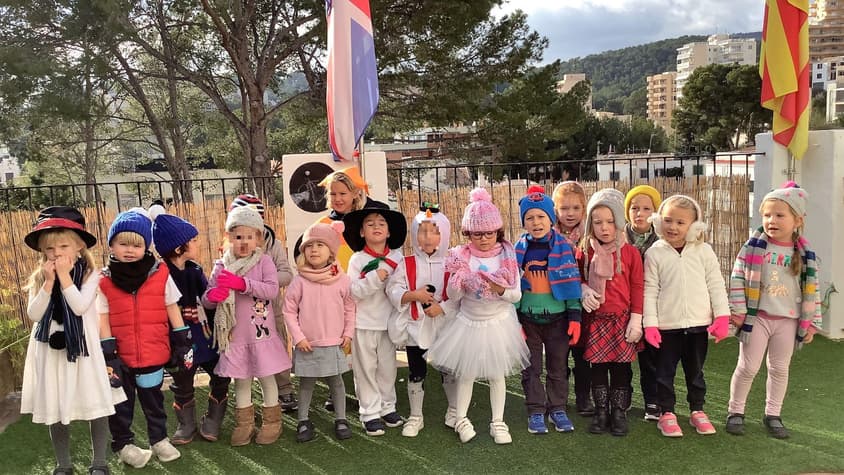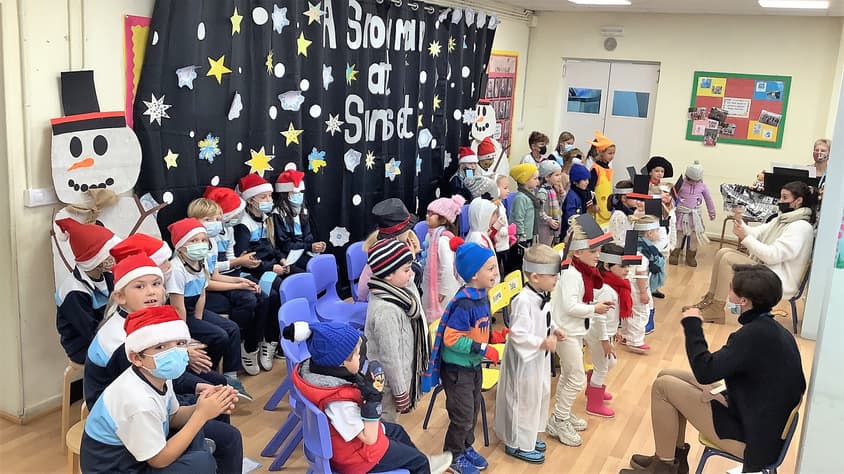 Year 1 Seals Class
---
Seals have been very busy this term……
Science
We've been learning all about 'Animals'. Together we have been able to classify animals into different groups. This has enabled us to learn all about the variety of species that are in the world and what each animal is able to do. 

'ANIMALS ARE JUST AMAZING!'

At the end of the topic, we got busy creating our very own imaginary pet. The children had some amazing ideas, some crazy but all acceptable so we decided to create our ideas using plasticine. We have displayed them in the classroom for everyone to see!

Art
We have been looking at the artist Robert Delaunay, he was known for the use of strong colours and geometric shapes in his artwork. During our art lessons we made our own pieces of art, using bold colours, pastel colours and primary colours.

We have been looking at the geography and history of our school playground and researching different types of school playgrounds from around the world. Each child chose a country they wanted to research and together we shared the information found. We then designed our own 'dream playground'; this is where the children got to use their imaginations and express what they'd like to see in a playground. Some fantastic ideas and models made!
English
Reading buddies every week, this is where we partner up and read the words on the picture cards before creating sentences, using as many of the new words as we can. Sometimes we make up silly sentences. This is great fun to do!
And of course as well as all the fabulous learning taking place, we have been making time to wear jazzy jumpers, eat Christmas dinner and design and create Christmas cards too!
MERRY CHRISTMAS FROM EVERYONE IN SEAL CLASS!

Year 2 Turtles Class
---
As we hear the jingle bells of Santa's sleigh, it can only mean one thing…. the end of a very busy and productive first term in Year 2! It has been a huge privilege to watch the children, old and new, settle into the class routines and start their Year 2 learning journey. They have made so much progress this term, they should be very proud of how much each and every one of them has achieved. All of the children start their learning journeys from different points so we always like to celebrate their achievements both in and out of class.

We have future gymnasts in training at the moment - huge congratulations to them for being awarded medals and certificates.
We were very fortunate to have a fitness session with The Box which was great fun and we learnt lots of new games.

In Literacy we have been studying poetry about families - some funny and some strange! Next term we will be writing our own so watch out!
In Maths we have finished this term's work and have been revising all of the term's strategies and skills we have learnt by completing maths challenges. We worked together with partners as sometimes two heads are better than one!

When the bare Christmas tree appeared in the corridor, Year 2 decided it needed a bit of glitz and glitter so they got creative with a range of craft materials and made it sparkle!

Over the last few weeks there has been a lot of singing and dancing taking place in the Year 2 room ready for the Pirates and Mermaids show. We can't wait for all of the parents to see the final production.

We all enjoyed wearing our Christmas jumpers on Tuesday, knowing that the money we were raising was for such a good cause - Save the Children. We enjoyed our Christmas lunch on Tuesday as well which was delicious!
You will never guess what happened on Wednesday…? We had a special delivery from Miss Gillian. She came in with a big envelope and inside were letters to all of us from Santa! The classroom was filled with just a little bit of excitement as we read our letters. We had only posted our letters earlier this week so his elf mail is very magical and fast!
Year 2, Ms Eccleshall and Ms Jacqui wish everyone a wonderful Christmas and look forward to seeing everyone back in 2022. Have fun!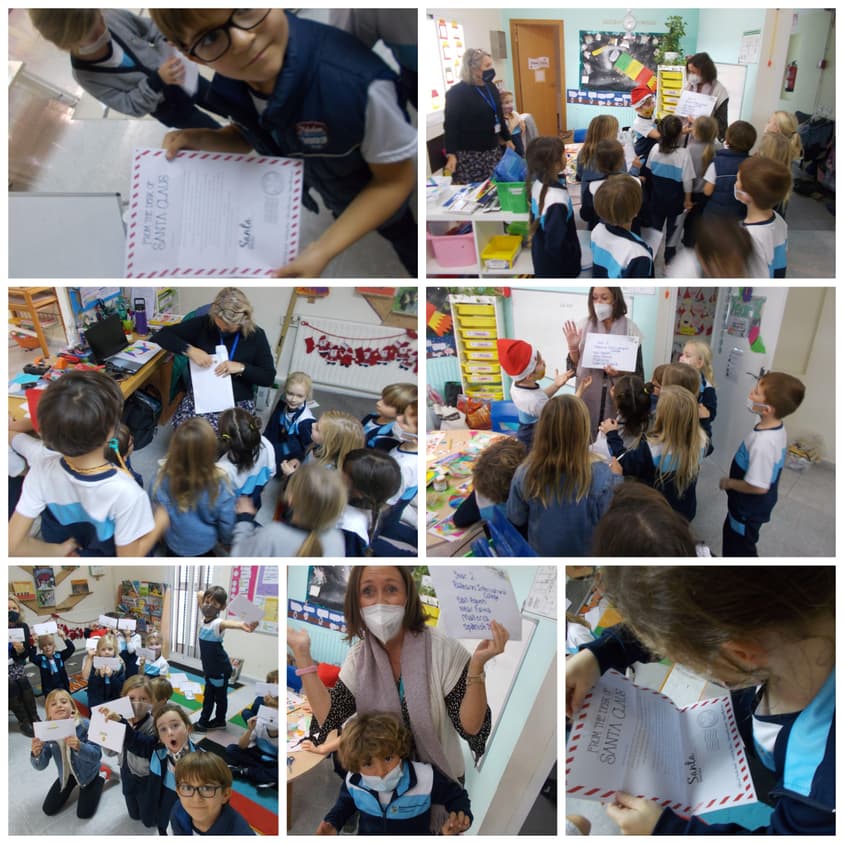 Year 3 Dolphins Class
---
What a busy end to our first term in Year 3! The children have been getting creative and have been thoroughly enjoying making our numerous Christmas crafts and participating in festive activities.
We had a fantastic and very educational trip to Es Baluard Museu d'Art Contemporani de Palma. We learnt a lot about the history of Palma and about artists linked to the Baleares. After that, we enjoyed a picnic lunch and played beautifully in the park together.
In English, we studied different Haikus ( Japanese poems ) and wrote our own about Christmas. In Maths with Miss Roberts ,we have started to understand more about fractions and their equivalents.
On Tuesday, we had great fun taking part in taster activities with 'The Box' gym trainers. We took part in some fantastic new games and really found it to be an exciting and worthwhile experience.
Finally, we would like to wish you all a very merry Christmas and all the very best for 2022.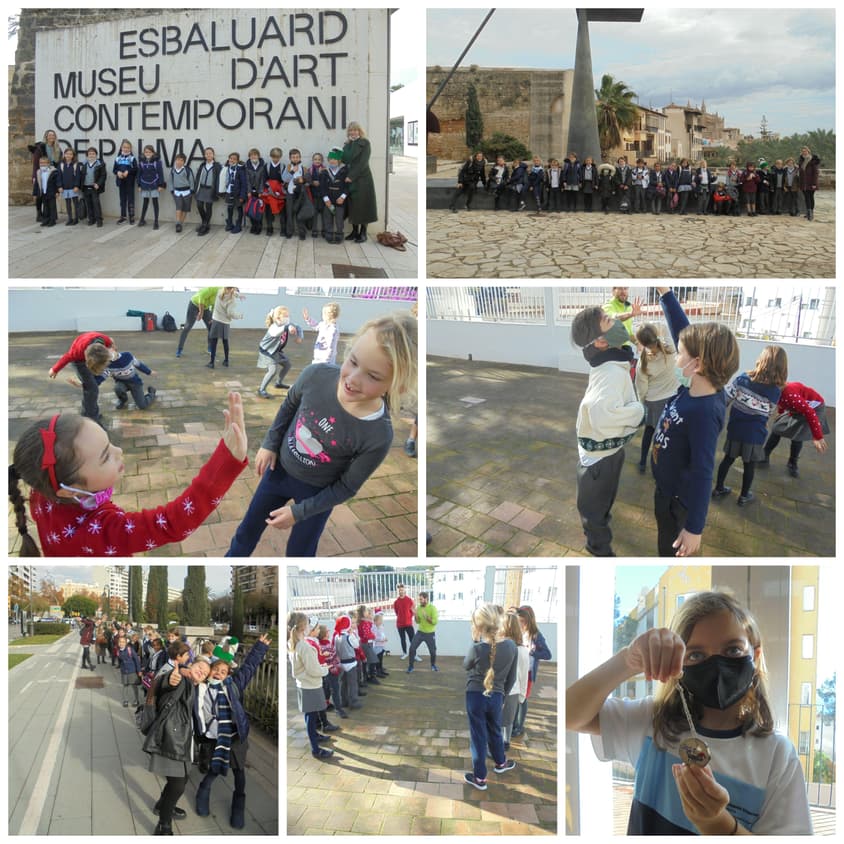 Year 4 Jellyfish Class
---
Well, what an amazing first term for the Year 4's… we can't actually believe that it has come to an end so quickly. Year 4 really enjoyed the Ancient Egyptian topic and we celebrated our learning by holding an Egyptian Day.
WOW, the children looked great and were able to really show all that they have learned. The Mummy K-B welcomed the children into class! We started the day by jumping on the Egyptian Express, a time machine that whizzed us back to ancient times. We had fun with Egyptian quizzes and worksheets and then went outside to play the 'Mummy' game. The children worked in groups to mummify one person using a toilet roll and all against the clock!

We did some more multiplication skills practice, but with a 'phantastic' twist…

We had traditional Egyptian snacks as the Egyptians would have eaten back in ancient times. Most went down well, some, not so much! We tried flat breads, Domiati (Egyptian soft cheese), dates, figs, pomegranate, honey and drank some kefir.
We played the game, drop the hankie, which children in ancient Egypt enjoyed playing. It is a bit like the game we play now, 'duck, duck goose'.
We played a quieter version where everyone in the circle closed their eyes and the person who dropped the hankie had to drop it on a person without making a sound...
The last activity of the day was a challenge to make pyramids using only sweets and sticks. Some children had 4 sweets, while others had 5 and the challenge was to make a pyramid. We thought the best bit of the challenge was getting to eat the sweets once the challenge was complete.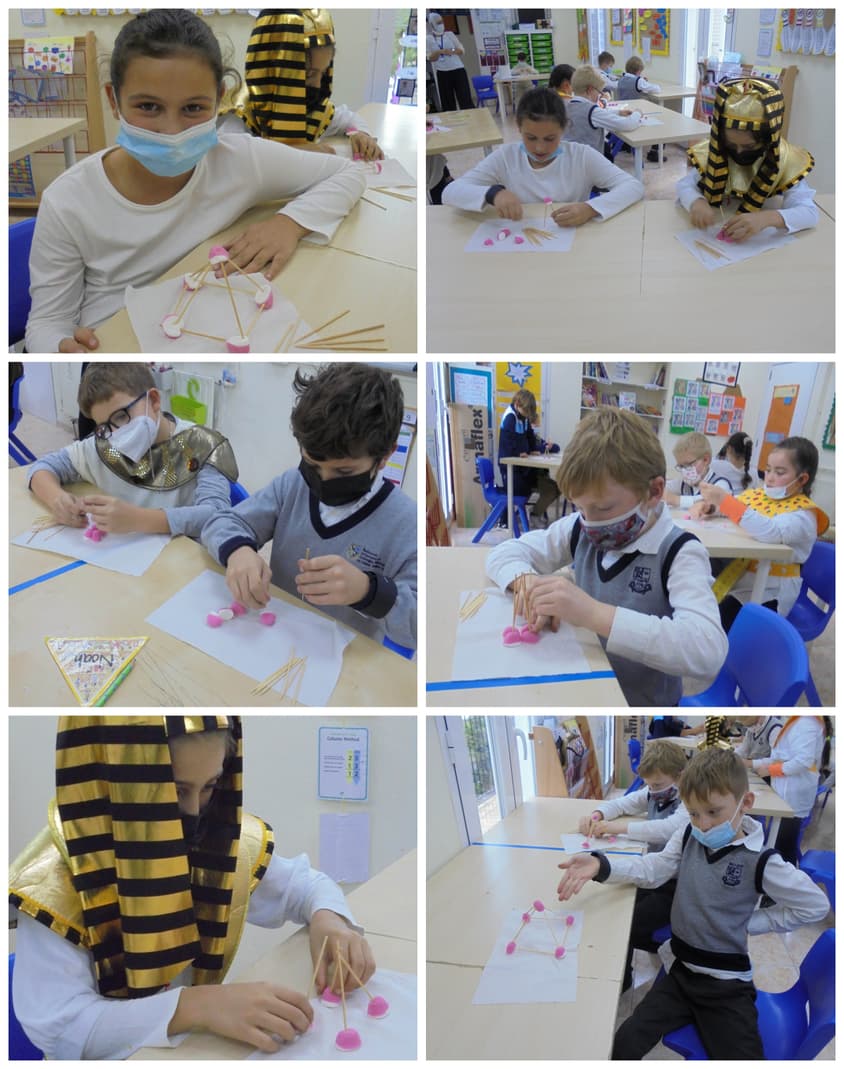 Even though we had a great day there were still some Egyptian themed works of art to finish. Our canopic jars have turned out beautifully and Mrs K-B said she would be very happy to store her innards in any of them. Do you agree?
We also had our dioramas to share. And we think you will definitely see the amazing learning, hard work and effort that the children put into their dioramas
In maths we have investigated capacity. We got a little wet but it really helped us to understand the capacity (how much a container can hold) of different shaped containers.
We hope you all have a wonderful winter break and whatever you do and wherever you go we wish you a restful time full of fun and good health. We will be back, ready for more adventures in January...

Year 5 Whales Class
---
The Whales have been busy in the run up to Christmas and been working especially hard on the Winter Show! When we have not been rehearsing, Year 5 have loved our Science topic on the Solar System. Working in small groups, they created some great posters showing the planets as well producing some amazing models for their home learning.
In our Science lessons we also looked at the planets including the order and found out some interesting facts about each planet.

In another lesson we learnt about the geocentric and heliocentric models. The children did a drama activity where they had to take on the role of different scientists and philosophers from history. We found out that many early civilizations believed that the earth was the centre of the universe but then Copernicus came up with the theory that the sun is at the centre!

In Maths lessons we have worked super hard learning about fractions, multiplication and the tricky chunking method for division. We also learnt how to measure angles using a protractor. The children drew acute, obtuse and right angles, estimated, then measured them using protractors.

On top of all this, we have also been learning about descriptive writing in our English lessons and are super excited about our Aztec day, coming up next week.
Three very lucky Whales had the chance to speak live on Radio One Mallorca a few weeks ago! They read a few poems that they had written in class, told some Christmas jokes and shared some festive messages in different languages.
Well done Year 5 on a brilliant autumn term. Have a fantastic Christmas and I will see you in 2022!

Year 6 Sharks Class
---
Last week, Year Six were pleased to perform their assembly for their parents and their fellow pupils on the importance of the Golden Rule.

The class has also been getting into the Christmas mood by designing their own tree decorations and producing handmade cards.

In maths we have been revising perimeter and area and showing our classmates how to find the missing measurements.

In English, we have been continuing to read War Horse and examine the history of the First World War. We have also been looking at letter writing and the use of English idioms - a piece of cake or pan comido!
Year Six has worked well this year and they deserve a nice Christmas break and so I wish them and all their families a Merry Christmas and a Happy New Year.

Spanish and Catalan with Miss Maria
---
Estas semanas hemos leído diferentes historias navideñas y una de ellas ha sido: DIEZ LUCECITAS, la cual nos ha encantado y con la que hemos repasado los números del uno al diez. Además, hemos aprendido el nombre de animales que no conocíamos en español. Después de leer el cuento y comentarlo con Miss Maria hemos hecho un dibujo muy bonito acompañado de un pequeño texto.

Spanish and Catalan with Miss Ainhoa
---
Durante este primer trimestre hemos estado aprendiendo sobre varios aspectos de vocabulario y gramática en español. Esta semana hemos puesto en práctica esos conocimientos a partir de un juego muy conocido… ¡El Trivial! En clase de español Y5&6 hemos jugado en grupo consiguiendo puntos al completar las diferentes tarjetas del tablero: mímica, expresión oral, dibujo, cultura…

Sports department news
---
The children have had a really fun and active first term, finishing by having great Christmas themed activities and games. Playing a snowball battle game was such a great way to bring in the Christmas holiday and have some fun!