Your guide to all news at school.
Ms Alison Colwell, Principal
---
Dear families,
Reading is something all the teachers at BIC Sa Porrassa feel very passionately about. Reading brings so many pleasures and helps to develop so many skills, and it is an aim of the teachers here that we try to build a lifelong love of reading in our students. You will see that staff promote what they are currently reading in their email signature, and we welcome parents and families similarly sharing their recommended reads. Also, we have started a new initiative of having, on every classroom and office door, a poster promoting what the teachers are reading and what students are too. Earlier this year you may recall that I set myself the target of reading a book a week. I have to confess here that I have not succeeded entirely with this target but I HAVE managed to increase the amount I read and the frequency, by prioritising reading over TV, or mindless phone scrolling and carving out time in the evenings, weekends and holidays to pick up a book rather than my phone. Let's all try together to get our young people to do similarly.
Our work on establishing a library here met a bump in the road last year when some essential building work meant we had to re-think some of the teaching spaces, and the original library base had to be used as a classroom. However, let no one be in doubt that the BIC SAP library project is still very much alive and kicking. In fact, Ms Compton who is leading on this, has got a really exciting vision for what it will look like and it is going to be even bigger and better than originally planned. In the meantime, all the sterling work that a number of parents assisted us with - cleaning donated books, cataloguing, filing - is continuing to be built on in school. Watch this space for further updates.
Have a lovely sunny weekend
Alison Colwell
Principal
Baleares International College, Sa Porrassa

Ms. Elizabeth Compton, Head of Primary
---
Dear families,
During our first month in school, primary students focussed on our school value of ´Compassion´. We started our first Awareness Afternoon understanding what Jeans for Genes day was all about, the differences that we can all have, showing compassion and understanding for those around us who may live with more challenges than ourselves.
I then set all students a challenge, to make kindness the norm. So students had to take a random paper from the box that contained the names of all primary staff and students. Their task is to , by half term, demonstrate a random act of kindness (RAK) to the person on their paper. So many kind acts or RAKS have already been demonstrated as you can see in the photos.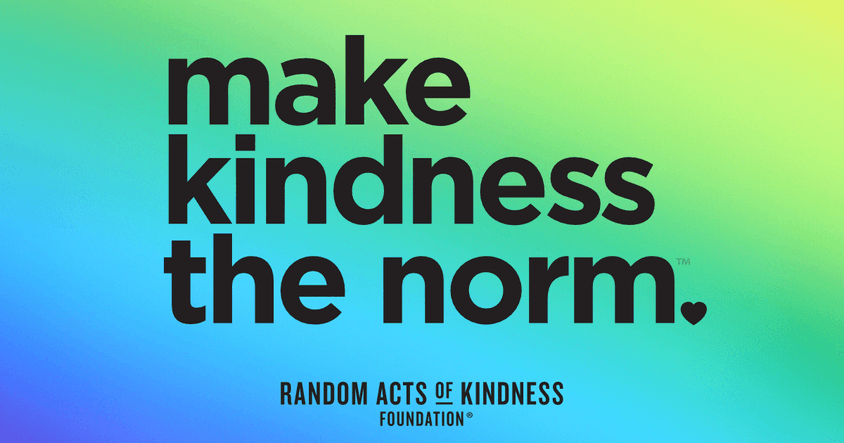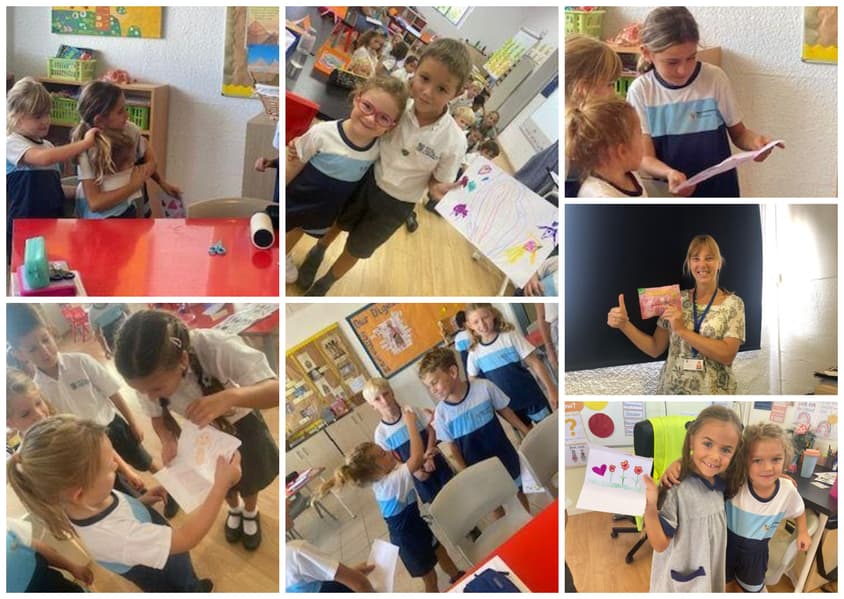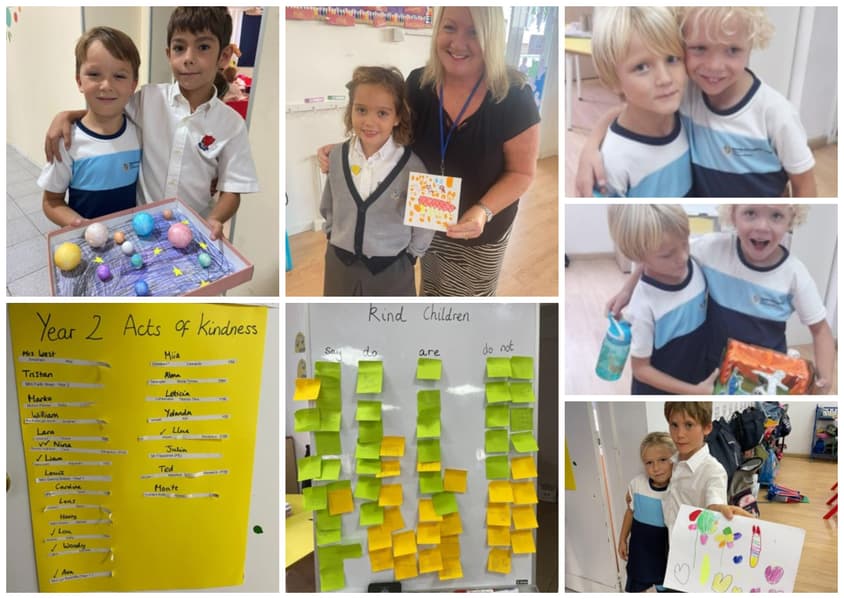 This week and up until half term we shall focus on the value of ´Respect´. It is essential our students understand the importance of respect across all areas, for themselves, our facilities, friends and for the values of the school. As Mr Brown writes in his piece for Secondary we often start the year with the best of intentions and October will be focussed on maintaining our high expectations of your children to achieve their full potential.
On Monday you will receive all the information required regarding our Primary parent meetings, to take place on Wednesday 26th and Thursday 27th October. I urge you to ensure you take advantage of this opportunity to meet with your child's teacher to be clear on their personal and academic goals for this year.
Wishing you a wonderful weekend,
Ms Elizabeth Compton
Head of Primary
Whole School House System news
---
House Points Totals Update - Term 1
| | | | |
| --- | --- | --- | --- |
| Winton | Galileo | Roosevelt | Parks |
| 928 | 1062 | 1120 | 954 |
A message from your Heads of House
Congratulations to those who were selected to be a House Captain or Vice Captain this week. It was lovely to meet at breaktime today to discuss the important role for the academic year ahead. Thank you to the students who continue to work hard and earn House points. We are climbing the leaderboard again, let's keep on going until we are back in first place. I wish you a wonderful weekend.
Miss Xidakis, Head of Parks House
It has been another great week in Roosevelt House. I am so proud to see all the House Points you have been achieving - keep up the good work! We have also been searching for our House Captains. The House Captain role is an important one, and I was delighted to see how many students wished to put themselves forward for the role. Our House Captains will be speaking to other members in our Roosevelt House soon following our first House Council meeting to listen to your ideas.
Miss Mayes, Head of Roosevelt House
Thank you to all those that put their names forward for the vital role of House or Vice Captain. It is great to see how many of you want to get involved and take on this responsibility. Well done to all those gaining lots of House Points, we are currently in second place but I know we can claim top spot soon!
Miss Turley, Head of Galileo House
Winton has had another great week as we look towards the first House Council session. We have begun searching for our new House Captains and we are excited to announce this week who will be representing us this year. The House Council will provide our students with a great opportunity to share their thoughts about the school and any issues or concerns they may have. The House Captains will be coming to speak to their fellow Winton tutor groups to find out what they want to be discussed with the Heads of House and the Senior Leadership Team.
Mrs Florey, Head of Winton House
Early Years news with Mrs Wardle
---
Phonics is well under way in Reception class this term. After getting to know the first sets of letter sounds the children are already practising putting the sounds together for reading. Saying the short words in robot talk helps the children to hear the sounds coming together for blending/reading words. We have practised matching words and pictures of all of the sounds we know to build, to make sure we understand the words we are reading. The children have all made a robot to play and learn with and to help them continue their robot reading and writing practice at home.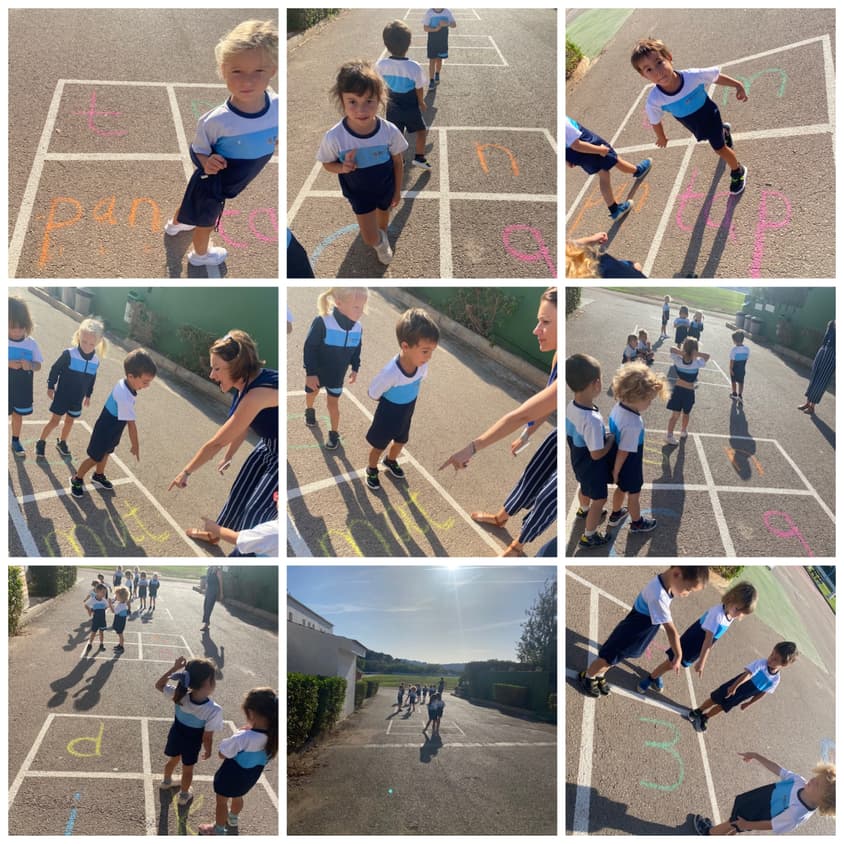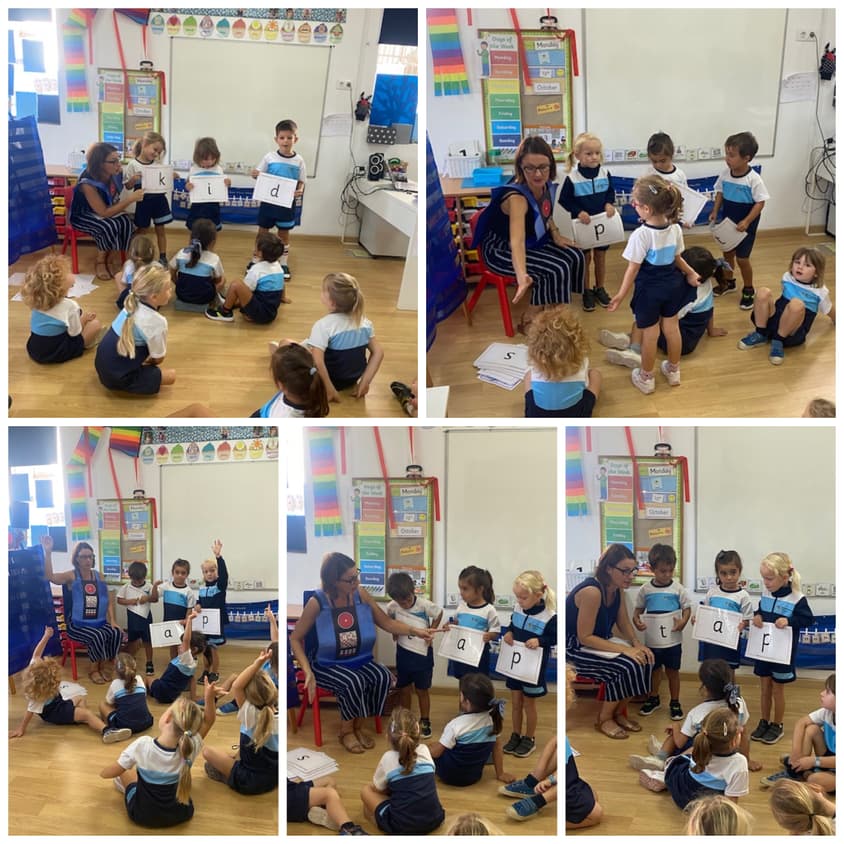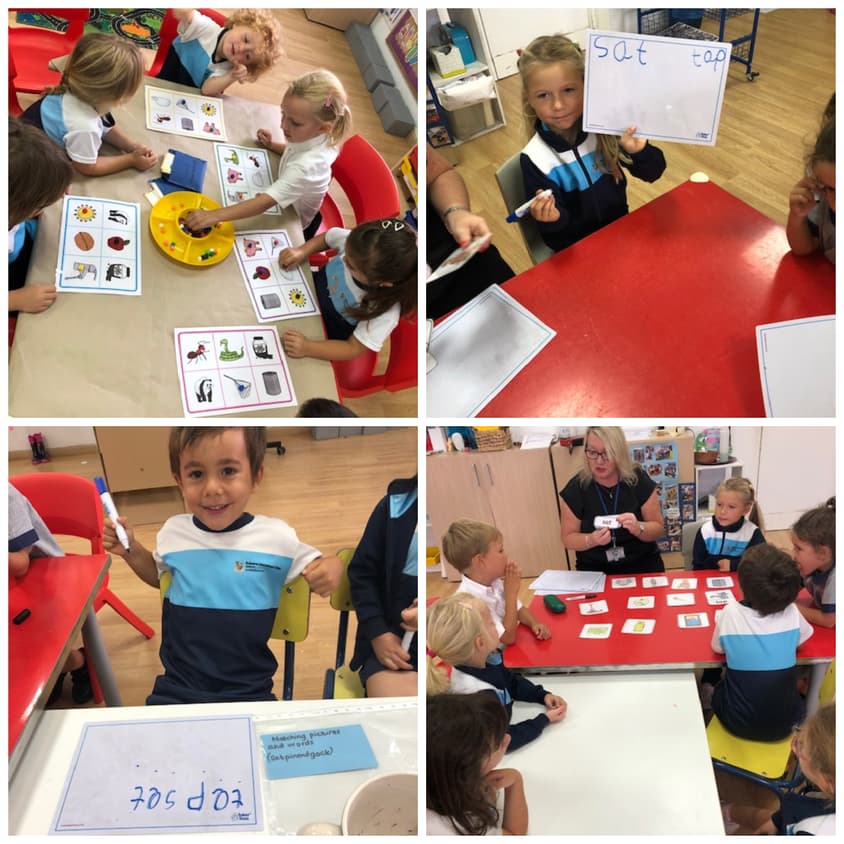 Year 1 news with Ms Bakes
---
In Year 1, the children have been discovering their senses. We began this topic by recapping what our 5 senses are, and then exploring them by touching, tasting, feeling and smelling some objects whilst blindfolded. Adjectives have been a focus in English, so we incorporated this into our science lessons by describing the different objects which we explored, eg. the honey tastes sweet, the sandpaper feels rough, the tambourine sounds noisy, etc. We also had fun making jelly and we used our senses to describe it!

It has been another successful week for our Year 1 mathematicians, as they have learnt how to add and subtract some quite big numbers. Some children preferred using their fingers, others counting objects, some used a number line; however, we also have some excellent mental mathematicians in Year 1! Well done, everyone.

Year 2 News with Mrs West
---
Year 2 have enjoyed meeting their reading buddies in Year 5. They have shared their reading books and, in return, Year 5 read some lovely stories to them.
In our humanities lessons we have been learning about how Florence Nightingale, Mary Seacole and Edith Cavell helped improve the standards of nursing. The children have been using role play to help explore our topic.

Year 3 News with Mr Fairless and Miss Xidakis
Year 3 have been working hard in English to develop their knowledge and use of different writing features. This week they learned about contractions, finding their matching partner to the contraction they were given; then using the contractions to describe Roald Dahl characters. They also used similes and alliteration that they had learnt about the week before.

Maths
This week we have been doubling and halving numbers using the partitioning strategy.
We have also been learning the place value of numbers to 1000, comparing, ordering and using these to solve problems.

English
The children have also enjoyed revising contractions and have used them in their writing to vary the structure of their sentences.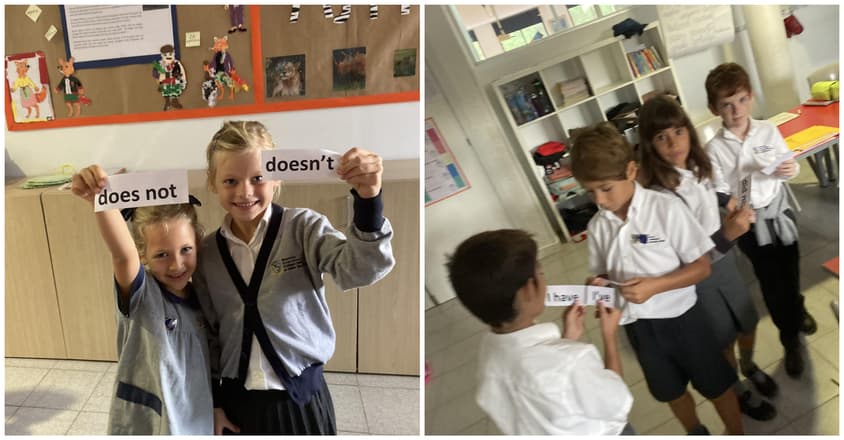 Year 4 News with Mrs Alonso McGregor and Mrs Walsh
---
Year 4 have had a busy 2 weeks. Their Ancient Egyptian studies have continued in earnest with the children carrying out research about how people lived during these times. This knowledge has proved very useful in English too as they write a story based around an Egyptian boy and a missing amulet!
Art lessons have also reflected this theme and the classrooms now display many Pharaohs donning their ceremonial headdresses!
Much fun was had making their own cardboard guitar ready for our performance as part of the whole school production of ´We will rock you´. Watch out next week for photos of the finished instruments!
Year 4 have also started regular buddy reading with the younger Year groups. This gives them an excellent opportunity to improve their reading skills and practice good expression and pace. 4A enjoy reading with the Early Years class, whilst 4W enjoy telling stories to Year 1.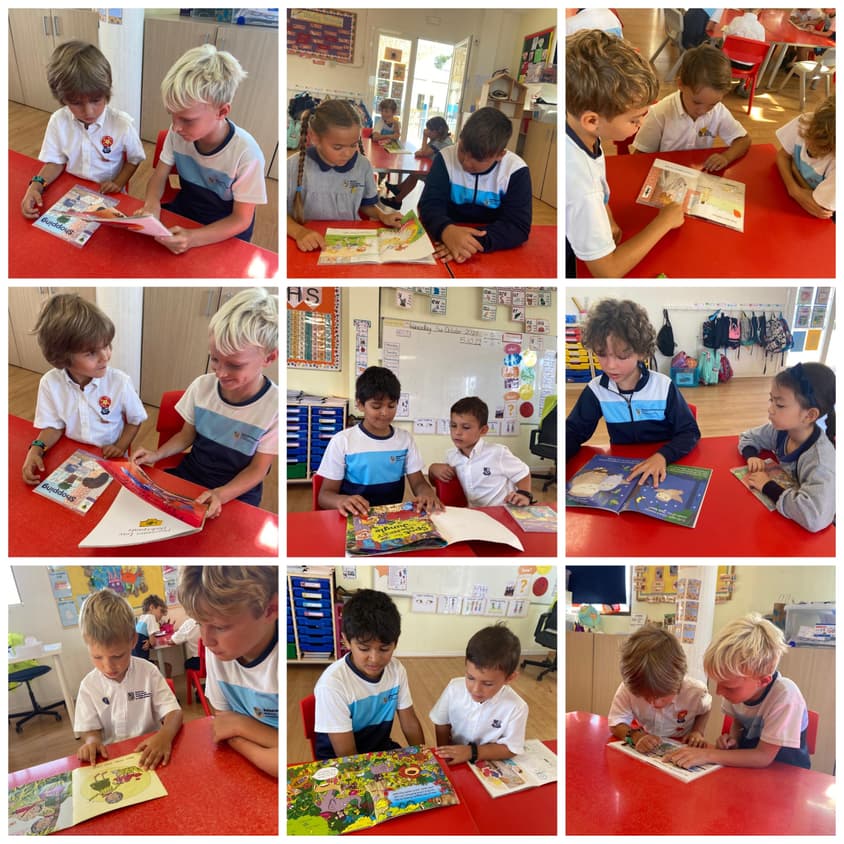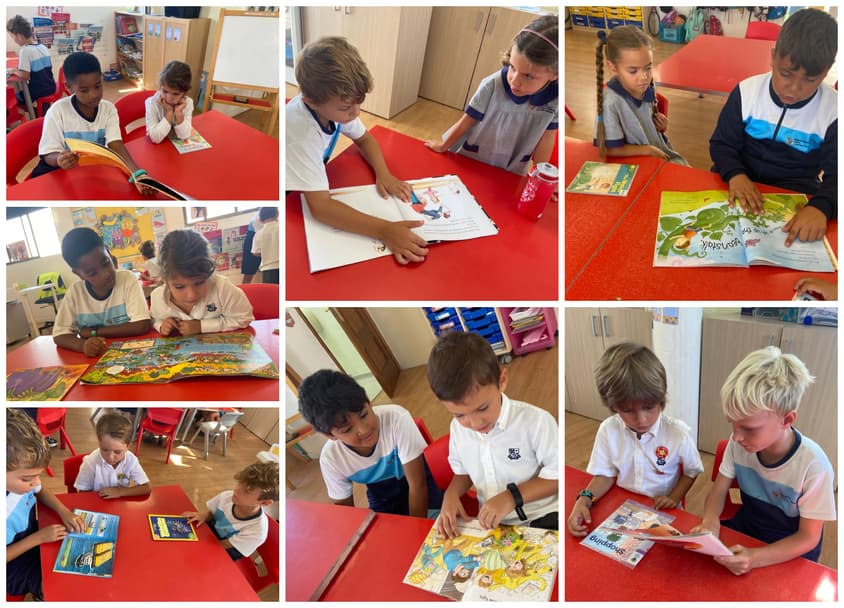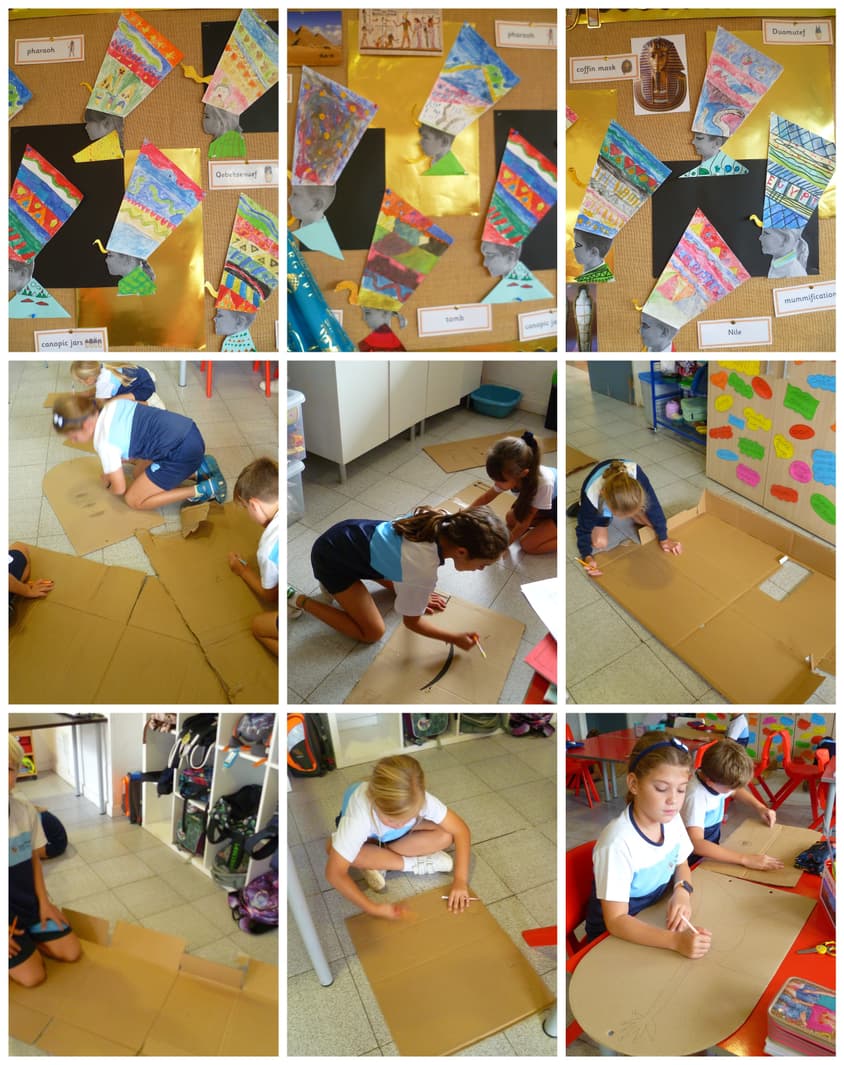 Year 5 News with Ms Hodgson and Ms I'Anson
---
Year 5 have been fully immersed in all aspects of their learning; the highlights have been studying the solar system, discussing jeans for genes, describing their dragons and reading with the children in Year 2. In science, we rose up to the challenge of carrying out a special lunar experiment. We learned about the difficulties landing rovers on the surface of Mars and that Space X has plans to land on Mars in 2026. The children keenly designed and carried out experiments with landing some precious cargo safely, in this case, an egg! Furthermore, the children shared their very impressive 3D models of the solar system.
In our first paired reading session of the year, we enjoyed sharing and talking about stories with children in Year 2. Finally, congratulations go to Cheo, Lilien, Harris and Sasha for their inspiring speeches and for becoming the new Year 5 House Captains.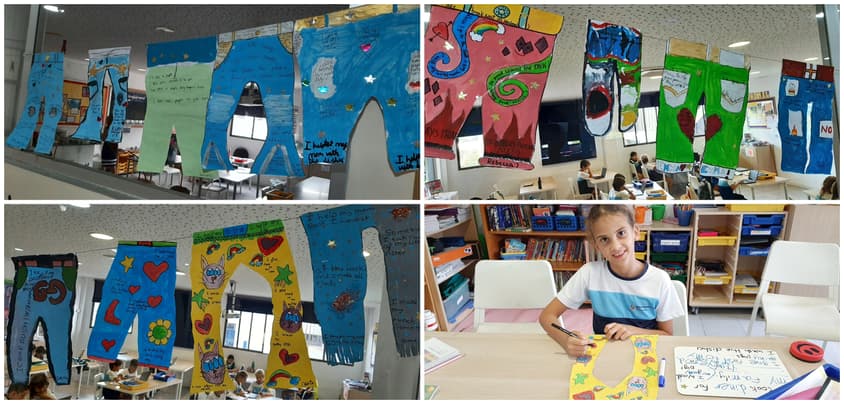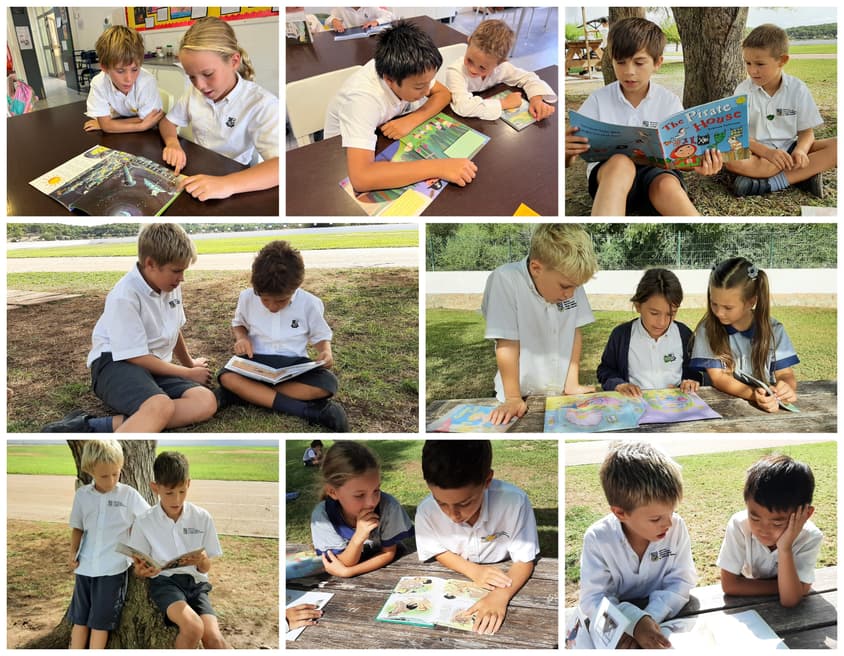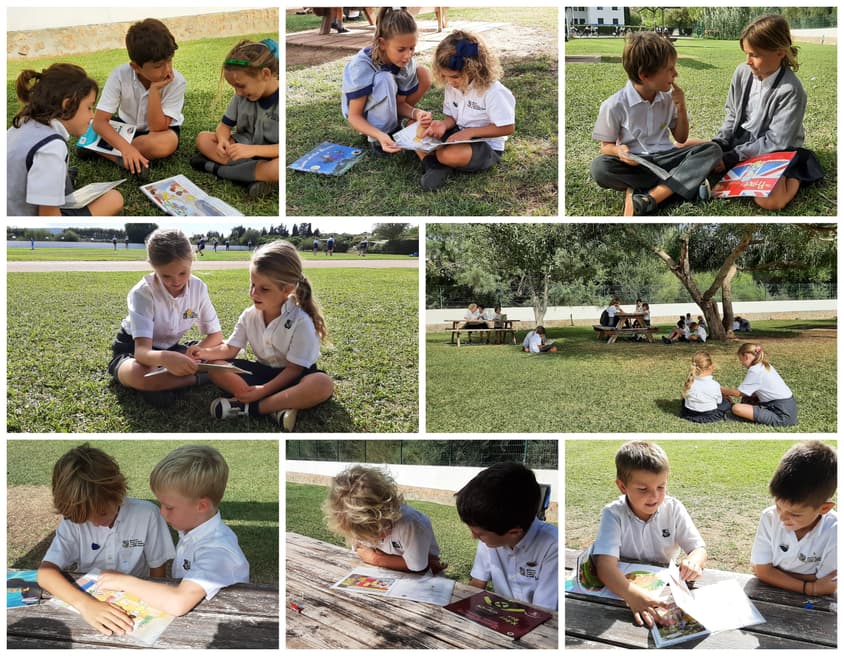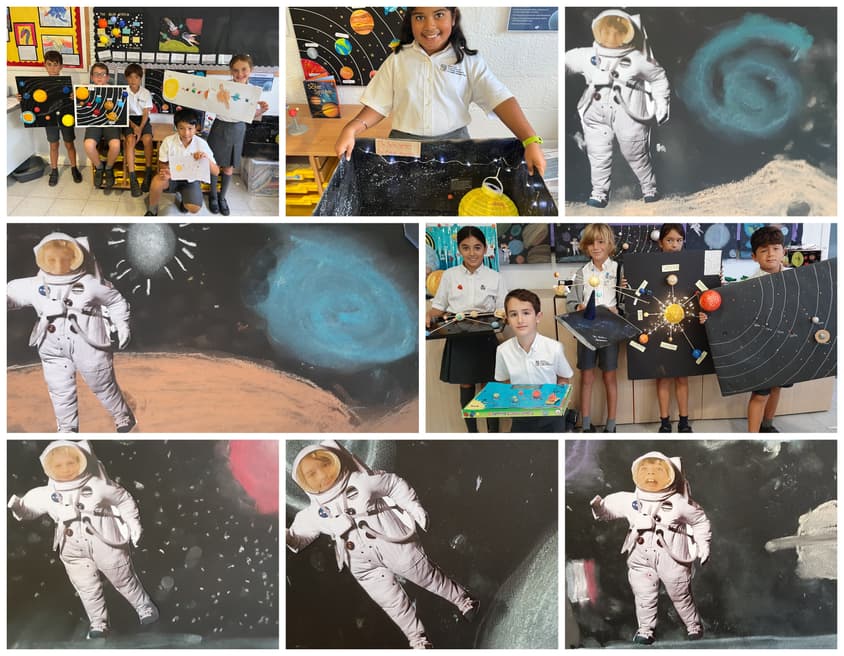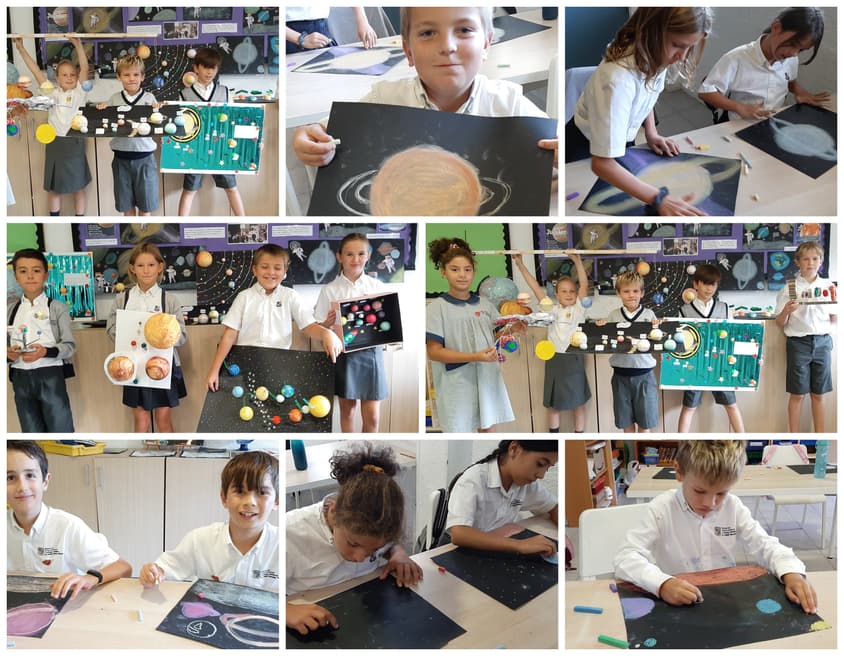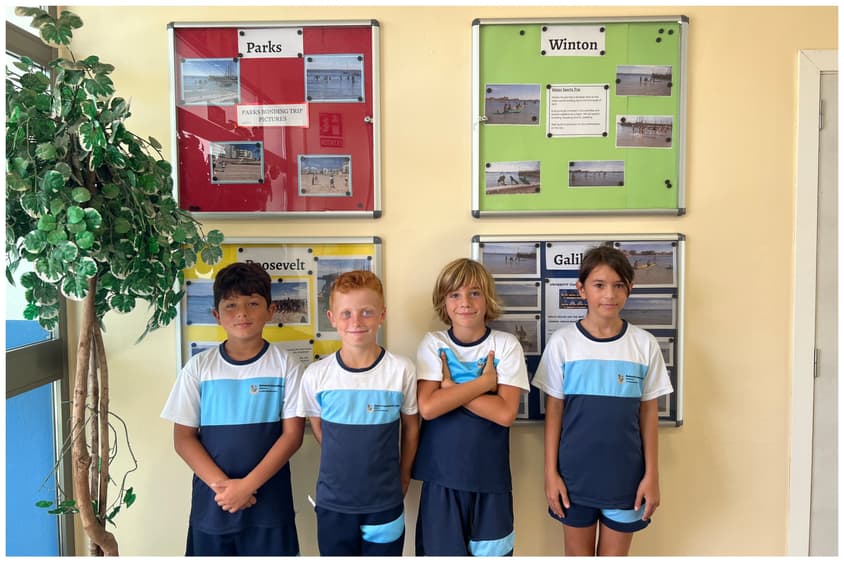 Year 6 News with Mr Darlow and Mrs Von Waberer
---
Year 6 have been working hard on their dances for our school production. We enjoyed filming the 'Radio Ga Ga' dance yesterday and we're so excited for you to see it in February.

We were disappointed to have to postpone our trip with Save the Med but we will be arranging another date soon. Hopefully we can go the week before half term if we have sunshine.
Year 6 have continued to work hard and show positivity and enthusiasm in all that they do. They have shown such compassion and warmth towards their Year 3 buddies and continue to check in on them at break and lunch times. The children have been delighted to receive their random acts of kindness from other children in Primary and recognise the wonderful feeling that kindness and compassion gives us.

We hope they've been sharing some Greek myths with you at home and haven't been too gruesome in the retelling of these weird and wonderful stories! We've started to listen to the PSHE presentations and we are so impressed with the confidence and courage our classes demonstrate.

Congratulations to Ola, Luca, Kali and Grace for becoming our new House Captains. We were so proud of all the children who stood up and spoke to the class about why they'd make a great Captain. There will be more opportunities later in the year.

Languages department news
---
Throughout primary, the children have been continuing their learning despite the weather disruptions. Due to the rain, some of our classes have been moved inside the sports hall and we have been having dodgeball tournaments.

They have also been practising the sound of the double R in Spanish and have dared to practise a difficult tongue twister. Try it too!

Sports department news
---
Throughout primary, the children have been continuing their learning despite the weather disruptions. Due to the rain, some of our classes have been moved inside the sports hall and we have been having dodgeball tournaments.