Your guide to all news at school.
Ms Alison Colwell, Principal
---
Dear families,
In 1819, the English poet John Keats wrote, "Praise or blame has but a momentary effect on the man whose love of beauty in the abstract makes him a severe critic on his own works". Ever since I first studied Keats for my English literature A'level (more years ago than I care to remember), it is a line that has resonated with me, as, whatever great things anyone may say about our school, I am my own fiercest critic! That said, it was really wonderful earlier this month to read the report from NABSS (The National Association of British Schools in Spain) following our visit by their inspectors in November.
Amongst the many excellent things written, the report said, "The school provides a clear statement of ethos and values and these are reflected in all aspects of school life......Behaviour is excellent, contributing to the safe atmosphere in the school...In all lessons, pupils behave well and participate enthusiastically. There is a very positive atmosphere around the school and pupils talk about their school with great affection."
In terms of teaching and learning, they wrote, "Planning for all subjects is very thorough and age appropriate. Activities are adapted to cater for pupils' differing abilities.....Provision for pupils with additional needs is very good...Teachers demonstrate good subject knowledge and make lesson objectives clear from the beginning of each lesson. They provide opportunities for pair and group collaboration and ensure that all pupils participate actively in class...Pupils were motivated, interested in learning, focused, as well as being responsive to skilful questioning... Pupils take pride in their work... They have a very positive relationship with their teachers, are keen to learn and are not afraid to question any point they have not fully understood."
The inspectors concluded that, "Both teachers and support staff speak with great enthusiasm and pride about the school...The senior team has worked hard to make positive improvements in the school over the last three years. Leadership is impacting positively on the quality of teaching and learning, by establishing high expectations in the classroom and securing a happy educational environment where pupils can reach their potential. ...The quality of teaching and learning has improved considerably."
Whilst there are always further things all schools can do, it was wonderful to get this official acknowledgement, one that is so richly deserved by our students and staff.
Wishing you a great weekend,
Kind regards,
Principal
Baleares International College, Sa Porrassa

Ms. Elizabeth Compton, Head of Primary
---
Dear families,
As Christmas is fast approaching, children´s learning for the first term comes to a conclusion. We spend time reflecting on all the wonderful achievements, and events in these 15 weeks. We got off to a fantastic start with our first ever whole primary trip to Katmandu Park!
Our additional learning experiences continued through the term to exhibitions to Ancient Egypt, Palma aquarium, missions into Space and to the local beaches, post office and garden centre! And of course we love to dress up in primary, with Halloween, Wear it Pink, Jeans for Genes day and the "Future Me" Awareness Afternoon, focussing on our aspirations and excellence.
As well as a host of events and activities this term our primary English and maths Leaders, Ms West and Mr Darlow, have been busy ensuring we are at the forefront of best practice. In addition, they have been developing many initiatives with times table boot camps, poetry competitions, reading buddies, introducing students to higher level vocabulary or to recall important maths facts . I thank them for all their contributions and to all of the primary team for their continued dedication and commitment to your children´s education.
We are excited to be introducing reading challenges full of recommended books for your child to read. Your child will receive their reading challenges next week ahead of the holidays. With Christmas just around the corner, this list may inspire your Christmas gifts. Please sign the challenge booklet when your child has finished reading a book and your child will receive House Points.
A reminder that your child's term 1 school report will be published onto the parent portal on Tuesday 20th December. A reminder email will be sent on the day and if you wish to discuss any aspects of the report with your children´s teachers please don´t hesitate to arrange this in the new year.
It was a pleasure to see the festive cheer and energy in our Year 5 and 6 students in the Christmas concert this week. We look forward to the Nativity for our younger students on Tuesday in addition to Year 3 and 4 serenading us on the steps at pick up!
I wish you peaceful holidays and wonderful Christmas celebrations,
Ms Elizabeth Compton
Head of Primary
Whole School House System news
---
House Points Totals Update - Term 1
| | | | |
| --- | --- | --- | --- |
| Winton | Galileo | Roosevelt | Parks |
| 2790 | 2871 | 2815 | 2373 |
A message from your Heads of House
What a busy but brilliant term. I would like to thank Parks for their hard work and resilience this term. Well done to those who took part in competitions and in the amazing Talent Show. I wish everyone a wonderful Christmas and a very happy new year. I look forward to seeing you all again in 2023.
Miss Xidakis, Head of Parks House
I have been reflecting on the past term over this week, and what an amazing term it has been! Right back from the very beginning with our House bonding trip, all the competitions, the certificates for House Points, you have all given me many reasons to be proud to lead Roosevelt House. I would like to thank you all for all of your hard work and embodiment of our school values. Have a wonderful Christmas break, and I look forward to seeing you all in the New Year.
Miss Mayes, Head of Roosevelt House
Thank you to everyone in Galileo House for an amazing first term. There have been so many highlights and it has been wonderful spending more time with you and getting to know you all better. I have been so impressed with the attitude of everyone and how willing you are to get involved and help each other out. Well done. I hope you all have a great holiday and I look forward to 2023.
Miss Turley, Head of Galileo House
Congratulations to all of Winton House for making it to the end of a fantastic first term. This term we have celebrated a huge number of successes in talent shows, House competitions and Christmas events. We also waved goodbye to Ms Florey as she left for her maternity leave. I speak on behalf of the whole of Winton House when I thank Ms Florey for all of her support and wish her the best of luck for the next few months. I hope all of Winton have a restful break and look forward to welcoming everybody back in 2023.
Miss Wilson, Head of Winton House
Christmas Tree Decoration
---
Thank you to everyone who has entered our Christmas Tree Decoration competition so far. The tree is looking very festive with all the Science themed decorations. If you haven't had a chance to enter but would still like to then bring your ornament to Ms Turley on Monday and you can still get House Points.
Music and Drama department news - Merry Christmas!
---
Our Christmas performances have been in full swing over the past week, and our students have been incredible. From singing, to hosting, to acting, they have been showing us their talents, and putting everyone in the Christmas spirit! We would like to thank all of our families for supporting these events, and we hope you have enjoyed them. We have one left to go on Tuesday at 5pm at the Portals Christmas market. You can see some photos below from our performances at Son Amar and our Christmas concert in school.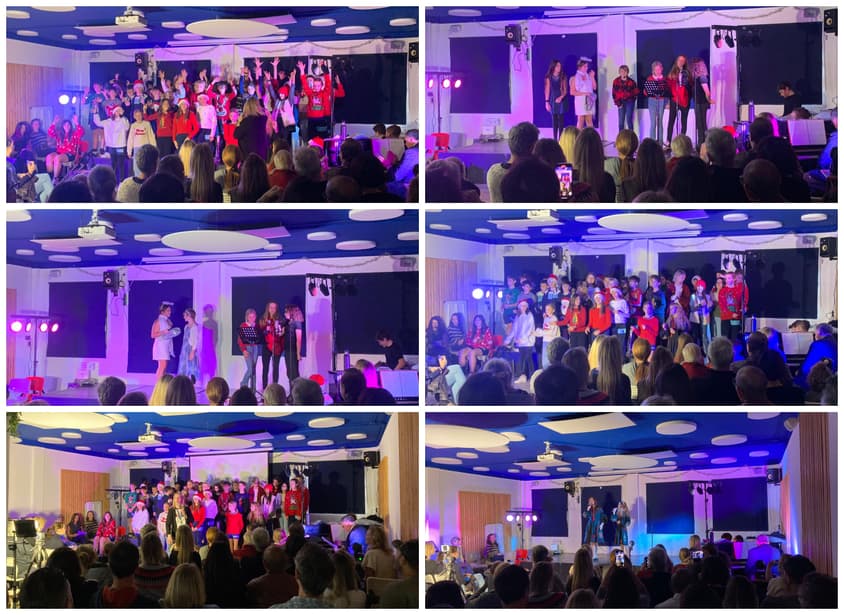 Early Years news with Mrs Wardle
---
Reception class are really enjoying the build up to Christmas, practising our Nativity show, singing Christmas carols and adding a lot of sparkle and glitter to our Christmas crafts. We were very happy to have a visit from Ms Turley in the science department who helped us with an experiment to make our tree decorations. As always, it's a very special time for the youngest children in Early Years as we count down the days. We have had such a good first term and I am very proud of the children's progress and acts of kindness towards one another. Sending the best Christmas wishes to you and your families, from Miss Wardle and Miss Beckett.
Reception Class and the Science Department came together to make some Christmas decorations with a different...
Ms Turley was delighted to spend some time with Ms Wardle, Ms Beckett and their wonderful Reception class this Friday to make some Christmas decorations. Firstly we soaked our felt Christmas trees in red cabbage juice so the tree was a beautiful purple colour. Then we added different substances such as lemon juice and bicarbonate of soda. Red cabbage is an indicator meaning it changes colour in the presence of an acid or alkali. The result - multicoloured Christmas tree decorations. We were all very impressed with how careful and precise the students were and the end products were magnificent.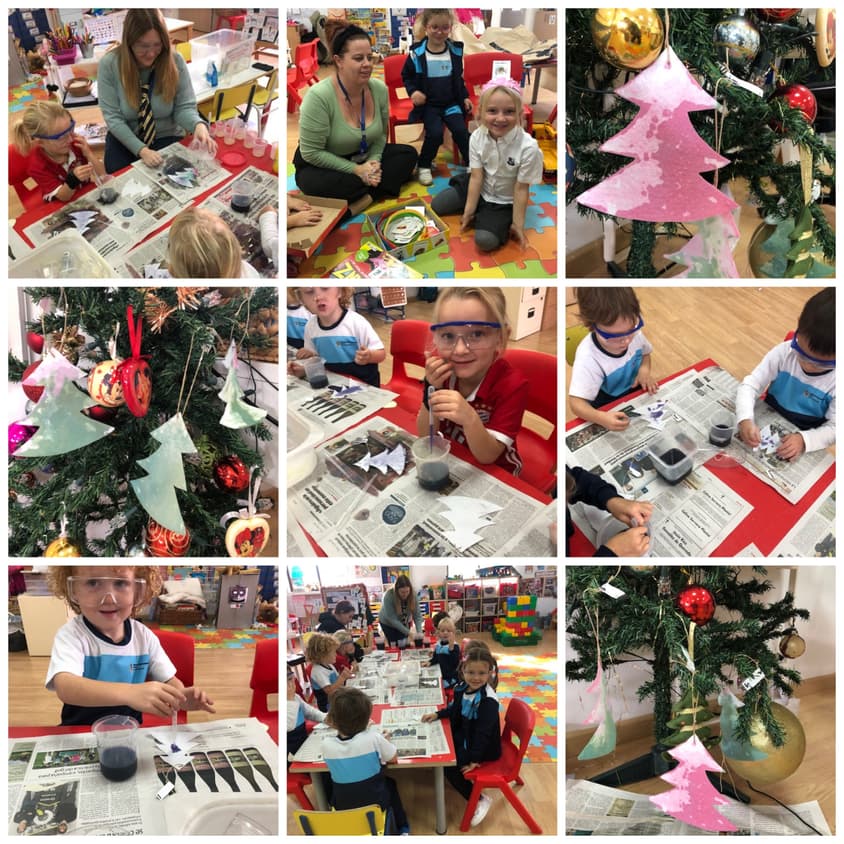 Year 1 news with Ms Bakes
---
We have been getting into the Christmas spirit in Year 1, as we all decorated our class Christmas tree and the children were transformed into cheeky elves and Rudolph for some fun decorations!
We have been practising lots for our Nativity show too, which we are looking forward to showcasing for you on Tuesday at 9:20.

In maths we have been learning about money. The children loved identifying the different coins, counting them and learning the value of them. We ended the week with a Year 1 Toy Shop. Each with their own money, the children went shopping and bought various toys from each other's shop, using the coins that they had been learning about to calculate the money that they needed to spend. I am sure that they would love to help you next time you go shopping by reading the prices and counting your coins!

We also celebrated Lea's 6th birthday. Happy birthday Lea!

Year 2 News with Mrs West
---
In art, we have been learning about the Guatemalan tradition of making worry dolls. The children planned their designs and then made their own worry dolls to take home. The children may want to share any worries they have with their worry doll before bed and keep it near them whilst they sleep.

We have also been getting excited for Christmas with lots of arts and crafts.

Year 3 News with Mr Fairless and Miss Xidakis
---
In maths we have been learning about fractions, recognising fractions and calculating fractions of a number for example, ¾ of 24.

We thoroughly enjoyed mixing and matching the snowflakes decorations that have been used to decorate the school corridor. We also made reindeer headbands for the Christmas singing show.
The Year 3 team wishes you all a wonderful Christmas and a very happy new year.

Year 4 News with Mrs Alonso McGregor and Mrs Walsh
---
Year 4 had a wonderful trip to Palma on Monday filled with ancient Egyptian wonder and Christmas spirit. The children very much enjoyed the exhibition at the Centro Cultura y Historia in Palma and impressed the guide with how much knowledge of the ancient Egyptians they had. Even though the artefacts were replicas, they had been made with skill and closely represented the real thing. It was fantastic for the children to see. All enjoyed the final activity - the chance to be real archaeologists and uncover relics in the sand!

After a well earned lunch in the park, we walked through the lanes of Palma to the town hall to see the incredible Belen. There was so much to see and the children loved spotting the dragon!

By the end of the day, it had clouded over and was getting chilly so a cup of hot chocolate was just the ticket! It was a warming and sweet end to a fun day out. The children were well behaved and represented the school well.

Year 5 News with Ms Hodgson and Ms I'Anson
---
As the end of the term is upon us, we take a moment to reflect on the fantastic work that has been accomplished by the Year 5 pupils. This term has been one of the busiest, with exciting school trips, a variety of themed days and of course a sprinkle of Christmas magic, especially Year 5´s fabulous Christmas performance. In humanities, we learnt about some of the Viking traditions at Christmas and were surprised to learn that some of these are still relevant today. During Activities Afternoon, the Upcycling group created Christmas dishes out of papier mache and old wrapping paper which we filled with festive treats, adorable sock snowmen and Christmas trees out of pine cones.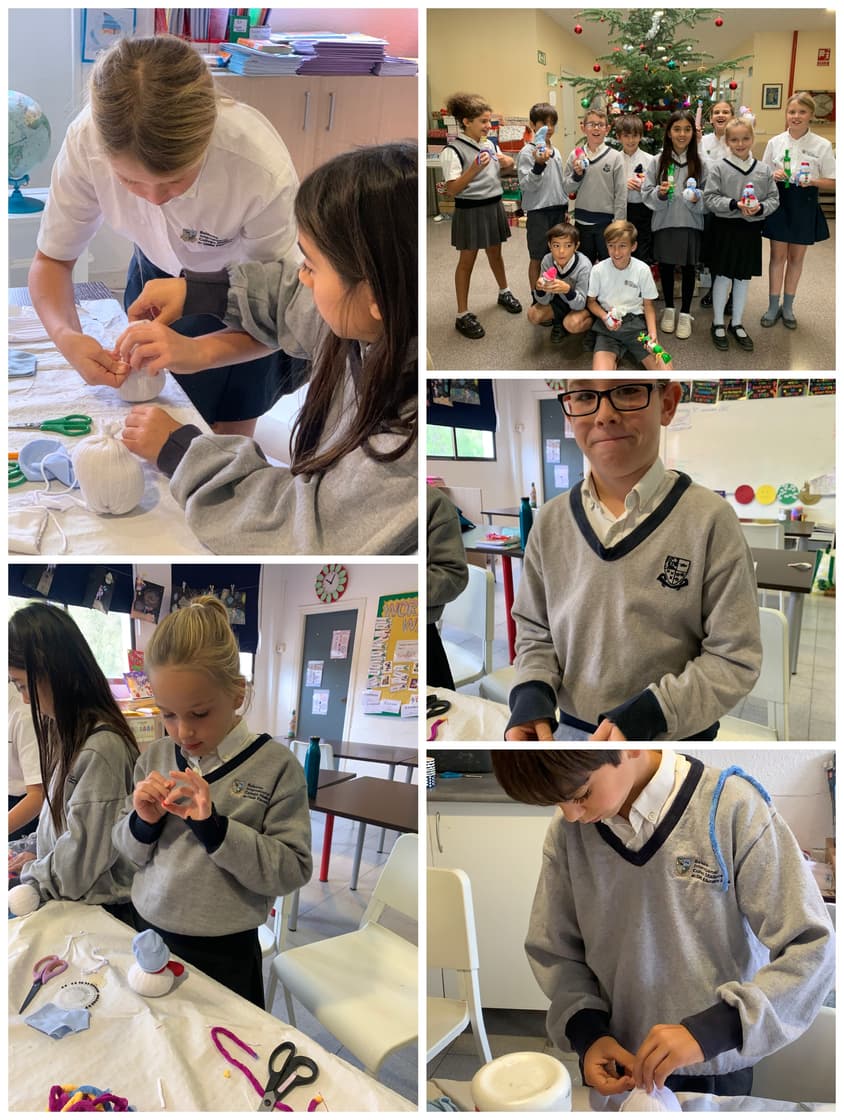 Year 6 News with Mr Darlow and Mrs Von Waberer
---
What a wonderful ending to a fantastic term Year 6. We've enjoyed every minute with you all. As the term draws to a close we would like to thank the children for all their hard work and enthusiasm. Over the last weeks we've been practising for our show which was a great success, making awesome Christmas crafts and finishing our incredible Greek myths. We will enjoy sitting together and sharing them as a class next week. We would like to wish you all a very happy and peaceful winter break. Thank you for all your continued support.
Languages department news
---
Year 4 students have been learning traditional Spanish Christmas songs, understanding the meaning of their lyrics and creating a choreography - feliz navidad!
Sports department news
---
Last week our primary students got involved in a range of dodgeball activities - a great way to get children to exercise, build stamina and strength while still having lots of fun!