Your guide to all news at school.
Ms Alison Colwell, Principal
---
Dear families,
We have held a number of events so far this school year that mark specific times in a child's education, whether that be starting a new school, the transition to secondary school, choosing GCSE options in Year 9 or thinking of the Sixth Form. At the end of this term we are hosting a really important event that, even though it might seem to be more geared towards older students, is very much for all - thinking about careers and life after school. Indeed, it could be argued that everything a school does is in preparation for the moment when our young people leave school - aiming to equip them with, yes, excellent qualifications but also manners, character, values, principles - as Mr Barter writes so powerfully when he describes what the top universities are looking for in young people, it is always much more than just academic success.
On April 1st we are holding our second ever Careers and Futures Fair. We want to expose our young people to as wide an array as possible of careers, professions, courses and options, hearing from women and men from all walks of life and backgrounds, describing their jobs and their journey, and hopefully inspiring and informing our students about the limitless opportunities available for them when they leave school. We will be doing a range of activities across the school, in all Years, about this, so that all our students can think about and learn what life can have in store for them. This is about opening their eyes to the endless opportunities and exciting careers and lives that lie before them, with hard work and dedication. We are reaching out to all our parents and families to get your input into this event, with your advice and expert opinion on your own professional experiences, whatever path you have taken and whatever field your expertise lies in. Please do get in touch with us if you are able to support with this.
Alison Colwell
Principal
Baleares International College, Sa Porrassa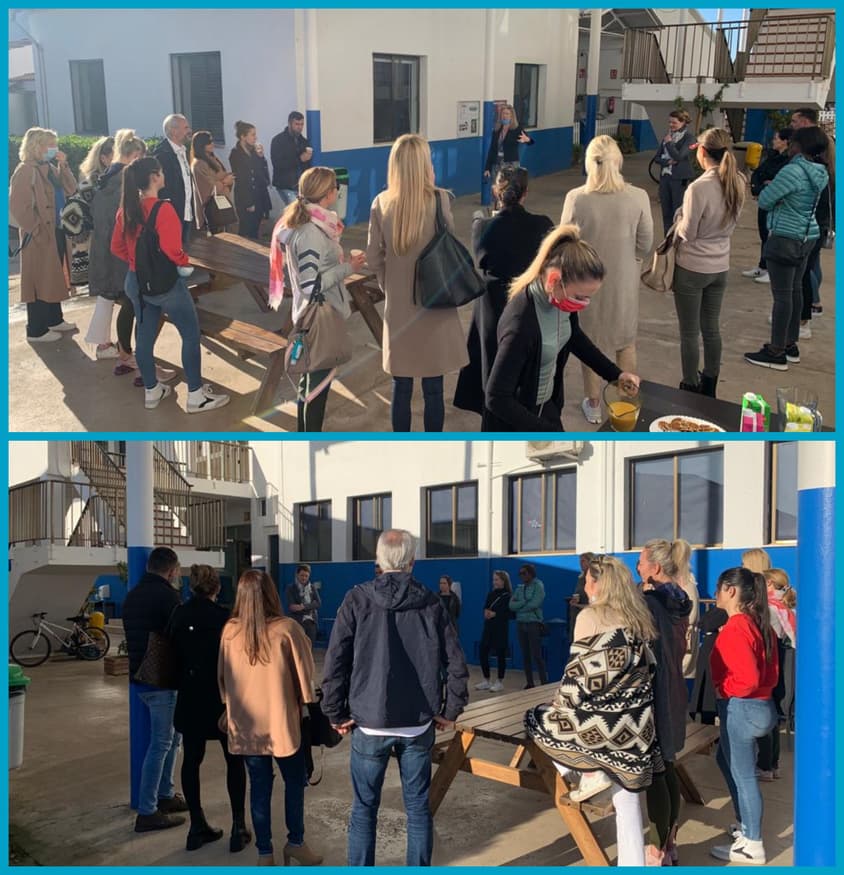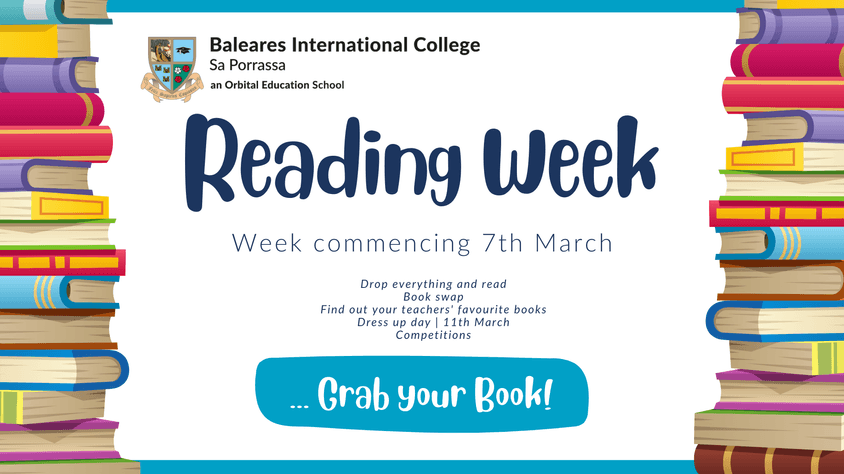 Ms Elizabeth Compton, Head of Primary
---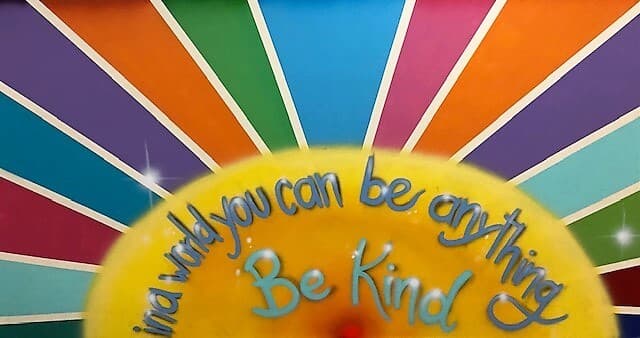 When visiting school you may see one of my favourite phrases displayed on the wall outside Year 5. At BIC we understand the importance of academic achievement and a strong work ethic for our students, however there are so many other qualities that lead to a child´s successful future. The careers of the future are somewhat unknown so the importance of educating the ´whole´ child, not simply the academic , is essential.
We must reflect as parents and educators on ´Who do we want our children to become?´
This Monday was Valentine´s Day and we spoke with students about kindness and compassion. Our school value of compassion, being kind, caring and supporting others to achieve is central to developing and maintaining the culture we have built in our primary department. Children who want to come to school are happy and this and their smiles radiate throughout the school.
On Tuesday we held another successful Awareness Afternoon with the focus of ´Growing up´. It was clear as I moved around the school and observed snapshots of the learning taking place that we really do have so many kind, mature students who are really growing up to be the type of student we want to send off into the wider world.
Kind regards,
Ms Elizabeth Compton
Head of Primary
Celebrating Excellence - Well done to our stars of the week!
---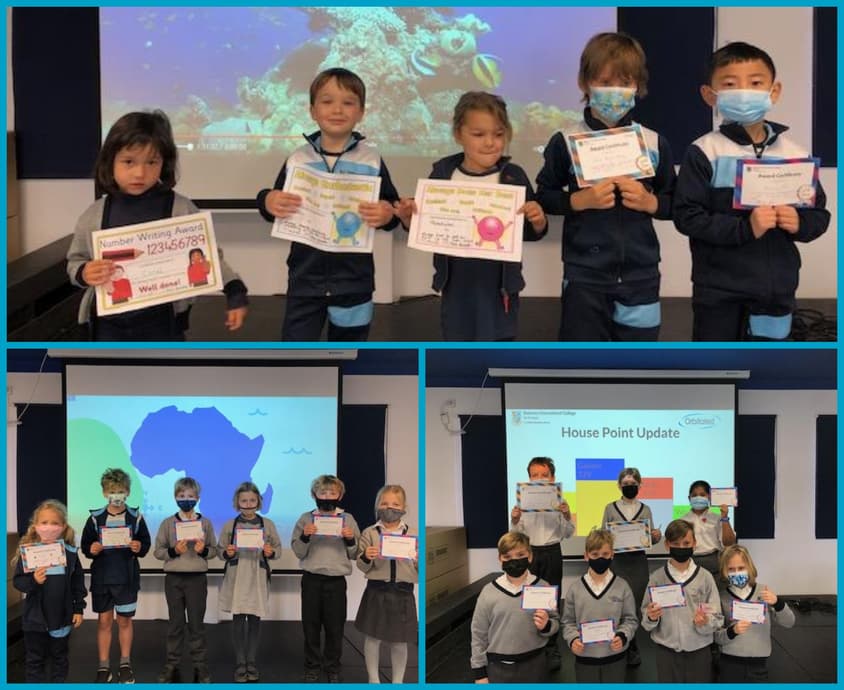 Whole School House System news
---
House Points Totals Update - Term 2
| | | | |
| --- | --- | --- | --- |
| Winton | Galileo | Roosevelt | Parks |
| 580 | 774 | 663 | 662 |
House Points Totals Update - 2021/22
| | | | |
| --- | --- | --- | --- |
| Winton | Galileo | Roosevelt | Parks |
| 1634 | 2265 | 1794 | 1859 |
A message from your Heads of House
Well done to everyone who reached the finals of the Bleep test on Tuesday and on Thursday. It was fantastic to see the enthusiasm and team spirit. I enjoyed taking part with you and I was very proud of the finalists and how well you competed against the other Houses. It was brilliant that Parks came first in the Primary Bleep test on Tuesday.
Miss Xidakis, Head of Parks House
Congratulations to all students who took part in ´Matilda´ last week. It was simply an incredible performance, and I am so proud of all of you. The hard work in rehearsals paid off! Huge congratulations to all of our students who have competed in the bleep test finals on Tuesday and Thursday. What a fantastic achievement. It was so lovely to see team spirit from non competitors as well, cheering for their fellow students. It´s been an exciting couple of weeks - keep up the momentum until the holidays!
Miss Mayes, Head of Roosevelt House
Well done Galileo. We are still in the lead!

A massive thank you to everyone who took part in the Bleep test competition and for those that came to show their support. Congratulations to Mac Cumber for coming third in the Primary final and to Carlitos Feliu Blasco for coming second in the Secondary final. It was a fantastic event.

Well done to those who were part of the Matilda production. It was absolutely amazing. You are all so talented and I am proud of you all.
Miss Turley, Head of Galileo House
I knew the Bleep Test would be Winton's time to shine! Well done to everyone who took part- there were so many of you in the final. I want to say an extra special well done to Oliver Balazs for coming second in the Primary final and to Teo Oppenheimer and Daniel Meynell for coming first and third respectively in the Secondary final. Teo won with a score of 11.6! Well done!
Mrs Florey, Head of Winton House
Bleep Test Grand Final

---
This week was Bleep Test week at BIC. Students from Year 3-11 have been competing in their PE lessons over the last few weeks to reach the Grand Final. Years 3-6 raced on Tuesday and Years 7-11 on Thursday. All of the finalists put so much effort in and ran their hearts out to the encouraging cheers of their classmates.
Primary
1st- Kai - Parks House
2nd- Oliver - Winton House
3rd- Mac - Galileo House
Secondary
1st- Teo - Winton House
2nd- Carlitos - Galileo House
3rd- Daniel - Winton House
Matilda the Musical
---
Wow, what can we say? The performance at Paguera theatre last Tuesday was simply incredible. The venue had a perfect stage and screen for our hybrid performance, with our live lead characters and incredible videos that supported the live show. The audience particularly enjoyed seeing the character of Amanda Thripp being thrown over Western Water Park by Ms Trunchbull - huge thanks to Mr Darlow for his incredible video editing skills!
The students performing live were outstanding. So many lines and songs were learned perfectly, and they really brought the comedy of the script to life; the audience were constantly laughing with even Ms Tomlinson admitting she was in stitches throughout. I think she secretly enjoyed being picked on by Mr Wormwood (played by Ava Bland) and the start of Act 2! With so many fantastic performances from our large cast it is difficult to highlight any one performance, however special mention really should go to Clio Von Waberer (Year 6) who played Matilda, and Amber Worrall (Year 11) who played Miss Honey for singing solo songs live as part of the show. Please enjoy the photos below from the performance. We are already thinking and planning for next year - so watch this space!
Early Years news with Mrs Wardle
---
Early years have spent much more time outdoors over the past couple of weeks, playing, learning, socialising and enjoying our early spring weather. As part of our healthy living topic we have played in different groups to help form strong relationships with everyone in the class. Feeling a sense of belonging and value in a school group is very important to a child's healthy development and emotional needs. We also looked at photos of ourselves when we were babies, talked about what we could and couldn't do when we were so small, and about all of the things we can do now and do so well.

Year 1 news with Mr Fairless
---
Year 1 have been learning about primary colours. They had great fun using these to make other colours.
They have also been working incredibly hard getting to grips with different ways of adding two numbers.

Year 2 News with Ms Bakes
---
Year 2 are thoroughly enjoying the adventures of Traction Man, which we are reading as stimulus for our English lessons. The children enjoyed incorporating drama into the lessons by acting out scenes from the story in small groups.

As part of our Healthy Living topic in science, we carried out an investigation to find out what is the best way to remove germs from our hands. We used green glitter and pretended that it was germs!

We enjoyed Awareness Afternoon on Tuesday, when we learnt about how we change as we grow up and also talked about some more 'grown up', scientific words for parts of the human body. Our favourite part was cosy socks and blanket time at the end!

Year 3 News with Mrs West and Miss Xidakis
---
In mathematics, Year 3 used base 10 resources to understand the process of dividing larger numbers.
We also learnt how to multiply two digit numbers (for example 45 x 4 =) using the grid method by partitioning the 2 digit number into tens and ones.

This week in English, Year 3 have been studying poetry. We thoroughly enjoyed using instruments whilst performing different poems.

Year 4 News with Mrs Alonso McGregor and Mrs Walsh
---
Circle time, cosy socks and favourite teddies made the perfect end to the Awareness Afternoon. After some great conversations about growing up and the ways in which our bodies change, the Year 4 children put their thinking caps on to identify things that they are able to do for themselves as they get older.
Our studies about States of Matter took a practical approach this week, too, with the children investigating how gasses have weight. Much energy was given to shake fizzy drinks to release the carbon dioxide and then comparing the before and after weights. A thoroughly enjoyable lesson was had by all!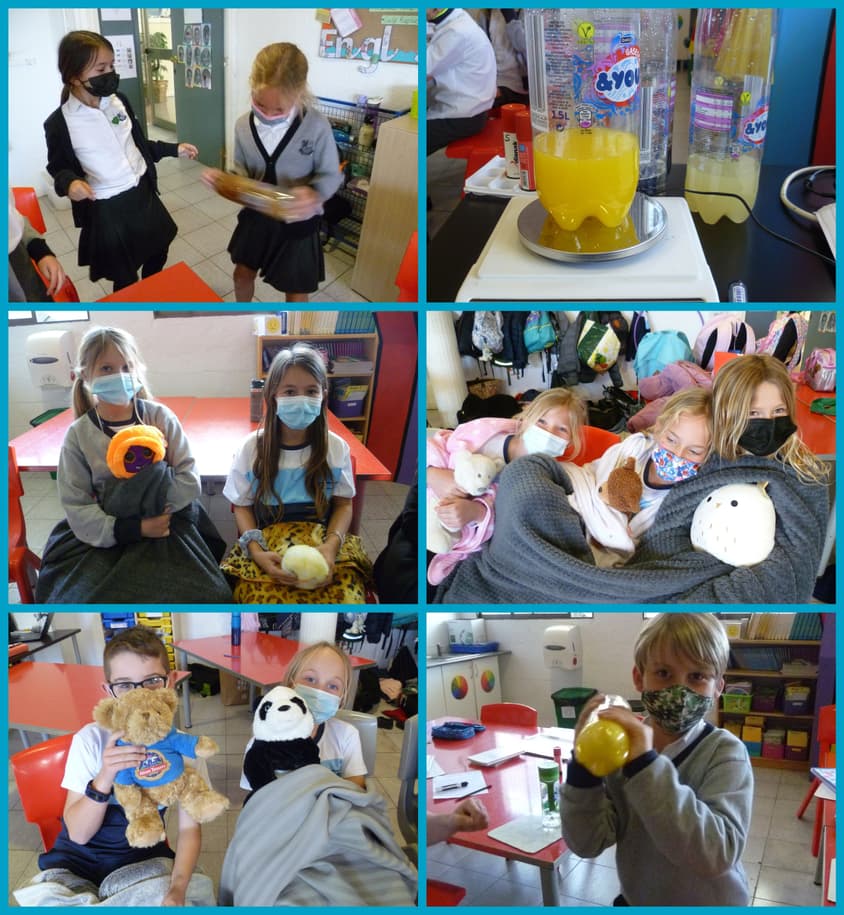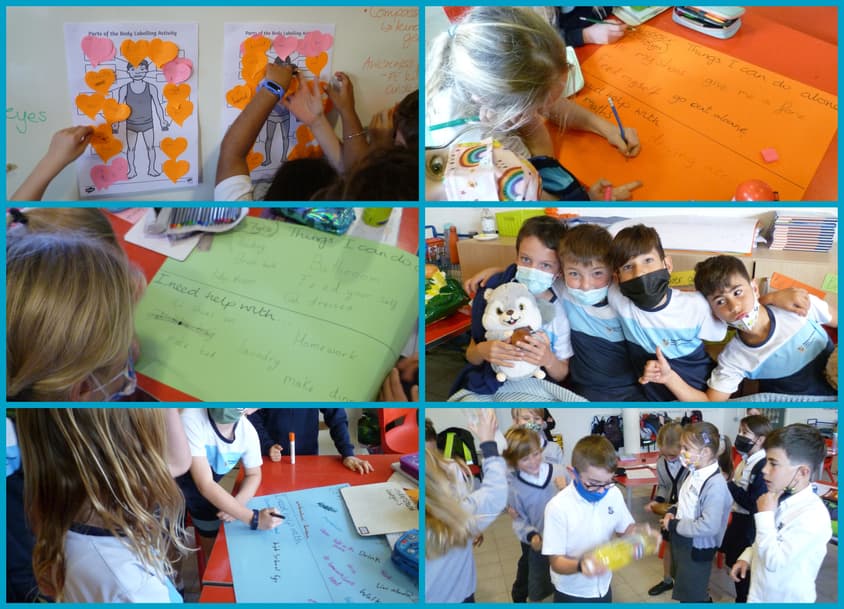 Year 5 News with Ms Hodgson and Ms Demangeat
---
Valentine's Day with a difference was the order of the day in Year 5 as the children were tasked with making green hearts using recycled material as an introduction to thinking about climate change and our Humanities topic " Our World." They wrote beautiful paragraphs about their favourite place in the world; some pupils chose far away places and others chose home, as they say "Home is where the heart is. " They presented their thoughts beautifully to the rest of the class.

Year 6 News with Mr Darlow and Mrs Von Waberer
---
Love was in the air on Monday as our Year 6 students developed their vocabulary and poetry skills writing beautiful Valentine love poems as well as designing delightful cards in art.
We very much enjoyed supporting our House teams in the Bleep test finals and would like to offer a big congratulations to all the finalists and especially to Oli, Kai and Konstantin for making their Houses proud.
Tuesday was an extra special Awareness Afternoon in which we created a safe and comfortable space for the children to discuss the important issues around growing up and the changes we go through. We had some very poignant discussions and felt the children benefited enormously from the role plays and talks in our warm, friendly environment.
Languages department news
---
Y5 Spanish- Picasso´s head
We are crazy about Picasso, and Year 5 Spanish took on Cubism with a twist.
The main idea of this activity was to be creative and to understand how Cubism uses simple geometric shapes interlocking planes to show a variety of viewpoints at once.
With this in mind, students started to create their own portraits with a Cubist gastronomic focus. What kind of objects might work well for such a portrait? After thinking about what they wanted to use, they created their own Cubist-style portraits out of everyday objects around their homes.