Your guide to all news at school.
Ms Alison Colwell, Principal
---
Dear Families,
Every fortnight when I review our school newsletter I am always struck by the tremendous amount of fun and creative activities going on all around the school, and today is no exception. In the week when some of our students are on an exciting trip to the UK, we celebrated World Poetry Day with poetry readings at every opportunity, and our Read-a-thon continues. (In a week when I realised my own personal ambition by having a book published I hope that it will inspire other budding authors in our midst.) Students are practising public speaking in their humanities lessons and rehearsing their dance expertise ready for next week's Dance-a-thon. Science week saw an array of wonderful science themed activities, and at the end of term the overnight Aquarium trip, including sleeping next to sharks, is set to be a memorable event! And we have all been touched by the Sixth Form's desire to support the Ukrainian crisis, a testament to the kindness and compassion in our students; school is certainly about so much more than just academic study.
Happy reading everyone!
Alison Colwell
Principal
Baleares International College, Sa Porrassa
Ms. Elizabeth Compton, Head of Primary
---
Dear families,
The weather over the last few weeks hasn't put a dampener on all the learning experiences going on throughout primary. In our newsletter this week you will hear all about the hands-on learning provided during Science Week. I personally enjoyed working out how many BIC students would fit inside a Great White Shark and Megalodon, Year 3W can definitely let you know!
We also celebrated St Patrick's Day throughout BIC and enjoyed learning about other cultures and traditions. In assemblies students were able to make connections to other celebrations in and outside of school, we are always looking for ways to build on students' cultural awareness so please let us know if you are interested in anything in particular.
Speaking and listening are key parts of building strong foundations for your children. Oracy is currently our school-wide focus area and in primary we decided to use World Poetry Day as an opportunity to incorporate this further into our learning. Throughout the week, all classes have been learning how to perform a poem to an audience, culminating in a fantastic showcase of performance poetry on Friday. Well done everyone!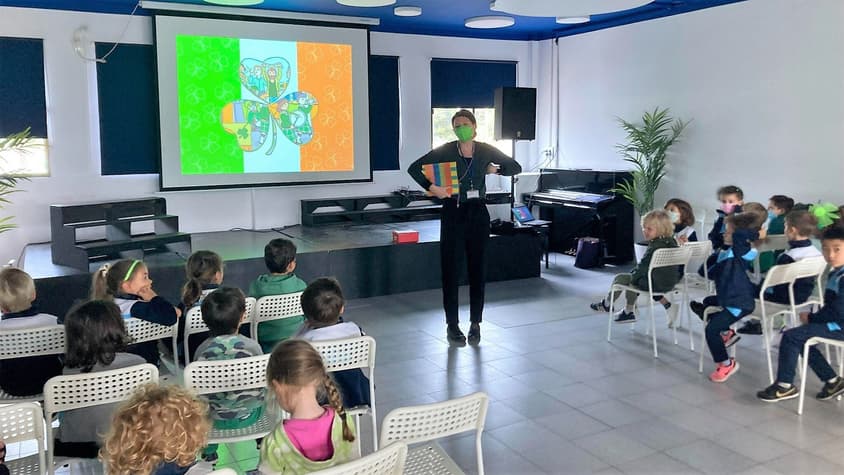 Celebrating Student Success
---
Well done to all our award winners!

Year 2 and Year 3
Whole School House System news
---
House Points Totals Update - Term 2
| | | | |
| --- | --- | --- | --- |
| Winton | Galileo | Roosevelt | Parks |
| 998 | 1307 | 1169 | 1090 |
House Points Totals Update - 2021/22
| | | | |
| --- | --- | --- | --- |
| Winton | Galileo | Roosevelt | Parks |
| 2052 | 2798 | 2300 | 2287 |
A message from your Heads of House
It has been heart-warming to walk around the forms in the morning and see so many students practising the Jerusalema routine with their form tutors to prepare for our charity House event. I am excited for the Dance-a-thon on March 28th. Please use this weekend to perfect your routine ready for Monday lunchtime´s Dance-a-thon. I look forward to seeing parents there who can attend. It is going to be so much fun.

Congratulations to those who continue to earn House points, let's continue the fantastic work and try to reclaim first place again. I wish you all a lovely weekend.

Miss Xidakis, Head of Parks House
It has been lovely over the past week to meet with all Roosevelt students, secondary in assembly, and our primary meeting. We have had another successful fortnight, and I am proud of all the House points you are continuing to achieve. It has been great to see students practising for our Dance-a-thon on Monday the 28th. What a fantastic event organised by Ms. Xidakis to raise awareness and money for those affected in Ukraine. Please continue to collect sponsorship and complete the sponsor forms which have been emailed home, and I cannot wait to take part - I will see you all on the field Monday lunchtime!
Miss Mayes, Head of Roosevelt House
It has been a great couple of weeks for Galileo. I loved meeting up with our primary team to discuss any issues and to say well done for all the hard work. This week was the first House assembly for quite a while and it was great to be up there talking to all the secondary students again. As I said in my assembly, I am very much looking forward to the dancing on Monday. It will be lots of fun and will raise lots of money. Well done everyone for continuing to gain House Points. Let's try and make sure we keep it up so we are Term 2 winners.
Miss Turley, Head of Galileo House
I am so excited about the Danceathon next week. The primary Winton team did a fantastic job of teaching me the dance and I know the secondary students have been practising in form time too. It's going to be awesome! Don't forget to get your sponsorships and fill in the form so we can raise as much money as possible. Let's have another fantastic week.
Mrs Florey, Head of Winton House
Ukraine Appeal - Sixth Form Initiative
---

The 6th form here at BIC wants to try and help those who are suffering in Ukraine and those who are having to leave their homes. We have got in contact with the Ukrainian Orthodox Church here in Mallorca that sends supplies.
The church has given us a list of items that includes medical supplies, hygiene products, and appliances. Please see the list below of items to be brought in and donated. Supplies will be collected in school and will be shipped to the church next Friday (1st April).
Suggested items
Appliances and electrical items:

Batteries

Power bars

Headphones

Kerasin lamp, light bulbs

Extension cords

Kettles

Water bottles

Detergent and personal hygiene items

Soap

Shaving Razors

Wet wipes

Toothpaste

Toothbrush

Kitchen paper

Plastic utensils (plates, spoons, knives, forks)

Medical supplies

First aid kit

First aid items

Bandages

Diapers

Scalpel

Crutches

Medical scissors

Medical gloves
If any parent has access to more medical supplies such as medicines, antibiotic creams, or surgical equipment, please contact rebecca.florey@balearesint.net.
Many thanks for your support.

Early Years news with Mrs Wardle
---
One of the prime areas in the Early Years Foundation Stage is communication and language. The children enjoy daily circle time sessions in class to practise their listening and speaking skills; during circle time we talk about their thoughts, feelings, and ideas about certain topics. Puppet shows, storytime, and reading are also a part of our daily routine allowing the children to develop their language skills. Our day always begins with a morning circle time check-in, we talk about what we did after school the day before, what has happened since we last saw one another, and what we have planned for the day ahead. The children love to share their news with the class daily.

Year 1 news with Mr Fairless
---
Year 1 has had a very busy and productive week. They have worked hard learning new vocabulary for their descriptive writing and have enjoyed learning the Spike Milligan poem 'On The Ming Nang Ning'.

The children really showed off their creativity making aquatic pictures with leaves, making their pictures come alive!

Year 2 News with Ms Bakes
---
Plenty of fun was had last week during Science Week. Our favourite part was learning about chemical reactions. The children, in groups, designed and crafted a volcano, then using vinegar and bicarbonate of soda, they watched their volcano erupt!

Year 2 now confidently know the names of many 3D shapes and they can describe how many faces, edges, and corners they have.

During Poetry Week this week, the children learned to write some lovely short poems. We also loved listening to many stories and poems by Dr. Seuss, our favourite being Green Eggs and Ham! Everyone in the class participated in a poetry performance of this poem, which was fantastic!

Year 3 News with Mrs West and Miss Xidakis
---
Year 3 have been learning about formal letter writing in English. To finish our unit, the children wrote persuasive letters to Ms Compton about their school uniform.
In science Year 3 have been learning about plants. To help learn the parts of the flower that are involved in pollination, they painted a lily using water colours and then made a 3D flower model.

Year 3 celebrated Science Week by taking part in some science experiments linked to our class text 'George's Marvellous Medicine' by Roald Dahl. We have also been learning Roald Dahl's poem 'The Pig' for Poetry Week!

Year 4 News with Mrs Alonso McGregor and Mrs Walsh
---
We were so proud of the display that the children created as a result of Book Week. We discussed all the reading that they would do in 24 hours and created a ´Reading River´. We soon realised that we are continually reading and without this vital skill, life would be very difficult!

Year 4 got Poetry Week off to a fabulous start with all of the children performing their own chosen poem to the class. Each poem was different from the last, reflecting their own tastes and interests. We were very impressed with the calm, confident delivery of the poems with attention paid to appropriate rhythm, speed, voice, and volume.

Much fun was had in maths this week too, as the children tested their times table knowledge. Scavenger hunts, partner races, timed tests, songs, and fortune-tellers were among the many ways that they committed these important facts to memory!

Year 5 News with Ms Hodgson and Ms Demangeat
---
St Patrick's Day, Science Week, and literacy have kept the Year 5 students busy recently.
Year 5 celebrated Science Week by creating crystals with sugar and salt or making an explosive volcano.
For Poetry Week everyone enjoyed the energetic and action-filled rendition of ´We Heard it in the Playground´, a performance poem by Allan Ahlberg.
The fabulous world of Harry Potter has inspired Year 5 to write and cast their own spells, please take care when watching the videos, you may become spellbound!

Year 6 News with Mr Darlow and Mrs Von Waberer
---
We've had a fantastic few weeks in Year 6 celebrating science. We excitedly made lava lamps, embraced crystal creations, and discussed the wonderful world of female engineers and scientists.

We've been enjoying practising our recital of Michael Rosen's Strict which we will perform to the rest of Primary. We are looking forward to watching the other Year group's poems.
We loved looking at each other's amazing book dioramas and guessing which book they were representing.

Sports department news
---
Last Saturday 19th March, our BIC Sa Porrassa and San Agusti Year 5 and 6 volleyball players took part in the Volleyball Tournament in Son Moix organised by Consell de Mallorca.
There was an extraordinary sports atmosphere at the volleyball event, and we had a great time.
After the matches, our students had the opportunity to enter the centre court and take a picture with the professional players.
A massive thanks to the parents of our young athletes for their support and great cheering during the competition!

Languages department news
---
Early Years and Year 1 went to visit the farm Es Burotell in Calviá.
The students enjoyed greeting and feeding the animals and baking some biscuits "galletas de romero". We have had the opportunity to visit the garden and the aromatic plants. What a lovely smell.
The day has been fantastic!

Languages department news
---
Thank you to all of the students who have thrown themselves into Science Week with great passion. Having selected different topic areas to learn about, teachers put on a menu of events for our students to enjoy. Thank you to the students for all of your wonderful ideas.