Your guide to all news at school.
Ms Alison Colwell, Principal
---
Dear families,
As a British international school, we place enormous importance on students learning languages, as well as in supporting our students for whom English is not their mother tongue. In fact, the majority of our students speak English as a second or third language, and I remain in awe at the multilingualism of so many!
Earlier this year we submitted an application to an accreditation scheme for international schools, to demonstrate the quality of our English as an Additional Language (EAL) provision. The scheme is run by The Bell Foundation (a charity which aims to overcome exclusion through language education). I am delighted - but not surprised - that we were successful in being awarded this prestigious accreditation and I wanted to share some of the comments in the report we received.
They described our school as one, "where the cultural and linguistic diversity of the pupils is celebrated and where the value of EAL pupils is clearly visible in the school's activities.....EAL pupils achieve impressive learning outcomes, as demonstrated by outstanding exam results: 100% pass rate, and 38% at A* and A..........There is visible alignment between the school's explicit values and the different activities that pupils take part in, with opportunities to explore a variety of important modern issues such as diversity, multicultural education, racism and anti-racism, global and development education, and religious, moral, spiritual education......... The celebration of individuality and uniqueness come across strongly in the curriculum and co-curriculum programme.........There is a school culture of high expectations and specific activities support this aim (eg, the international maths challenge).........The school offers a good mix of activities, from international schemes (the Duke of Edinburgh Award, the Model UN Conference), regional initiatives and events (the Rotary Club debating competition, inviting bilingual guest speakers from local institutions to speak to the pupils in Spanish and English), social projects and charity work (collaborating with the Zaqueo food bank), to in-house events (International Families Day, Odd Sock Day, Black History Month) and events that celebrate cultural diversity and deepen cultural awareness (Sant Antoni and Diwali).......The use of English throughout the school is excellent, and students are confident and happy to use English."
Achieving this accreditation is testament to the excellent leadership and expertise provided by Mrs Cruttenden, to all the hard work, skill and commitment of our teachers, and to the resilience and determination of our students. Well done to all!
Alison Colwell
Principal
Baleares International College, Sa Porrassa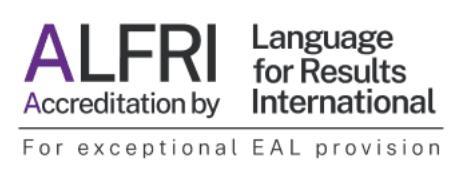 Ms. Elizabeth Compton, Head of Primary
---
Dear families,
Welcome back to the summer term and as I wrote to you last week this term will be a busy but engaging and exciting ten weeks.
We have rescheduled the BIC Primary Mini Olympics on the following dates, please note at a
slightly later time
due to secondary examinations
| Date | Year Group |
| --- | --- |
| Wednesday 11th May 11:30 am | Year 3, 4, 5 and 6 |
| Friday 13th May 11:30 am | Early Years, Year 1 and Year 2 |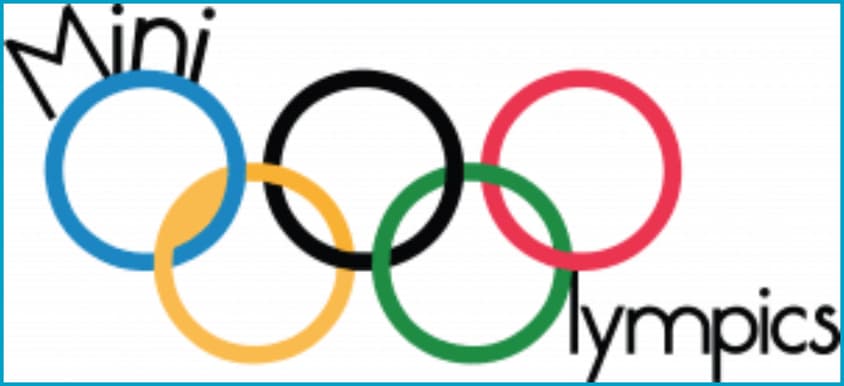 As last year, students will compete in Houses in a variety of events during the morning and we welcome parents to join us and perhaps even join in for a race themselves! Please send your child to school in their PE kit and a t-shirt in their House colour.
It is such a pleasure to see and read about all the hands-on learning taking place throughout primary, in only the first two weeks. In particular, this Thursday afternoon children participated in a variety of new activities during our Activities Afternoon. In addition, we continue to increase the trips and visits for our students and ensure learning takes place in a variety of contexts in and out of the classroom.
Celebrating Student Achievement

---
Well done to our certificate winners, I was very pleased to reward these students during our assemblies. It is wonderful to see the students who are working hard to model the values of our school. My focus this week and throughout the term is responsibility and how BIC students can develop this throughout the term and beyond.
Wishing you a wonderful weekend,
Yours faithfully,
Ms Elizabeth Compton
Head of Primary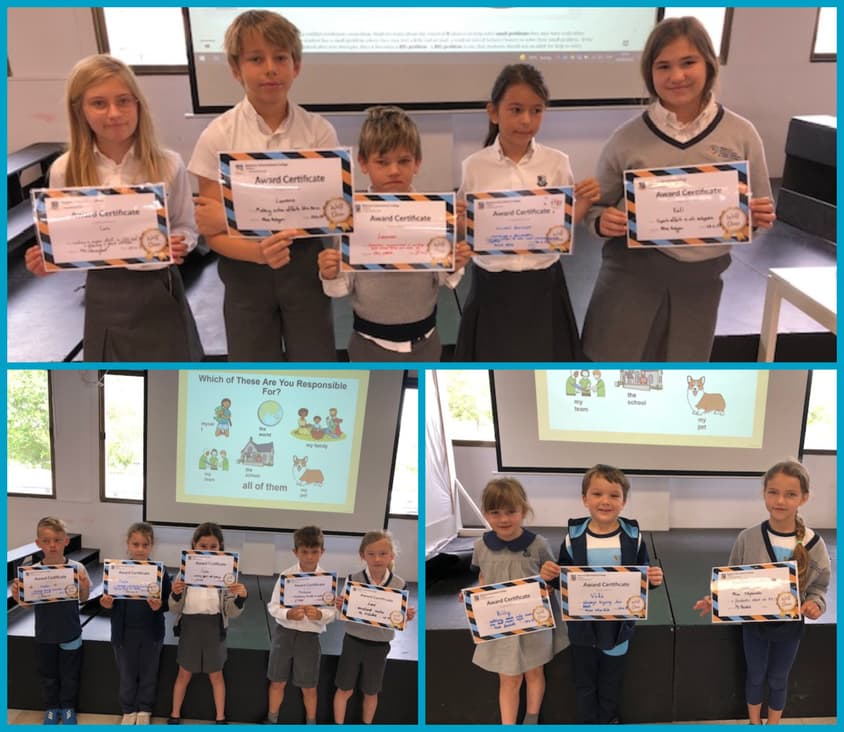 Whole School House System news
---
House Points Totals Update - Term 3
| | | | |
| --- | --- | --- | --- |
| Winton | Galileo | Roosevelt | Parks |
| 120 | 152 | 174 | 158 |
House Points Totals Update - 2021/22
| | | | |
| --- | --- | --- | --- |
| Winton | Galileo | Roosevelt | Parks |
| 2511 | 3371 | 2854 | 2826 |
A message from your Heads of House
It was lovely to start this week with a Park´s House assembly. We talked about this week being Deaf awareness week. I think many of you were moved by the barriers Deaf people can face. Also, I know that many of you are excited to hear more about the reward trips, more information coming very soon.
Miss Xidakis, Head of Parks House
Welcome to the summer term Roosevelt. It has been great to see you all back in school and preparing for all of the exciting things happening this term. On top of our GCSE and A Level students being able to show off all their knowledge in their exams, we have reward trips, Sports Day, school performances, a prize giving ceremony, as well as our normal school business, including a House Council meeting. I also want to say a huge congratulations on such a successful start to this term, we have shot to the top of the leaderboard! Keep it up!
Miss Mayes, Head of Roosevelt House
It has been great to see everyone back after the Easter break. We have lots going on this term with Sports Day, competitions, House Council and our reward trips. I am looking forward to receiving photos from you all for the science photo competition! Keep up the great work you have shown all year and keep gaining those House Points.
Miss Turley, Head of Galileo House
Welcome back Wintons. It was wonderful to see you in our assembly this week and I was impressed by your sign language- I hope you have been practising at home! There are lots of exciting things to look forward to this term with sports day, trips and House Competitions on the horizon. Keep going with all your hard work and make sure you're doing your best to get as many House Points as possible! I want to wish a special good luck to all our Winton colleagues in Yrs 11-13 who are beginning their exams this week- You've got this!
Mrs Florey, Head of Winton House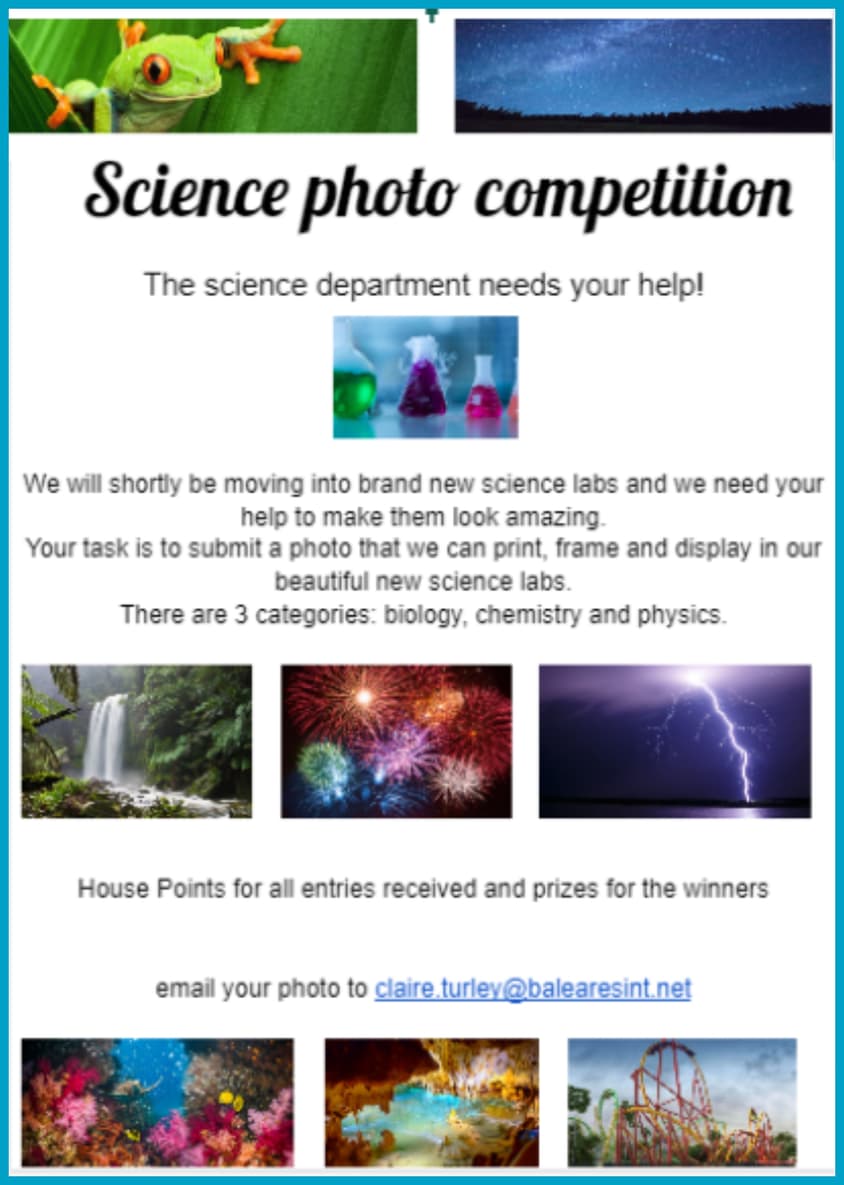 Early Years news with Mrs Wardle
---
We have had a great two weeks back at school. Following on from our farm and food topic before the holidays we have been busy planting seeds, plants and flowers next to our patio. The children brought two plants each and we sorted them into groups, plants we can eat and plants we can´t eat. The children are really enjoying taking care of the small allotment and flower garden. Nursery have used their listening skills to find the right instruments to match a nursery rhyme, They continue to practise new letters and sounds and this week looked at the letter ´i´as in igloo.They made their own igloos with ice cubes and had fun trying to build with them. This term our topic will be Superheroes. Watch this space for more details on Supertato and the Evil peas !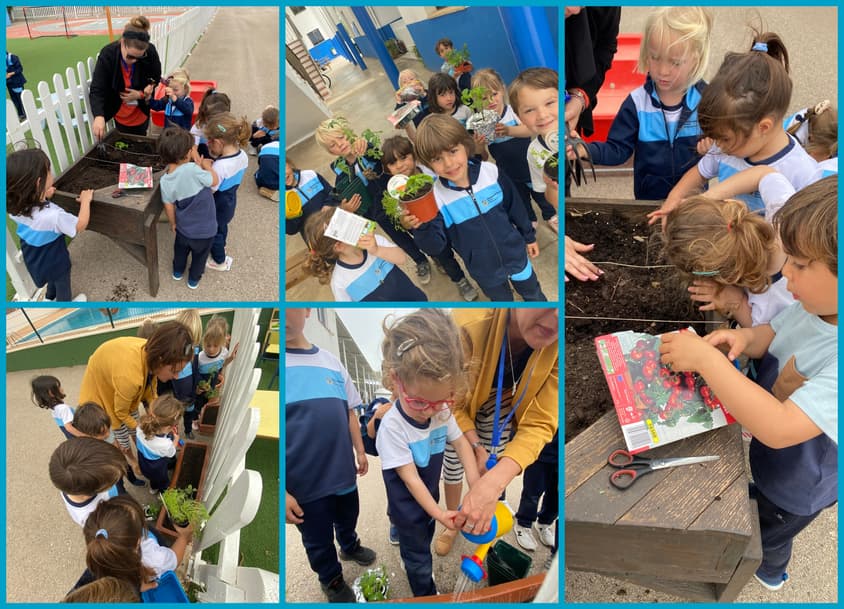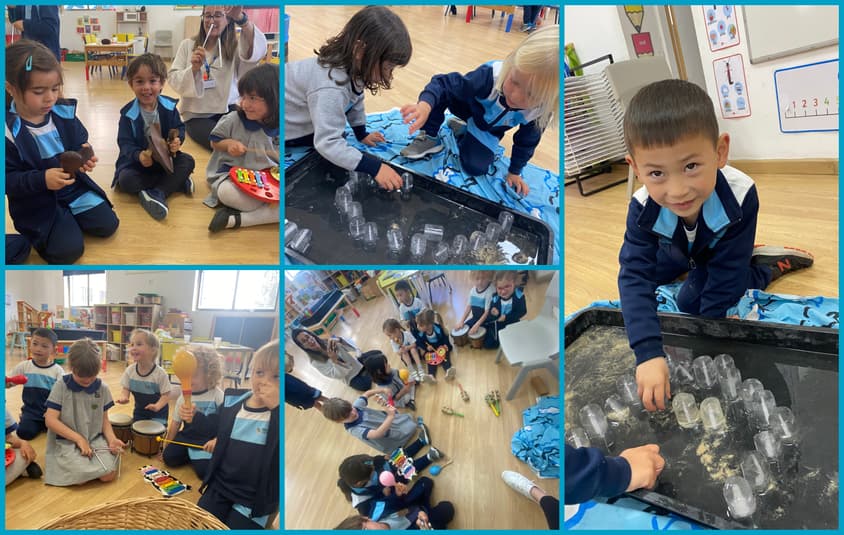 Year 1 news with Mr Fairless
---
Year 1 have made an excellent start to the summer term and had a very busy week.
The children have been creating story maps to help them orally tell the story of Little Red Riding Hood. Later this oral retell will help them write the story!

The children really enjoyed their trip to the beach this week to learn more about the local area. They had great fun taking part in different beach activities.

Year 2 News with Ms Bakes
---
Year 2 have been excellent scientists and mathematicians this week. They have learnt how to understand fractions by halving oranges (which they then enjoyed eating!), and solving problems with sandwiches by cutting them into equal parts.

In science we have been investigating which materials are fully waterproof, and learning what the word 'absorbency' means, too. We tested many materials to see which would be most effective to make an umbrella from. We then tested a number of other materials to find out which are the most absorbent to mop up some spilt water.

This week has been Deaf Awareness at school and the children have loved learning some sign language. Ask them to show you some words, or full phrases, that they have learnt!

Year 3 News with Mrs West and Miss Xidakis
---
Year 3 thoroughly enjoyed computing this week, in the new computing suite. They learned how characters ´Sprites´ can be moved using 'events' utilising the program Scratch.

Year 4 News with Mrs Alonso McGregor and Mrs Walsh
---
After studying the Ancient Egyptians in Term 1, Year 4 were very excited to be visiting the Egyptian exhibition at La Caixa Forum (even after last minute changes to accommodate the King of Spain on our scheduled day!) Mrs Walsh and Mrs AM were very impressed with the knowledge that the children had retained and alongside excellent behaviour, they were a credit to the school.

In maths this week, Mrs AM´s class have been consolidating their knowledge of fractions and have practised how to simplify fractions to their lowest form and how to find fractions of amounts. Using cubes helped their understanding.

A new term brings new topics: Rainforests and Sound. In science, after identifying what sound is, we took a ´sound walk´ to listen to different sounds and to experiment with how ear trumpets aid the funnelling of sound waves to our ears.

Year 5 News with Ms Hodgson and Ms Demangeat
---
Fascinating facts and amazing artefacts were the highlights for Year 5 students in the visit to Palma and the Pharaoh exhibition in Caixa forum. The students learned all about the worlds that the Egyptians believed in, their life and some of the Pharaohs and their tombs. How a recently discovered female Pharaoh, Hatshepsut, had her history erased from the stone tablets was another interesting story. A walk through Palma past the 600 year old olive tree in Plaza Cort, the Parliament des Islas Baleares, the Cathedral and Almudaina Palace to the Parc de Mar for lunch finished off a wonderful day out.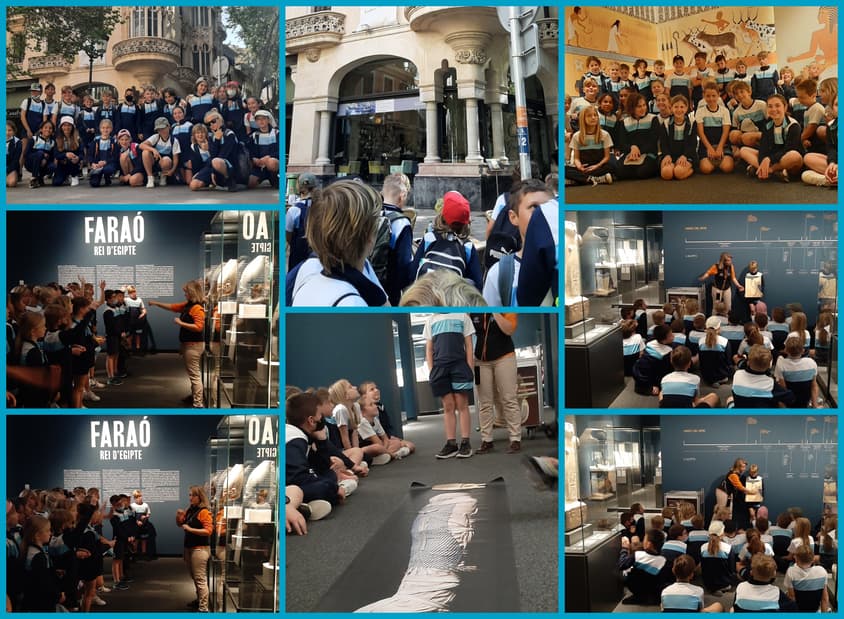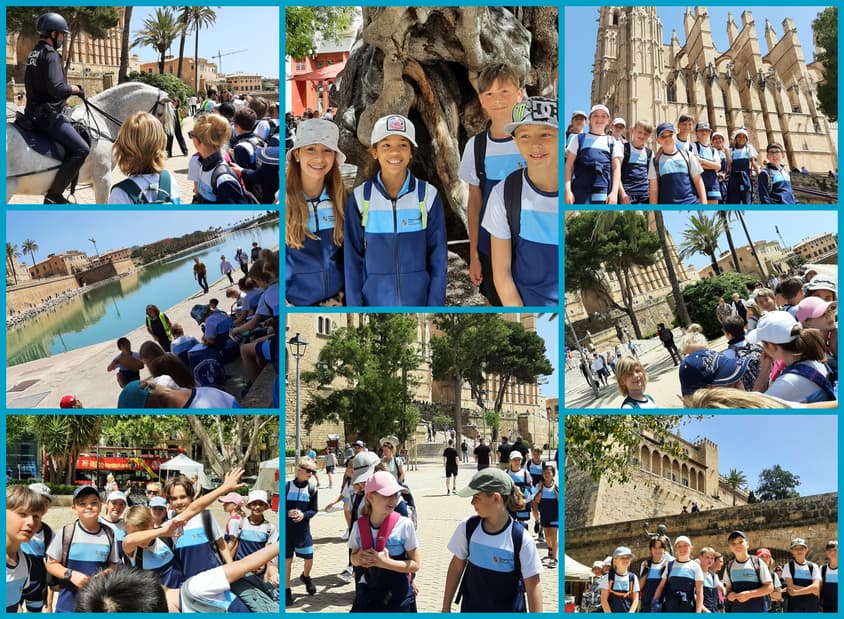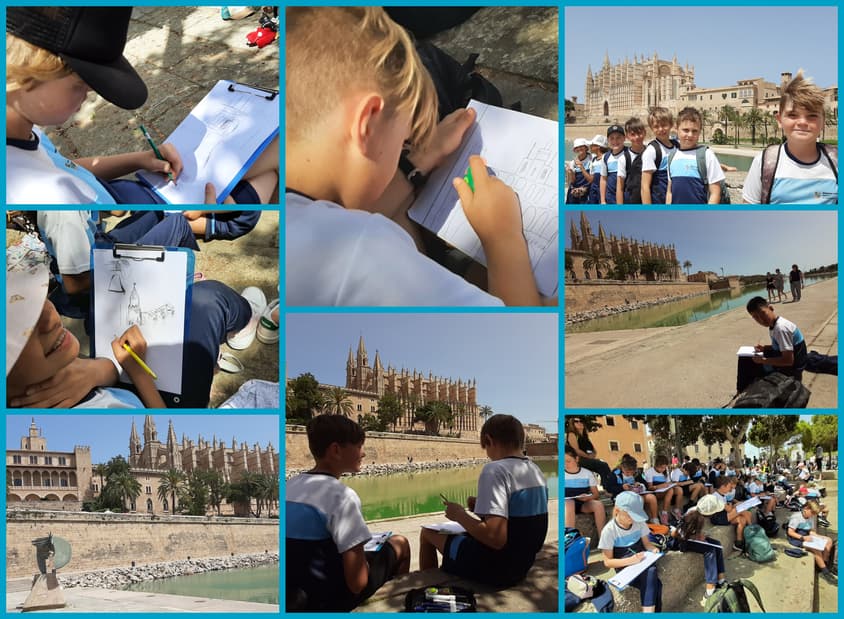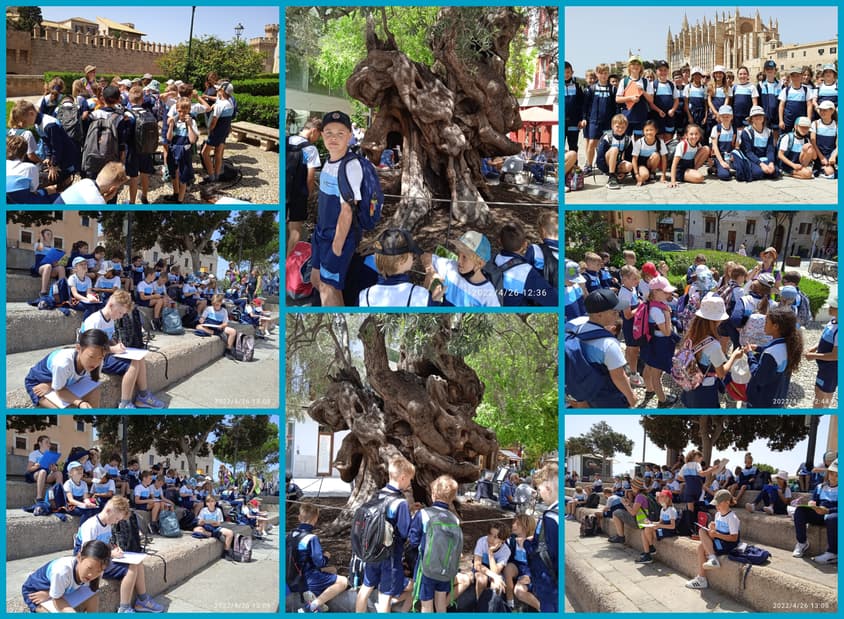 Year 6 News with Mr Darlow and Mrs Von Waberer
---
Year 6 had a fabulous first day back visiting the wonderful Egyptian exhibition in La Caixa Forum. The children loved to listen about the stories of Ancient Egypt and found the whole experience of mummifying their friends and reenacting myths a delight. The children also loved looking at and sketching parts of the beautiful cathedral and magical olive tree in Placa Cort.
Year 6 are working hard towards their end of term assessments. They're practising their mental maths and working on different language aspects. They were very excited yesterday to begin learning the words of their songs for our end of term show.