Your guide to all news at school.
Ms Alison Colwell, Principal
---
Dear families,
In the recent parent survey, communication came out really strongly. In response to questions about quality and frequency of communication, ease of getting answers and the methods received, we scored judgements of being "outstanding" or "good" as almost 90%. Obviously I'm never happy with anything less than 100% but it is pleasing to know that generally you are satisfied with communication - although there is always room for improvement.
As we plan the calendar for next year and think about parent evenings it seems timely to point out, as Ms Tomlinson writes about today, that parent evenings are just one date in the year when parents can get an overview of their child's progress and well being. We encourage - even urge - you to get in touch with us at any point, about any matter affecting your children and their education. You have heard me say many times that there is no such thing as "just a silly thing" when it comes to your children's learning and welfare. Please get in touch directly with tutors, Heads of House, teachers, school leaders and, of course, myself with any issue or question you may have.
And in other news, I'm genuinely excited that on June 1 work begins on the total refurbishment of the science labs. It is going to be noisy, we've got to re-room several classes, and access to one part of the building will be restricted - but it is going to all be so worth it! As I have said before, the teaching in science sparkles and so soon will the new science labs!
Enjoy a sunny weekend.
Alison Colwell
Principal
Baleares International College, Sa Porrassa

Ms. Elizabeth Compton, Head of Primary
---
Dear families,
I hope you enjoy reading about your children's learning and the activities that happen throughout the school as much as I do. I have the privilege of being able to walk the hallways, see the teaching in action and talk to your children about their learning on a daily basis.
International Families Day was celebrated on May 15th and I shared with children the importance of families. We know that children learn best when the significant adults in their lives - parents, teachers, and other family and community members - work together to encourage and support them. As a new mum myself I have reflected recently on the levels of trust parents have with their child's school and teachers. I have said many times it is a responsibility we do not take lightly. As I send my son to Nursery I know that he is in capable, experienced hands even though I cannot see what goes on behind the doors. What I can see is my son's happy face when I leave and collect him and the developments he makes from being in a caring, stimulating and safe environment with experienced professionals.
Last week it was so wonderful to see parents on site for our Primary Mini Olympics and many parents commented on how they enjoyed being able to be part of the morning and even lend a helping hand!
At the end of this school year we will be having celebrations of learning and another opportunity for parents to come and see their children in action.
Please pencil in the following dates to your diary:
Tuesday 28th June - Year 5 performance 9:15am
Tuesday 28th June - Year 6 End of Primary Celebration 2:30pm
Thursday 30th June - Years 2 , 3 and 4 Summer Performance (times to be confirmed)
The partnership between home and school is essential to your child's success and as we move away from the COVID restrictions I look forward to many more occasions where parents can be involved in student learning across the school. If you would like to share an activity or present to our children please let me know we are always looking to enrich our students' learning experiences.

Enjoy time with your family this weekend

Yours faithfully, Ms Compton
Head of Primary
Celebrating Student Achievement
Whole School House System news
---
House Points Totals Update - Term 3
| | | | |
| --- | --- | --- | --- |
| Winton | Galileo | Roosevelt | Parks |
| 307 | 365 | 342 | 309 |
House Points Totals Update - 2021/22
| | | | |
| --- | --- | --- | --- |
| Winton | Galileo | Roosevelt | Parks |
| 2698 | 3584 | 3022 | 2977 |
A message from your Heads of House
Congratulations to the Sixth Formers for raising 700 euros for the Ukraine fund from cake sales, clothing and food collections demonstrating how compassionate you all are. Also, I hope you are all excited about the House reward trips, remember to complete the google form as soon as possible to ensure your first choice is available. I hope you all have a wonderful weekend.
Miss Xidakis, Head of Parks House
Congratulations to Roosevelt on yet another successful week, lots of house points earned again this week, keep up the good work! I was so excited to tell you all about the reward trips in our assembly this week, and I hope you are all really excited. Remember to complete the google form as soon as possible to guarantee your choice. Sports Day is now on the horizon as well, and sign ups will be happening soon. After winning last year I am certain we will have another successful event! I also want to con gratulate all our Year 11 and 6th form students on their hard work in their exams, the dedication is really being noticed and I am proud of all of you.
Miss Mayes, Head of Roosevelt House
Woo hoo! We are back on top of the leaderboard. Well done everyone. A special thank you to everyone in primary for being amazing during our recent Sports Day. I am very much looking forward to the secondary Sports Day in June. We will be signing students up to events shortly. It was great to speak with primary students last week. You all had some brilliant ideas.

Secondary students: remember to fill in your rewards trip choice as soon as possible.

Miss Turley, Head of Galileo House
Winton are the winners! Primary sports days happened last week and everyone competed so hard and worked excellently together. I was very proud to be the Head of Winton House. The KS2 Wintons won their competition securing some extra House Points for our total. A huge well done to everyone who competed. Secondary sports day is on the 23rd June and I can't wait to see you all representing Winton House there.
Mrs Florey, Head of Winton House
Readathon news
---
In Readathon news, the champions have this week been celebrating their reading wins as they received their chosen books. There were two winners from each House - one from primary and one from secondary - with Roosevelt taking home the 25 House points for reading a total of 10,060 pages over the six weeks of the competition. Across all Houses, students taking part in the competition read a whopping 32,049 pages. Well done to all involved.
Big congratulations go to:
Roosevelt: Lukas (Year 9) and Samuel (Year 3)
Winton: Sanja (Year 10) and Minmin (Year 5)
Parks: Giovanni (Year 7) and Kai (Year 3)
Galileo: Jasmine (Year 11) and Rafi (Year 4)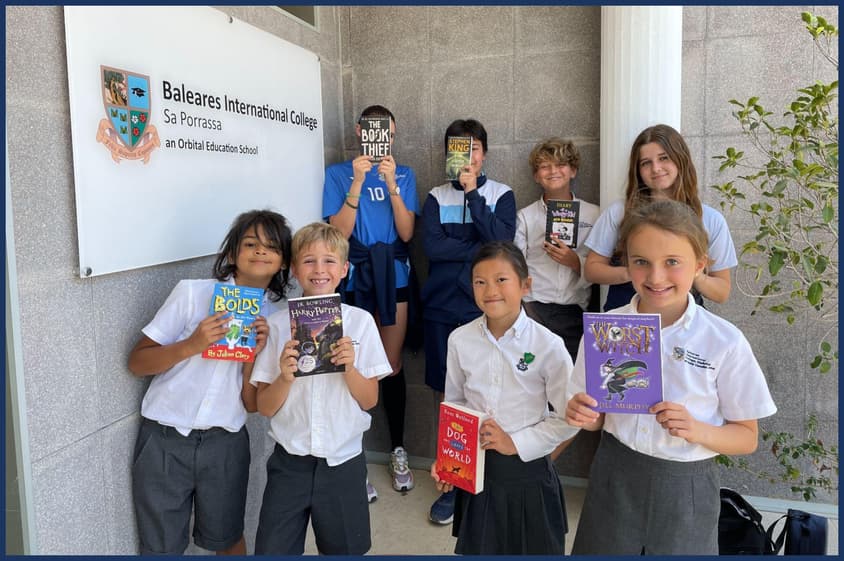 Early Years news with Mrs Wardle
---
Early years thoroughly enjoyed the Sports Day on Friday and were very pleased to have their parents and families there to cheer them on. The build up to Sports Day has been tremendous fun and the children have shown great progress and development in running, throwing, jumping as well as their balance and co-ordination needed for the obstacle course. Physical development is one of the prime areas in Early Years and this year we are enjoying 3 hours of sport every week. Thank you to Miss Izabella and Mr Somers for their excellent lessons which prepared us for our mini Olympics.

Year 1 news with Mr Fairless
---
Year 1 have been working very hard investigating wild flowers. They had great fun finding wild flowers in the school grounds and then taking a closer look at them back in the classroom.

The children have similarly been working hard applying all their growing phonic knowledge into their writing. There has been some fantastic use of the speed sounds chart to support this.

Year 2 News with Ms Bakes
---
This week, Year 2 have worked hard reviewing how to tell the time on both an analogue and digital clock. It would be great to continue to practise this at home whenever possible.

They have drawn some beautiful sunflower pictures in the style of Vincent Van Gogh's Sunflower painting. The children used a variety of techniques and mediums to colour both the vase and the flowers.
This was excellent preparation to start our Plants science topic, in which we will each plant a sunflower seed and watch them grow!

Thank you so much to Mrs Davies for our wonderful yoga and mindfulness session. Parent volunteers are always welcome during our fun Activities Afternoons.

Year 3 News with Mrs West and Miss Xidakis
---
Year 3 went on an excursion last week to Puig de sa Morisca in Santa Ponca, starting with a hike to see the Stone Age houses and then we spent the afternoon playing games and eating ice cream. It was an enjoyable day for all.

Following the trip we did a scavenger hunt to locate the food cards around the school grounds that explained what the Stone Age people ate, then we cooked like the Stone Age people did, heating berries and stewing apples.

We have also enjoyed stewing fruit like the Stone Age people did. It tasted delicious.

In Awareness Afternoon we learnt how our words impact others and we discussed how to be a good friend. We also used role play to explore how to resolve arguments with our friends.

Year 4 News with Mrs Alonso McGregor and Mrs Walsh
---
Our new science topic of "Sound" has been quite surprising for the children. We have learned how sound travels in vibrational waves through matter. Most of the children thought that sound travelled best through the air but they were soon proved wrong when we did the "noisy fork" investigation. The children each held a metal fork tied with string and then struck it against a chair. The sound emitted was, not surprisingly, a dull clang. However, they were delighted to discover that when we struck the chair a second time with the string wrapped around our fingers, with our fingers poking in our ears we heard a quite beautiful (and loud) chime. This demonstrated that sound waves do indeed travel better through solid matter (the string) than through a gas (the air). Ask them to demonstrate this at home.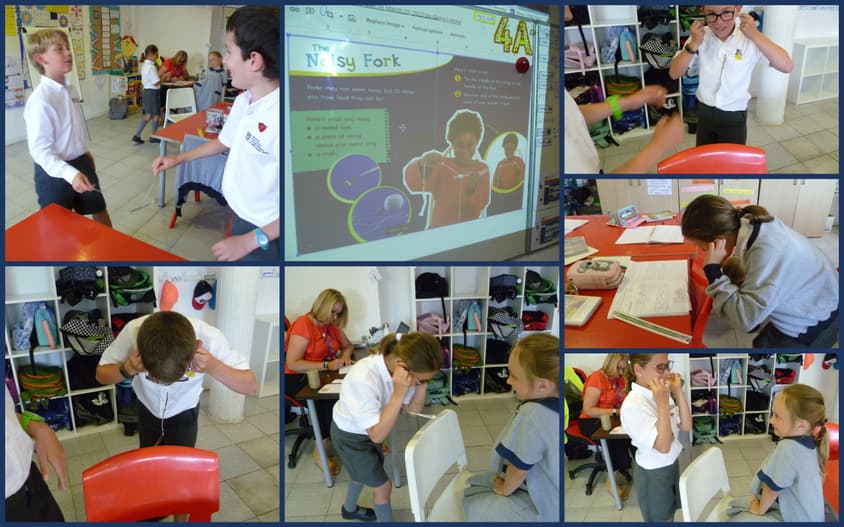 We are all enjoying our new topic of Rainforests and have already created some wonderful artwork. Useful map and atlas work helped us to identify where in the world the main tropical rainforests are too. We were amazed at how large the rainforests are!
Next, we move onto learning all about the different layers of the rainforest and really look forward to seeing their dioramas that they have been set as a homework assignment this week.

Year 5 News with Ms Hodgson and Ms Demangeat
---
Year 5 students love their sport and spending time outside so an opportunity to compete for their House and against classmates was greeted with great enthusiasm. We were wowed by their super participation in every one of the disciplines; javelin, obstacle course, running and jumping, but most of all by their sportsmanlike attitude to their peers, cheering everyone along.
Our International Picnic was a fantastic end to our Around the World topic and thanks must go to all the parents who helped in some way so that we could sample food from a wide variety of countries in the perfect setting under the trees on the field.

Year 6 News with Mr Darlow and Mrs Von Waberer
---
Year 6 have had so much fun over the past two weeks. We had a wonderful Awareness Afternoon discussing relationships and how to treat our peers. The children enjoyed acting out scenarios of how to deal with difficult situations and gave some really honest feedback on friendships and self esteem.

We had an amazing experience visiting the Science Fair last Friday at the university. We loved getting involved in experiments and learning about a wide variety of scientific research.

This week we launched our term 3 project 'Trash to Cash' by discussing the importance of recycling, reusing and the environment. The children have been set a challenge (please find the details on Canvas) in which they are going to 'upcycle'. They will produce an item, market it, and use their learning in all areas of the curriculum to persuade us all that we need this product in our lives!
We started by using our creativity to produce something from an egg box. There were so many great ideas.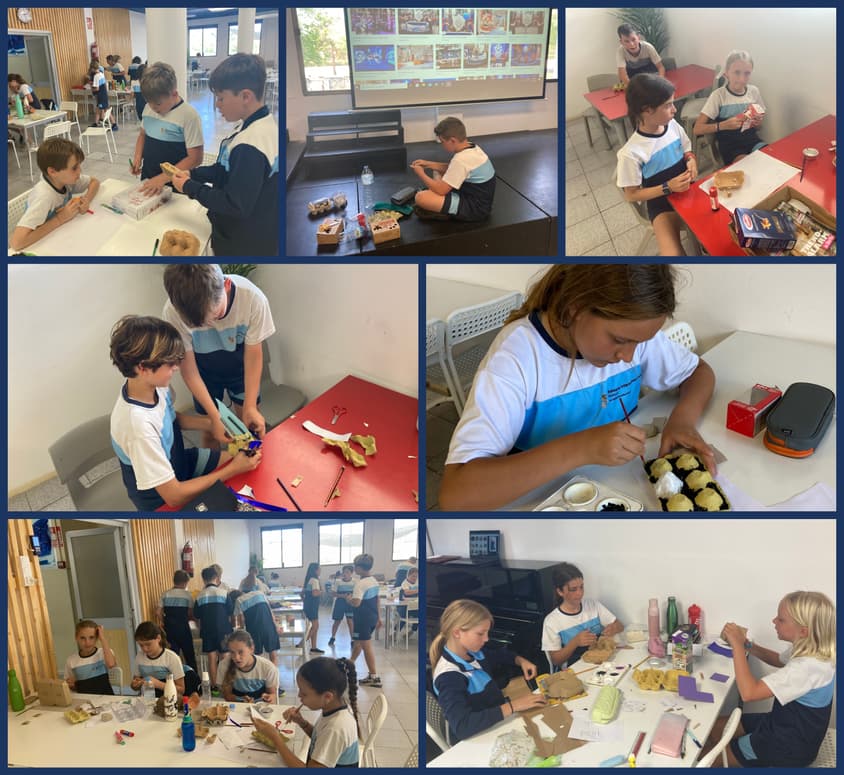 Sports department news
---
Last Wednesday and Friday all the primary students took part in Sports Day!
The children were delighted to be competing against their classmates and they all showed fantastic sportsmanship by cheering each other on, supporting their friends and really trying their best in every event. Our pupils worked brilliantly in their Houses and had lots of fun.
Our primary students have all displayed wonderful teamwork and dedication. We are very impressed to see such great sportsmanship on Sports Day and we are really proud to hear our pupils cheering for each other. Thank you to every student who has worked hard, entered competitions and earned House points for their team.

Languages department news
---
The Year 6 students have been practising their oracy skills in the context of the topic of Art and Music. They created some amazing posters and presented them to the class. The winning poster was from Milana Kuzmenko in 6D. Bravo!

Wellness Garden
---
We need your help with collecting items for the wellness garden.
Bags of stones and bags of bark

Old wellies (boots)

Any plants you want to get rid of

Old tires

Wooden pallets

Corks

Old plastic bottles
Recycling Artwork
---
We need your help with collecting items for the recycling area artwork.
Food packaging

Plastic bags

Corks

Netting

Cans

Bottle tops

Plastic bottles
ALL donations must be washed and clean!!
Please give any items to Mr KB, or leave in U14 (Computer Room)