Your guide to all news at school.
Ms Alison Colwell, Principal
---
I was very struck by a quotation from a poem that Mr Brown has on his wall -
"It matters not the subject taught,
nor all the books on all the shelves,
What matters most, yes most of all,
is what the teachers are themselves".
How true! We are very fortunate here at BIC to have so many exceptional teachers. We have a team here that is highly qualified, experienced, caring and professional. As I visit classrooms, the sports field or pool, the drama and music studios, the wonderful new science labs, I am constantly humbled by the quality of teaching and learning I witness, by the skill, dedication, hard work and high standards of our teachers. As Mr Brown, Mr Barter and Ms Compton write about in this newsletter, the talent of our teachers goes beyond their extraordinary talent in the classroom, it extends into the creativity and passion they put into our Activity Afternoon, our Awareness Afternoon today, our inter-House events and competitions - the final today of University Challenge was a wonderful, spirited spectacle! It is shown by the trips the staff run, creating opportunities to enrich and extend the students' learning and curiosity. It is shown by the opportunities they create to develop student leadership, and to develop our young people's characters and values. It is shown in the care and compassion our staff have for your children, how we all put their well-being and safety centre stage, and how committed everyone in our school is to give your children the best, most inspirational, most stimulating and enjoyable education possible. It is an honour to lead this school.
Thank you to those who attended our charitable coffee and cake morning today, and a huge thank you to all those of you who donated the incredible array of cakes and tasty treats. Have a lovely weekend.
Mr Philip Brown, Head of Secondary
---
One of the things I've been looking forward to this week is delivering the Awareness Afternoon Activity session to Year 11 on the topic of kindness. The session which Mr Cruttenden has carefully curated for our older students is all about the importance of protecting ourselves from bad ideas. In a world where all of our words can reach an audience of millions over the internet, and we all have the ability to influence and be influenced on a huge scale, there can be few things more important to cultivate in young people than a judicious caution around whose ideas to listen to.
It is only right that we start this year's Awareness Afternoon cycle on the theme of kindness, because none of our aims as a school are worth celebrating without a basis in the ethical principles that underlie our community. In the corridors, classrooms, playing field, canteen, common rooms and every other corner of BIC Sa Porrassa, I am consistently met with young people and staff members who are driven by an imperative to find a path through learning which is rooted in decency, community and compassion.
Now at the end of our first month of the academic year, I need to thank all of our community members for the kindness they have shown me as I have stepped into the very fortunate position of being Head of Secondary this year. I want to extend a similar thank you for all of our veteran BIC students who have extended kindness to our new students this month through the buddy system and making our new arrivals feel welcomed into the school.
I am also very grateful to Mr Cadman and Mr Carden for coordinating the CAT4 testing this week so that we can continue to refine our individualised targets for each student. The CAT4 test is not a prophecy or a guarantee of any future grades, but it is one of many data points we use to make sure that each of our students is being pushed beyond minimum expectations and into their most ambitious future outcomes.
Wishing you all a restful weekend and looking forward to an October full of achievement and positivity.
Philip Brown
Head of Secondary

ACTIVITIES AFTERNOON
---
During Activities Afternoon some of our older students (Year 11-13) have been helping out, running activities and mentoring our primary students. Activities include chess, arts and crafts, upcycling, scrapbooking, outdoor games and knitting. It has been lovely to watch the interactions between our students. Both our primary and secondary students have really enjoyed the activities and are learning a lot from each other.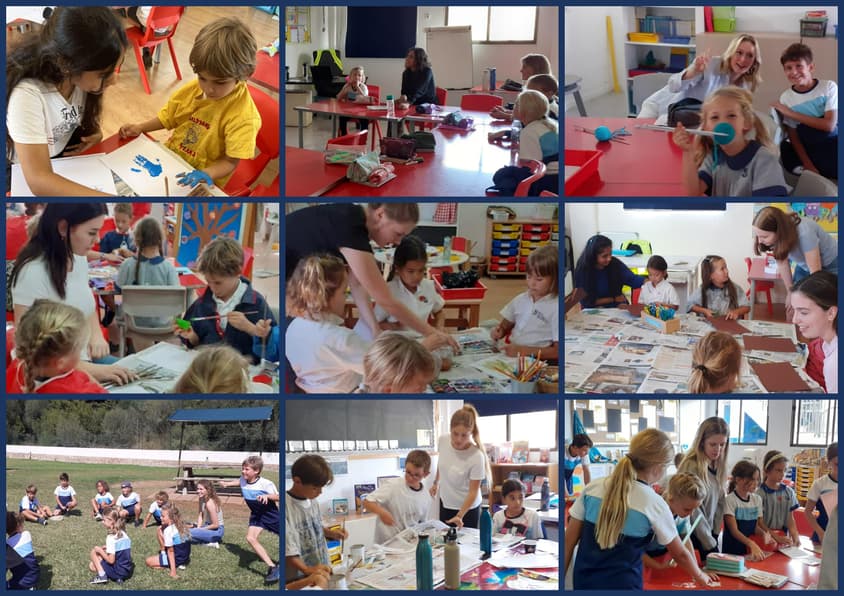 Mr John Barter - Head of Sixth Form
---
Community Leadership: A ray of sunshine on a cloudy day
My focus, today, is on the personal gain for Sixth Formers from helping other people. This academic year, we have introduced a programme for Sixth Formers called Community Leadership. The aim is to get them to help someone, somewhere, for an hour per week.
When Year 12 and Year 13 students are so busy studying, why would we ask them to be doing more? Surely getting the best grades possible should be the strategy for the coming year? I was looking up quotes about helping others and found these:
A helping hand can be a ray of sunshine on a cloudy day
Helping one person might not change the world, but it might change the world for that one person
Helping others without expecting something in return is what true self-worth is all about
So, by helping others Sixth Formers can gain from the altruistic gift of making someone's life better. Perhaps, as Mitch Albom wrote in his beautiful book, 'Five people you meet in heaven', they get to meet these people in the future and get to see the impact they had on others and reflect on the impact others had on them. There is a legacy element, knowing that they are leaving something of worth behind when they've gone.
However, I like to think there is nothing wrong in seeking to make a personal gain by helping others. It can be fun and rewarding. It is not selfish, but sensible, if students are seeking self-improvement through such experiences. They get to practise working with new people and to develop new skills. These experiences will stand them in good stead moving forward, going to university and/or going into the world of work. A student who has the best grades but has not developed personal skills would not be ready for life beyond BIC; I would feel that we had let them down.
Over the past couple of years, Covid-19 has hindered us in our aims to get students more involved in the life of the school as we were not allowed to break Year group 'bubbles'. Now this is possible, we are seeking to enable Sixth Formers to make the most of the opportunity through Community Leadership. Already, as you can see in the photos, we have a number of Year 13 students helping out in the Primary Department. Rewards have been in hugs and smiles from the youngsters as well as in the learning, legacy and fun. We hope the rest of Year 12 and 13 will gain from some similar experiences in the near future. If you have a son or daughter in Year 12 or Year 13, you might ask them what they will be doing for Community Leadership.
John Barter
Head of Sixth Form
john.barter@balearesint.net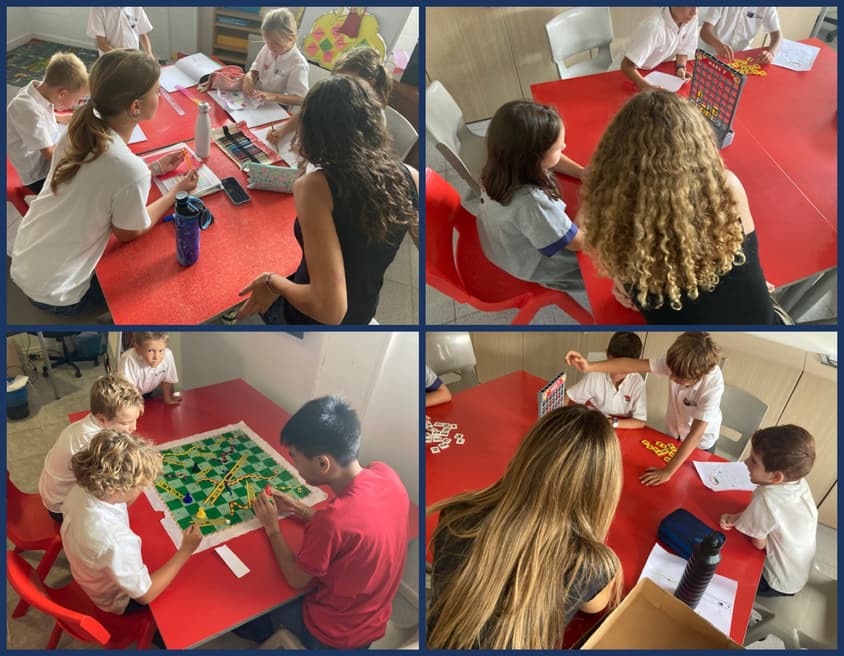 Balloon Debate
---
As well as aiming for the best grades, you will know that we want to develop the personal and social skills of our Sixth Formers, to ensure that they are fully ready for university when they go. With this in mind, we held our annual Balloon Debate, in Global Citizenship, this week. Generally in pairs, students had to argue for why a particular character, past or present, should stay in a sinking hot air balloon basket, whilst others were to be jettisoned to save weight and to save the remainers. The students had to think about persuasive arguments as well as persuasive language, and then think about how to deliver this content in an appropriate style and volume. At the end we gave feedback on the speech and its delivery. The photos show the students in action. In our next session we will focus more on debating as an oral strategy.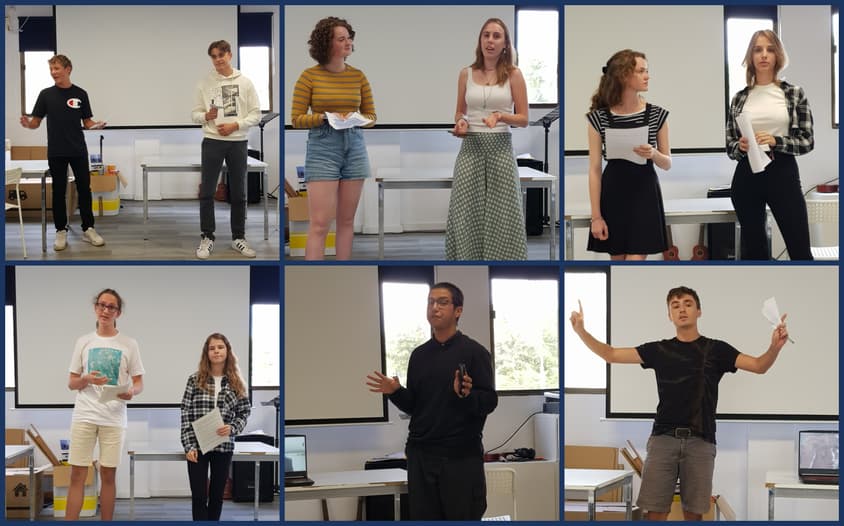 Bonding Trip
---
Last Friday most of the Y11, Y12 and Y13 students went on the Bonding Trip, organised by the Heads of Houses. The event took place at Can Pastilla and the focus was on mixing across the Year groups, via water sports. We want the older students to learn more about working together and to learn from the experience of their peers. They do this on a daily basis in their mixed tutor groups, but we will also organise events like this to support the crossing of experiences and opinions in a fun way. As you can see from the photos, they all had a great time!

Whole School House System news
---
House Points Totals Update - Term 1
| | | | |
| --- | --- | --- | --- |
| Winton | Galileo | Roosevelt | Parks |
| 523 | 649 | 751 | 611 |
A message from your Heads of House
Another excellent week Parks. I really enjoyed sharing my university experience with you during our House assembly on Tuesday and talking about the alternative courses you can study. I´d like to congratulate those that participated in the University Challenge event at lunchtime and thank the supporters. It was great fun. I hope you all have a pleasant and restful weekend.
Miss Xidakis, Head of Parks House
Thank you for another excellent week Roosevelt. I have really enjoyed seeing you all in tutor time discussing university, and I loved sharing my own experience of studying with you all in assembly. I have also loved hearing about your successes from school this week, and it is great to see us on top of the leaderboard for House Points! I am so proud of you all, keep up the excellent work. I would also like to congratulate our University Challenge team, and thank all of you who turned up to cheer on and support our teams. Next week we will be selecting our House Captains, so another exciting week to come!
Miss Mayes, Head of Roosevelt House
Another great week Galileo. Thank you to those who participated in the University Challenge competition and thanks to all who came to watch and show their support. The House bonding last Friday was a real success so thank you for getting involved. House Captain elections will be coming up soon so if you think you have what it takes let me know!
Miss Turley, Head of Galileo House
Well done for another excellent week Winton. Our Year 11-13 students enjoyed an excellent bonding trip last Friday where they all got stuck in and had a great time. This week, our Winton University Challenge team went head to head with Roosevelt and put up a valiant fight. Unfortunately the Roosevelt students were very speedy on the buzzer and they managed to beat us this time. Well done to everyone who took part and thank you to everyone who came to support- it was a fantastic event.
Mrs Florey, Head of Winton House
Maths department news
---
Key Stage 3 Problem of the Week returns!
Can you solve this problem?

A weekly problem will be sent out every Friday for the next two months. All Key Stage 3 students are welcome to enter the competition by emailing in their solution! Please do get involved and develop your problem solving skills!
Humanities department news
---
Geography, Year 10
The two geography classes are embarking on their GCSE journey by studying the rapidly changing nature of economic activity across the globe. Students are learning about the characteristics of countries at different levels of development, from pre industrial economies such as Ethiopia, to industrial economies such as China, to post industrial economies like the UK and Spain. Students have shown great awareness of the wide range of new jobs in the quaternary sector which thrive on access to technology, informaton, the internet and social media. Students are challenging traditional thinking by highlighting the role of new ways of working such as the emergence of 'digital nomads' and remote working of which there is plenty of evidence in Mallorca.
Some great notes showing the differences in the employment sector between our case study countries; Ethiopia, China and the UK.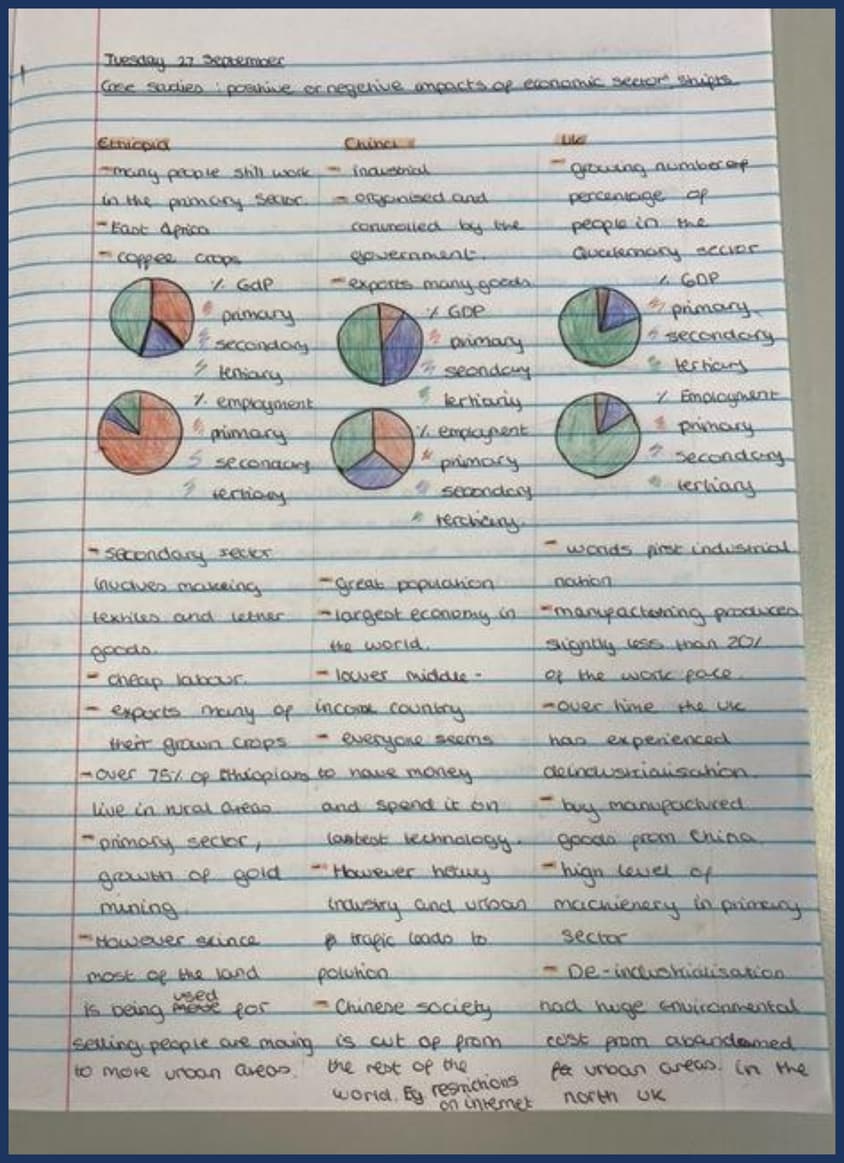 History Year 10
Year 10 historians have made an excellent start to their GCSE course. The first unit of study is America 1918-1941 with a particular focus on the boom and bust years associated with the Wall Street Crash. The students have just finished writing their first essay (worth 16 marks in the exam) where they have to create a for and against argument while analysing sources. I am extremely proud of the students as they have produced high quality GCSE work in the first month of the course, well done.

Year 10 Business Studies
Year 10 business students have been flying since the start of the new school year! Business is a new subject for all students and they have been relishing the opportunity to learn about the business world and how it operates. So far we have learned about the different types of industries in the world and what type of businesses people set up.
This has got the students thinking about what type of business they might set up when they finish their time at BIC!
Year 10 Global Citizenship
In Year 10 GC, students have been introduced to the subject of psychology. As a subject that they could choose at A level, we wanted to introduce our Year 10s to the study of psychology so they can have an idea of what kind of topics would be covered and whether it is something they are interested in. So far, we have investigated the issues of obedience and memory. Firstly, students had to consider the question, "What makes humans do evil things?" and they were given a series of psychological experiments to attempt to explain this question. More recently we have been considering how our memory works, why it goes wrong sometimes and how we can use this knowledge to help us learn.

The students studying A Level English Literature in Year 13 were instructed to produce presentations, to be delivered in class on the contextual elements of the novel, Beloved by Toni Morrison. Here is a super example from one of our fantastic students:
The Slave Trade by Lea, Y13 (below)

As part of our Year 8 class study on the novel, My Sister Lives on the Mantelpiece the students are required to select homework from a 'Homework Takeaway' on our Y8 English Canvas page. Students must choose any task they like and send it electronically. They may then be called upon to speak about it in their lessons. This has already been highly successful as a speaking and listening task in English.
Here are a few examples of outstanding work:
A poster depicting tolerance by Dunja, Y8 (below)

A speech about the dangers of stereotyping by Daniel, Y8 (below)

Year 9 have been studying Malorie Blackman's brilliant novel, Noughts and Crosses. This week, the students in Ms Austin's class have been taking on roles in group reading, making predictions, asking questions, clarifying and summarising, as well as thinking about the big question of how Malorie Blackman uses language to affect the reader.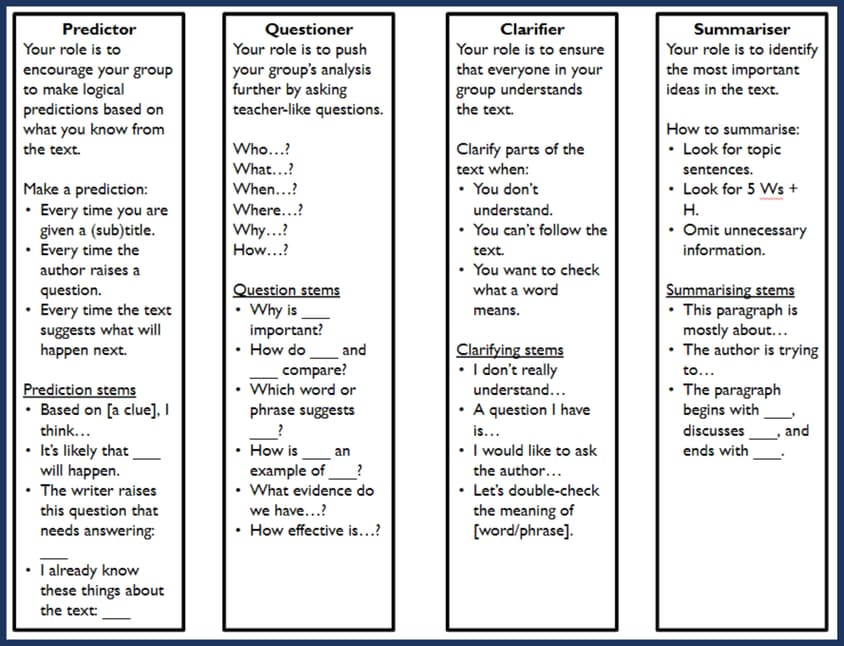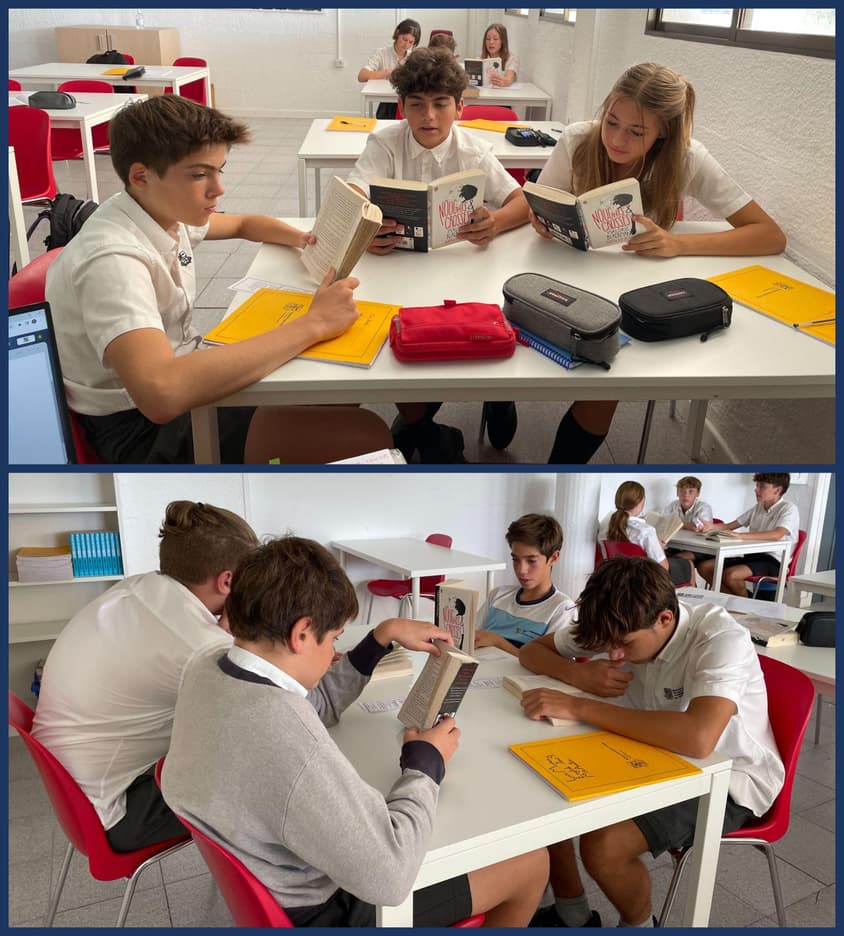 Science department news
---
The students have enjoyed a week of practical activities this week during science at BIC. Year 8 students were investigating how surface area relates to volume in various species whilst Year 9 were learning about reproductive cloning. Year 10 and 11 enjoyed building electromagnets in physics and being analytical chemists in biology.
Please read on to find out a little more about opportunities for you and your children in science.
Supporting Home Learning in Science (Years 7-11): Monday 3rd October at 18:00
---
Dear parents and families,
We are delighted to invite you to our next workshop on Monday 3rd of October at 18:00. You can sign up here and I will send you a link to the Zoom Conference. The aim of this workshop is to help you gain an insight into how we can help our students gain confidence as they improve their memory and retrieval skills. There has been a change to how we assign homework in science this year and we want to talk to you about it! We are excited about the impact that this will have on learning. You will find some more details regarding home learning expectations here. This document gives you an insight into the challenging homework that will be set for all students on a weekly basis as we all aim for excellence.
During the session, I will refer to the following documents for KS3 (Year 7-9)
The blue hyperlinks take you and your children to the knowledge organisers and lesson objectives for the KS3 curriculum. All of these documents are also available through Canvas.
For KS4 (Year 10 and 11) I will be referring to the following documents
All students in Year 10 and 11 have their own personalised bound revision guide that gives them access to concise knowledge that is needed against each specification point. This, together with the weekly tracked homework from Seneca Learning will support and challenge our students as they aim for their very best.
Lastly, the Science Team offers exam preparation tuition at no additional cost to you every Tuesday from 16:00 to 16:50 in U1. This is open to students primarily in Year 11, though Year 10 are welcome to attend.
We also offer a lunchtime homework club on Thursday in U1 for students who might want to complete their homework in a quiet and happy space so that they have more time at home to follow their additional passions.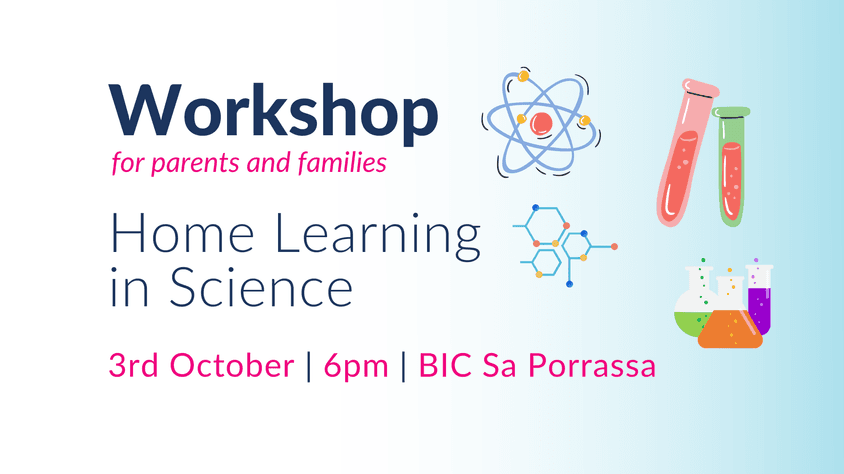 International Fossil Day (Years 6-9): Monday 10th October at 17:00 in Laboratory U1
---
On Monday October the 10th we would like to welcome you into our new laboratories to celebrate World Fossil Day. This will be an opportunity for you to come along and learn a little bit about the stories that rocks tell with your children. The event will be in person and will start at 17:00 before finishing at 18:15. We look forward to meeting you there.
Please express an interest here and we will contact you with further details.
Languages department news
---
Learning a language is not only about grammar, vocabulary etc... Learning a language also means acquiring knowledge about the culture of the country, its geography, its history, its customs.
At the beginning of the year, Year 8 studied some elements of French geography such as important French cities, rivers, mountains, border countries, and seas and oceans.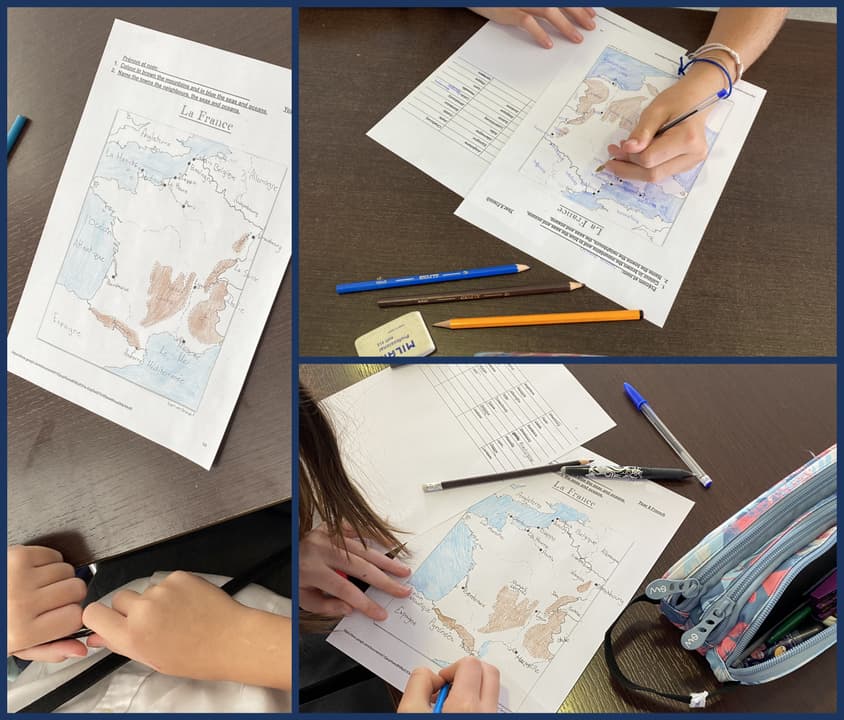 Creative Arts department news - Drama
---
Students in Year 7 have been studying Shakespeare in performance, and considering how we can bring the Shakespearean stories to life for a modern audience. All classes have shown great progress so far, really understanding how they can use body language, facial expressions and tone of voice to help the audience understand the storyline. Below are some of 7-2 in action acting out the opening scene from ´Hamlet´.
Year 8 students have continued with their practical exploration of Harry Potter and the Cursed Child. They have been working on developing their understanding of performance skills and how an actor can use them in rehearsal and performance. Below we can see some of 8/2 performing a scene from the play, where students were advised to consider how they use performance space.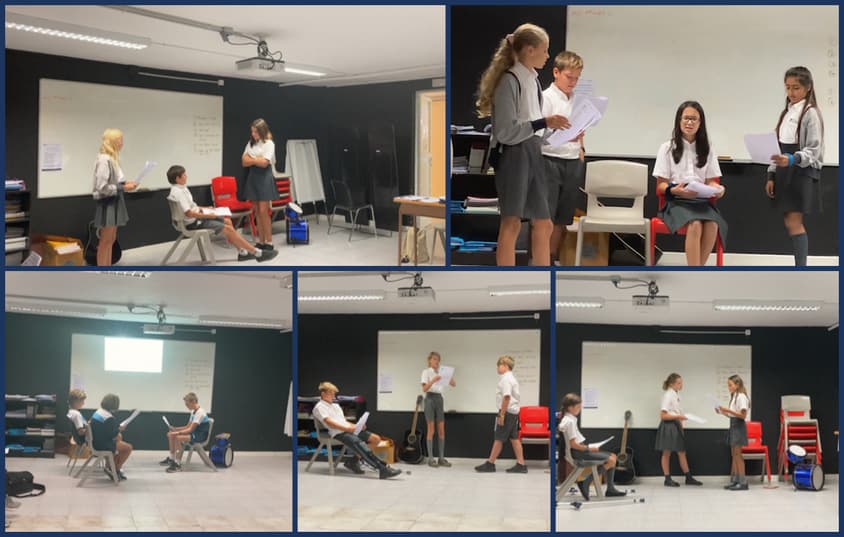 Year 11 drama students have been analysing their stimuli for their devising piece to help them create ideas for a performance piece. The theme they have chosen is truth and lies, and with the help of an image and a poem based on this theme they will create their own play. They have also completed workshops using exercises they learned last year that they had to make relevant to their stimuli. Below we can see some of their thoughts on the picture and the poem, and some examples of what they had to say about their workshop.


Year 12 drama students have been exploring our set text play, ´Accidental Death of An Anarchist´. As well as having a go at acting some of these characters out to see how we would bring them to life, students have been busy learning about the historical and social factors that may have influenced this play. One important factor is the political backdrop it was written against, with running themes of socialism, anarchy and communism throughout the play. Students completed some independent research to give presentations on what these terms mean, and how they have impacted the play. Below are some examples from Julian and Louis´s presentations.

Drama department news - BIC Rocks You
---
This is an update from our Marketing and Journalist team!
BIC are delighted to announce that work is well underway planning for the BIG show, BIC Rocks You. The pictures below show actors, designers and the teachers hard at work! There are a huge number of young people involved during Activity Afternoon and we will keep you all updated on progress, as well as sharing ideas of how you might be able to help.
- Singers and dancers from Year 4 and Year 5
- Prop and costume design
- This is Maya (Killer Queen)
- The teachers hard at work
Sports department news
---
JUNIOR CHALLENGE MALLORCA RUN RACE
The Junior Challenge Mallorca run race is for children from 0 to 13 years old. The event is part of the Challenge Peguera Mallorca triathlon side events program.
Start: 14th of october 2022 (Friday)
Hour: 17.30 h
Place: Torà Square, Finish line
Registration fee: 1 € (fAll money raised from registration fees for this race will be donated to a local organisation that carries out community development projects.)
Categories (Boys and girls)
The Junior Challenge Mallorca running courses lead around the boulevard of Peguera with start and finish near the CHMALLORCA finish line, on the Plaza de Torà. The circuit will be completely closed to traffic.
14TH OF OCTOBER (FRIDAY)
| | |
| --- | --- |
| 0-3 years old | 100 m |
| 3-4 years old | 100 m |
| 5-6 years old | 300 m |
| 7-8 years old | 300 m |
| 9-12 years old | 600 m |
| +13 years old | 600 m |
14TH OF OCTOBER (FRIDAY)
| | |
| --- | --- |
| OLLECTING BIB NUMBERS | CHMALLORCA expo (finish line) From 4 to 5.30 pm |
| WARM UP (all together) | CHMALLORCA finish line, 5 pm |
| RACE START | CHMALLORCA finish line, 5.30 pm |
| RACE FINISH | CHMALLORCA finish line, 5.30 pm |
Year 8 playing basketball and badminton in their PE lessons.