Your guide to all news at school.
Ms Alison Colwell, Principal
---
Dear families,
It was my privilege to be one of the judges at the Talent Show this week. I was hugely impressed by the array of talents we watched, and it was very hard to rank, and find the overall winners, who in the end were Amber in Year 12 and Martin in Year 4. Well done to everyone who had not just the talent but the courage and confidence to step up and perform.
It occurred to me, as I watched the performers, that the show encapsulated so much that is important in a school, beyond merely showcasing talent. It embodied the spirit of a great school, where the arts are as important as other academic studies, and discovering and developing students' creative skills is so vital. It embodied student leadership, as some of our House Captains had worked tirelessly with Ms Mayes on all the backstage production work that is required to put on such a show. It embodied the extra mile so many of our staff go, not just Ms Mayes who puts so much time into events and performances outside of the school day, but also those staff who stayed on to cheer and applaud, or to judge. And it embodied the spiritual and emotional development a great school prioritises, the character building and values work we think is so important here at BIC, standing up in front of an audience, rehearsing, battling nerves, carrying on even if you make a little mistake, persevering, trying, challenging oneself, learning that not all can win prizes.
We also enjoyed this week the wonderful gifts that our kind PTA brought to the staff room for Teacher Appreciation. As last year, the culinary talent of our parents was incredible, the vast spread of tasty treats hugely appreciated by all staff. On behalf of us all, I thank everyone who contributed, the impact of the kindness and the enjoyment of the fabulous feast has kept people feeling buoyed up all week.
Have a lovely weekend,
Kind regards,
Principal
Baleares International College, Sa Porrassa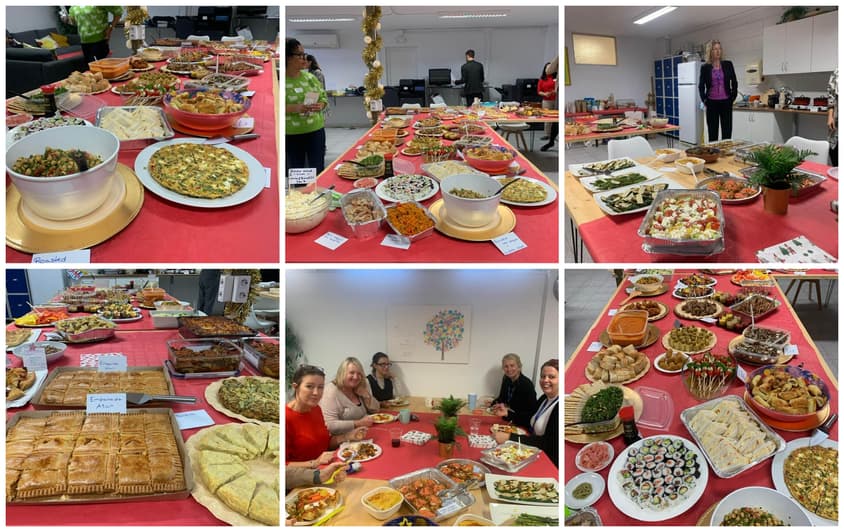 Mr Philip Brown, Head of Secondary
---
This week has been a week where we have been focussed on the idea of inclusion. During yesterday's assembly we thought about everything that has been written and said about the current World Cup football tournament, and the questions around who does and does not feel included at these games. As we discussed, football has always been a forum where communities have confronted problematic issues on and off the pitch… issues of race, gender, sexuality, financial transparency, fairness, group behaviour and personal integrity have always surrounded the sport. And for every instance of disappointing behaviour in these situations, we must celebrate the individuals and groups willing to speak up and insist that football, and the world it exists within, is an inclusive place where all people can feel safe and respected.
It is in this spirit that we have begun work on relaunching our school's behaviour policy ready for Term 2, so that we can gather around the values and ideals that we want to see in the school and celebrate all of our students' many displays of excellence, responsibility, respect, integrity and compassion. Yesterday, I sent a survey to every student in the school, inviting them to contribute to our new behaviour policy so that they can tell us all about the sorts of things they want to see more of in the school and the issues which are most important to them. We urge as many students as possible to contribute to this survey, which they will find in their school email, as we want our school's behaviour policy to be a reflection of the community we serve.
There has been much cause for celebration this week and some moments which have made me so proud to be part of this community - not least of all the wonderful Talent Show on Tuesday in which I was so grateful to be invited as a judge. Well done to all of our performers. A huge thank you to Ms Mayes for organising this wonderful and successful event, and a massive thank you to the many supportive students, staff and families who attended.
And a final huge well done to all of our House Point Winners from the last fortnight, namely Year 7´s Alex M-D and Oscar G, Year 8´s Maximillian S-M and Cedrik Z, Year 9´s Tara T and Vito R, Year 10´s Halle W and Poppy B, Year 11´s Evie Rose I and Sofia B-G, Year 12´s Nick K and Ava B and Year 13s Lisa M and Ivo K.
Have a wonderful weekend everyone.
Philip Brown
Head of Secondary

Mr John Barter - Head of Sixth Form
---
Morality for the 21st Century
In Year 12 Global Citizenship we have been following a unit on public speaking. It is something that all of our students are likely to have to do in one circumstance or another, whether that be in the work environment, a club of some kind or just a family occasion. We want our students to feel comfortable in such circumstances, with strategies for developing the words as well as for delivering them.
We also want our students to be morally grounded, now and in the future. Lots of our discussions with them are based on issues of 'responsibility', 'respect' and 'compassion'. With this in mind, a recent Global Citizenship lesson was on the 'The 10 Commandments'. We gave the students an opportunity to revisit them in order to focus on morality for the 21st Century. In small groups they had to discuss their own response to them and to find modern equivalences and be able to explain them in a way that their peers could understand them. Having done that, they had to write a speech and deliver it orally to the rest of the Year group.
I may be wrong but I think there can be an assumption in adults that young people are not that moral and often focussed on resisting rules and the culture of the society that they live in. However, I was extremely impressed by the quality of argument and the moral thinking that had gone into their speeches. Our Sixth Formers have long impressed me with these qualities and the current cohort are no different. I am very proud of them.
I thought you might like to see some of their adaptations:
Everyday should be a choice whether you want to praise your lord, or whether to go on with your routine. There should be no specified rule over when religious practices occur.

Family is crucial, try and savour the relationship with them, unless reason or actions say otherwise.

You should comply with the rules of the world and your state, unless reason says otherwise, morality is key.

You shall not provide false witness or information in a court of justice or law.

You should not act maliciously due to jealous or envious emotions. One can control it and learn to lessen jealousy, accepting what others have.

All nations should comply with fundamental rights, caring and respecting each and every person equally.
Obviously with so many different groups speaking there were many different 'commandments' offered. But I think these few give you a flavour. Our young people are extremely focussed on fairness in society, everyone acting in a way that shows respect to others. I think it is safe to assume that if they carry these thoughts in their heads, we will see representation of it in their actions. We see this every day at school and long may it continue!
John Barter
Head of Sixth Form
john.barter@balearesint.net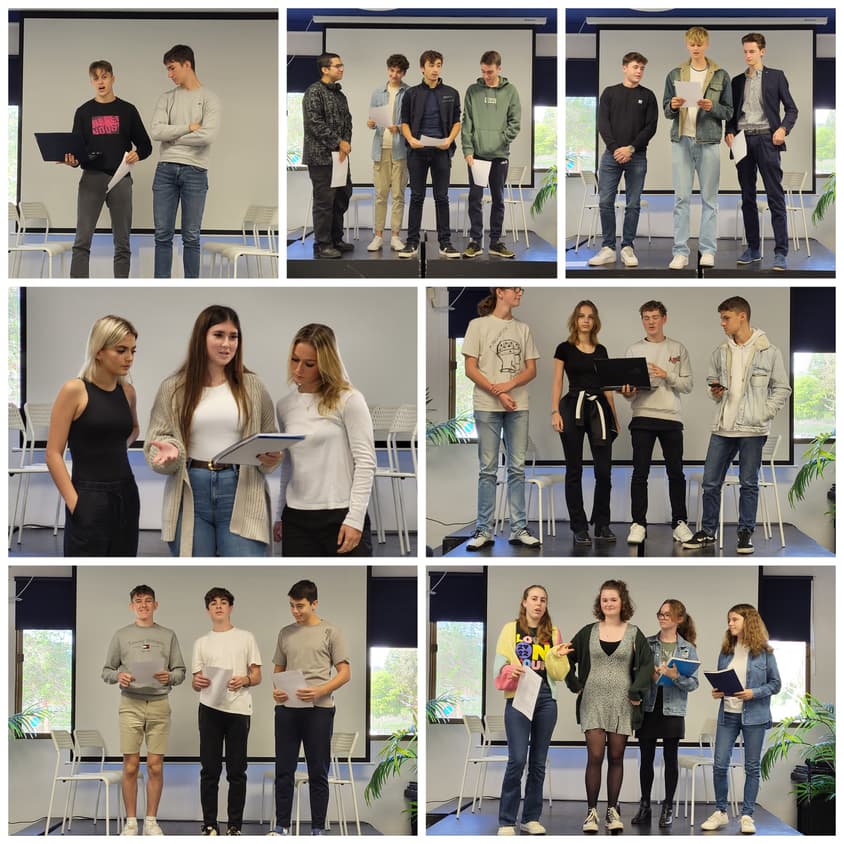 Whole School House System news
---
House Points Totals Update - Term 1
| | | | |
| --- | --- | --- | --- |
| Winton | Galileo | Roosevelt | Parks |
| 2455 | 2581 | 2611 | 1486 |
A message from your Heads of House
Well done to the students who entered the Talent Show on Tuesday after school, it was a fantastic evening. I was extremely proud of the Park entrants. You were fabulous.

Please note that the next House competition is the Christmas decoration science competition. Let's get creative, and design and make a Christmas decoration, every entry will earn a House point. Then we can climb up the leaderboard back into first place. I wish you all a pleasant weekend.
Miss Xidakis, Head of Parks House
Thank you to all of our competitors in the Talent Show this week. I absolutely loved organising this event and we have some amazingly talented students! I am very proud of all our Roosevelt entries.

I really enjoyed our House assembly this week. It was great to celebrate your achievements with you, and I am proud of all of you who earned certificates for being on our House point leaderboard. Keep working hard for those points!
Miss Mayes, Head of Roosevelt House
Thank you to those who took part in the Talent Show this week, and thank you to those that were able to support. It was an amazing event and I was so impressed with the acts from all the Houses. Well done to everyone for working so hard to gain House points. It was a lovely Galileo assembly for secondary students this week where we celebrated those students who had achieved the most House points so far this year.
Miss Turley, Head of Galileo House
A huge congratulations to both Amber and Kenza who performed this week in the school Talent Show. Both acts were performed beautifully and led to Winton winning "Best House" and Amber winning best secondary performance. As we get closer to the Christmas break, please do not forget to participate in the Christmas decoration science competition and remember to start decorating your tutor rooms with your World Cup team colours!
Mrs Wilson, Acting Head of Winton House
Galileo Assembly
---
Well done to the following students who have achieved the most House points so far this year.

Christmas Tree Decorations
---
The Christmas tree arrived this week so we would like to remind everyone of the House competition that is running now in collaboration with the science department. Students are to make a science themed Christmas tree decoration. Entries will receive House points and the decorations will go up on the tree. We will announce the winner nearer to the holidays.
We received our first entry today from Rebecca in Year 5. They have been studying space in their science lessons and she has taken inspiration from this.
Creative Arts department news
---
Drama and Music
Christmas spirit is high in our department, with rehearsals in full swing for our upcoming Christmas concert and events. Below we can see some of our Year 8 students rehearsing their piece that they have worked on independently.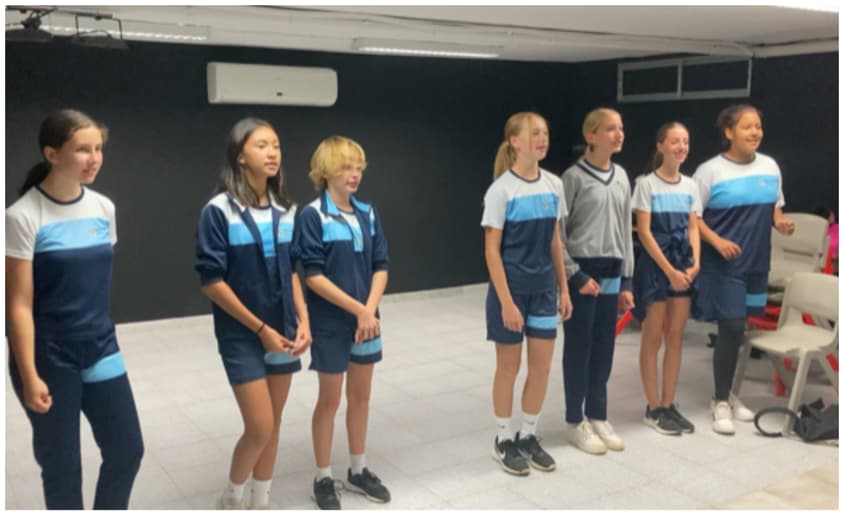 As a reminder our Christmas show schedule is below.
Saturday 10th December at 3pm we will be performing at Son Amar Winter Wonderland. Students that are invited to attend are Years 3 - 7, as well as our featured performers from Years 8, 10 and 12.

Thursday 15th December at 2.45pm we have our Christmas Concert here in school. This will feature all students from Years 5-7, as well as our drama club and our featured performers from Years 8, 10 and 12.

Monday 19th December at 5pm we will be performing at Portals Christmas market. Students that are invited to attend are Years 3 - 7, as well as our featured performers from Years 8, 10 and 12.
Please find the link to the letter which was sent to all parents of students that are performing below. If your child is involved in any of these performances, please complete the Google form in the letter, which confirms whether your child will or will not be attending Son Amar and Portals, and how many seats you would like to reserve for the Christmas show. Please note that we have a limited amount of seats available for the Christmas concert. A notice will be sent to parents when we are fully booked, but please book early to avoid disappointment.
Talent Show 2022
On 29th November we had our Talent Show final. After competitive auditions we had 8 finalists from secondary and 16 from primary.
The judges were blown away by the level of talent we have in school. Along with the audience, they enjoyed a variety of acts, ranging from ballroom dance to rock guitar. All of our performers did an incredible job, and with such a variety of acts it was very difficult for our judges to choose a winner.
However, after some debate, Amber from Year 12 was crowned our secondary winner, for her lovely singing rendition of Riptide. Martin from Year 4 was chosen as the primary winner, for his exceptional piano playing, made even more impressive by the fact that he has only studied piano for just over a year!
Thank you to all our competitors. You will be able to catch several of them performing in our upcoming Christmas productions.

Maths department news
---
Key Stage 3 Problem of the Week
There are only two Key Stage 3 Problems left in this term´s competition and the leaderboard is very tight!
Samuel, Carlitos, Alexander and Manu are all in with a good chance to win the competition if they can answer the last two problems correctly. There are also a number of students who can achieve the 80% completion necessary for entry into the participation draw.
Here is a wonderful attempt to solve last week´s problem by Tara in Year 9.
This week´s problem will be emailed out today! Please do encourage your child to get involved.

English department news
---
Seren and Henri (Year 9) consider the question ' How does Lord Capuñlet react to Paris' proposal of marriage in Act 1, Scene 1?'

Julia (Year 9) annotating language in Act 1, Scene 2 or Romeo and Juliet.

Elissa and Julia (Year 9) looking for meaning in Shakespeare's use of oxymorons.

Yuna (Year 8) using retrieval practice to highlight key quotations within an extract to describe a character.

Niamh (Year 8) independently researches Gothic Writers
Alice and Alex D (Year 7) draw and describe what it was like to visit Shakespeare's theatre during the Elizabethan era.

Louisa and Alexandra (Year 7) create their own magical forests from 'A Midsummer Night's Dream'.

Humanities department news
---
It is very important that students can make links between their learning in school and the wider world. We exploit opportunities to refer to current affairs. For example, the impact of Brexit on the status of Ireland links directly to our recent Year 9 topic on The Troubles. Rafael Le Bras' work shows how learning about political events of the past still resonates today.

Year 11 historians are learning about protest in China in the 1980s and making direct links with events happening in China today. This helps to bring GCSE study right up to the modern day.
In geography, Year 8 students are learning about deforestation in the rainforest, and they had the opportunity to learn about the recent COP27 conference and the election of Lulu as thePresident of Brazil.
Please do encourage your children to read and watch the news and where possible speak to them about how events in the world link to learning in school.

Science department news
---
Wonderful work from our students in science this week. We have particularly enjoyed how our computer science students have been manipulating graphic design tools in order to produce high quality album covers. Next week we are looking forward to the final in our Year 8 debate: Transport of The Future!
It was wonderful to have so many Year 11 students choose to come to the taster sessions in biology last week and I hope many of you will choose the subject. Here are a few pictures of some of our current A level biologists hard at work carrying out gel electrophoresis (the process used to produce genetic fingerprints in forensics), and using the molymods to model biological molecules such as glucose and amino acids.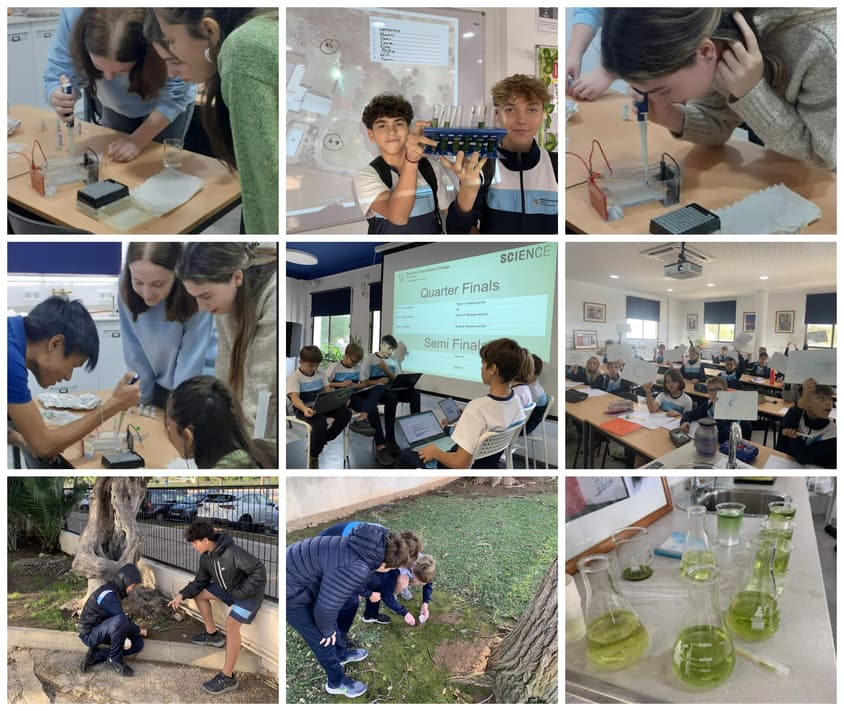 Languages department news
---
Spanish - Talk Detectives go green
In Spanish we nurture students' ideas for creating a sustainable future for our environment and our community. The Fair Trade project was a chance for Year 9 students to be change-makers and to put their leadership skills into practice.
Such initiatives included actions that help reduce the carbon footprint, exploring the routes of fair trade products, improving local food security, research, learning and developing ways to build sustainability.
The agency of Philips´detectives and the adventure of cacao is a magnificent example of this, while designing a tote bag and imagining cities were part of this project too

Presentation done by Eliana, Finn and Rafael

Let's see Cameron Cull in action like Detective Philips sharing his inquiries.
Agencia de detectives Philips y la aventura del cacao.

Our enthusiastic, out-going, book-loving Spanish students of Year 8 are in the process of developing their vision of how the BIC Spanish School Library could be.
We would be grateful if you have unused Spanish books to donate to start building up the Spanish library.
Project developed by Rafferty, Ofelia, Martha, Lillia and Ms Luengo.