Your guide to all news at school.
Ms Alison Colwell, Principal
---
Dear families,
In 1819, the English poet John Keats wrote, "Praise or blame has but a momentary effect on the man whose love of beauty in the abstract makes him a severe critic on his own works". Ever since I first studied Keats for my English literature A'level (more years ago than I care to remember), it is a line that has resonated with me, as, whatever great things anyone may say about our school, I am my own fiercest critic! That said, it was really wonderful earlier this month to read the report from NABSS (The National Association of British Schools in Spain) following our visit by their inspectors in November.
Amongst the many excellent things written, the report said, "The school provides a clear statement of ethos and values and these are reflected in all aspects of school life......Behaviour is excellent, contributing to the safe atmosphere in the school...In all lessons, pupils behave well and participate enthusiastically. There is a very positive atmosphere around the school and pupils talk about their school with great affection."
In terms of teaching and learning, they wrote, "Planning for all subjects is very thorough and age appropriate. Activities are adapted to cater for pupils' differing abilities.....Provision for pupils with additional needs is very good...Teachers demonstrate good subject knowledge and make lesson objectives clear from the beginning of each lesson. They provide opportunities for pair and group collaboration and ensure that all pupils participate actively in class...Pupils were motivated, interested in learning, focused, as well as being responsive to skilful questioning... Pupils take pride in their work... They have a very positive relationship with their teachers, are keen to learn and are not afraid to question any point they have not fully understood."
The inspectors concluded that, "Both teachers and support staff speak with great enthusiasm and pride about the school...The senior team has worked hard to make positive improvements in the school over the last three years. Leadership is impacting positively on the quality of teaching and learning, by establishing high expectations in the classroom and securing a happy educational environment where pupils can reach their potential. ...The quality of teaching and learning has improved considerably."
Whilst there are always further things all schools can do, it was wonderful to get this official acknowledgement, one that is so richly deserved by our students and staff.
Wishing you a great weekend,
Kind regards,
Principal
Baleares International College, Sa Porrassa
Mr Philip Brown, Head of Secondary
---
The last weeks of the year are always an important occasion to look back to look forward. In this week's assembly we considered the various things that 2022 has meant across the world. When considering the people and events that have taken up the most news coverage, whether it is a Hollywood actor storming onto the stage of the Oscars ceremony, a Prime Minister being caught disobeying his own rules, a monarch who has been a constant to a country over seven decades, a world at war, an industry on strike or an economy squeezing people across the world, it is our school's values of integrity, responsibility and compassion that have been at the heart of this year.
Whilst people often find this to be a time of year for winding down, there has certainly been no decline in the amount of exciting things going on in the BIC Secondary section. I have been particularly excited to be part of Tuesday's Revision Afternoon hosted by Mr Barter in which our Y11 and Y12 students were given workshops on the skills that will help them in the mock examinations. We are all very proud of our school's debating team, led by Ms Austin through to the semi-finals of the Rotary competition this week where we performed incredibly well - with more details to follow later in this newsletter. It was also wonderful to catch some of the wonderful Christmas show which Ms Mayes organised this year - thank you Year 7 for a beautiful rendition of Wham's Last Christmas. We would also like to share how proud we are of our mathematicians who scored so highly in this year's International Online Maths competition, to be detailed a little later in this newsletter.
A huge well done to this fortnight's House Point winners who were Year 7's Edris and Milana, Year 8's Leo and Leonardo, Year 9's Aveline, Carlos and Maximilian, Year 10's Aaron and Austin, Year 11's Karolina and Gianluca, Year 12's Manuel and Phil and Year 13's Tom and Natalia.
Have a wonderful weekend everyone, and thank you for another great couple of weeks at BIC!

Philip Brown
Head of Secondary
Mr John Barter - Head of Sixth Form
---
Mock exam ready?
This week we have held our annual BIC Revision Conference for Years 11 and 12 to get the students ready for the revision required to achieve success in the January mock exams. We opened with wise advice from Mr Brown, focussing on the dwindling number of school days before exams and how active revision from now onwards was imperative. Our Year 12 psychology students explained how the students could best use their brains to ensure that negative emotions towards revision were reduced and replaced with positive ones. Hopefully the range of workshop sessions added to the sense of personal control and focus on the main academic task over the holiday. Revision would not be anyone's first choice task over Christmas (or any time really) but it has to be done. Planning when it is to be done and making revision productive when it happens will make it less of a burden. If your son or daughter is in Year 11 or 12, please do ask them about the Revision Conference; telling you about it will help to reinforce some of the learning points.
Students should not worry unduly about the mocks (but a few nerves are not a bad thing). Students should use these exams as an opportunity to show us (and themselves) what they can do. The mocks are part of the learning experience so they will not produce the highest grades but they will show us how far the students are on track for those high grades in the summer and indicate any remedial actions necessary in the months before the summer exams. Therefore, engagement in the revision process is essential. The more that is done now, the more likely success will come and the less there will be to do later (and the easier everything will be).
As this is the last newsletter before Christmas, I would like to thank our Sixth Formers and their families for their support over the year. I hope you all have a wonderful time celebrating and enjoying the time with each other. Stay safe. See you all soon!
PS: If you can attend Monday's Exam Certificate Award Ceremony, that would be great (online, if not in person).
John Barter
Head of Sixth Form
john.barter@balearesint.net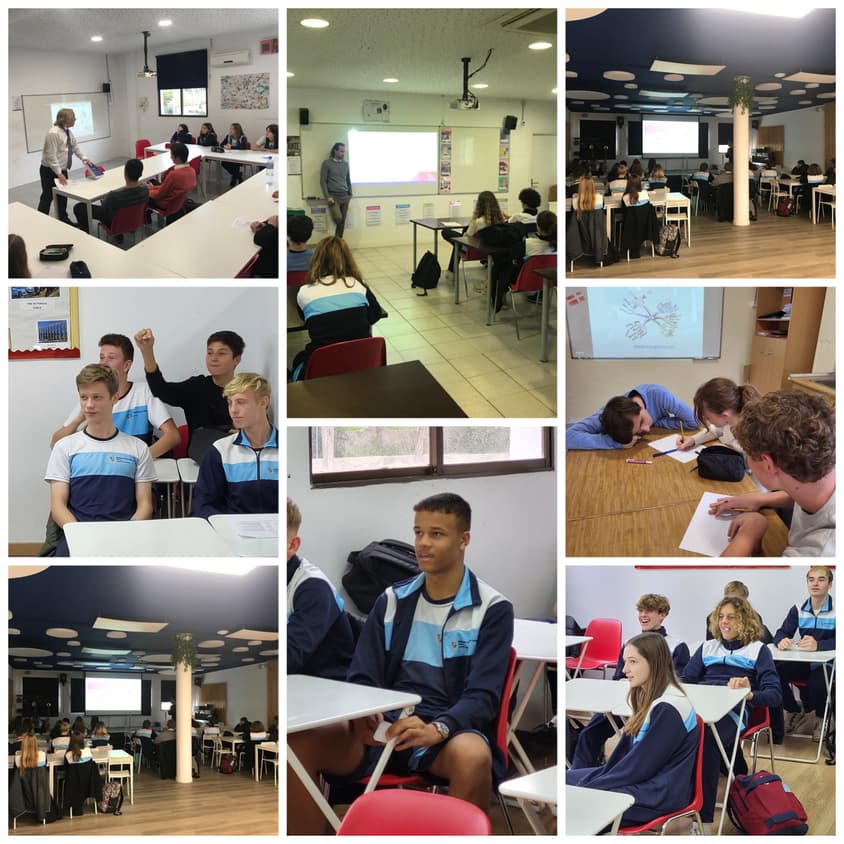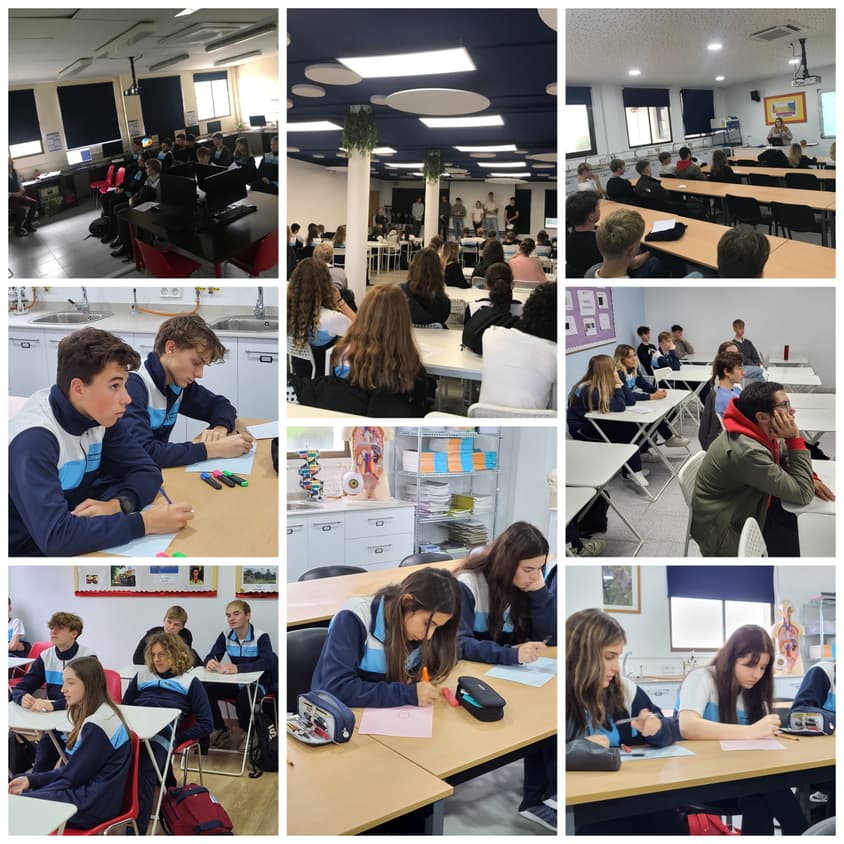 Whole School House System news
---
House Points Totals Update - Term 1
| | | | |
| --- | --- | --- | --- |
| Winton | Galileo | Roosevelt | Parks |
| 2790 | 2871 | 2815 | 2373 |
A message from your Heads of House
What a busy but brilliant term. I would like to thank Parks for their hard work and resilience this term. Well done to those who took part in competitions and in the amazing Talent Show. I wish everyone a wonderful Christmas and a very happy new year. I look forward to seeing you all again in 2023.
Miss Xidakis, Head of Parks House
I have been reflecting on the past term over this week, and what an amazing term it has been! Right back from the very beginning with our House bonding trip, all the competitions, the certificates for House Points, you have all given me many reasons to be proud to lead Roosevelt House. I would like to thank you all for all of your hard work and embodiment of our school values. Have a wonderful Christmas break, and I look forward to seeing you all in the New Year.
Miss Mayes, Head of Roosevelt House
Thank you to everyone in Galileo House for an amazing first term. There have been so many highlights and it has been wonderful spending more time with you and getting to know you all better. I have been so impressed with the attitude of everyone and how willing you are to get involved and help each other out. Well done. I hope you all have a great holiday and I look forward to 2023.
Miss Turley, Head of Galileo House
Congratulations to all of Winton House for making it to the end of a fantastic first term. This term we have celebrated a huge number of successes in talent shows, House competitions and Christmas events. We also waved goodbye to Ms Florey as she left for her maternity leave. I speak on behalf of the whole of Winton House when I thank Ms Florey for all of her support and wish her the best of luck for the next few months. I hope all of Winton have a restful break and look forward to welcoming everybody back in 2023.
Miss Wilson, Head of Winton House
Christmas Tree Decoration
---
Thank you to everyone who has entered our Christmas Tree Decoration competition so far. The tree is looking very festive with all the Science themed decorations. If you haven't had a chance to enter but would still like to then bring your ornament to Ms Turley on Monday and you can still get House Points.
Music and Drama department news - Merry Christmas!
---
Our Christmas performances have been in full swing over the past week, and our students have been incredible. From singing, to hosting, to acting, they have been showing us their talents, and putting everyone in the Christmas spirit! We would like to thank all of our families for supporting these events, and we hope you have enjoyed them. We have one left to go on Tuesday at 5pm at the Portals Christmas market. You can see some photos below from our performances at Son Amar and our Christmas concert in school.
Meanwhile, our drama studio has been undergoing a makeover with some new flooring. We have fitted some professional performance flooring, which is perfect for our practical drama lessons and dance clubs. The Year 11 drama students really enjoyed their first rehearsal lesson in our new look room.

Maths department news
---
Success in Online International Maths Challenge
Seven students have been awarded a certificate in the Online International Maths Challenge. Over 5000 students competed in the Challenge from over 80 countries and it is a fantastic achievement by all the students.
The Challenge lasts for two hours and contains very complex problems. All the students attended weekly lunchtime practice sessions to prepare.
In Year 10: Ismene VW, Laia GDA, Lilly Y and Neithan MD all achieved a Bronze certificate
In Year 9: Manu S and Maxi DBF achieved a Bronze certificate
Special mention to Leon FC who achieved the school's first Silver Certificate! A terrific achievement.

Key Stage 3 Problem of the Week
This term´s competition finishes on Monday and it is a very tight contest. Please do encourage your child to get involved. All of our seven certificate winners, above, have been regularly involved in this initiative and their hard work has clearly paid off!

English department news
---
It is with great pride that we share the news that the BIC debaters this week came second in the Rotary Inter-school Debating Competition after fierce competition from Mallorca International School. Debating on the topic 'Gender identity cannot be defined biologically', Ava, Manuel and Imogen argued admirably for the motion at the event at Palma Pictures in Marratxí on Thursday. Of all the students from the ten school schools participating, Ava was acknowledged with the award of best debater over the whole competition, an accolade of which she should be very proud.
We would like to offer our congratulations to Mallorca International School, and our heartfelt thanks to the Rotary for organising the competition. We are already planning for next year's competition. Additionally, we would like to give a special thanks to James in Year 13 who was a fervent supporter of the team and offered his wisdom and guidance throughout the whole competition; thank you, James!
- Eadrick, Ava, James, Manuel, Imogen, Nell, Maria and Nadia enjoy the competition.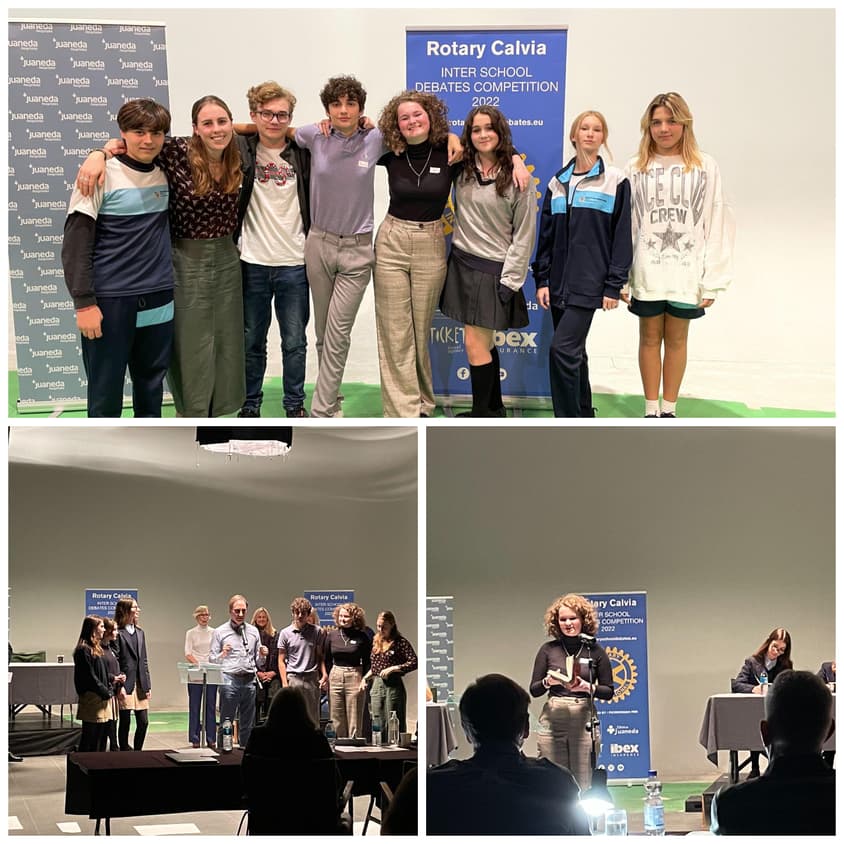 Humanities department news
---
It has been a very busy term at BIC this year and the students deserve a well earned rest. Students preparing for exams will of course need to plan time to study and hopefully they will be able to use some of the fantastic ideas shared with them during the revision afternoon which took place on Tuesday 13th December.
The holidays can provide a fantastic opportunity for families to watch a film together. There have been a number of new releases that link to learning in humanities. If you are able to watch and discuss any of the suggested films below it will most definitely help the students to understand the world around them. Please do check the age rating to ensure that it is appropriate viewing for your child.
| | |
| --- | --- |
| | This film is rated 12 and links brilliantly to the Civil Rights movement which is studied in Year 8, re-visited in Year 9 and forms part of the history A-Level Curriculum. |
| | A team of scientists try to raise the profile of the dangers of a meteor attack. This is a metaphor for the current dangers of the climate crisis. |
| | A re-make of the film based during WWI revealing the horrors of life in the trenches from a German perspective. |
| | This compelling series shows Zac Afron exploring the wonders of nature and modelling how to be more sustainable. |
| | A movie that shows how the financial crisis of 2008 actually happened. |
Science department news
---
Yr11 models of DNA using sweets:

Reception Class and the Science Department came together to make some Christmas decorations with a difference...
Ms Turley was delighted to spend some time with Ms Wardle, Ms Beckett and their wonderful Reception class this Friday to make some Christmas decorations. Firstly we soaked our felt Christmas trees in red cabbage juice so the tree was a beautiful purple colour. Then we added different substances such as lemon juice and bicarbonate of soda. Red cabbage is an indicator meaning it changes colour in the presence of an acid or alkali. The result - multicoloured Christmas tree decorations. We were all very impressed with how careful and precise the students were and the end products were magnificent.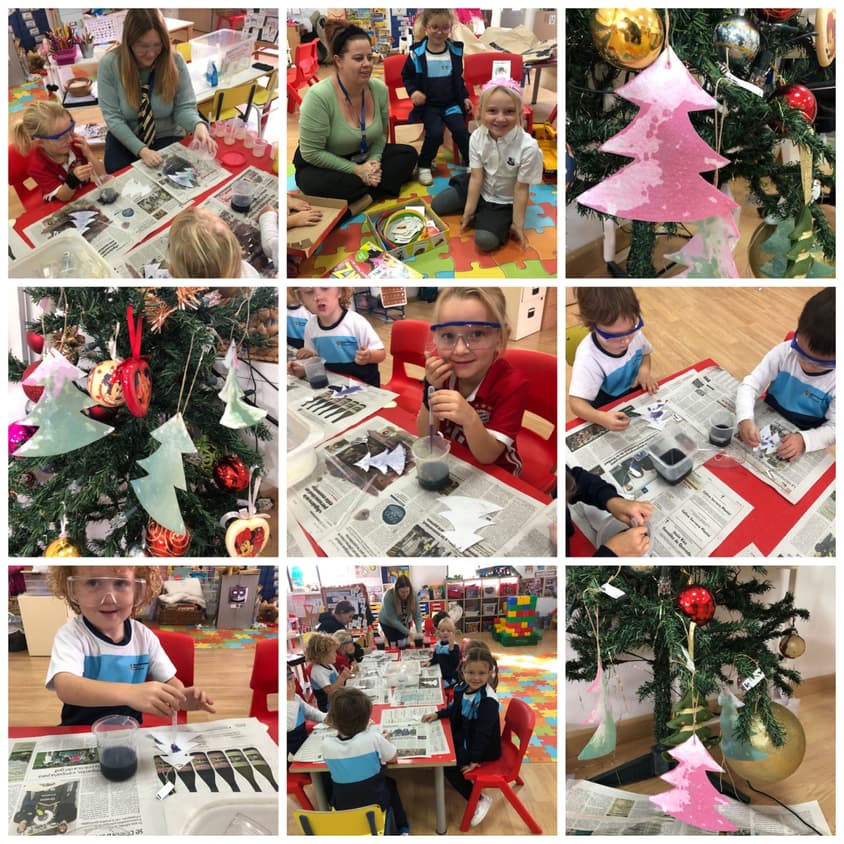 In other science department news, our students have benefited from our school's recently introduced BYOD programme. Students in science have used Google Docs to analyse and give feedback on our debate competition as well as to highlight their own areas for development and strength based on recent assessments.
Languages department news
---
Year 9 students have presented their projects about fundraising for a charity organisation. The students have worked in teams and presented their fantastic projects to the class.