Your guide to all news at school.
Ms Alison Colwell, Principal
---
Dear Families,
Easter is of course a time of renewal and rebirth. As I write this, I'm reading of the long awaited - by me anyway! - removal of masks. It still strikes me as so sad that some of our children have never actually seen their teachers' faces. As you know, we have always and will anyways put the care and welfare of our students centre stage but if we are to see soon the relaxation of face masks in school I think it'll be a very positive move for our students' well-being.
This term has yet again seen a wide array of excellent and fun activities beyond the classroom. As Ms Tomlinson lists, there have been so many wonderful events going on, and a well deserved break should be enjoyed by all. Our students have shown such great compassion for the suffering in Ukraine as you will also read about, with their fundraising efforts and collections.
The success of the school is such that we now have waiting lists in all Years. I urge you, please, if you would like to secure a place for your child or children that you reply promptly to our letter that is coming out in the next few days with details of fees and how to enrol.
Wishing you all a safe and happy Easter break.
Alison Colwell
Principal
Baleares International College, Sa Porrassa

Ms Alexandra Tomlinson, Head of Secondary
---
As was ever the case, the spring term issues a range of demands for our secondary pupils, mostly connected to the summer's public examinations. As well as academic hard work, it also sees some of the cultural highlights of the school year. So it is a rich 12 weeks in the life of the secondary school, and this term has been no exception: a most enjoyable performance of Matilda; a thoroughly enjoyable set of celebrations of Sant Antoni, Carnival and St. Patrick; a wonderful trip to London for our Drama students; a successful Science Week and overnight trip to the aquarium and a rich and packed Book Week; a superb geography field trip; the hotly contested House Danceathon in aid of Ukraine; Duke of Edinburgh's Award expeditions; the prestigious maths prize winners. And more besides, all of which together should mean that your child is more than ready for a break over Easter.
May I wish you and your families a restful holiday and a very blessed Easter and good luck to all of our Year 11, 12, and 13 students who will be working very hard during the break, in revising and preparing for their public exams.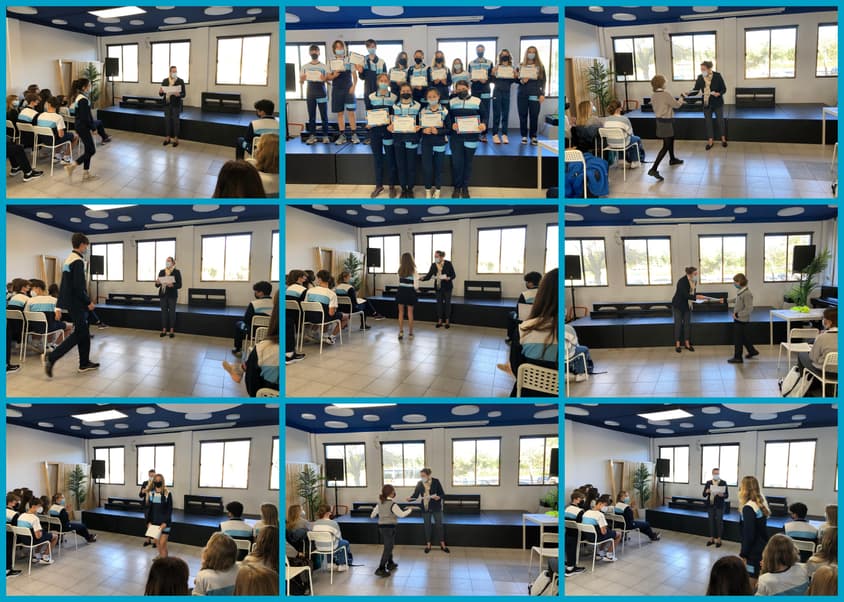 Mr John Barter - Head of Sixth Form
---
Award Winners
As is usual at the end of term, we have been giving out award certificates to students who have excelled this term. Sixth Form winners were:
Year 12
Clementine: Biology, Chemistry, French, Maths in Context

Louis: Physics, French,

Burapa: ICT

Palak: Maths

Lucia: English Literature, Psychology, Art

Maya: Spanish

Tom: German

Maja: Business Studies

Alessandro: Geography

Luisa: History, Politics

Ludovica: Sociology

Lisa: Travel and Tourism

Lea: Drama

Natasja: Economics
Year 13
Theo: Biology, Sociology, Economics

Niklas: Chemistry

Renat: ICT, Maths, Physics,

Olivia : English Literature

Eli: Spanish, Politics

Mathias: German, PE

Arman: History

Paula: Psychology

Jess: Travel and Tourism, Drama
Teachers tried very hard to spread these awards amongst the full range of students, but some have multiple awards and this is illustrative of their total commitment to being as good as they can be, their excellent attendance, involvement in lessons, meeting of deadlines, and just their sheer love of learning. However, this does not mean that other students who did not receive awards are not working hard; there are many who were in the running for awards and who make a full commitment to learning, day in and day out. We are very lucky to have so many great students; they are a joy to teach and represent BIC at its absolute best.
I have asked that all award winners (and this goes for younger award winners too) keep hold of these certificates and store them in a safe place. Universities are increasingly asking students for evidence of such certificates (as well as two or three years of reports), to give an indication of their commitment to learning over a long period of time. If they are safely stored, it will save a lot of stress later on.
Careers and Higher Education Fair
On Friday 1st April, we had our Careers and Higher Education Fair. We said that we would recognise excellence and commitment from students on the day. Those receiving awards are as follows:
Y6: Alex

Y7: Inés

Y8: Carlitos and Zephaniah (both excellent)

Y9: Lilly

Y10: Emalin

Y11: Amelie

Y12: Nina
Again, there were many other stand-out students (many of whom have been awarded House points) but the above students stood out with the evidence they had collected on the day and the quality of thinking they had done.
Other people worthy of certificates for their contribution to the Careers and Higher Education Fair are all the wonderful contributors who lent their expertise; students also noted their 'kindness' and 'enthusiasm'. We really appreciated their support.

As part of the BIC Careers and Higher Education Fair, a small number of students got to work with one of our contributors, Nora Gebhardt, a journalist. Nora explained the techniques used by journalists to write a story to gain the attention of the readers. The students were then tasked with asking people at the fair what they thought of it. Below is the article written by Millie from Year 8:

Last Friday, Years 6 to 12 from BIC were lucky enough to experience a job intervention afternoon that our teachers had thoughtfully put together.

We first went into our forms after lunch and the teachers presented a Google slides presentation; we were also given a booklet to fill in which encouraged us to each individually think about what we might want for our future occupation, the strengths that we have, and the things we may need to develop to make our dream job possible.

Next, it was time to go and visit the various stalls. The second page of the booklet was about what each occupation involved and why someone may want to do the job. In order to find out the information, we had to ask each of the professional contributors several questions to find out what their jobs entailed, why they had decided to go into that field of work, and the highs and lows of their job.

There were so many different careers to inspire the students from pilots, embryologists, and radio presenters to real estate agents, nutritional therapists, and advertisers. Some higher education administrators like EU Business School, who have campuses all over Europe, the Global American University, Schiller University, came along with Les Roaches with global hospitality education

I talked to some students myself and they loved it! A number of girls in Year 6 said that they enjoyed it because they had learned about new jobs they didn't know even existed; other students said that they found it was very interesting, and gave them the motivation to think about finding a career that they will love.

There was a real buzz around the school that day, and the afternoon certainly gave us food for thought.

Millie
Year 8
Easter 'holiday'?
Whilst everyone is tired and ready for a rest, with AS Levels starting on 27th April (yes, that is actually in the vacation period!) and most students engaged in exams from the first week in May, I have argued that students should develop a structured and planned revision programme for the 'holiday' period that involves working in the earlier part of the day and time with family and friends, as a reward for achieving their targets, later in the day. That way, the students will get the best balance of work, rest and play. The full and well-deserved rest will come after the exams for Year 13 students and after the end of the summer term for Year 12 students. Teachers have indicated to students what they need to revise and how they should go about doing it.
If you have questions or concerns about anything in the Sixth Form section of the newsletter or anything else Sixth Form or Careers related, please do contact me.
John Barter
Head of Sixth Form
john.barter@balearesint.net
---
Sixth Form Collection for Ukraine

---
A thank you to all the people that brought in supplies, thanks to Sasha for helping with getting in touch with the Ukrainian supplies collecting organisation, a thank you to Julian (a parent) for offering to drive all the supplies there (and to his daughter for helping out).
Also the lady at the organisation said that they still need a lot of supplies and would really appreciate it if people would still send them stuff (people can do it privately).
Here is the location of the place - Carrer Gremi Picapedrers, 1
https://www.google.com/maps/place/Carrer+Gremi+Picapedrers,+1,+07009+Palma,+Illes+Balears/@39.6067756,2.6617357,19z/data=!3m1!4b1!4m5!3m4!1s0x12979326c70c7bd5:0xef60849782a6852d!8m2!3d39.6067746!4d2.6622842
They are open from 09;00 to 18;00 Monday to Sunday
Sixth Form Students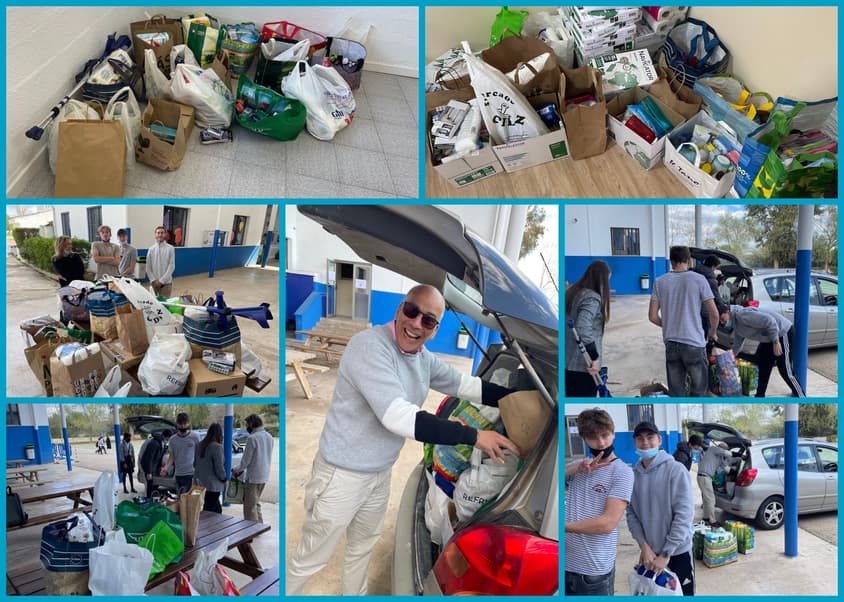 Whole School House System news
---
House Points Totals Update - Term 2
| | | | |
| --- | --- | --- | --- |
| Winton | Galileo | Roosevelt | Parks |
| 1259 | 1631 | 1460 | 1370 |
House Points Totals Update - 2021/22
| | | | |
| --- | --- | --- | --- |
| Winton | Galileo | Roosevelt | Parks |
| 2313 | 3122 | 2591 | 2567 |
A message from your Heads of House
I would like to congratulate everyone who participated in the Dance-a-thon on Monday 28th March. It was heartwarming to see so many students, teachers, and parents taking part. Thank you to everyone who sponsored someone too, the total amount we raised as a school is €603 which is a fantastic amount.

The Ukrainian church in Palma will use the money we have raised to support those affected in Ukraine.

I wish you all a lovely half-term break.

Miss Xidakis, Head of Parks House
Congratulations Roosevelt on a successful term 2. It has been an exceptionally busy term, and what a way to finish with an incredible amount of money raised for the Dance-a-thon. This will help the Ukrainian Church in Palma support those affected in Ukraine, so thank you and well done to everyone who took part. I could see you were all having fun whilst doing it as well - just like I was! I must also congratulate you all for climbing to a solid second place on the House Points tally competition this term - keep earning those House Points and I believe next term we can catch Galileo! Have a wonderful and restful Easter break.
Miss Mayes, Head of Roosevelt House
Congratulations Galileo. We did it! Term 2 winners. A massive thank you to everyone who has worked so hard this term earning House Points for the team. I have been so impressed with you. It has been great to see you so excited about the competitions this term. The Dance-a-thon was so much fun and a lovely way for us to get together and raise money. I hope you all have a wonderful Easter and I look forward to seeing you all again for a fantastic summer term.
Miss Turley, Head of Galileo House
Congratulations Winton for such a wonderful half term. I was so proud to see so many of you out there dancing in the Dance-a-thon. We managed to raise €603 for the Ukrainian appeal. I also want to say a huge thank you to all those who brought in items to donate to the Ukrainian Church last week. All those items will make a huge difference to those who have had to flee the conflict. Once again you are shining examples of our school Values- you have all shown compassion for those in need and stepped up to your responsibility to
Mrs Florey, Head of Winton House
The Duke of Edinburgh International Award
---
Some people just have a special energy and determination about them. The DofE Award really allows those people to find themselves and shine. It's grit. In education, we often call this resilience - and it is an essential quality for study but also for life.
Our core group of hardy Y10s took on the 4hr navigation task on a rainy Sunday morning at 9am because they have this skill in spades. Some of this group display wonderful character on each activity and seeing them grow and thrive is a privilege.
Special mention must go to the formidable Lily who led her group with calm, assured determination - just inspirational.
All Year 10s need to prepare themselves for a camping trip shortly after Easter. Any inspirational suggestions about how, when and where are more than welcome.
It is also imperative that participants continue to complete the evidence for their skills, physical and volunteering aspects of the award. See Mr Sparks for assistance.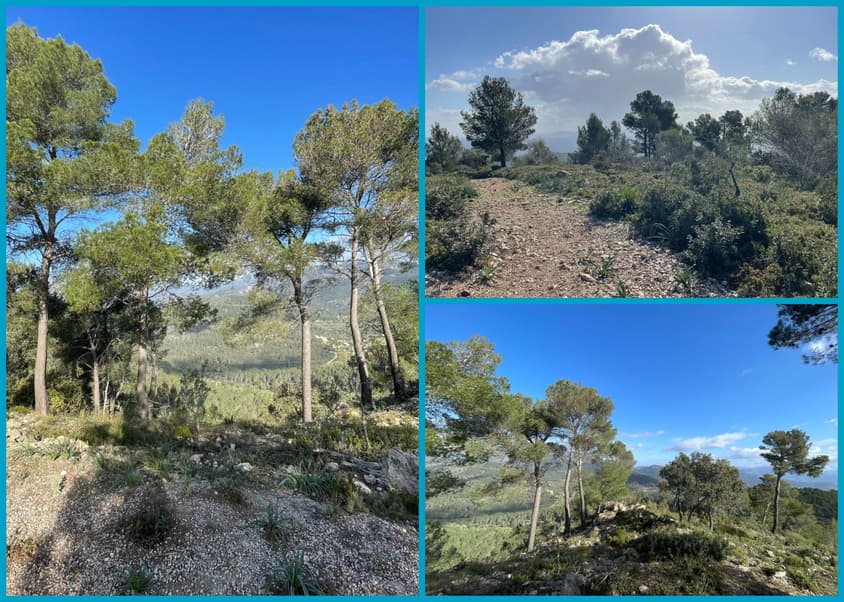 Maths department news
---
Key Stage 3 Problem of the Week
It has been another fantastic term of Key Stage 3 Problem of the Week. We have received 126 solutions from 33 different students. All have been completed in students' independent time and all have involved a high level of mathematical understanding and problem-solving.
Samuel has retained his termly title with an incredibly impressive 8 problems answered correctly out of 9! Well done Samuel for all his hard work and impressive problem-solving skills. He will receive his Amazon vouchers before the end of the term. There were a number of students in second place on six correct solutions including Matthew, Laia, Manu, and Eadrick.
The following students were entered in the participation draw for completing 80% of the problems this term:
Ivan, Carlitos, Eadrick, Matthew, Pavan, Emma, Arjuna, Max, and Laia.
Carlitos was chosen as the winner! He will also receive Amazon vouchers before the end of the term.
Here is a wonderful solution to the last problem of the term from Pavan in Year 8. His method demonstrates persistence and determination - the two most important aspects of problem-solving.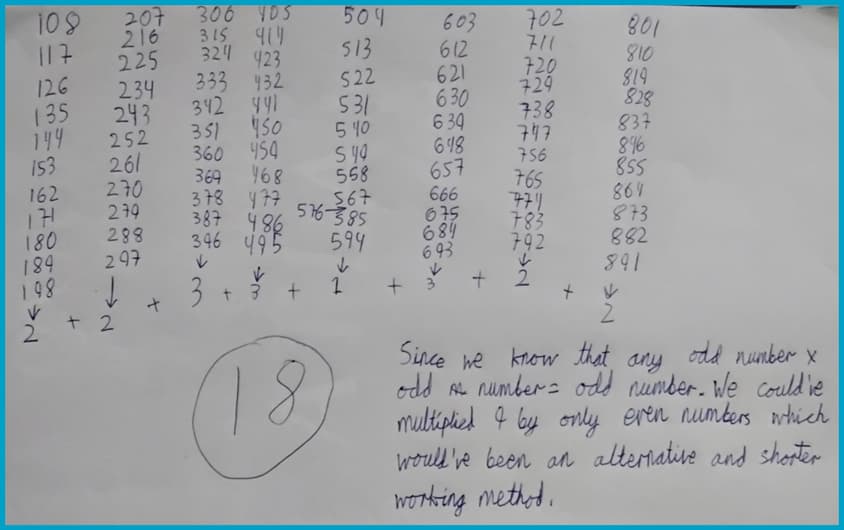 Humanities department news
---
Year 11 and 12 geographers went on a trip to Playa de Muro and Can Picafort this week to conduct fieldwork in preparation for their exams this summer. Although we faced some strong winds and chilly temperatures we were also met with blue skies and sunshine - ideal for our time collecting data on the beaches. Next step…processing, analysing, concluding, and evaluating!

As part of our Year 10 business studies class, our students have been working on a marketing project creating some impressive advertisement videos for our school and we are delighted to share some of the examples with you.

English department news
---
Year 7 students have read the epic tale of Beowulf, as part of their study of The History of English Language and Literature unit.
Here are some of the students' work on the topic:

Some students have been experimenting with creating their own poems, stories and even rap songs.
Here are examples of a student's rap song about her teachers:

English Rap Battle No. 1: Coco V's Mr. Drumm

Year 10 students are currently studying anthology poetry, as part of their iGCSE English Literature course. Here are a few superb examples of their poetry annotations:

Here is an outstanding example of a critical analysis of the poem, War Photographer, by Carol Ann Duffy:

As a culmination of their study of William Shakespeare's Twelfth Night, Year 8 have been preparing to perform key scenes from the play: improvising key moments, creating storyboards, writing lines, and staging their performance. The class worked exceptionally well, picking out lines of Shakespearean language and showing great engagement in their groups with every stage of the process. Well done, Year 8!
Science department news
---
As we speak, our students and teachers have just enjoyed everything that Palma Aquarium has to offer. The majority of Year 10 spent the night sleeping with the sharks, learning about these majestic creatures and how we can live together in our world.

Year 11 revision classes continue to be offered on Tuesday after school. These sessions focus on the advanced information shared from the exam boards. Also, all science students in Year 11 have been provided with specific exam paper questions to support all of the advanced area topics. The students also have access to the mark schemes for immediate feedback through Canvas.
Revision guide books can be found here:
Advanced information can be found here:
Mark schemes for the Easter work can be found here:
Thank you to some of our KS3 students who have recently produced some excellent work:

Languages department news
---
Recently, Señorita Montes' Year 8 group has been working on the topic of poetry. We also wanted to feel like real poets. Therefore, we have created our own compositions with the resources used in the analysis of previous poems. Enjoy!
Creative Arts department news
---
ART
Year 8 collaborative poster designs were inspired by the artist Jon Burgerman.
Year 9 masks based on the theme Twisting and Turning

Sixth Form
Jessica - Year 13

Maisie and Nina - Year 12
Maisie and Lucia - Year 12
Students across all years in drama and music this term are focussing on evaluation - what makes a drama or music performance or composition effective, and what was happening at the time of its creation that could have affected it?
Here are some examples of newspaper reviews, written by Year 7 students about a live theatre version of ´Aladdin´, performed at Disneyland California.

Trip to London
---
Year 10, 11, and Sixth Form students had a fantastic time broadening their learning in London. They participated in a four-day educational visit covering a range of subjects and different excursion activities! From theatre workshops, museum tours, visiting the Houses of Parliament to visits to the Courts of Justice and so much more!