Your guide to all news at school.
Ms Alison Colwell, Principal
---
Dear families,
As a British international school, we place enormous importance on students learning languages, as well as in supporting our students for whom English is not their mother tongue. In fact, the majority of our students speak English as a second or third language, and I remain in awe at the multilingualism of so many!
Earlier this year we submitted an application to an accreditation scheme for international schools, to demonstrate the quality of our English as an Additional Language (EAL) provision. The scheme is run by The Bell Foundation (a charity which aims to overcome exclusion through language education). I am delighted - but not surprised - that we were successful in being awarded this prestigious accreditation and I wanted to share some of the comments in the report we received.
They described our school as one, "where the cultural and linguistic diversity of the pupils is celebrated and where the value of EAL pupils is clearly visible in the school's activities.....EAL pupils achieve impressive learning outcomes, as demonstrated by outstanding exam results: 100% pass rate, and 38% at A* and A..........There is visible alignment between the school's explicit values and the different activities that pupils take part in, with opportunities to explore a variety of important modern issues such as diversity, multicultural education, racism and anti-racism, global and development education, and religious, moral, spiritual education......... The celebration of individuality and uniqueness come across strongly in the curriculum and co-curriculum programme...… There is a school culture of high expectations and specific activities support this aim (eg, the international maths challenge).........The school offers a good mix of activities, from international schemes (the Duke of Edinburgh Award, the Model UN Conference), regional initiatives and events (the Rotary Club debating competition, inviting bilingual guest speakers from local institutions to speak to the pupils in Spanish and English), social projects and charity work (collaborating with the Zaqueo food bank), to in-house events (International Families Day, Odd Sock Day, Black History Month) and events that celebrate cultural diversity and deepen cultural awareness (Sant Antoni and Diwali).......The use of English throughout the school is excellent, and students are confident and happy to use English."
Achieving this accreditation is testament to the excellent leadership and expertise provided by Mrs Cruttenden, to all the hard work, skill and commitment of our teachers, and to the resilience and determination of our students. Well done to all!
Alison Colwell
Principal
Baleares International College, Sa Porrassa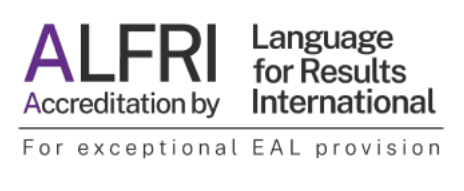 Ms Alexandra Tomlinson, Head of Secondary
---
Soft skills are crucial to wellbeing and success.
As we begin our public examination season it is good to reflect on what compounds success beyond academics and study. Achieving the highest academic grades doesn't provide a guarantee that your child will be a well-rounded individual.
Dealing with the opportunities and challenges of life requires well-developed soft skills - and BIC offers a vital opportunity to develop these skills.
This is a time when habits are formed and pupils need to be encouraged to try new things, in order to help them discover interests and passions and learn more about themselves, as well as how to interact and work effectively alongside peers. We place emphasis on teaching and nurturing pupils' soft skills to set them up for the future.
Research shows that there are three elements to developing healthy, multi-skilled young people. These pillars are character, an individual's traits and strengths; knowledge, the best and most powerful knowledge within subject disciplines; and skills, the application of knowledge and character in real-world scenarios through teamwork, leadership, problem-solving and communication.
At BIC, our secondary curriculum is designed with these soft skills in mind, centred around the development of responsibility, curiosity, collaboration, creativity and innovation. We value the importance of developing personal attributes and qualities that will develop them as confident, reflective, empathetic and successful world citizens.
I wish our Year 11, 12 and 13 all the very best for their exams. We have every confidence in you!

Mr John Barter - Head of Sixth Form
---
Exam season is here!
It doesn't seem that long since last summer's exams but this year's exam season is already upon us. We have gone from no exams at all in 2020 to part-external and part-internal exams last year, to full exams this year. This gives all of our students the chance to properly test themselves and to get full credit for their efforts over the year. However, we acknowledge that the stresses are much greater for the students, who are relative novices to exams given the experience of the last two years. We realise that it is also stressful for you, the parents, seeing your children going through this process. At this stage, the aim is to be as supportive and encouraging as possible; your children need their 'supporters' to see them over the finishing line (just as any athlete might at the Olympics).
I recently asked Year 12 students to be mindful of the stresses you parents would be going through. When you have children, no-one provides a parenting manual. Parents can love their children but still make mistakes when trying to do the right thing; it is part of the human condition. I asked the students to involve you in their revision and to share their concerns with you; if you know they are taking the exams seriously, you will be less stressed. Now I ask the same in reverse. The more mindful you are of their stresses and the more you all have dialogue, the less stressful the season is likely to be. To give you more guidance I have added some links below. Hopefully, with combined effort, we can ensure that the exam season passes in the most stress-free way possible, producing the most successful outcomes.
Good luck to all!

Whole School House System news
---
House Points Totals Update - Term 3
| | | | |
| --- | --- | --- | --- |
| Winton | Galileo | Roosevelt | Parks |
| 120 | 152 | 174 | 158 |
House Points Totals Update - 2021/22
| | | | |
| --- | --- | --- | --- |
| Winton | Galileo | Roosevelt | Parks |
| 2511 | 3371 | 2854 | 2826 |
A message from your Heads of House
It was lovely to start this week with a Park´s House assembly. We talked about this week being Deaf awareness week. I think many of you were moved by the barriers Deaf people can face. Also, I know that many of you are excited to hear more about the reward trips, more information coming very soon.
Miss Xidakis, Head of Parks House
Welcome to the summer term Roosevelt. It has been great to see you all back in school and preparing for all of the exciting things happening this term. On top of our GCSE and A Level students being able to show off all their knowledge in their exams, we have reward trips, Sports Day, school performances, a prize giving ceremony, as well as our normal school business, including a House Council meeting. I also want to say a huge congratulations on such a successful start to this term, we have shot to the top of the leaderboard! Keep it up!
Miss Mayes, Head of Roosevelt House
It has been great to see everyone back after the Easter break. We have lots going on this term with Sports Day, competitions, House Council and our reward trips. I am looking forward to receiving photos from you all for the science photo competition! Keep up the great work you have shown all year and keep gaining those House Points.
Miss Turley, Head of Galileo House
Welcome back Wintons. It was wonderful to see you in our assembly this week and I was impressed by your sign language- I hope you have been practising at home! There are lots of exciting things to look forward to this term with sports day, trips and House Competitions on the horizon. Keep going with all your hard work and make sure you're doing your best to get as many House Points as possible! I want to wish a special good luck to all our Winton colleagues in Yrs 11-13 who are beginning their exams this week- You've got this!
Mrs Florey, Head of Winton House
Maths department news
---
Junior UKMT Challenge

Last Thursday over 60 Year 6, 7 and 8 students took part in the prestigious UKMT Junior Mathematical Challenge, a great opportunity to test their mathematical understandings and problem solving skills against the top students in the UK. The students worked really hard in preparation and will hopefully be rewarded with certificates for their efforts. The results should return to us in the next month.
Key Stage 3 Problem of the Week
This exciting initiative started again this week with a challenging area problem. We would encourage all students in Year 7, 8 and 9 to get involved and work on their problem solving. This week´s problem is below: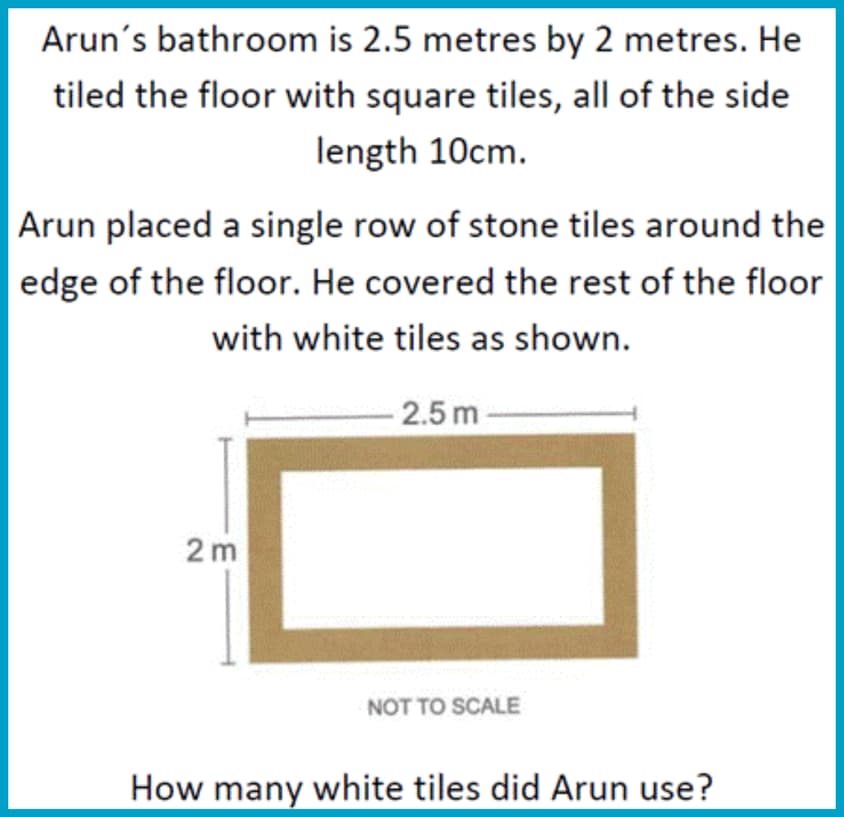 Humanities department news
---
The exam season has now arrived and I would like to remind parents of the importance of encouraging their children to use a range of different strategies to keep revision varied and effective. Year 7-9 will be sitting exams for most subjects at the end of May and the beginning of June, teachers will be sharing revision resources with their classes. Year 10 will have formal mock exams starting at the end of May. Please do ask your children about their revision topics as "teaching someone else" is one of the best ways to deepen learning.
Year 8 geographers have been looking at the 2010 Haiti earthquake and what made it so deadly, despite it not being the highest magnitude event. They wrote essays explaining these reasons and considered what Haiti can do to prevent disasters in the future.
Below are some examples of the wonderful work produced by 8/2.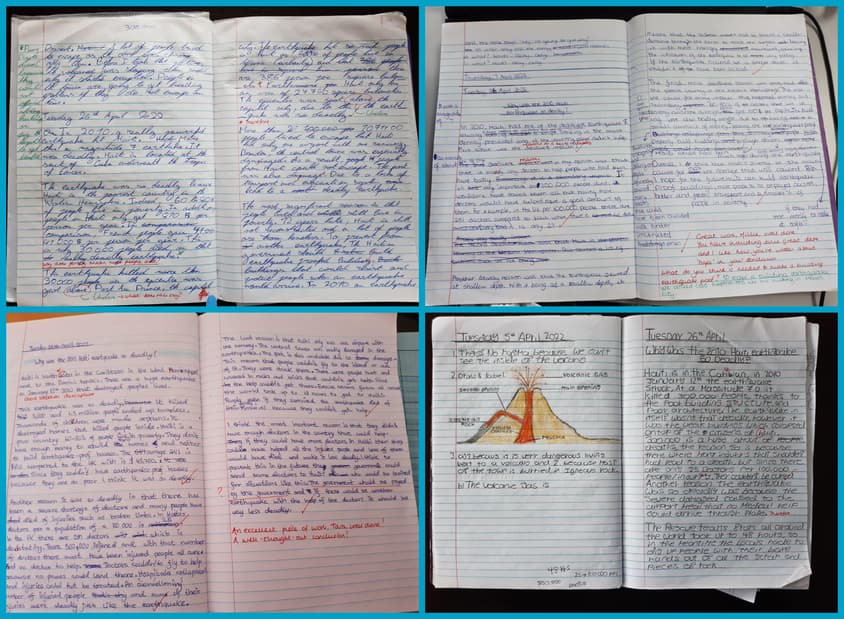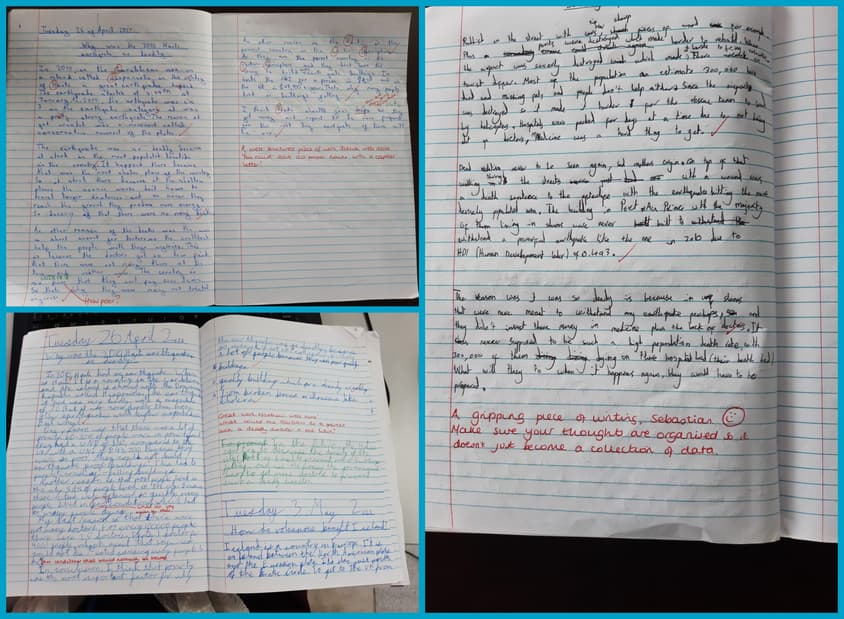 English department news
---
In Year 7 Stretch and Challenge, the students were tasked with researching different writing formats. All students worked in pairs to create presentations of their findings. The aim was to provide an opportunity for students to work together doing research, creating and delivering the presentations to their peers. A great success!
A Magazine Article:
(By Theo and Felipe)

An Interview: 
(By Rio and Faba)
Formal & Informal Letters:
(By Michael and Alex C.)
Newspapers:
(By Tim and Samuel)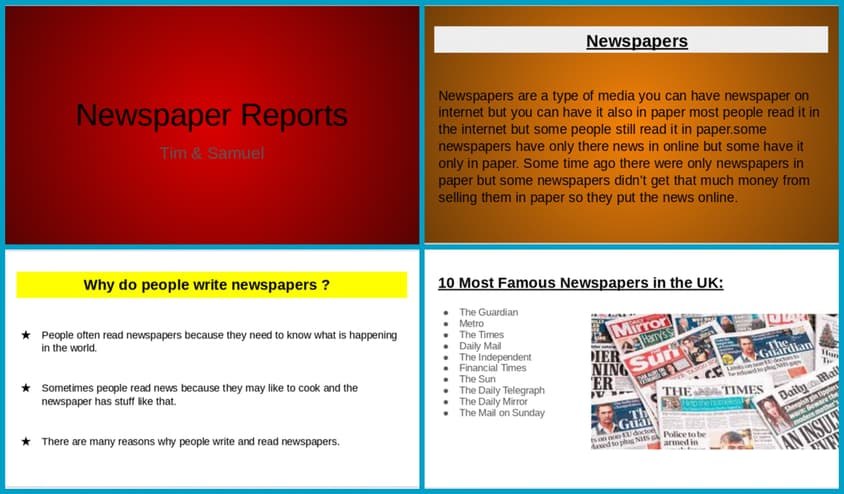 Science department news
---
It has been a busy few weeks here in the Science Department. Year 11 students have been preparing for their forthcoming eternal examinations, supported by a practical day in science, focused on advanced information questions and skill development sessions in class based on the maths skills in biology and exam technique. All the students have been giving some excellent answers in the class. I can not suggest more strongly how important it is for the students to complete the past paper questions that they have given followed by accessing the feedback we have for them for biology, chemistry and physics. This is the time to really, really push ourselves so that the summer can be enjoyed in the knowledge that we did everything possible to prepare for exams that can open further doors in the future. We have faith in our students and they know what to do.
Across the department, students have been enjoying producing copper sulphate from copper oxide and sulphuric acid, investigating diffusion in living and non living contexts, investigating gemstones and kicking back on Friday period 6 to enjoy a mocktail* to bring in the weeked.
A special mention to the launch of our BYOD programme here at BIC. The students have been working collaboratively to investigate the validity and replicability of data through Google Sheets.
*The students had to calculate the density of various liquids before making their mocktails!
Thank you to you for your support in allowing the students to bring the additional materials that they have used.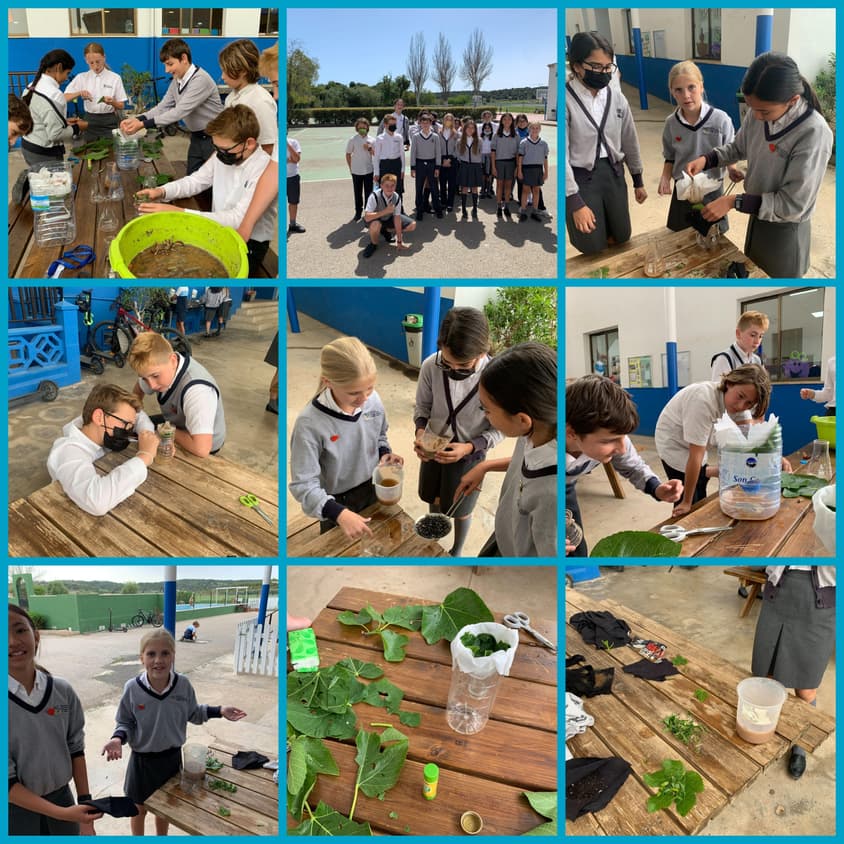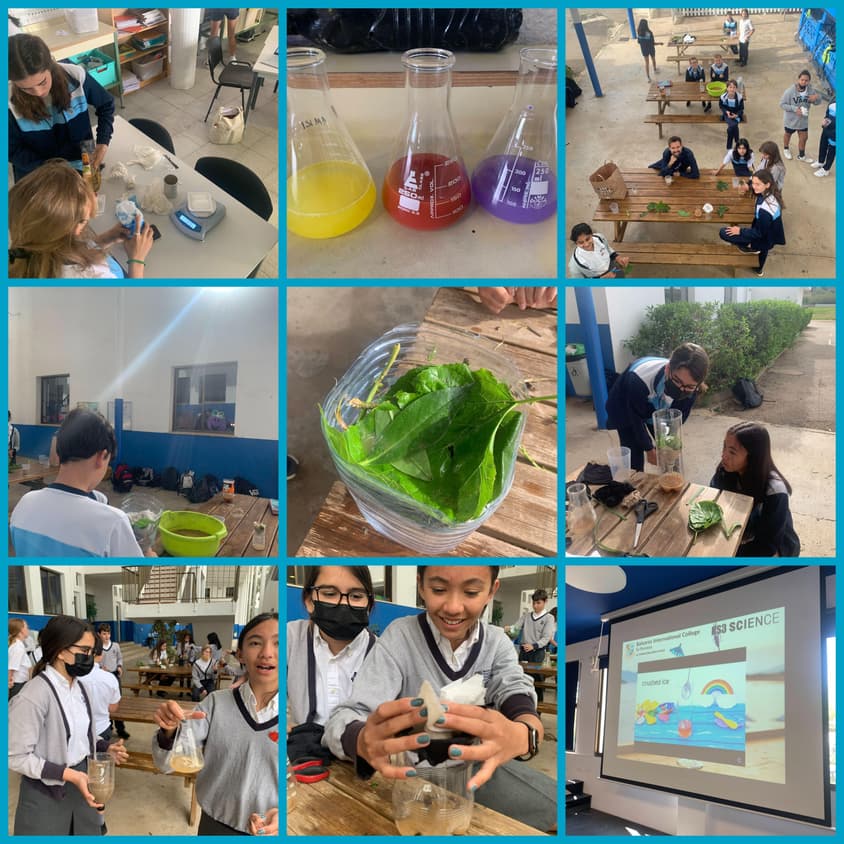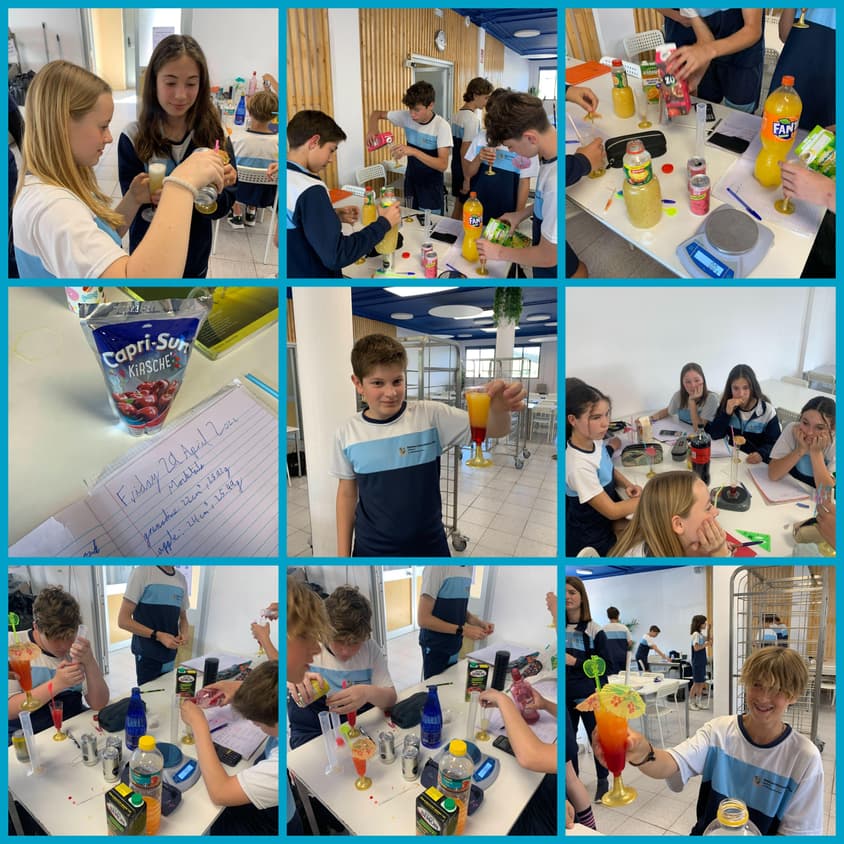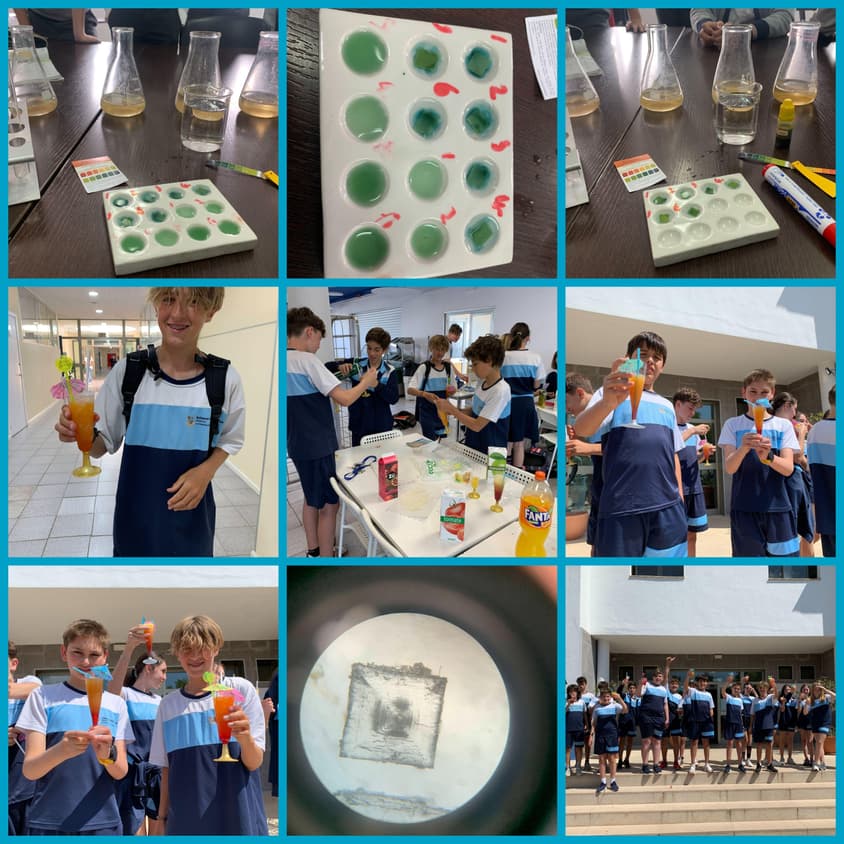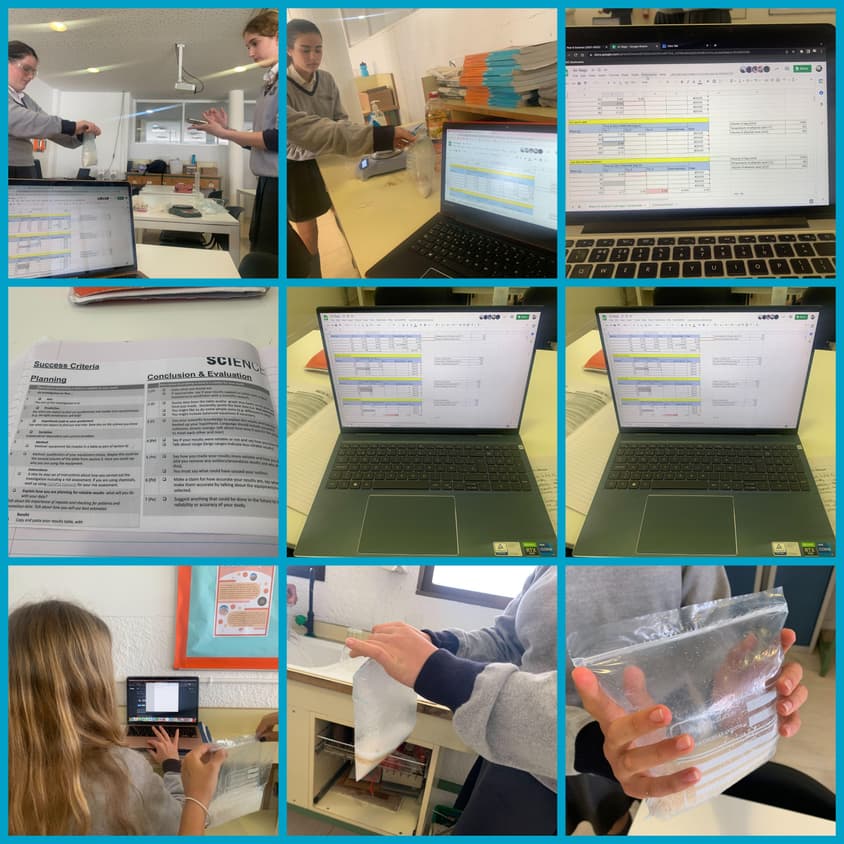 Creative Arts department news
---
ART
Year 10 artist skulls

Year 12
Harriett (Mosaic) - work in progress

MUSIC and DRAMA
Students in Year 7 have started a new unit on Pop Music. They will be developing their singing and keyboard skills this term, as well as learning about different styles of pop music. Here is some of 7-2 with their presentations comparing pop music from the 1970's to today.
Year 8 are learning how to devise using a stimulus in drama this term. For their first assignment, they created a piece of drama using the song ´Hello´ by Adele as a stimulus, and the title of their piece had to be ´reconnected´. Below are some photos from 8-2´s performances of their pieces - all of which linked to the title in a creative and different way.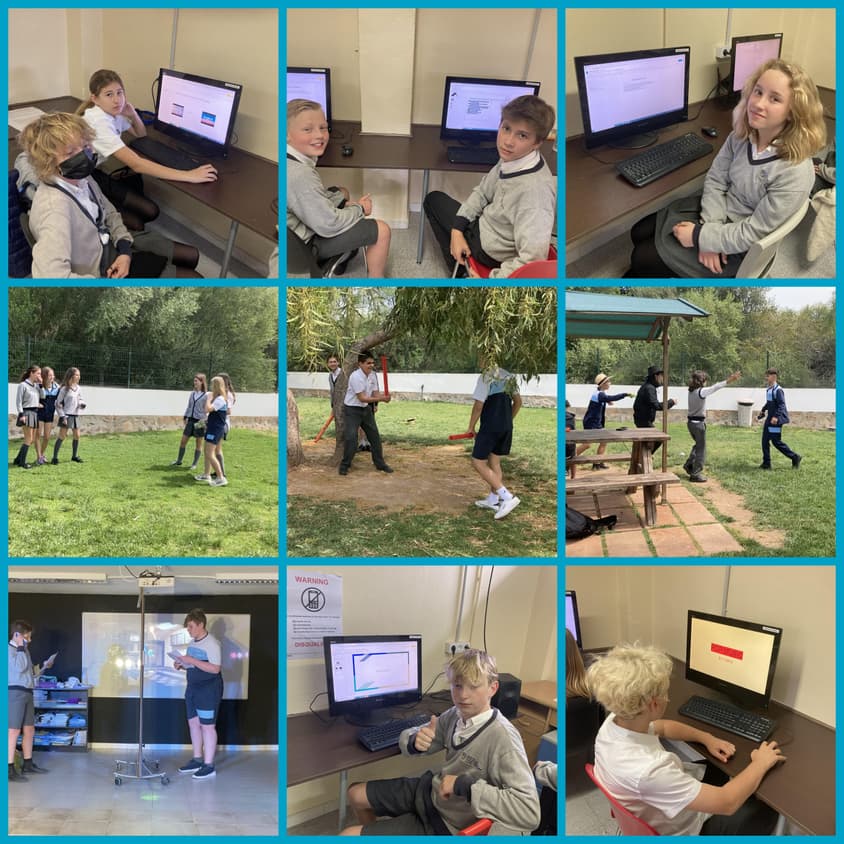 Recycling initiative - resources needed!
---
We are planning a new recycling area that will feature a mural wall made from materials that would otherwise be recycled or end up in landfill. The students have asked for help in collecting material that can be used for creating the mural, so any contributions are gratefully received (as long as they are clean!)
Plastic bottles, bottle tops
Cans
Corks
Netting
Food packages (sauce packets)
Plastic bags
Plastic packaging
Please pass these to the Eco club, or Mr Kingston-Bray (U14)