Your guide to all news at school.
Ms Alison Colwell, Principal
---
Dear families,
A few weeks ago we were inspected by the Council of British International Schools. This was a formal, 2-day inspection that looked at a number of aspects of the school, including the way we look after our students, and their safety, and how we develop values and British educational ethos. I was very pleased - but not surprised - that the school - the staff - came out glowingly. The inspector was extremely positive about the visit and what he had seen. He said it had been a real pleasure to be in the school and had been very impressed by how much the students genuinely appreciate what the staff do for them.
With regard to student welfare, it was very clear that our school provides a safe and supportive environment for all our young people. He described our pastoral provision as being, "very, very strong" and would be making commendations. He highlighted the way we link our school's values and themes into assembly and PSHE/Global Citizenship, and said he had not seen a pastoral programme so carefully thought about, and well-integrated. Spending two full days in the school, taking lunch in the canteen, being around at break times and before school, and speaking with a number of student from across the school, he confirmed that behaviour is very good and said the students, "reported an almost total absence of any bullying thanks to the zero-tolerance approach" taken.
With regard to our ethos, it was clear that our school has an evident British educational ethos, is outward looking and promotes international mindedness. What this sort of inspection tries to measure is the heartbeat of the school and concentrates very much on British educational values and ethos. British educational values are about the developing the whole child, the wider curriculum outside the classroom and creating the conditions in which all children have opportunities and encouragement to develop human qualities and learner attributes. This includes the holistic
nature of what is offered, the extent to which the whole child is addressed in terms of their needs and in how their human qualities are developed, as well as the enrichment and extra-curricular opportunities on offer. He said that everything we do, "feeds back to the school's values", and that our students clearly understand what the values mean in action and try to live by them.
At a time when we here, along with millions around the globe, commemorate the Queen's 70 years on the throne, it seemed especially appropriate to also be celebrating our own students' values, British and otherwise, and the fantastic care and support our staff show to your children.
Happy Jubilee weekend
Alison Colwell
Principal
Baleares International College, Sa Porrassa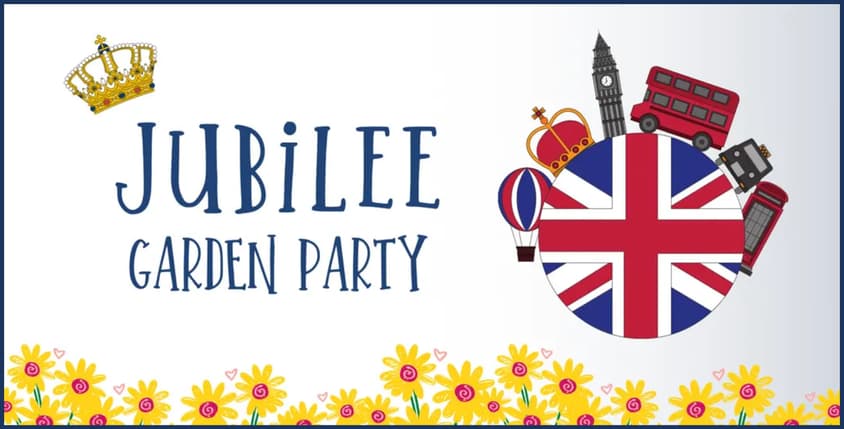 New staff:
---
We are delighted to introduce Trelawney Bresic who will be the principal's new PA and the school's exams manager. Trelawney writes,
I'm so excited to be joining the fantastic team at BIC. For the past ten years, I have been running an award- winning performing arts school for children and young people in the UK. My family and I have now returned to live and work in Mallorca, one of our favourite places in the world. I believe that an international education offers unique and wonderful opportunities for children and feel very lucky to be a part of BIC. I look forward to meeting everyone very soon.
Trelawney Bresic
PA to the Principal | Exams Manager

Ms Alexandra Tomlinson, Head of Secondary
---
What celebrating the Jubilee should mean to us all.
Whether you are a loyal supporter of monarchy or a republican there is something that we can all learn from the 70th Jubilee celebrations of Queen Elizabeth II.
Firstly, there is joy. Regardless of creed or background, what the Brits do really rather well is organising and enjoying pageantry, picnics and parties. Perhaps this is our weather which forces us to take joy in moments of rare sunshine and equally forces us to take joy in downpours over BBQs and garden parties. Either way, the Jubilee opens up a wonderful opportunity for a joyous few days, as witnessed by the scenes of celebration in the Mall yesterday at the end of Trooping the Colour. This is important in our own students´ character development - to understand how to enjoy with the right gusto, how to rest, how to commemorate and work together to put on an event, these are just as important life skills as knowing how to work hard. Coming together as a school community to observe the Jubilee brings us all closer together; bunting has been made and put up, food enjoyed, excited preparations have taken place, all of which results in a deeper sense of love and connectedness which lasts well beyond the end of the festivities.
Secondly, we can all take a leaf or two out of the Queen´s book on forgiveness, tolerance and grace. Not wishing to overly reference the Duke and Duchess of Sussex, as the limelight should be squarely on the Queen during these four days, but the welcoming of the Sussexes back for the Jubilee is an act of humility and strength that we can all learn from in our interactions with one another.
Finally, what we also do rather well, both as Brits and at BIC, is the inclusion within those celebrations of all cultures and ethnicities. It is at the heart of everything we do here at BIC. I speak often of global citizens and moulding our students into responsible young people who are deeply set side by side with their fellow human beings. The engagement, understanding and yes, again, enjoyment of other cultures and languages which the Queen has demonstrated in her 70 year reign, is at the very heart of what it means to be a fully rounded and happy individual.
So three cheers to her Majesty, for all that she has done for not just our country but for the world. Steadfastly and bravely demonstrating those qualities that we hold dear for our own students here in our BIC family.
Alexandra Tomlinson
Head of Secondary
Mr John Barter - Head of Sixth Form
---
British Values or Global Values?
At BIC, amongst other things, I teach sociology, politics and Global Citizenship. All three subjects require a focus on the values of being British or the values of being a global citizen. Increasingly, I would like to argue, there is not so much to differentiate them. David Cameron, former prime minister, felt British values included being proud of the royal family, food such as beans on toast, shared institutions such as political institutions and the NHS, and cultural references. Cameron himself specified as quintessentially British the Union Flag, football, and fish and chips – despite the fact that of course there is no British football team. Yet such personal interpretations of what it means to be British are not equally shared by all.
It is often argued that British values focus on democracy; the rule of law (the law being applied equally to all people despite their social standing); individual liberty and freedom from overbearing government; mutual respect for and tolerance of those with different faiths and beliefs. It seems to me that these values are no longer exclusive to the UK, even if they might have been in the past. However, I believe that it is essential for young people to reflect on and explore these values, to understand them in theory and in practice, and to consider how far they subscribe to them. It is a particularly important part of the BIC curriculum and has been commented on positively by recent visitors, from official inspectors to lay experts like a visiting academic and our parents. For us it is important to give our students the experiences they need to become confident actors in society, standing up for good, ready to challenge wrong; ready to serve the needs of themselves, their families and their community, albeit local or global. So our lessons, Global Citizenship in particular, focus on exploring relevant knowledge and values, but also on life-skills so that they can live in the way they feel is important.
By joining the BIC Sixth Form I expect that our students are signing up to the values that we share and live by, together. First and foremost, I want them to be nice people; I want them to play a full part in the life of the school and to focus on what they share with others rather than what makes them different. But I also want them to acknowledge that, individually, we are all unique and that we have the right to express ourselves in our own individual ways, unless by doing so it has a negative effect on others. The right to free speech has to be tempered by the right of others to feel safe in their own skin and in their own community. Our students don't always get this right (they are young people, so why should they?), but our community values are clear. Students have the opportunity to learn from their mistakes and to improve themselves.
John Barter
Head of Sixth Form
john.barter@balearesint.net

Whole School House System news
---
House Points Totals Update - Term 3
| | | | |
| --- | --- | --- | --- |
| Winton | Galileo | Roosevelt | Parks |
| 520 | 686 | 667 | 567 |
House Points Totals Update - 2021/22
| | | | |
| --- | --- | --- | --- |
| Winton | Galileo | Roosevelt | Parks |
| 2911 | 3905 | 3347 | 3235 |
A message from your Heads of House
This week I have heard many students discussing the House reward trips and it's amazing to see the excitement about them. Plus, the House assembly this week discussed responsibility about litter and recycling in school, well done to the students who are recycling using the bins provided around school and are supporting others in doing so. Keep it up.

Lastly, the Ukrainian church was very thankful to BIC for the fantastic donations from the Dance-a-thon and below is the receipt they sent us.

Miss Xidakis, Head of Parks House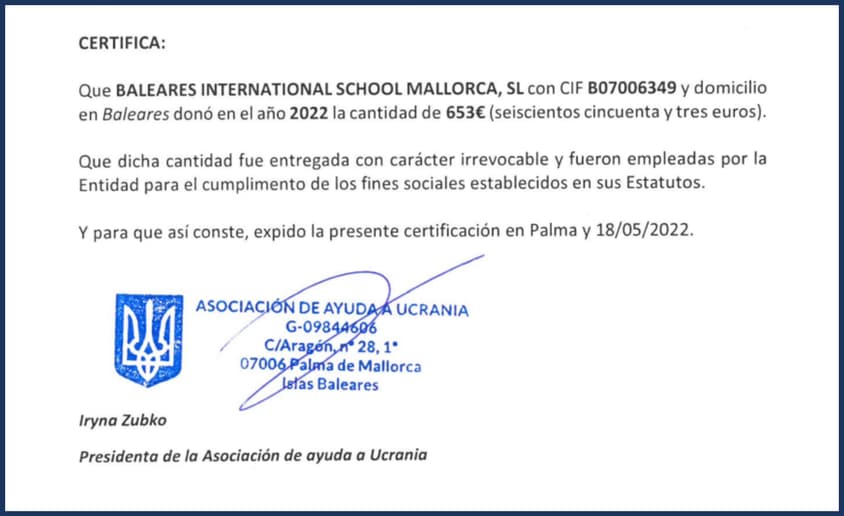 This term´s House point race is so closely fought between Galileo and Roosevelt, every week changing who is top of the leaderboard! Keep it up Roosevelt, keep earning all of your points, and remember that every point counts! I am so pleased to hear you all talking so enthusiastically about the upcoming reward trips at the end of term, I know they will be fantastic days out. Please ensure that all forms have been returned this week. We also have our Jubilee picnic to look forward to this week, Sports Day is on the horizon, what a busy but exciting end of the term and year these next few weeks will be.
Miss Mayes, Head of Roosevelt House
Well done on being back on top of the leaderboard. It is still all to play for though, so keep working hard and earning those House Points. We have lots of great events coming up including the Jubilee picnic, Sports Day and the exciting reward trips.

Thank you to everyone who has emailed me photos of our new science labs. You can still enter the competition if you haven't had a chance yet.

Miss Turley, Head of Galileo House
We might be at the bottom of the leaderboard but now is not the time to give up. I know we can catch Parks! Keep trying your best in class and demonstrating all those important values that I know you all uphold. We also have Sports Day to come and we all know how much the tables can turn then. I am looking forward to organising the teams so get thinking about which events you would like to take part in.
Mrs Florey, Head of Winton House
Maths department news
---
Our UKMT Gold Certificates winners, Manu and Matthew, are taking their problem solving to the next level by entering the UKMT Junior Mathematics Olympiad. This is a gruelling two-hour test of their mathematical understanding and problem solving. Both students will be preparing intensely over the next two weeks.

Key Stage 3 Problem of the Week
The Key Stage 3 Problem of the week continues to be a great success with students in Year 7, 8 and 9 handing in exceptional solutions each week. Here is Emma's solution to last week´s problem. Please do encourage your students to get involved.
Humanities department news
---
The humanities department would like to thank all of the students for working so hard to ensure that they strive for excellence during the exam season. The dedication that the students have shown has been very impressive.
The pictures below show Year 11 historians preparing carefully just before they went into their Paper 1 history exam.

The humanities team have also been impressed by the way that Year 7-9 have conducted themselves in their summer exams. The pictures below demonstrate what fantastic writers we have at BIC.
Amelie Burge wrote an excellent narrative account in exam conditions about Henry VIII's break from Rome.
English department news
---
As part of their study of media and film this term, Year 7 have written brilliant feature articles on such varied topics as whether pets are necessary, plastic pollution, smoking, school uniform, Johnny Depp, Nirvana and why summer camps are bad. You can see a snapshot below; enjoy the collection here.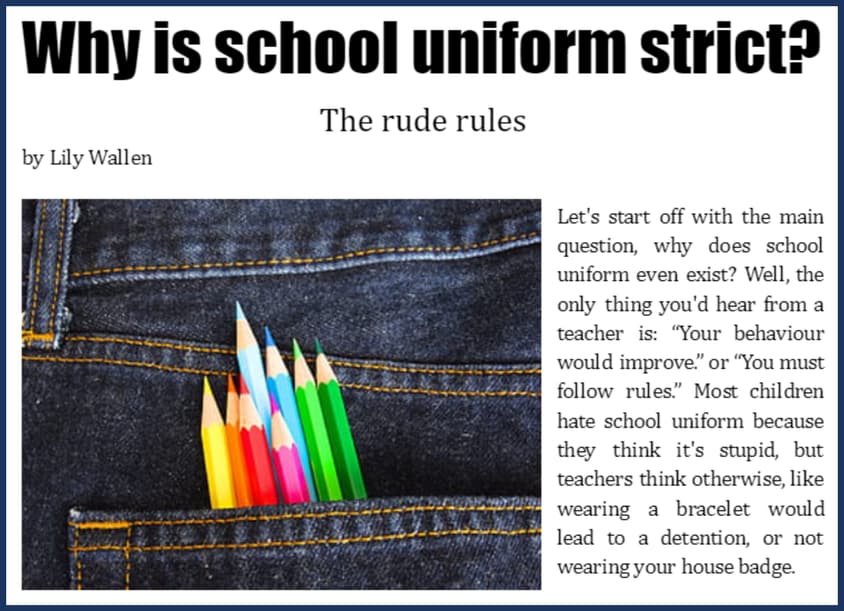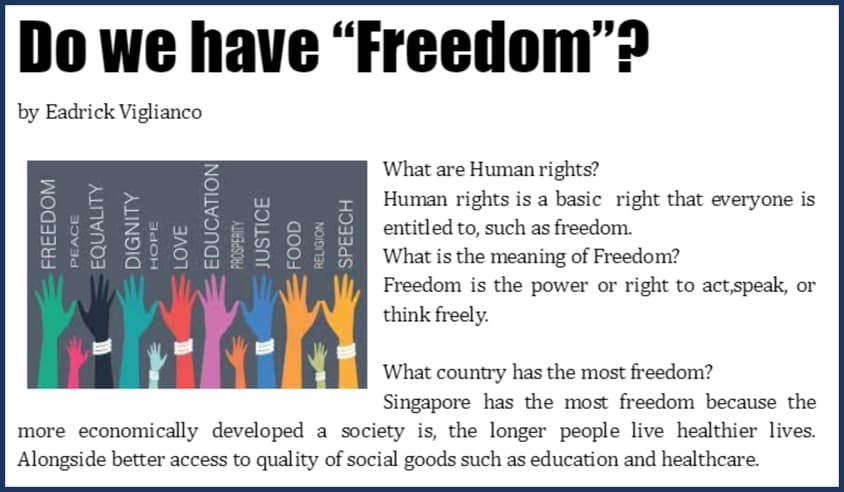 Science department news
---
What an exciting week it has been. Our science laboratories at BIC are now closed for the full renovation. The new facilities will be open for September 2022. We can not wait to be able to welcome you into school to enjoy them for yourselves as we launch the new facilities next year.
We have included a few snaps of the final science practicals that took place in our science labs for you to enjoy. Whilst we are thrilled to update the facilities, we are always thankful of the hard work that other people have put into science provision here at BIC in times that came before us. At some point in the past, the science facilities will have been state of the art.
At the heart of all classrooms is the beating heart of a caring and passionate teacher. As we open a new chapter in science, we spend a moment to thank those who came before us and reflect on all of the happy memories that have been made; here's to many more.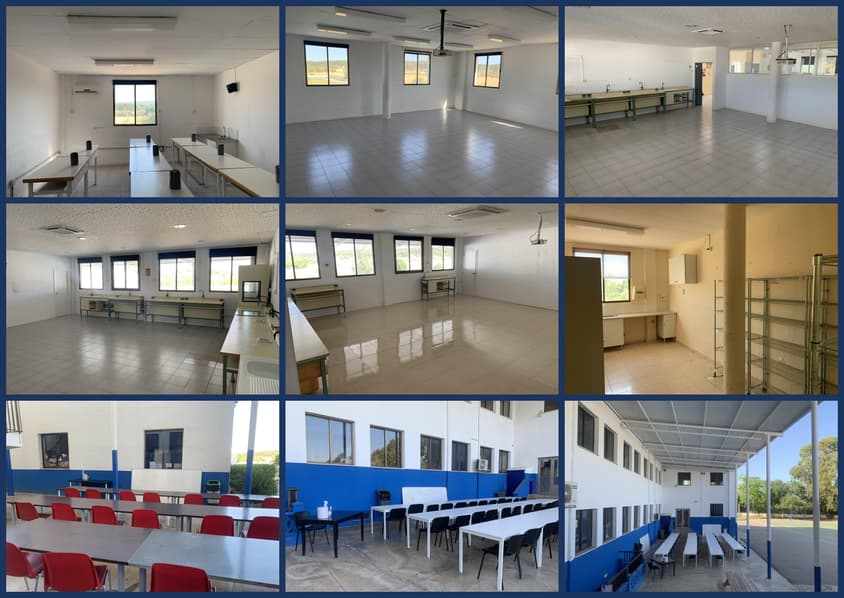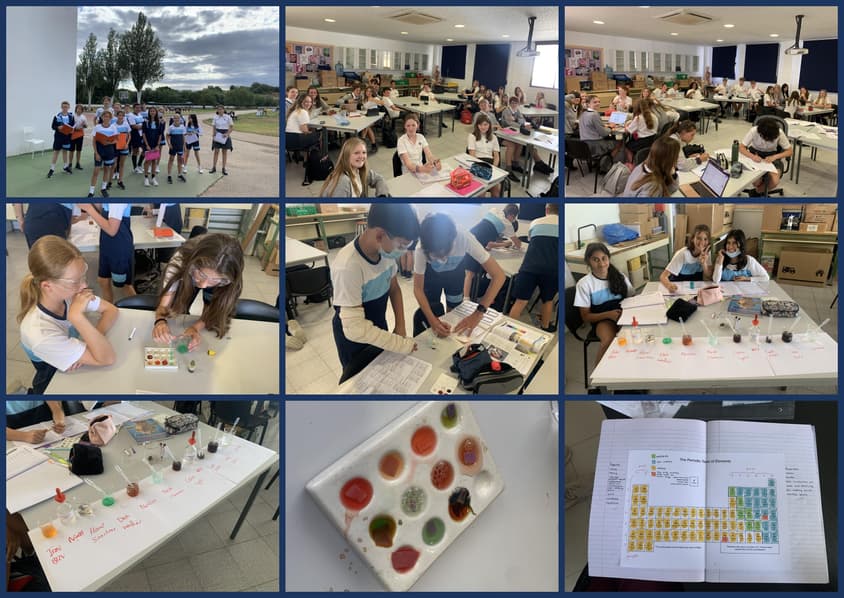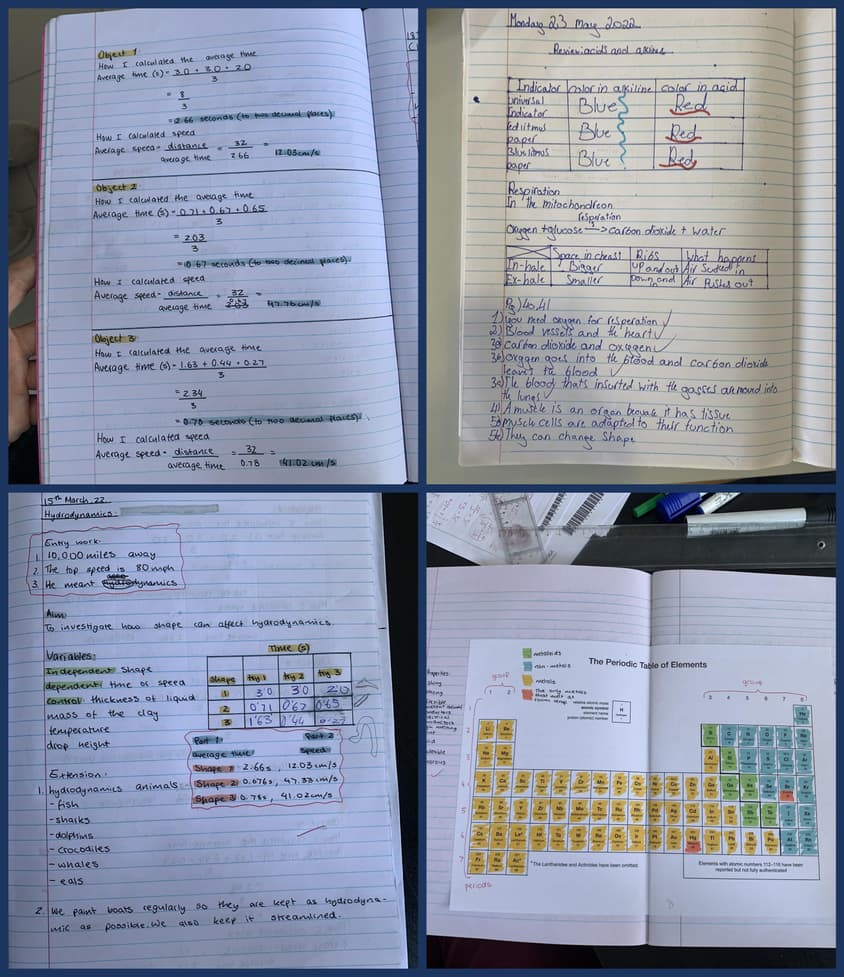 Languages department news
---
Secondary students have been working intensively in preparation for the End of Year exams in First and Foreign Language German. Years 7-9 have now completed their speaking examinations and are facing the written exams next week.
Year 8 (First Language students) were asked to prepare a presentation about a topic of their choice. Not only was it about the topic itself but also about improving the quality of their presentation, both on the document and when speaking to the class, being a helpful tool for all other subjects:

A little insight into reading projects in Secondary…

In Year 9 Foreign Language, the students worked hard in preparing their End of Year examination and made detailed revision notes
Creative Arts department news
---
ART
Year 8 one point perspective
Year 9 observational drawing of a shoe

DRAMA
We are really excited to announce our upcoming Summer Concert, which will be taking place in the school canteen at 3pm on Friday 10th June. This will showcase a range of dance, music and drama performances from Years 5 - 13. Parents of those taking part have been sent a letter, but we would like to invite all parents to attend. Due to limited seating in the hall we do ask you to complete the Google form below to reserve your seats if you do wish to attend.
Meanwhile, our GCSE and A Level drama and music students have been busy preparing for their written exams. Well done to the GCSE drama students who have taken theirs, I am proud of how hard you worked and all your revision. Good luck to the rest of the students who still have exams to come! Below you can see our A Level drama students proudly presenting an essay plan they worked on together using past paper examples and the grading criteria to help them plan to achieve top marks.
Year 8´s have continued work on their devising drama unit, exploring how to create original pieces of drama. Below we can see some of 8/1 in action.

SPORTS
We are delighted to confirm that the secondary Sports Day will take place at Magaulf athletics track between 8.45am and 12pm on Thursday 23rd June.
Parents are kindly asked to drop secondary students at the track before the usual school start time of 8.45am. Students will walk back to school accompanied by staff at the conclusion of the event. In the afternoon it will be the secondary swim gala.
Parents are also invited to attend the athletics event at Magaluf. The swim gala will be a closed event without spectators.
Students will have the opportunity to sign up for events with their Head of House in the coming weeks. Please encourage your child to take part.
Swimming has also started this week in PE lessons and the students have been enjoying using the pool!