Your guide to all news at school.
Ms Alison Colwell, Principal
---
Dear families,
One of the many strengths of our school is the internationalism that runs at its very heart. From the celebration of countries and cultures (our students represent over 45 nationalities), to the high quality teaching of languages that lies at the heart of our curriculum, to the promotion of festivals, events, traditions and the cuisines of numerous different countries, our internationalism is as important to us as our focus on British high standards and values. This was also evident in the recent school trip to Paris, which was a wonderful opportunity for our students learning French to get an insight into this amazing city and to practise their French. I went along for part of the trip, and it was joyous to see the students enjoying a wealth of activities and experiences - huge thanks to the staff who accompanied and especially to Mme. Etienne who organised the whole event with exceptional thoughtfulness and attention to detail.

With two weeks left to go, we will, at the end of term, say farewell and thank you to a number of colleagues, but in advance of that we introduce in today's newsletter the new staff who we are very much looking forward to welcoming to our school next term.
Enjoy your weekend,
Alison Colwell
Principal
Baleares International College, Sa Porrassa
New staff:
---
We are delighted to introduce our new staff members who will join us in the next academic year 2022-23.
Greetings BIC staff, parents and, most importantly, students. I'm so thrilled to think that, in 5 months time, I shall be with you all as your Head of Secondary. In the coming months, I'm looking forward to working with Ms Tomlinson and Ms Colwell and learning everything I can about BIC Sa Porrassa to make sure we hit the ground running next September and make 2023 an outstanding year for BIC...

Continue reading by clicking below.
Phil Brown
Head of Secondary
Hello everyone, my name is Miss Wilson, I will be teaching Physics GCSE and A-Level from September of this year. I am very excited to join your school and have heard wonderful things about the great work you do at BIC. I will be moving from London in the summer and look forward to meeting you all in September!
Ruby Wilson
Teacher of Physics | Secondary
I fell in love with BIC Sa Porrassa the moment I walked in. I am a Cornish girl, with a passion for learning, the outdoors and most importantly educating young people. I am looking forward to moving to the island and working with my new colleagues, students and parents.
Amy Brimacombe
Teacher of Humanities | Secondary
I'm Alex Tatham, a maths teacher joining Baleares International College! I joined the teaching profession in central London after working in the City's financial district, and love talking about all things maths.
I'm excited to be joining the community at Baleares International College and cannot wait to meet you all in the new year!
Alex Tatham
Teacher of Mathematics | Secondary
I am excited to be joining BIC in September. Geography is rooted in people, place and the environment, it is learning about the experiences and contrasts that places offers. I'm coming from the Lake District in the north of England, and I am looking forward to being part of the BIC community.
John Walsh
Teacher of Humanities | Secondary
My name is Miss Dunn and I am a maths teacher from Scotland! I am looking forward to joining BIC in September 2022. I am most looking forward to meeting new faces, living in the sun and of course working with the team at BIC!
Louise Dunn
Teacher of Mathematics | Secondary
Having grown up in York, I have spent many years moving about the UK. I moved up to Scotland to study History at the University of Edinburgh and then ventured south to London to teach. I'm now incredibly excited to start my next venture on the beautiful island of Mallorca and share my passion for all things History and Politics with the pupils of BIC. I am particularly keen to teach the British Curriculum with a more international outlook to help give pupils an understanding of the wider world around them.
Flora Dallas
Teacher of Humanities | Secondary

Ms Alexandra Tomlinson, Head of Secondary
---
The privilege of learning in an international setting.
I often speak of what we do at BIC to ensure that our students leave our school as confident Global Citizens, respectful and understanding of other cultures and able to communicate with them all.
That this contributes to world peace may seem unattainable and a pipe dream but I am reminded of the story surrounding Thatcher and Gorbachev´s first few meetings, the outcomes of which were instrumental in ending the Cold War. As a result of both parties´ mutual commitment to understanding there followed vigorous debate, frequent agreement and mutual learning. Thatcher reported back that there was someone that, "we could do business with".
I would like to think that our young people, not just when they leave, but also throughout their time, demonstrate those skills of debate, agreement and mutual learning in all aspects of their interactions with each other and those outside of the school. They are in a privileged position, using the leadership attributes we imbue them with here at BIC as well as their knowledge of their fellow students' international backgrounds, to use their skills to bring about prosperity, peace and understanding within their own lives and communities.
Alexandra Tomlinson
Head of Secondary

Mr John Barter - Head of Sixth Form
---
New Internationalism
I recently attended a conference at EU Business School in Geneva for careers and university counsellors. The key focus was on preparing students for a 21st century global economy; preparing young people for team working, independent thinking, innovation and creativity. The aim was that these young people should be fast acting, independent of mind and prepared to do things differently. One thing the Business School was doing (and they recognised that many other global universities were doing the same) was delivering their courses in English, as the common language of business. Through this medium, the other skills would be developed.
It made me think of our Sixth Form here at BIC, as our mission and strategy are very much the same. I remembered the 'criticism' of one young person who joined Year 12 last September, a month or so later. Whilst she loved the school (the teaching was excellent, she was enjoying all of her subjects and she was making lots of friends) and whilst she recognised that her English was improving daily, she had hoped that the students would be speaking in Spanish at breaktimes and this would help her to learn the Spanish language. She had been disappointed to find out that the students spoke in English in their lessons and in their non-lesson time. She recognised that this was due to the international make-up of the student body in the Sixth Form; truly international in composition, the English language brings the students together and gives them their commonality. We did manage to provide beginners Spanish for this student (and some peers), but it emphasised how well BIC would be preparing our students for life after school by immersing them in the English language despite their different backgrounds.
The most recent analysis I did of the Sixth Form showed me that, although 33% of our Sixth Formers are from the UK, the other 67% comes from 17 different nations and from 5 different continents. It really is true to say that English binds them together. I still remain in awe of them as they often speak their home language (or home languages, as several have parents from two different nationalities) fluently, but then speak Spanish with a good deal more flair that I could ever aspire to (and some of them are totally fluent), as well as being fluent in English. They can move between several languages in a short conversation. It seems to me that they are so well-equipped for the new internationalism of the 21st century.
So when jobs, like the following, are advertised I am thinking that BIC Sixth Formers can be front of the queue:
'Ideally, you have a Master or PhD degree in Mathematics, Computer Science, or related field. You have strong analytical skills. You speak English fluently, any additional language is a plus. You have the ability to effectively work with multicultural teams across different time zones.'
https://www.energyjobline.com/job/senior-software-developer-m-f-d-fur-siemens-logistics-gmbh-8797312
'We are looking for people who are open-minded and curious, who optimistically face changes and want to work in an international, diverse team. Employees who unlock their full potential within their team. Who set high standards for themselves to make things better and demonstrate willingness to fill Vorsprung with life, every day again. Who want to take responsibility for their work, for Audi, for society, and for the future. Fluent English (as well as knowledge of another language if English is your native language, preferably German).'
https://www.audi.com/en/career/graduates/audi-global-graduate-program.html
John Barter
Head of Sixth Form
john.barter@balearesint.net

Whole School House System news
---
House Points Totals Update - Term 3
| | | | |
| --- | --- | --- | --- |
| Winton | Galileo | Roosevelt | Parks |
| 719 | 916 | 894 | 757 |
House Points Totals Update - 2021/22
| | | | |
| --- | --- | --- | --- |
| Winton | Galileo | Roosevelt | Parks |
| 3110 | 4135 | 3574 | 3425 |
A message from your Heads of House
As we approach the last few weeks of the term I know that many of you are excited for the summer holidays but it is great to see the hard work continuing in lessons and lots of you are earning House points to help raise our position in the leaderboard. I have seen many of you studying hard for your exams, keep it up. It was great to see you all in our House assembly where we discussed the school value of compassion. Good luck to everyone who is representing Parks in the secondary Sport Day on 23rd June. It will be a fantastic event.
Miss Xidakis, Head of Parks House
Sports Day is on the horizon, and I know many of you are really excited. We were victorious in Sports Day last year, and I am certain we can do it again! I can't wait to watch you compete, and a huge thanks must go to the PE department for arranging the athletics stadium for us, it will be a fantastic event. You are doing a great job at continuing to earn House Points, consistently challenging Galileo for the top of the leaderboard. I am proud of all of the work you are putting in as we approach the end of the school year.
Miss Mayes, Head of Roosevelt House
Keep up the excellent work. A few more weeks and then fingers crossed we will be crowned champions! Good luck to all secondary students for Sports Day next week. I am very much looking forward to it. If anyone has any amazing ideas for competitions or things you would like to do in Galileo next year then please come and see me or send me an email and I will see what I can do.
Miss Turley, Head of Galileo House
Keep going with those House Points Winton! Sports Day is next week and I know we have a good chance of winning loads of events so we could still beat Parks! Sports Day sign up continues this week - thank you to everyone who has put themselves forward to compete. I am excited to see you all take part and represent Winton House.
Mrs Florey, Head of Winton House
Maths department news
---
Key Stage 3 Problem of the Week
There is only one Key Stage 3 Problem of the Week left for the 21/22 school year. The competition for top spot this term is tight with Carlitos and Samuel very close. Every problem counts!
Here is Carlitos´solution to last week´s problem. It is fantastic to see a Year 8 student produce this level of work.

Humanities department news
---
The humanities department would like to celebrate the success of a large number of students for their exemplary work and effort during the recent exam period.
At KS3, students were able to practise important exam techniques that will help to equip them with success in later years.
Leon wrote an excellent PEEL paragraph about the Storming of the Bastille that we studied last term. He had a perfect balance of accurate knowledge and a close focus on the exact question.

Teo in Year 10 structured his work accurately so that he was able to create a clear and well reasoned argument which is essential in GCSE history.

An important part of academic life is learning how to structure work in different subjects. Florian Wiegel has mastered analytical essay writing for GCSE history.

In KS3 geography, students displayed some impressive geographical knowledge and skills.
Lily in Year 9 showed excellent use of resources in her description of a map showing oil consumption as well as her account of the course of the Colorado River.

Sebastian in Year 8 showed excellent knowledge on both the impacts of the Haiti earthquake of 2010 and of the possible benefits of volcanic activity.
Marley in Year 8 proved he has a clear understanding of plate tectonic theory.

English department news
---
In our study of the media, we have been focussing on different camera shots and diegetic and non-diegetic sound while considering their effect on an audience. Students in Year 7 created storyboards and presented to the class the intended effect of each of the camera shots.
The students in Year 10 are currently studying poetry as part of their poetry anthology unit for the iGCSE English Literature course.
Here are a few superb annotations from some of our wonderful students:
By Daniella and Victoria in Year 10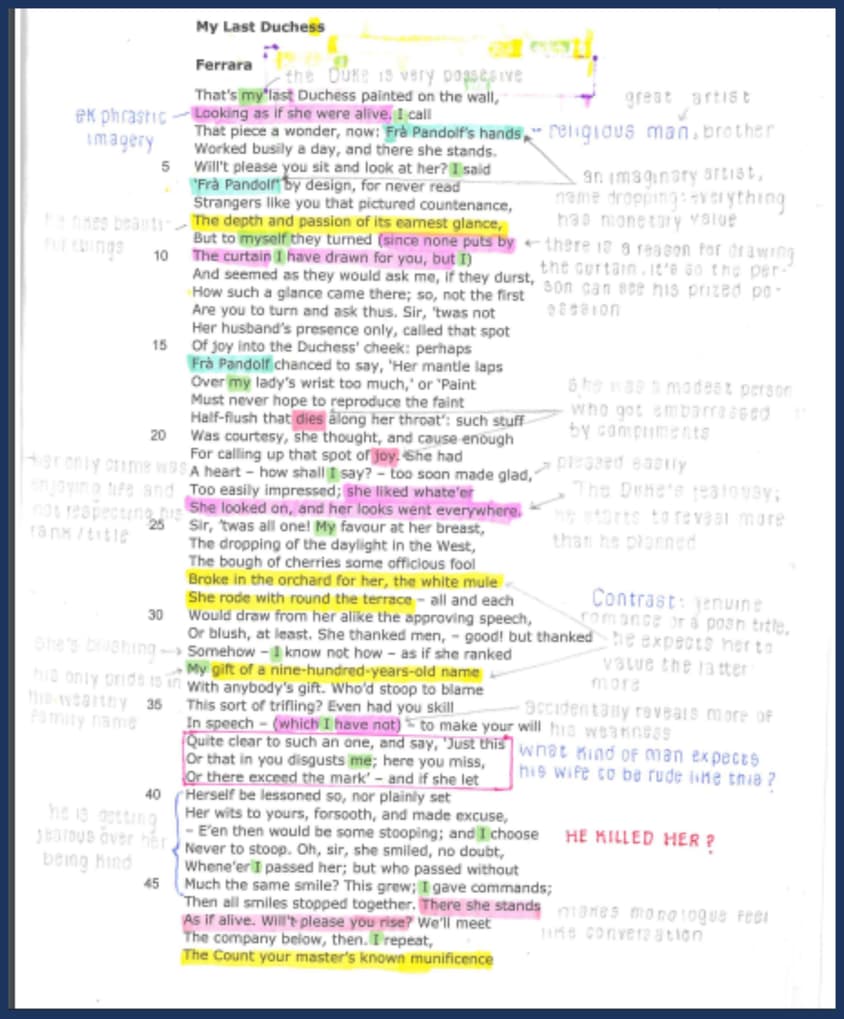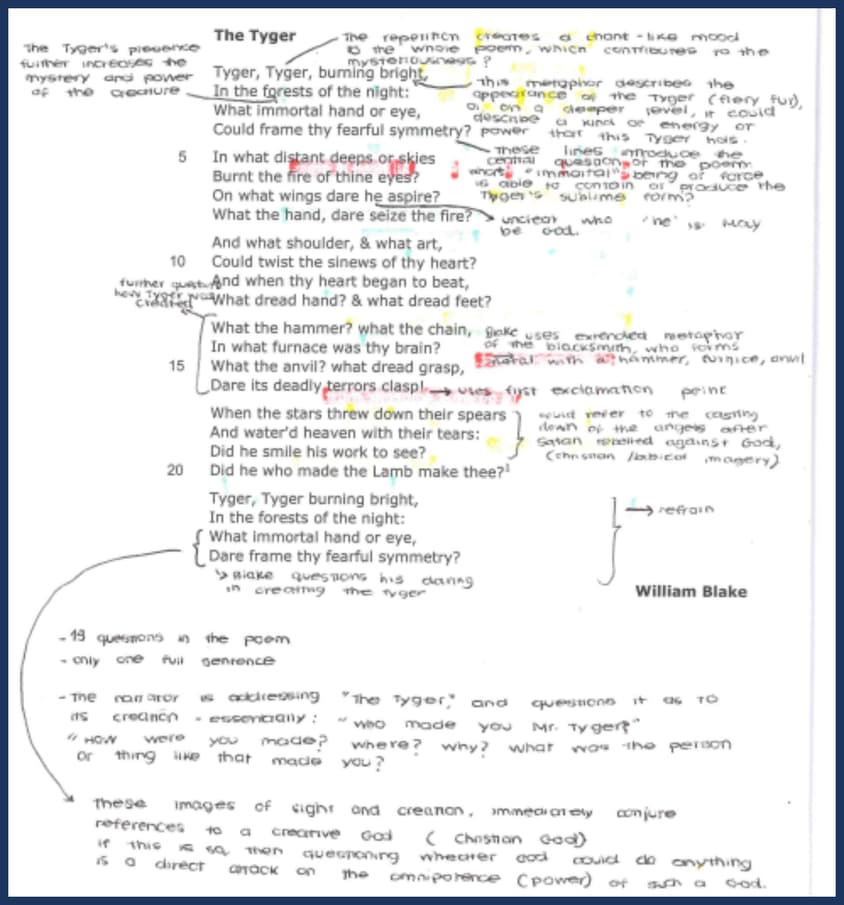 Science department news
---
Our wonderful students have either recently completed their end of year exams or they are completing them as we speak. KS4 students have had the opportunity to complete an in-depth review of their successes and areas for development so that they are able to effectively identify next steps in their learning. KS3 students are trialling a new approach to their end of year assessment and they are completing broad knowledge reviews in biology, chemistry and physics. This has enabled us as teachers to have rapid diagnostic feedback before being able to identify misconceptions in the class and reconstruct the learning in a more accurate way. Here are some photos of our students preparing for their assessment, being assessed, analysing their scores and getting feedback in order to dispel misconceptions and to strengthen learning.
We understand that you are passionate about supporting learning at home. For this reason, we are making the following formative assessments available to all students online. These assessments judge students' recall and understanding against our mastery outcomes in science. Our recommendation is that all students in Year 9-10 complete the biology, chemistry and physics assessments before reviewing the feedback (via email) and addressing areas for development using the linked web pages in the mastery sheet during the holiday. The students can complete these assessments as many times as they want. A record will be kept by science staff helping us to plan lessons that challenge our students next year.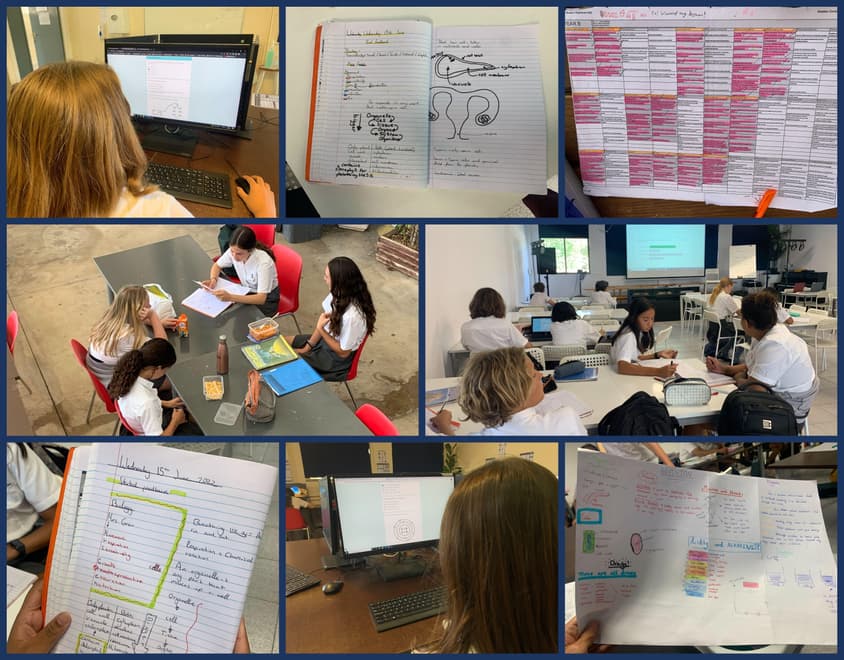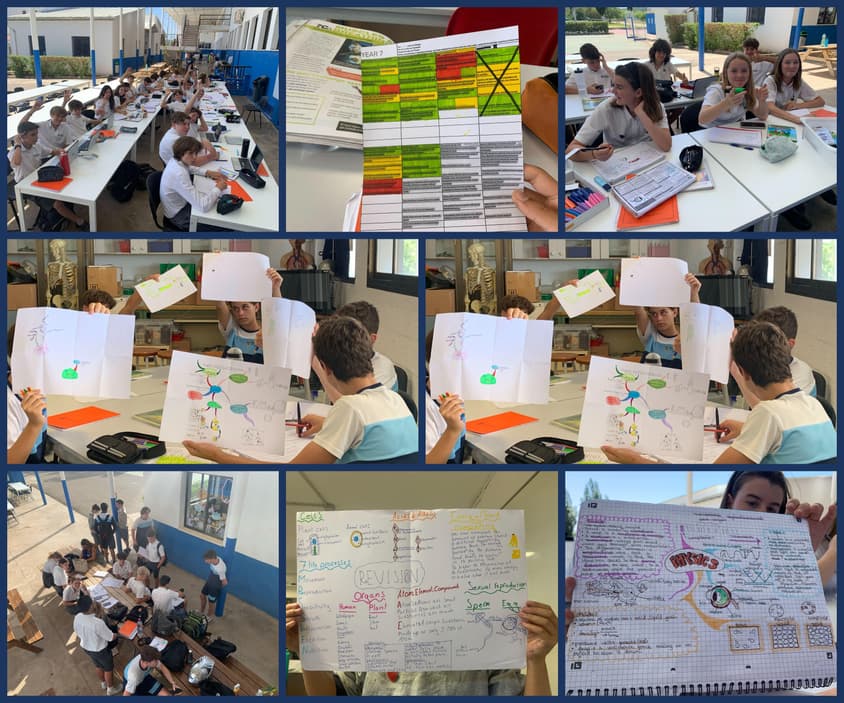 The science refurbishment is picking up pace here in school. Here are some photographs of the journey so far!

Language department news
---
Students from Year 11 have been working on the II Spanish Republic and the origins and development of the Spanish Civil War. The students have been able to study the details of the Constitution from 1931 .
We have discussed in class the causes of the Civil War and how it developed in the Balearic Islands. We also watched different videos that showed how Majorca was during this hard period. It has been very enriching for everyone to know more about this period of Spanish history.

Creative Arts department news
---
DRAMA
Year 7 students have explored pop music from a variety of angles this term, and one way has been using music technology to create pop music using samples and loops. Below are some screenshots of their projects.
Felipe, Christopher and David
Meanwhile, in Year 13, Olivia has been working towards her dance exams next week that she will take with the International Dance Teachers Association. Alongside her Intermediate exams in ballet and contemporary jazz, the Monday ballet club will also take their Grade 3 certificate, and drama students will complete a certificate for monologues they have prepared. Below is Olivia rehearsing her choreography in preparation.

PE
Secondary Sports Day is one week away and students have been signing up for their athletics events and the swim gala. As you will have seen in my letter last week, the event is taking place at Calvia athletics stadium on the outskirts of Magaluf, a short distance from school. Please arrange for your child to go directly to the track at the beginning of the school day by 8.45am at the latest. We will walk back to school following the event.

Wellness and Vegetable Gardens
---
A HUGE thank you to Esther and her team at Sa Porassa garden centre, who have responded to our request for ´stuff´for the gardens projects at school by delivery a tonne of soil, and 50 wooden pallets which will be used to create all sorts of planting and seating structures for the wellness garden.
BEFORE - thank you Esther!

AFTER - next term, and onwards

The sunflower House competition is growing (sorry…) - first flowers out and the others not far behind!