Your guide to all news at school.
Ms Alison Colwell, Principal
---
Dear families,

As you know, the quality of teaching and learning, and the happiness and wellbeing of our students, are my top priorities. However, ensuring an excellent learning environment is also very important, and you will have seen that over the last couple of years we have put significant investment into the school and seen some excellent developments. The wonderful swimming pool was totally renovated, we now have outstanding science laboratories, the sports hall has been transformed as has the canteen, and next month we will be putting down a brand new specialist floor in the sports hall.

As we look to sunnier and warmer days in the hopefully not too distant future, our thoughts are turning to developing some of our outside space. The PTA, which has been so supportive and involved with many of our projects, is going to be transforming our blossoming vegetable patch into a whole garden, and we are also going to be creating an outside wellbeing and learning area behind the swimming pool. Lots of work to be done but both these projects will have a hugely positive impact on our students, always our aim. Please look out for communication from Paula and Matt and thank you in advance for any muscle power or specialist help you can give.

This is sad newsletter in one respect, as it is the final one put together by our wonderful Janine. As you know, Janine is our Marketing and Admissions Manager and she is moving on to a promotion in a different organisation. She will be missed greatly. She has been a fantastic member of the team over the last 4 years. She has brought incredible energy, enthusiasm and positivity, as well as of course her professional expertise and knowledge. In addition, her humour and sense of fun have brightened many a day, and we wish her great success and much happiness in her next exciting chapter.
Wishing you a great weekend,
Kind regards,
Alison Colwell
Principal
Baleares International College, Sa Porrassa
Mr Philip Brown, Head of Secondary
---
It has been a full-speed return to school for this first fortnight back after the holidays. A focus for our whole school this term is to revisit and clarify our expectations around the school values. All of our students and staff could confidently say that our five core values are Excellence, Respect, Responsibility, Integrity and Compassion, but it is equally important that we continue to share our understanding of what each of those values mean in practice.
This week's specific focus has been on how we manifest responsibility by ensuring that we have the correct equipment and uniform when we arrive at school every day. This is particularly important as we are now in the final phase of our school´s BYOD initiative for Year 6-13 where all of our students must now bring in electronic devices to be able to engage with the range of activities and opportunities our teachers create for the curriculum.
The BYOD policy is one of the crucial adaptations our school has made in order to prepare students for life beyond school in the 21st Century, where academic intelligence, application skills, a wide knowledge base and technical literacy are all required to go hand in hand in the modern workplace. It is a pleasure to see the many ways in which our students and teachers are embracing this development to create exciting learning experiences.
The last 8 school days have also been that crucial period for our Year 11-13 students; the mock examinations. It has been great to see how seriously our students have been taking these exams and I´m looking forward to going through the results as they come in. To all of our students who have just sat these examinations, please remember that the point of the mocks is to show us what still needs to be done whilst we still have plenty of time to get you ready for the summer exam series. Some of your papers will have been more successful than others… the important thing is that we all continue to learn from the things which we have found most difficult.
Wishing you all a wonderful weekend.
Phil Brown
Head of Secondary

Mr John Barter - Head of Sixth Form
---
Getting back to good habits

On Monday, the Sixth Form return to formal lessons after holidays and exams (mock and formal/external exams). I think that we will all be excited by the prospect of getting back to the joy of learning and making progress as class 'teams'; I have missed being with my classes and I am sure my colleagues would say the same. Although the summer exams seem a long way off, time will move quickly and they will soon be with us. So, it is essential that students learn from the mistakes made in the preparation and writing of this last set of exams. Errors will have been made and there is no time for misery, panic or self-loathing. Everyone needs to pick up the baton and move ahead positively. In general, most students will see a big improvement on the summer grade compared to the mocks so please trust our teachers to see the students to the best outcomes. If they have specific concerns about individuals, they will contact you. They will also talk with you on Wednesday 8th February at our Parents Evening. Please make appointments to meet with them and to hear what they have to say about your son's or daughter's progress.

Evidence of how students learn from previous exam performance comes from Selina and Clementine in Year 13. Having achieved 'only' a B in a biology module in the summer, Selina re-rook it in November and achieved 100%; this is an almost impossible task but it became her fourth AS module at 100%. Clementine re-took five modules, having been disappointed with her summer grades. She jumped several grades achieving A, A, A, B and B in her retakes. Both girls have been single-minded in lessons and study time, and totally deserve this success. They are great students and role models. They show that success has to be earned but that hard work pays off in the end. I hope other students will learn from these examples.
Lastly, thinking of success that arises from hard work, I would like to congratulate Theo and Michelle in Year 12 who both achieved Outstanding Learner Awards from Cambridge International this week, for their IGCSE scores in French and German, respectively, last summer. They achieved the highest scores in Spain; there are a lot of international schools in Spain using Cambridge International so the competition would have been fierce! Well done, too, to the teachers, Ms Etienne and Ms Ditthard, whose teaching and encouragement saw the students to these fantastic awards. For Ms Ditthard this was the second consecutive year that one of her students achieved this award. Our students are very lucky to have such excellent support.

John Barter
Head of Sixth Form
john.barter@balearesint.net

Whole School House System news
---
House Points Totals Update - Term 2

| | | | |
| --- | --- | --- | --- |
| Winton | Galileo | Roosevelt | Parks |
| 255 | 186 | 144 | 229 |
House Points Totals Update 2022-23
| | | | |
| --- | --- | --- | --- |
| Winton | Galileo | Roosevelt | Parks |
| 3304 | 3307 | 3301 | 3336 |
A message from your Heads of House
Welcome back Parks, it was great to see you all in assembly on Tuesday morning and a special welcome to our new families joining us.

In our House assembly this week we talked about Martin Luther King and Rosa Parks, reinforcing one of our team objectives of equality and how essential this is in our community. Next week, we have our first House Council meeting of 2023 on Friday, so please talk to your House Captains and Vice Captains about anything you would like discussing. I wish you all a great weekend.
Miss Xidakis, Head of Parks House
Welcome back to everyone in Roosevelt. It has already been a busy start to the new term, and I would like to say well done to all of our Year 11 and 6th form students for their hard work in revising for and taking exams that have been taking place over these first couple of weeks. It was great to see all of you in Year 7 to 10 in assembly on Thursday. There are lots of exciting events happening this term so keep your eyes peeled. The first House Council is next Friday for all our House Captains and Vice Captains. I would also especially like to welcome all of the new families in our House, I look forward to getting to know you all.
Miss Mayes, Head of Roosevelt House
It has been fantastic to see everyone back and happy after the holidays. A special warm welcome to families who have just joined the school. This promises to be a great term with lots of events for students to get involved in. The first House Council meeting of this term is next Friday so please speak to our House Captains and Vice Captains about anything you would like them to bring up.
Miss Turley, Head of Galileo House
Welcome back to everybody in Winton, it has been great to hear about what you have been up to over the break. We have already had a great start to the year and have much more to look forward to this term. A reminder to all House Captains and Vice Captains about next Friday´s House Council meeting; please bring all your fantastic ideas about what you would like to see at BIC in 2023!
Miss Wilson, Head of Winton House
The Duke of Edinburgh International Award
---
The first hike of the year is taking place on Sunday 29th January, when our intrepid expedition group from Year 11 will be tackling the awesome Mola de s'Esclop! They plan to get up and down again over 15km in around 4 hours which is pretty tough anyway, but as this is a practice for their formal expedition next month they will be carrying their full kit of tents, sleeping and cooking gear as well as group kit.
Good luck to Lucia, Florian, Theo, Daniella, Sanja, Ellie and Kai.
*** Call for help, advice *** Our new Year 10 participants all need to complete the volunteering section of the award, where they commit to volunteering their time over a number of months to benefit the local community. If anyone can offer the opportunity for students to volunteer please get in touch with Mr Kingston-Bray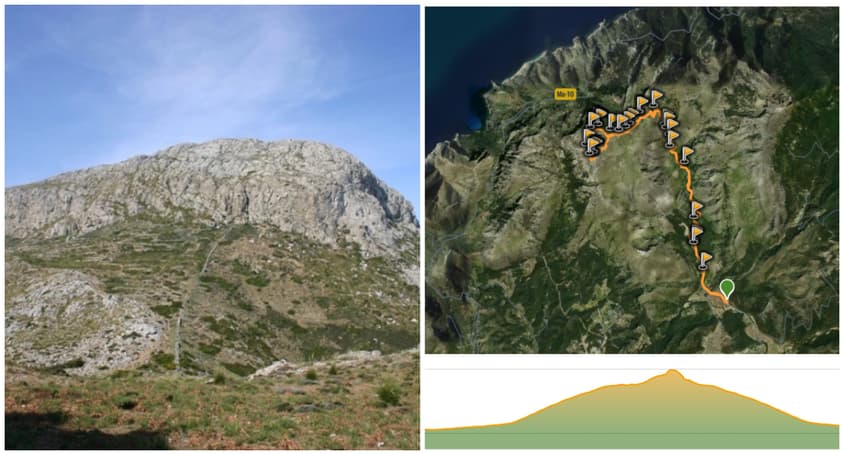 Outstanding Cambridge Learner Awards, Spain
---
Outstanding Cambridge Learner Awards, Spain

Théo and Michelle have received awards from Cambridge as outstanding Cambridge Learner for gaining Highest achievement in Spain June 2022 exams for -
First Language French IGCSE
First Language German IGCSE

The Outstanding Learners Award recognises the students' exceptional performance, talent and hard work. We express to our students our biggest congratulations!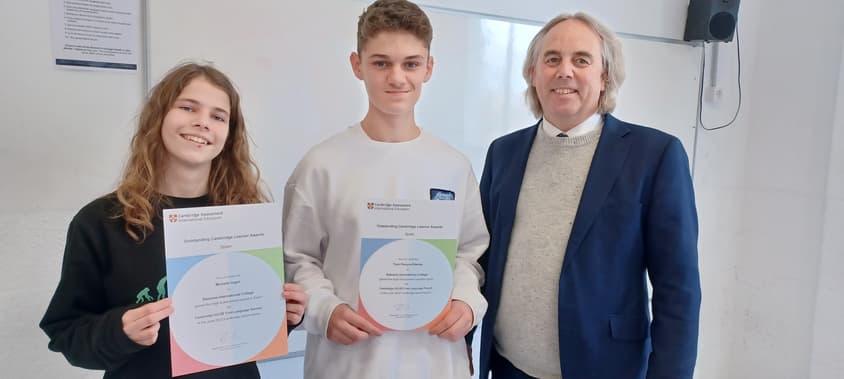 Maths department news
---
Intermediate UKMT Challenge approaches
Our top Year 9 and 10 mathematicians will be testing their problem solving skills on Wednesday 1st of February in the prestigious UKMT Intermediate Challenge. The students will be using class time, lunch times and homework to prepare for the competition. It is an exciting opportunity for the students to test themselves in the premier mathematics competition in the United Kingdom. Here is an example of a problem from last year's competition. Do send an email to Mike.Cachia@balearesint.net if you find a solution.

Key Stage 3 Problem of the Week returns today…
After a very close fought competition in Term 1, Key Stage 3 Problem of the Week returns this week. This initiative has been such a success and students who are regularly involved are starting to reap the benefits. Please do encourage your child to get involved. Here is this week´s problem!

English department news
---
This week, Kate and John from the Rotary came into school to award our debaters with their newly engraved trophies for their success in the inter-school debating competition. Ava received her award for best overall debater of the competition, while Imogen received the trophy on behalf of the whole team - Ava, Manuel and Imogen - for coming second place in the competition; the award is on proud display in the school reception. Many thanks to Kate and John. We look forward to taking part next year.

Humanities department news
---
Humanities teachers are exploiting opportunities for students to use devices in lessons to improve knowledge and understanding. The use of devices also helps to support students who are not yet fluent in English so they can quickly translate new phrases and vocabulary.

Science department news
---
The students recently enjoyed investigating the energy content in food before evaluating their findings using a collaborative evaluation approach using Google Sheets. In Computer Science, our students also had the opportunity to try some of our recently installed new technology.
Year 11 students have been working hard in the run up to mock examinations. As always, we have used evidence based approaches to try and support them in developing and nurturing optimal study habits using the variety of resources we have made available to them. Take a look at the giant revision posters and habit trackers in the attached document that follows.
Finally, you will see in these photographs that the students have been using mobile Bunsen burners. These have now been decommissioned as we have received all the relevant licences to use the plumbed-in Bunsen burners in our new labs. We are the only school on the island that offers the provision of four bespoke state of the art science laboratories complete with plumbed in gas.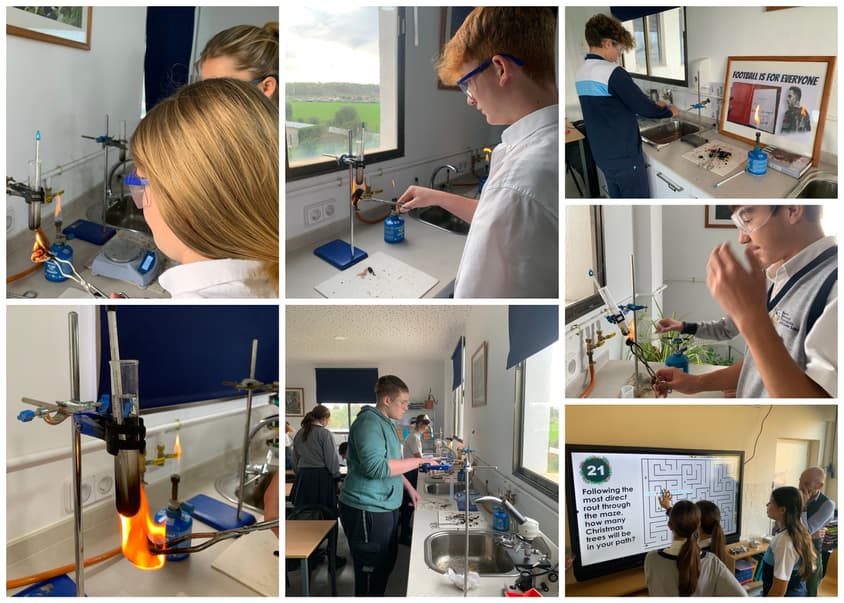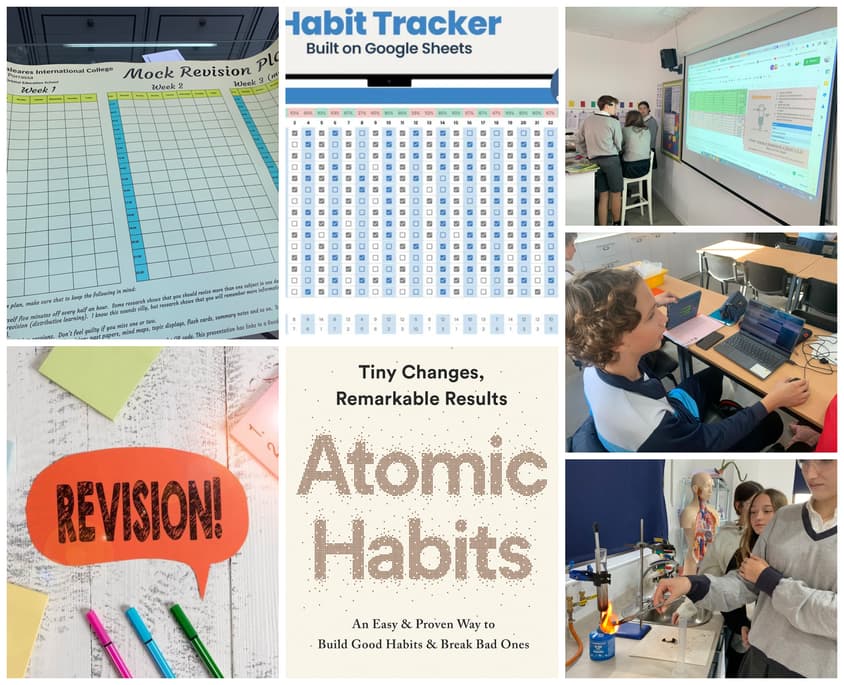 Languages department news
---
In Señorita Maldonado's class, Year 7 has worked really hard on producing a fashion show in Spanish. Their tasks included researching, designing the perfect outfits, producing a script and practising for the runaway show. All the fashion designers and models captivated the audience throughout the show and created an engaging experience. ¡Buen trabajo!

Performing Arts department news - BIC Rocks You Musical
---
We are very excited about our upcoming production ´BIC Rocks You´, which is coming up very soon. Peguera auditorium has been booked for our performance, and all students taking part cannot wait to share with you all what they have been working so hard on. You can book your tickets now, by filling in our booking form which you can find here. Tickets are €12, and you can pay for them by transferring into the school account.
Meanwhile, in lessons, Year 8 have completed their ukulele assessment this week, following spending time developing their ukulele skills last term. Below you can see some of them in action.