A video message from Alison Colwell, Principal | Mrs Alexandra Tomlinson, Head of Secondary | Mrs Elizabeth Compton, Head of Primary | Mr John Barter, Head of Sixth Form
A Parent Webinar - Internet Safety
Dear families,
We are delighted to invite you to our next upcoming BIC Connect webinar for parents about Internet Safety on Thursday 25th March at 5.30pm. It is known that internet safety around young people has become a concern in recent years. At BIC we are committed to protecting our students and providing them with knowledge and understanding of the online environment, to keep them safe and to make them aware of the positive as well as negative effects of its usage.
As part of this programme, the school has organised an afternoon for all our students in school, which includes important activities that will give them different perspectives and will teach them how to use technology correctly.
Our parents' collaboration in this is vital, and we trust that you will work together with us to keep our children safe. The aim of this webinar is to talk about how best you can support your sons and daughters in understanding the impact of technology and to give you useful advise on different tools and systems which will enable your children to be protected whilst surfing.
At the end of the webinar, we will be holding an interactive Q&A session where you will be able to ask any questions you may have as well as share ideas that you think may help.

In order to register for the webinar please click here: A Parent Webinar - Internet Safety
We look forward to welcoming you all.
Kind regards

Ms Elizabeth Compton, Head of Primary
Awareness Afternoon- Thursday 25th March
Next Thursday afternoon the whole school will be pausing the curriculum in order to focus our attention on safety, the internet, student wellbeing and kindness.
There are an array of awareness activities arranged and we are really looking forward to an impactful and thought provoking experience for all our students on such important topics. Children will need to bring some ´´cosy socks´´ to school on that day ready for the afternoon!
A parent webinar will be held after school so please join us to find out more about online safety and how you can support your children from home.

Following on from the success of Book Week, Year 3 students wrote to our visiting author, Clive Pig to thank him for his virtual visit. We were so pleased to receive his reply!

Primary Parent Meetings Monday 29th and Tuesday 30th March

A reminder that on Monday 29th and Tuesday 30th March we will host virtual Primary Parent Teacher Meetings. This is an opportunity to discuss your child's academic learning so far this year with their form and specialist teachers.
Appointments, which will be virtual, can be selected from 4.10 pm and will run until 6.10 pm. As it is a video conferencing system it will limit you to an 8 minute appointment. It will not allow you to overrun, and at the end of the time slot, the teacher will ´move´ to their next appointment.
You can book appointments, from now, for your preferred times on the following portal:
https://balearesinternational.schoolcloud.co.uk
You will need your Parent Portal user account to login to make a booking. Please contact parentportal@balearesint.net for any technical issues.
Once you have logged in you will see the option to book appointments with your child's teacher. Once you have booked your appointment you should receive an email that includes a link to the event. Details on how to make your appointments are attached.
Aside from our set parent meeting dates, all our teachers and myself are available at any time to meet with you to discuss your child. Please email the relevant teacher to make an appointment.
Ms Compton
Head of Primary

Early Years and Year 1 News with Mrs Wardle and Mr Fairless
In Year 1 the children have been working hard to shape and create character descriptions. The children were also very interested in finding out about our local area when we went on a trip to see what is in the area around our school.

Year 2 News with Ms I'Anson and Ms Bakes
This week in art, Year 2 started preparing for Easter by making sun-catchers and creating Easter Baskets.

We were very lucky with the weather and enjoyed sport in the sunshine. The children love suggesting warm up activities and showing off their skills.

During Circle Time, Year 2 have been using emoji dice to talk about feelings. We enjoyed trying to pull the same face as the one it had landed on, before talking about a time when we felt that way.

Year 2 have been learning about absorbency in science this week. They carried out an investigation in which they had to mop up a puddle of spilt water. They had to test a number of different materials to see which were the best at mopping up the water. As a result of this investigation, they found out which materials are absorbent and which are non-absorbent.

In Mrs Bakes' maths group, the children went shopping! They had to buy a number of items around the classroom which were labelled with different prices. They then had to find out the change they would receive from 10€ and 20€. Please encourage your child to help you work out how much change you should receive next time you go shopping!

Year 3 News with Mrs West and Miss Xidakis
In science, Year 3 are learning about fruits and seeds and how seeds are dispersed.
Firstly, we examined a range of fruits and identified the different seeds. We had fun using a magnifying glass to take a closer look at the samples.

Next we matched up images of a range of fruits and trees with their corresponding seeds and then classified them into seeds we eat and seeds we do not eat.

We then went on to complete observational drawings, identifying the skin, flesh and seed for each fruit.

In English this week we have continued to learn about letter writing.
On Monday, we learned about formal and informal letters - comparing examples and highlighting the different language used in each letter.

Then, in the following English lesson we listed ideas for and against the school uniform which we used to support our writing of a persuasive letter to Ms Colwell. Some students argued for school uniforms and others against. Watch this space to find out more!

We learnt different features of letter writing and it is fun!
Mahek - Year 3 student
I hope to change Ms Colwell´s opinion about school uniform.´
Sebastian - Year 3 student
It was fun to write to the Principal.
Patricia - Year 3 student
On Monday, it was Pi Day so we completed tasks to explore what makes a perfect circle. Mrs West's maths group have been learning about right angles and the children used a monster angle measurer to find perfect corners around the classroom. We have also been sorting 2D shapes based on their properties.

...and last but not least we also finished off our weaving art project. Year 3 were very impressed with how they turned out.

Year 4 News with Mrs Alonso McGregor and Mrs Walsh
We started the week with International Maths Day and thoroughly enjoyed learning about diameter and circumference and investigating patterns within circles.

It was time for our next topic in science too, Sound! A sound walk around the school grounds encouraged us to really open our ears and listen. Paper ear trumpets helped too and we were able to identify loud and soft sounds.

In class, we have been identifying the different learning styles that suit us best (visual, auditory or kinesthetic) and so those of use with a preference for movement while learning particularly loved acting out how sound travels through our ears.

Our studies in English have taken us to the magical world of myths and legends and we have loved listening to and reading stories from each category and learning the differences between them. Acting out a legend from China, The Magic Paintbrush, was lots of fun and helped us to appreciate the structure of this type of story.

This week, Mrs AM´s maths class enjoyed learning how to read and plot coordinates. They created a giant coordinates grid on the playground and, in teams, collected points hidden under the coordinates. A great way to practise how to read coordinates.

Year 5 News with Ms Hodgson and Ms Demangeat
Year 5 thoroughly enjoyed Pi Day, using string to investigate the relationship between the diameter of a circle and its circumference and discovering lots of other amazing things that can be done in circles.

The students were excited to put their parachutes to the test, launching them from the landing to investigate air resistance and drag. They were surprised which ones took the longest to land - not necessarily the ones they predicted!

Icy Antarctic landscapes and the fascinating biography of the intrepid polar explorer Sir Ernest Shackleton

Year 6 News with Mr Darlow, Mrs Von Waberer and Ms Roberts
Year 6 had a wonderful transition morning experiencing the delights of Secondary school. They were so excited to participate in exciting lessons on democracy, business, Shakespeare and many other fascinating subjects. They were especially thrilled to wear a lab coat and partake in some amazing experiments.

As part of their classification topic, the students have been learning about unicellular organisms. Yesterday they enjoyed making predictions about bacterial and fungal populations. Our results will be published next week!
My favourite lesson was Science because we were experimenting with red cabbage. It was so cool.
Alva - Year 6 student
I enjoyed the business lesson because Mrs Cruttenden made it really fun!
Teddy - Year 6 student
In Business we got to create our own cafe
Jakob - Year 6 student
In English I loved acting out some of Shakespeare's 'A Midsommer Night's Dream.
Riogh- Year 6 student
We talked about Democracy in our politics lesson and why it's so important. It was really interesting
Angie - Year 6 student
To celebrate Pi Day on Monday, we enjoyed drawing, measuring and calculating with circles. Check out our fantastic art when joining lines of different lengths inside a blank clock face!

Languages department news
Year 2 Spanish with Ms Rodríguez
Our fantastic Year 2 students have been learning about the parts of the body in Spanish. They have mastered the topic through visuals, written activities and songs. At the end of the topic they have done a closed book test with amazing results -accurate grammar and impressive spelling ¡Excelente!
Whole School House System news
MOVIE HOUSE COMPETITON - Think you are a world class actor or camera whizz?
This week we are excited to see entries coming in for our current competition ´The Movie Competition´. We can't wait to see what your favourite films are and how you choose to recreate a scene! Remember - the challenge is to recreate one scene in one minute with no editing or special effects - we want to see you using your creativity. For each student there are 2 House points to gain for entering, as well as 5 points for 3rd place, 7 for second and 10 for winning. That is per student - so if you choose to work with other students in your House you could make a huge difference to the leader board by winning!
I would like to congratulate all Parks team members for their wonderful work earning House points. We have now moved up the leaderboard into first position. I was extremely proud of the team during the Bleep test; winning second and third place in that competition. Well done and let's keep up the fantastic teamwork.
Miss Xidakis - Head of Parks House
I would like to congratulate Roosevelt students on all of their hard work this week and their continued success on earning House points. I have also been very proud to see members of Roosevelt House displaying kindness around the school - holding doors open and helping other students. Keep up the teamwork Roosevelt!
Miss Mayes - Head of Roosevelt House
Well done to students in Galileo House. You are working extremely hard and this has not gone unnoticed. A massive well done to Demi in Year 8 and Nacho in Year 13 who have been awarded the most number of House points so far this term. Let's see who can overtake them! I am looking forward to watching your amazing film scenes. Keep up the good work.
Miss Turley - Head of Galileo House
I would like to say a massive well done to everyone in Winton House. You continue to impress me with your hard work and dedication at school and it has been wonderful to speak to you all in our morning meetings to hear about your successes. I want to say a special well done to Gisele in Year 8 for winning the Extreme Read competition with her fantastic underwater shot. Jess Gilson in Year 12 has also shone brightly this week when her fabulous song was broadcast on the BBC radio, a fantastic example of our Winton House captains leading and inspiring us. Special well done to Daniel Maynell, Alex Matilla-Doyle, and Esme Sparks for collecting so many House points this term. Keep it up!
Ms Florey - Head of Winton House
House Points Totals Update - Term 2
| Winton | Galileo | Roosevelt | Parks |
| --- | --- | --- | --- |
| 597 | 539 | 605 | 624 |
Overall total House Points
| Winton | Galileo | Roosevelt | Parks |
| --- | --- | --- | --- |
| 1815 | 1751 | 1962 | 1966 |
Teacher Feature of the Week - Ms Elizbeth Compton - Head of Primary
I am so pleased that this week I was selected to be part of our popular ´teacher feature´. Even since moving into school leadership, I am and always will be a teacher. Working with students or teachers to develop and improve is my passion and, since a young age, it was one of the only two careers I wanted to do. My second choice was joining the army, something that my school supported me with through attending a cadets training program and even taking me to jump out of my first ever aeroplane just after my 16th birthday!

To be sure of my decision I decided to leave the very small farm I grew up on in England and see the world, actually the other side of it! I was offered a job to spend a year in New Zealand as a learning support assistant and after one week I knew this was for me. I returned to England, attended university and completed my PGCE teacher training. For several years I trained and worked in home schooling programmes for children with autism and inclusive British education has always been extremely important to me.
Many of you know I joined BIC from Shanghai, China where I was working in the leadership team of a prestigious international school with over 1000 students. This was a wonderful experience. However, on the day I flew over from China to Mallorca and remember the moment when I visited the school, I knew it was the place I wanted to continue my career. My international experience in Thailand, China and Spain (Valencia) has given me many opportunities and ideas to share here at BIC. Even though we have had a short pause due to the global pandemic I am so proud to be working with such an experienced group of teachers and leaders with our goal to make this the best school on the island.
I loved and continue to love school, and the challenges it brings, and I am sure that like me you also remember and have never forgotten those teachers who shaped and inspired you. This is my commitment to you and your children that we continuously work to ensure they also have a love of learning and a school experience to prepare them for a bright future, to be the best version of themselves and to achieve greatness.
Looking to the near future, my husband Vicente and I are very excited and really looking forward to the birth of our son this June, and would like to thank all the families and students for their kind messages and support.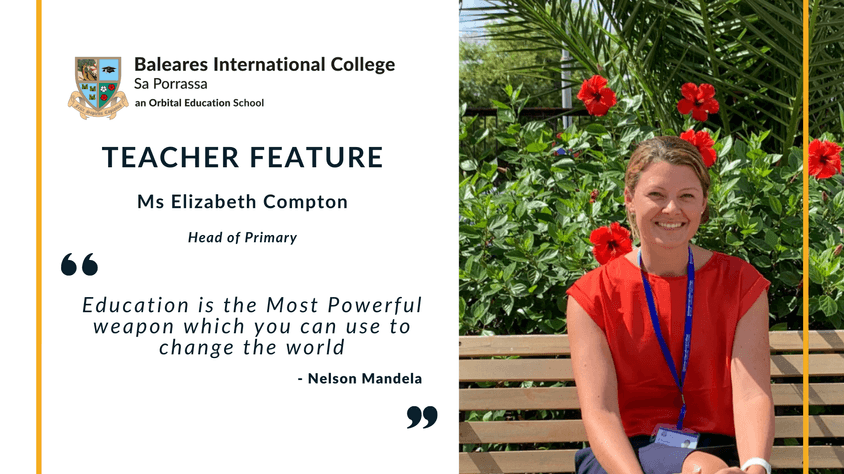 Movie Mornings at Cineciutat
We are delighted to share with you further information about our collaboration with Cineciutat Nins, located in the heart of Palma.
https://www.cineciutat.org/en.
- We are a cinema and sometimes theatre. We are a school and we are memories. We are ideas and innovation. We are culture. We are non-profit and self-managed by its members. #morethanacinema - Cineciutat -
Following last term's success, Cineciutat will be holding another Movie Morning for all of our parents and children next Sunday 28th March at 11:00. The screening will be "Snail and the Whale + We're going on a Bear Hunt".
We kindly invite you to join us for this fantastic concept and to share with your family and friends.
Tickets are available online under the following link: Tickets available HERE
We look forward to seeing you all there.