Your guide to all news at school.
Ms Alison Colwell, Principal
---
Dear families,
We have had a really wonderful start to the new school year. I hope that in this, our first full newsletter, you will enjoy seeing and reading about all the fun, learning and excitement we have had in the last two weeks.
I mentioned last week about the excellent exam results our young people achieved in the summer, results that were far higher than world wide averages at both GCSE and A'level, but of course exam success is only one (albeit important) element of a great school. We have all I'm sure been affected in different ways by the death of the Queen but a constant theme in all the tributes have been reference to her service and her values. Her sense of duty, her compassion, her virtues and her commitment to her role have all been highlighted as we reflect on a long life and reign. Developing values in our children and young people is as important to us as ensuring they reach their full academic potential. Our school values of compassion, integrity, excellence, respect and responsibility are values we refer to constantly in school, discuss, illustrate, highlight, acknowledge and reward. Being a well rounded, kind, considerate, thoughtful and honest person is, in my mind, the most important thing anyone should aim for. This year as last we will be having lots of events and opportunities whose aim it is to help to develop values, build character and allow our students to give service to others. Yesterday it was lovely to see Sixth Formers helping in the classrooms of primary children during our first Activities Afternoon, and it was heartening to hear of the camaraderie and support shown on the House bonding trips last week. Throughout the year ahead I look forward not only to more academic success but to examples of our values being lived and breathed by our wonderful students.
Wishing you a good weekend
Alison Colwell
Principal
Baleares International College, Sa Porrassa
Mr Philip Brown, Head of Secondary
---
Hello everyone in the BIC Community and thank you all for the warm welcome you have shown me since joining this wonderful school. It is surreal to think about how long the preparations have been for the start of this year - all the exciting conversations over Zoom with various teachers and team-mates whilst I was still posted over in Seychelles. Now we are all here in one building, new staff and old, all of us single-mindedly focussed on making this BIC´s most successful year to date.
It is a feeling universal to all schools that when the teachers come back after the summer to spend a couple of days planning lessons and meeting about plans for the future, the building feels like a very strange place. This is because, of course, nothing makes sense until our students return to the corridors and classrooms and playing fields and make a school a school.
It has been such a pleasure over these last two weeks to see how much energy, thought and care has gone into delivering an ambitious curriculum to our students through Years 7 - 13. Every lesson I´ve had the pleasure of popping into has been full of challenge, encouragement, structure and, most importantly, students who have come back from their summer holidays ready to start this year the right way.
We have certainly not had a slow start to this academic year, with a whole-school bonding trip taking place over the first 2 days of term, an exciting cross-curricular Activities Afternoon being held yesterday and a Year 9 and 10 sports event lined up for this coming Tuesday afternoon. Inside and outside of the classrooms, the staff and students at BIC have kicked this year off with the sort of enthusiasm and positivity that makes me so happy to see education returning to some sense of normality after the previous 2 disrupted years.
In schools, September is always a great time for optimism, for laying out our stall and clearly stating our intentions for what we want to achieve this year. So, I encourage all of my students at the start of this year to think carefully about their intentions for the year going forward and what they hope to get out of it.
Walking through the school gymnasium this morning, I stopped for a while to take in the school´s logo and think about our motto. Felix, Sapiens, Copiosus. I wish you all a very pleasant weekend and, upon returning on Monday, I would love for you to come and tell me of anything you did to help yourself be a little happier, a little wiser, or a little more healthy.
Philip Brown
Head of Secondary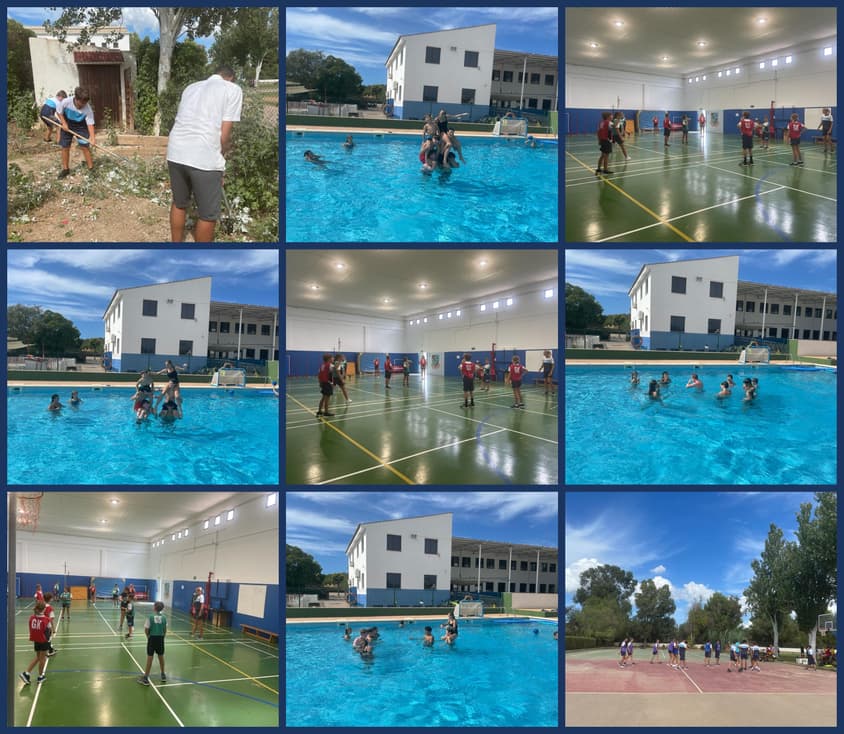 Mr John Barter - Head of Sixth Form
---
'Success is no accident'
The number of students in the Sixth Form this September has reached fifty again, which is so exciting. It shows a trust in all the things we have been doing to make BIC the first choice school on the island. All of these students are here because they were successful in their IGCSEs or AS Levels; this breeds a self-confidence and aspiration for more success. Moreover, they are all extremely lovely young people, who subscribe to the values of BIC. They know (and accept) their responsibility to act as positive role models for the younger students. They all show kindness in their everyday activities and all have a ready smile for the people around them. With such positive attitudes they have already settled in well and they are contributing to the buoyant atmosphere here at BIC.
BIC students earned another outstanding set of A Level results in the summer. A fantastic 56% of Year 13 grades were A* or A, and 85% of Year 13 students achieved at least one A or A* grade. All of Year 13 who wanted to go to university got their first choice universities. The highlights were:
Nik who has gone to CEU's medical school in Valencia, Spain, having achieved A* A A A.
Renat who is going to the University of California, Santa Cruz, in the USA to study electrical engineering, having achieved A* A* B.
Sasha who is going to IE University in Madrid to study International Business having achieved A* A A B. She has been awarded a scholarship for her excellent grades. She will be joined there by Dmitry who left Y13 last year.
Paula who is going to Swansea University, UK, to study Psychology, having achieved A A A B.
Eli who is going to Manchester University, UK, to study International Relations and Spanish having achieved A A B C.
Olivia who is going to Reading University, UK, to study Law having achieved AABC.
Jess who is off to Keele University in the UK to study Psychology having achieved A A B.
Despite their A*s and As, Mathias and Theo are taking gap years. Mathias achieved A* A* A. Theo achieved A* A A B. They both intend to apply to university for next year. They can pretty much choose their university with those grades! We will be supporting them with those applications over the coming year.
We were extremely proud of these students, who worked so hard for the grades they received. But we were also very proud of all of our other Sixth Form students. All have worked on their personal qualities and soft skills to ensure that they are all ready for the next stage of their education. Excellence is judged in personal terms and all achieved to the best of their abilities.
Year 12 students also saw a number of successes and are well on the way to excellent grades at the end of Year 13. Highlights were: Selina: a a a b; Logan: a a a b; David: a a a b; Luisa: a a a c; Lucia: a a b c; Palak: a a c; Maja: a a c.
5 students achieved 100% in at least one AS module. Maja did it twice (in Maths) and Selina did it three times (in Maths and Psychology). This gives you some idea of the potential of some of our students. Superb!
I will proudly continue to report on the progress of our new Year 12 and 13 students over the coming year. I am so excited to see what they finally achieve. Hopefully they can go past the previous Year groups' achievements, but the key thing is that they all fulfil their potential, get the best grades possible for them and feel that they have fully justified their time in school.
John Barter
Head of Sixth Form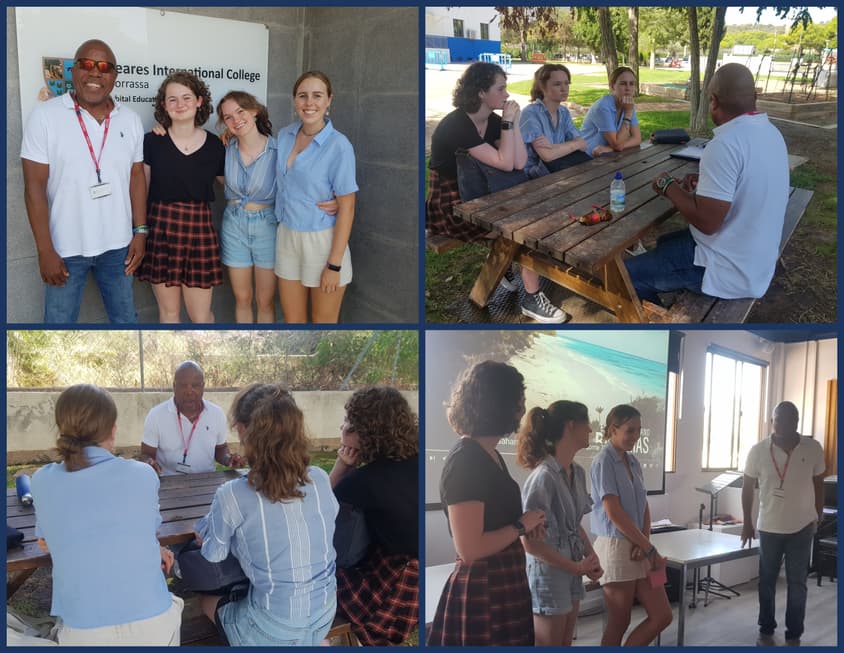 Whole School House System news
---
House Points Totals Update - Term 1
| | | | |
| --- | --- | --- | --- |
| Winton | Galileo | Roosevelt | Parks |
| 165 | 171 | 159 | 233 |
A message from your Heads of House
On Thursday 8th and Friday 9th September Years 7-10 took part in a House bonding day at Ca´n Pastilla beach. Students took part in different water sports activities such as kayaking and paddle boarding. There was also time on the beach for some games and some fun in the sea. Students were able to interact with other members of their House and tutor group, which is vital for our vertical tutoring system. It was a great day for both students and the staff who were lucky enough to attend. A massive thank you to´Bona Ona´ surf school for your expert tuition.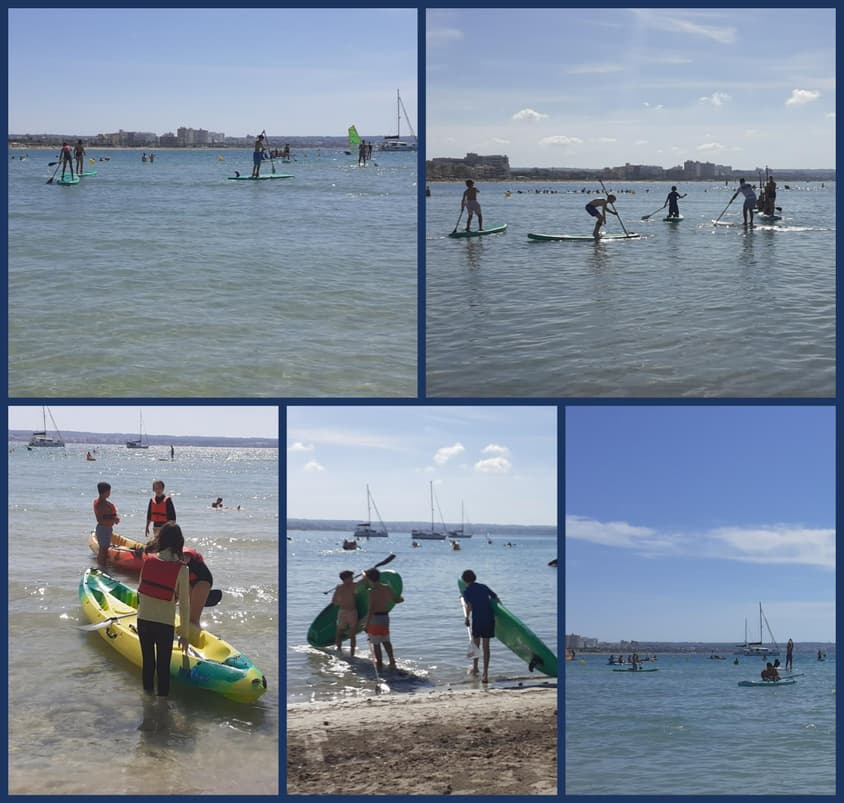 Well done Parks, we ended week 1 in first place. What a fantastic way to start the new academic year and we have maintained this and are in the lead for week 2. I'd like to welcome all the new students who have joined Parks. It was a real pleasure to meet you all during the House bonding trip last week and in our House assembly this week on Tuesday, where we discussed the school values. I hope you have all settled back into the routine of school now and are ready to earn even more House points to try and maintain being in the lead. I wish you all a wonderful weekend.
Miss Xidakis, Head of Parks House
Welcome back to school Roosevelt! It has been great to see you all and meet all of our new students. Our bonding trip last week was a real highlight to the start of term, it was nice to see you all enjoying all the activities, and of course winning the team game we played against Parks. Please continue to say hello to me around school. I have seen your fantastic achievements with the House points you have been earning - keep it up Roosevelt!
Miss Mayes, Head of Roosevelt House
Welcome back to everyone in Galileo House. It has been fantastic to see you all in assemblies, in class and around school. Please make sure you all say hello to me when you see me. I have been impressed with how well everyone has started the new year. The House point totals are quite close at the moment. As defending champions, the other Houses are all out to beat us this year but I know we are up to the challenge. Thanks to everyone who made the House bonding trip such a fun day.
Miss Turley, Head of Galileo House
Welcome back to school, Winton House. It was a pleasure to see you all arriving last week and to welcome all of our new Winton members. We had a fantastic bonding trip where we all got to take part in fun water sports activities. I am excited to see you all excel and thrive this year as I know you all will. There are so many competitions and challenges to look forward to so let's get going collecting as many House Points as possible! Let's go Winton!
Mrs Florey, Head of Winton House
The Duke of Edinburgh International Award
---
The Duke of Edinburgh International Award continues this year with a slightly new look; following the departure of Mr Sparks, Mr Kingston-Bray will be leading the award, building on the tremendous work started by Mr Sparks last year. Notes and information from Mr KB below:
Hello all!
I am very happy and excited to be leading the D of E International Award for BIC; it is a wonderful opportunity for our students to challenge themselves, push their boundaries and make lasting memories.
At the moment I am on paternity leave - having welcomed a newbie into the KB family over the summer - and our regular practice hikes and training will begin again once I am back. I would like to take this chance to ask that every participant in theAaward owns - and brings to each and every hike - a compass and a basic first aid kit. I will be running training sessions on navigation and first aid in the coming months.
In the interim, students already undertaking their Bronze Award (mostly Year 10) have a lot they can be progressing.
The Award consists of four main parts, three of which should be proactively driven by individual students, with my support and the support of parents. The skills, physical, and volunteering sections can be undertaken independently and these should be the focus over the coming weeks in order to get them completed (each requires sustained effort and commitment over 3 months at Bronze level).
More information can be found in the parent's guide, and in the Bronze Award participant guide.
As a next step, I would like all participants planning on working for their Bronze Award this year to complete and send to me programme planners for each of the three independent sections of the Award. These can be found using the links below and will help the students identify their goals and progress these elements of the Award.
Maths department news
---
Problem Solving Initiatives
Problem Solving continues to be the focus for the Maths department in 2022/23. Please read about the amazing initiatives that are approaching this half term.
UKMT Senior Mathematics Challenge
In October, our Sixth Form Mathematicians will be taking on the major challenge of the Senior UKMT Maths Challenge. They will be developing their problem solving over the coming weeks in preparation.
International Online Maths Challenge
Our top Year 9, 10 and 11 Mathematicians will be partaking in the Online International Maths Challenge in November. Last year, we were awarded four Bronze certificates and we hope to build on this success.
Key Stage 3 Problem of the Week
After its great success last year, Key Stage 3 Problem of the Week returns for its second year. The initiative will begin at the start of Week 5 and continue throughout the term. Please do encourage your child to get involved!
The Humanities Department would like to take the opportunity to welcome Year 7 to Secondary School and we thought that it would be useful to outline the topics being studied in each subject.

Global Citizenship
In GC Year 7 students are learning about traditions. This means that they will discuss family traditions and then link this personal understanding to traditions in the world religions. Hopefully the children will ask you about whether you have any special traditions within your own families.
History
In history this half term, students in Year 7 will investigate the crisis of succession in 1066. This is poignant timing as history teachers will be able to link succession to the proclamation of Charles III as the new King of England. The students will practise their oratory skills by debating with the class who they think should have acceded to the throne. Year 7 will then write an essay exploring the causes of William's success in the Battle of Hastings.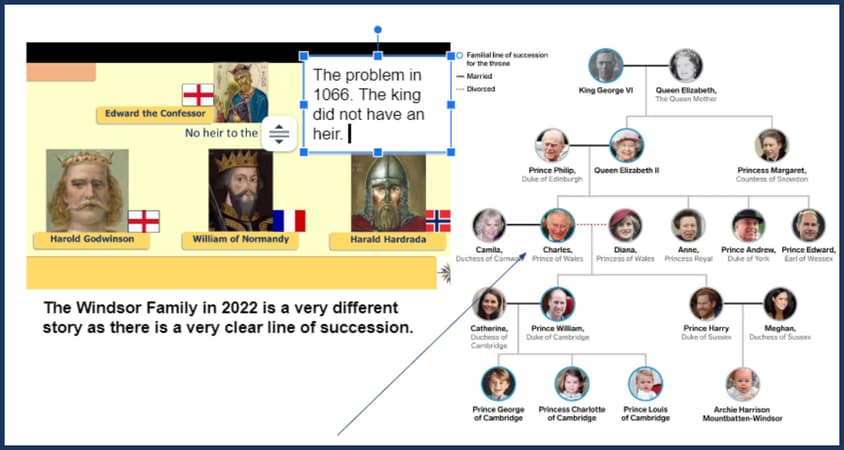 Geography
In year 7 geography, students have been learning about the three different types of geography; physical, human and environmental. Our first lessons have started by looking at how the Earth began. Students have been using scientific information and statistics to write their own story of how the Earth began, supported by artistic drawings that demonstrate key features such as the formation of galaxies and the first living organisms.

English department news
---
In Year 8 the students are reading My Sister Lives on the Mantelpiece by Annabel Pitcher. In this novel, the family moves from London to the Lake District to get away from the pain of the loss of a dear family member. The students were asked to research the Lake District and provide a photo with adjectives to describe it. They then had to write a short paragraph exploring the differences between London and the Lake District. Here are a few fabulous examples from our super students:
-By Sophia, Year 8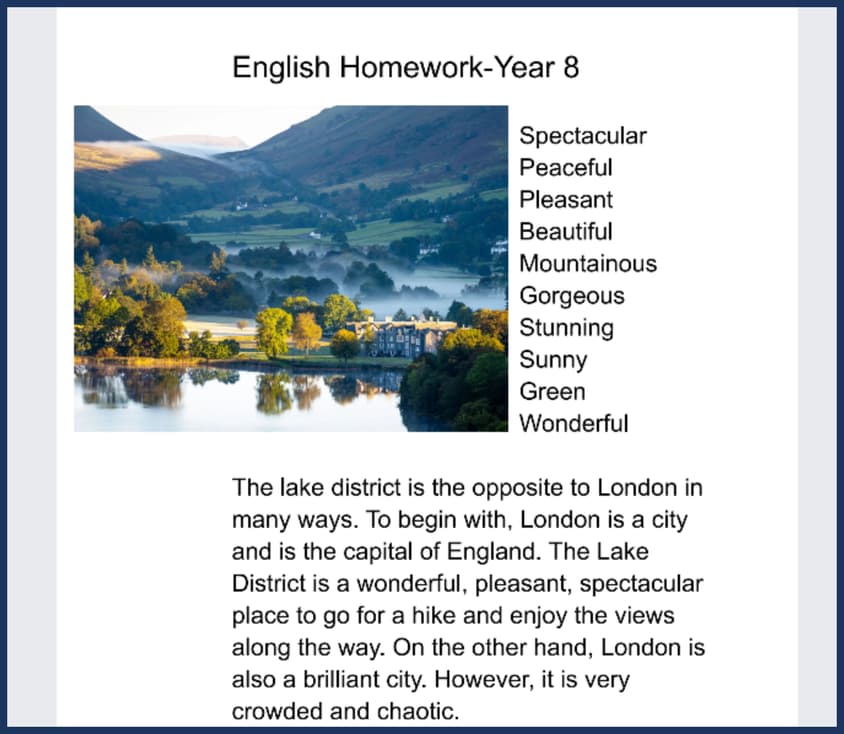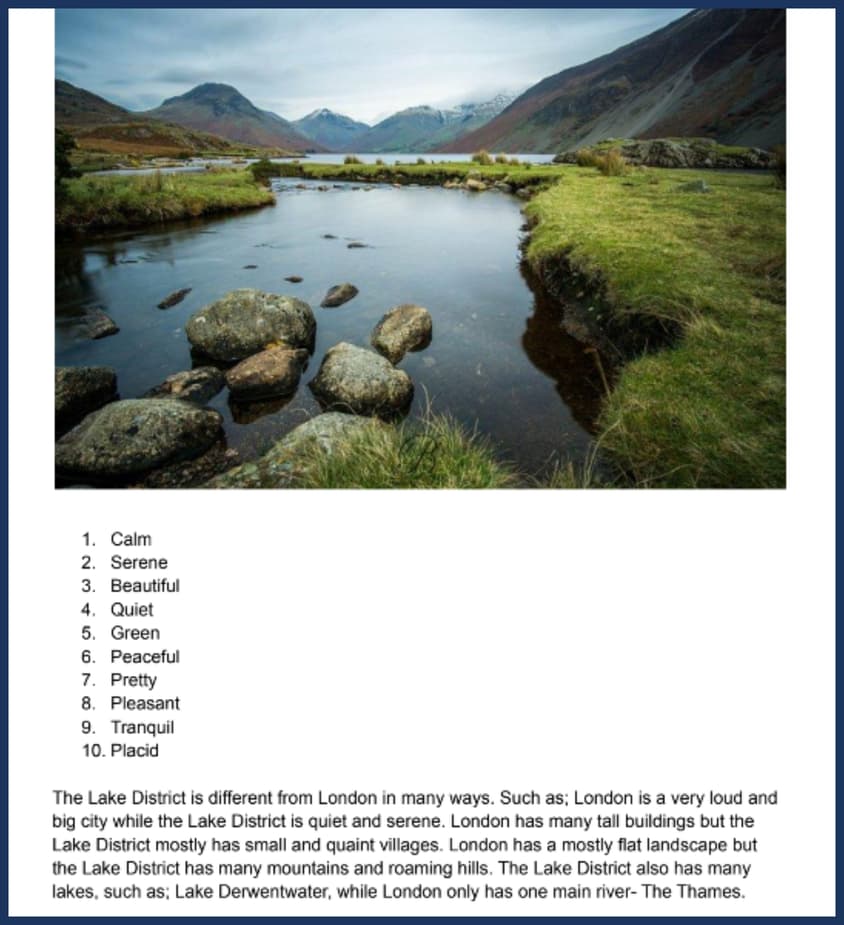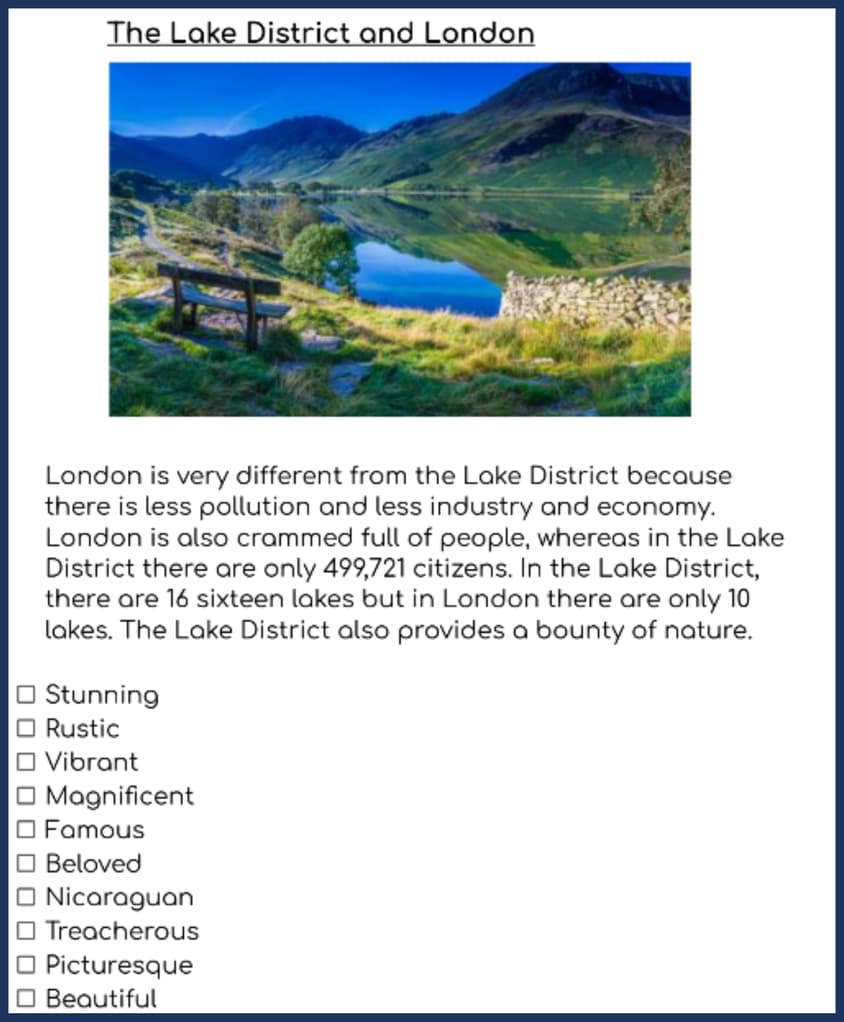 Science department news
---
This week our KS2 and KS3 students enjoyed a seminar from Mr Jensen Farquharson who works to lead on environmental protection in the Bahamas. Save the Bays works to lead on community action and education projects that aim to protect the 700 islands of the Bahamian archipelago. Ava Bland in Year 12 will be leading a project shortly where our students will be able to take action on protecting our islands here in the Balearics.
It was fascinating for our students to learn about the role of sea oats and mangroves and how they provide so many ecosystem services to the Bahamas. Similarly, our students drew parallels as they learned about the ecosystem services provided by our very own Posidonia oceanica (sea grass) here in Mallorca. Whilst many views the rotting sea grass that is found on our islands as unsightly, our students today changed their perceptions as they learned about just how valuable it is to us and our wonderful beaches. You can read more about this here. Thank you to Mr Barter for all you did in organising this event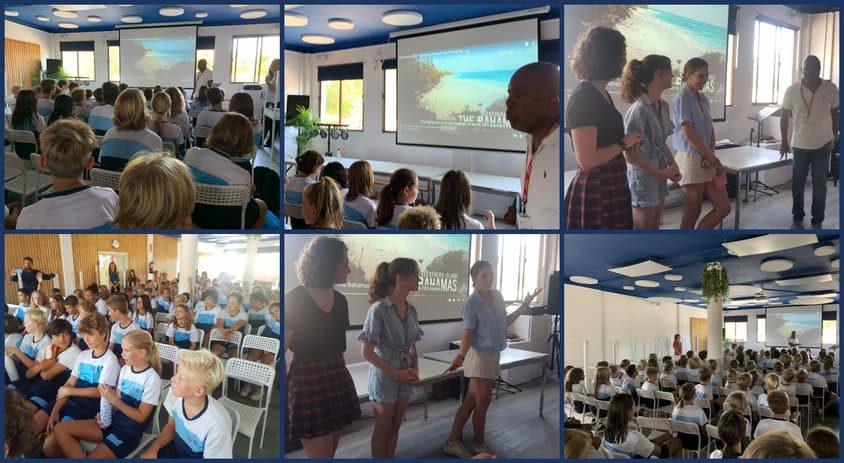 Of course, you will also know that our students have been welcomed back into the new science laboratories. This week we took delivery of 54 Bunsen burners that will soon be installed in the laboratories. Watch this space because parents will be invited in to enjoy an evening of biology, chemistry and physics in the coming weeks.
We would like to thank all of our students for an excellent start. Please be aware that revision classes for science will take place on Tuesday from 16:00-16:50 and on Thursday during lunch. All students in KS4 are welcome to attend.

Languages department news
---
German / Deutsch
This year, the IGCSE first language group is asked to write discursive essays in the upcoming exams. How do we find arguments? In order to understand topics and questions and to illuminate all sides we step into, "Graffiti - art or vandalism?"

Year 9: Future and past - we look and read about our wishes for the future and the lives of famous German people.

Creative Arts department news - Drama
---
Students have made an excellent and productive start to the year. GCSE and A Level students have picked up straight away from their work last year on creating their original pieces of drama for GCSE, we can't wait to share with you what they have been working on.
Meanwhile, all of key stage 3 have started their music and drama studies with drama this term. Year 8 students have been working on developing their performance skills by focussing on how they can use vocal skills to deliver lines with the correct emotions. We have been doing this as part of our Harry Potter and the Cursed Child unit, in which students have enjoyed competing in different teams.

Sports department news - Drama
Our secondary students have made a fantastic start to a new school year and are beginning to settle back into the routines of school life. We have gone over our rules and expectations and got our pupils used to our weekly PE routines.
Over the last two weeks our secondary students had lots of fun during their PE lesson in the pool!
Swimming lessons teach them independence, allowing them to get active while enjoying themselves. We keep our classes fun, lively, varied and exciting to help your child stay engaged and challenged in the water.